Susan's Shanghai Blog - Week 103
This year for our birthdays, we decided to spend about 5 days in Chiang Mai (Northern Thailand). I have to admit, until we came to Shanghai and started chatting with other expats, I had never heard of Chiang Mai. It is the largest and most culturally significant city in northern Thailand. It is the former capital of the Kingdom of Lanna (1296-1768) and you see alot of things with the word "Lanna". Chiang Mai means "new city" and was named because it was the new capital of the Lanna Kingdom, succeeding Chiang Rai.
The city has had an interesting history since its founding in 1296. It was part of the Lanna kingdom. They were occupied by the Burmese in 1556 and then became part of Siam (Thailand) in 1775. It was then abandoned between 1776 and 1791 due to Burmese counterattacks, and then slowly grew to where it is now, as the 2nd most important city behind Bangkok.
After a semi-long travel day (we had to change planes in Bangkok), we arrived and were met by our guide, Amy. This is one of the few tour packages that we've taken and was our first with this tour company. It started a little "iffy" when there was nobody to meet us, but after a couple calls, our guide found us. She had been told we were coming in from Shanghai so she went to the International arrivals. However, since we changed in Bangkok, we arrived into the Domestic terminal area. We had a couple choices for hotels and we decided on the Dusit D2 due to its really good reviews on TripAdvisor. And I have to admit, the reviews were right-on! This was a great hotel ... big, comfy, all the amenities you want, and a great location. They even brought us fresh fruit on arrival.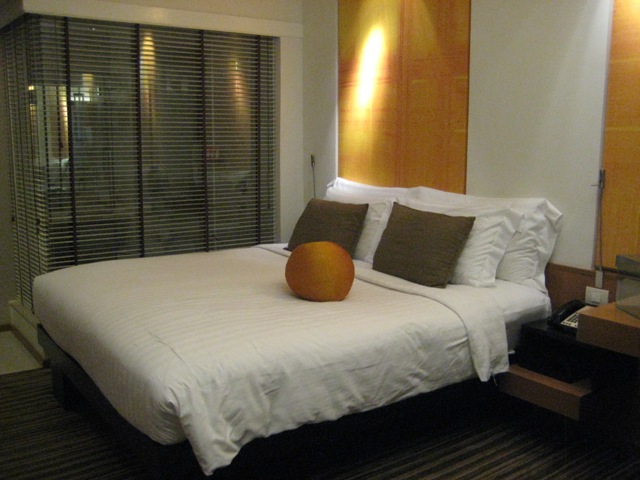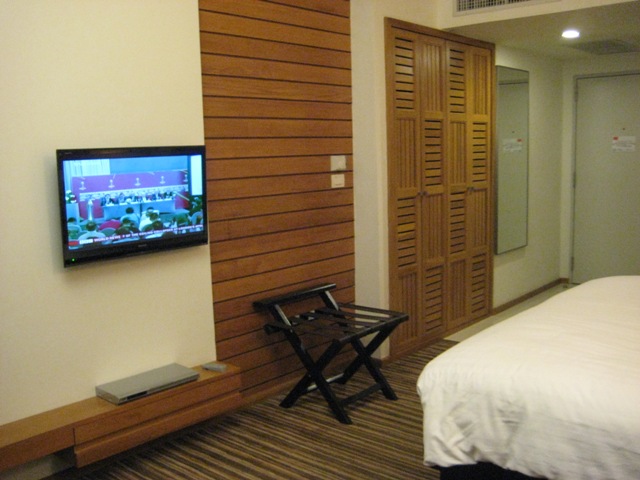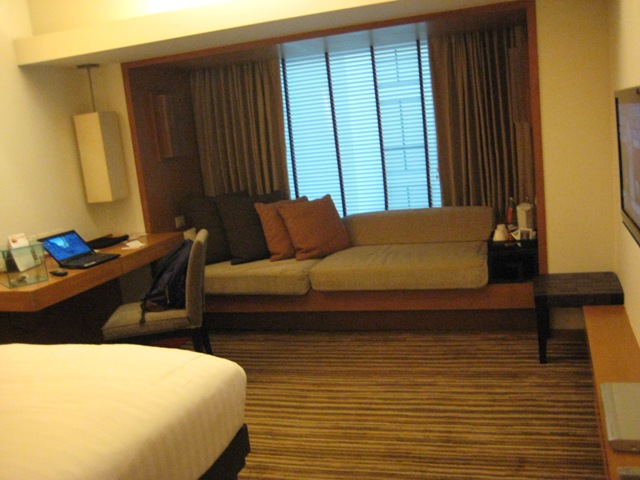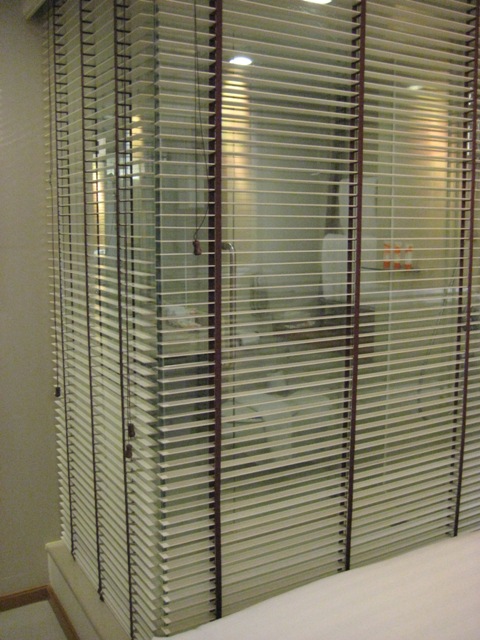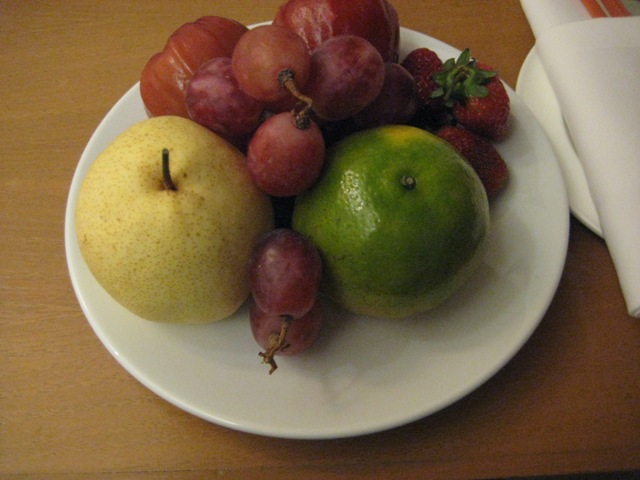 We didn't do anything really that night, other than go to a Khantoke dinner. A khantoke is a pedestal tray used as a small dining table by Lanna people, Laotians of Laos, and by the people from Isan (northeastern Thailand). These are the three specific areas where sticky rice is eaten instead of the more "fluffy" rice which is eaten in the rest of the Thailand. More on this later. As we came up to the front, it was a festive atmosphere, with musicians and dancers.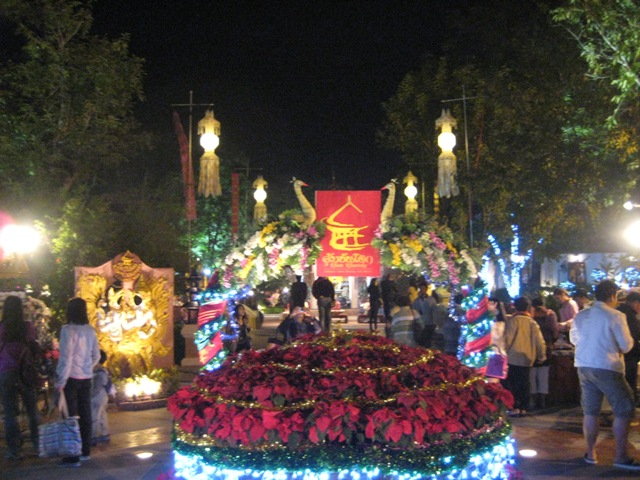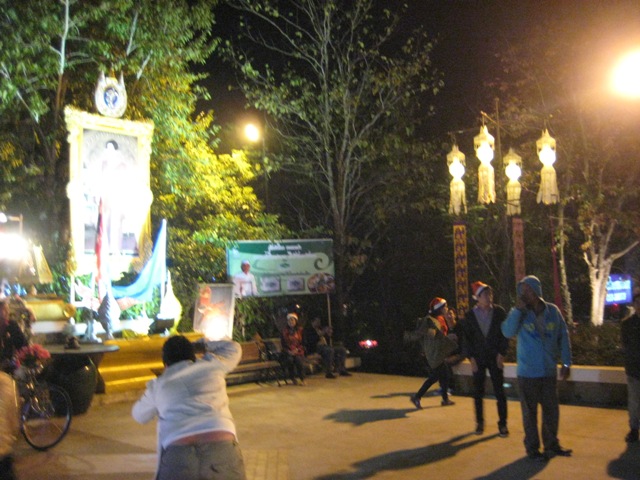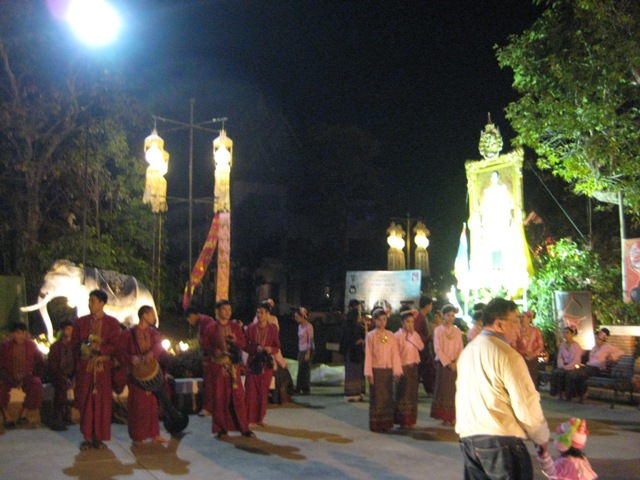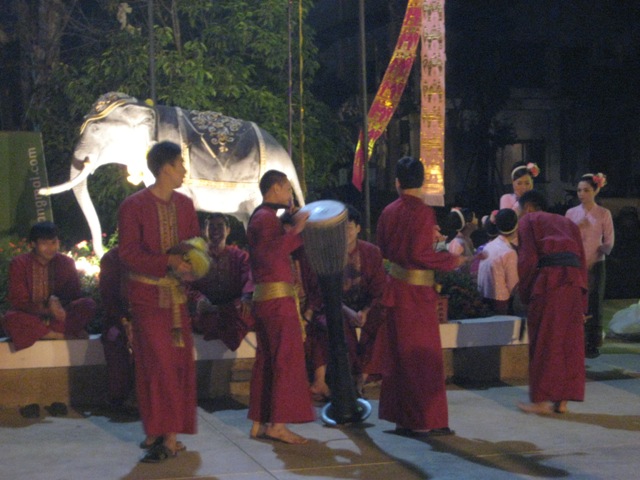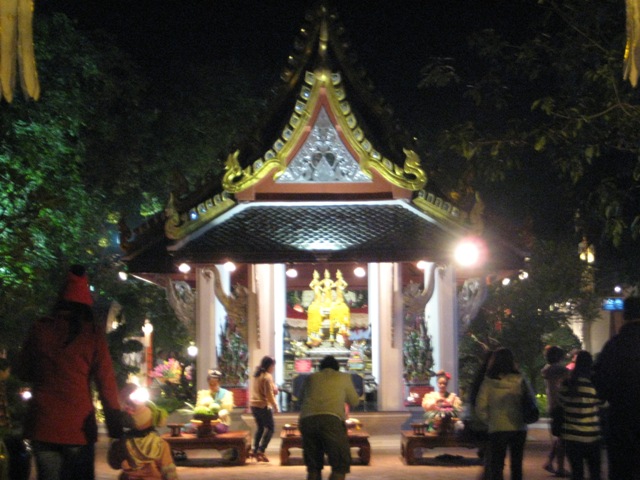 We walked over a bridge where the water had lit flowers. They also had the trees lit up and had lights in the shape of an elephant.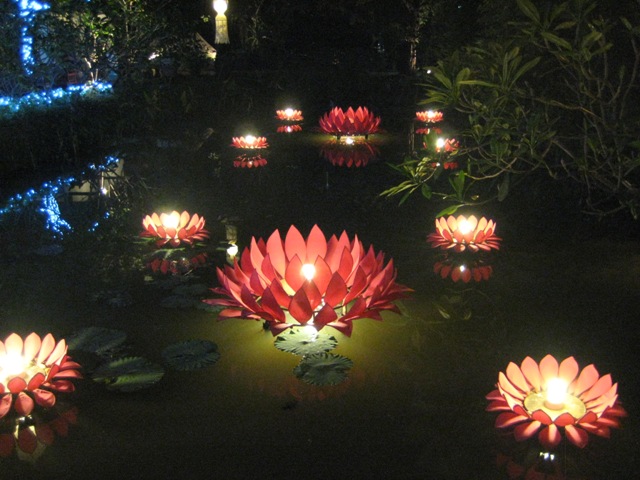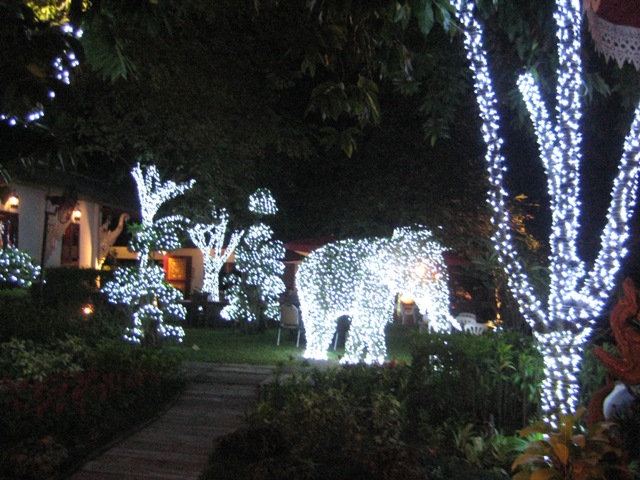 There were three lovely ladies, one making flower necklaces (it looked like), one playing what looked to be a hammered dulcimer, and one doing these AMAZING fruit carvings by hand. What I wouldn't give to actually be talented.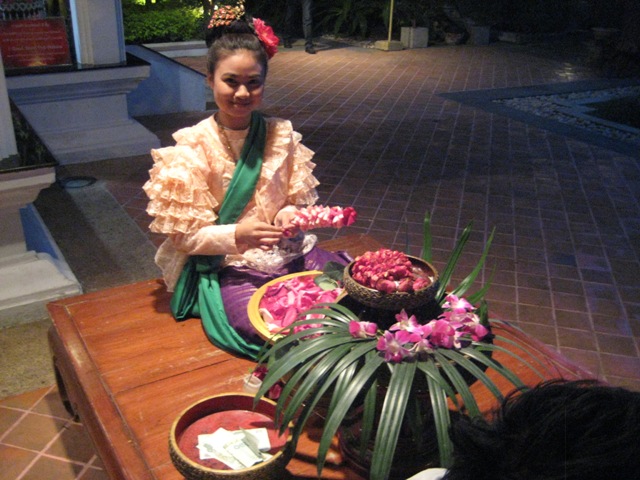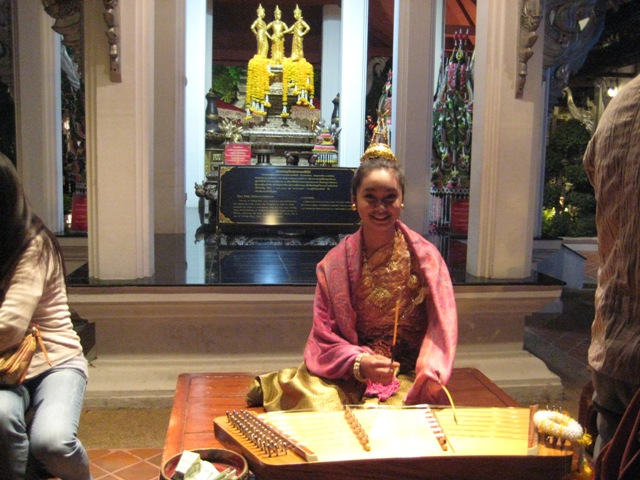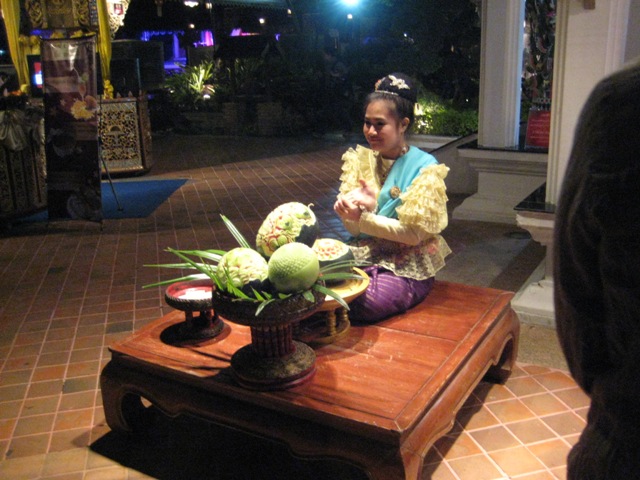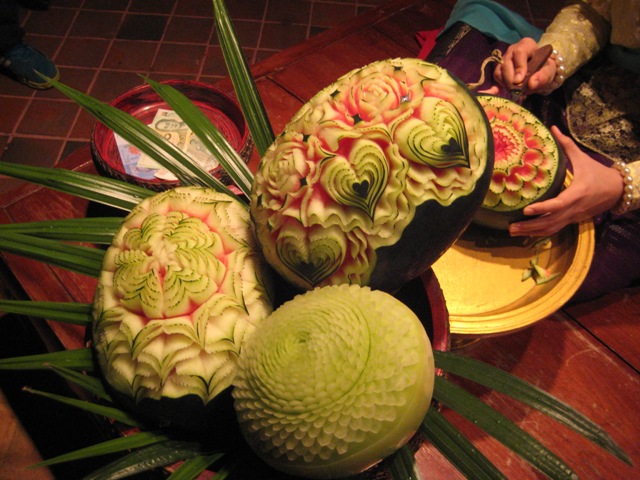 The show itself comes from the Royal Courts of Old Siam, whose influence extended as far East as the Khmer (Cambodian) capital of Angkor. The classical dancers entertained and soothed their local royalty as well as performing for visiting royals and nobility. In case anyone is going to Chiang Mai, the dinner/show we went to is called Khum Khantoke (khumkhantoke.com)
We removed our shoes and then were shown to our seats, which were these ... cushions with backs. They started us with a bowl of soup with carrots, and a basket of fried bananas. Inside the small lidded basket was sticky rice. We also tried some fruit smoothies (mine was banana).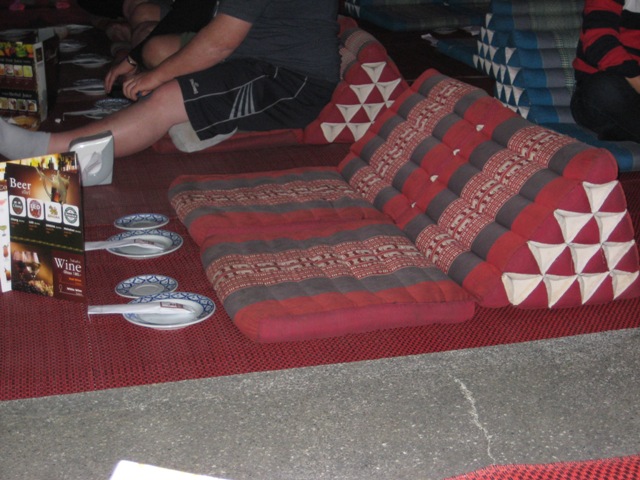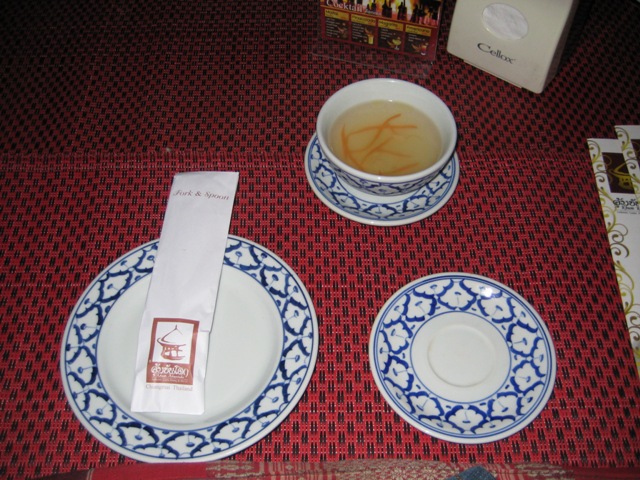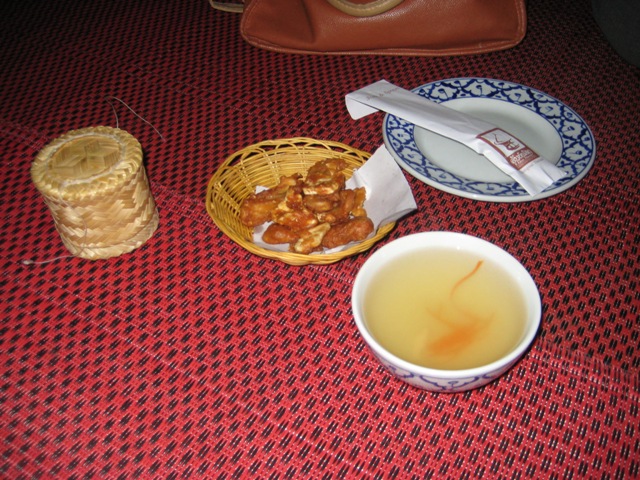 Now came the Khantoke. It was all-you-could-eat and they kept refilling each of the bowls. There was chicken, vegetables, noodles, pork curry, and dipping sauces.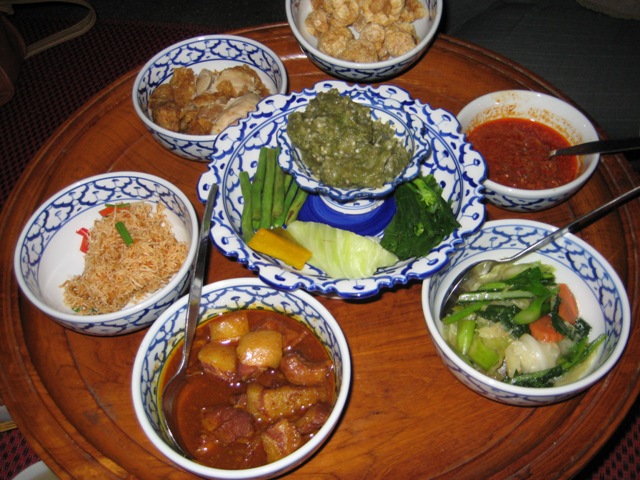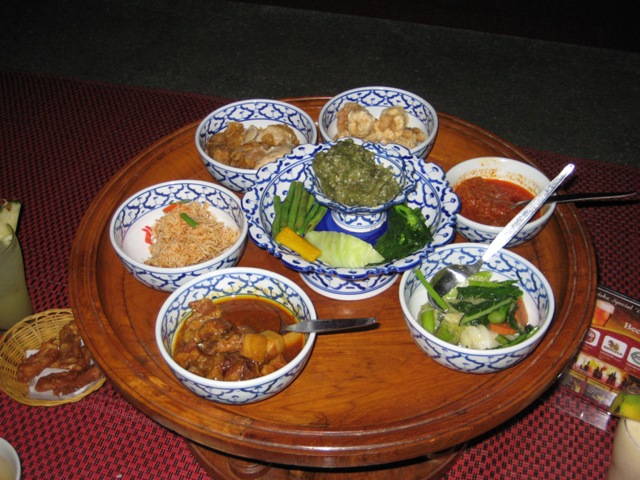 Here are a couple pictures of us relaxing on our cushions. The third one is a photo of a photo (which they took and we bought) with a couple girls dressed in traditional costumes that were coming around. We snapped a photo of someone ELSE getting their photo taken with these girls as well.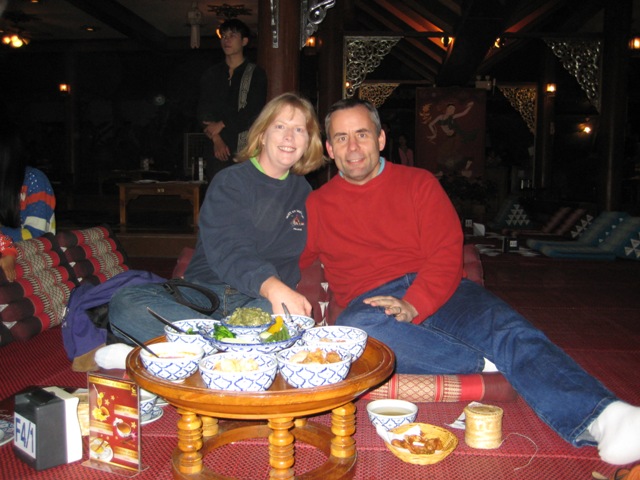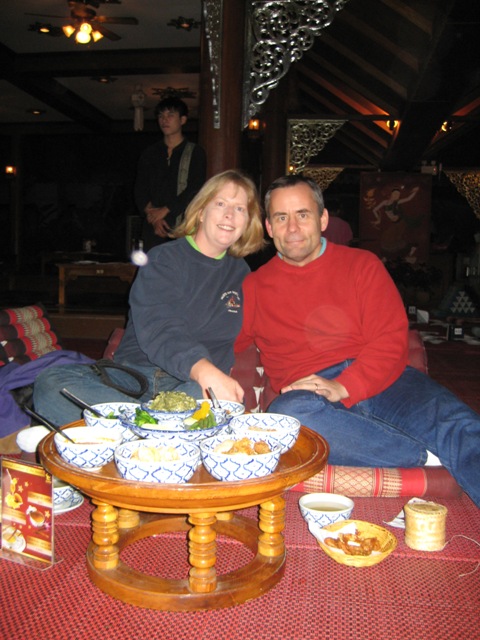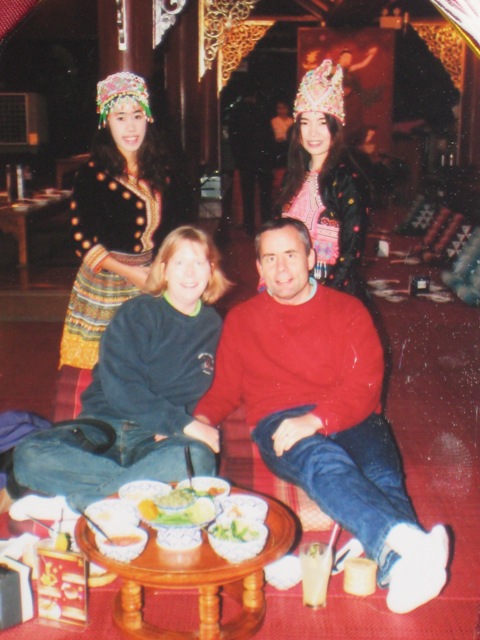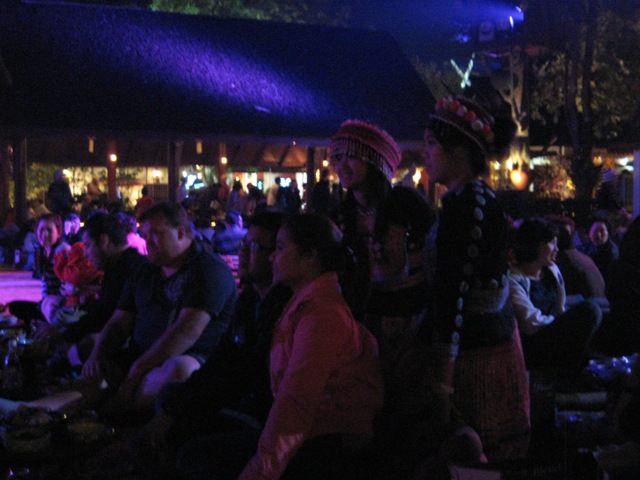 This next set of pictures .. well, some are better than others :-) It was dark with spotlights, laser lights, and dancing. So our little, old camera just isn't the best. However, we did try to capture a bit of what was going on, along with actually trying to watch and enjoy the show. There were two sections where the action happened: on a covered stage and then a flat open area in front of that. The "tables" were laid out around the open area on all four sides. Opposite of the covered stage was a 2-story white building where the dancers entered from for some of the dances, and you can see the three spotlights at the top.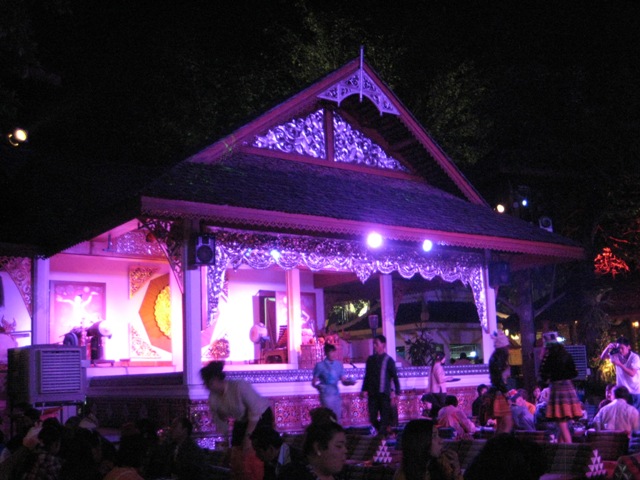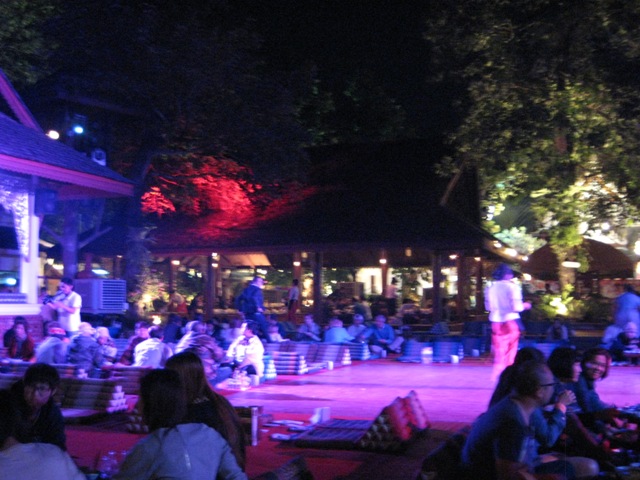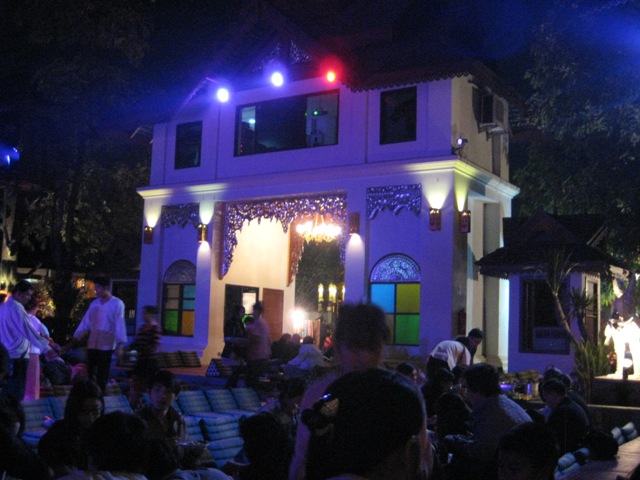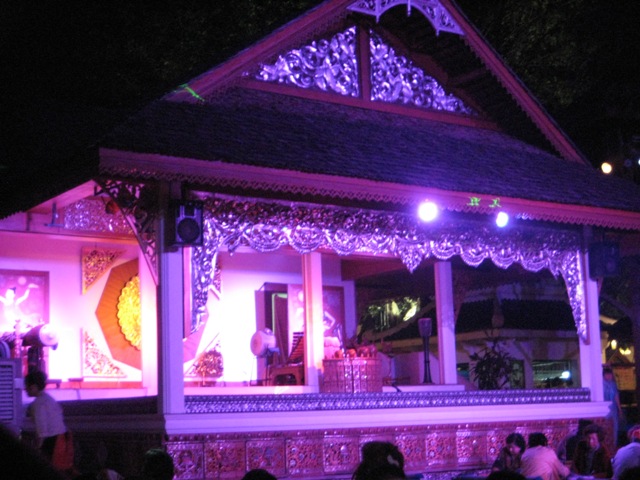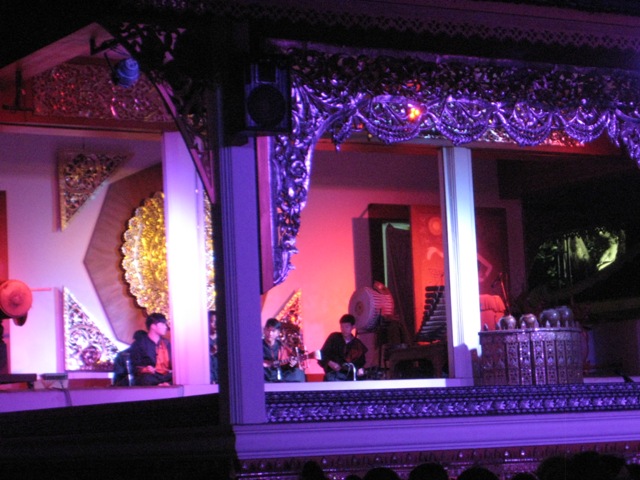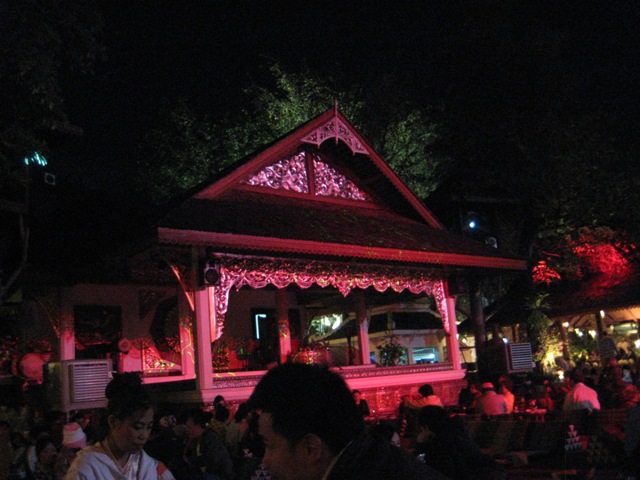 As they started the show, they did a green laser show on the front roof of the building (which you can kinda see).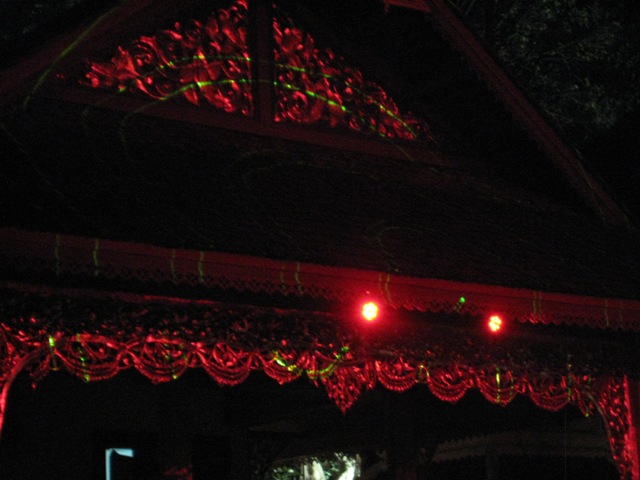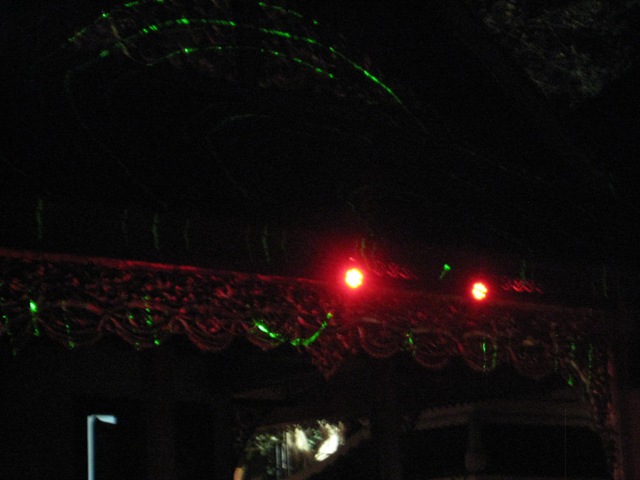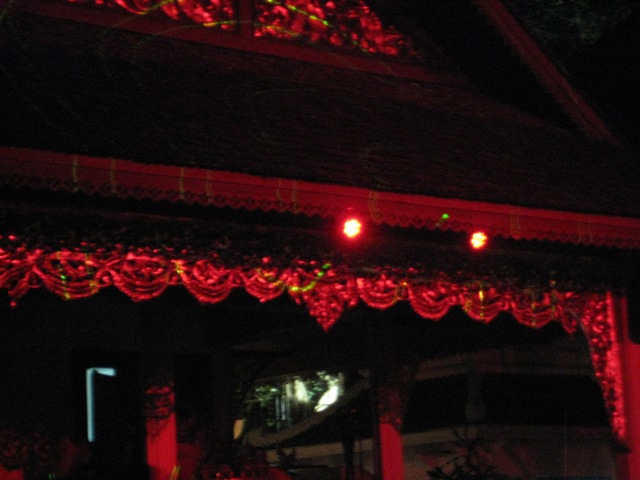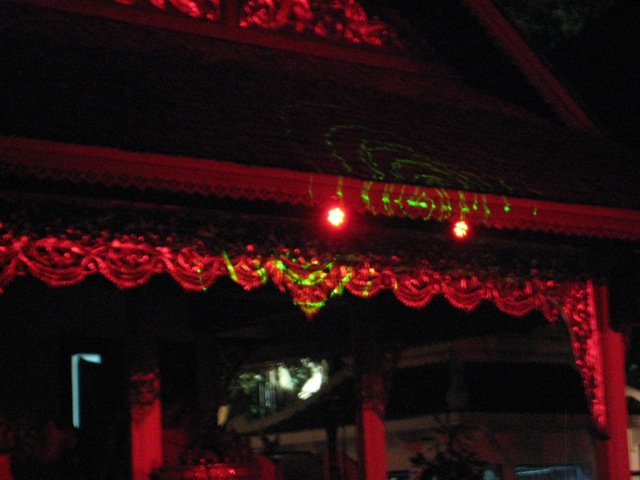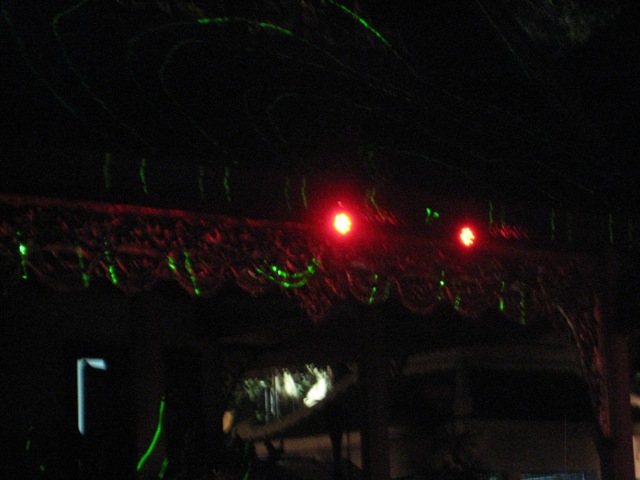 They did a variety of different dances and music, with different costumes. These included things like the Fingernail Dance (you can guess which one that was) which is a slow, graceful dance, to sword dancing and drum shows.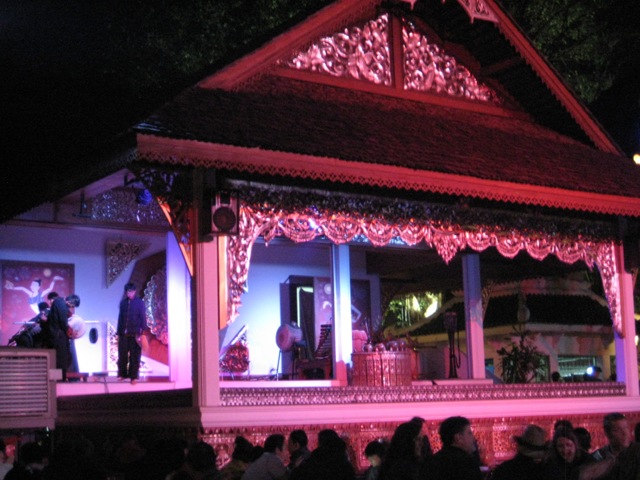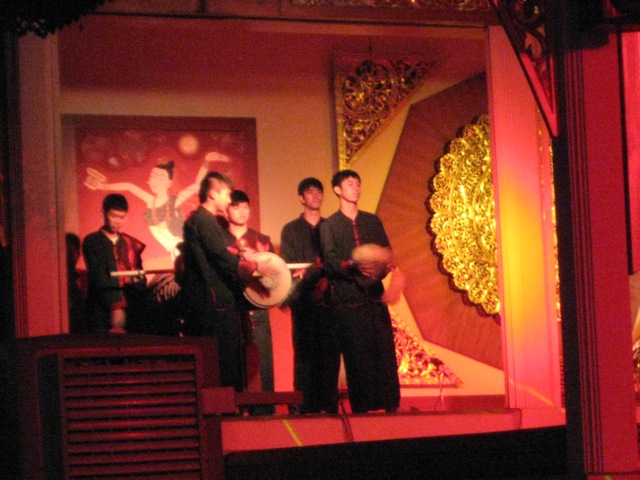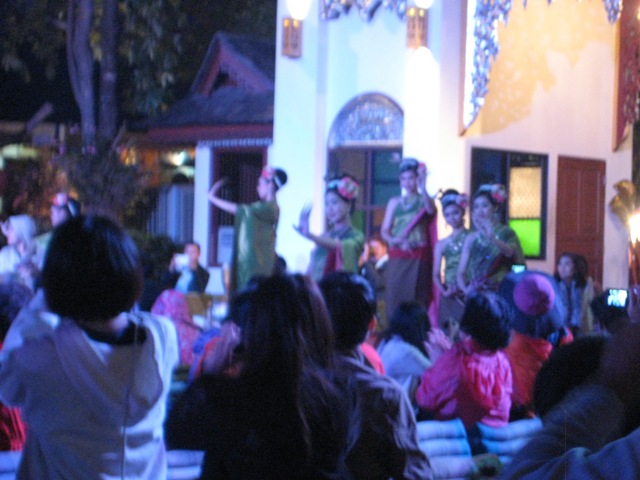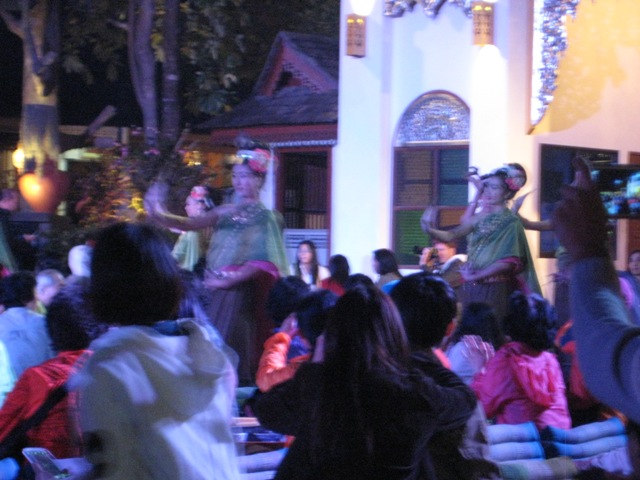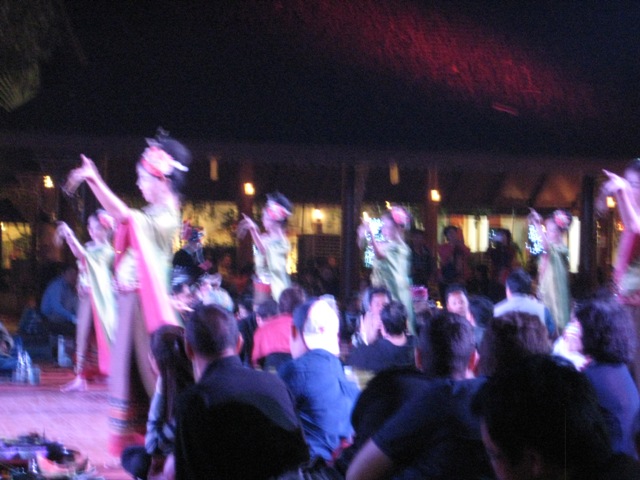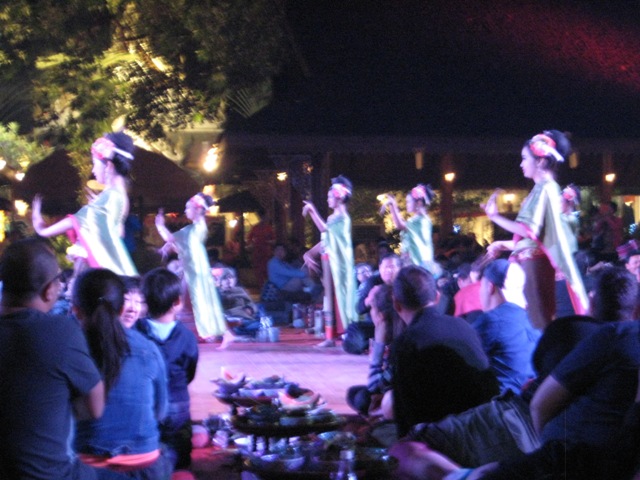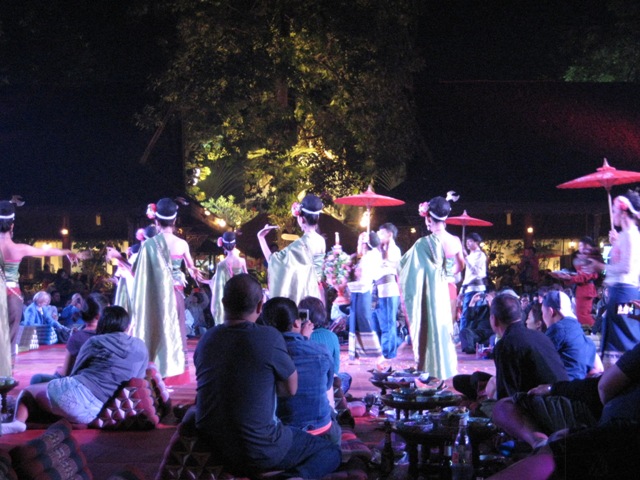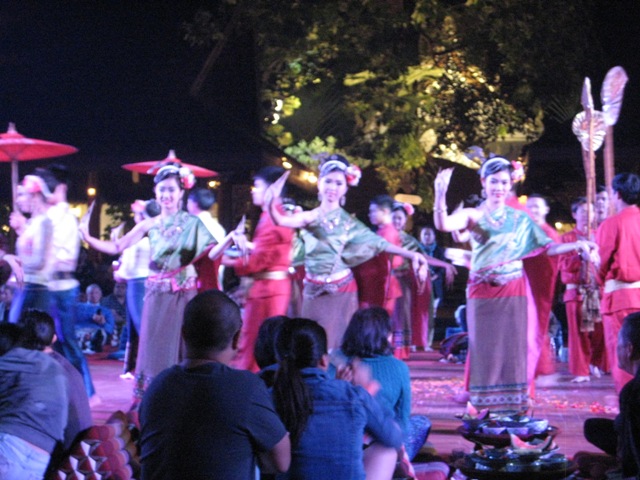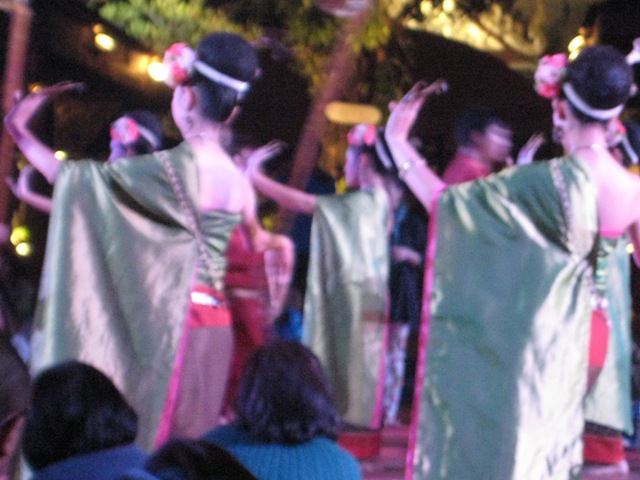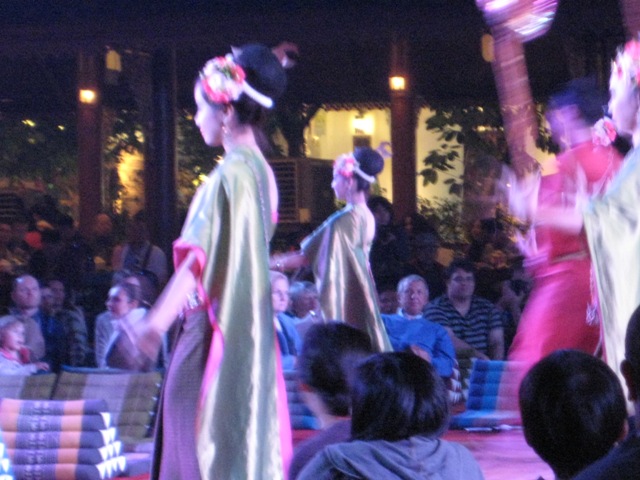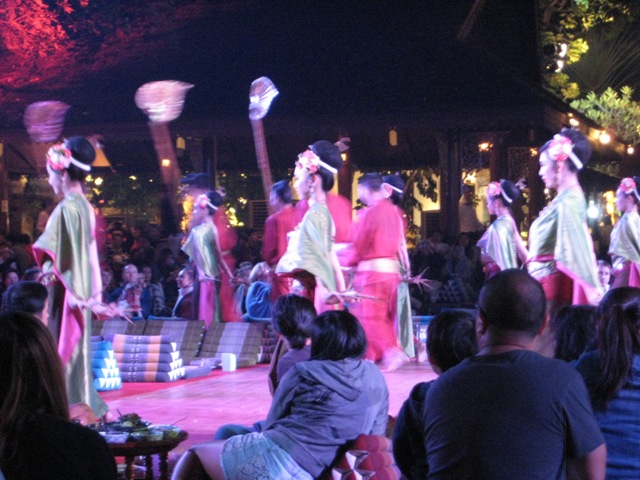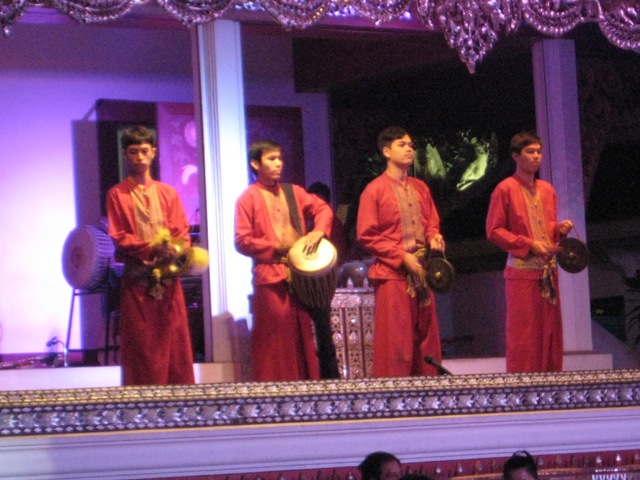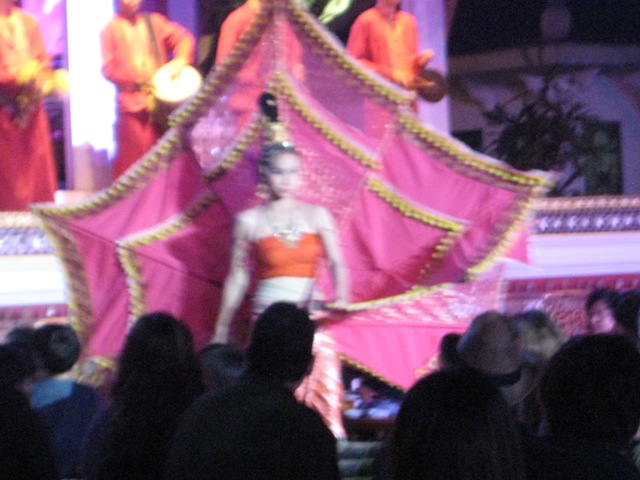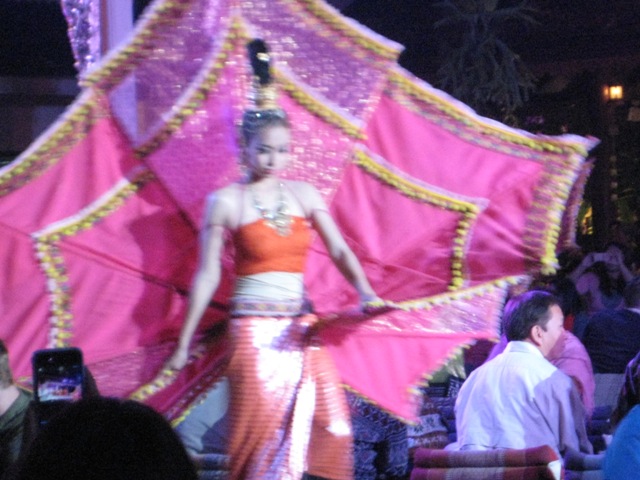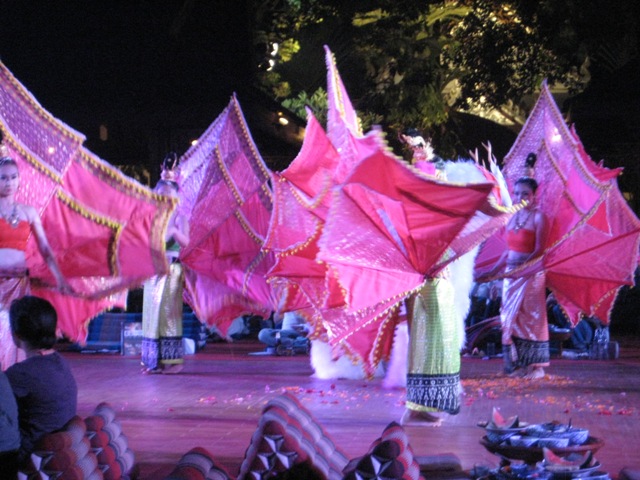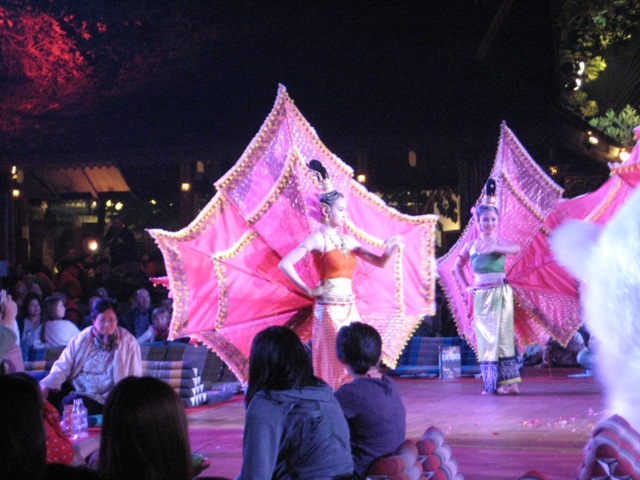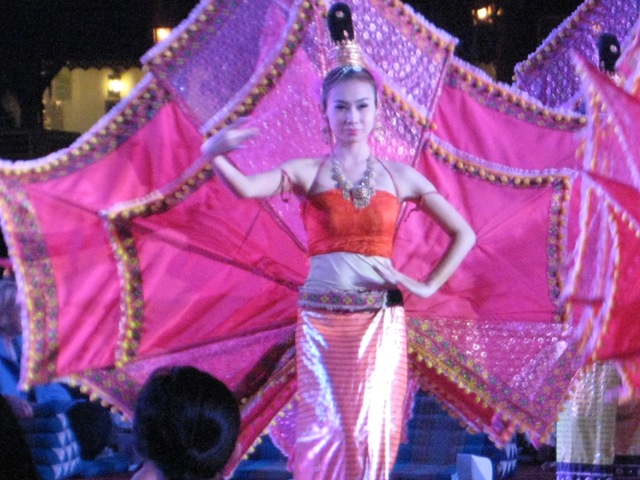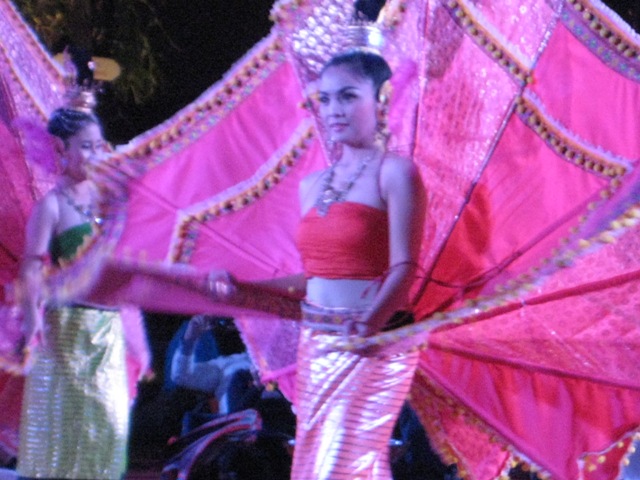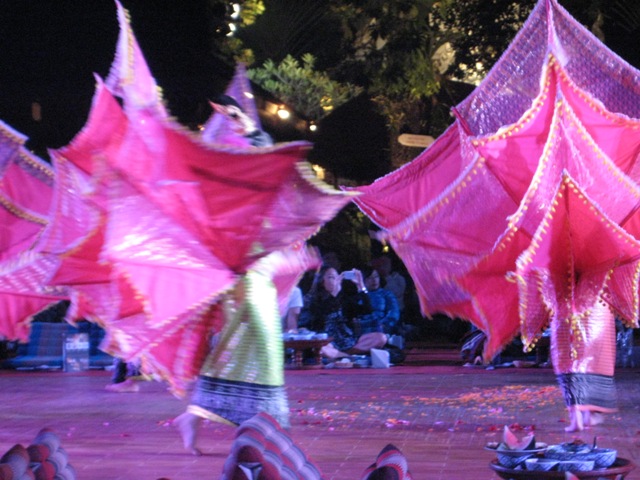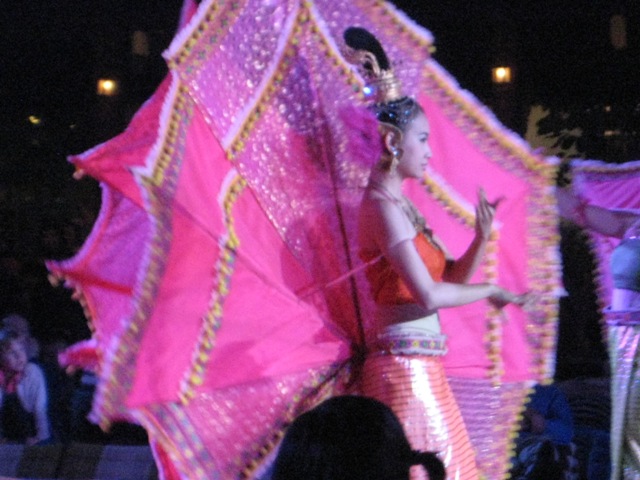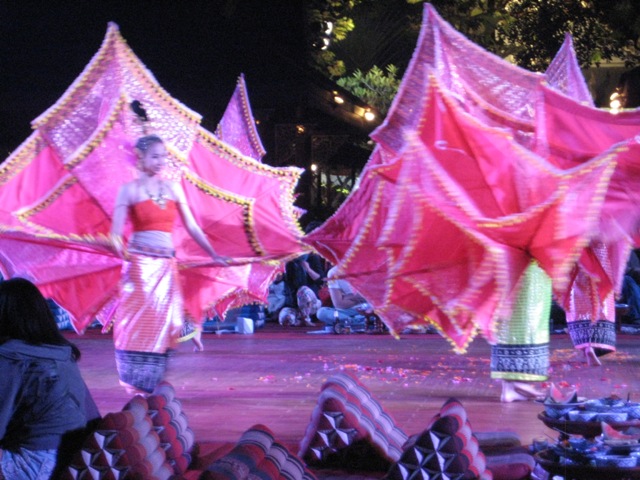 This was a set of drummers (no dancers).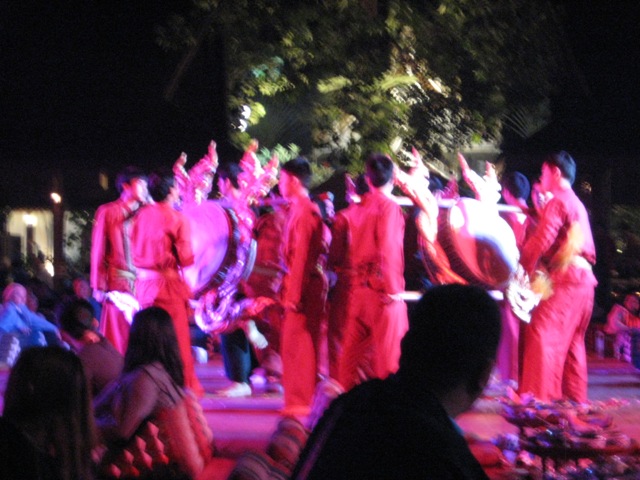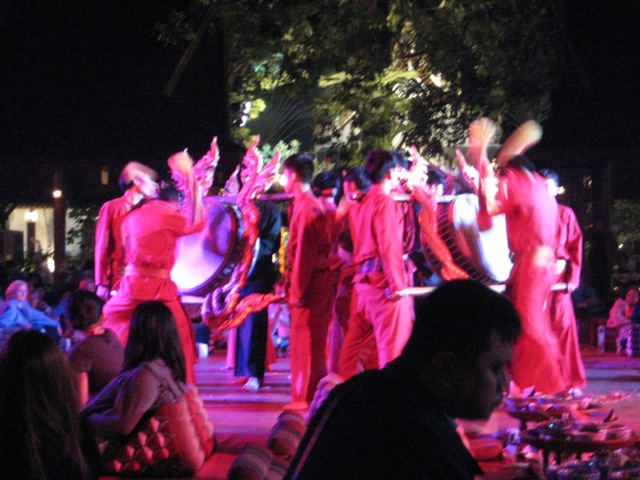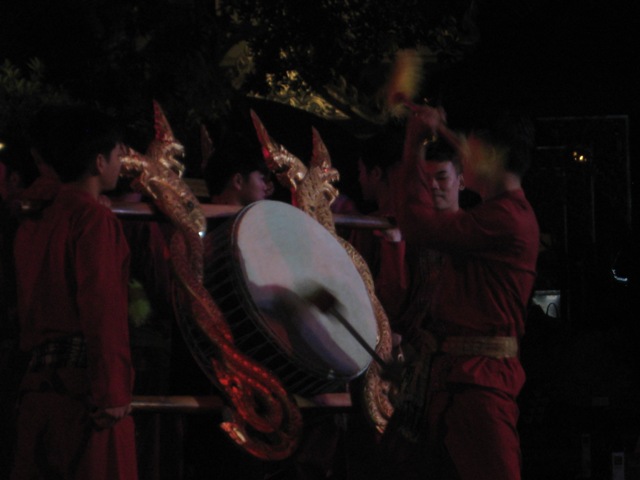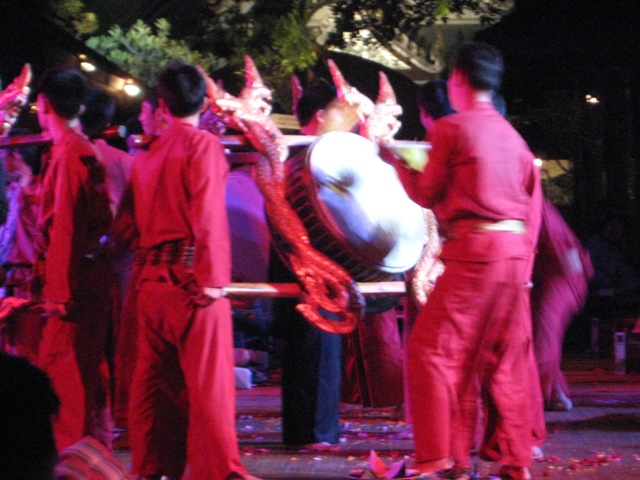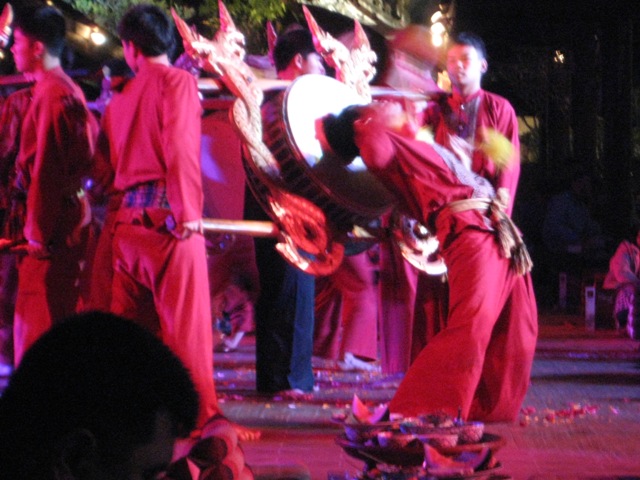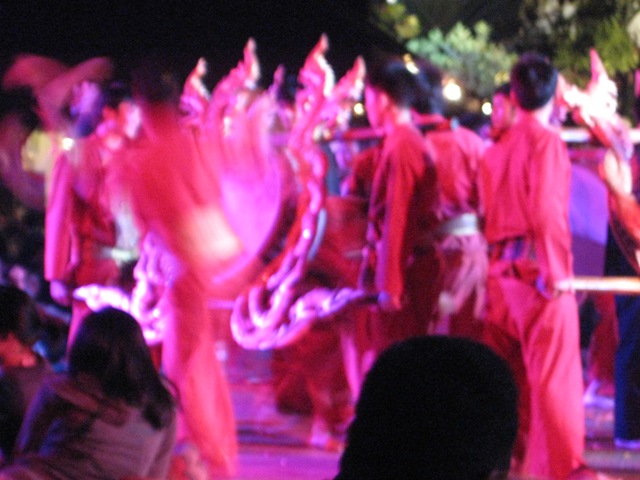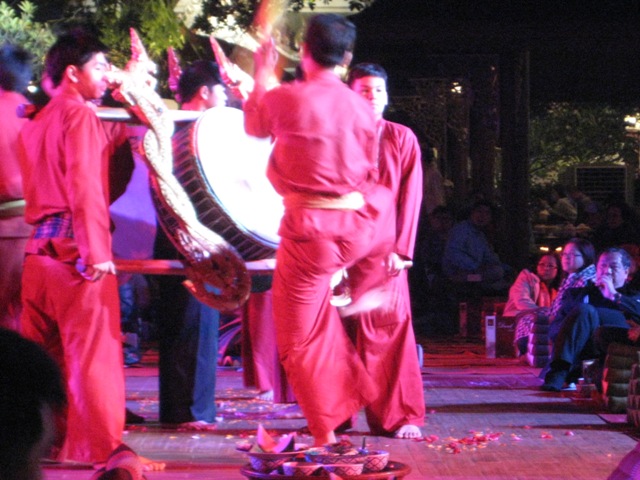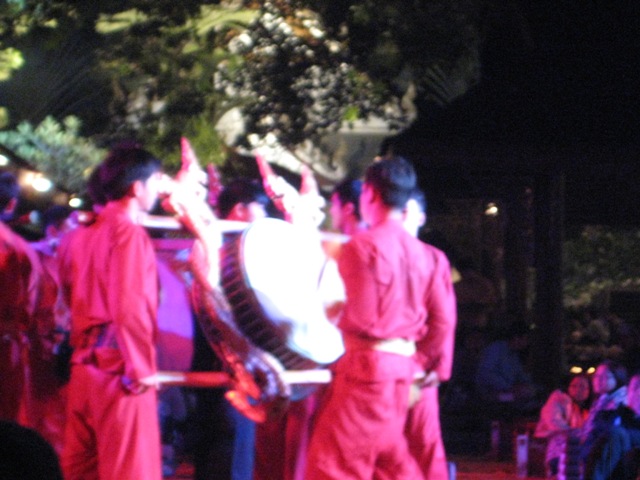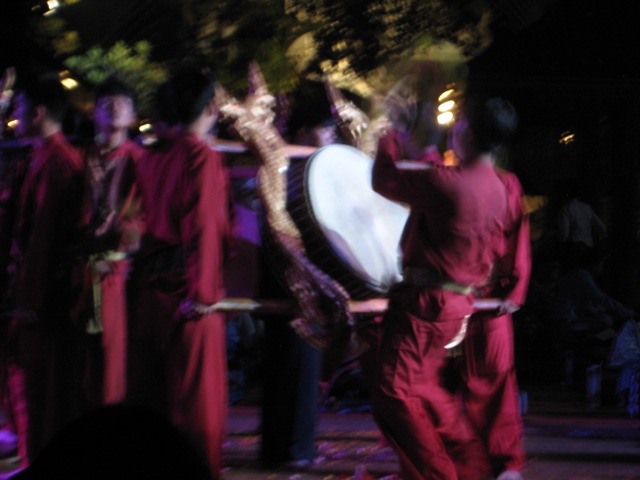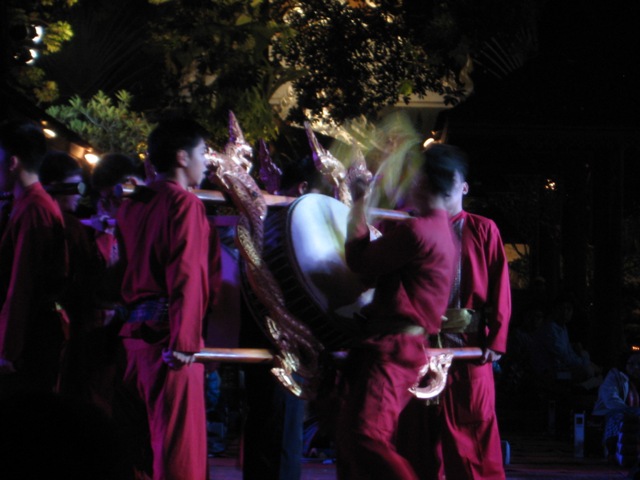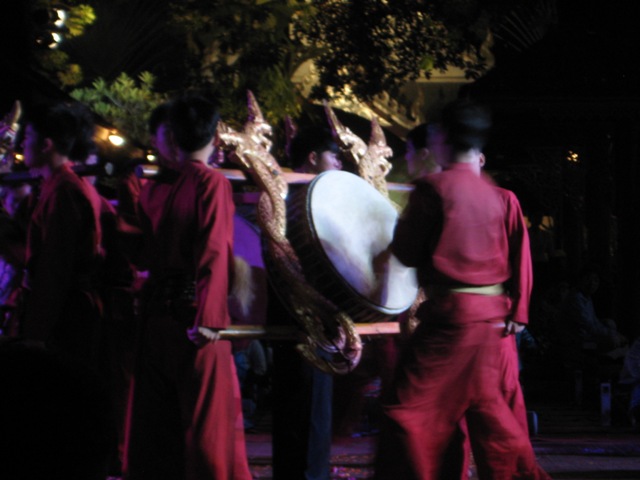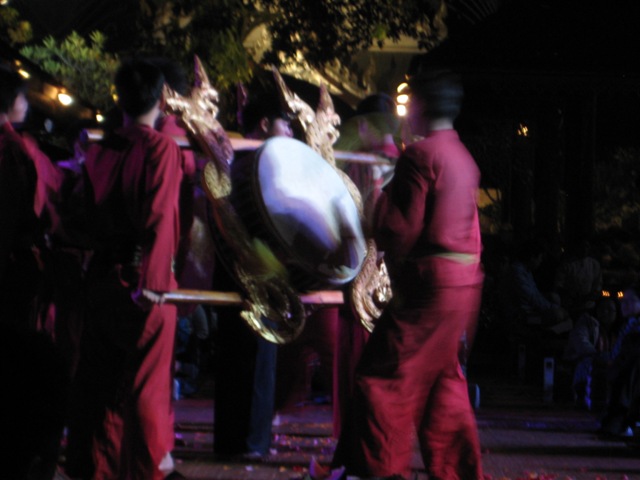 The next was the umbrella dance. Most of these are pretty bad, but I decided to include them so that you could at least get an idea of the dance.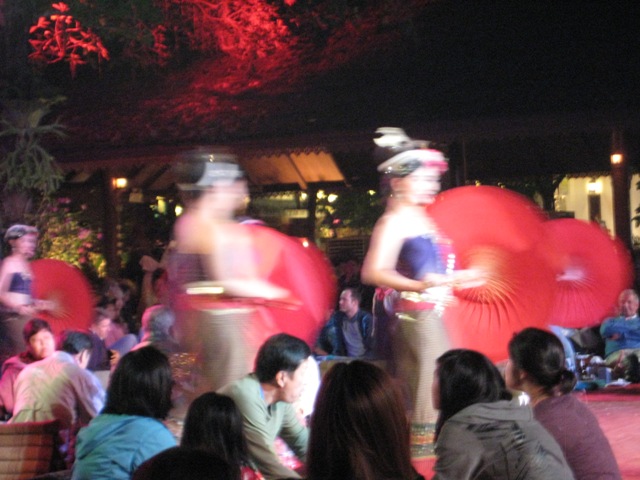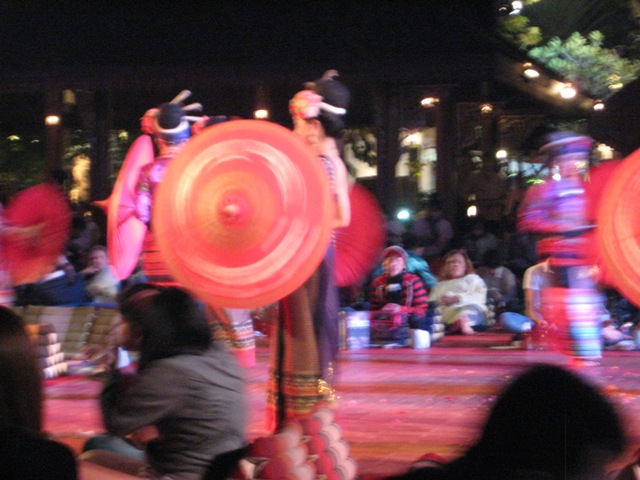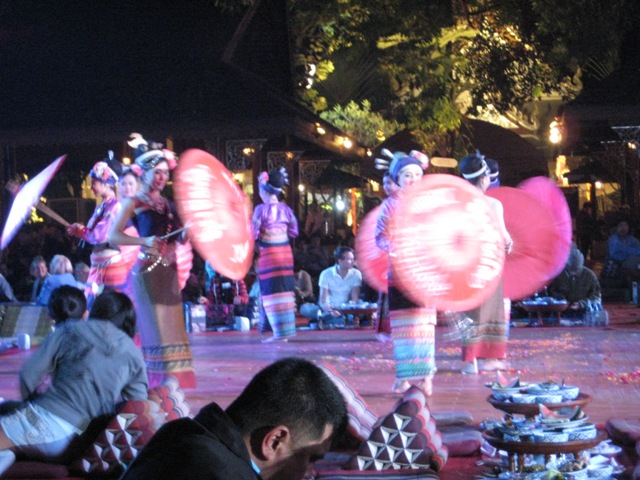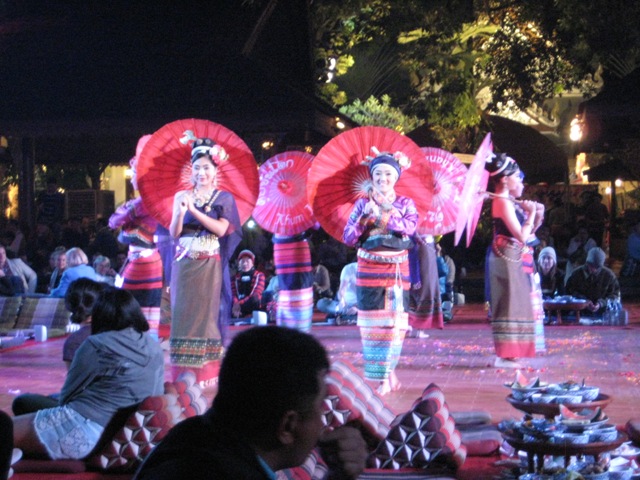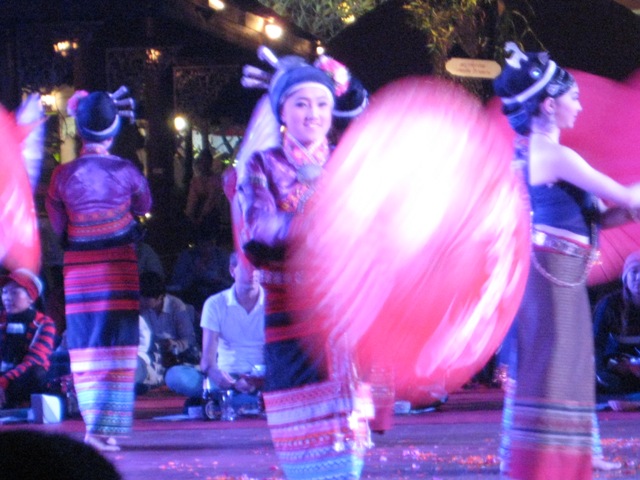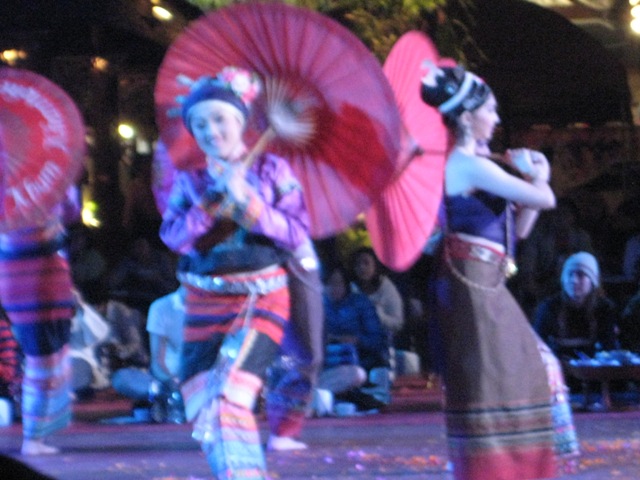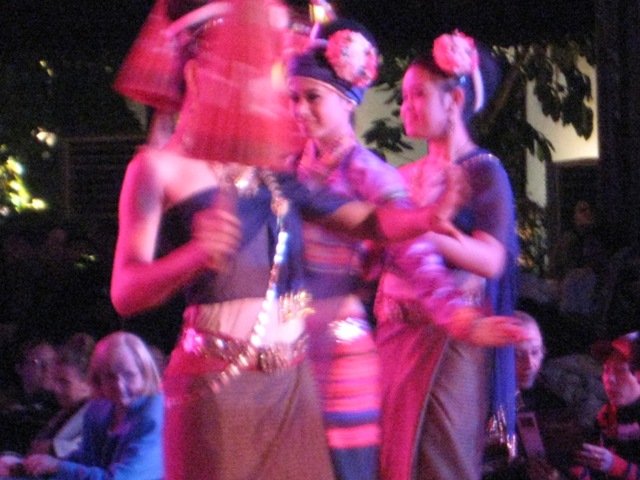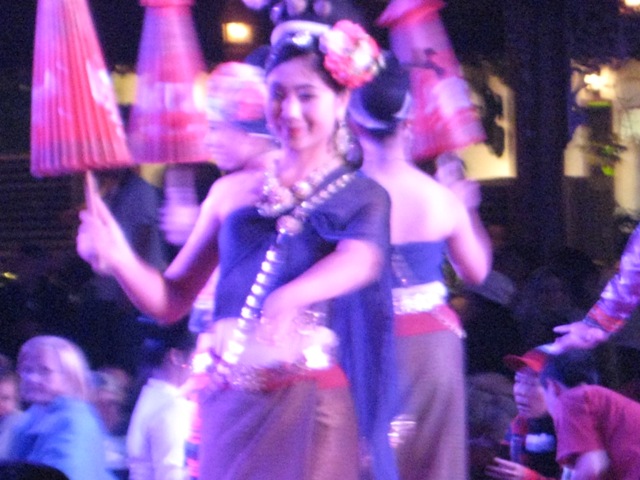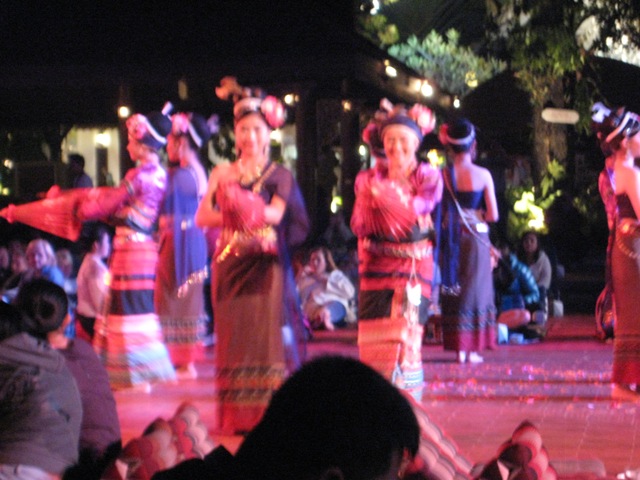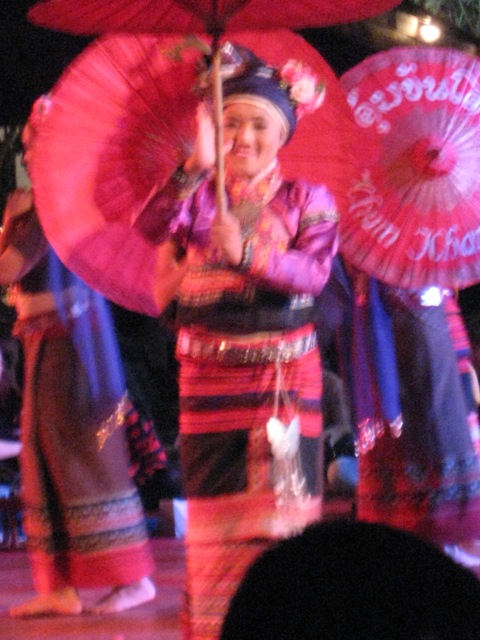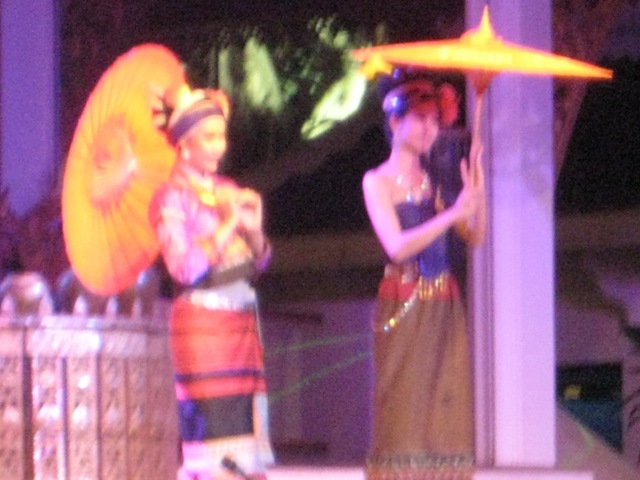 This was an interesting dance with just 2 dancers: a woman (with a fish-like tail) and a man (dressed like a monkey)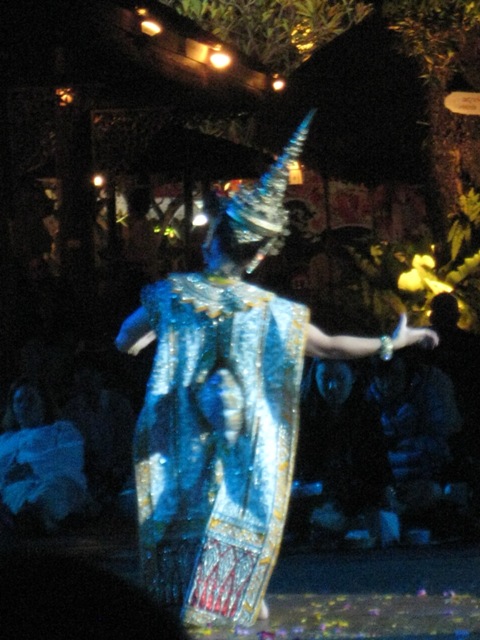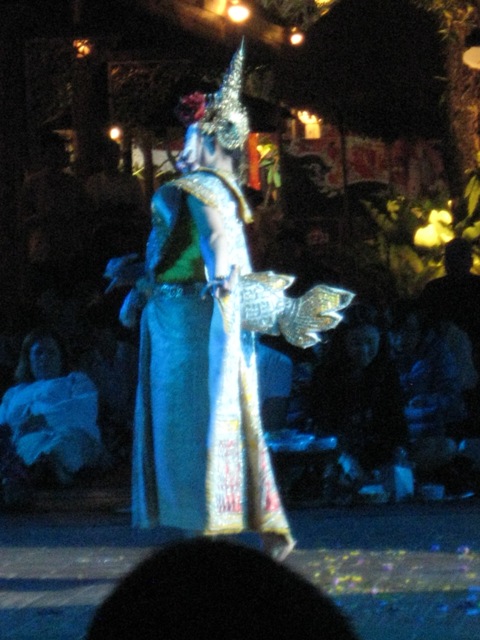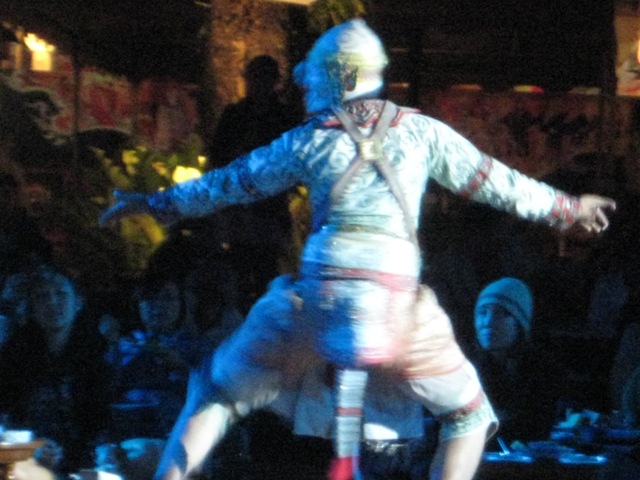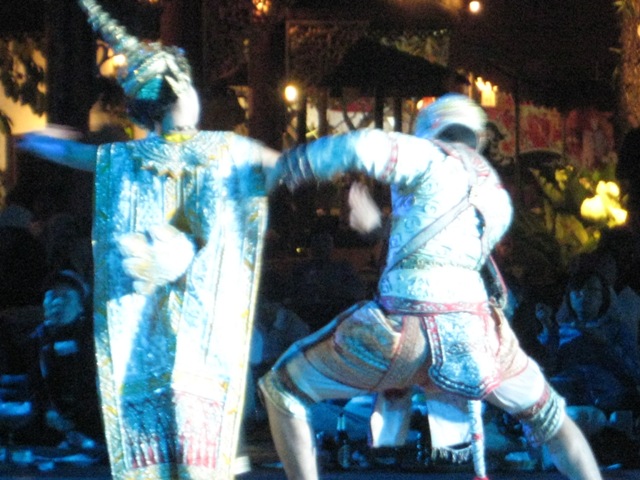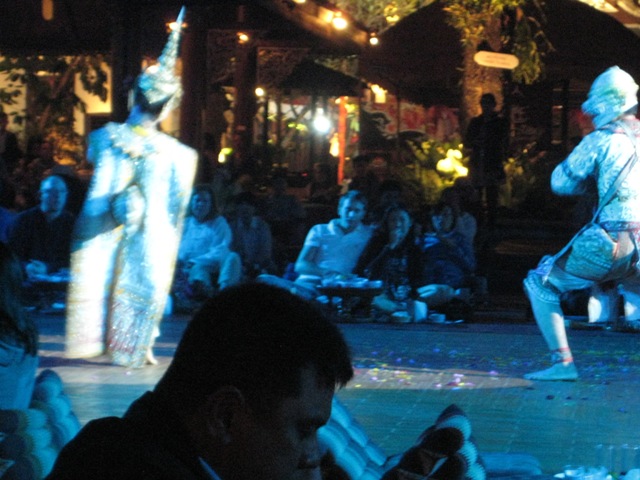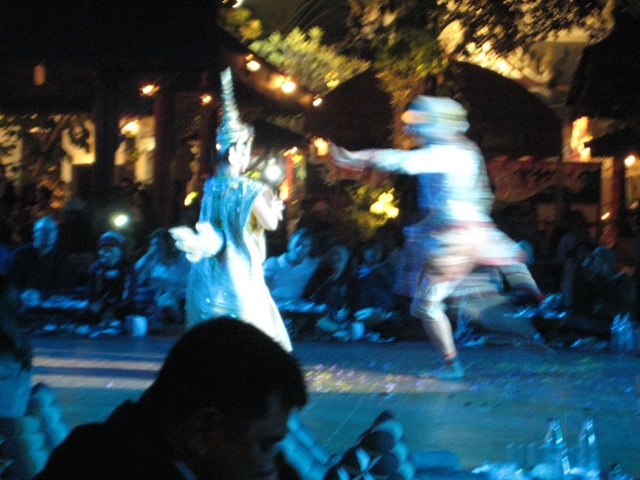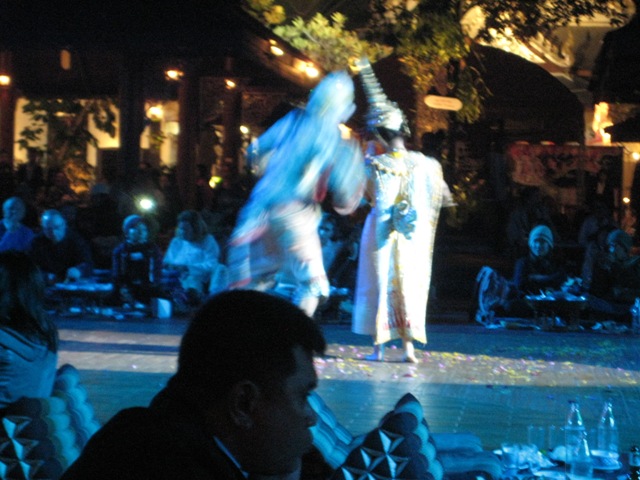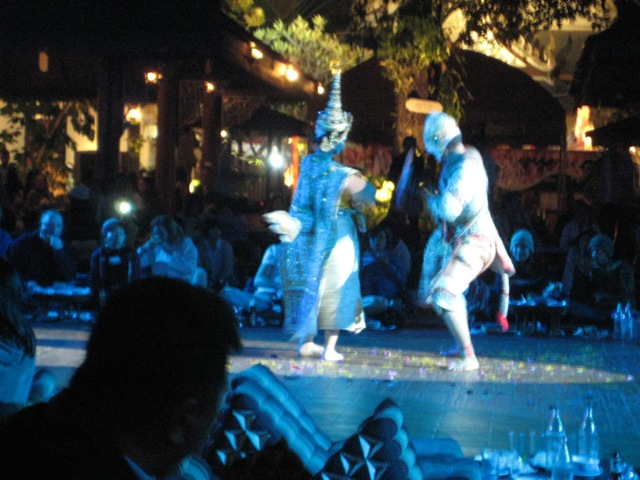 In the middle of the dance, these other ladies come out in lovely gold dresses. We thought they were part of the show until they basically came straight over to us! We had mentioned to our guide, Amy, on the way to dinner that this was my birthday and she had gotten a cake and arranged with the show to have the dancers bring it over to me. Big brownie points for the guide!!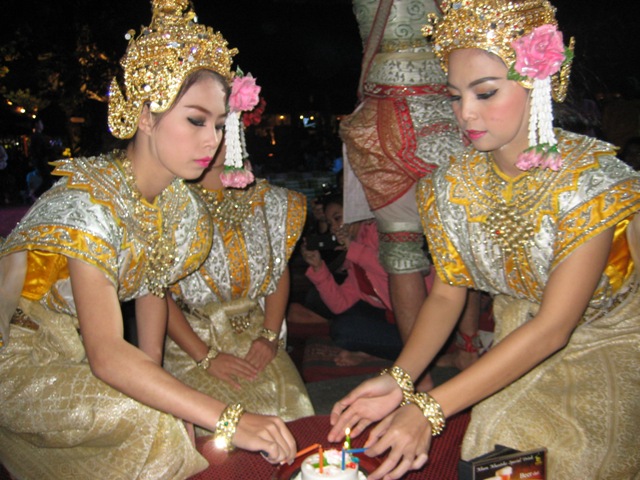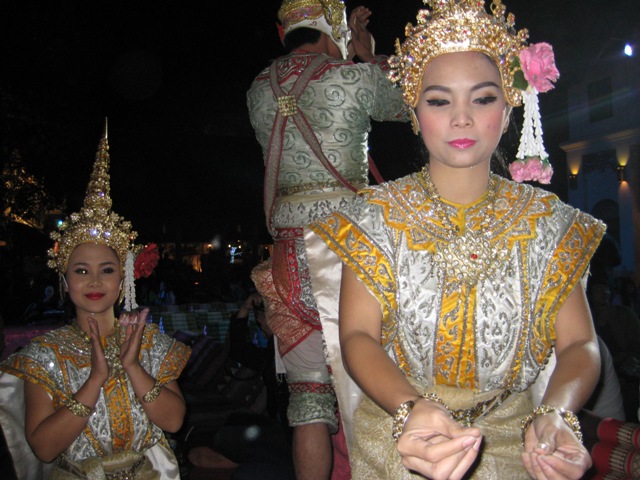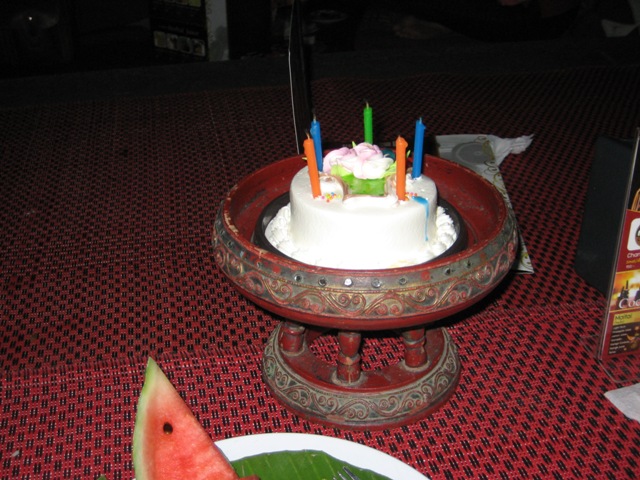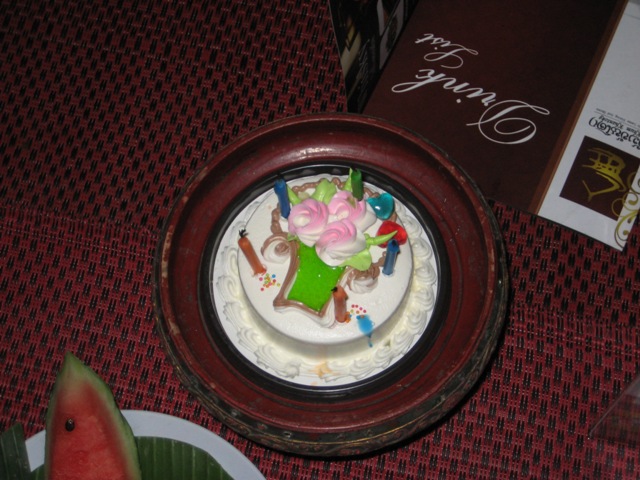 Then the same dancers finished.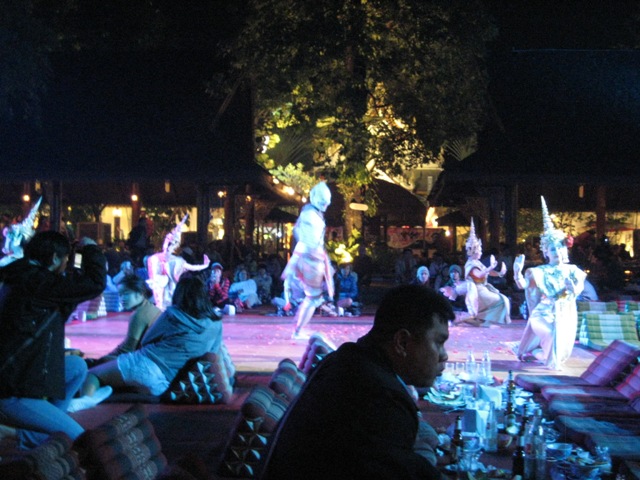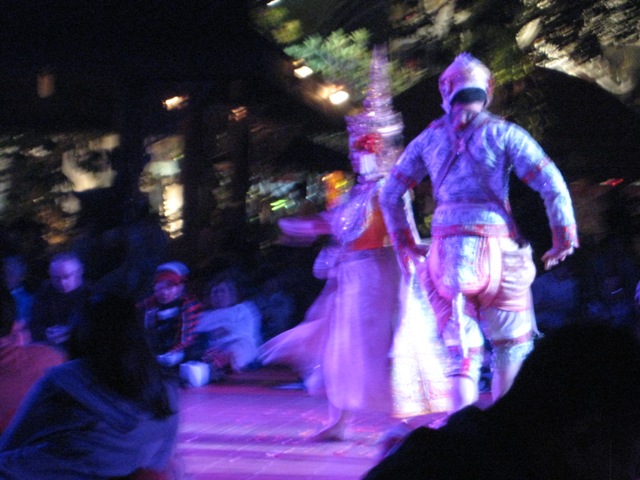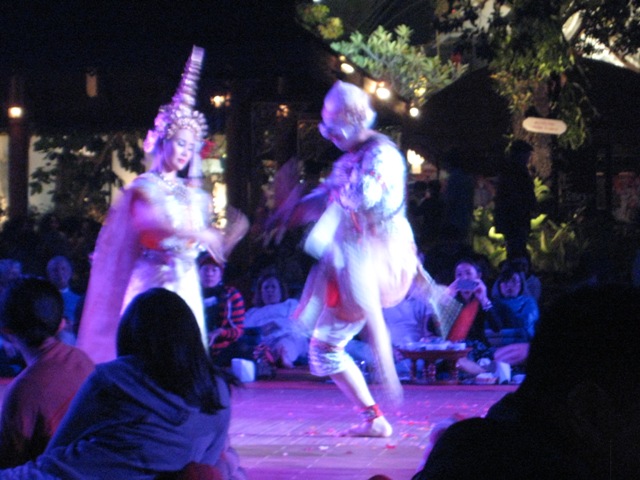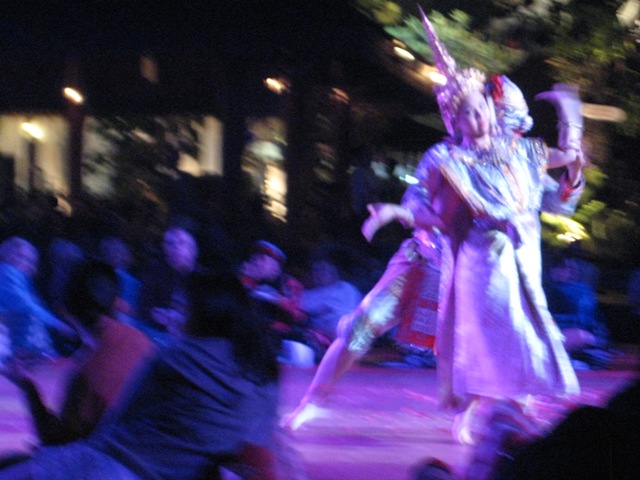 The next set of dancers had a set of different local costumes, from what I believe they said was the various hill tribes from around Chiang Mai.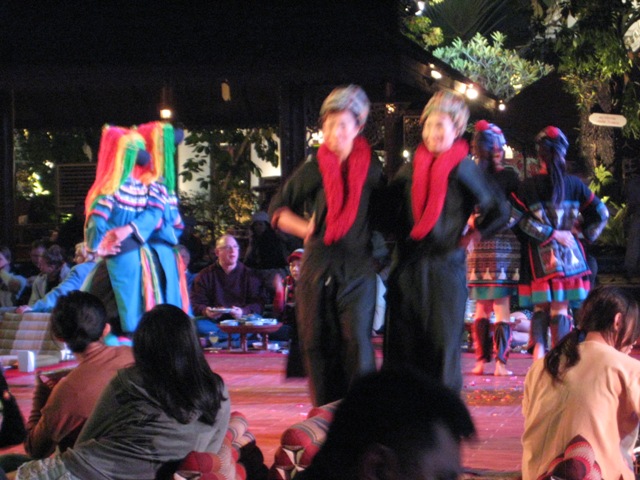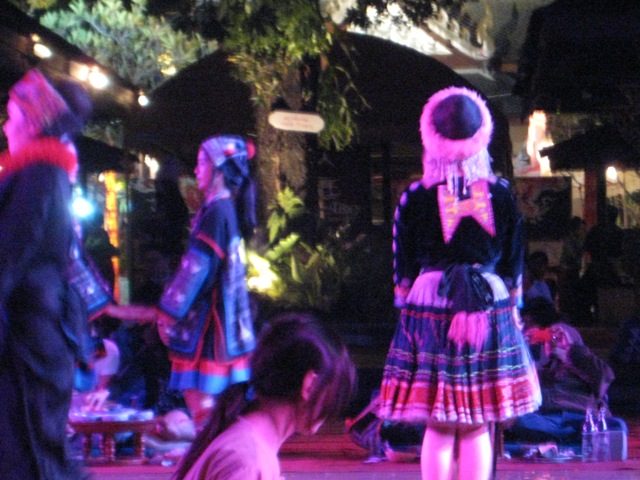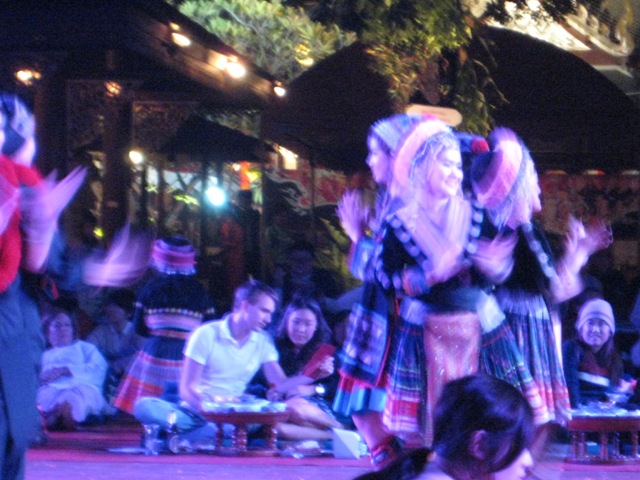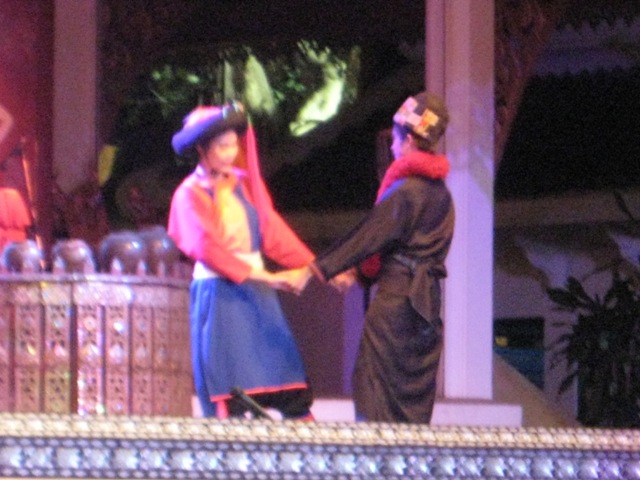 The next set was a set of drummers and a guy who did this dance act with a set of knives.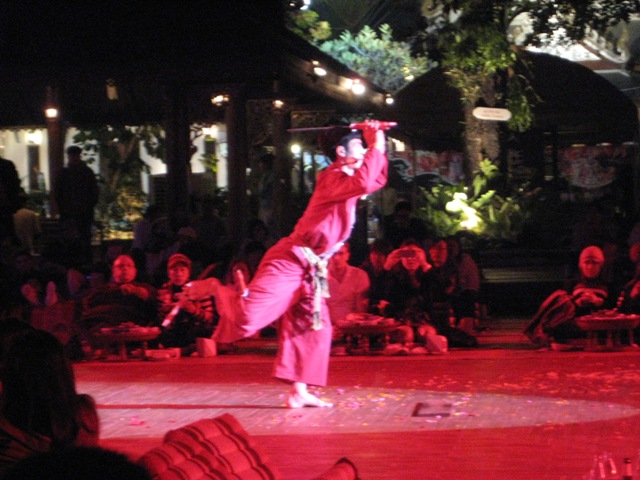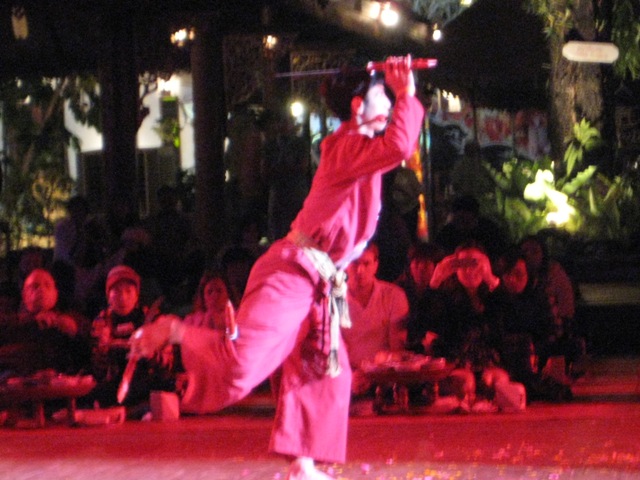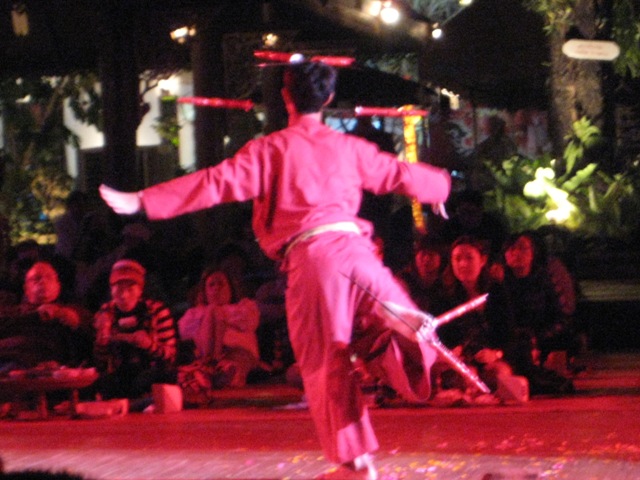 Then up on the stage was another dancer by herself, and then a set of men and women dancers joined her on the open area.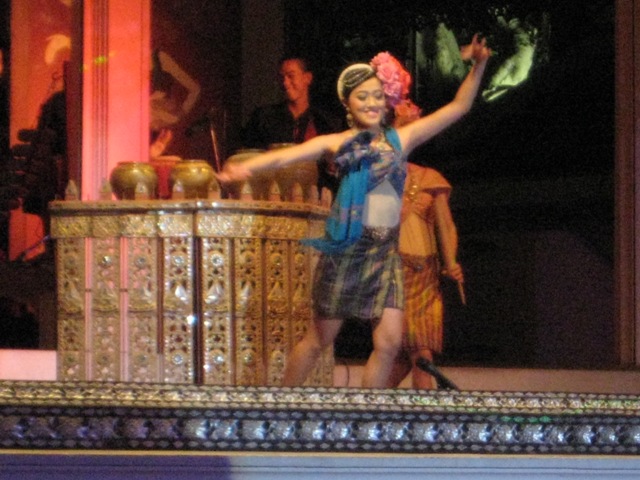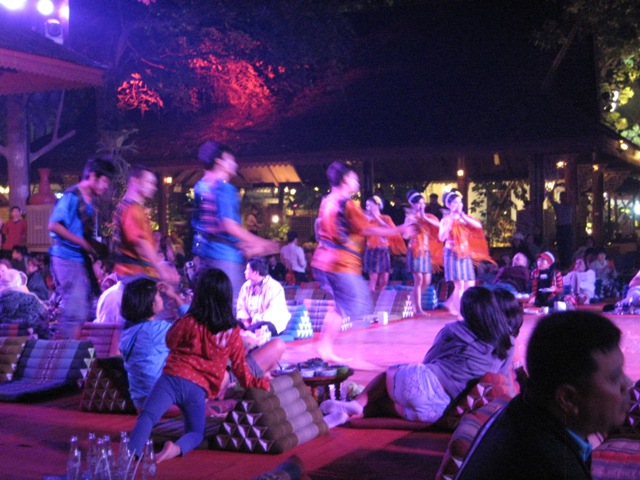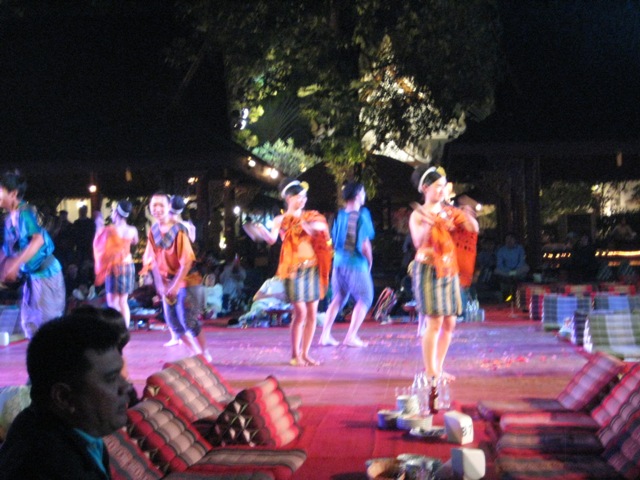 One final set of dances and then we decided to head out (they were still having the show, but it was getting late).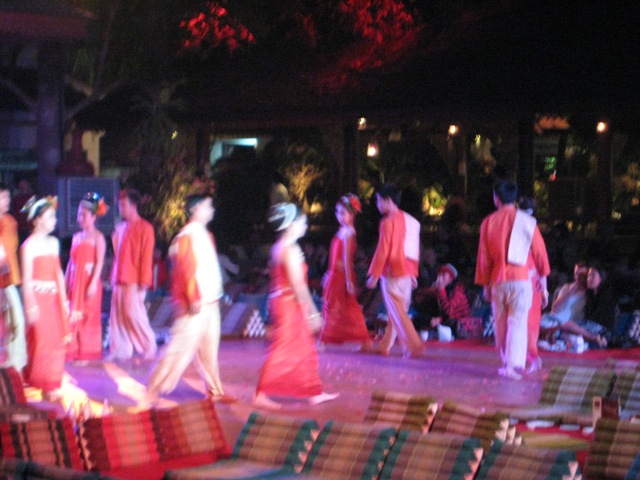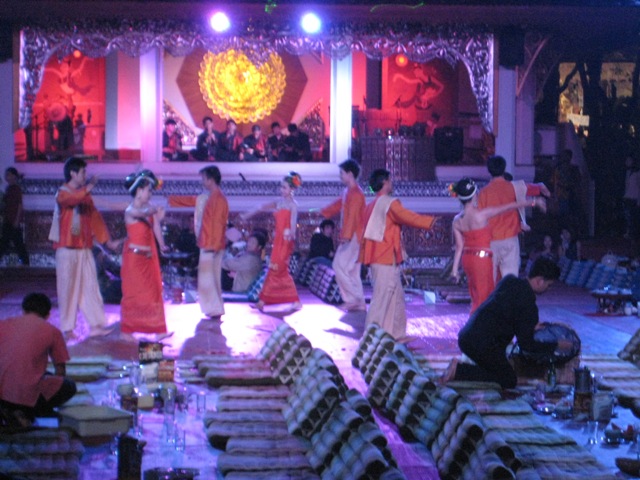 Back and the entrance, we took part in sky lantern lighting. These sky lanterns (khom fai or kom loi in Thai) are paper lanterns with an opening at the bottom where a small fire is suspended. The Lanna people use these floating lanterns year round for celebrations and other special occasions (like the Lanna Yi Peng festival, when so many lanterns are launched into the air that they resemble large flocks of giant fluorescent jellyfish gracefully floating by through the sky). The sky lanterns are believed to help rid the locals of troubles.
First, we watched while others lit and released the lantern, so that we got the hang of what to do.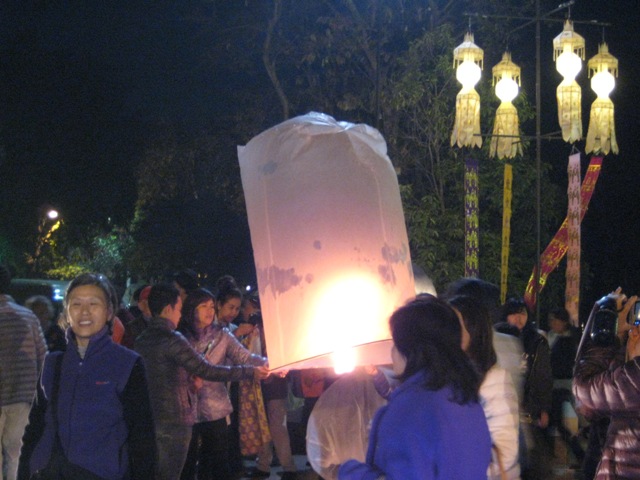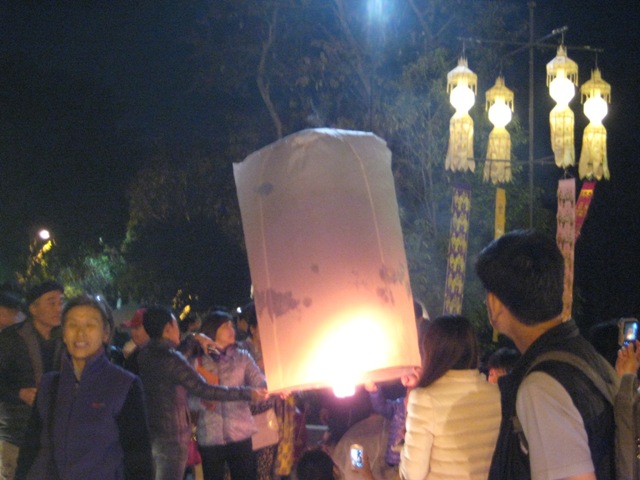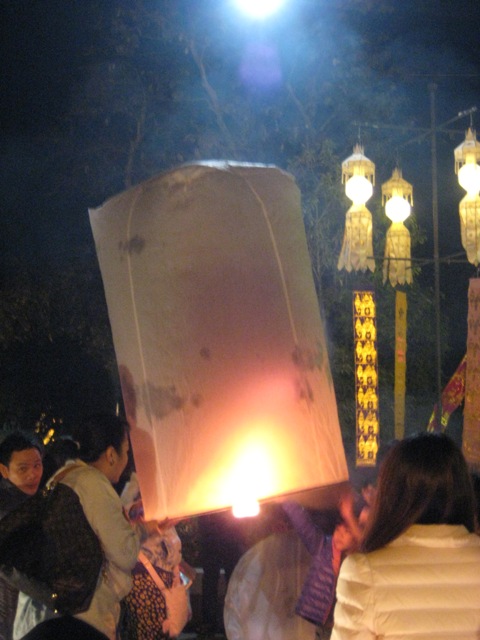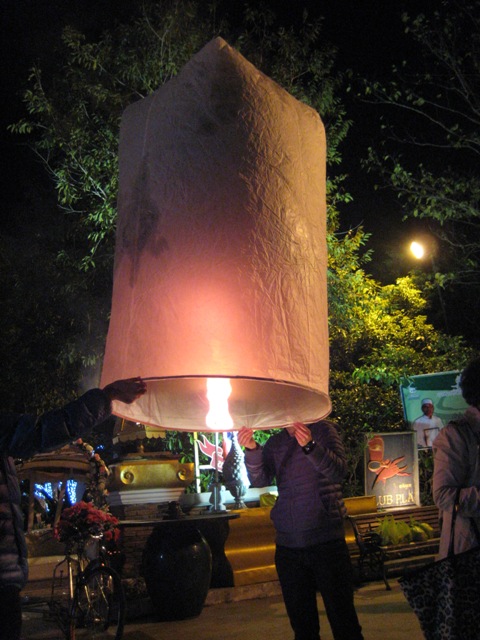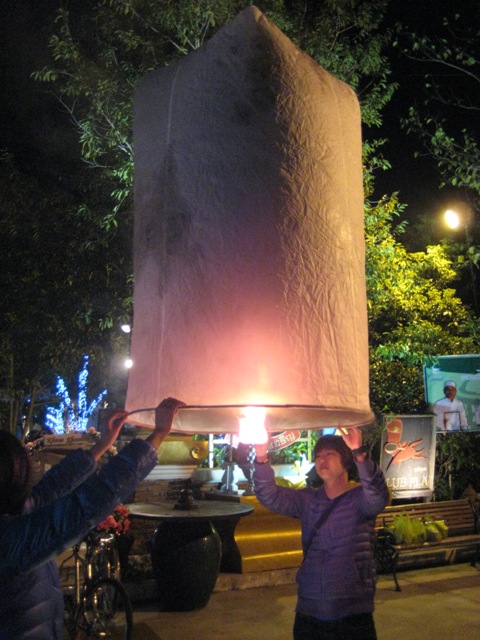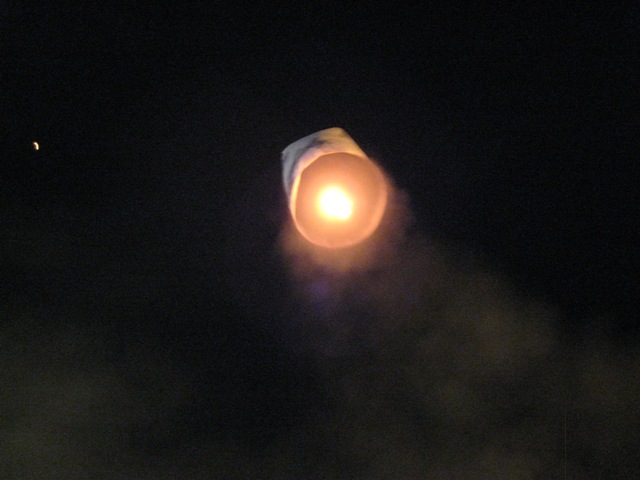 Then came our turn. There was a woman who was helping, since these are quite large, and paper, and with a flame. One wrong move and, well, they go "up in flames". (A special thanks to our guide Amy for taking all of the pictures!) You start by holding them somewhat low and she helps open them up. Then you have to hold them and wait as they fill with hot air. As it gets fully filled, then you let it float up ..and there they fill the sky!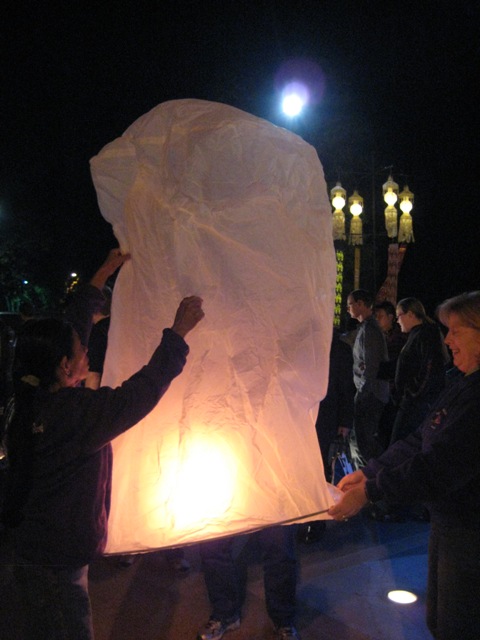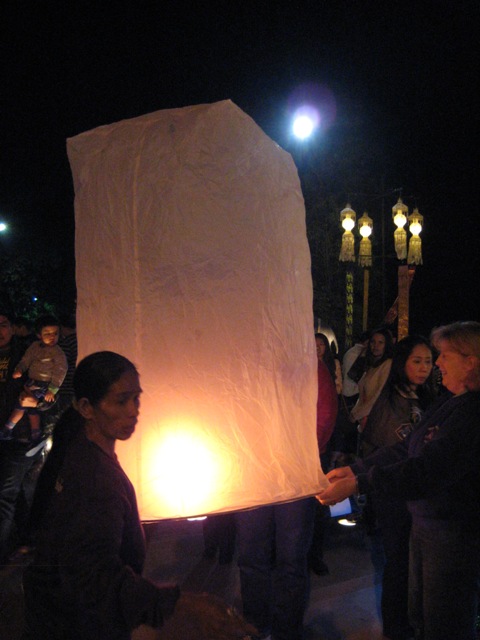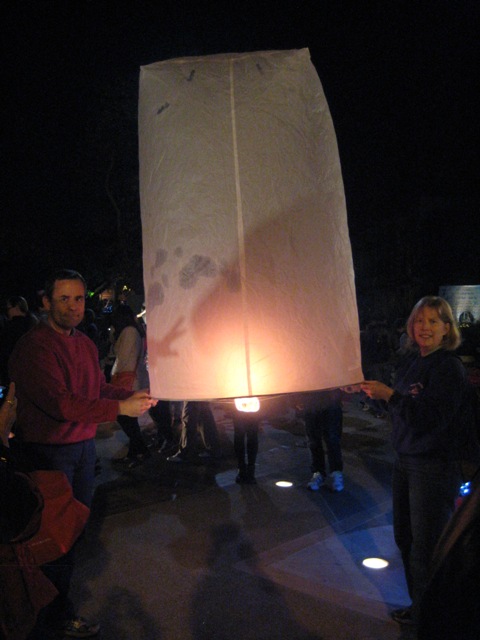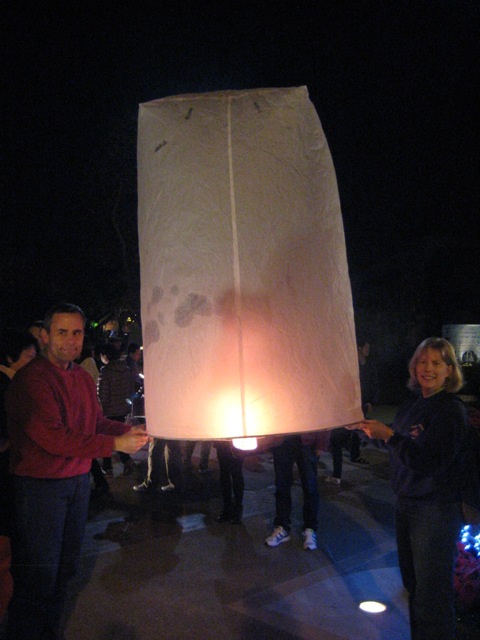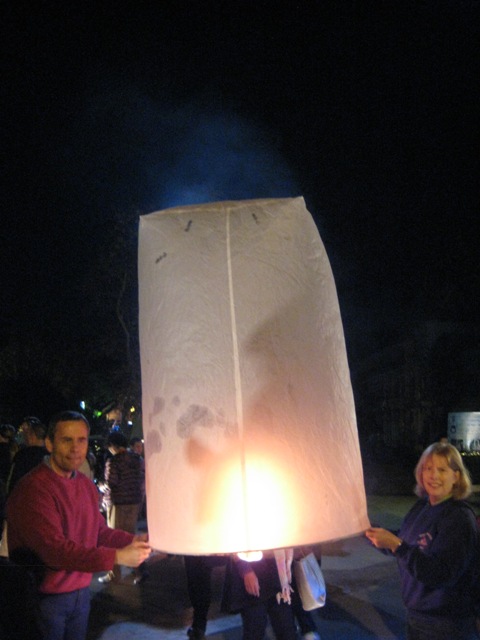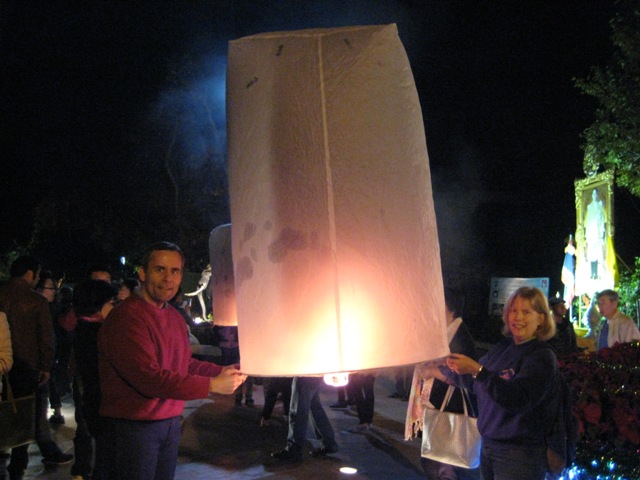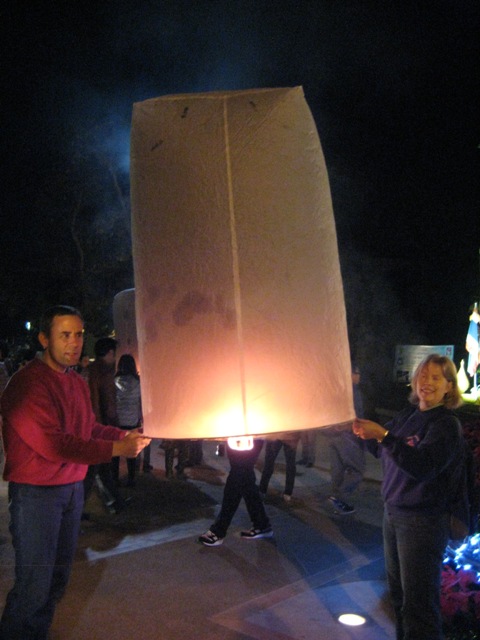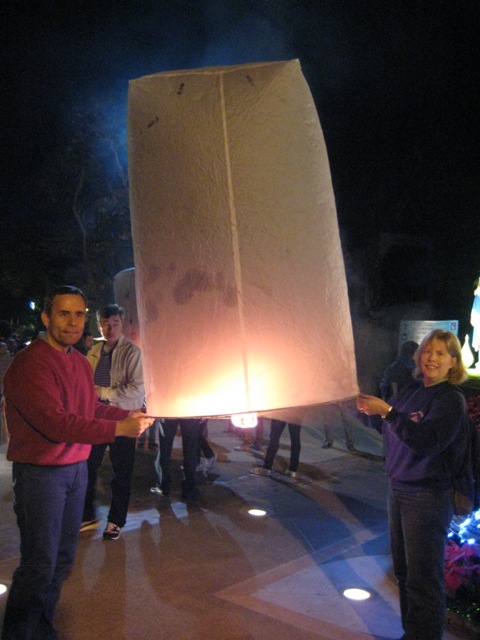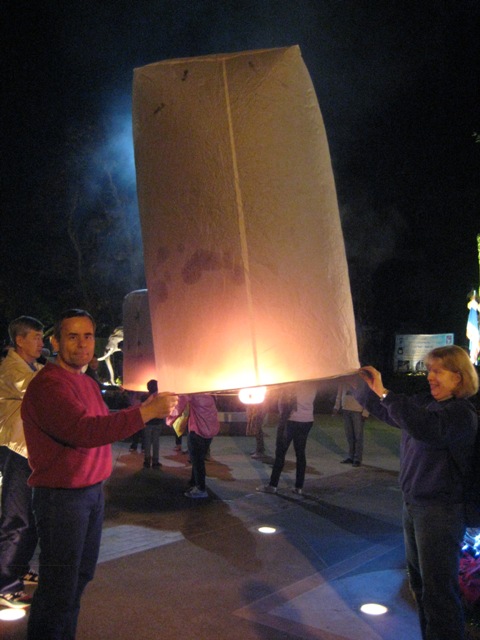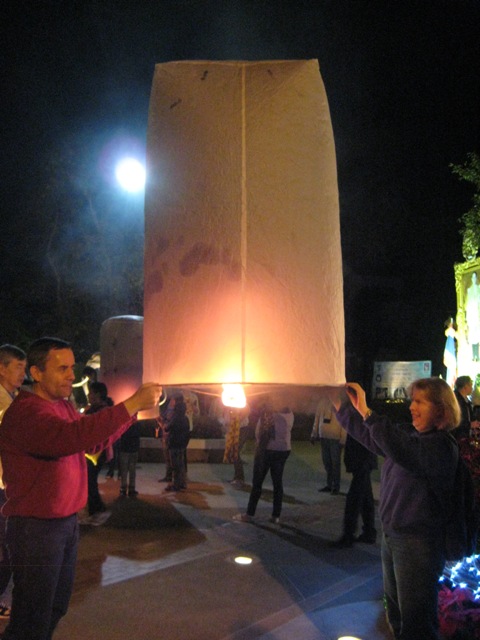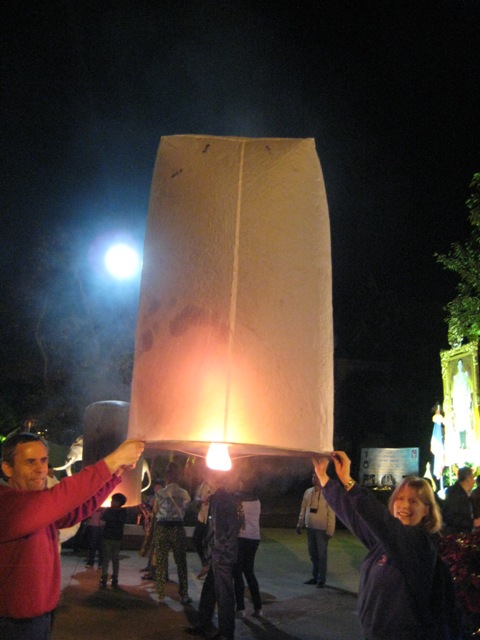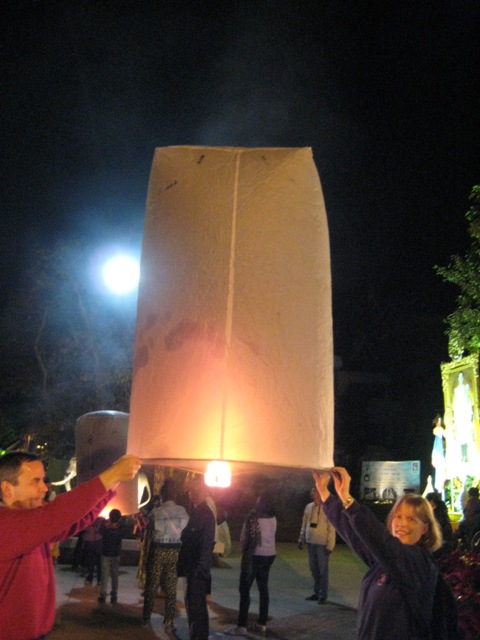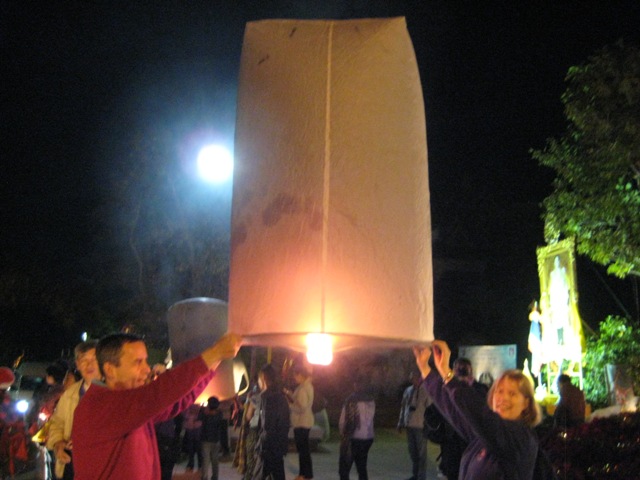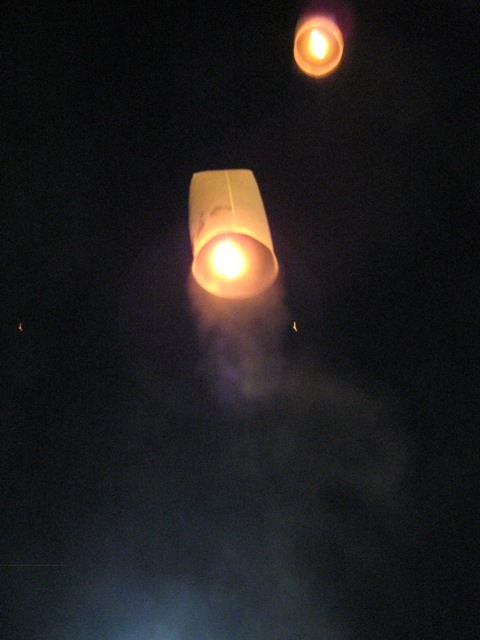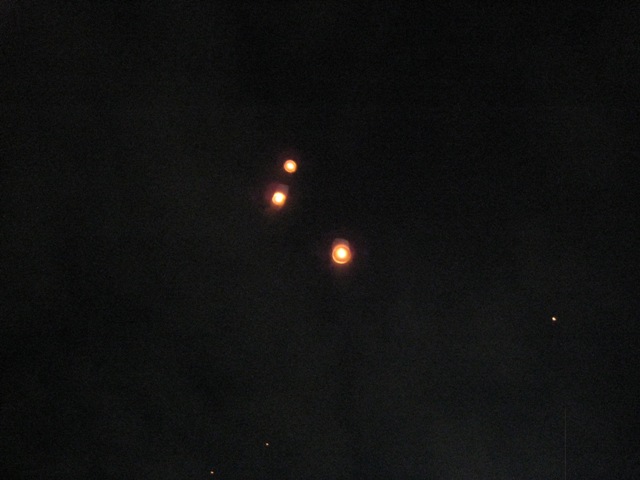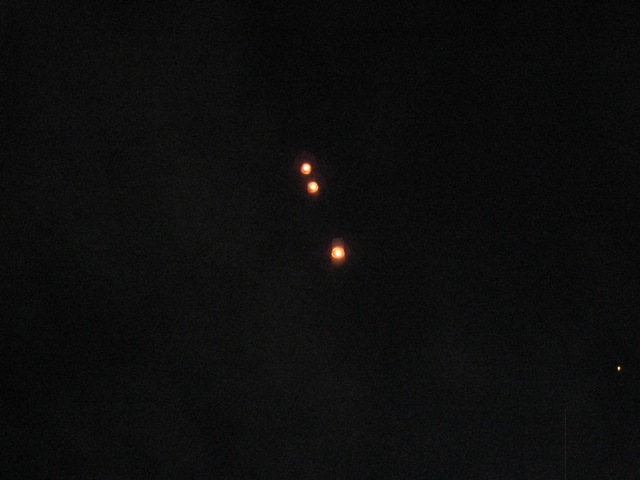 We headed back to the hotel and took stock of the night market that was right outside of the hotel. It is a really large market taking up several blocks, selling just about everything .. clothes, jewelry, spices, DVDs, carved soap, candles, and flip flops. We went though a few times but didn't really buy much. We've been to night markets in a couple of places before (Beijing, Hong Kong) so they don't hold as much of the shopping "wow" for us as they do for alot of people.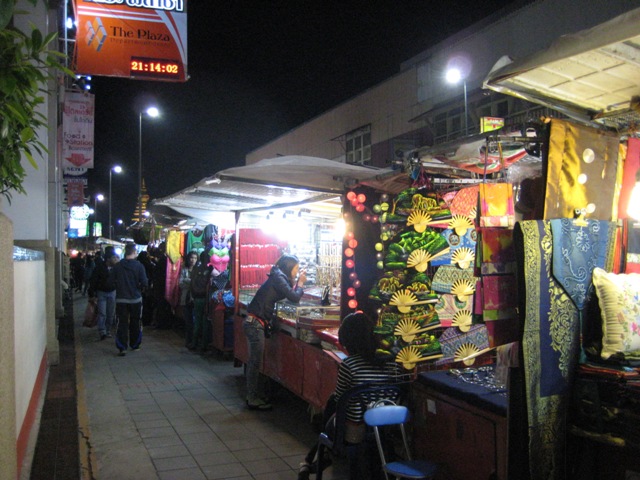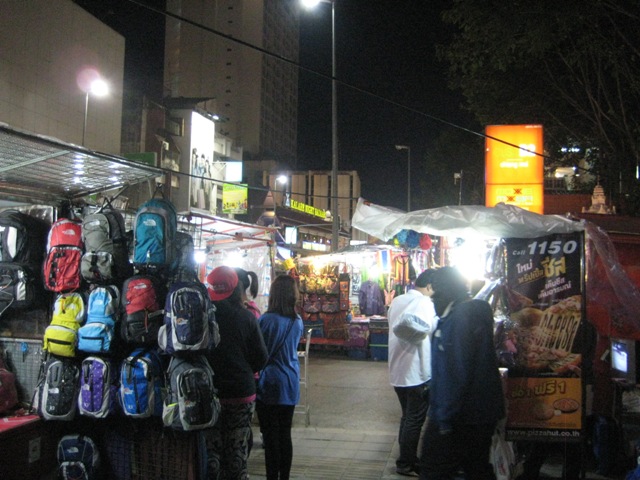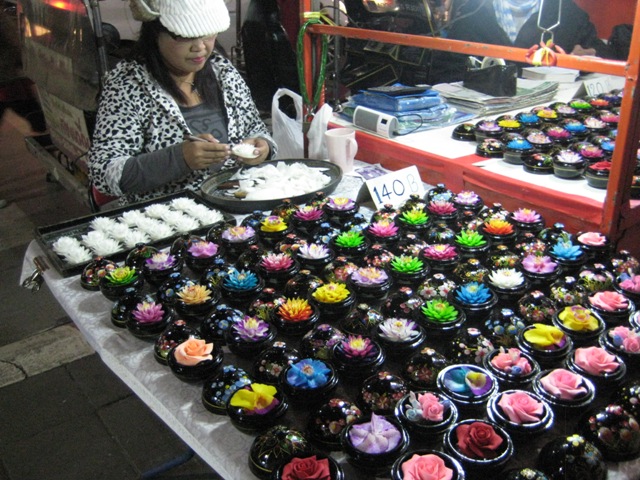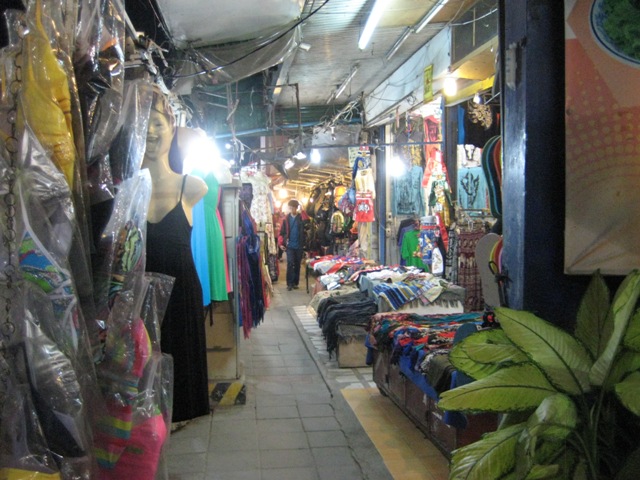 Continue to Day 2 in Chiang Mai