Susan's Shanghai Blog - Week 108
This is Valentines Day, 2014. We decided to do something special again this year, so we went to Tokyo! Tokyo in February is not warm, but not all that cold either. In Tokyo, snowfall is sporadic, but does occur almost annually, and we were lucky enough to pick the right time to see snow. These were taken from the Narita Express on the way into Tokyo showing the snowfall that they had.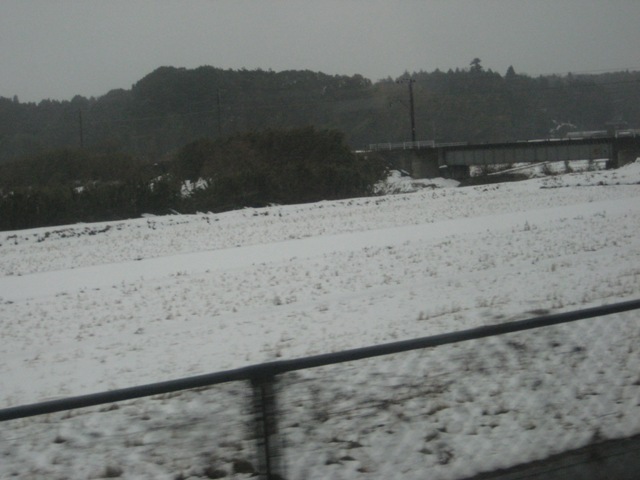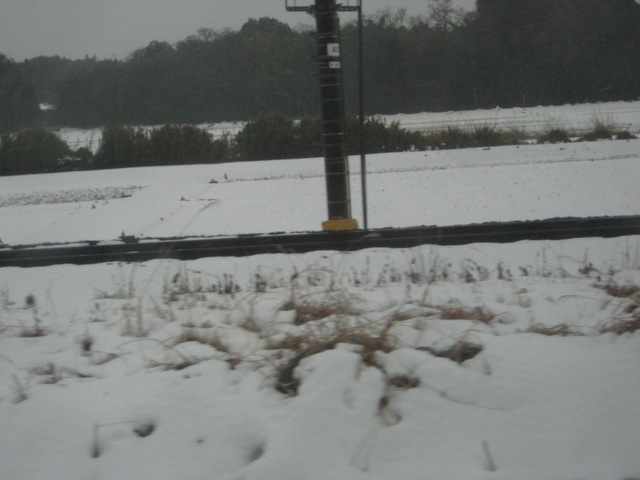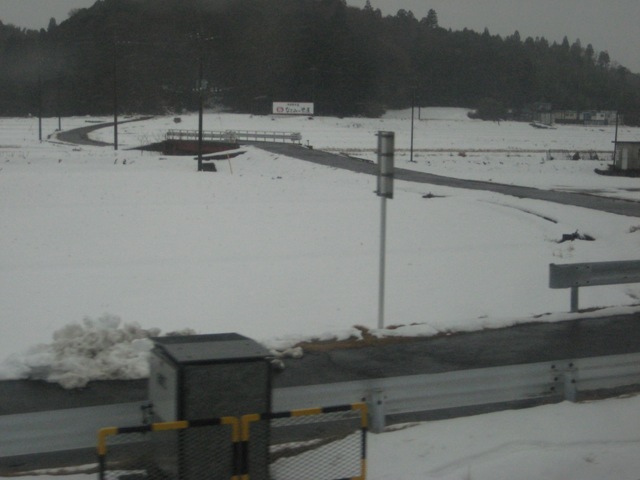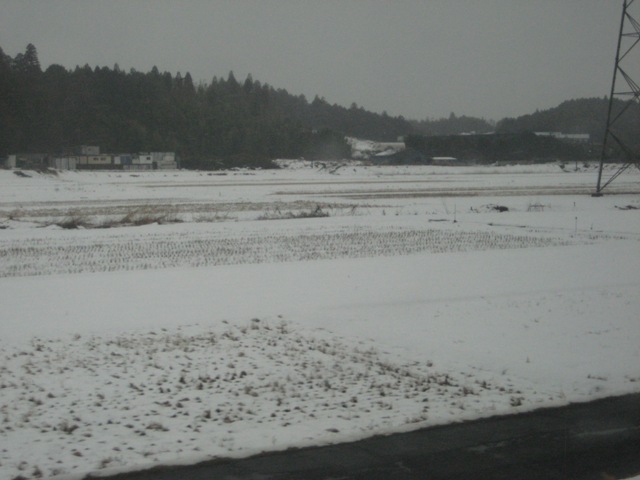 The main reason for the trip to Tokyo was dinner. Some people may think that this is odd. but people with kids take trips only for a basketball game that their child is playing in. Having no kids, we take trips for other reasons :-) Tokyo actually isn't that far away from Shanghai, and we both love Tokyo anyway. We made the dinner reservations before we made the flight reservations since if we didn't get the restaurant we wanted, we wouldn't have made the trip. So, now you are all REALLY wondering what restaurant we could have wanted to have dinner at so much that we planned an entire trip around it? Joel Robuchon, sometimes called Le Chateau de Joel Robuchon. It has 3 Michelin stars and some say that this is the best restaurant in Asia. Joel Robuchon also has the most Michelin stars of any chef in the world. We are in Asia so therefore, the best restaurant in Asia was a perfect choice!
Here is a picture that I grabbed off the web that shows the restaurant in all of its glory, and then the second picture is the one that we attempted to take at night in the snow (yea, not as good). It was snowing as we headed over there, which made it a bit more difficult to get a good picture.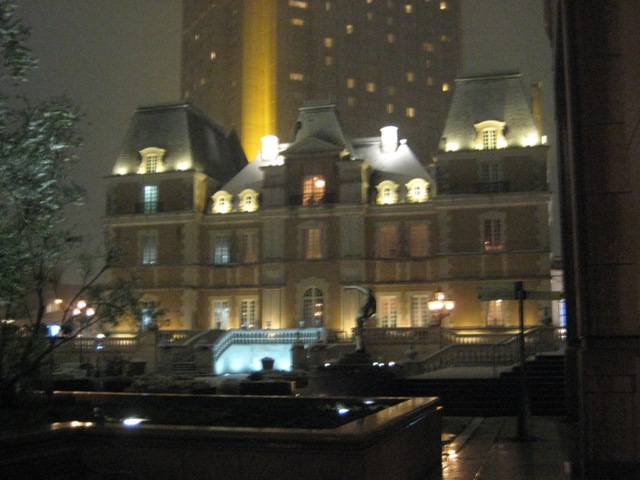 They greeted us in the lobby and took our coats, and then ushered us up a grand marble staircase to the 2nd floor.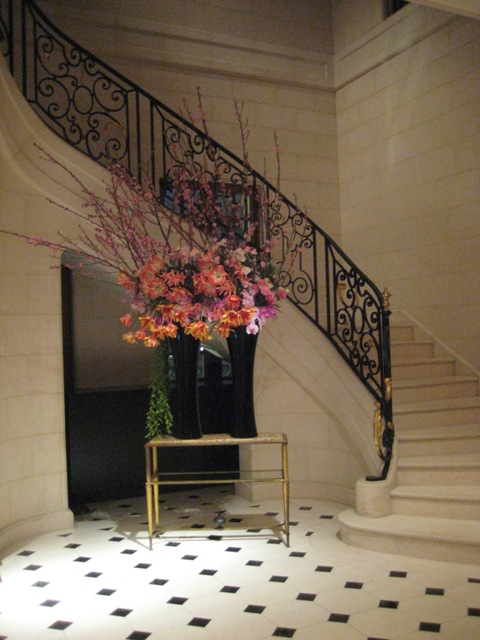 The dining room had gold walls and black table clothes, with candles and flowers around. It was a little interesting that all of the walls were behind glass, like they were historical artifacts being preserved.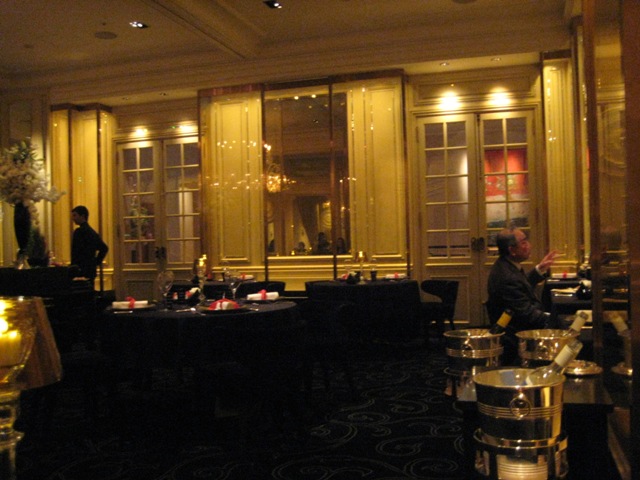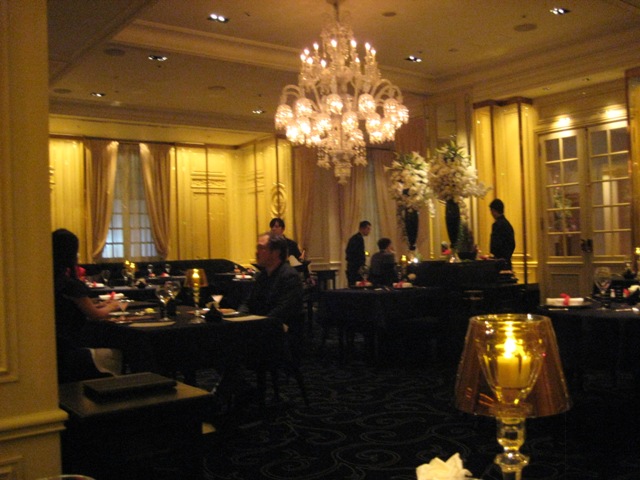 They started with a cart of various types of champagne. The carts reminded me of our evening at Helene Darroze in Paris. We settled on a Rose Champagne for Tom and a Semi-dry for Susan.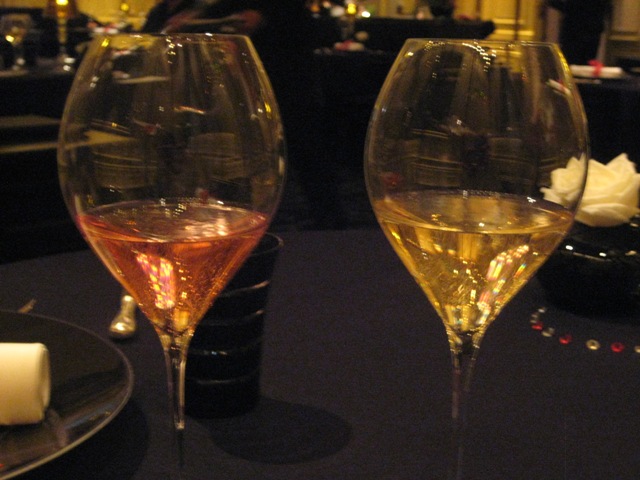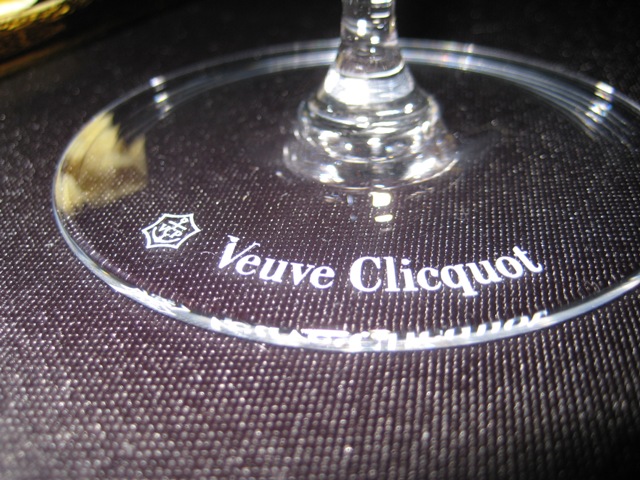 The decorations on the table included flowers and crystals. The black and white plates included the crisp, white napkins rolled up and tied with a red silk tie.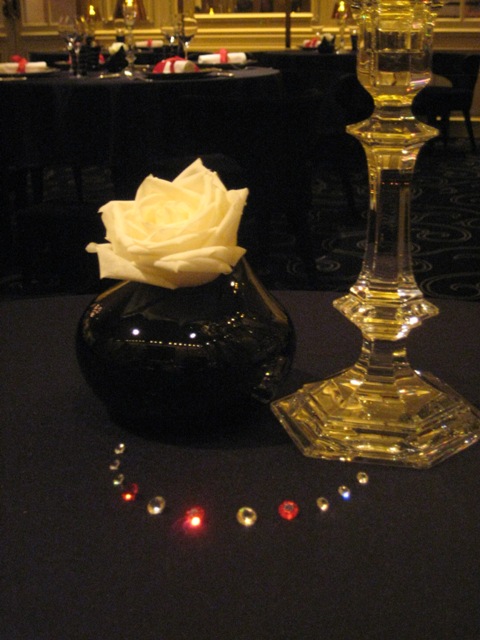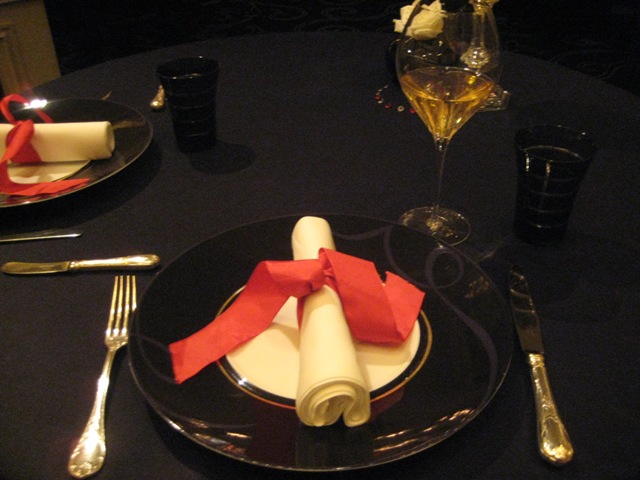 You can tell it is not JUST about the food, but it is truly about the experience here. These are the pictures for the butter (yes, you hear it, I took 3 pictures on butter). They bring out, on a cart, a big block of butter. And they don't just cut you off a piece. No, they have silver spoons and then starting at the bottom, they scrape off a length of butter which rolls up into a little swirl when they get to the top of it. They then lay it on a black marble-looking plate.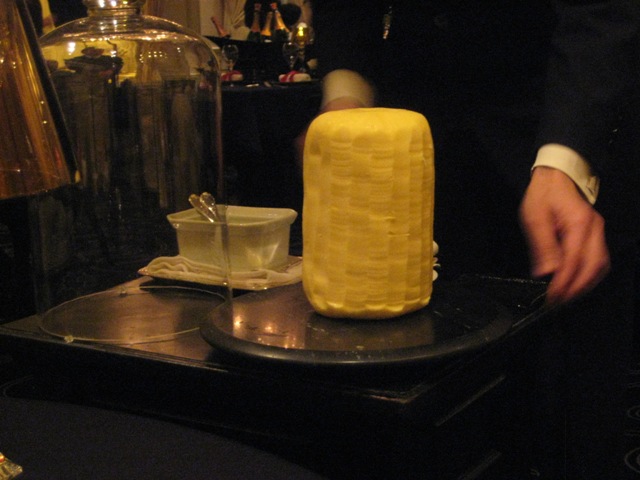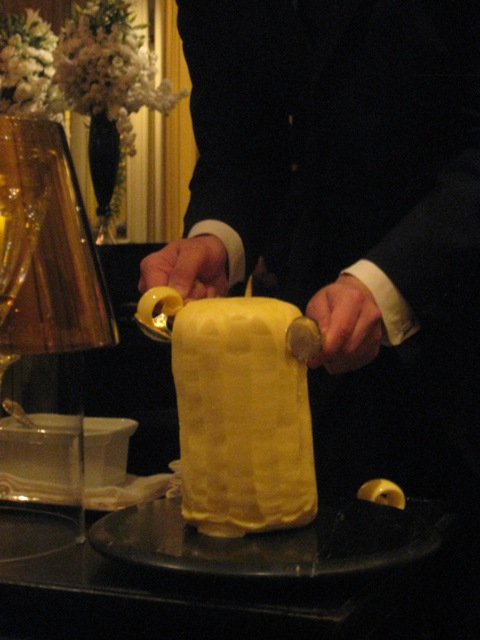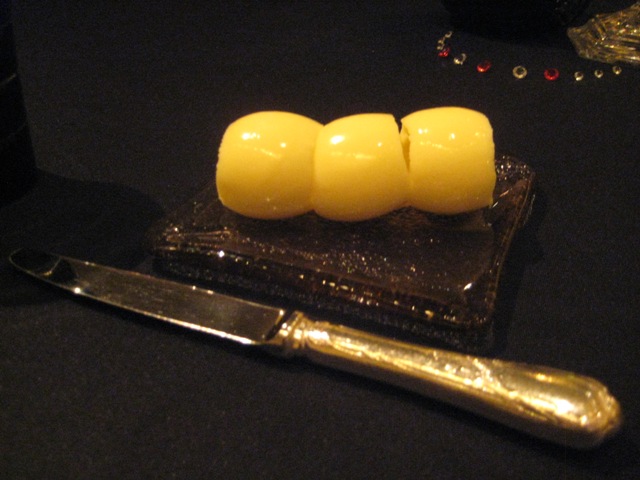 There are three different dinner menus and we ordered a Menu Specialite (a black truffle menu it would seem) and a Menu de Saison. The third menu seemed to have too many courses and we felt that by the time dessert came, we would be totally stuffed and not be able to enjoy dessert.
The wine list comes on a tablet and she very nicely explained how you can look by type, country, region, maker, attributes .... and our heads started spinning .... so then we just asked if she could pair 2 glasses of wine each with our selected menus.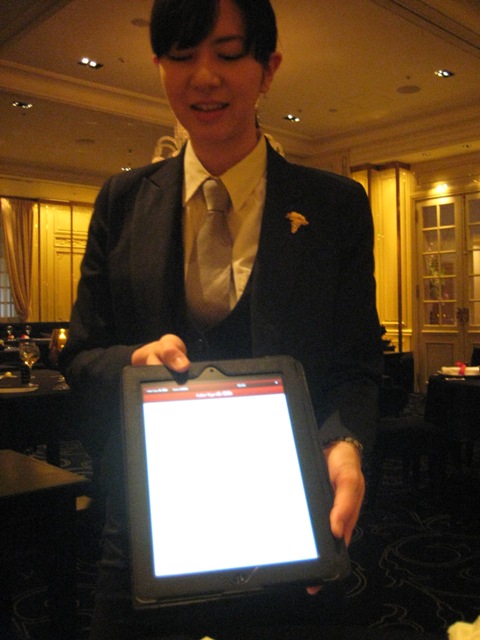 Bread ... there were lots of different types of bread to choose from, all brought on a cart that we could pick from. The bread plates were perfect, had the area from the bread, plus an indentation for the olive oil to be placed in. You'll see more bread as we go through the meal.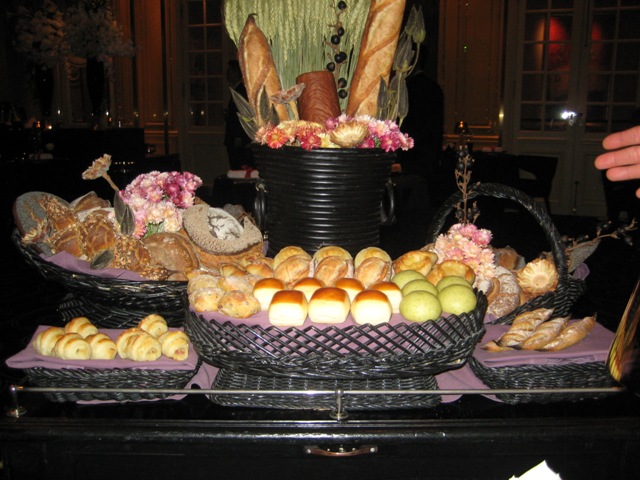 Our first wine pairing was a 2011 French wine from Bourgogne (Burgundy for us English speakers). The area, Chassagne-Montrachet, has 3 main vineyards which produce some of the most expensive and long-lived white wines in the world.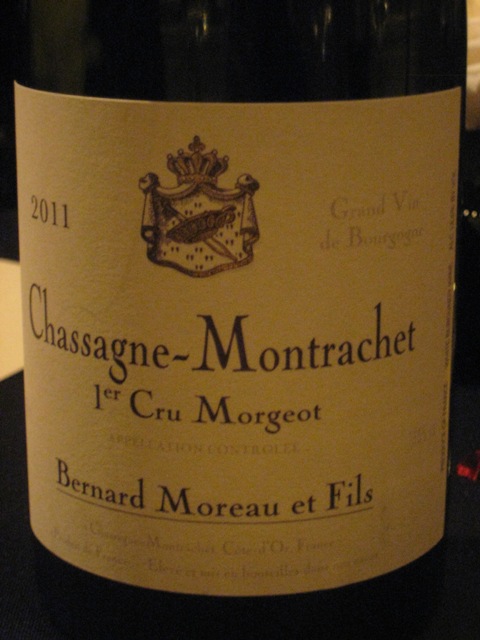 The amuse-bouche on the "truffle" menu was called Le Caviar, and it was caviar with a delicate crustacean jelly along with a cauliflower cream. All this served in a martini glass. From the side, you can see the caviar in the bottom, then the jelly, topped with the off-white cauliflower cream. Around the top were dots of herb juice. All to be eaten with a dainty little mother-of-pearl spoon.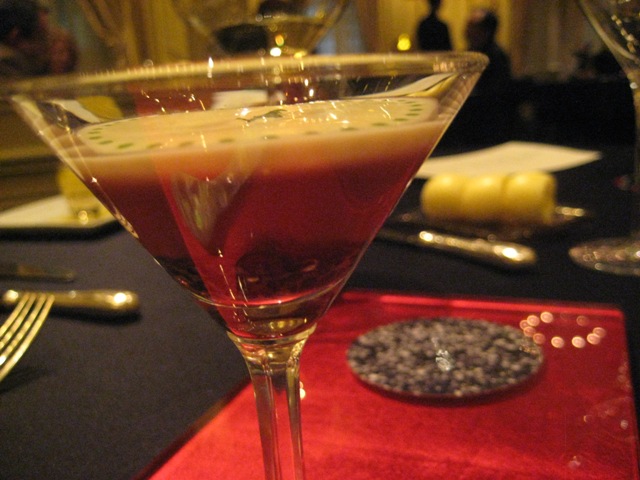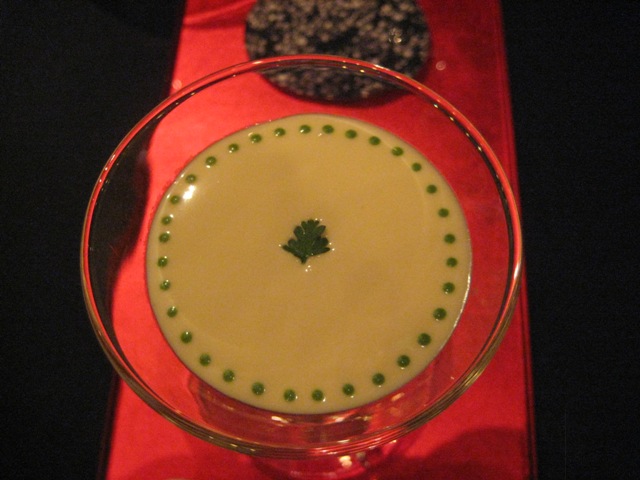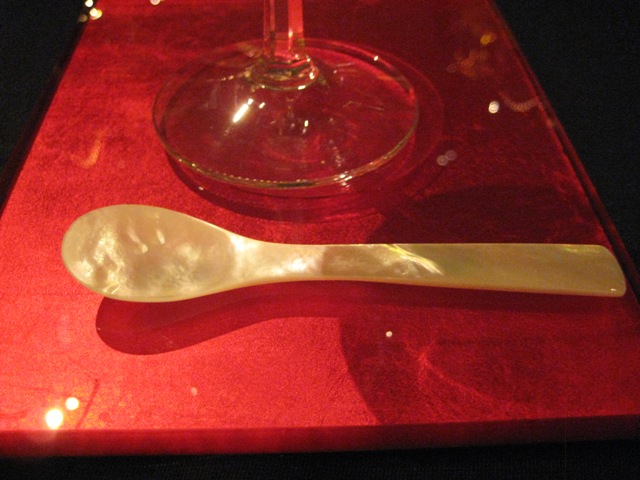 Tom's amuse-bouche was called Le Potiron, chilled pumpkin light foam served with a rosemary flavored jelly.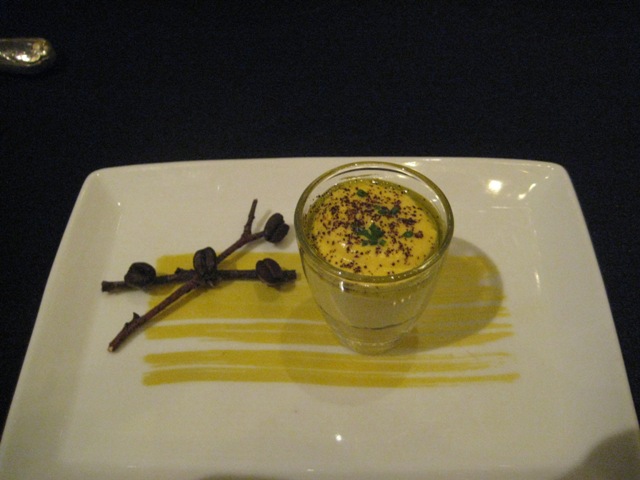 Next came La Pomme de Terre, which was a potato salad served with Parmesan cheese shavings and (of course) black truffles. I never really thought of potatoes with haute cuisine, but here it was. The potatoes were cooked perfectly and were think slices topped with the Parmesan and then a sliced of black truffle.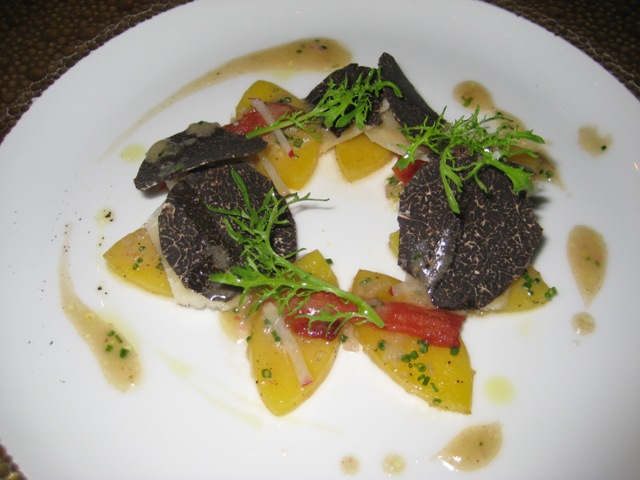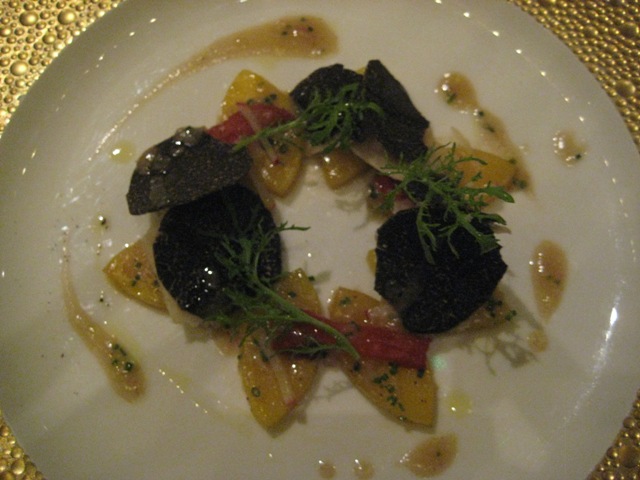 Tom's was Le Homard de Cotes Bretonnes, which was Brittany lobster with celeriac (celery root), coral, and turmeric dressing. The celery root was sliced thin and almost used as little pieces of bread to make a lobster sandwich :-)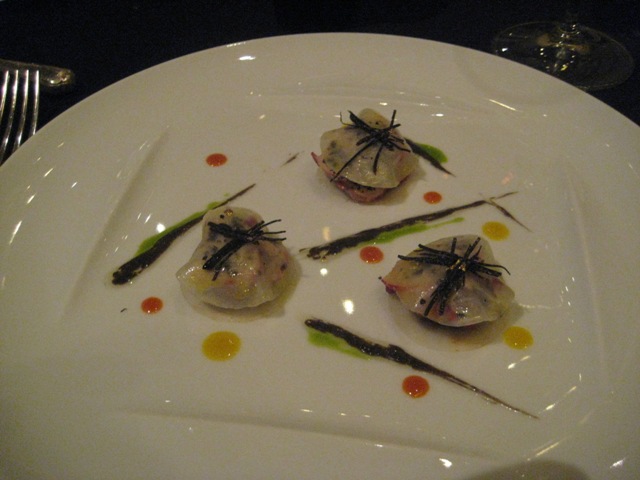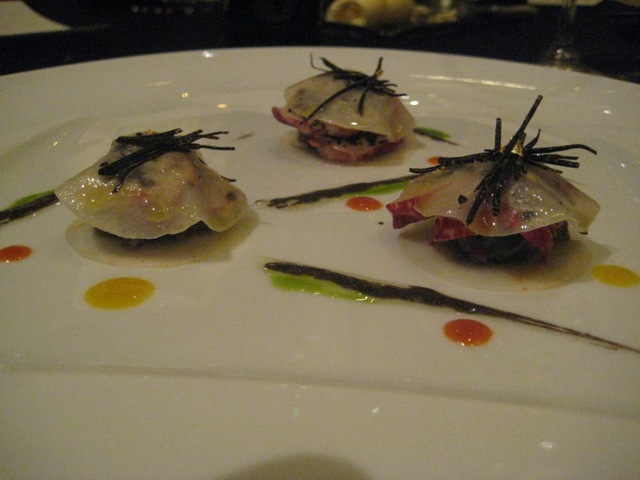 First set of breads: the square one is a milk bread and then a more traditional personal little baguette. The second plate contains one that was filled with bacon and a small croissant.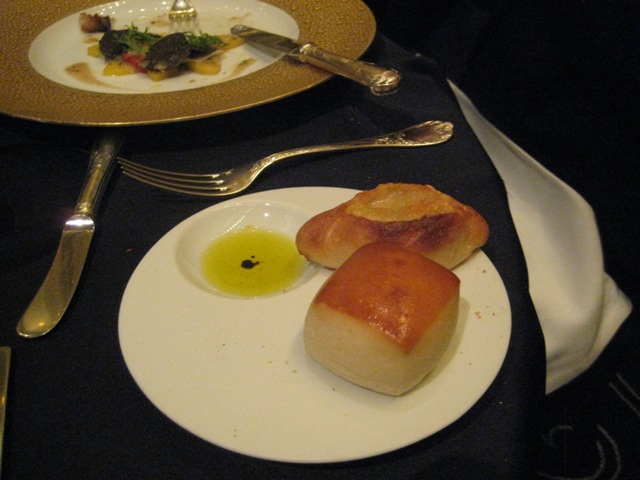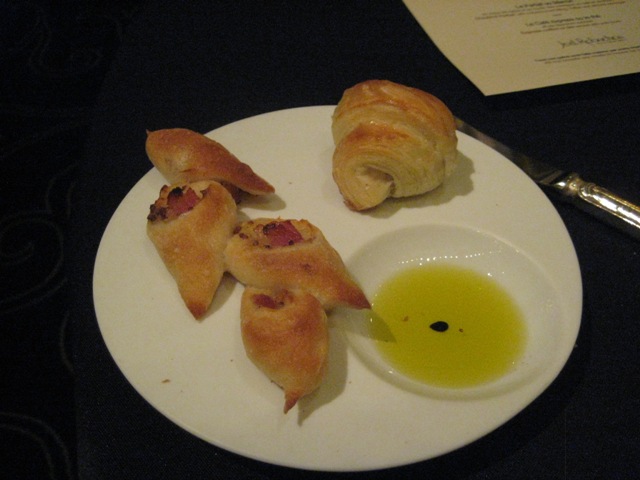 Our second wine course, we each got a different wine. Tom went with the red, which was a 2003 from Chateauneuf du Pape. This was interesting in that our last vacation into Southern France, we were driving through the village of Chateaneuf du Pape and got lost .. kept driving around in circles and couldn't find the right road to turn on to get out of the village! Susan went with a white from Bordeaux. Although Bordeaux is known for its reds, it also does quite good with whites. This one was a 2007 Grand Cru.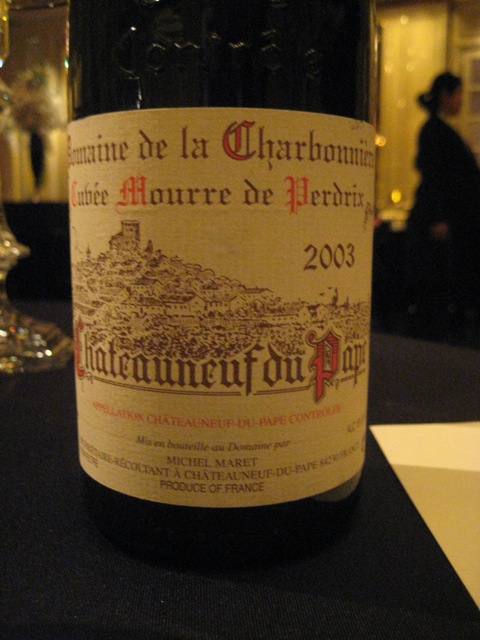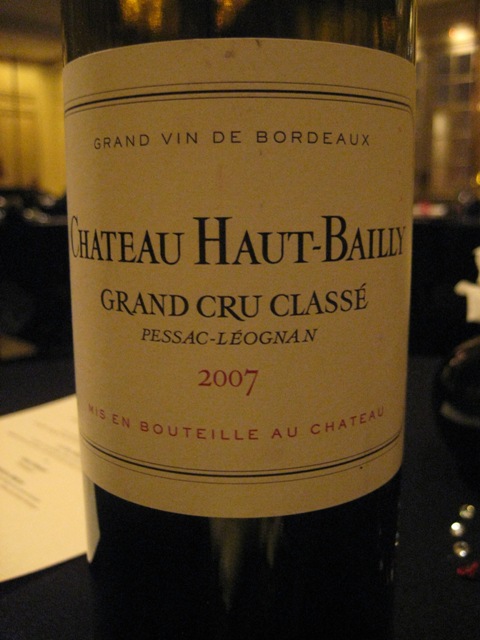 Next up on the truffle menu was totally French! L'Epeautre, which was sauteed duck liver served with a spelt (also known as dinkel wheat or hulled wheat) and Parmesan cheese risotto .. and then topped with sliced black truffles. Somewhat interesting since you think of risotto with arborio rice. I'm not normally a fan of sauteed duck liver and prefer my fois gras in a "block" or "terrine" form. However, this was quite good.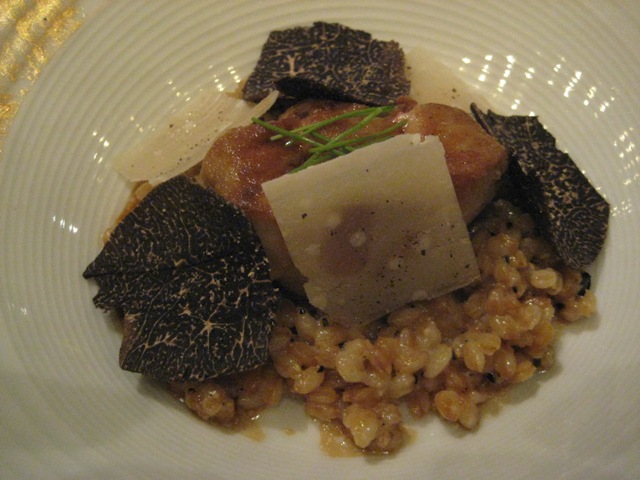 Tom also had duck liver in Les Lentille. Puy green lentils and truffle cappuccino served with sauteed duck liver. The liver was sliced and served on top of the lentil and truffle soup with tiny little croutons on the side.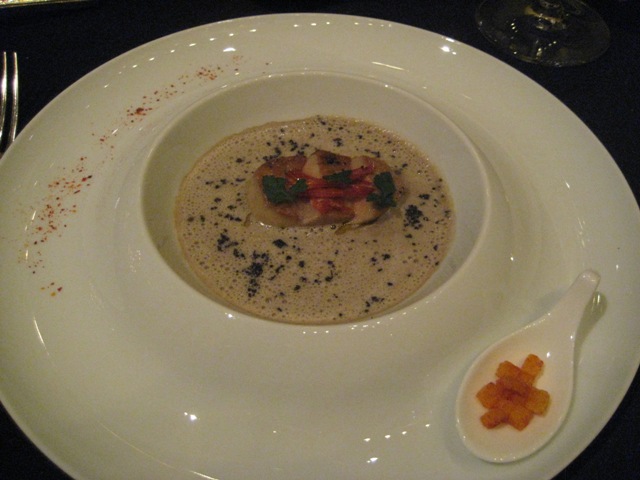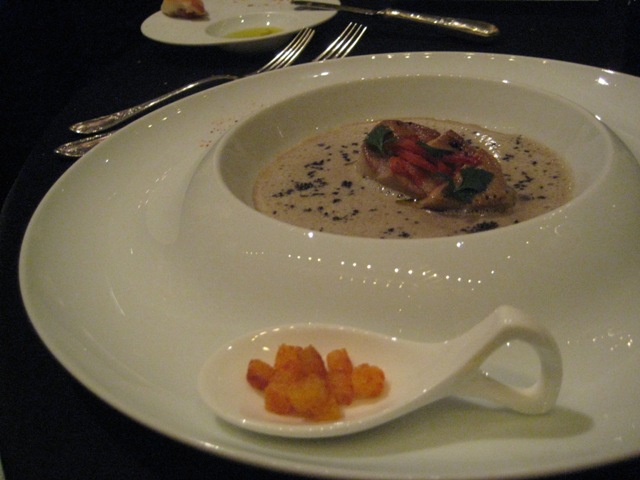 More bread, the bacon one again (yum!!!) and a little parsley puff. Then more milk bread and one that looked like a little escargot.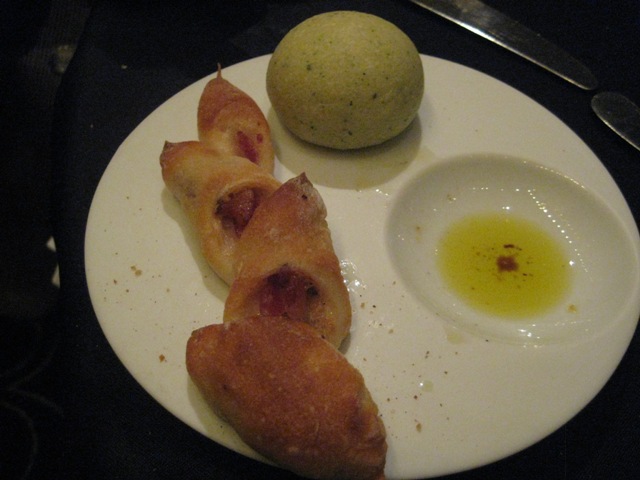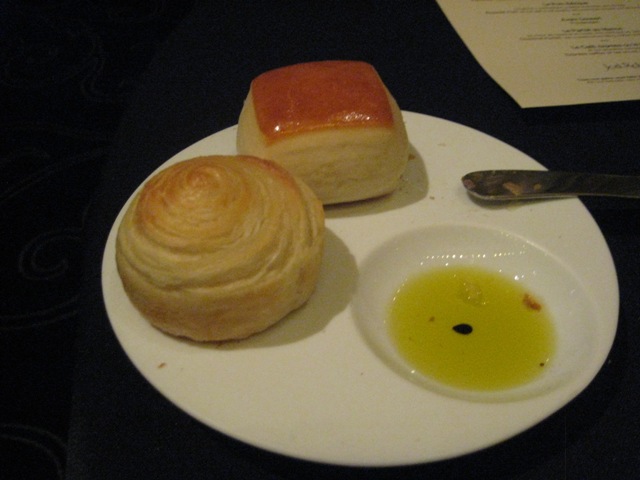 Another staple of French cuisine are scallops and the Menu Specialite also had a scallop course .. La Noix de Saint-Jacques. The scallops were served with a fresh truffle salad and celeriac dressing. The truffles this time were julienne'd and put on top of two of the scallops. The middle scallop had a unique (and innovative) topping. Celery root made into small strips that somewhat looked like pasta but was definitely not. Scallops are hard to cook perfectly, but the chefs here were spot-on with these.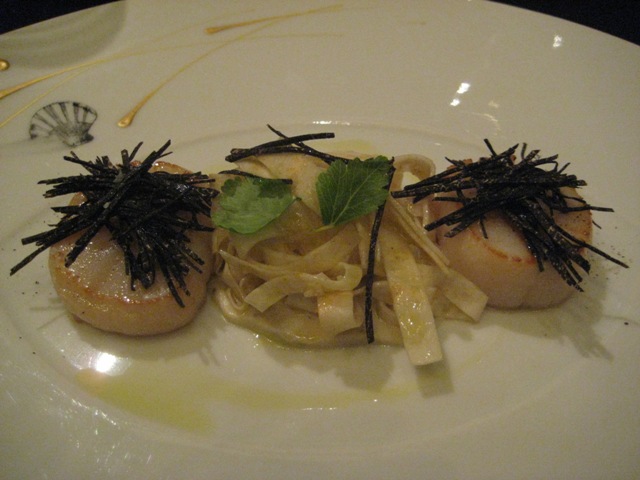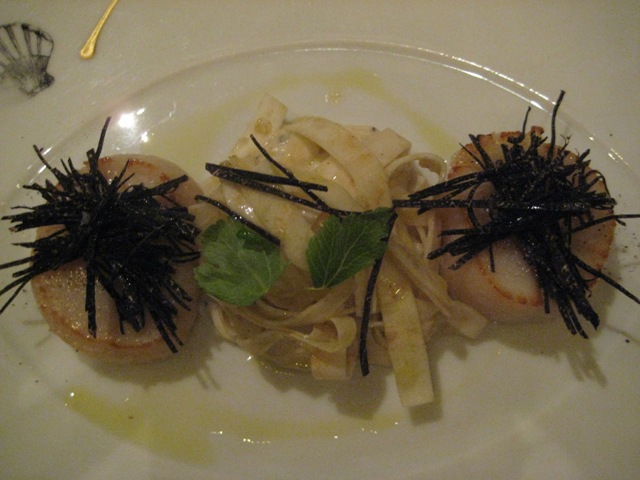 Toms seafood course was L'Amadai, which was pan-fried Amadai cooked with the scale and served "swimming" in a lily bulb and yuzu scented broth. Amadai is also called a Tilefish, and there was a perfectly-cooked piece with the skin in a fragrant broth along with the small edible flowers on the top.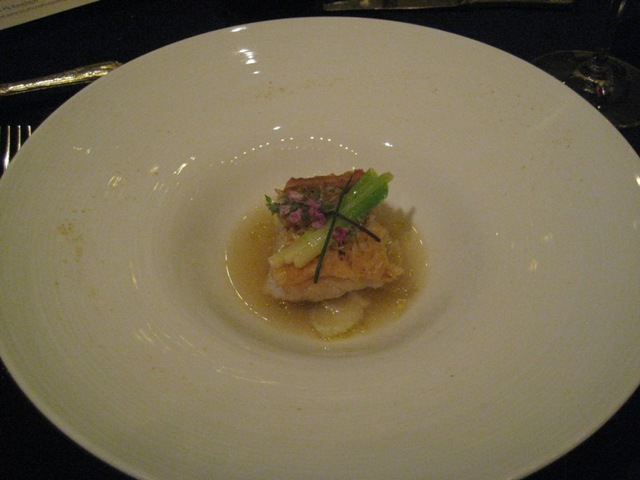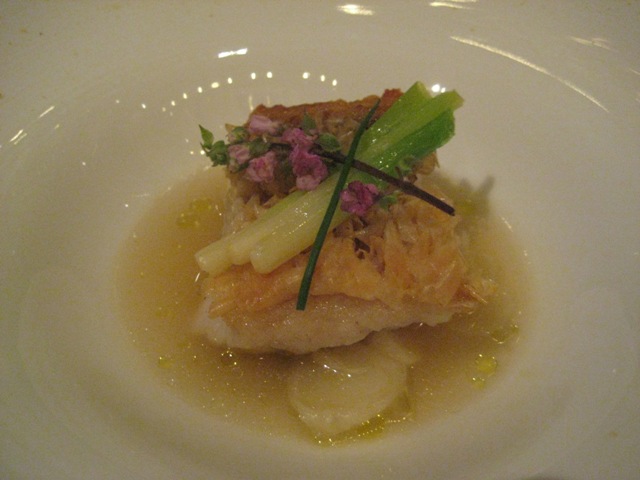 Then came the main course. The truffle menu had L'Agneau ... rack of lamb cooked with truffles and served with a fresh herb salad and mashed potatoes. Mind you ... I don't eat lamb so Tom and I switched this course. This one also came with a little show! They come out with a black truffle in a glass-domed dish and then with a truffle slicer (and white gloves of course), they shave off the black truffle onto the plate next on top of the mashed potatoes. There were also these amazing mushrooms as well.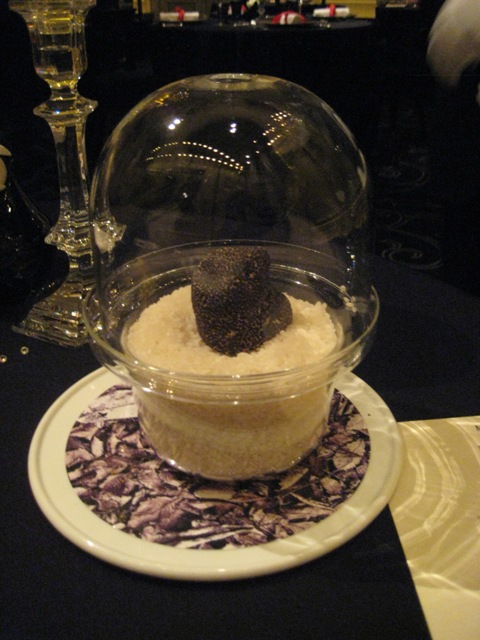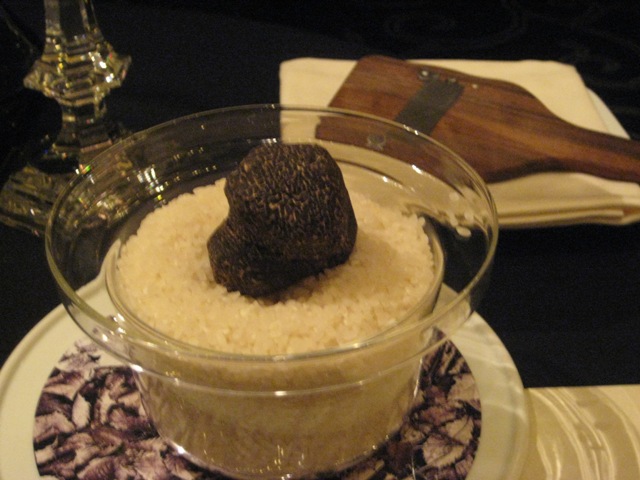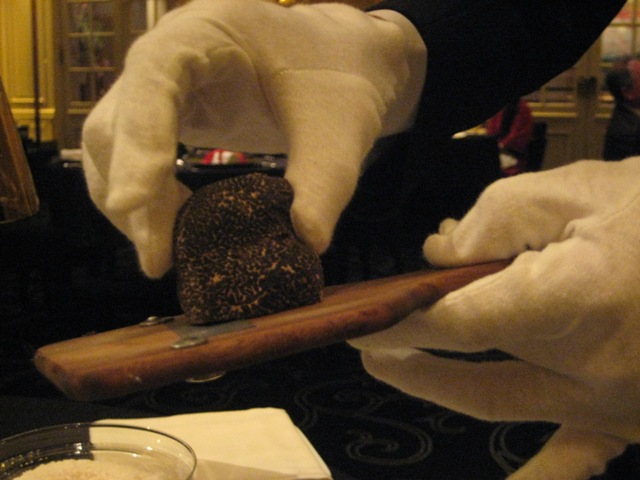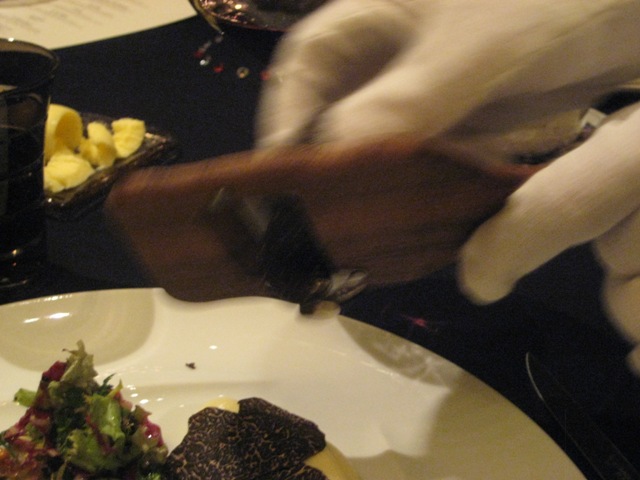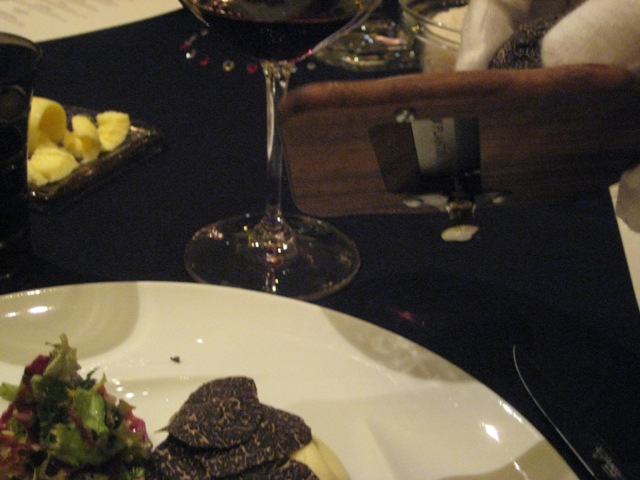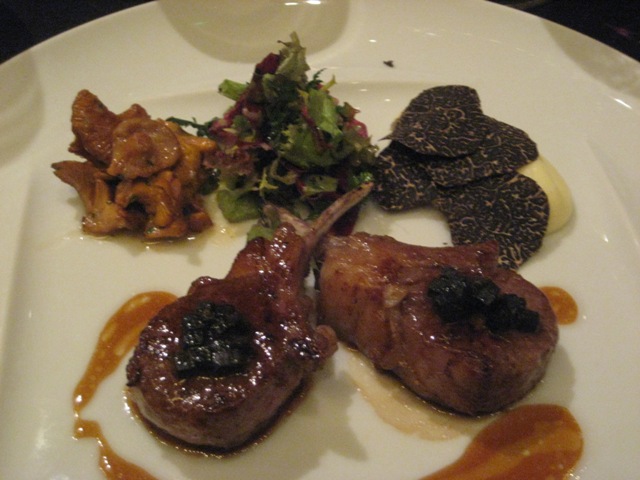 Tom's menu (which became Susan's course) was Le Porc Iberique, which was roasted pork served with a soft polenta with parmesan cheese and an endive salad. The surprise was the 3 pieces of popcorn as garnish on the polenta .. would have never thought of that one.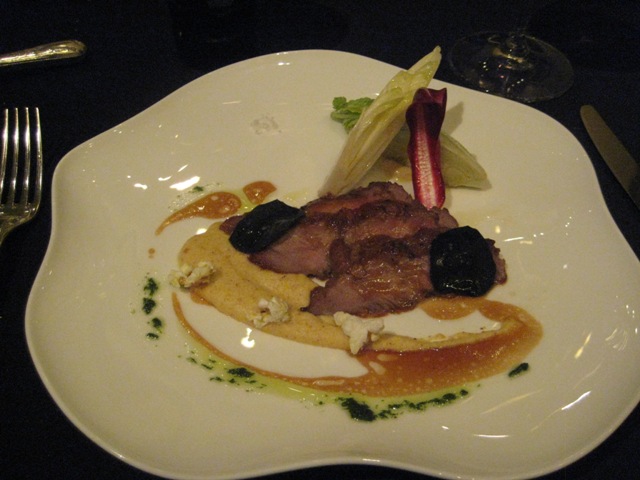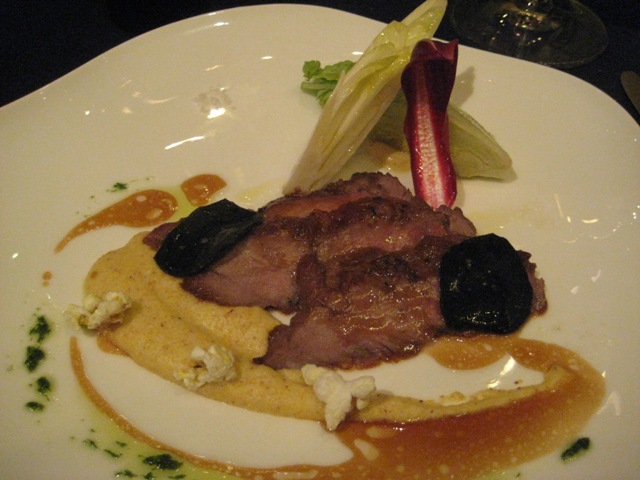 After all that, came the cheese cart. For those not familiar with French cuisine, cheese is either server AS dessert or just before it. Here they had all types of cheese from the hard Mimoette (traditionally produced around the northern city of Lille), through the soft cheese like brie and camambert, all the way to roquefort. They also had both cow-milk and goat-milk cheese. Susan went for the Mimoette served with some dried fruits. Tom was the adventurous one, picking a soft cheese that had a vein of black truffle running through it, and house special cheese, which came just spooned out and served spoon-and-all.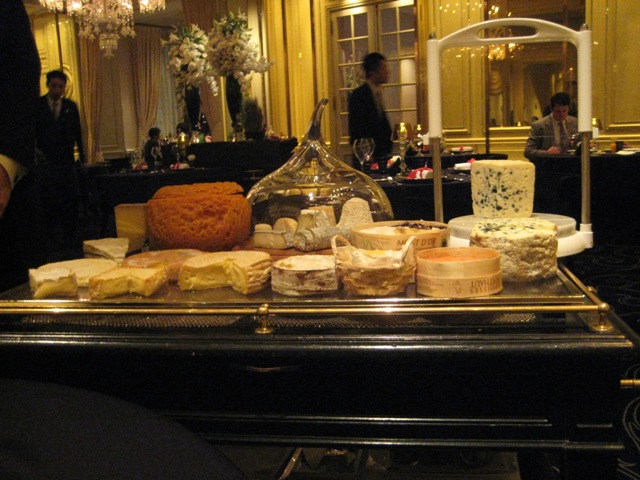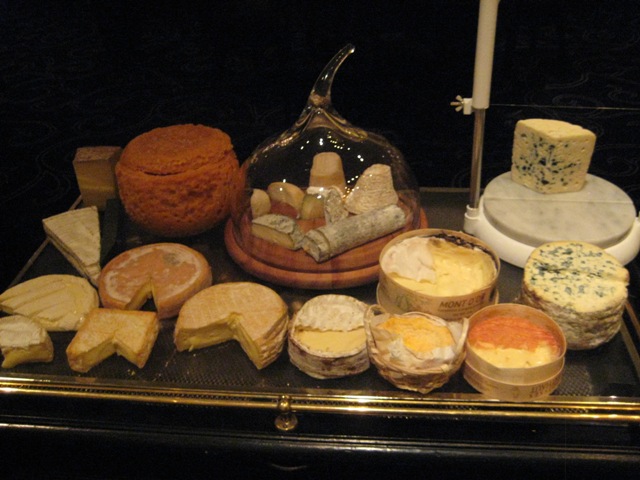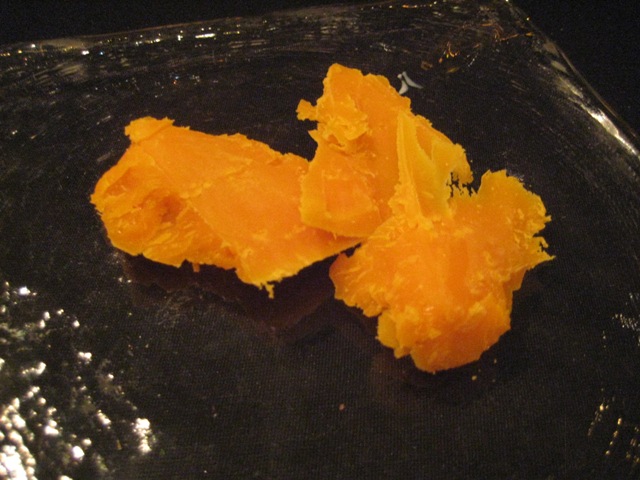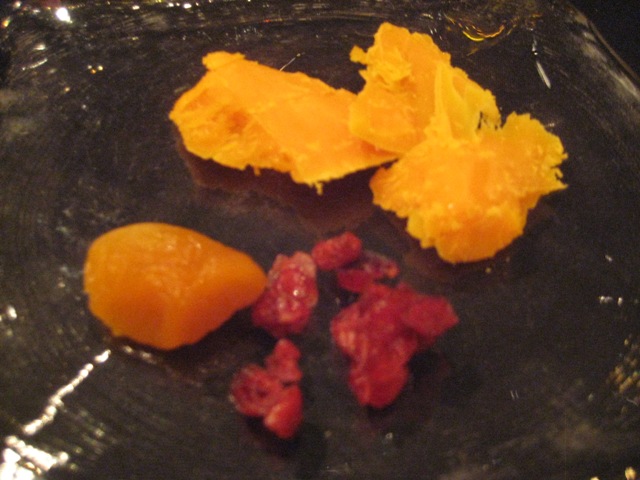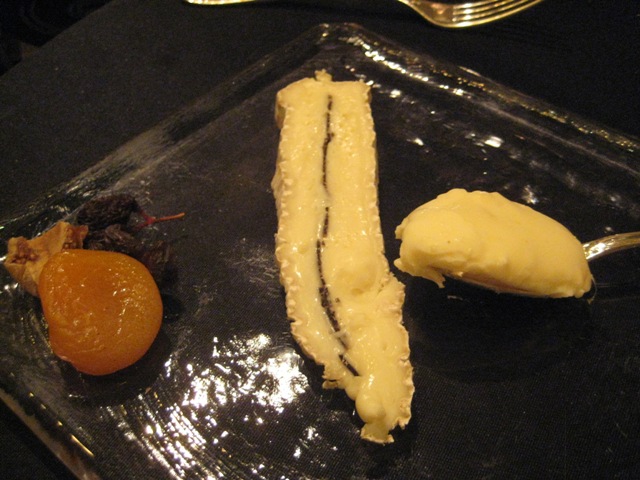 The dessert course was Le Parfait au Marron, which was a chestnut parfait with a black current filling and a coffee and almond meringue also served in a martini-shaped parfait glass.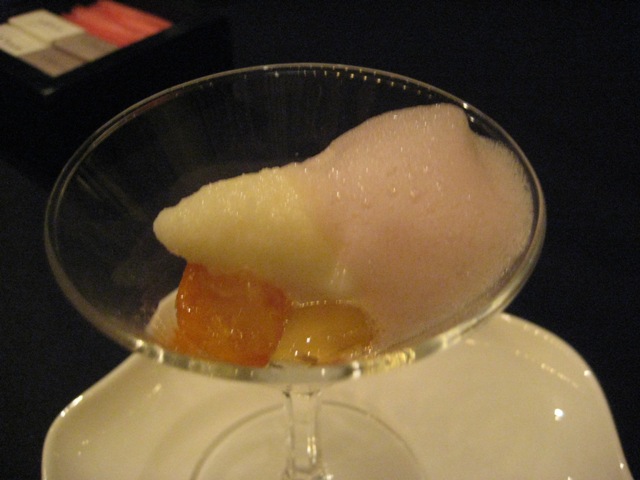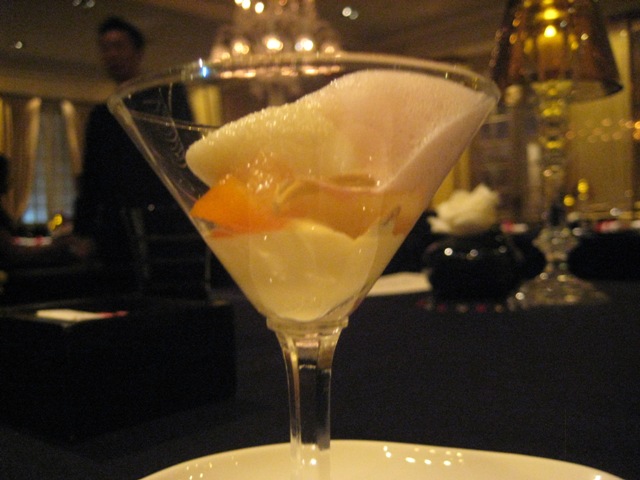 Susan got Le Dome (I was looking for the truffle in the dessert but didn't find it). A poached pear in an earl-grey tea syrup and warm chocolate. This also got a bit of a show. It came out with the pear in a cream underneath a white-chocolate dome. Then he proceeded to pour warm dark chocolate over the top of the dome, melting the white chocolate. As the top gets melted off, you can see the edible gold poised on the top of the pear.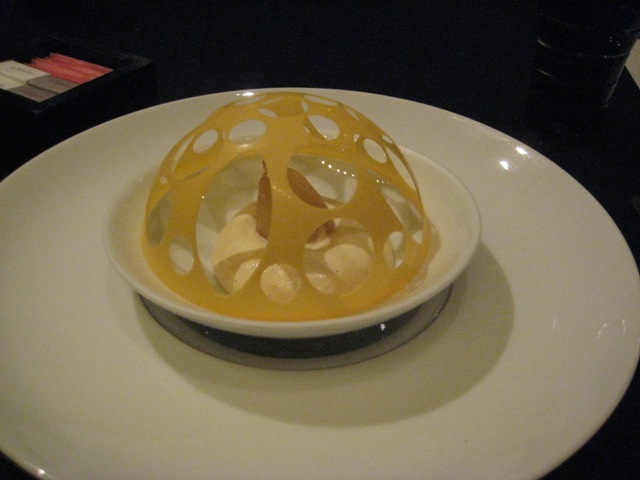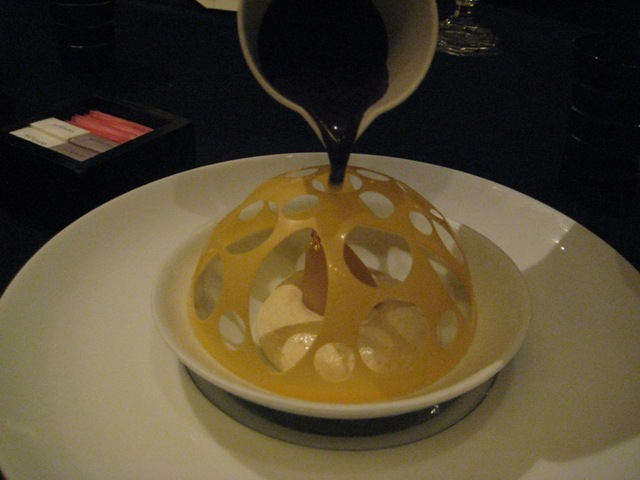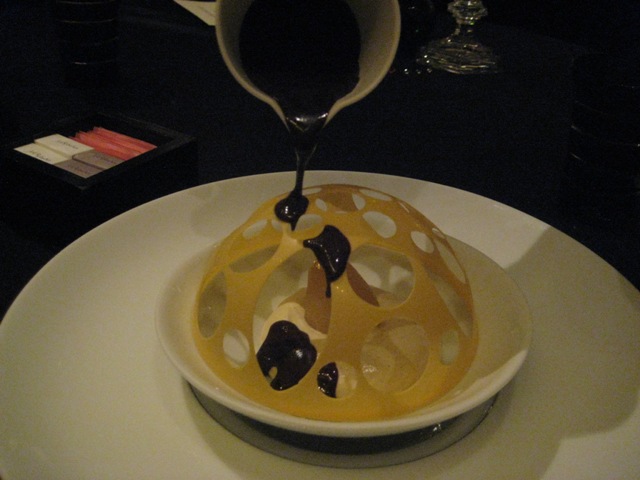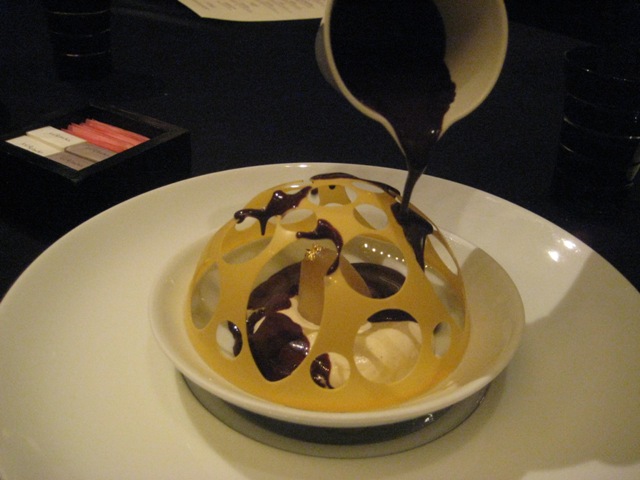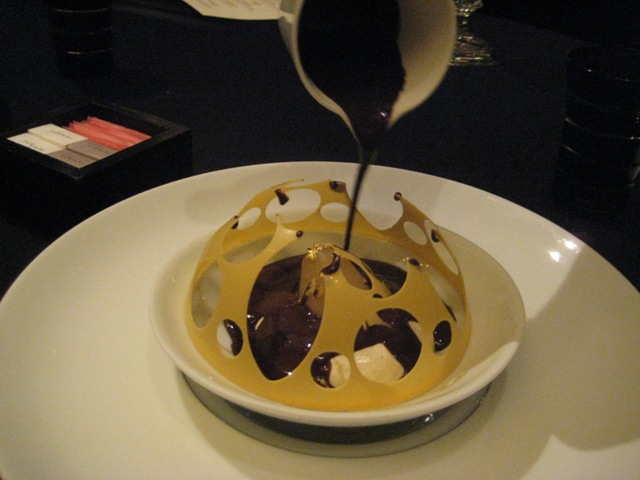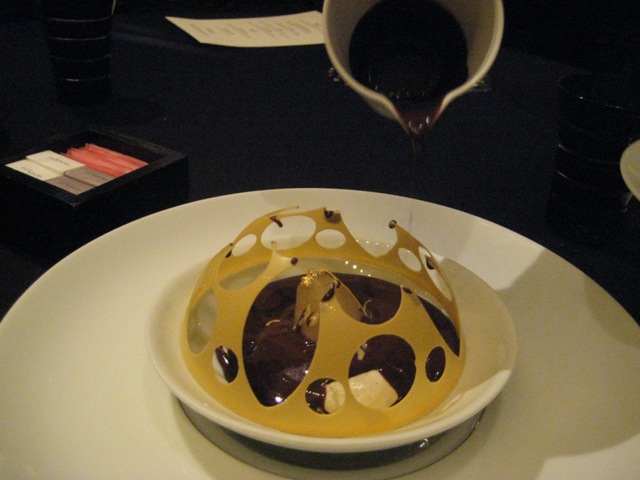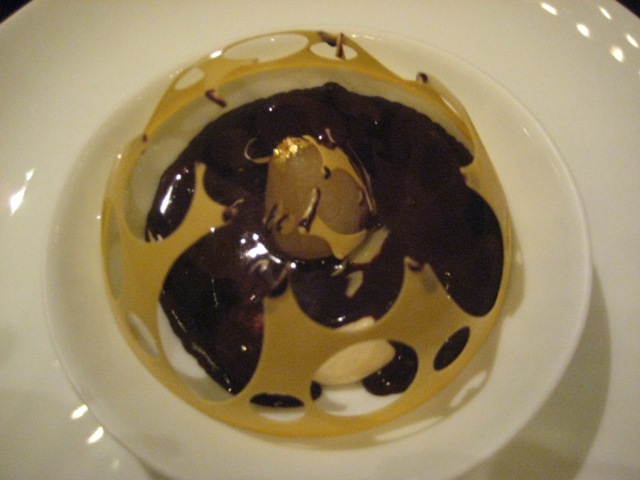 I don't remember what this is in fact .... they served us so much food that we started losing track!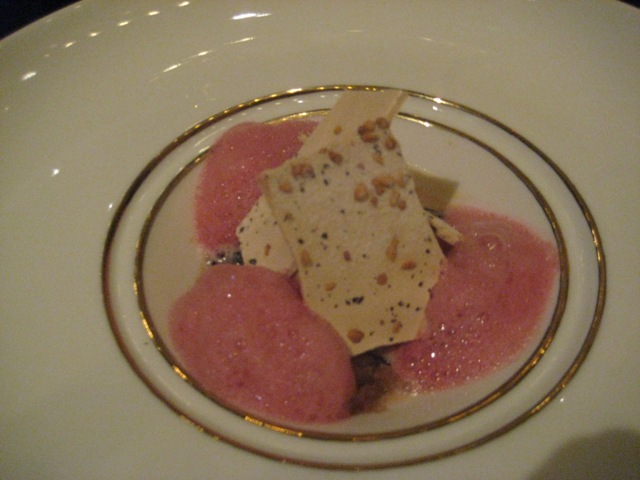 Then a small espresso to finish off along with the dessert cart! The cart was ... in a word .. splendid! SO many choices!!! We settled on 3 little petit-fours each along with a small bowl of hard candies (notice that they say "merci" in the middle ... I really want to know how they do that).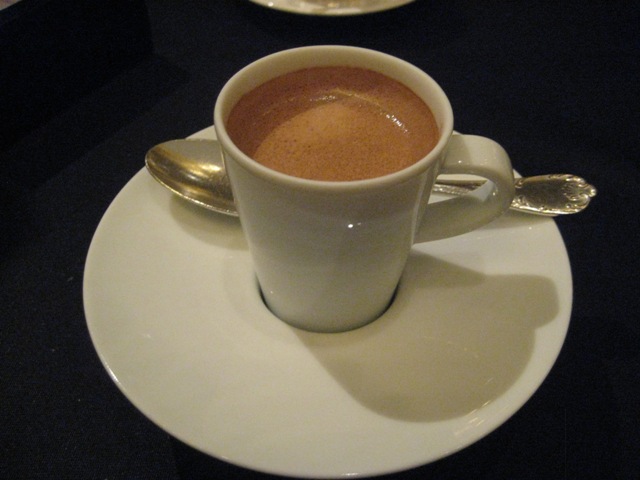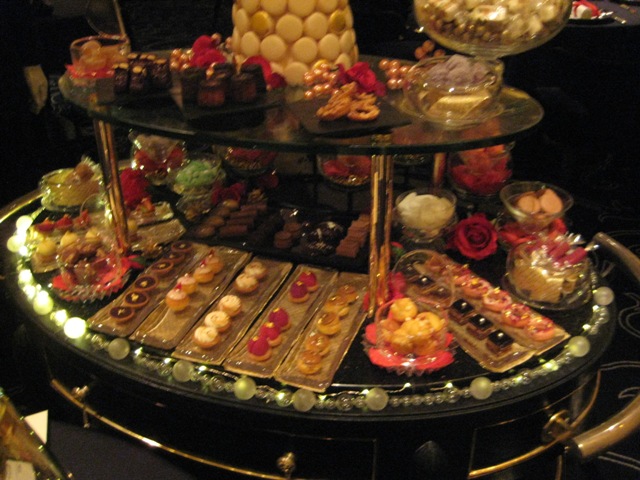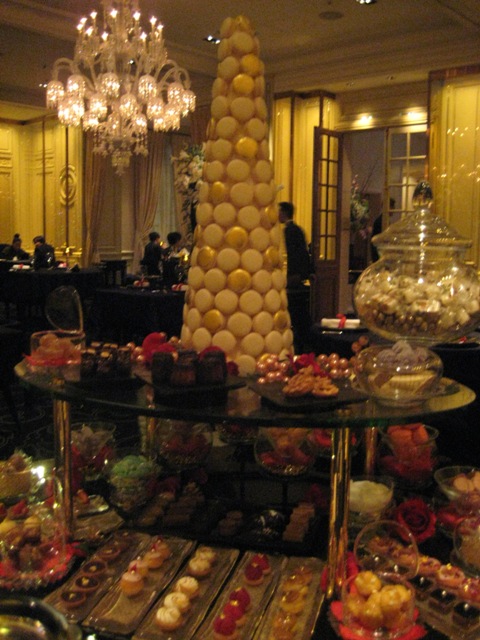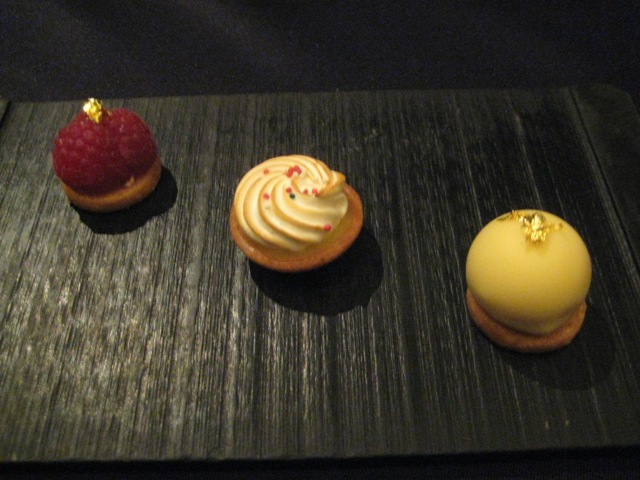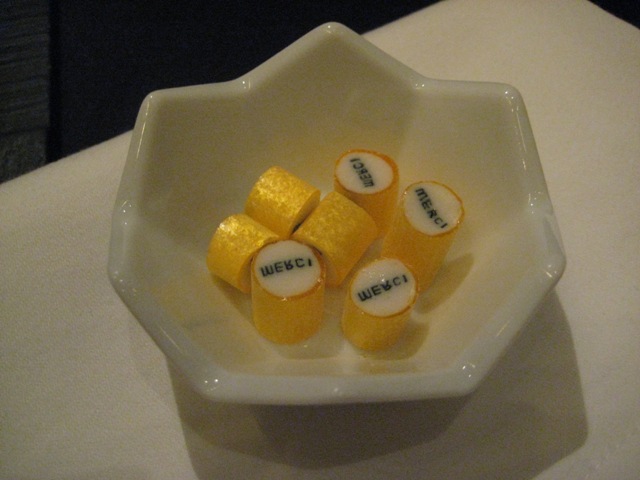 As we came out, I grabbed a couple more picture sof the outside of the building, this is from one side (not head-on) although the entrance of the hotel is right there, so you don't actually enter from the front of the building.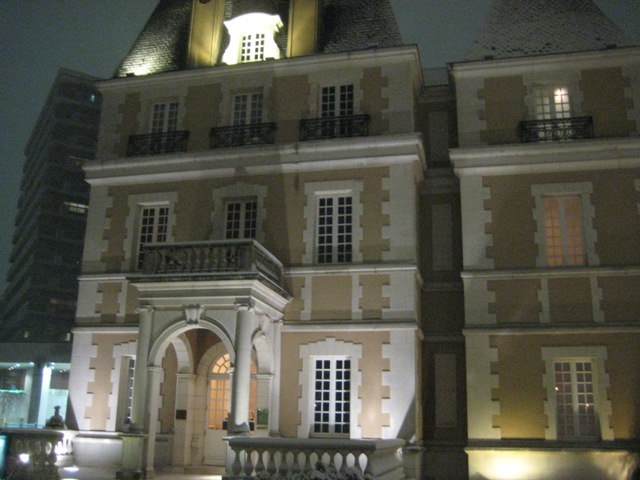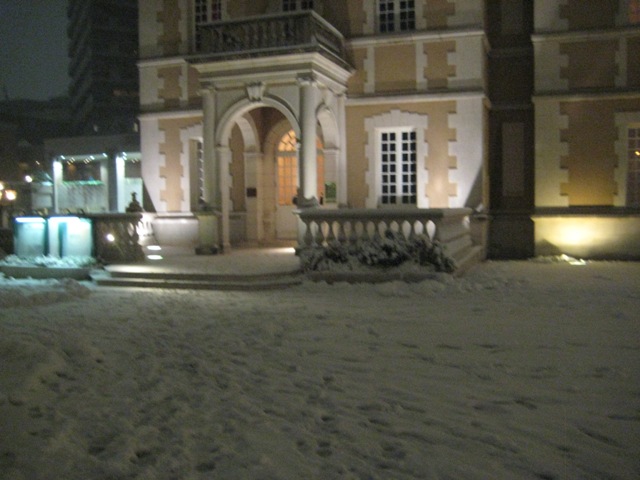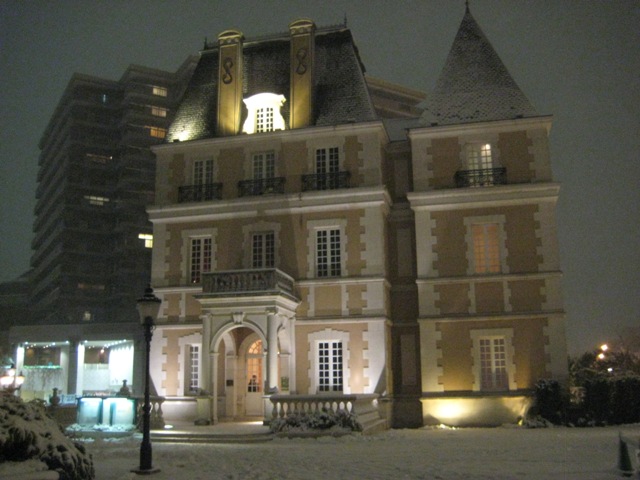 As you can see here, it was still snowing as we came out and grabbed the taxi back to the hotel. These are taken from the corner where the hotel is, and you can see the snow falling and the accumulation on the roads.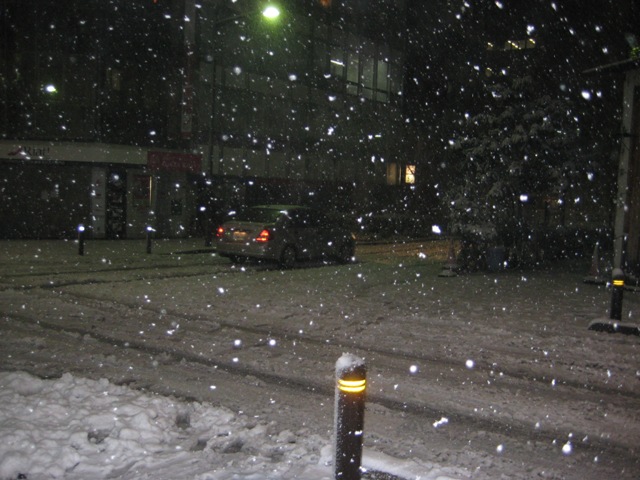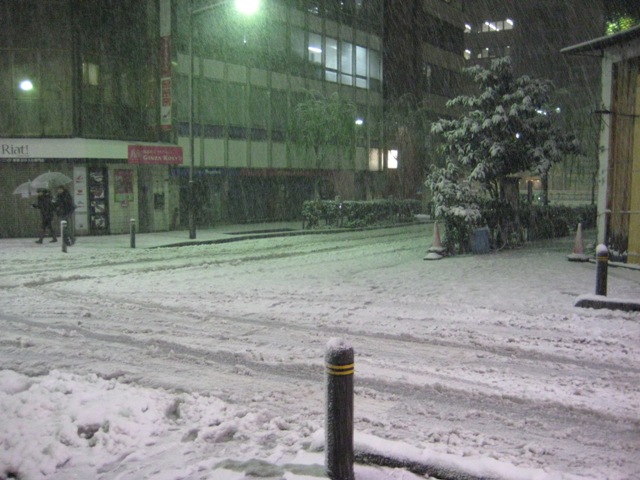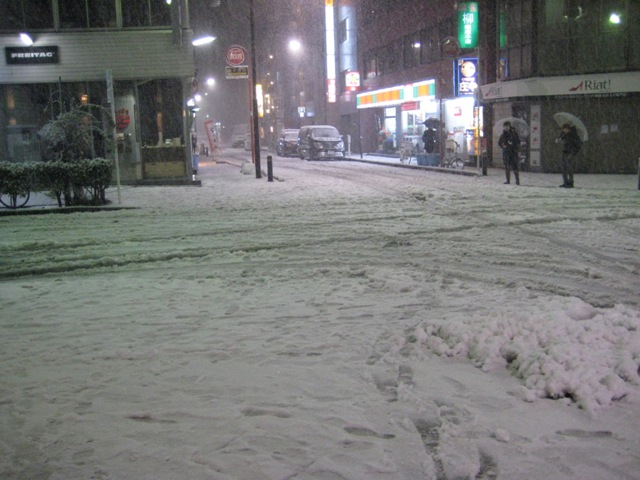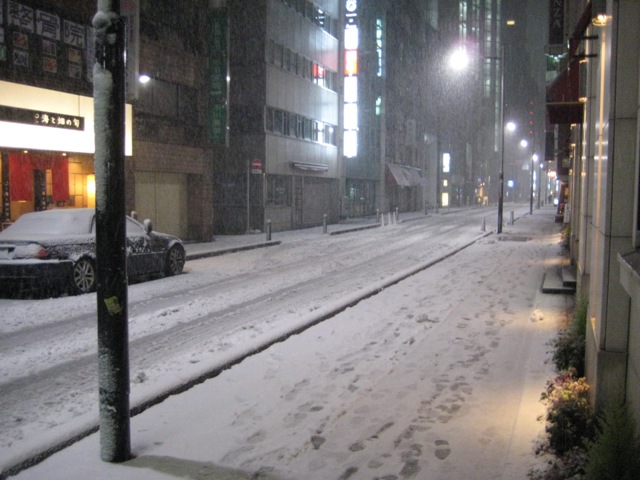 Continue to the next page to see how this corner looks 8 hours later when we woke up and headed out for breakfast the following morning.