Susan's Shanghai Blog - Week 112
Our second trip to Vietnam covered Northern and Central Vietnam. We started in Hanoi, which is the current capital and the country's 2nd largest city (Ho Chi Minh City is the largest). From 1010 until 1802, it was the most important political center of the country. That distinction went to Hue during the Nguyen Dynasty from 1802 to 1945 (we will visit Hue as well during this trip). From 1902 to 1954, Hanoi was the capital of French Indochina, and then the capital of North Vietnam until 1976 when it became the capital of the reunified Vietnam after the war.
I don't normally take pictures of the hotel room, but then again, we don't normally stay in hotels with historical significance. We decided to splurge a little and stay at the Sofitel Legend Metropole both for its history AND the fact that it was right in the old historical center of the city. The fact that it was a 5 star luxury hotel was just an added benefit! It was opened in 1901 and is built in a French Colonial architecture style. There are tons of things that happened here, like it being the first place in IndoChina to show motion pictures. Alot of famous people stayed there, including Charlie Chaplin and Paulette Goddard on their honeymoon, Somerset Maugham (he wrote The Gentleman in the Parlour at the hotel), and Jane Fonda. Joan Baez was staying there in 1972 during the Christmas bombings and she recorded her song 'Where Are You Now, My Son?' in her hotel room during an air raid. I haven't heard the song, but supposedly you can hear the sounds of the air raid in the recording.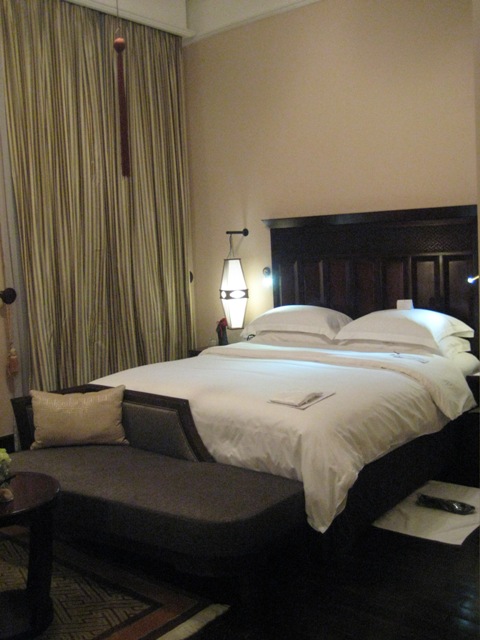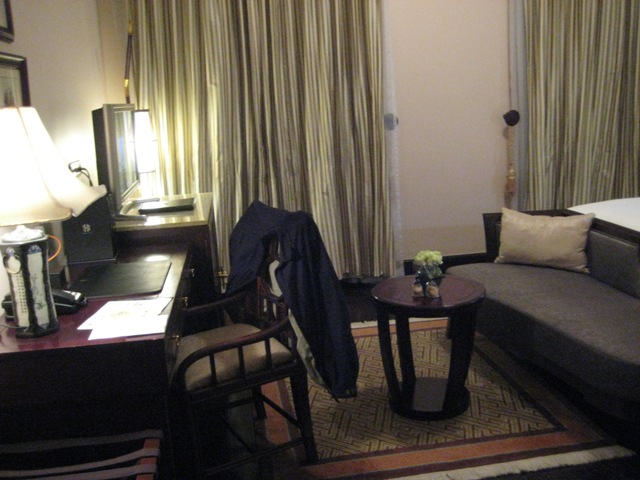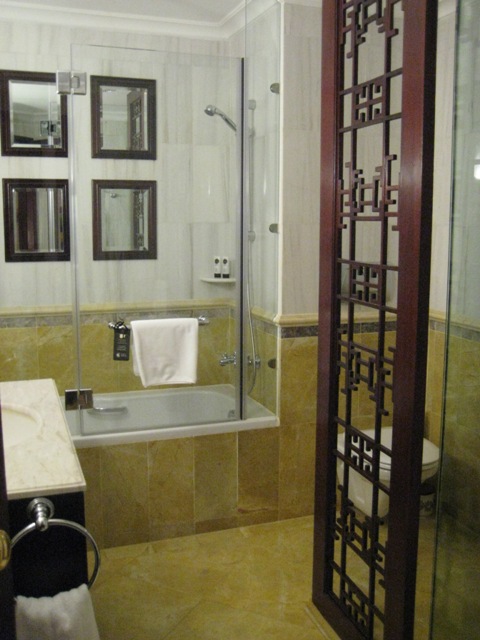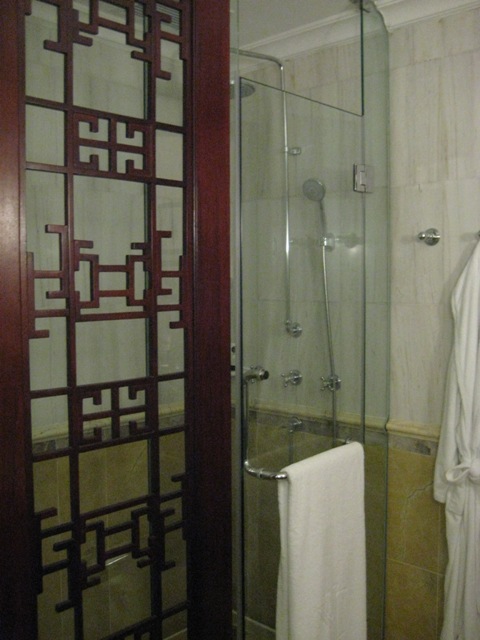 Ho Chi Minh is very much loved throughout Vietnam, and you can see drawings of him around the city.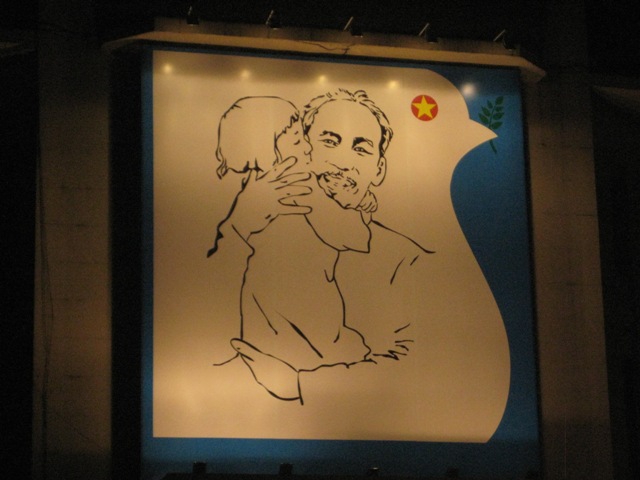 We arrived late afternoon and really didn't do much other than dinner that night. We totally missed the restaurant that our guide had recommended (walked right by it, no clue how we missed it) so we went to a place that was recommended via a New York Times article called Bun Bo Nam Bo. This was an experience to start our vacation. It is a tiny little place with metal tables and no menu. Of course, I believe they only serve one thing (called bun bo nam bo), so there really isn't NEED for a menu. Well .. I did read somewhere that there IS a menu, but they didn't give us one :-) I guess they figured that we were there for their signature dish. Bun refers to rice noodles, bo mean beef, and nam bo means southern. Hence ... southern style grilled beef with rice noodles, maybe? A bowl with grilled beef, rice noodles, chopped cucumbers and lettuce, sliced green papaya and carrots, crushed peanuts, fried onions, bean sprouts, mint and various other herbs, and a fish sauce-based broth at the bottom. Everything is cooked up front at the restaurant entrance. They showed us our seat and looked at us with this look like ... yes, what would you like to drink? Thank goodness that "Coke" exists in every country in the world! She brought us 2 cokes and about 30 seconds later, two bowls of bun bo nam bo. I has skeptical at first, but it was probably the 2nd best bowl of noodles I've had (behind the lunch noodle place the last day in Taiwan). I highly recommend it for the food ... just don't worry about the restaurant itself or you'll freak yourself out.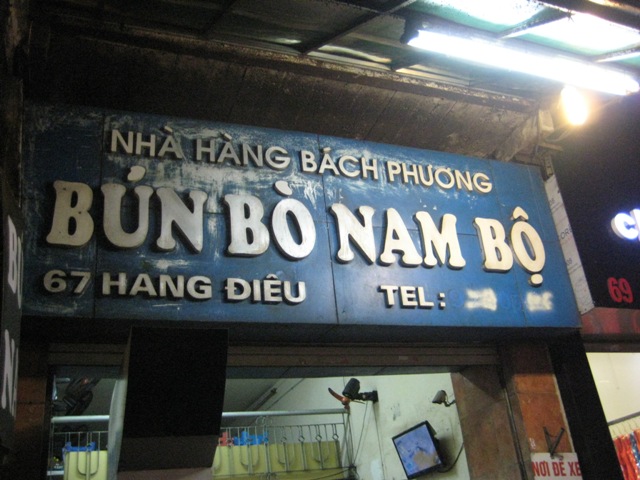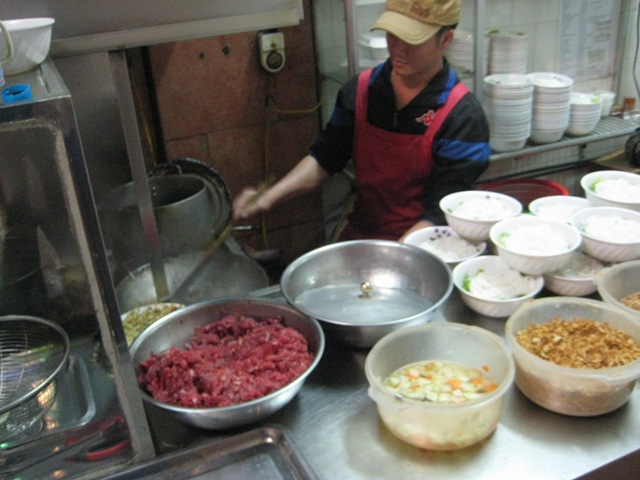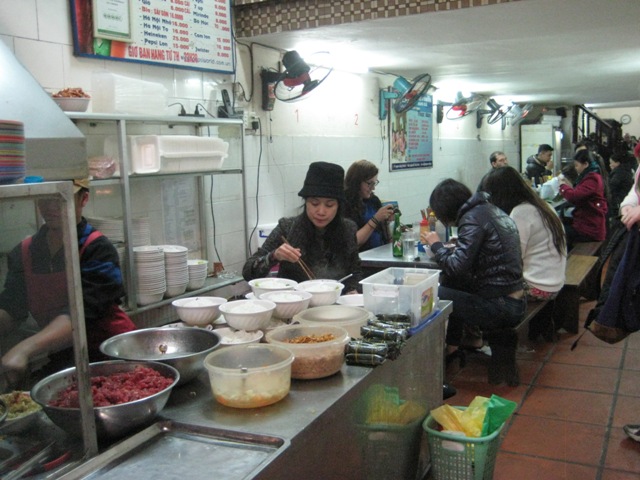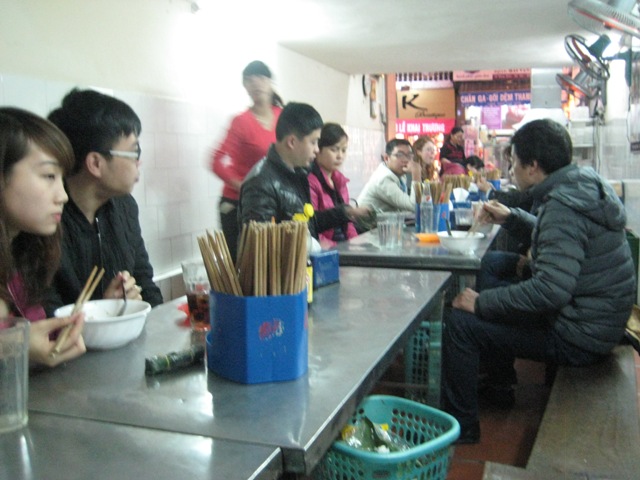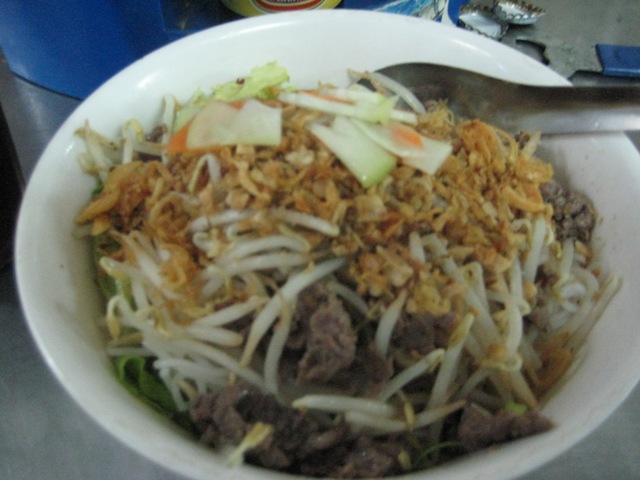 This is such a common thing we found out in Hanoi ... restaurants that are basically on the sidewalk. In some cases, I think the restaurant ONLY exists on the sidewalk. I saw a few with a little hand-written sign leaned up against the wall of the building and a few cooking pots on top of little portable burners. They setup with tables and plastic kiddie-stools. And they are absolutely EVERYWHERE!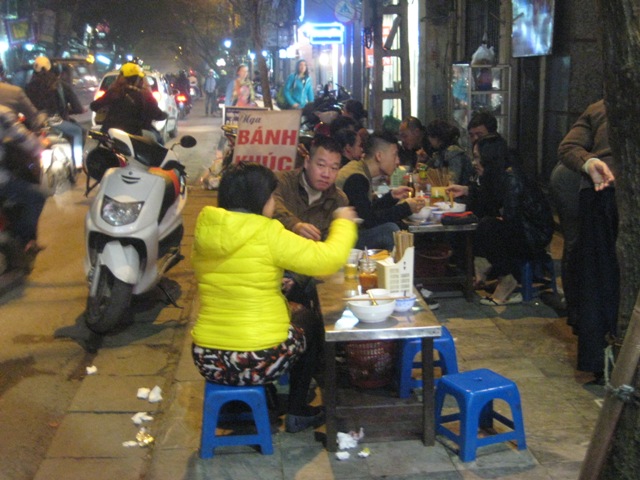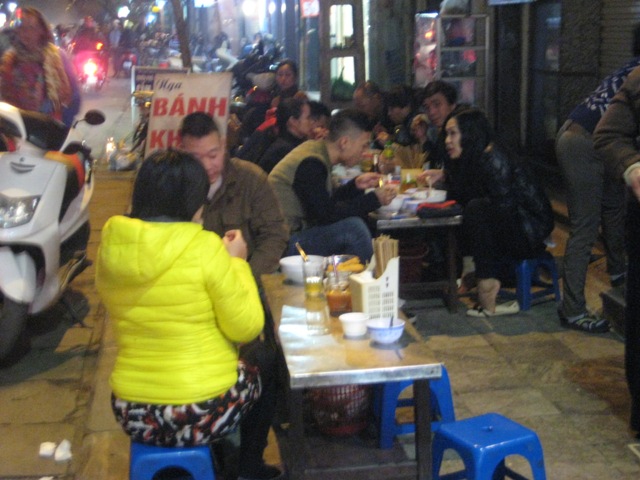 From dinner, we headed around the old quarter a little, looking for the night market, which we found. The Old Quarter, near Hoan Kiem Lake, has the original street layout and architecture of old Hanoi. This old quarter is sometimes called the 36 Streets. Each street back at the turn of the 20th Century had merchants and households that specialized in a particular trade, such as silk traders, jewelery, etc. The street names today reflect what was sold on the street back then, although few of them remain uniquely that way today. However, while the street may have other things on it, you still see certain things grouped together as you walk through. For example, there was one area where you saw almost every other store selling toys, decorations, or (like in this first picture), paper lanterns.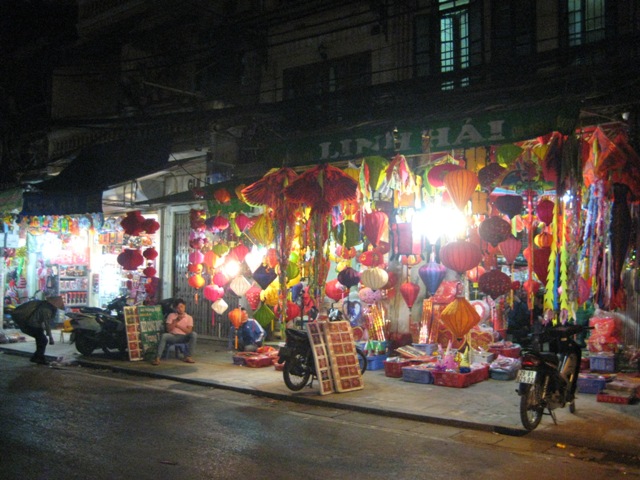 The Dong Xuan night market was pretty easy to find and, as most night markets in Asia that we've been to, was absolutely packed. There were food carts, and stalls selling almost everything from phone covers to socks and underwear. There was one place where they had built a little stage and there was some show going on.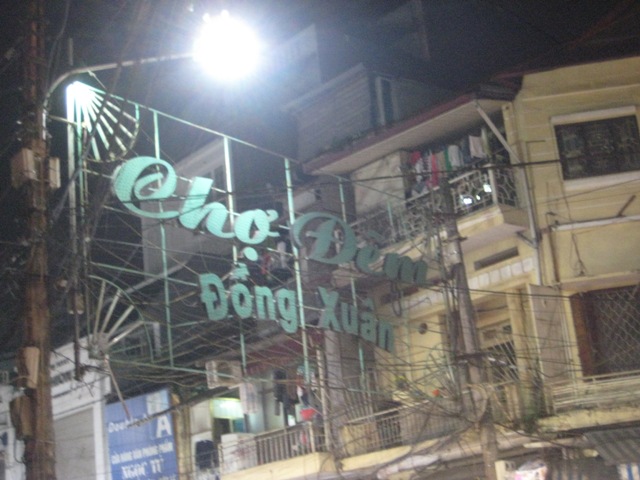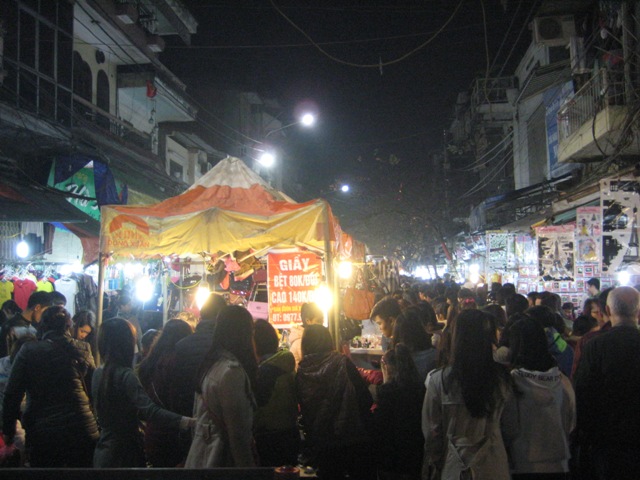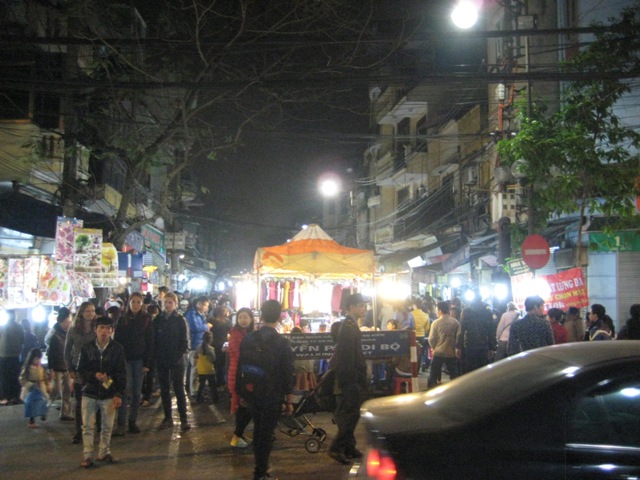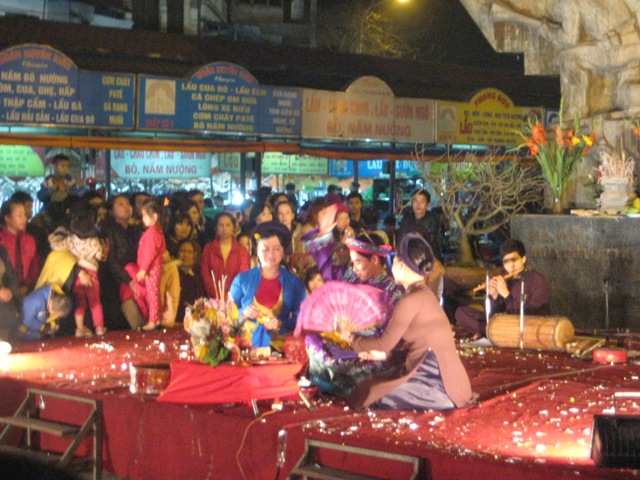 Heading back to our hotel, we walked around Hoan Kiem Lake and took a couple pictures of the lake and the hotel (more pictures of the lake and the hotel exterior later in the daylight as well). Out back of the main hotel building is an enclosed courtyard where they have an open-air bar, swimming pool, and a newer building that encloses it all. We'll tell a little story on the 2nd day about the bomb shelter (yea, a little teaser to have you read the next blog entry!)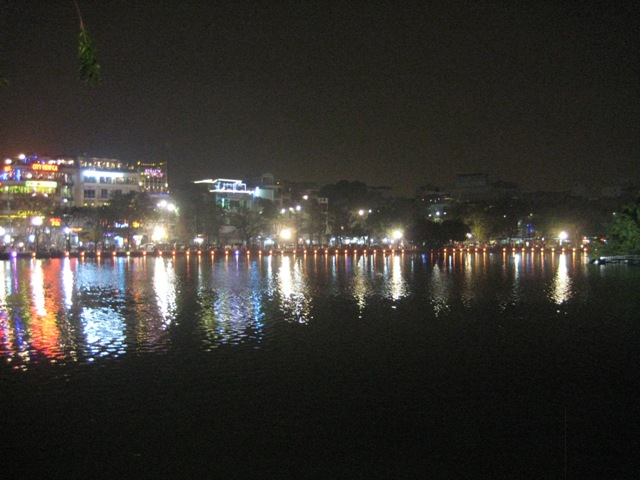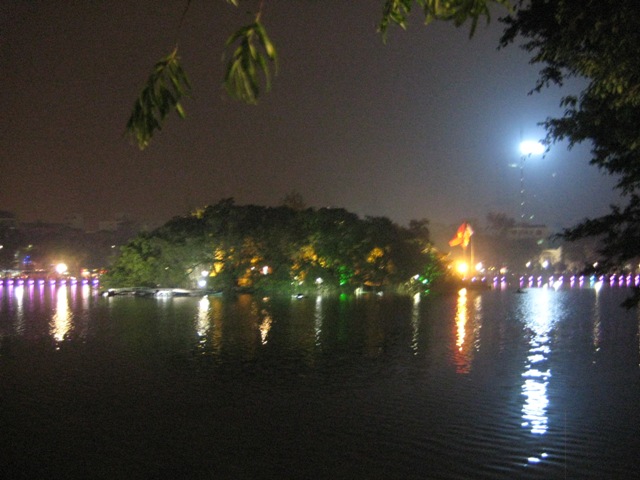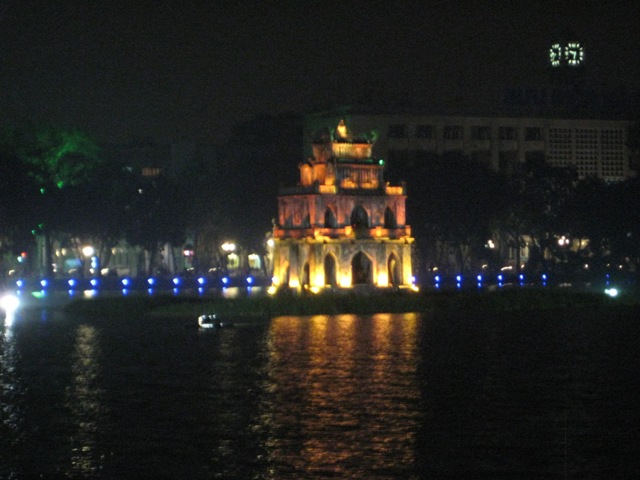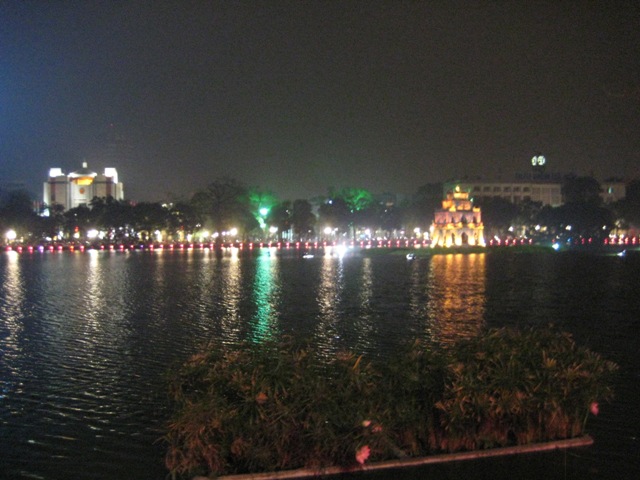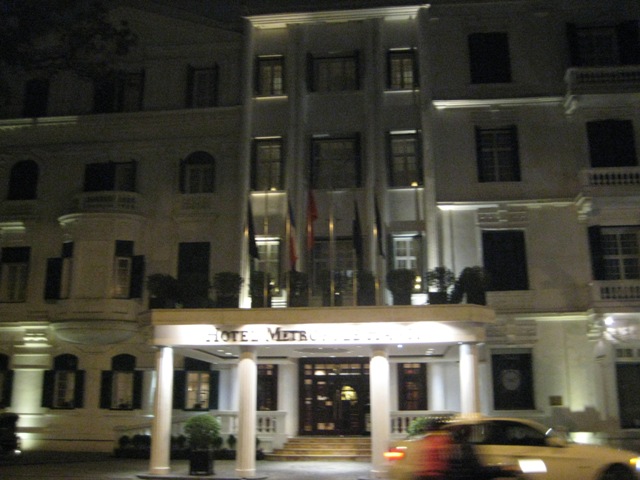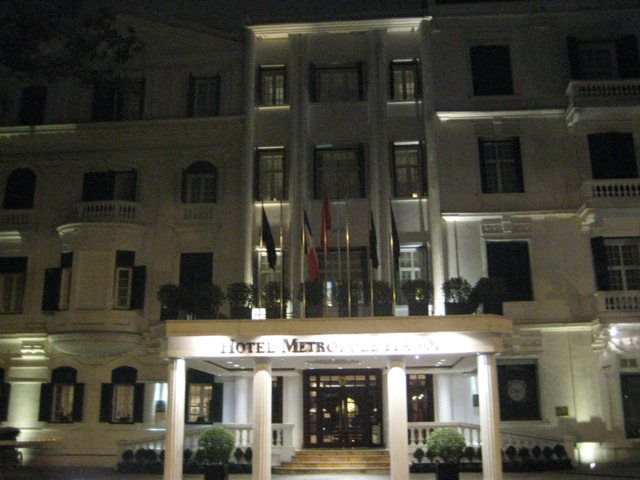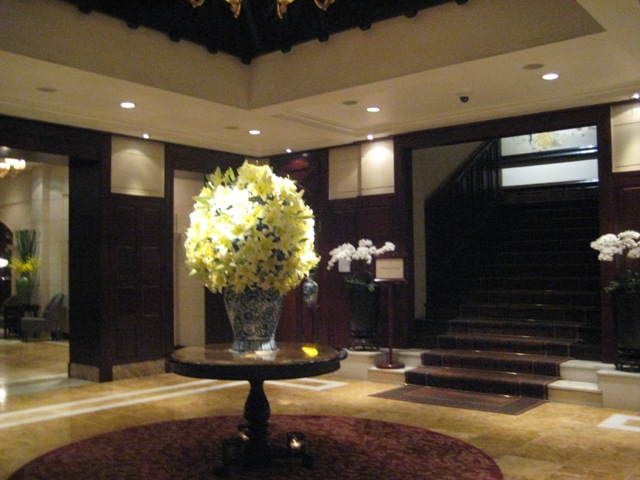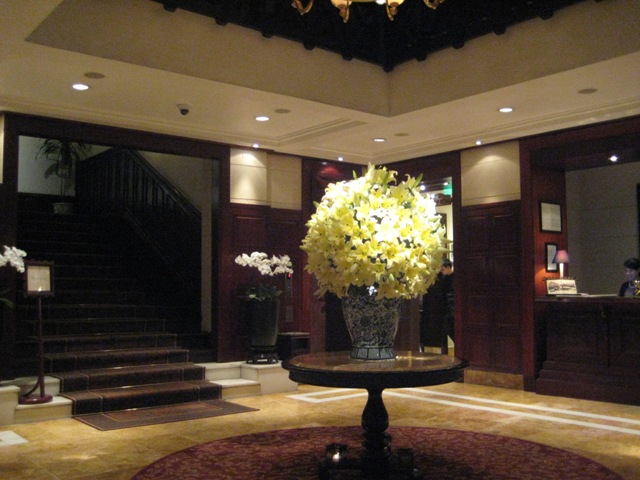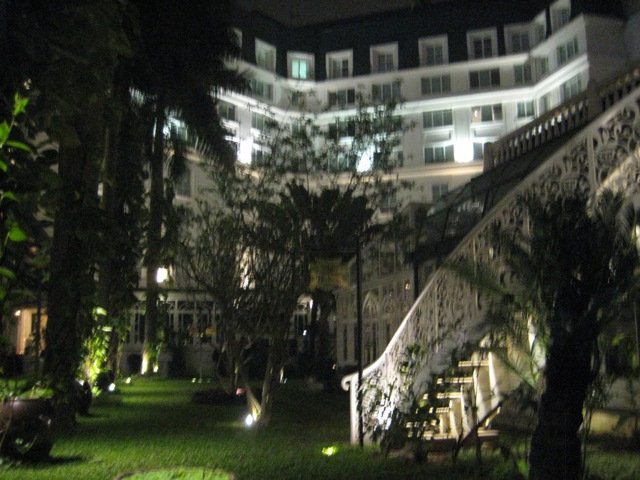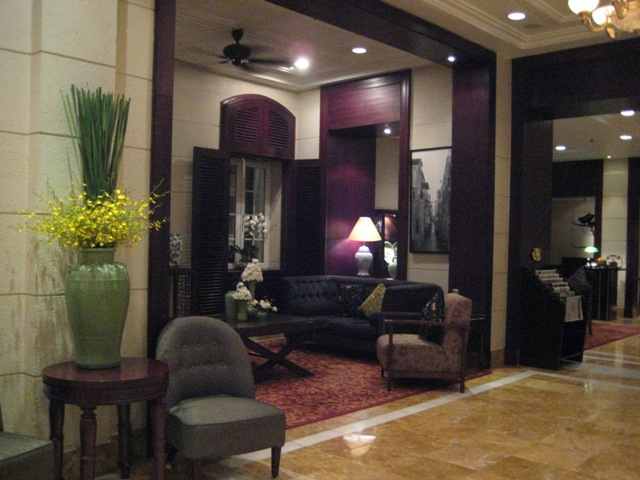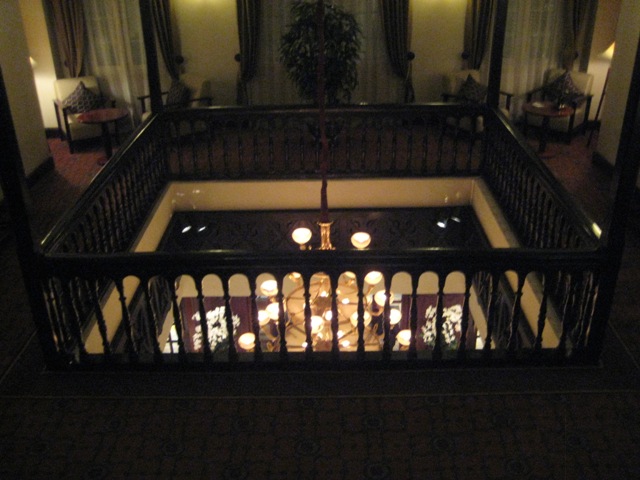 The buildings in Hanoi's old quarter are really nice. Many of them have this style, which looks quite colonial in nature, but they are thin and tall. What our guide told us is that taxes were based on how much of the sidewalk/street you had, and so many of the buildings are narrow but very long. You somewhat end up with one room-width with multiple rooms front-to-back. Normally they would have some sort of business in the front of the ground floor, then going into the living room, then a bathroom and stairs, with a kitchen at the very back. Many would have an open courtyard as well between the bathroom/stairs and the kitchen to let in fresh air. In many cases, they started as 1 or 2 story buildings and as the owners got more money, they added floors to expand.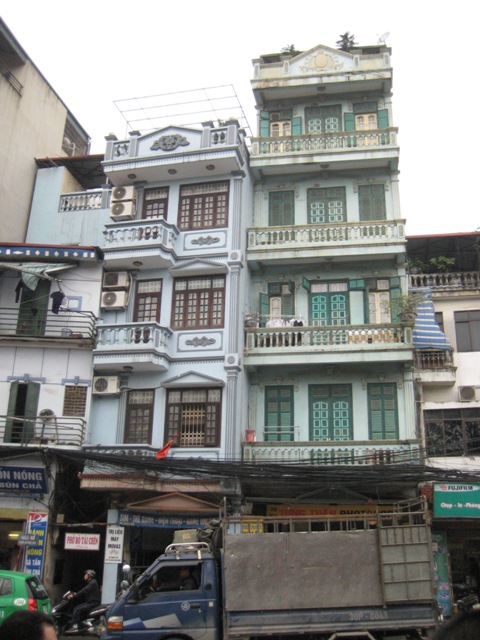 This imposing structure is the Ho Chi Minh Mausoleum, located in the center of Ba Dinh Square. An interesting note that our guide told us is that Ho Chi Minh had left instructions that he was to be cremated. However, after his death the government decided that it was better to preserve him to allow everyone to pay their respects to him. The location of the Mausoleum is where Ho Chi Minh would read the Declaration of Independence in 1945 which established the Democratic Republic of Vietnam. The mausoleum was inspired by Lenin's Mausoleum in Moscow but incorporates distinct Vietnamese architectural elements, such as the sloping roof. The exterior is made of gray granite, while the interior is gray, black, and red polished stone. His embalmed body is preserved and on display in the central hall, guarded by miltary honor guards. Going in, it is very much like Lenin's Mausoleum in Red Square (which we've also been through). Work to preserve and restore the body is supposedly done in Russia and they talk about him going "on vacation" each summer to Russia :-) The lines are quite long to get in, and they have some interesting rules ... visitors must walk in silence in 2 lines, and your hands cannot be in your pockets nor your arms crossed (I got yelled at for having my hands in my pockets).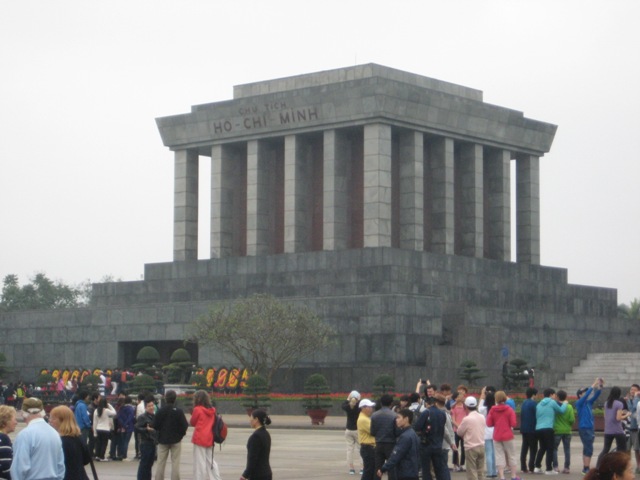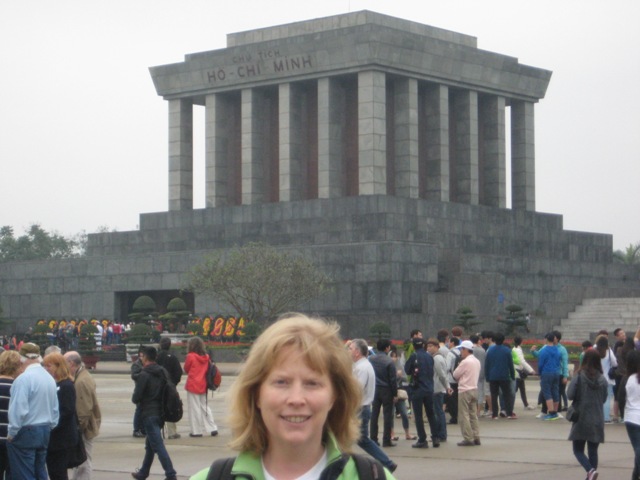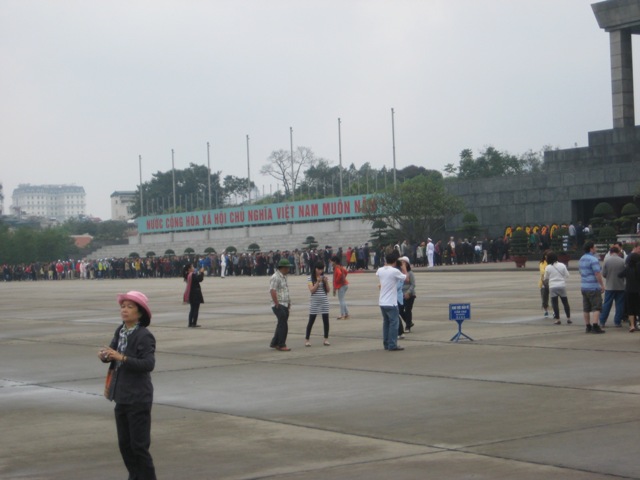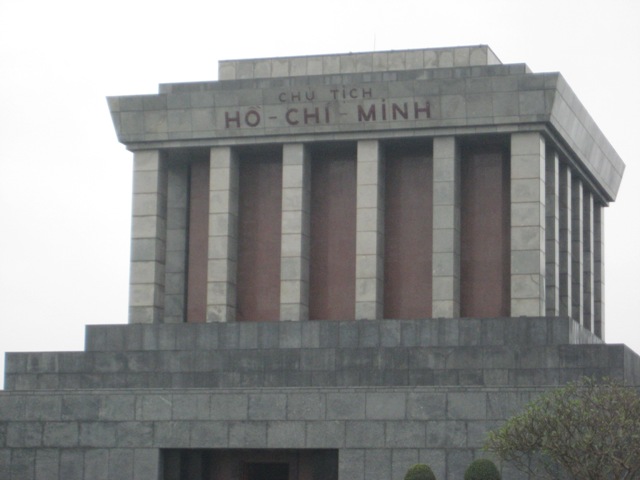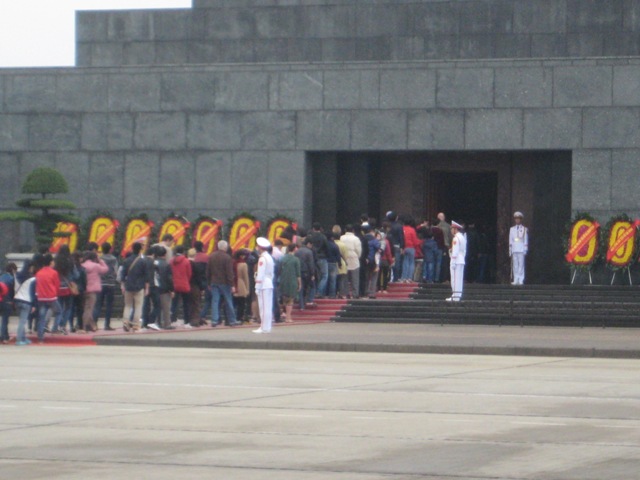 Great architecture although it isn't the color I would have picked! The Presidential Palace was built between 1900 and 1906 to house the French Governor-General of IndoChina when Hanoi was the capital. Ho Chi Minh himself didn't live here (he supposedly refused for symbolic reasons) but only used it to receive state guests. There is a traditional Vietnamese stilt house and carp pond on the grounds where he lived until his death (which we'll see shortly).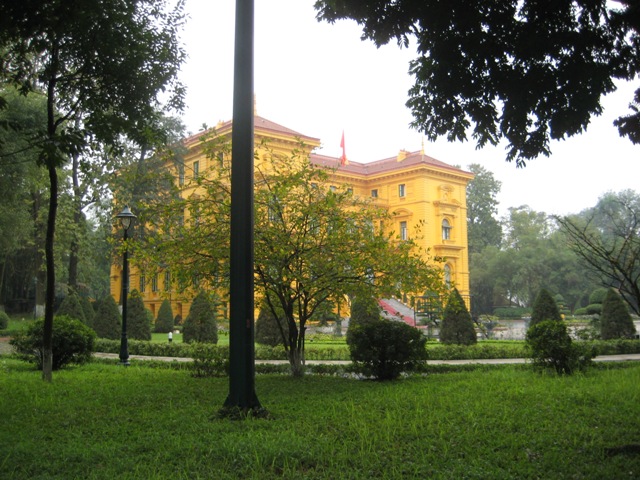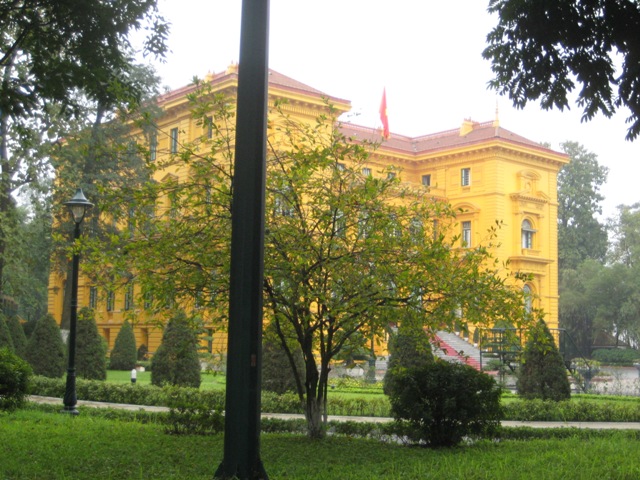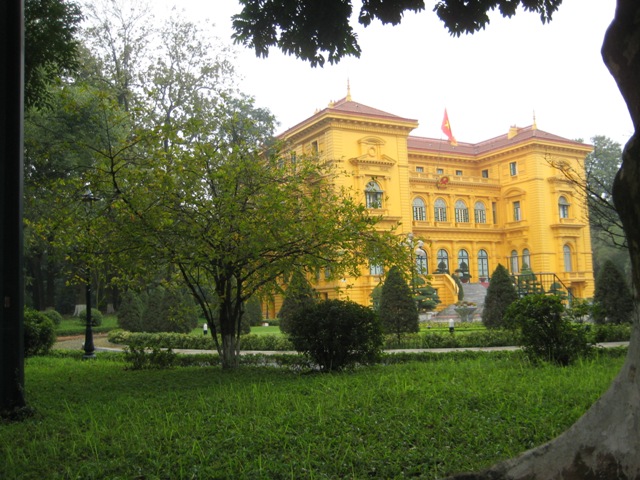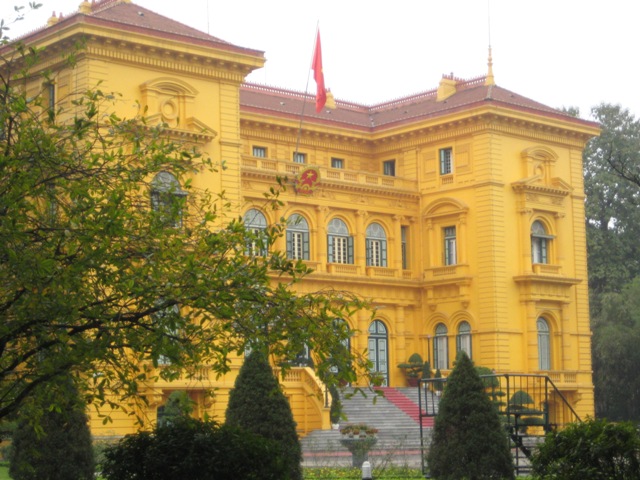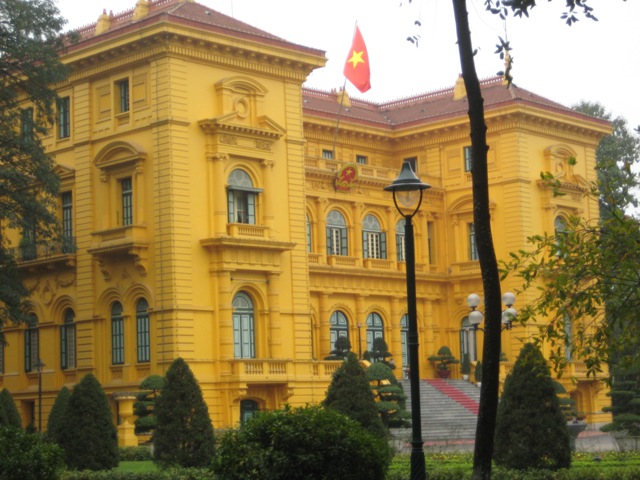 There are a couple cars on display as well, including one given to Ho Chi Minh by his communist friends in the Soviet Union. These are next door to another small house.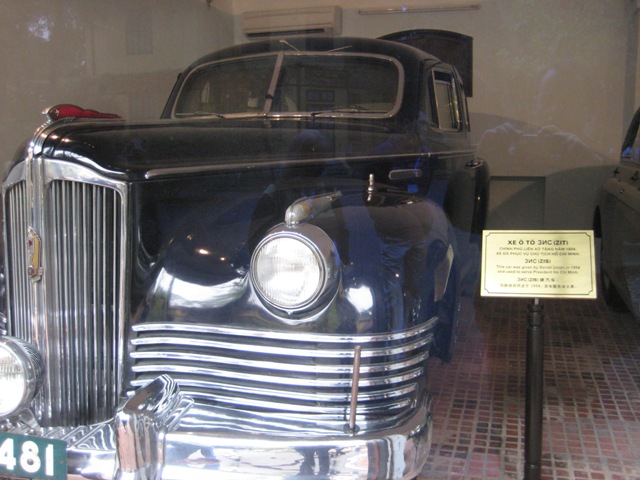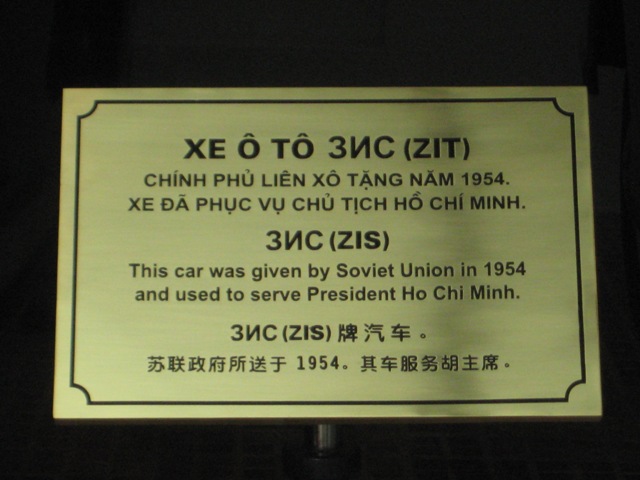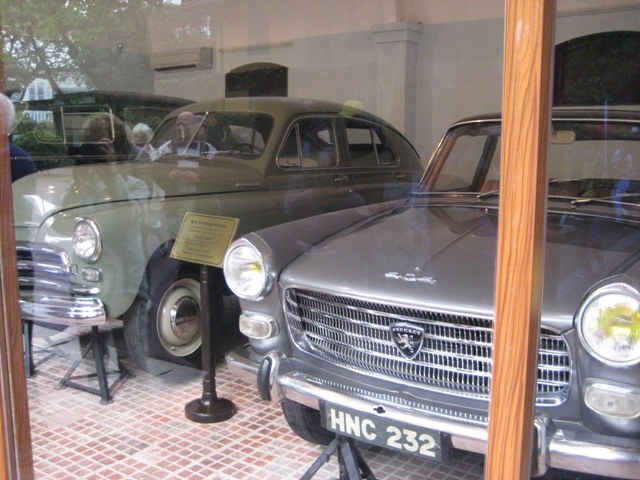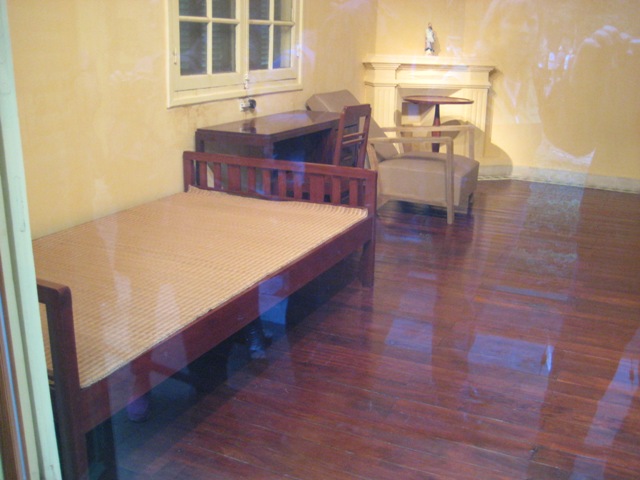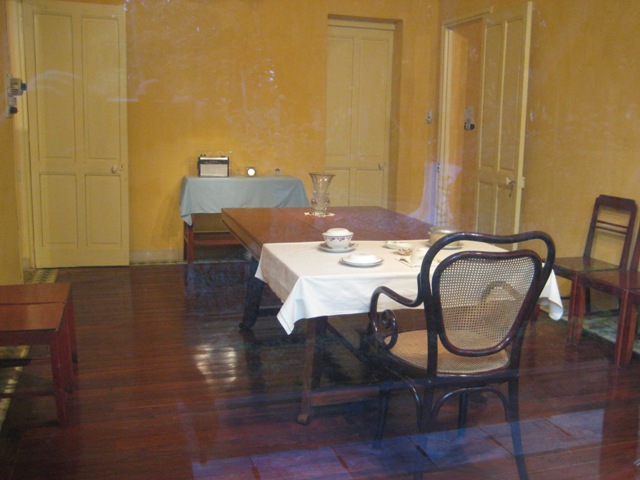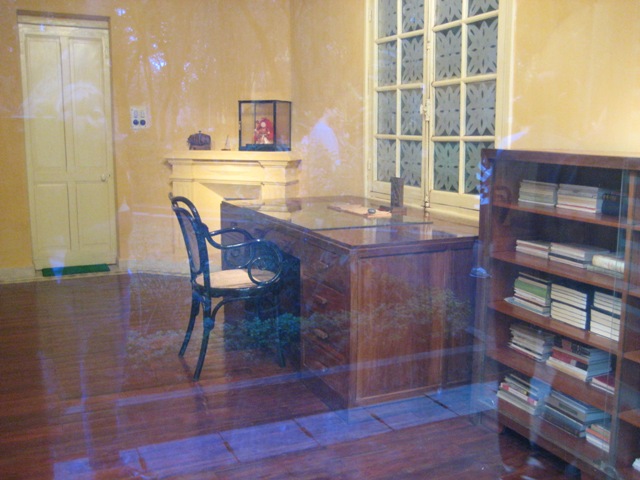 Here is the carp pond and, across the pond, the stilt house where Ho Chi Minh lived from 1958 until his death in 1969. The stilt house's design is based on traditional houses from the Vietnamese northwest, which supposedly reminded him of the houses where he took refuge from the French while he was still a revolutionary. Under the house (or the ground floor perhaps) is all open and was used as an office and receiving area for important guests. Then up the stairs to the main floor, there are only two rooms. What hit me is how low-key Ho Chi Minh seemed to be. He didn't seem to have much that was extravagent in any way.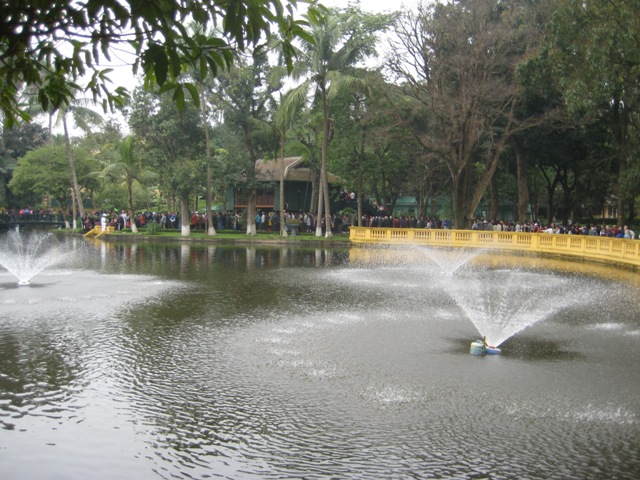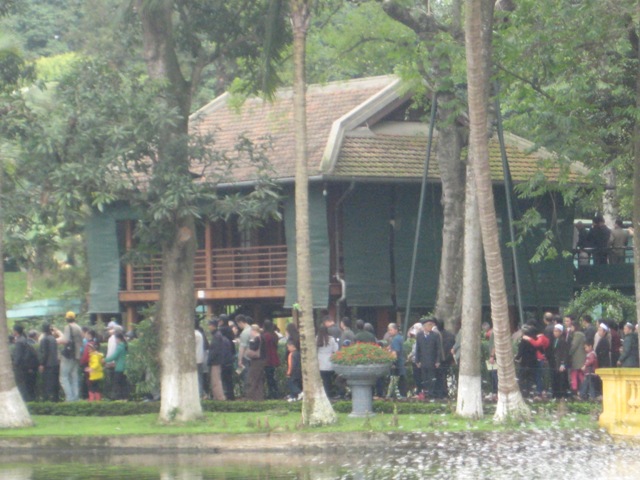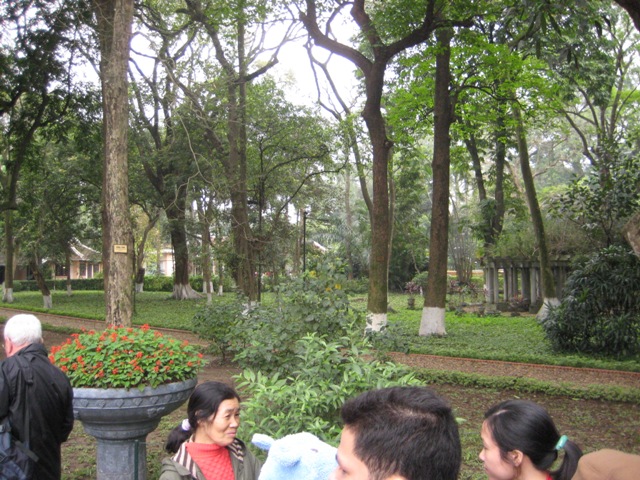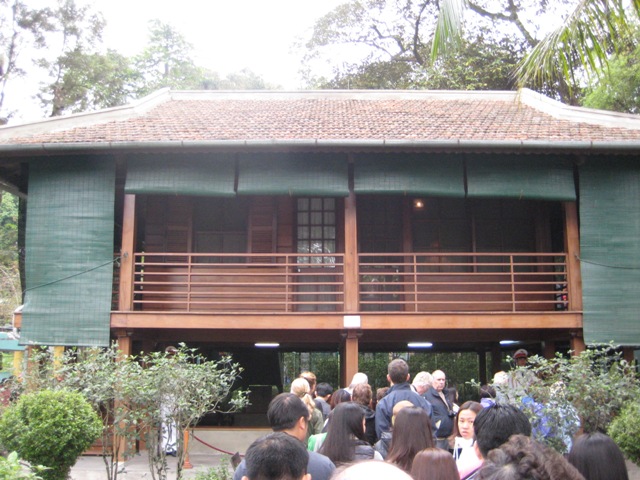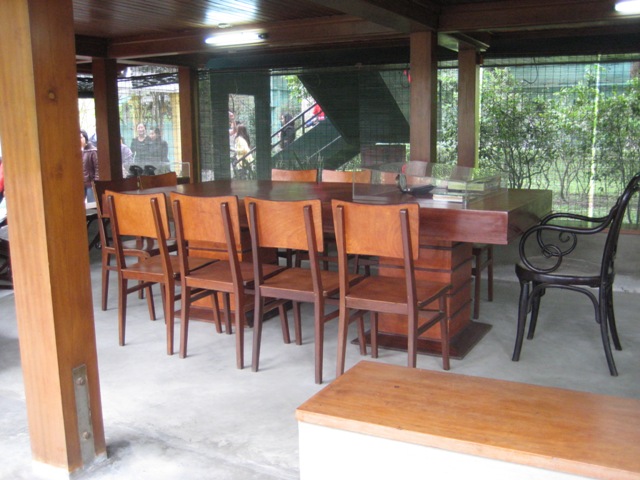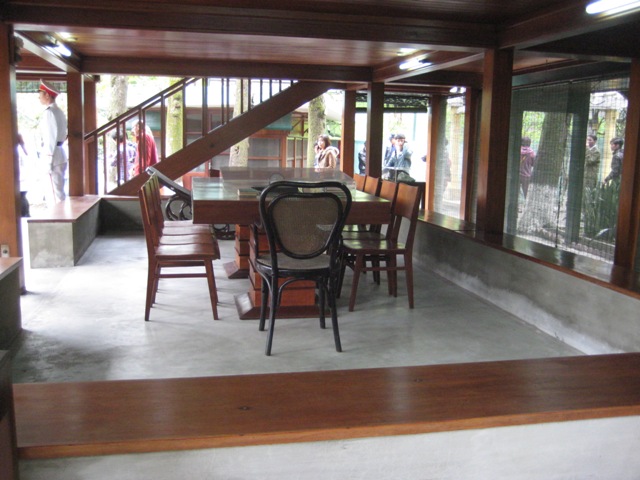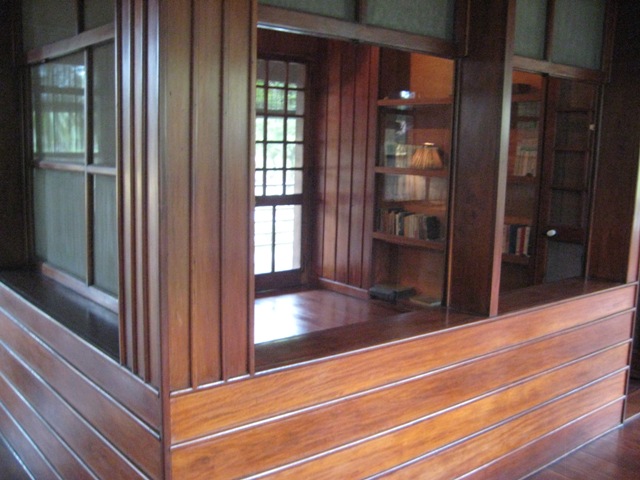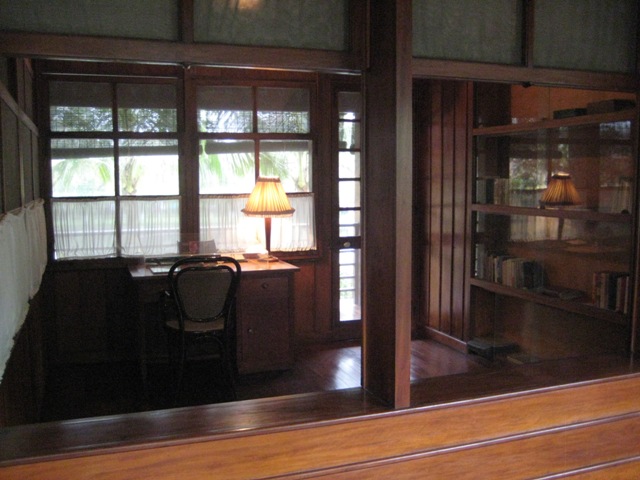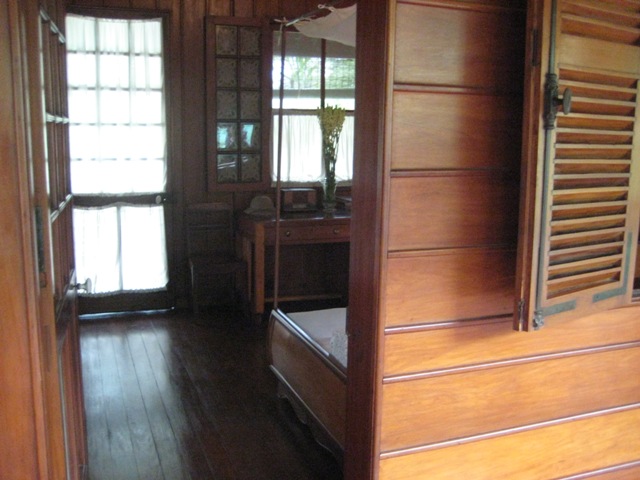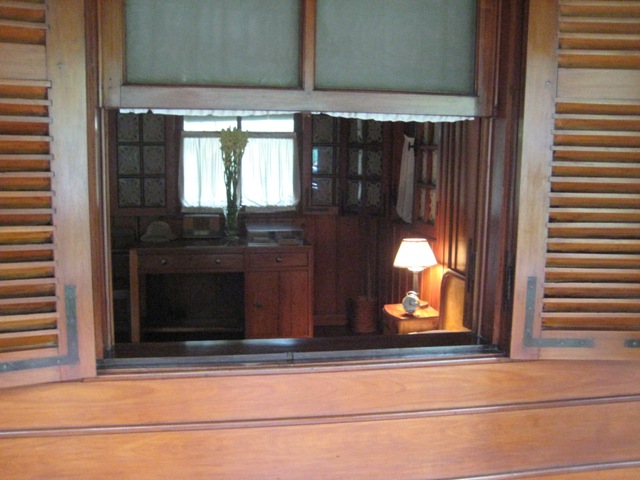 The building next door was a medical clinic that he used during the end of his life when he was ill.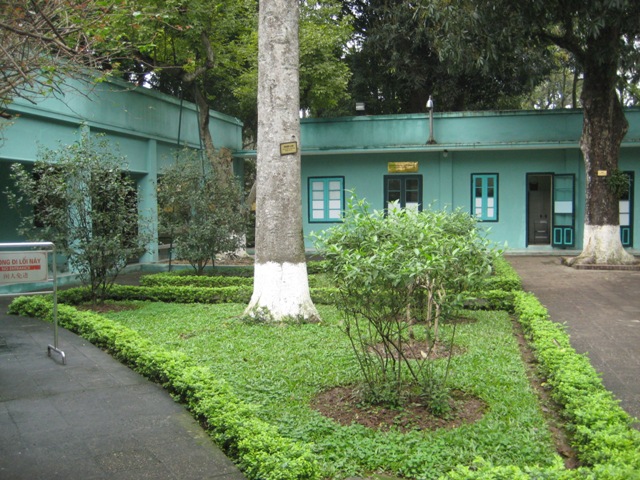 The One Pillar Pagoda is a historic Buddhist temple and is one of Vietnam's two most iconic temples (the other being the Perfume Temple). It was built by Emperor Ly Thai Tong who ruled from 1028 to 1054. Supposedly the emperor had a dream where he met the bodhisattva Avalokiteshvara, who handed him a baby son while seated on a lotus flower. After the dream, he married and they had a son and so he constructed the temple to show his gratitude, building it in the middle of a lotus pond similar to the one he had seen in his dream. The shape also is very much like a lotus blossom. This is actually a replica that was built after it was destroyed in 1954 by French forces as they were withdrawing from Vietnam.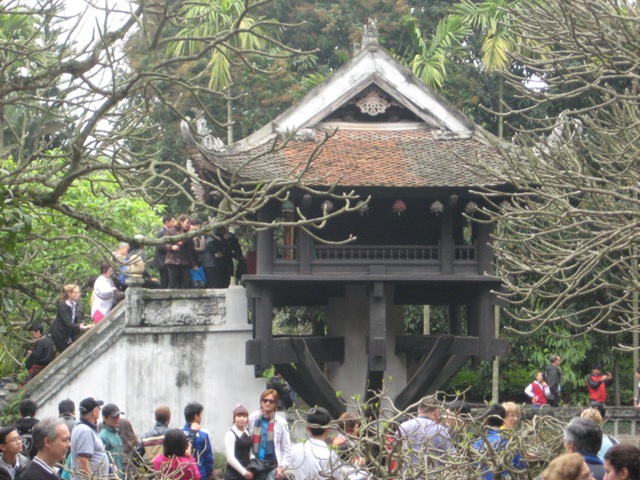 The Temple of Literature was built in 1070 and is one of several temples in Vietnam dedicated to Confucius. In 1076, Vietnam's first university, the Imperial Academy, was established within the temple to educate Vietnam's bureaucrats, nobles, royalty and other members of the elite. The university remained open from 1076 to 1779. The layout is similar to another temple at the birthplace of Confucius. There are multiple courtyards and doorways. It is a very popular place for pictures, especially (it would seem) brides and perhaps University graduates. As we walked around the courtyards and ponds, we saw lots of young ladies in the traditional Vietnamese Ao Dai.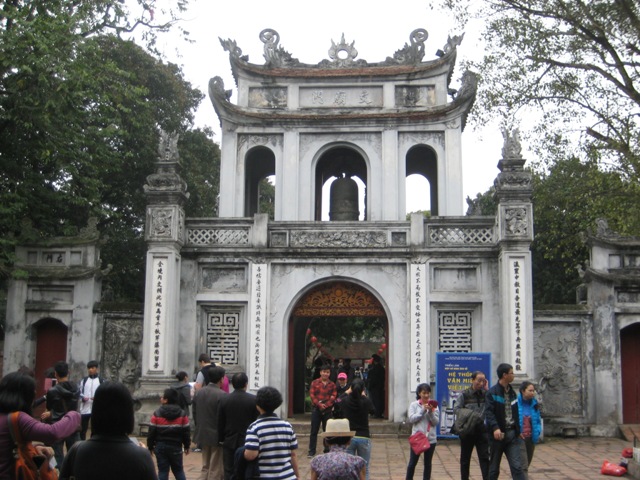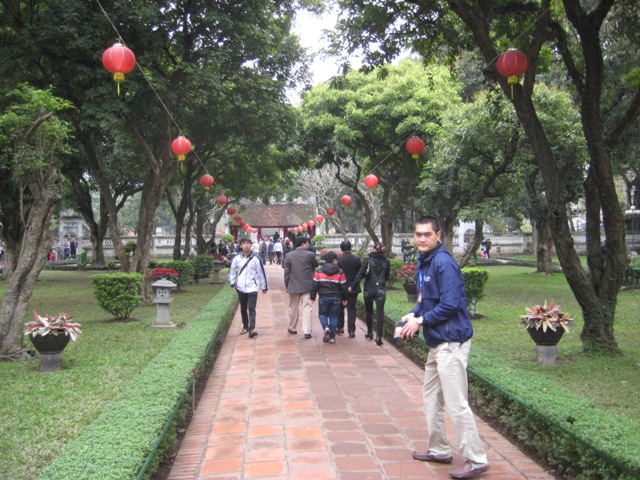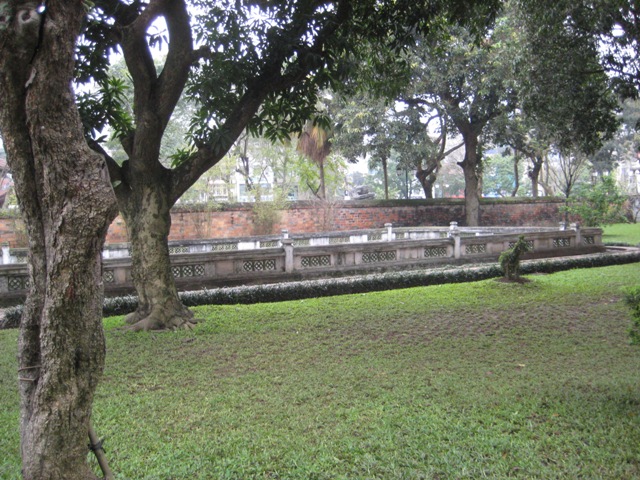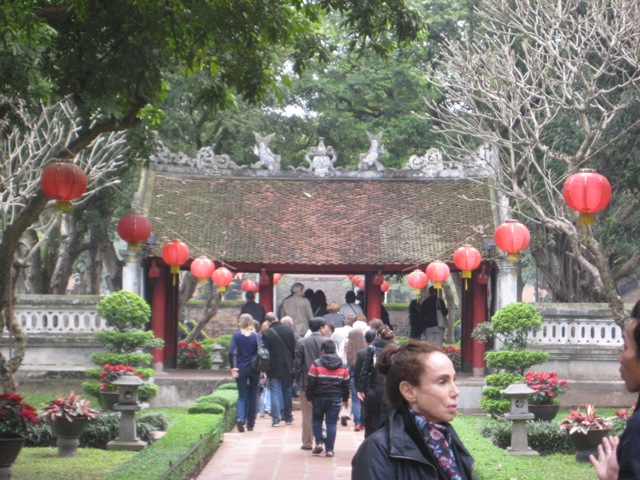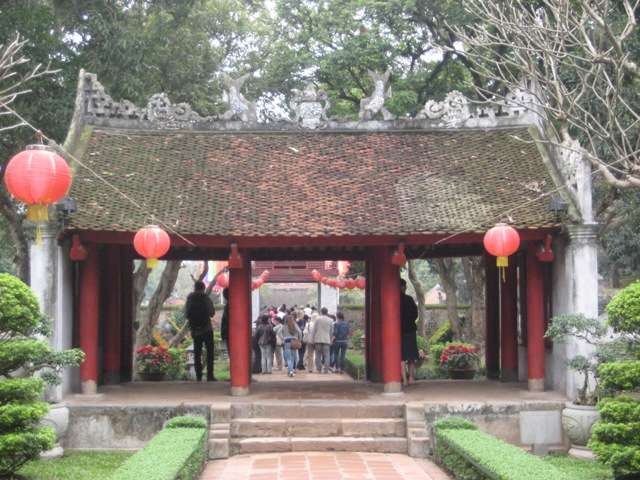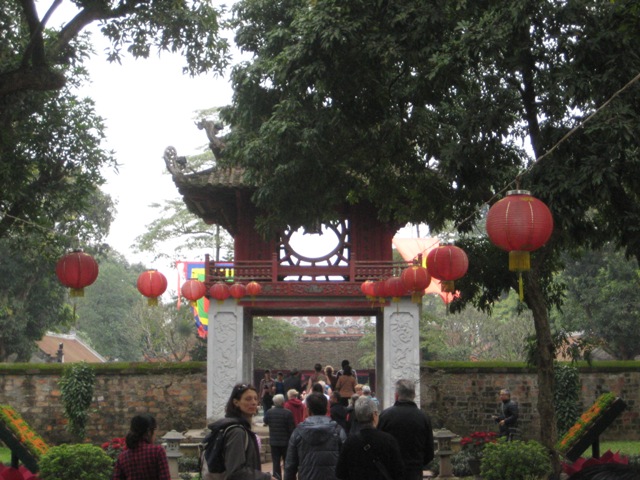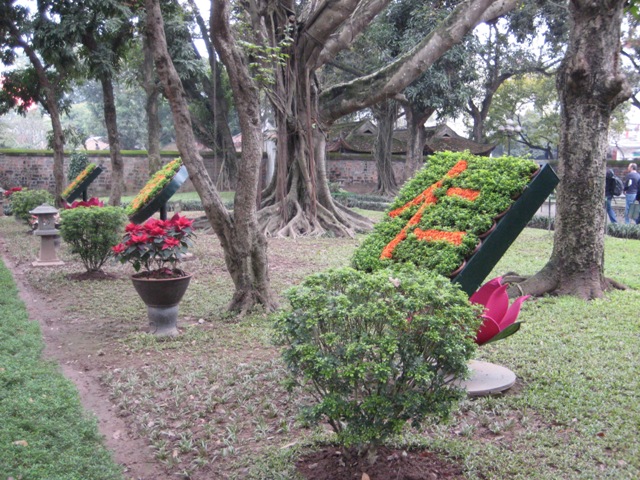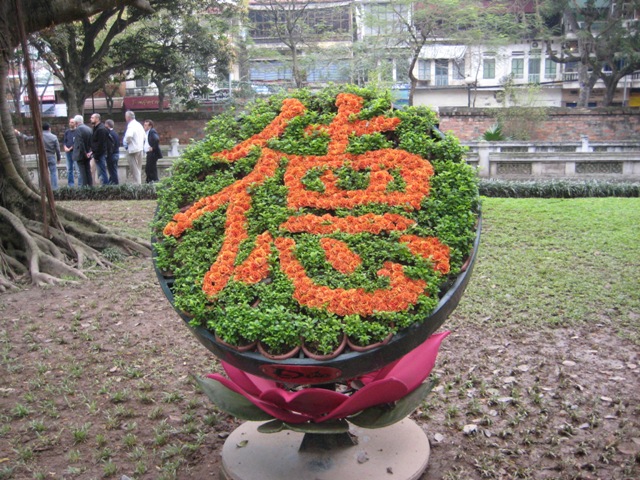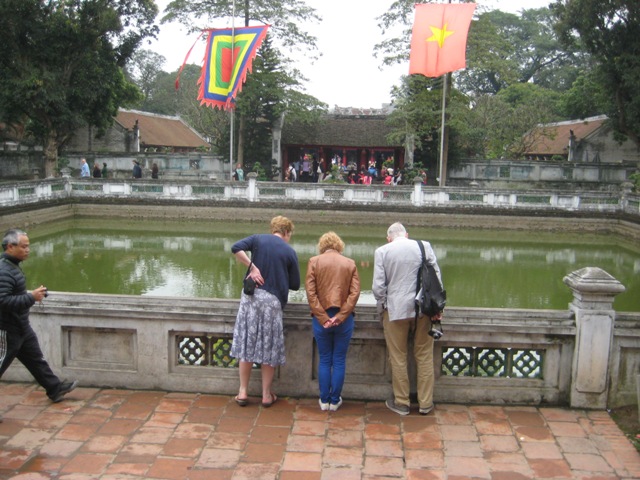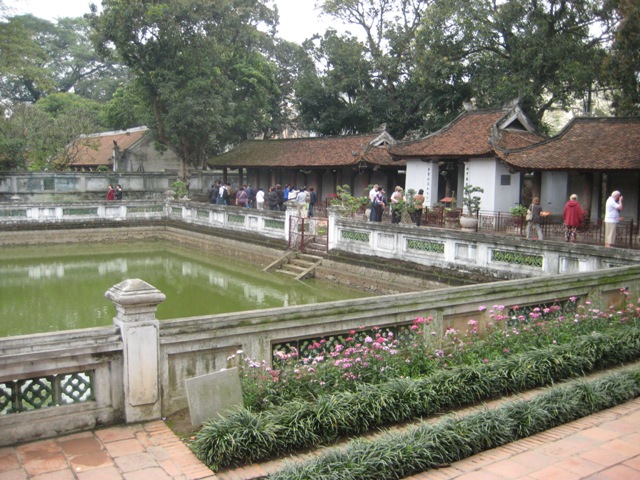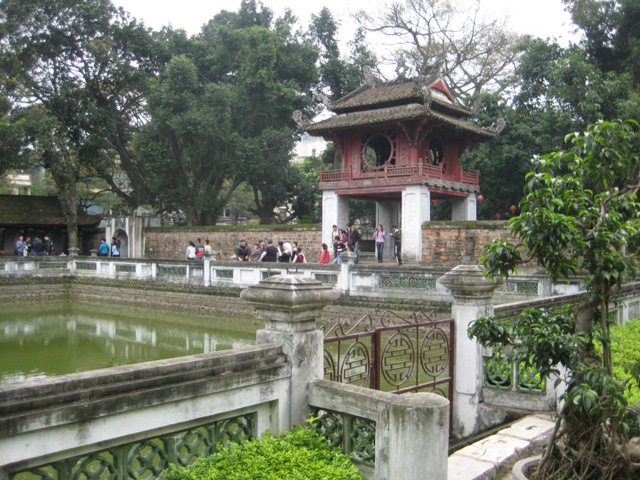 When we got through the fourth courtyard, there were two additional halls. There are a couple bronze statues of a phoenix on top of a turtle (two of the four holy beasts of Vietnamese mythology).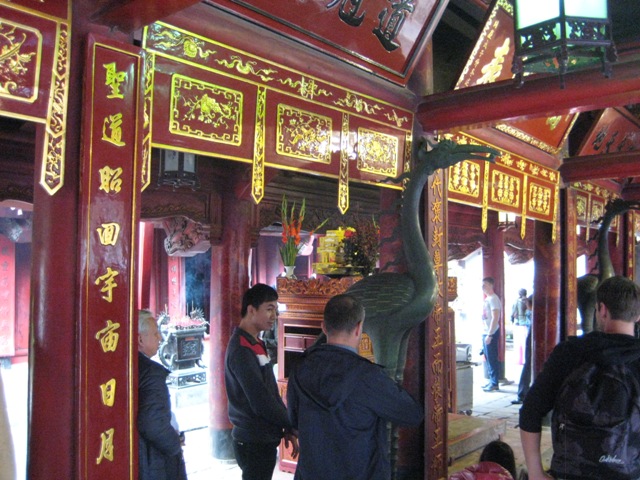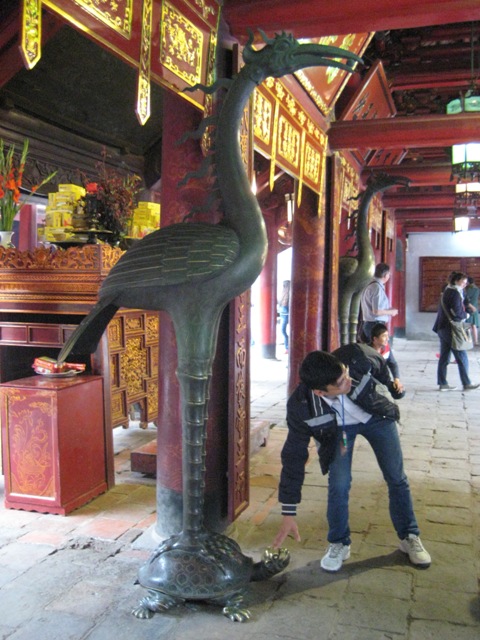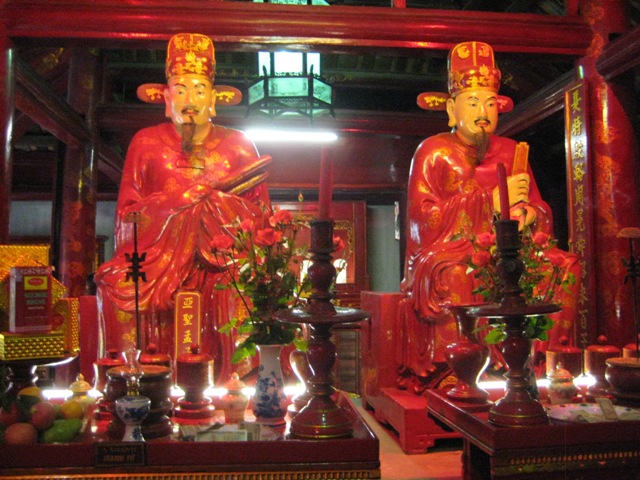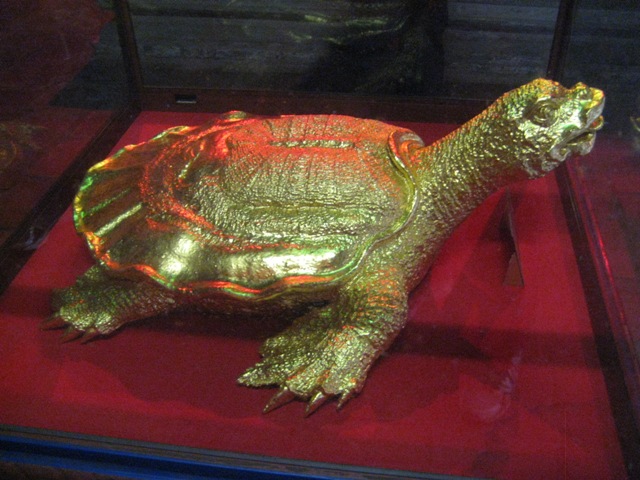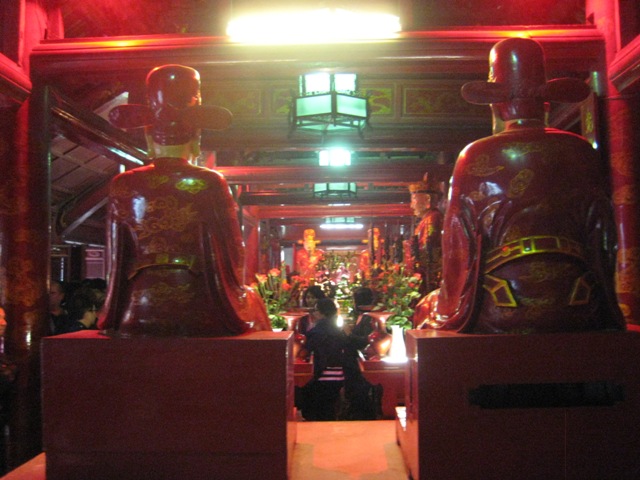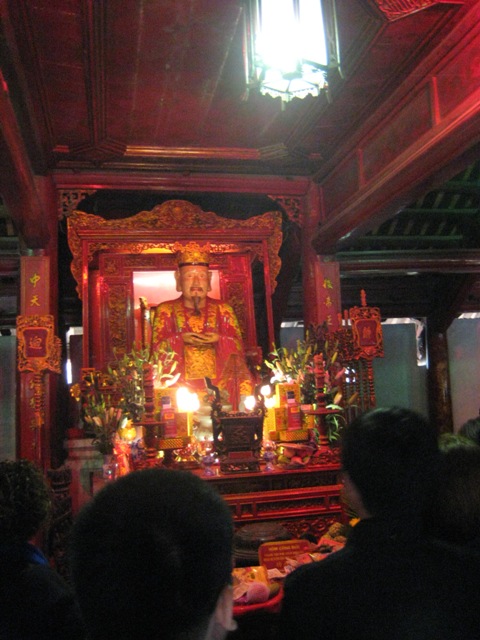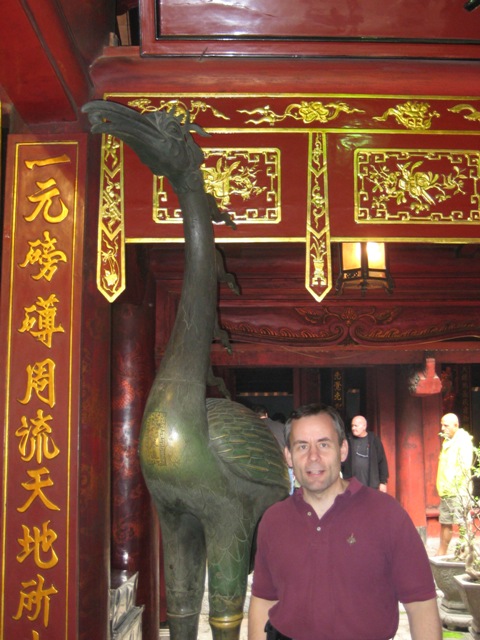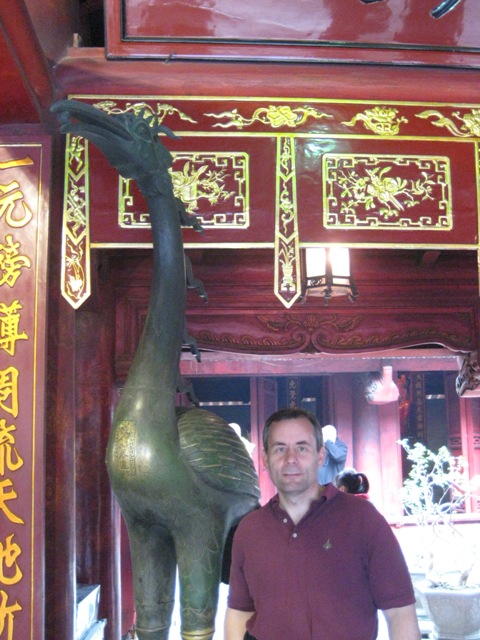 In 1076, King Ly Nhan Tong ordered the construction of an imperial academy as a fifth courtyard. On either side of the rear building are square buildings which hold a drum and a bronze bell.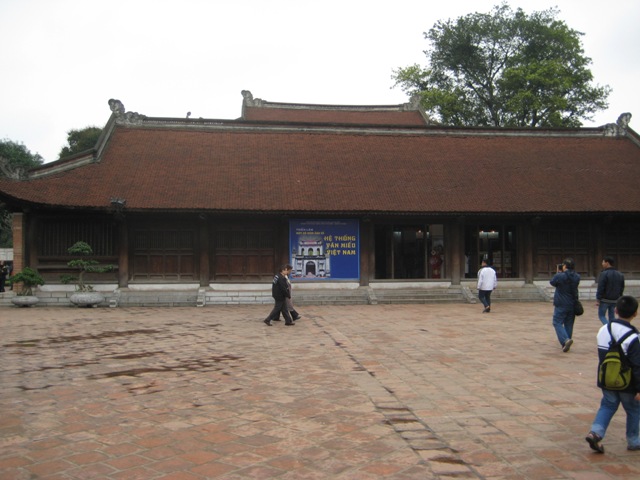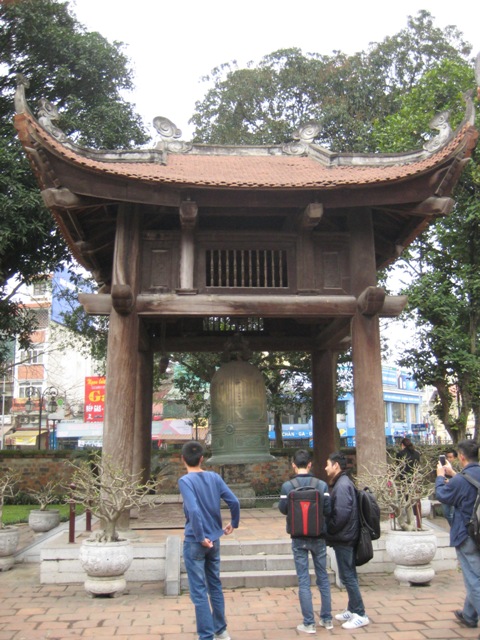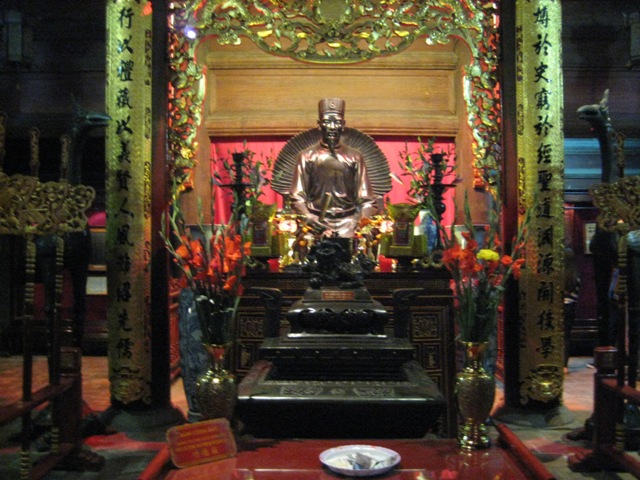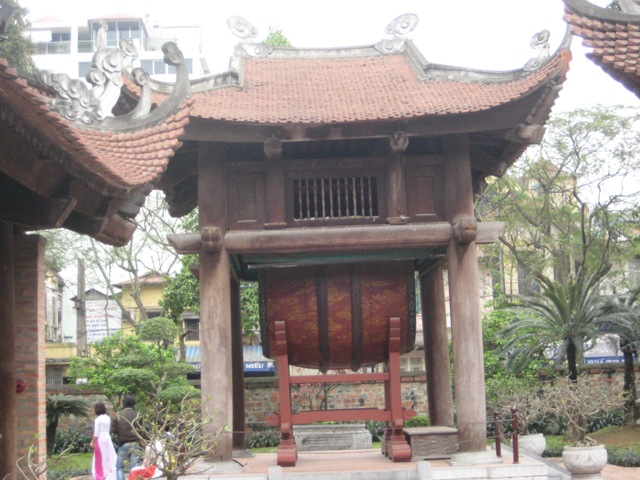 Inside there were some souvenir shops but also a set of musicians playing traditional instruments.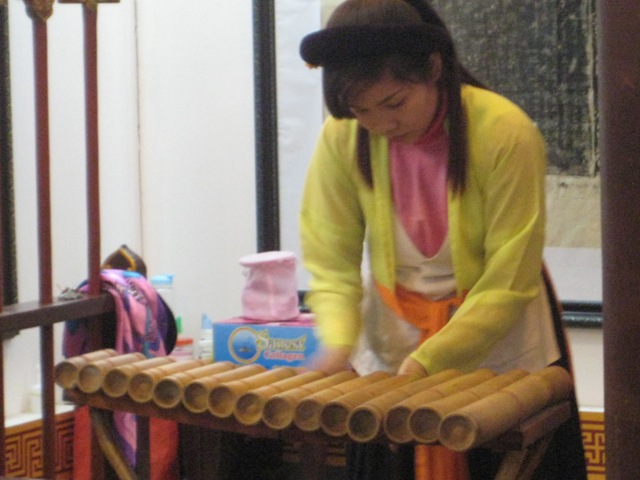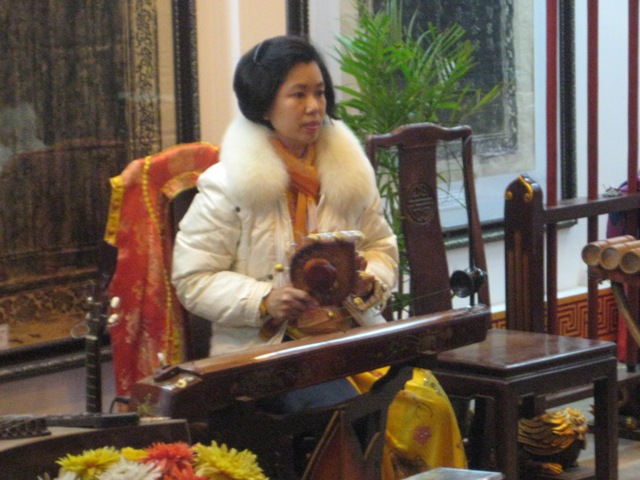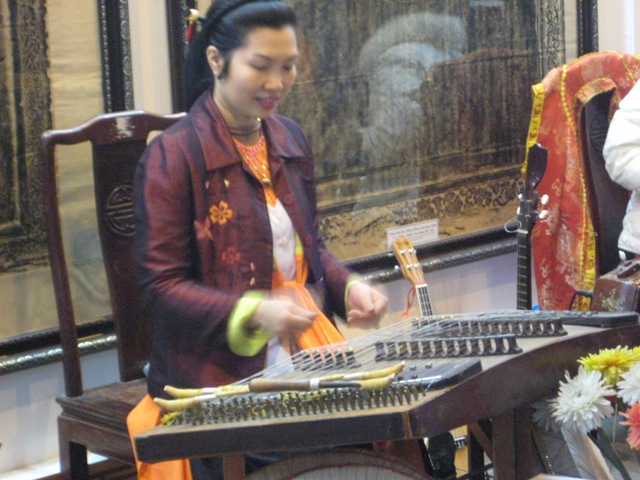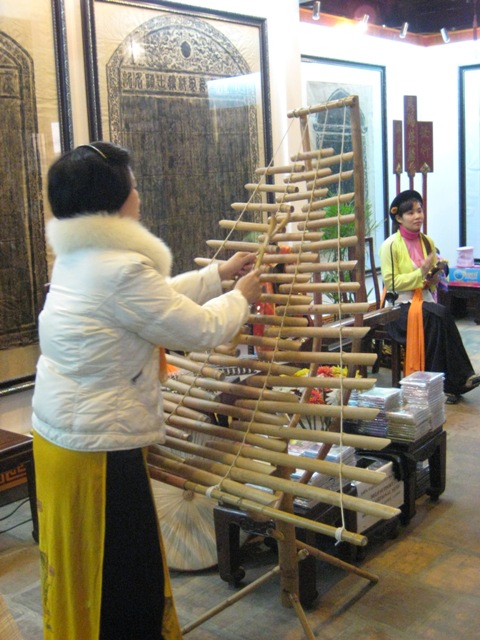 Not sure the significance of this interesting little guy in the fourth courtyard, but I took a minute to grab a mug-shot with him.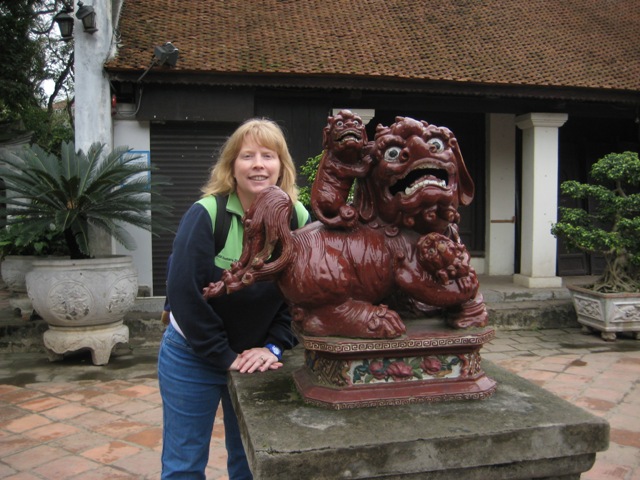 All of that, and we finally made it to lunch at Cha Ca Thang Long. Cha Ca is a famous fish-dish in Hanoi and so we were happy to see this on our itinerary. It was quite a local place (we think, we were the only foreigners). It is another place where we think there is only one thing that they serve .. or at least, every table seemed to have the same thing we did. They bring out a skillet sizzling with pre-cooked fish pieces (no bones thank goodness) and put it on a burner in the middle of the table. There is also a big bowl of green things (herbs and other green stuff!) that they pile in on top of the fish to wilt it a bit. They also bring little bowls of more herbs, thinly sliced green onions, peanuts, peppers, and a fish sauce as well as a couple places of cooked rice noodles. Another place where they somewhat show us how to eat .. you take a bit of everything and throw it into another bowl and voila!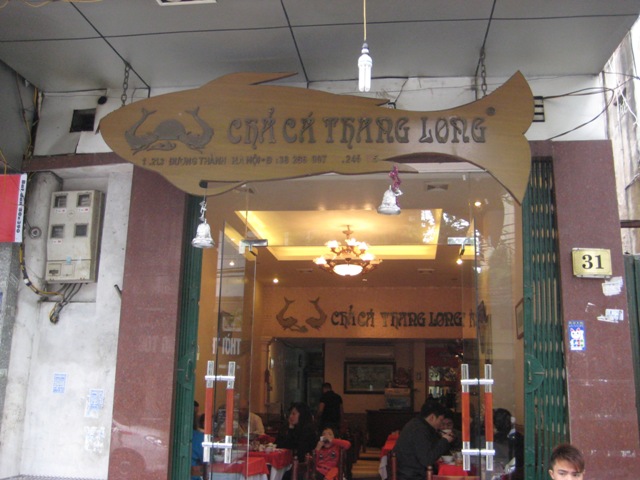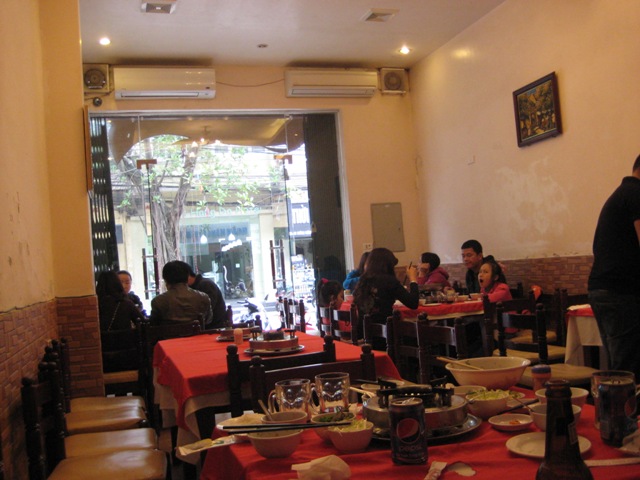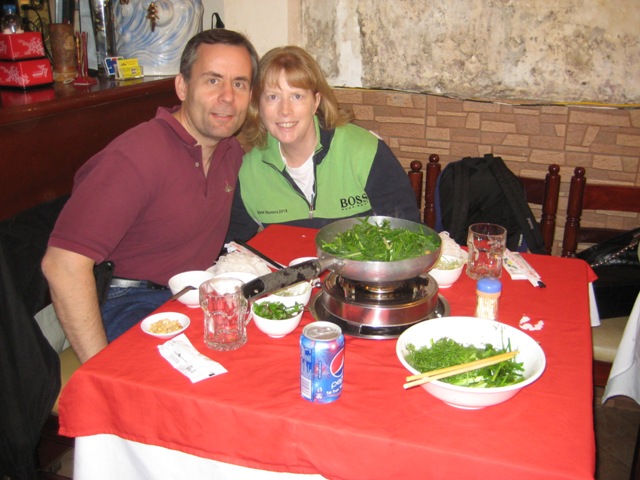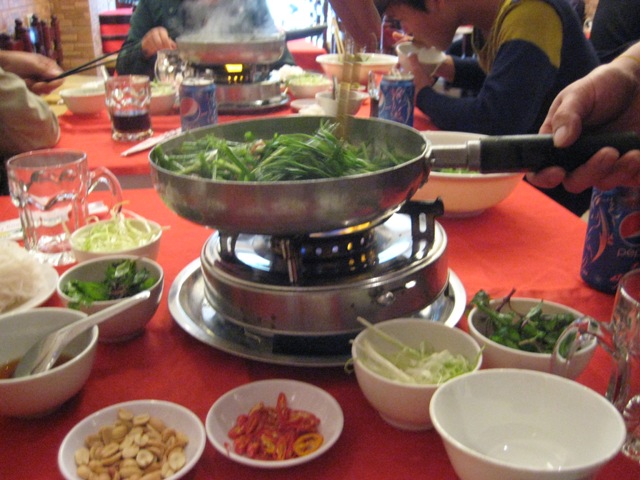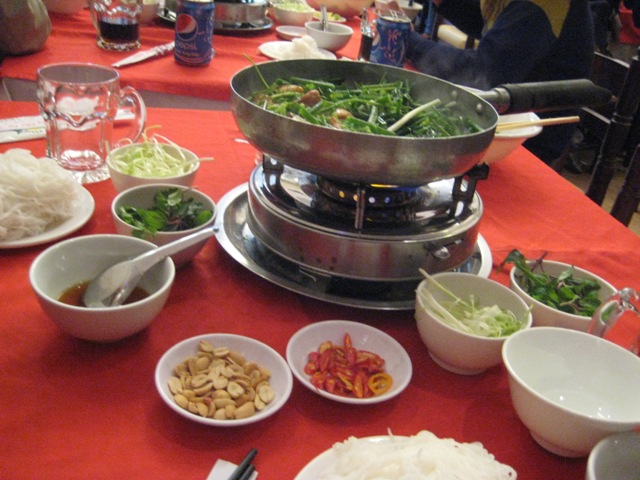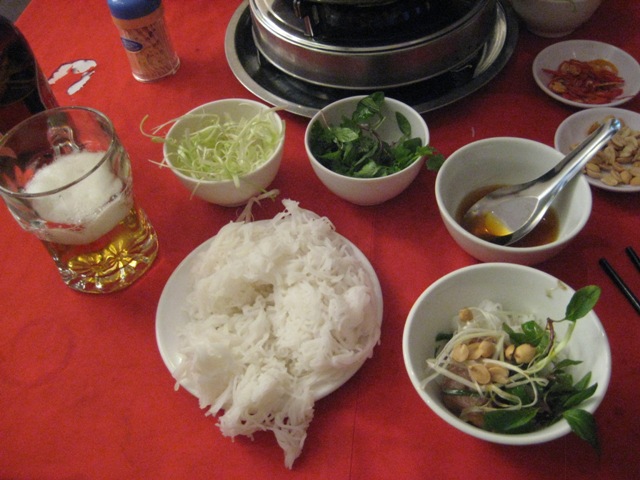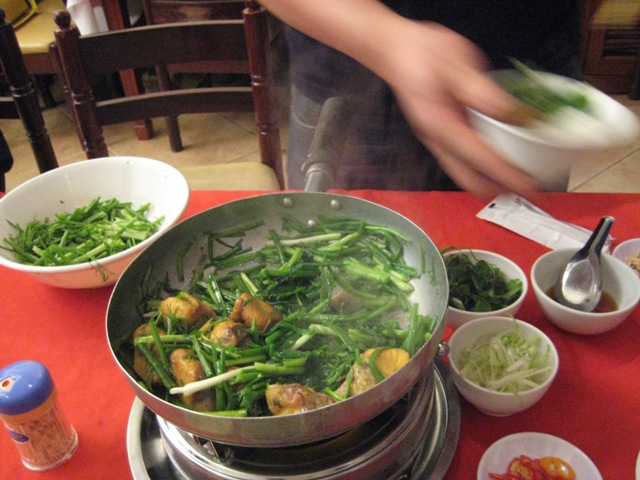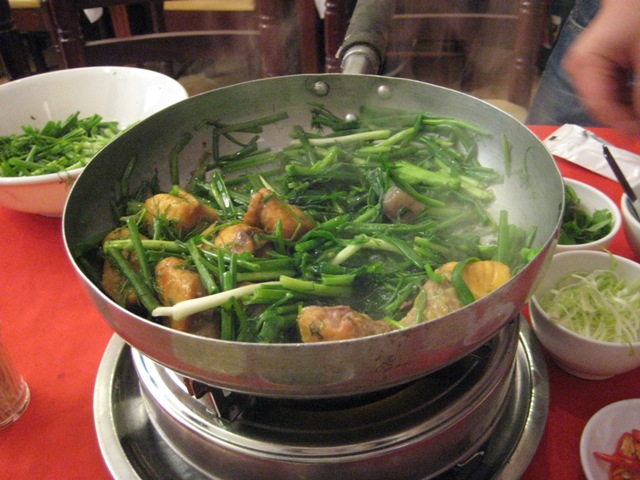 It was only lunch, but I decided to go with the local Hanoi Beer. I know ... most of my friends are picking themselves up off the floor wondering who I am and what have I done with their friend, Susan, who HATES beer!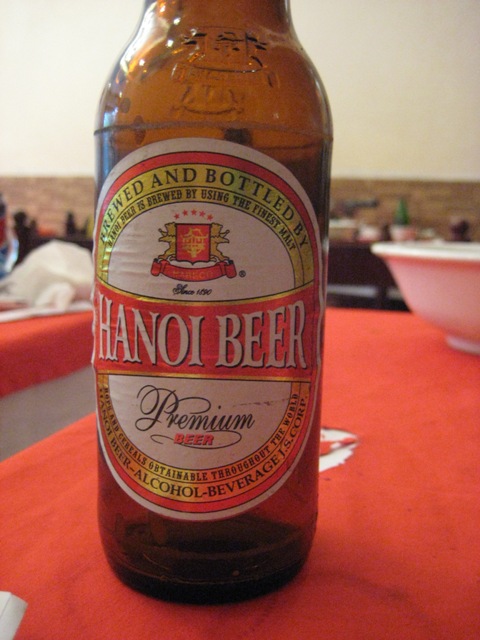 The sign over the door says "Maison Centrale" or Central House in French which is a traditional term for prisons in France. The official name is Hao Lo prison and Americans would know it as the Hanoi Hilton (the sarcastic name given it by American prisoners held there). Everything except the gatehouse was destroyed in the 90's, leaving the gatehouse as a museum. It was used by the French to hold political prisoners and then by the North Vietnamese for prisoners of war. The name Hao Lo translate to fiery furnace, Hell's hole, or stove. While you could think of terrible things in how a prison could be called that, but it isn't that sinister. The street that it is on is pho Hao Lo due to the concentration of stores selling wood and coal-fire stoves. Inside the gatehouse museum, there are a couple models that show what the prison looked like.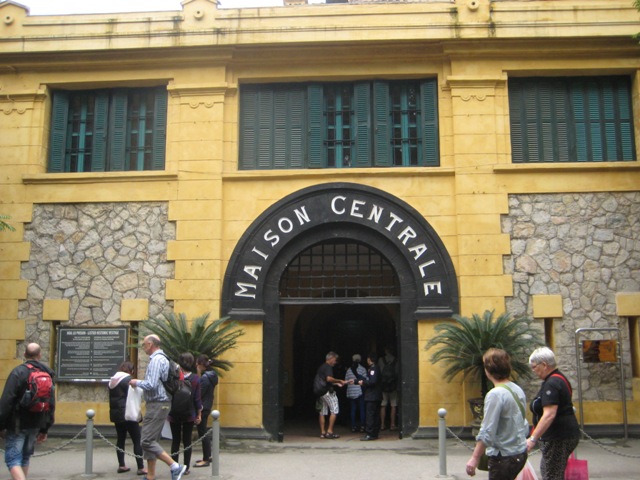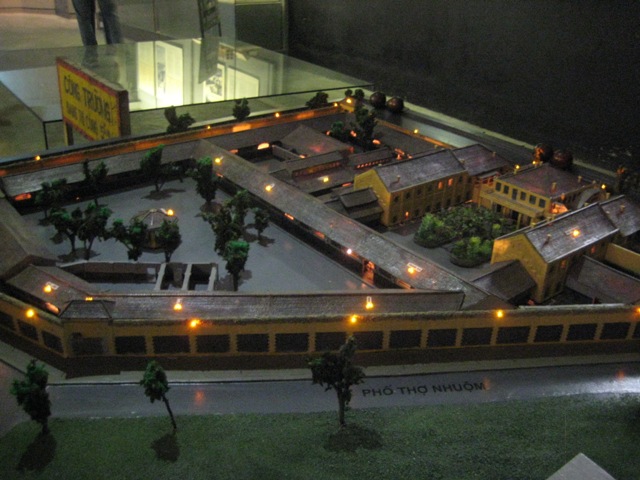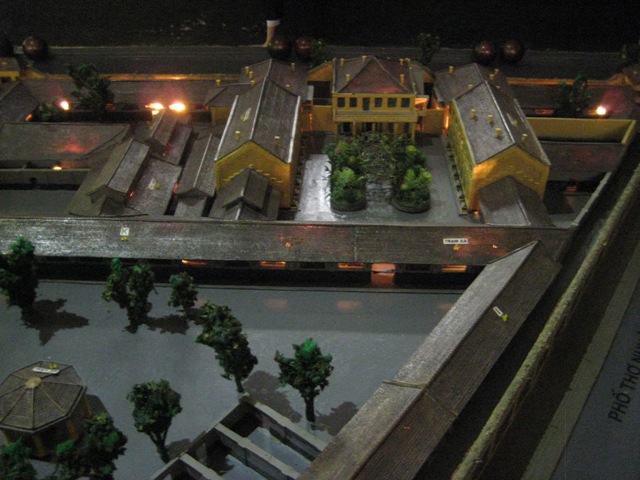 The walls are not all that high, but at the top was a section with broken glass which made it difficult to get out.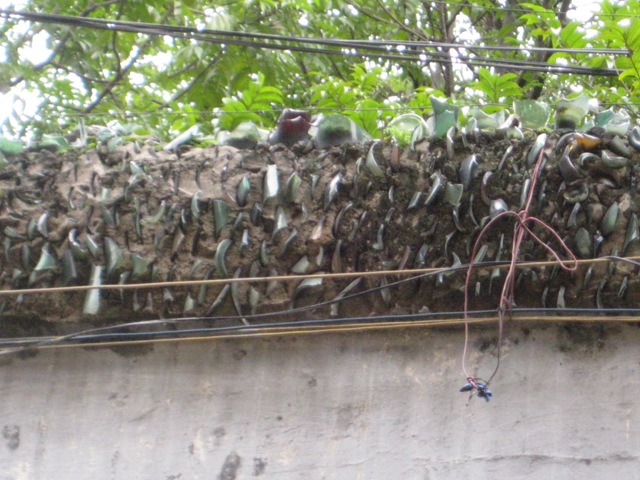 You go through a large room with models of prisoners as they would have been kept in groups with their feet shackled. There are also solitary-confinement rooms where the prisoners were also shackled at the feet.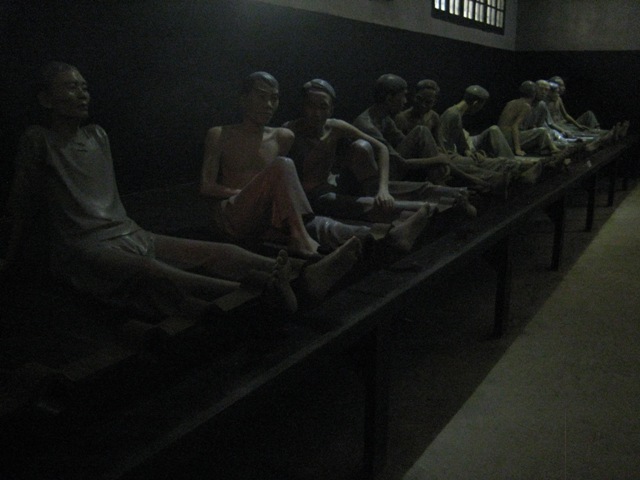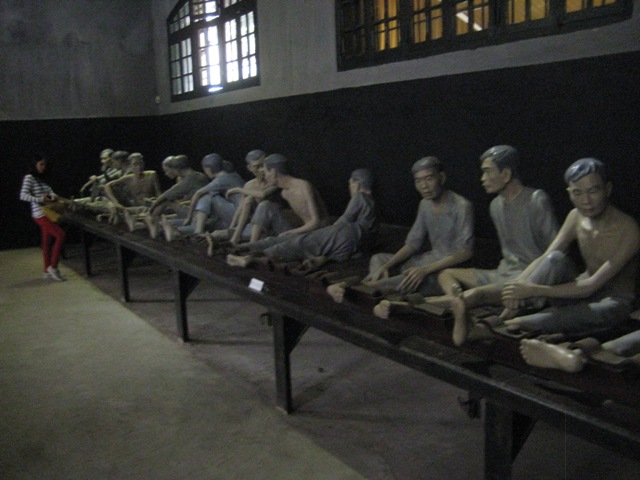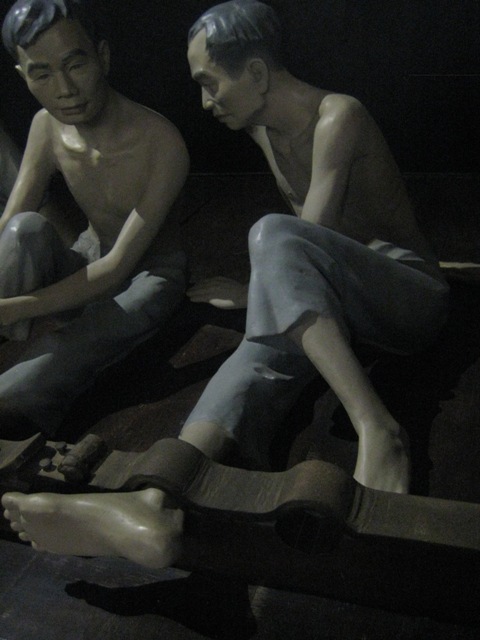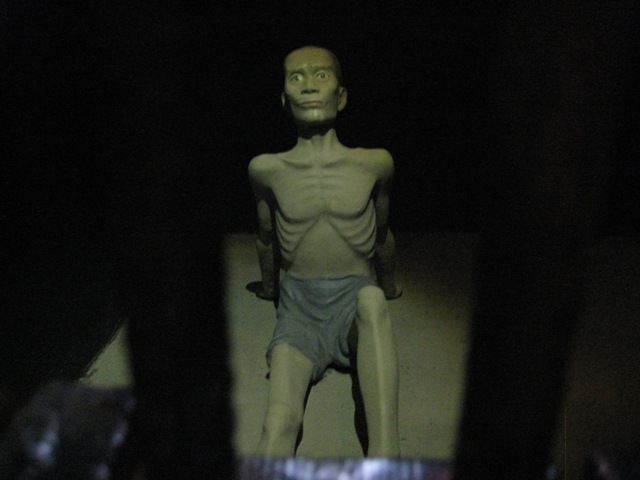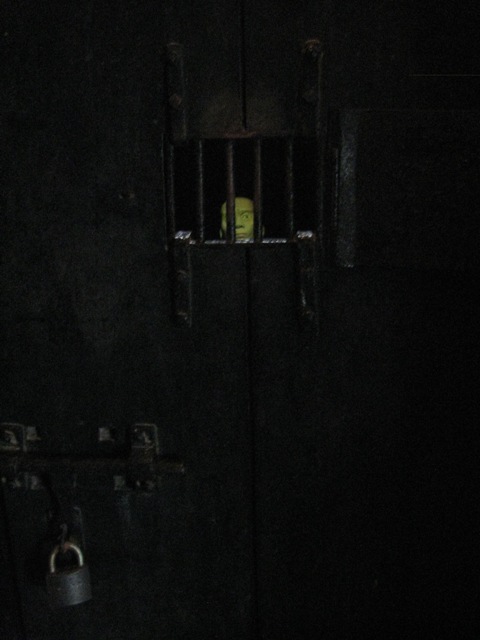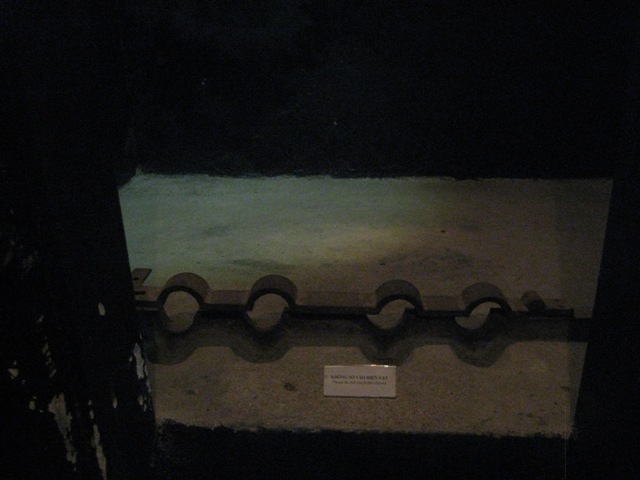 A few general pictures of the buildings and a picture.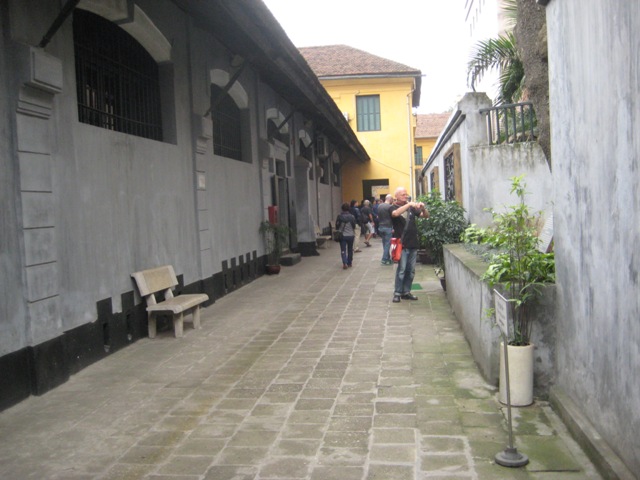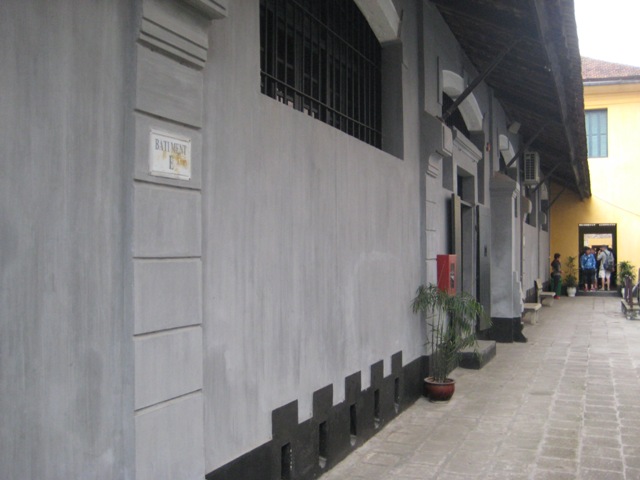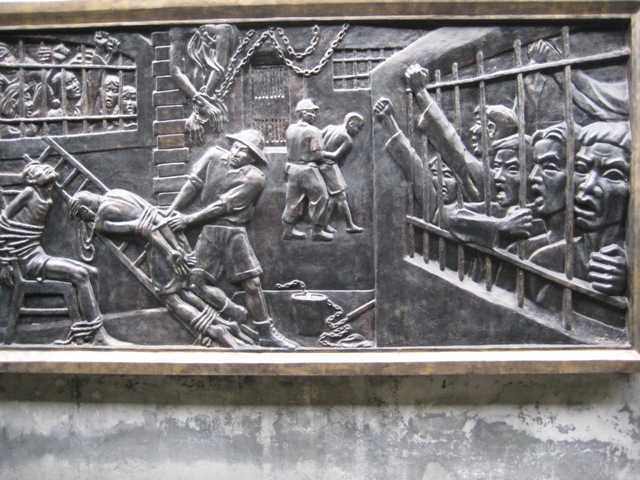 At one end, there were a set of rooms for the women political prisoners and a guillotine room with the original guillotine still there.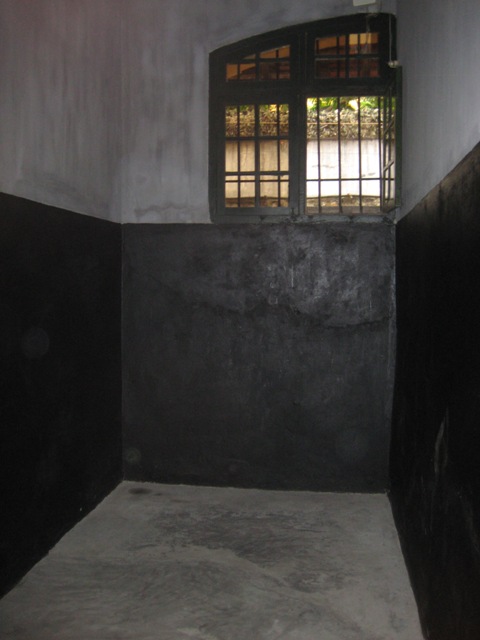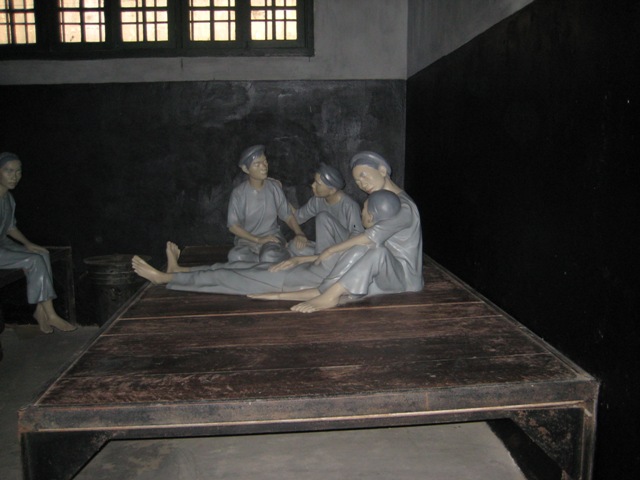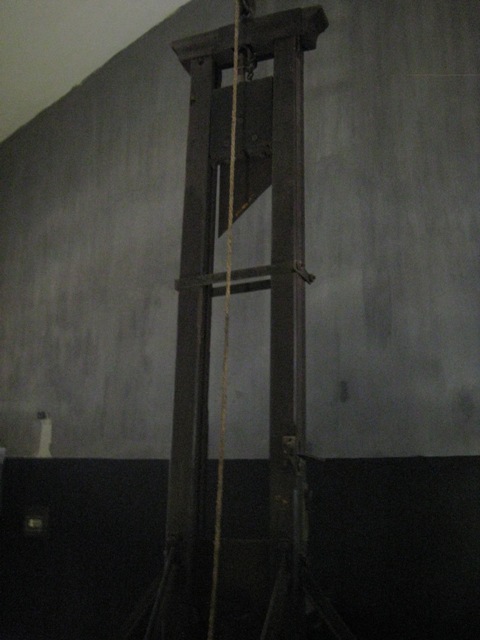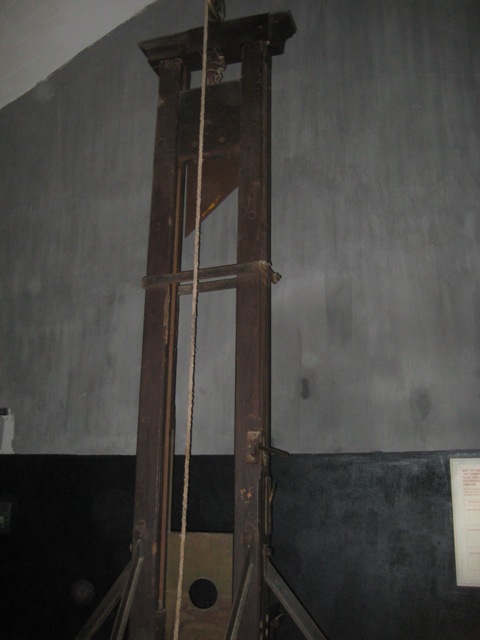 This they said was like "death row" where people were put before executed (not sure I believe that or if our guide was trying to make it worse than it was).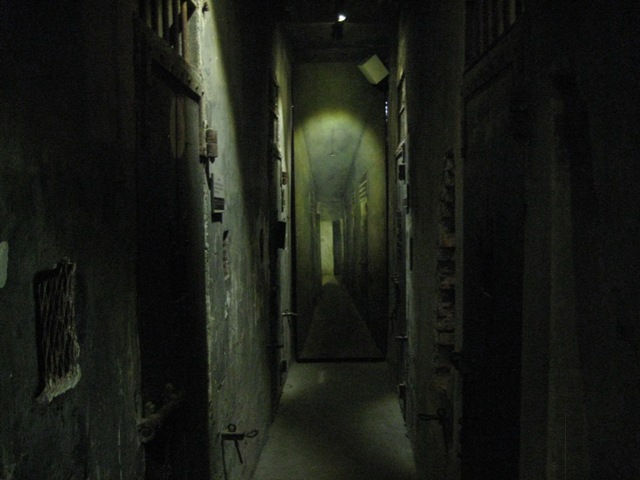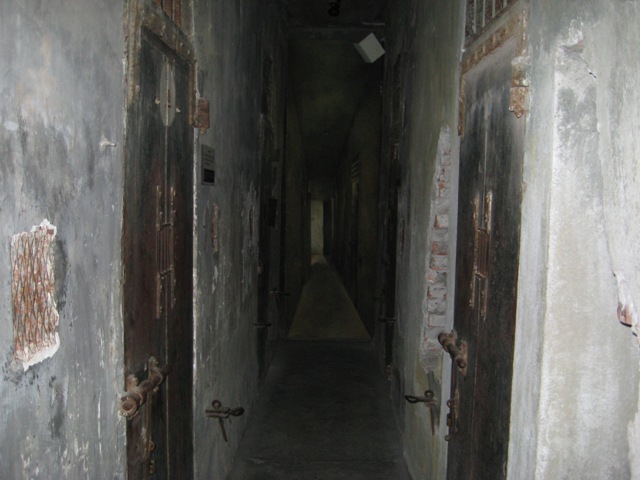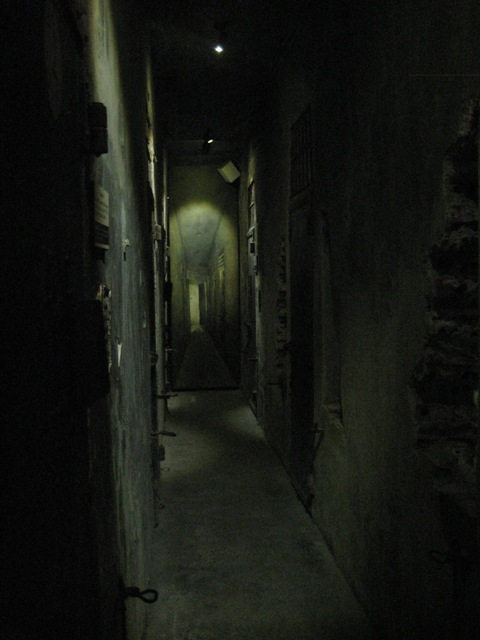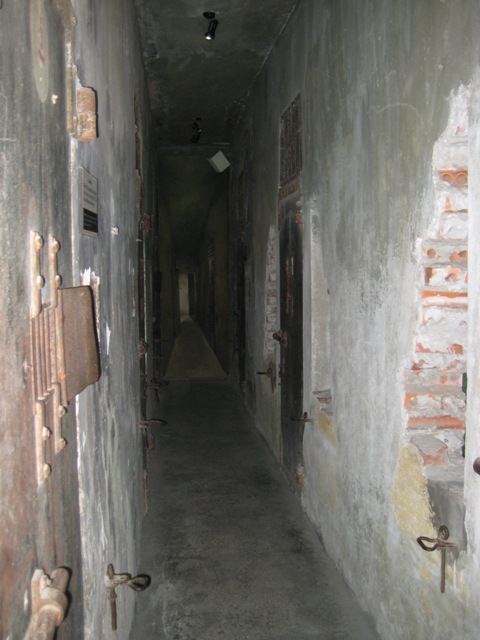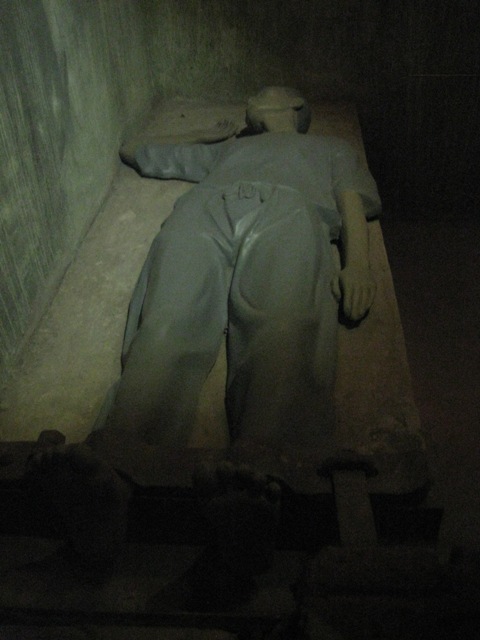 In a courtyard, there is this memorial wall now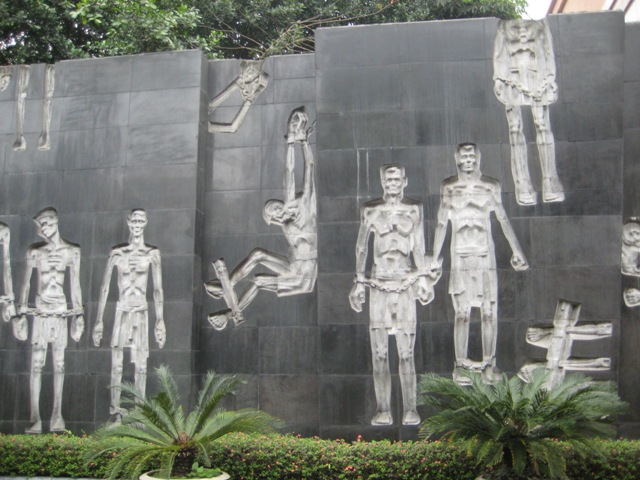 And here is somewhat a funny part (not funny ha ha). There are pictures up and discussions on how wonderful the American soldiers held there were treated, showing them decorating a Christmas tree, having a traditional holiday feast, playing games. Many of the prisoners after their release recounted details of neglect, starvation, and torture.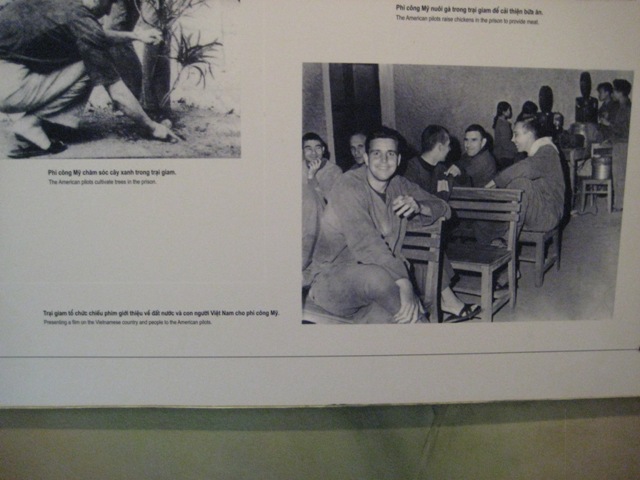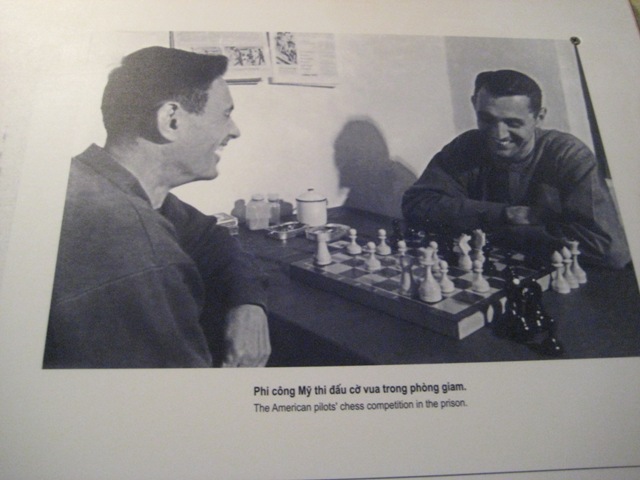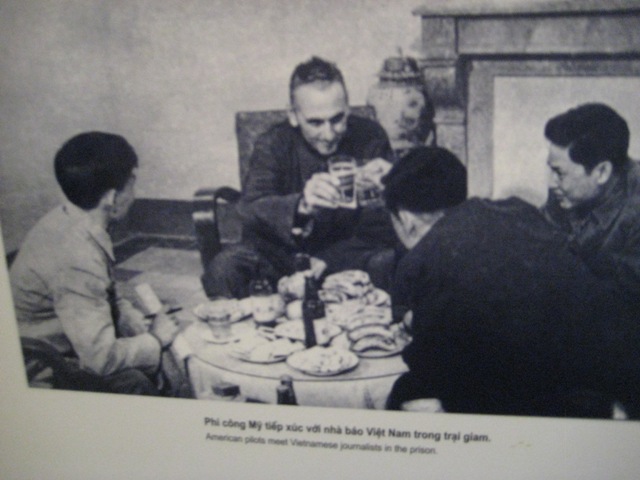 Continue to Hanoi Part 2