Susan's Shanghai Blog - Week 115
Hoi An (also known as Faifo) was our last stop in our North and Central Vietnam vacation. the Hoi An Ancient Town is a UNESCO World Heritage Site, being an exceptionally well-preserved example of a South-East Asian trading port dating from the 15th to the 19th century.
We had tried to book closer into the town, but ended up at a beach resort, which was VERY nice! The room was HUGE! Each day they would bring in a little basket of fresh flowers and these little tiny bananas.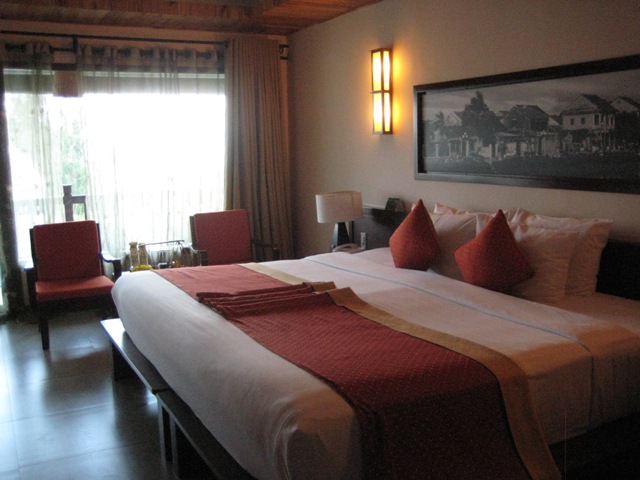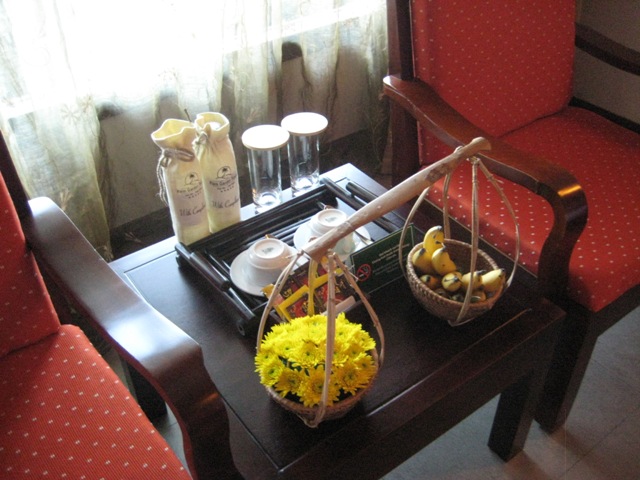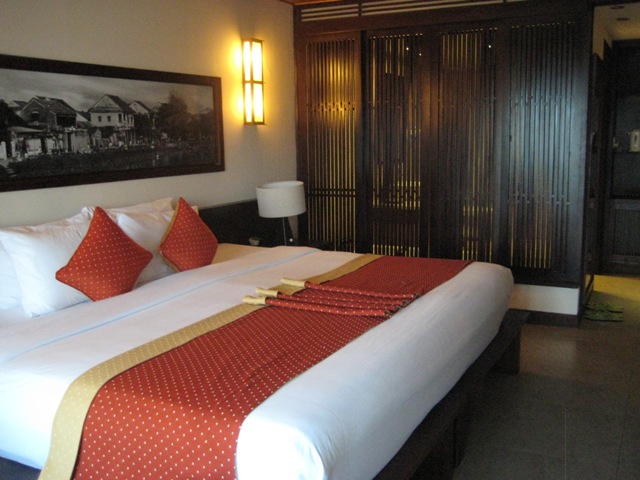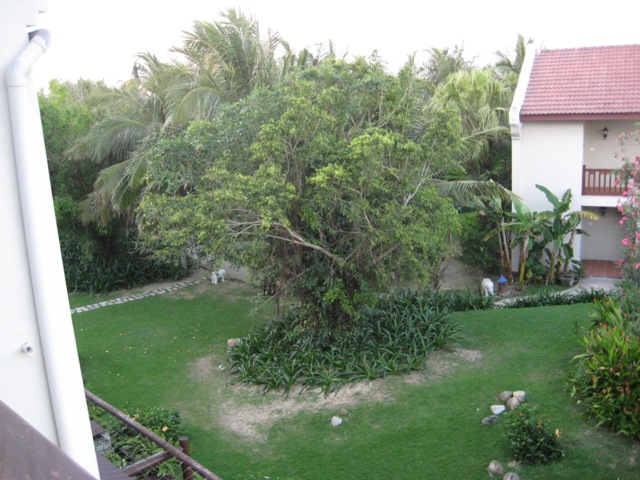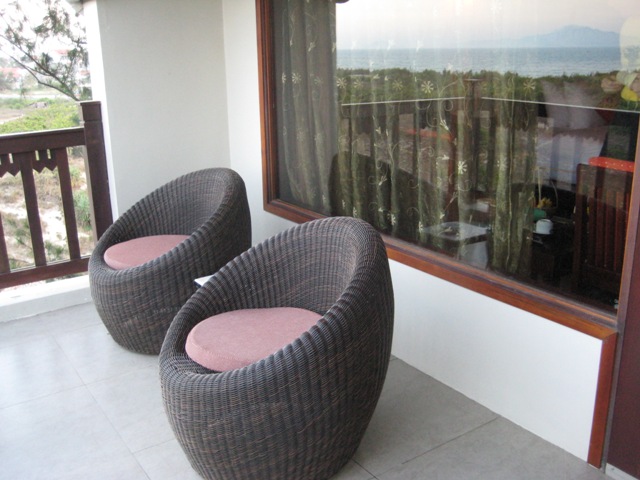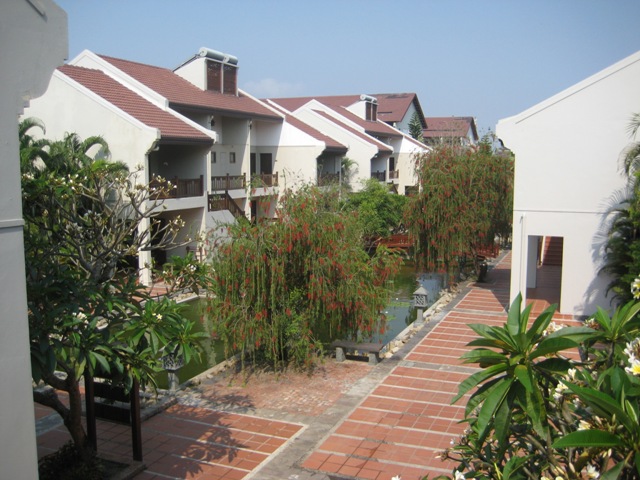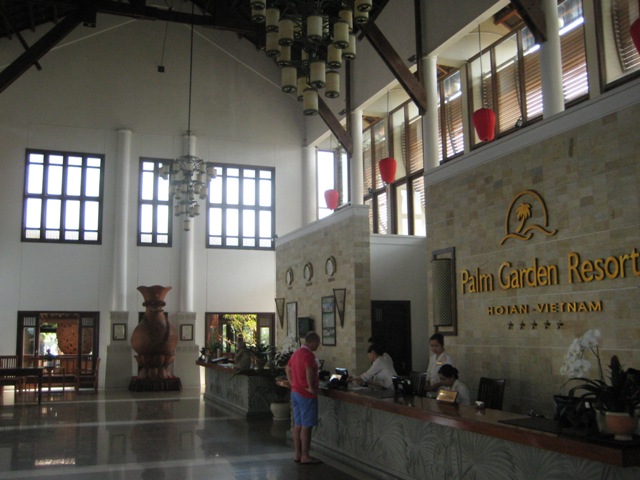 Once we got in, we didn't have any time to do anything other than heading out for dinner. We started our Hoi An experience at a restaurant called Bale Well. I somewhat hesitate calling it a restaurant although they did have a sign! Supposedly this was "local dining" and there were alot of what looked like locals mixed in with what looked like a set of tourists. This is Vietnamese street dining, with tables and chairs literally set up in a street (there were scooters that kept driving through the middle). There is one little open kitchen next to the tables where they prepare things, and there is no menu (at least, none that they showed us). You sit down, they ask you what you want to drink (2 Cokes for us) and then out comes "the spread". It is a set menu of nem nuong, the kind of spring rolls that you make yourself, rolling chicken, beef, or pork with fresh greens and condiments into sheets of rice paper. Again, the rice paper was interesting to me because they are very thin but dry (I am used to only seeing spring rolls in moistened rice papers).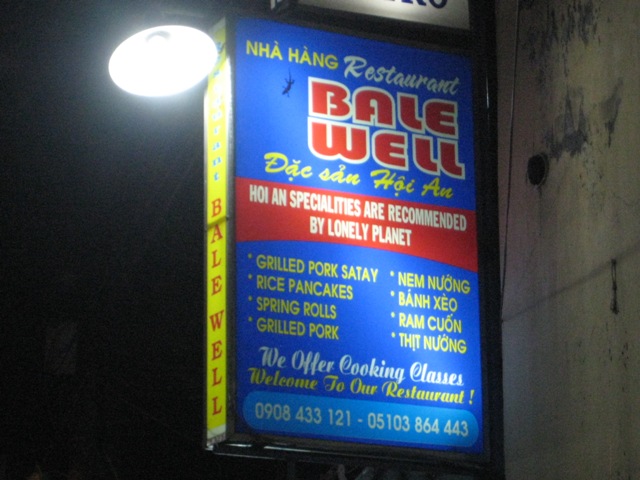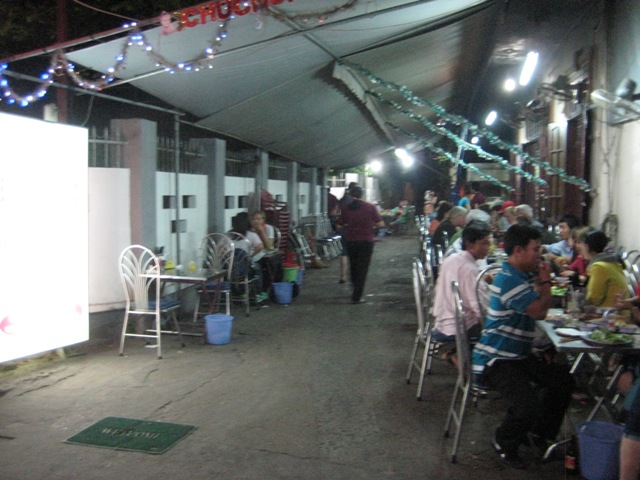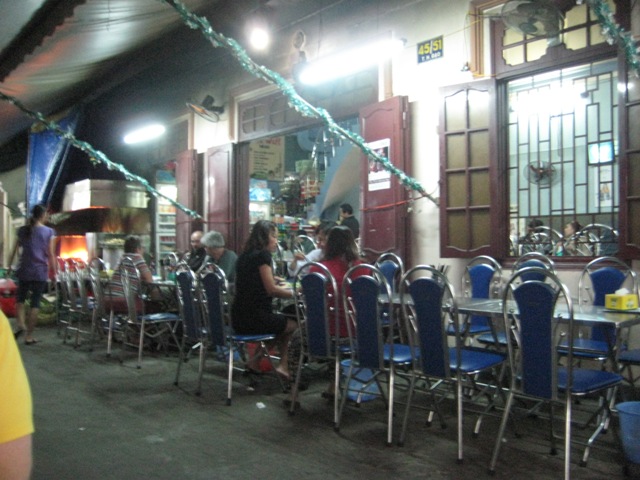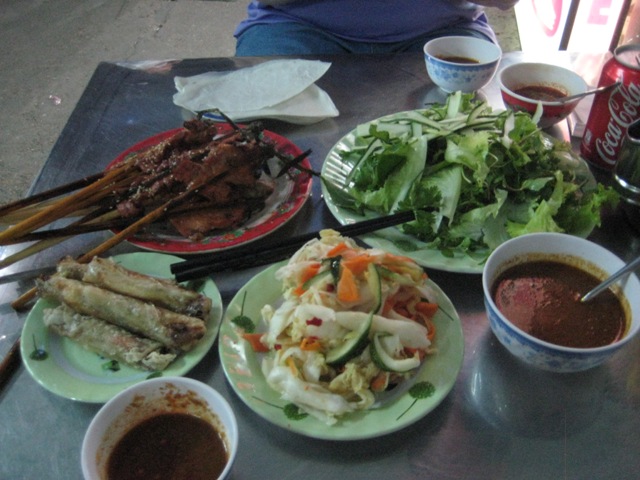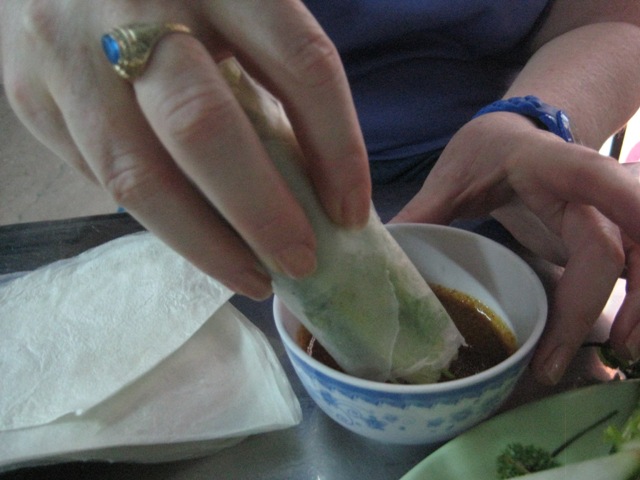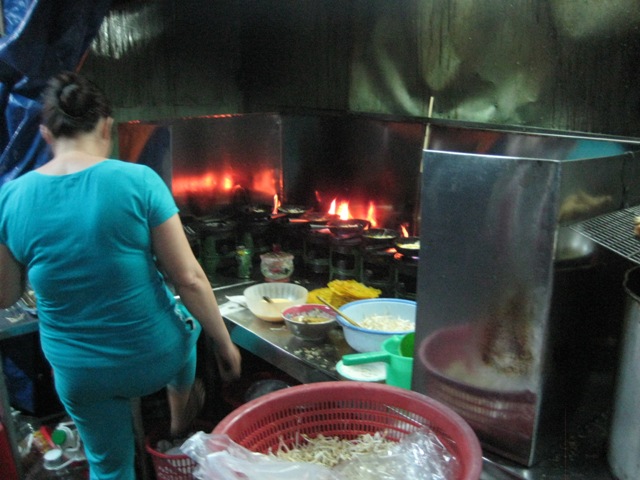 First thing the next morning, we started our walking tour of the Old Town. As we headed in on the Japanese side, there was a store that was shut down for the day as they were having a wedding celebration.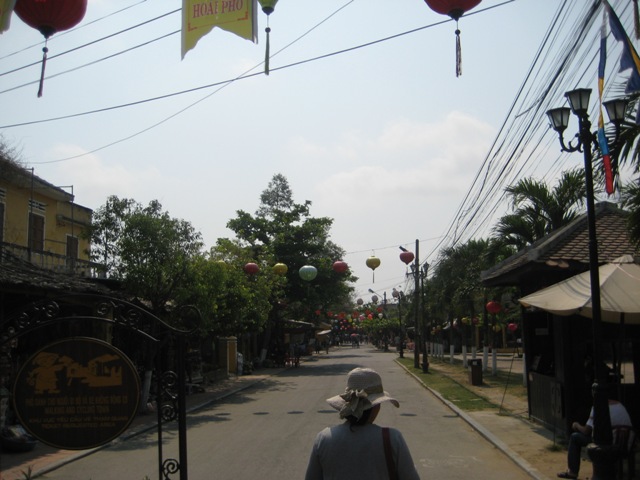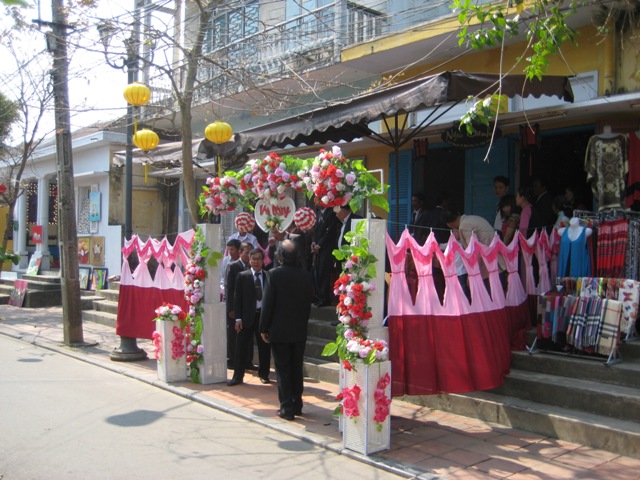 During the 16th and 17th centuries, the town was called Hai Pho (Seaside Town) in Vietnamese. Originally, Hai Pho was a divided town with the Japanese settlement across the Chua Cau or Japanese Bridge. This is a unique covered structure built by the Japanese, the only known covered bridge with a Buddhist temple attached to one side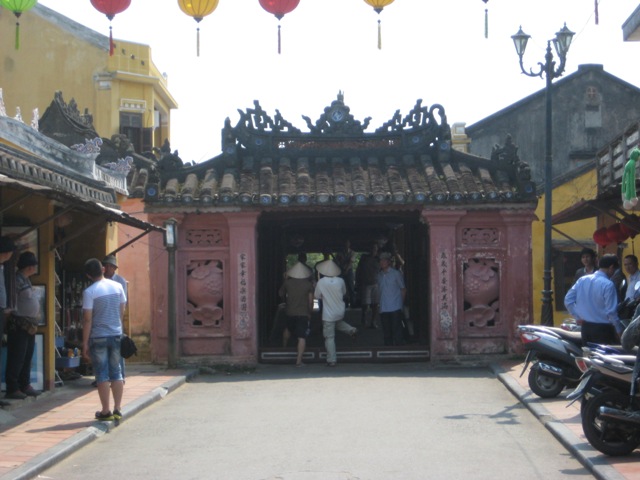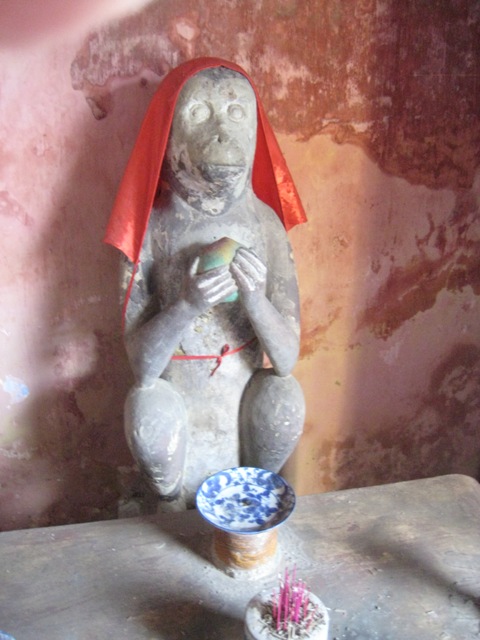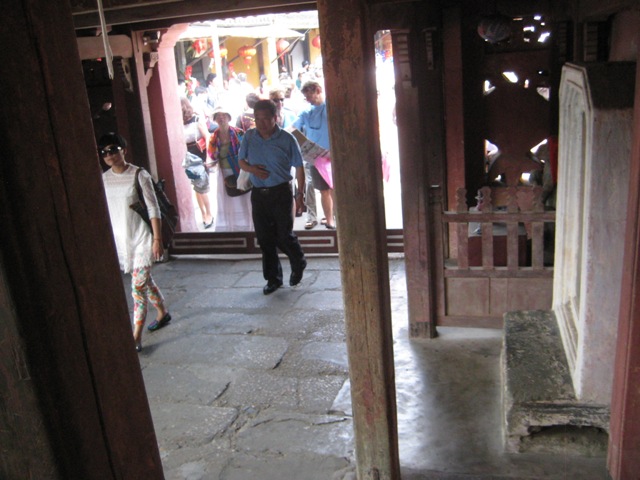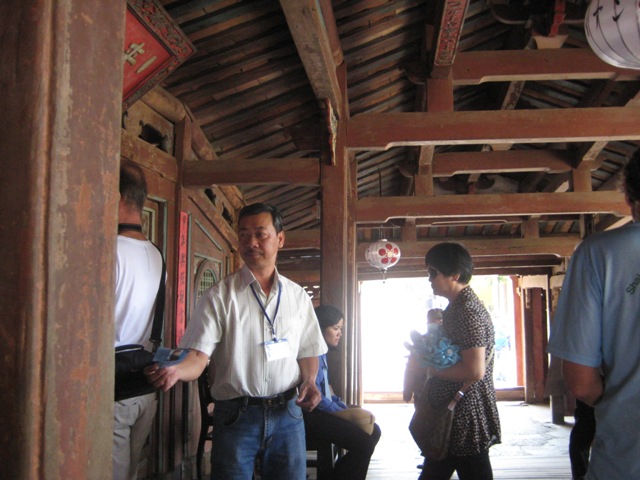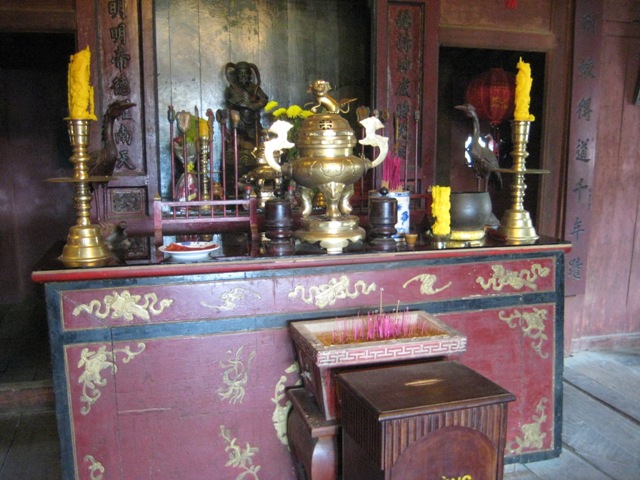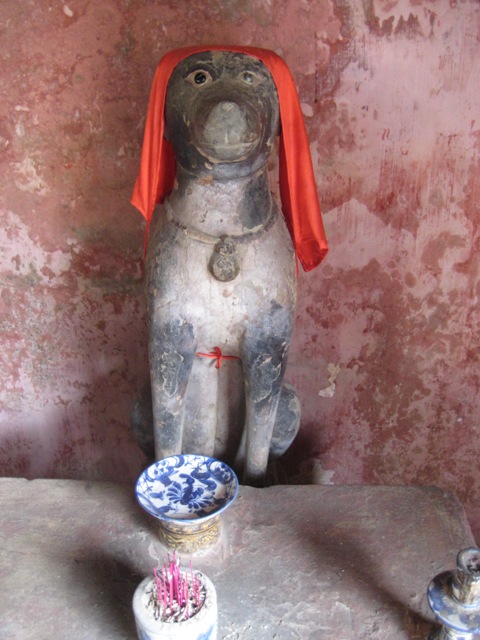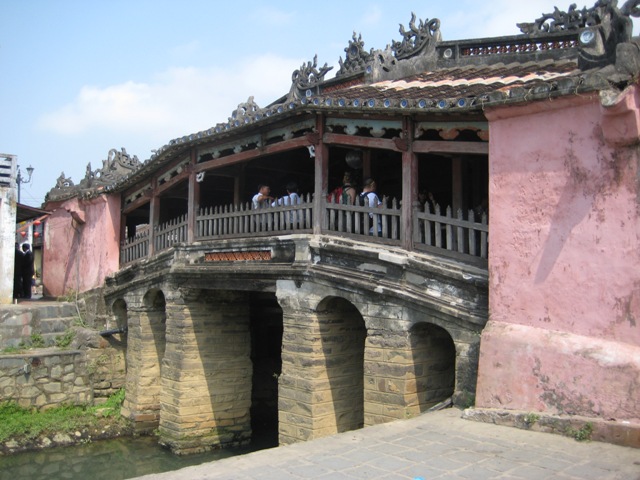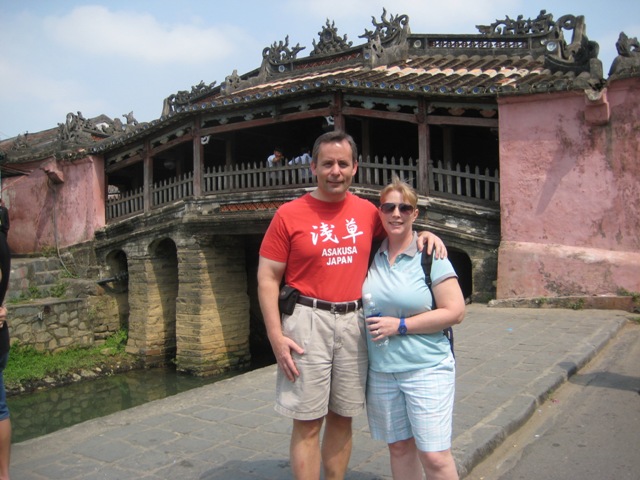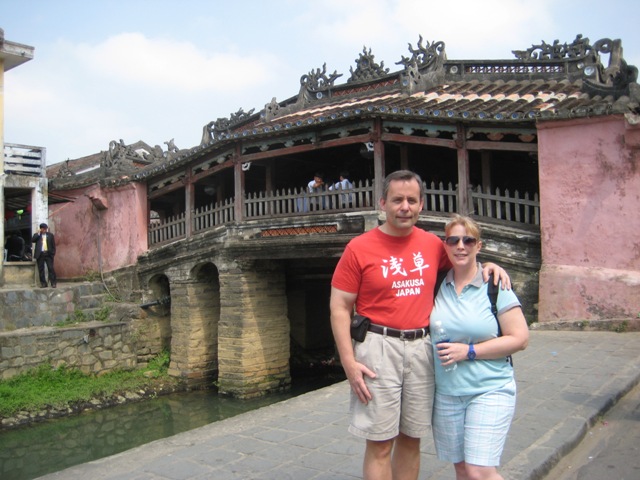 As we walked through, we took quite a few pictures of the buildings. The Old Town has alot of nice buildings that display a unique blend of local and foreign influences. There is a nice riverfront with a bridge, which is lit at night. There are still lots of small boats on the river, but today they are mostly for general transportation and to take tourists around. You'll also see lots of paper lanterns around, that are a special product from Hoi An (we'll talk more of them later).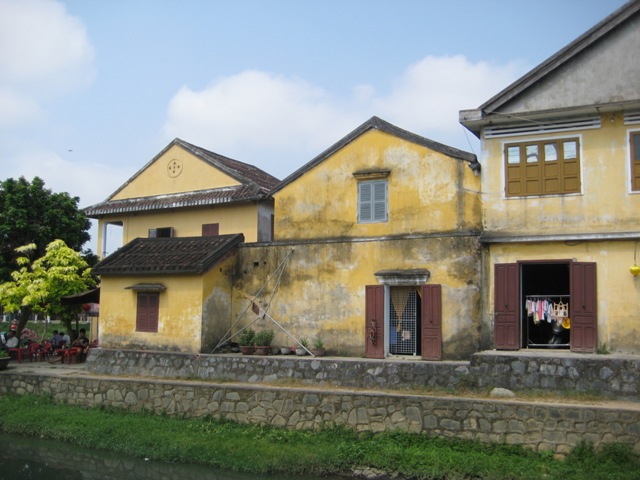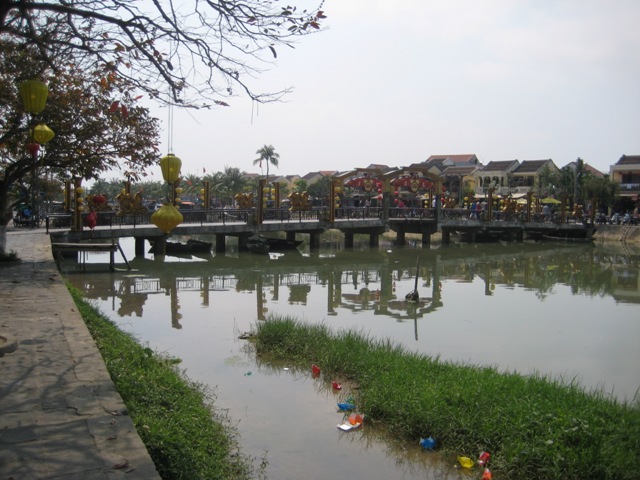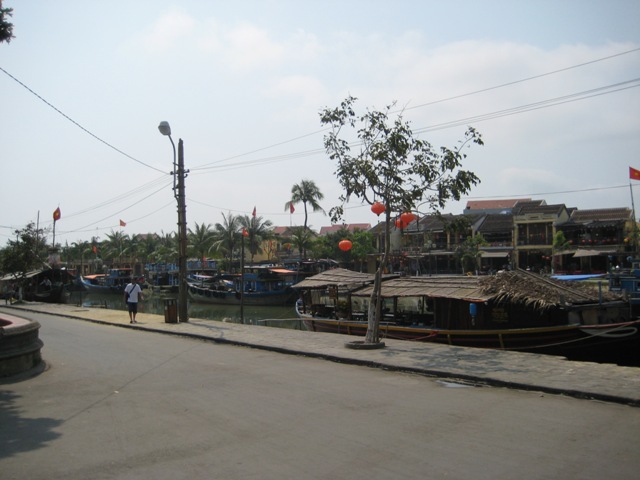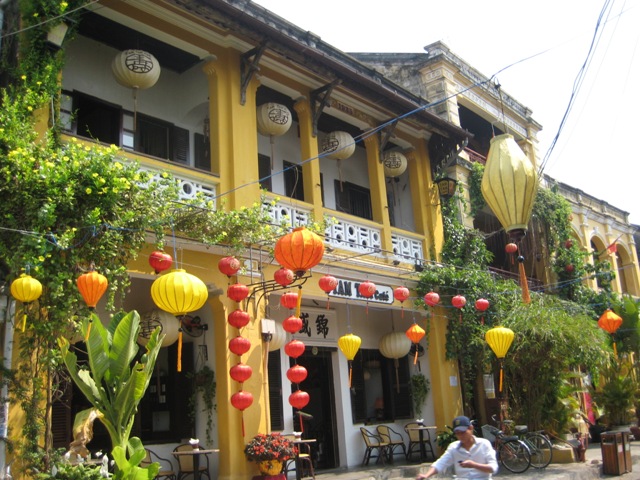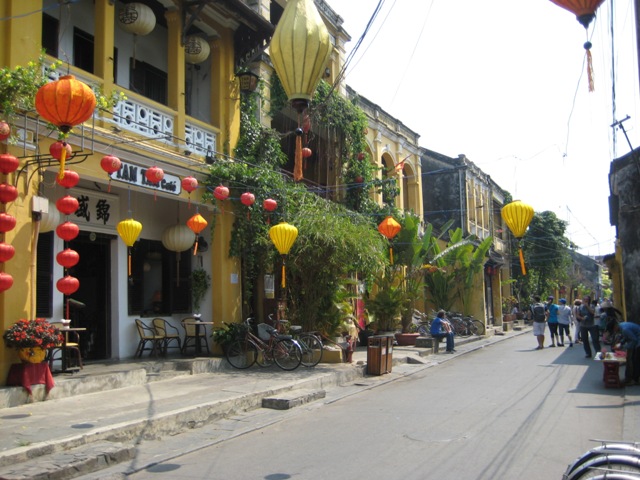 There are several ancient houses in town, and this is one of them: the Tan Ky ancient house. It was built over 200 years ago and is a good example of an 18th century merchant's residence. Seven generations of the family have kept the house in good condition and while it is not the oldest, it is the best-preserved in Hoi An. It combines Vietnamese, Japanese, and Chinese elements, which comes from the three communities living together in Hoi An during the 16th and 17th centuries. The house contains some features of Oriental philosophy, such as the the triple-beam structure (which stands for heaven, earth and humans), the five round blocks (represent metal, wood, water, fire and earth) and several decorative carvings on the edges of the roof. Tan Ky means Progress Shop, which was a wish from the owner's for a prosperous business.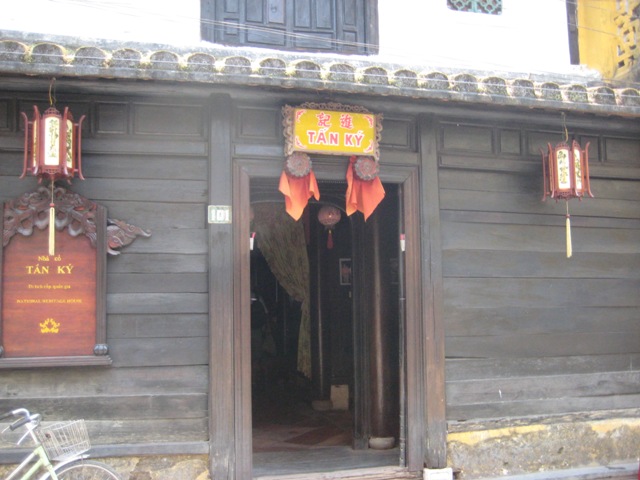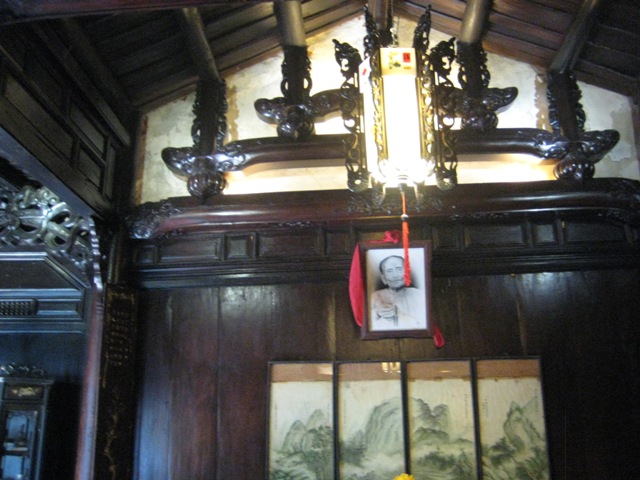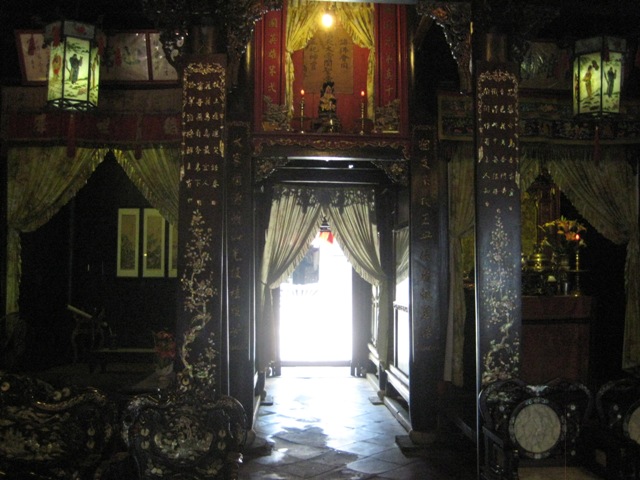 One interesting design point is that the house is very long but not very wide. This is because taxes were based on the street width, not the overall size of the house. However, since houses are attached on both sides to the houses beside you, that means you have very few windows. To ensure that you got sunshine and fresh air, there is a courtyard in the middle of the house. So starting from the front, you have a room, then a courtyard, then another room. At the back is the stairs going upstairs, and bathroom, and the kitchen.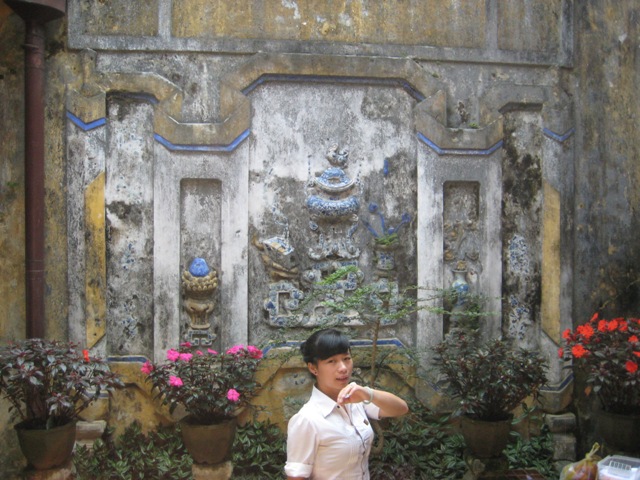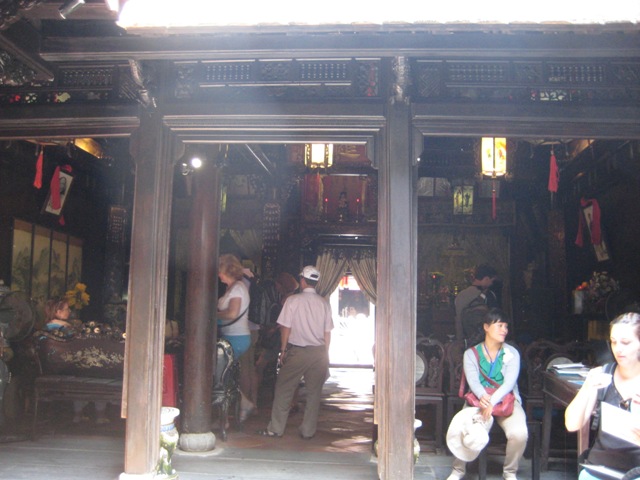 The term "Faifo", the historical name of the town, shows up in a variety of places, including this restaurant (Faifo Xua means Ancient Faifo).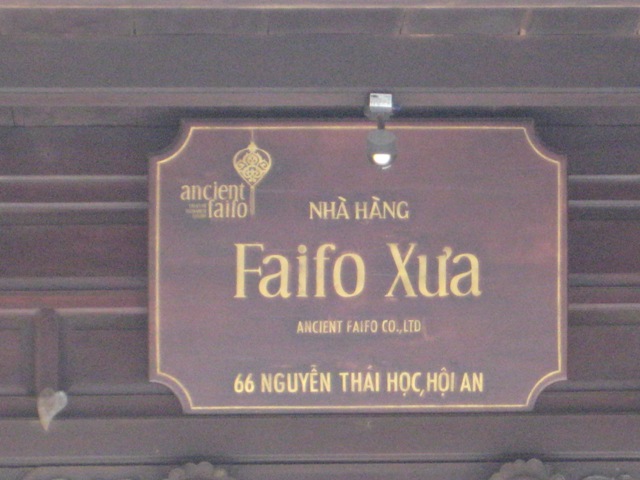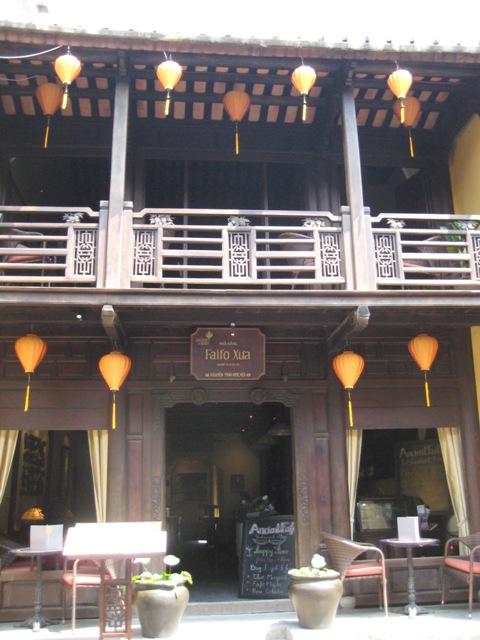 More general pictures of the Old Town. Another interesting thing is that there are TONS of tailors. This tradition dates back to its past as a trading port on the silk route. As you walk through town, every other store (or it feels that way) is a tailor. We heard of people who make a trip up from Australia with an empty suitcase and get an entire wardrobe made there.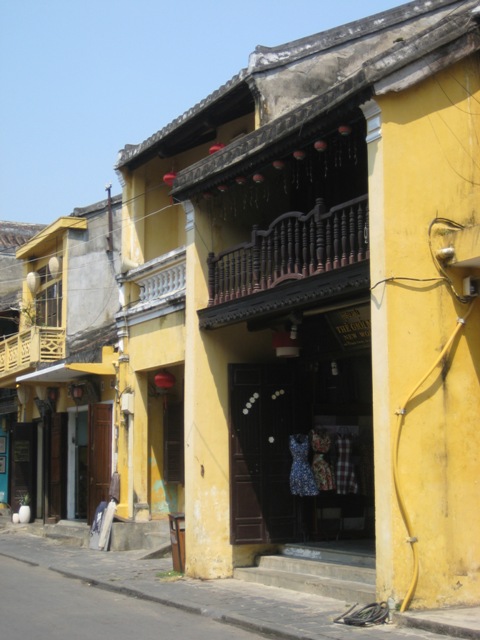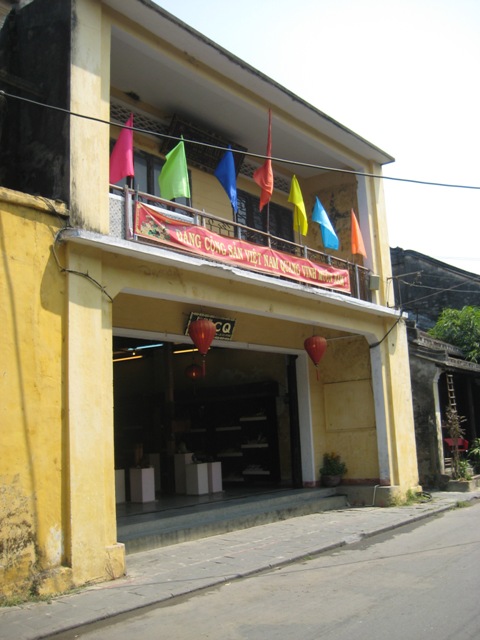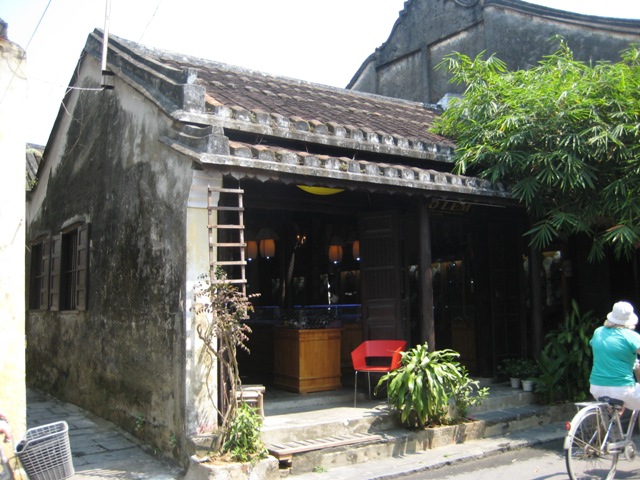 Fujian (Phuc Kien) Assembly Hall was built around 1690 and functioned as a traditional assembly hall for the Chinese ethnic group from Fujian, China. Later it was transformed into a temple dedicated to their deity named Thien Hau, the goddess of sea who protects sailors from danger.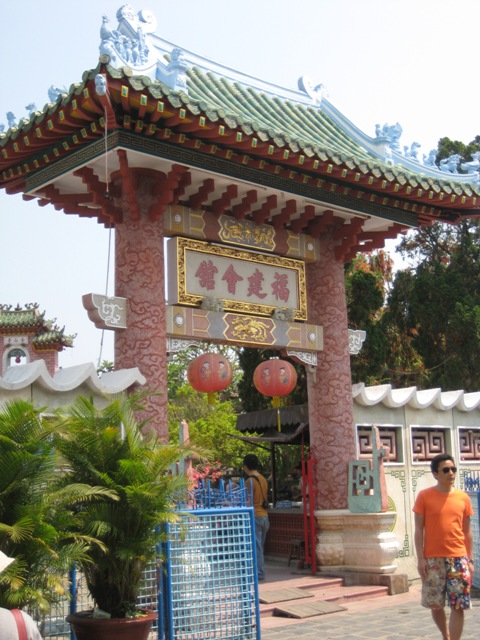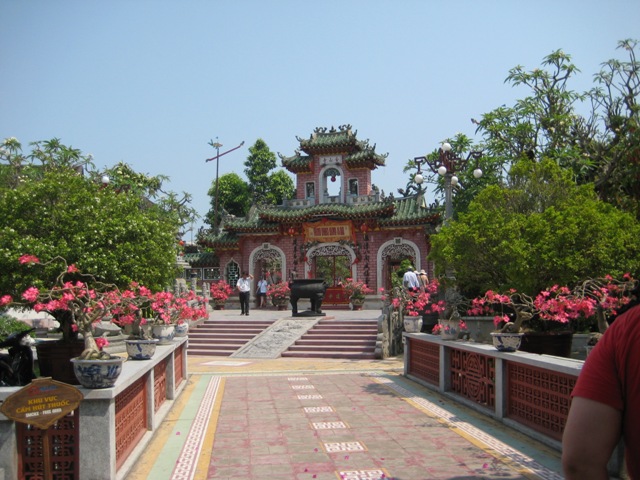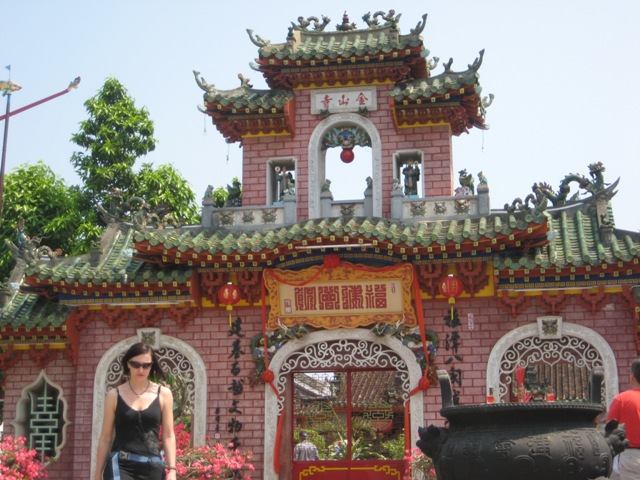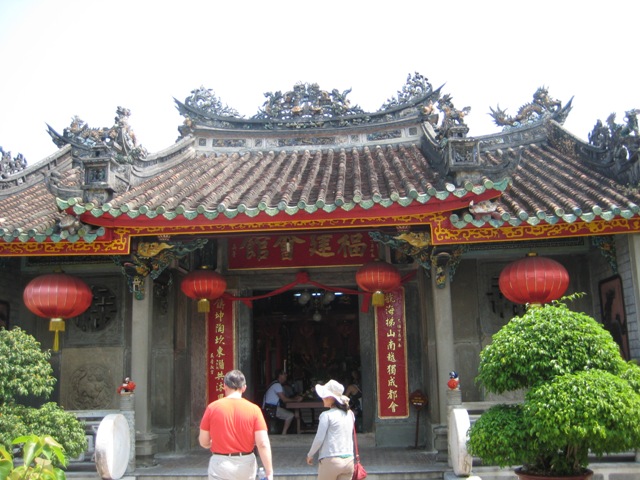 I never get tired of watching these incense burners. They are massive and burn for (they tell me) a week when lit. They get bought by families and then light them to pray for prosperity, good fortune, or good health.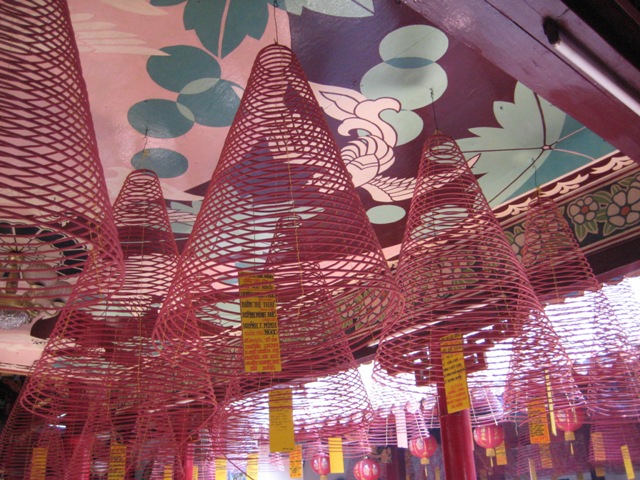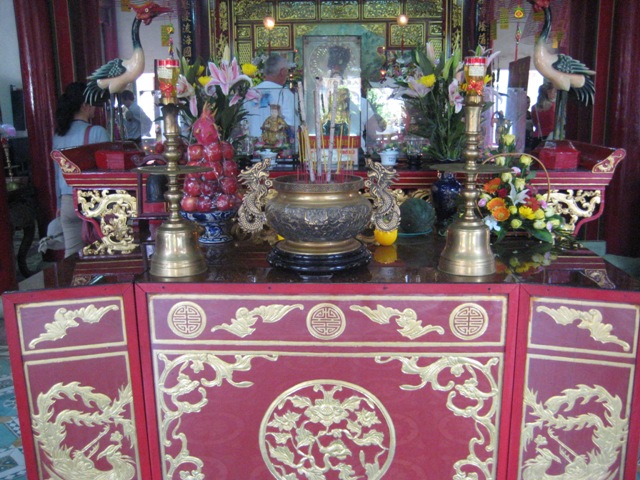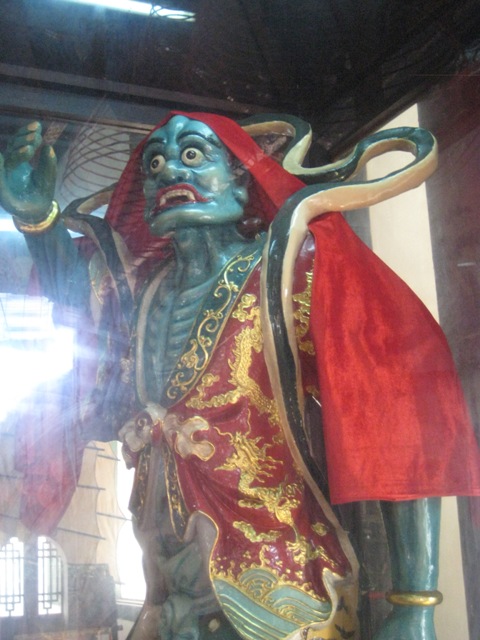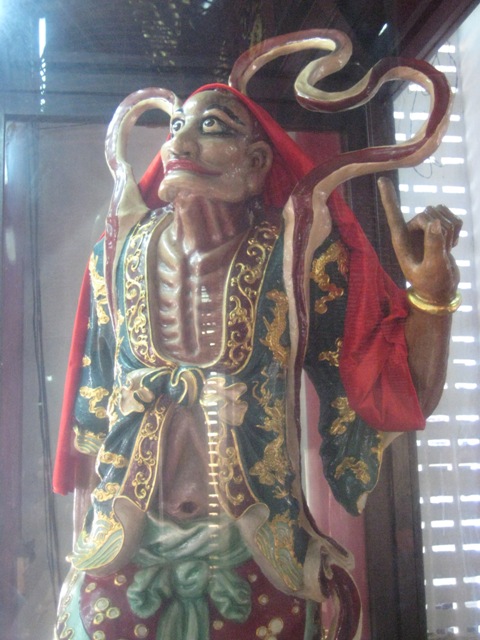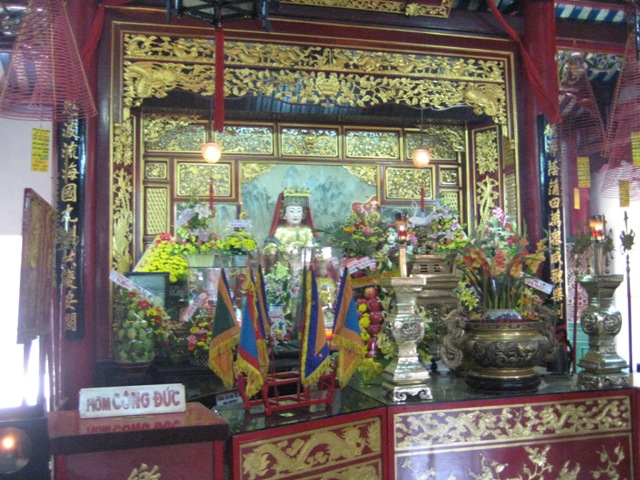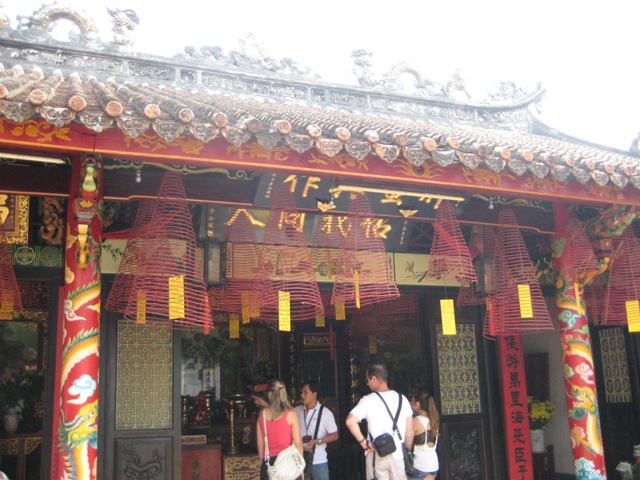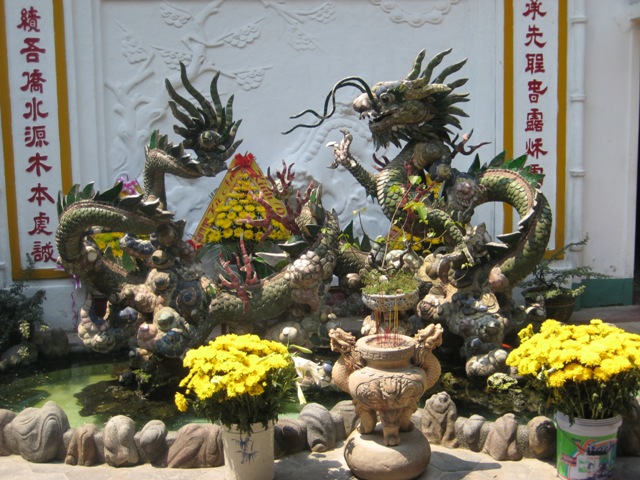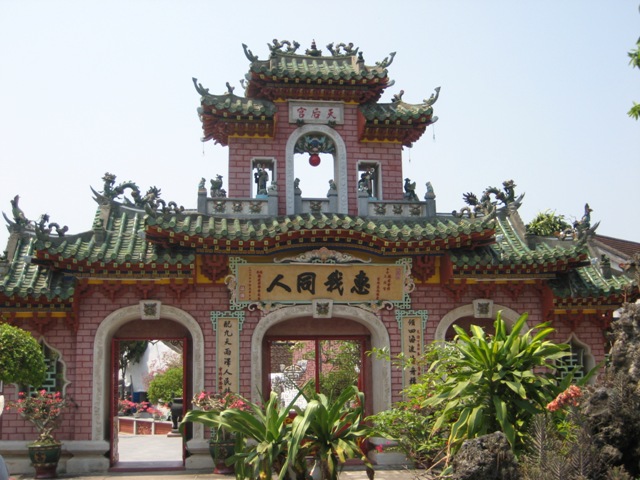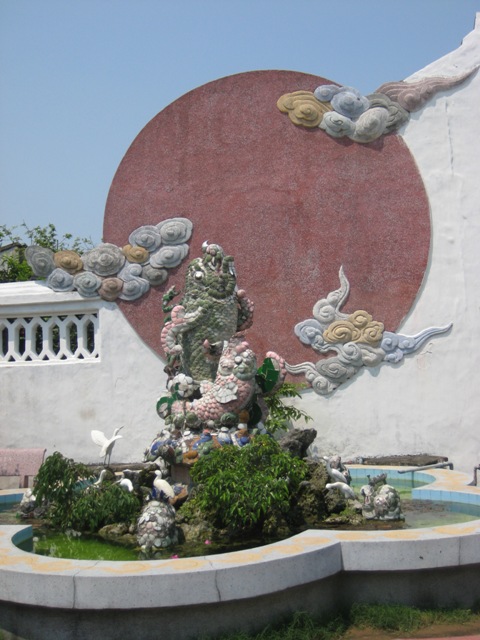 The main market of Hoi An. We weren't buying, just looking! This is the central market in the old town and it is large and busy. They have all kinds of foods, from dried lemongrass (drying literally right there on a piece of cardboard) to vegetables, eggs, fish, and meat.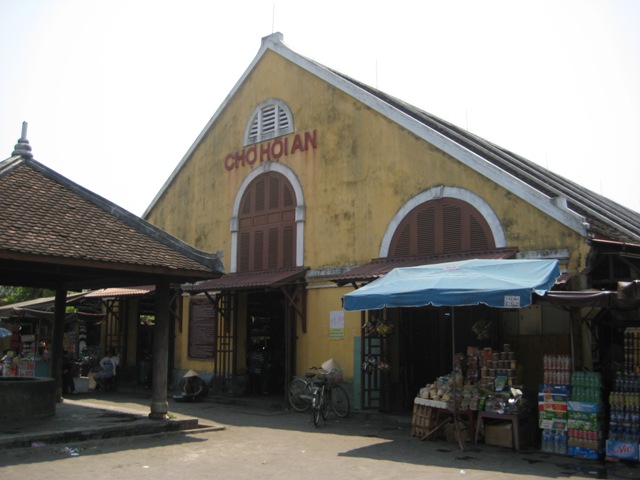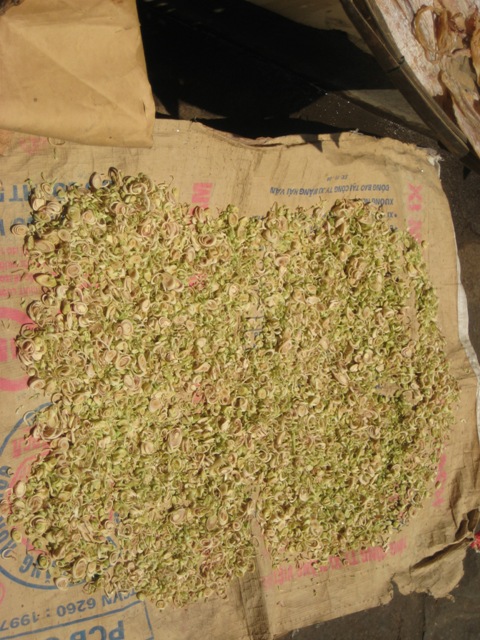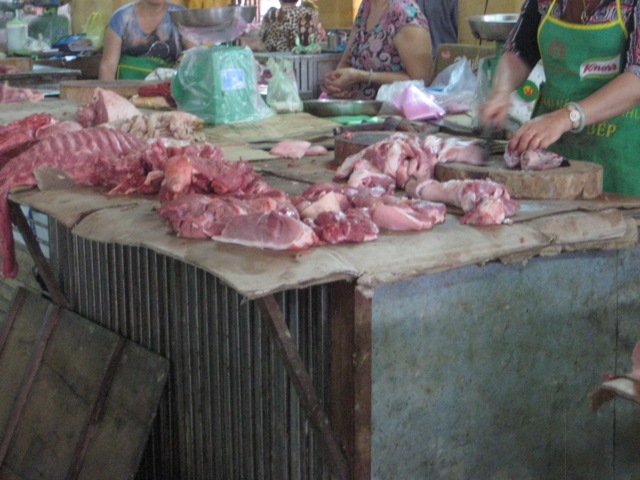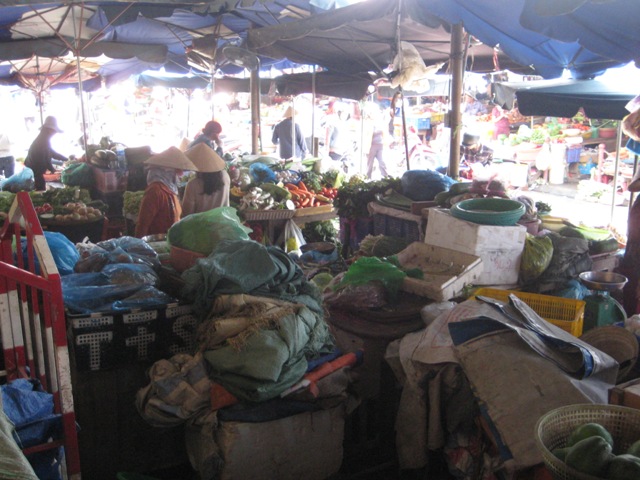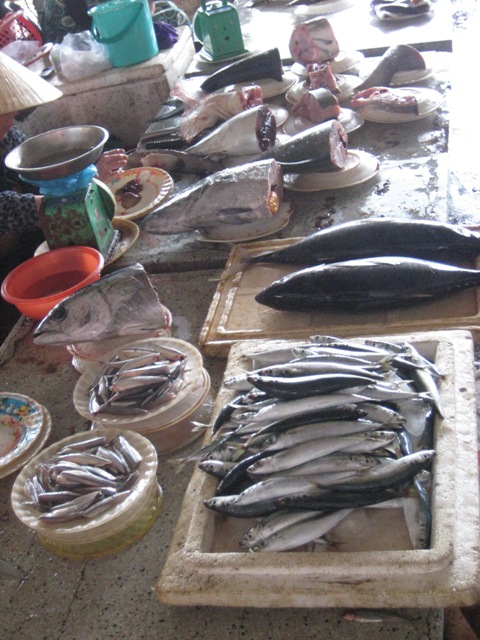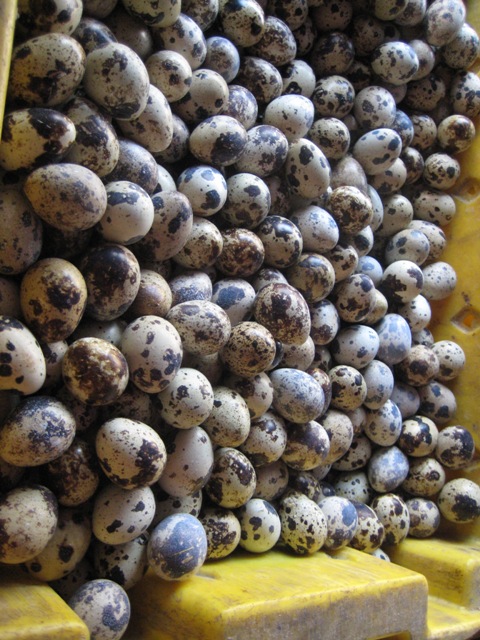 And yes, these are still eggs, although they have straw stuck to the outside.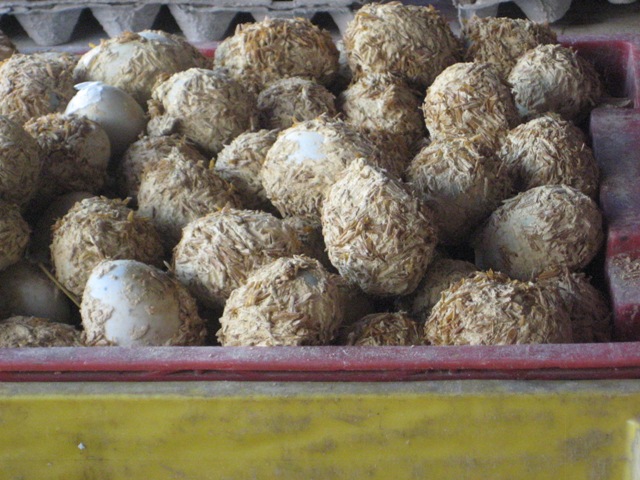 Another nice community building as we headed over to another part of the river.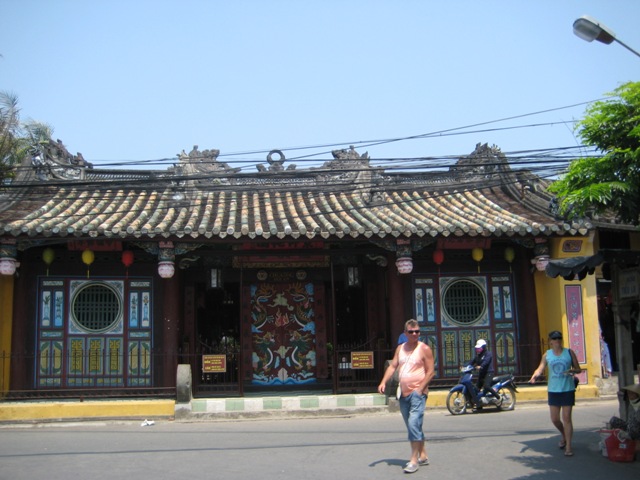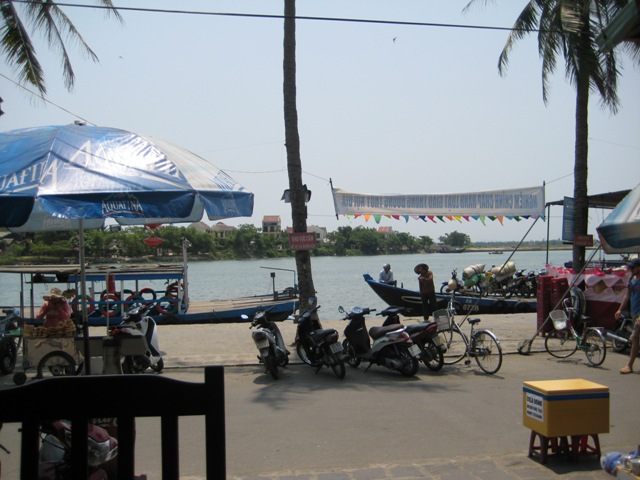 We stopped for lunch at a small restaurant in the main part of the old city, called Saskura Hoa Anh Dao. We weren't looking for anything major ... but we wanted to try the noodles that our guide had mentioned to us, Cao Lau. It was alot like other vietnamese noodles although more noodles and less soup. It is a dish that is supposedly only found in Hoi An. There are a few different ways that they are served, but the noodles are the key and are always the same.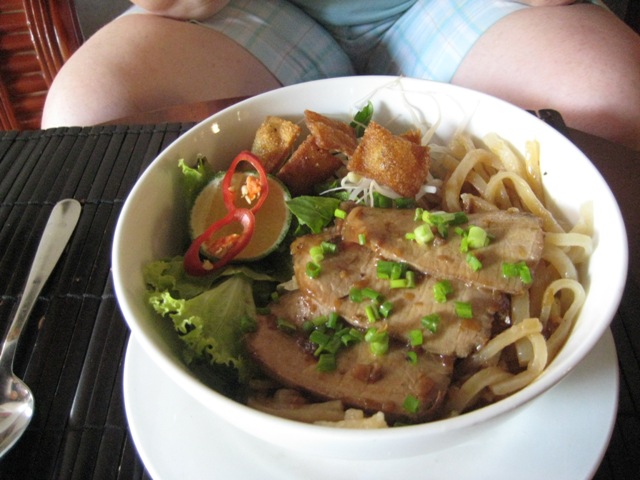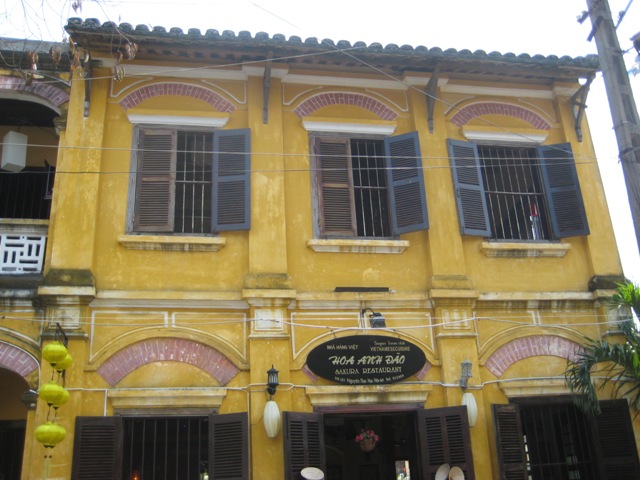 A few more views of the river and city.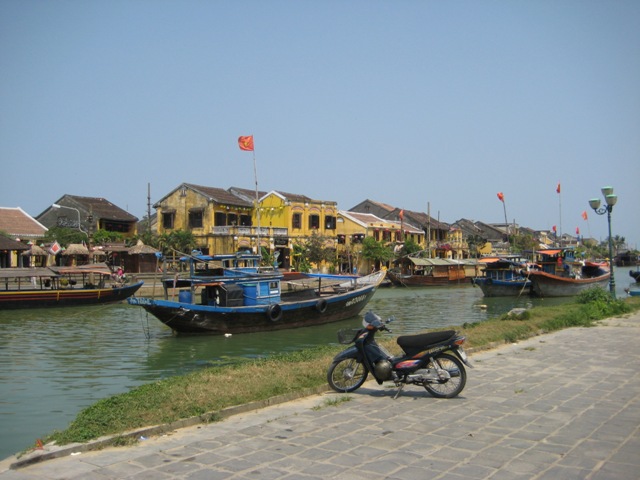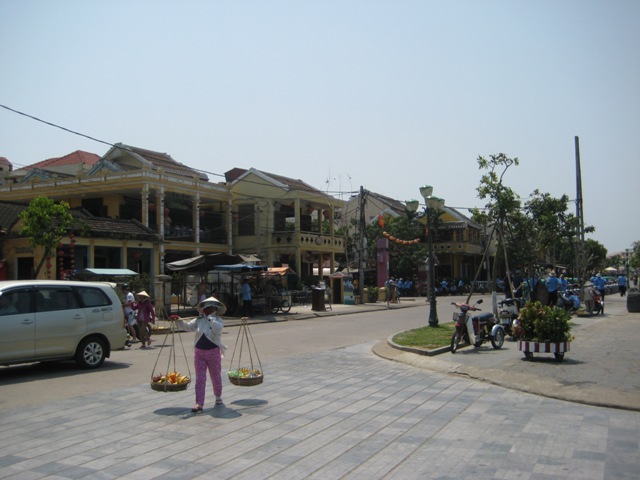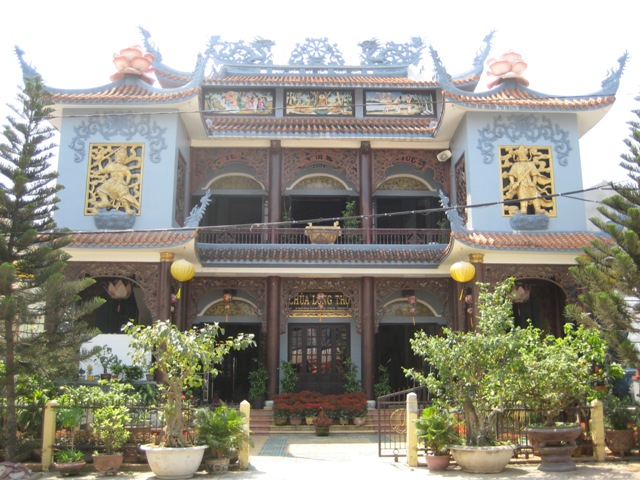 This is the Quang Trieu Assembly Hall. It was built in the 19th century by the Cantonese who were living in Hoi An as a meeting place and a temple for worship. It is a combination of Cantonese and Hoi An building styles. It is a colorful temple with some really great murals and carved columns. You can see in the closeup of the columns that it has a dragon winding up and down it.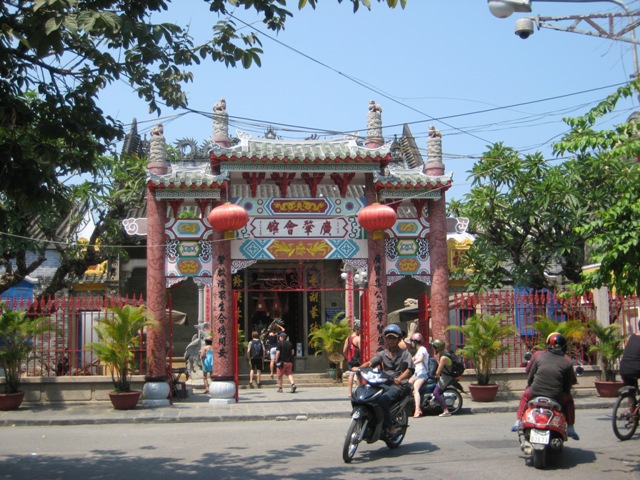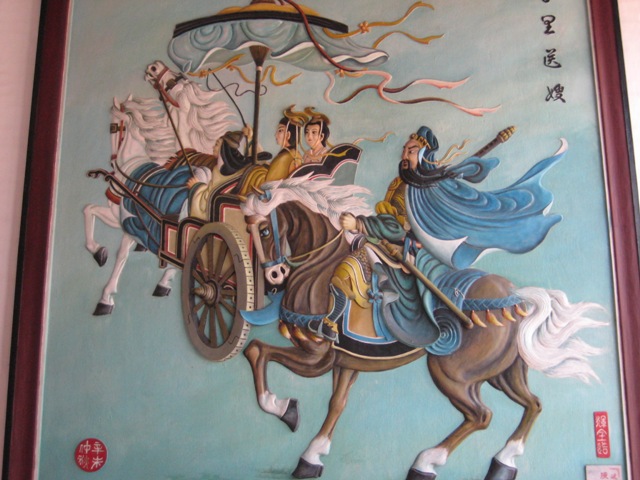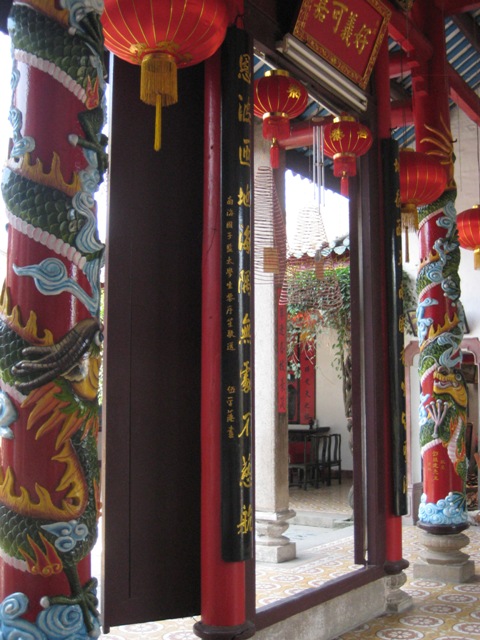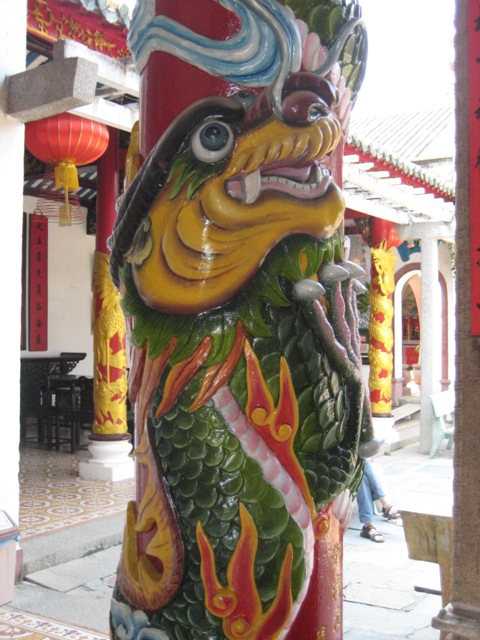 The dragon theme continues in this fountain in the middle, that has fish and dragons/serpents throughout.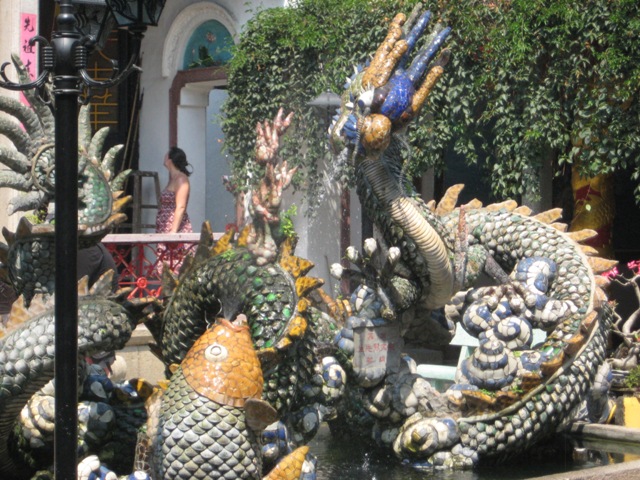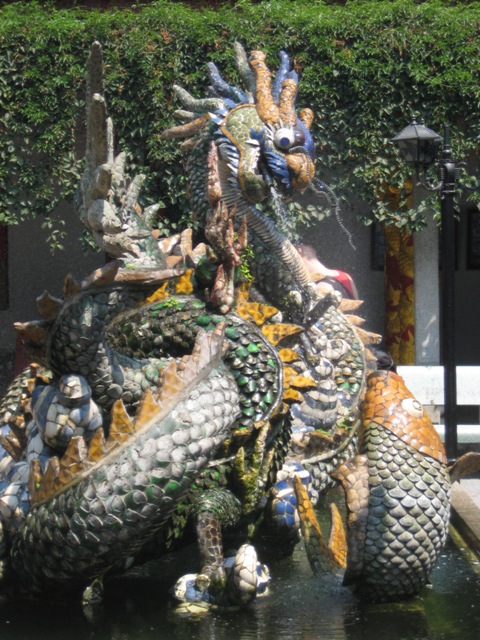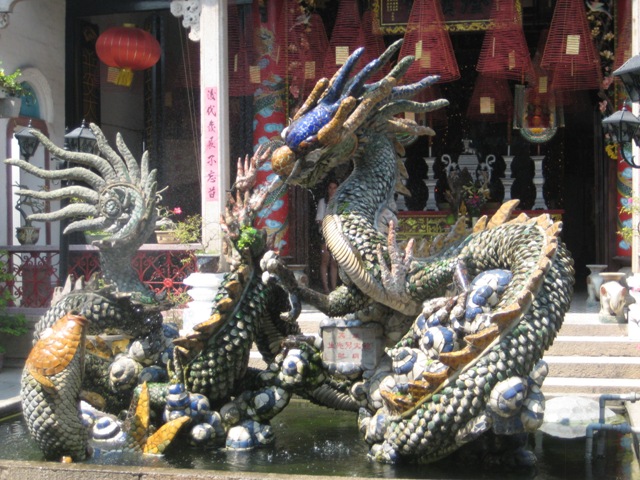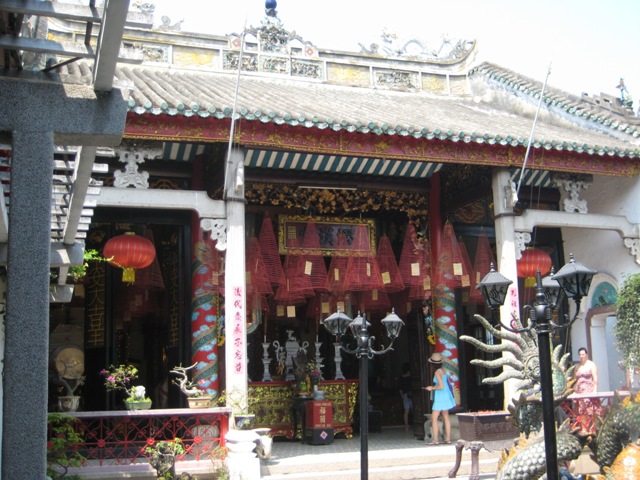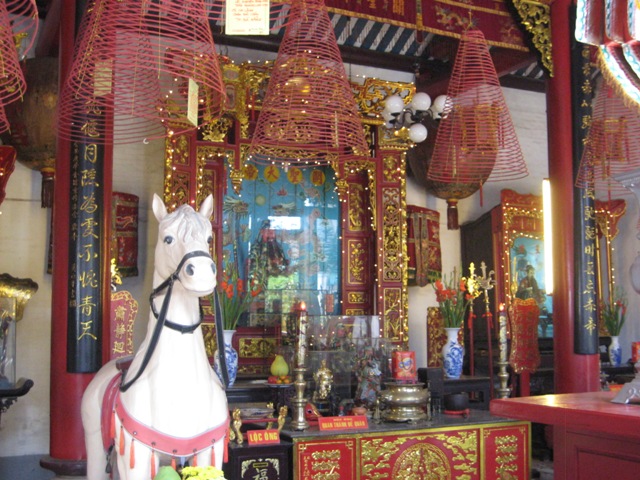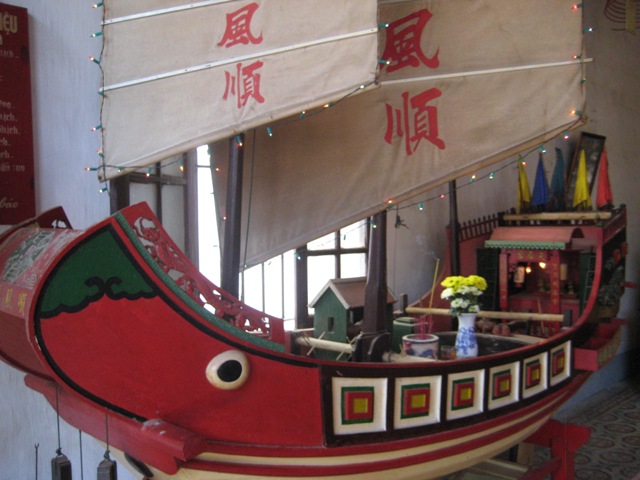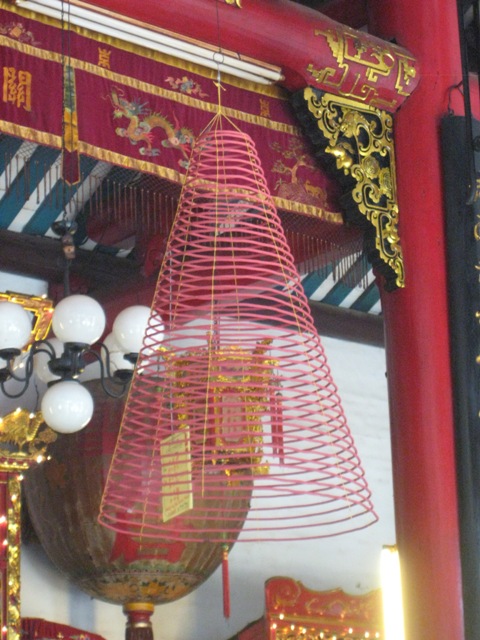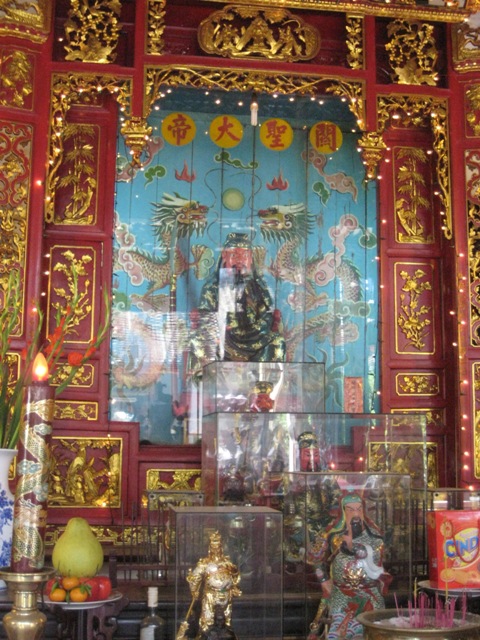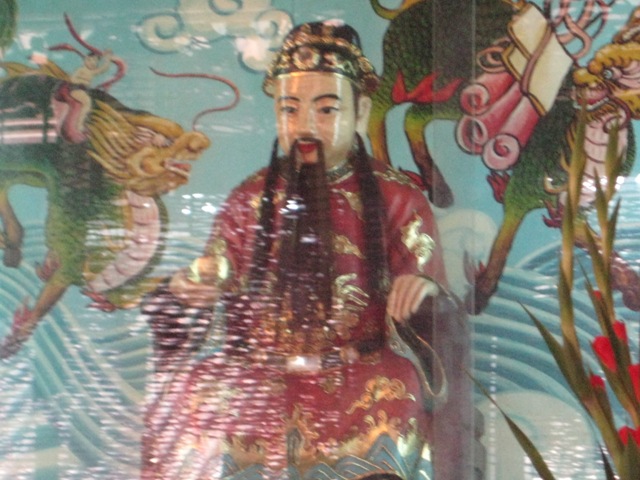 Kazimierz Kwiatkowsky ... that was a name we weren't thinking we would see in Vietnam! Better known as Kazik, he was born in 1944 in Poland and came to Vietname in the 1980's as part of some preservation programs. He lived in Vietnam for 17 years and contributed to the restoration and preservation of the Old Town of Hoi An as well as the My Son sanctuary. With his contributions, he has a monument dedicated to him.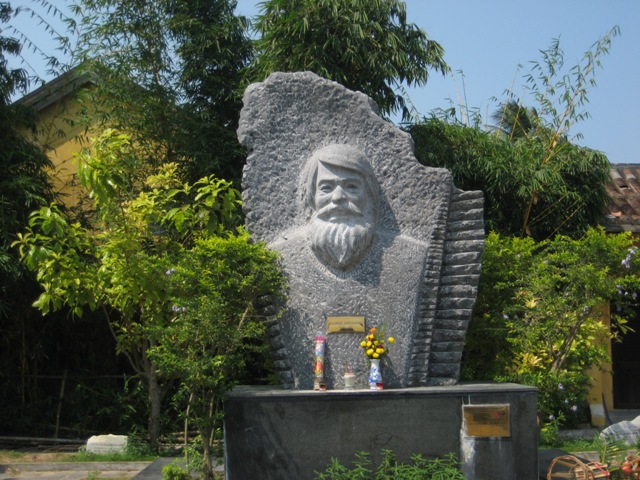 Then back to our beach resort and we took time to walk up and down the beach for a little bit.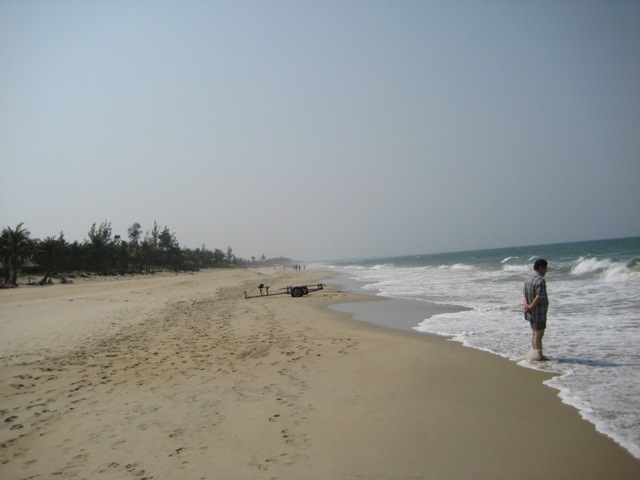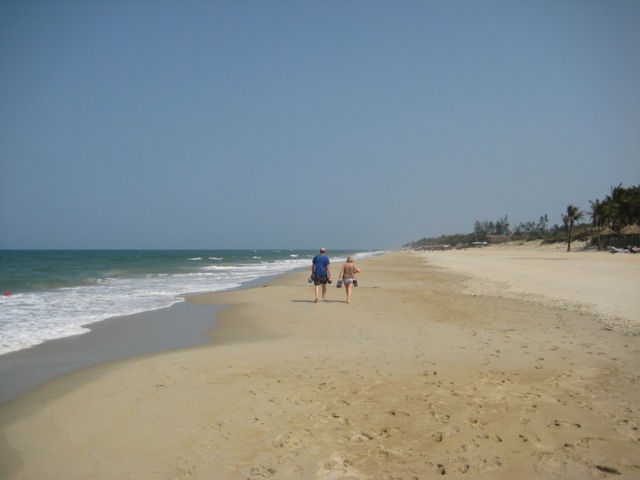 Dinner was at Morning Glory. It is one of a couple different restaurants owned by Trinh Diem Vy (we eat at another one her restaurants on our last day). She has a couple cookbooks as well as a cooking school. Inside the front door is a small open kitchen where alot of the dishes are cooked. The restaurants focuses on what they called Street Food, although most of it wasn't what I think of as street food.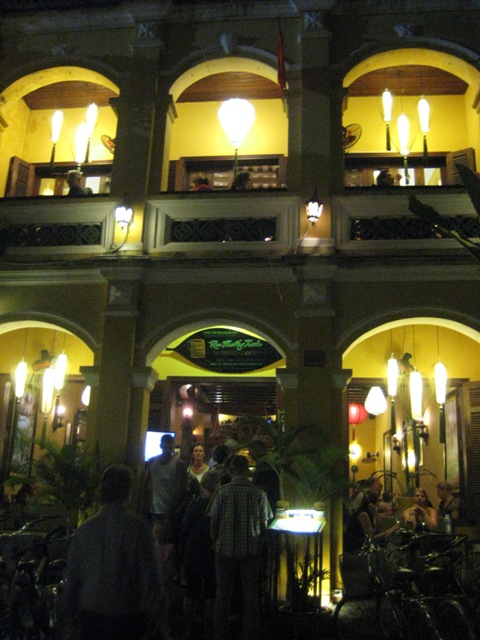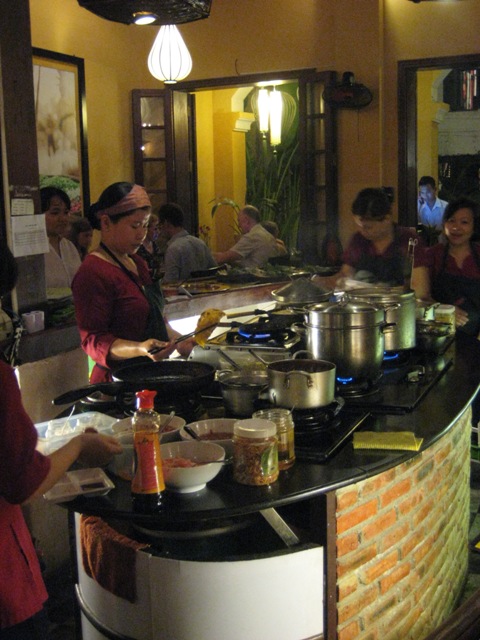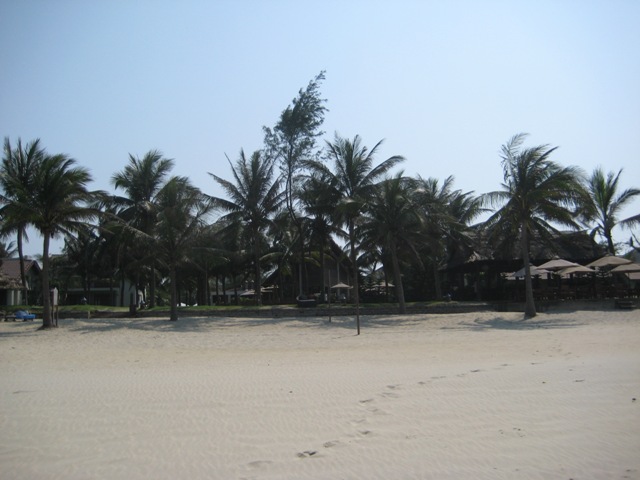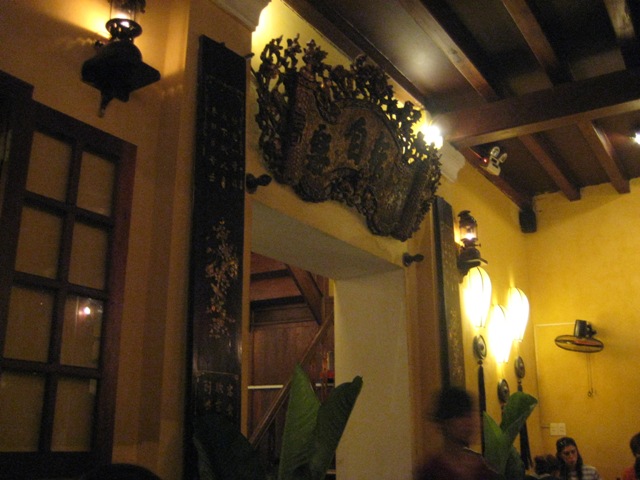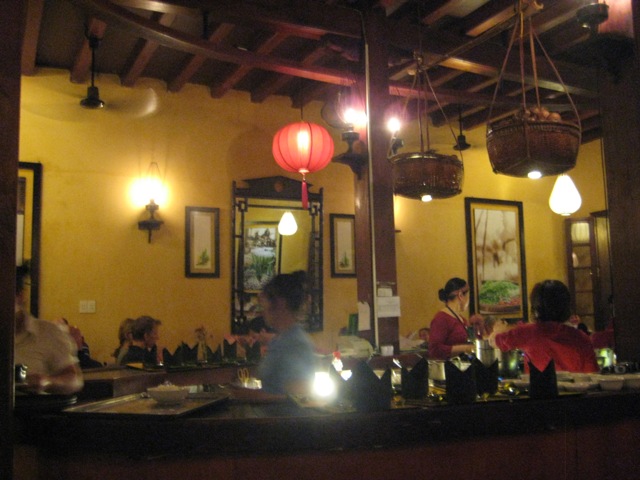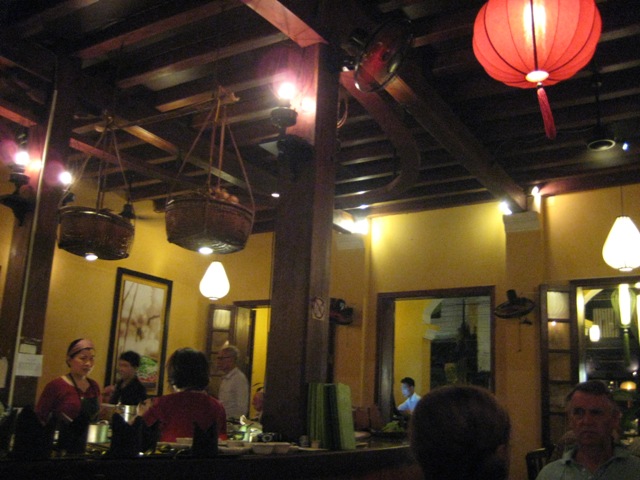 We started with Cao Lau again, and you can see that it was slightly different than the one we had for lunch.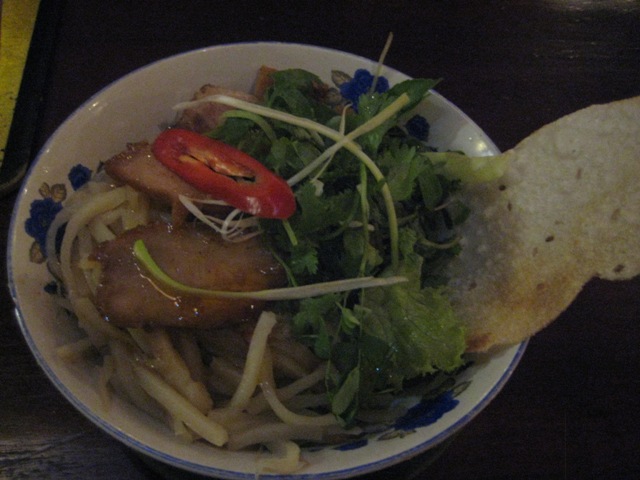 Then "white roses", which is a very traditional dish here. The Vietnamese name is banh bao vac, which is a type of shrimp dumpling made from translucent white dough bunched up to look like a rose. Many people like these cakes not only for their delicious flavor but also for their beautiful appearance. The French gave it the name of "white roses". They are served together on a plate, topped with crunchy bits of toasty garlic and served with a sweet dipping sauce.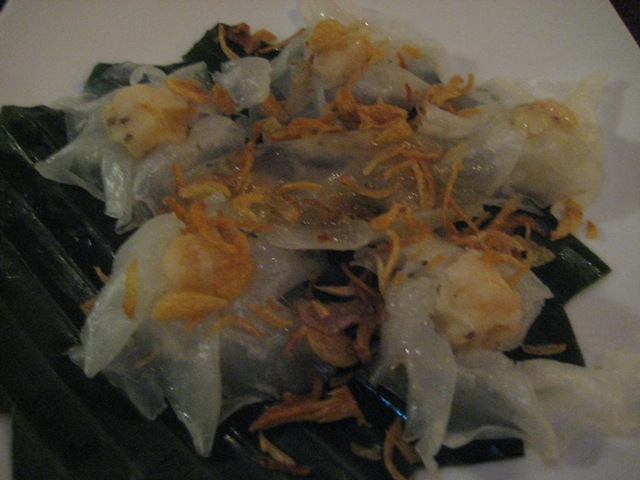 Then clams with lemongrass, which was really nice ... I really like the taste and aroma of lemongrass.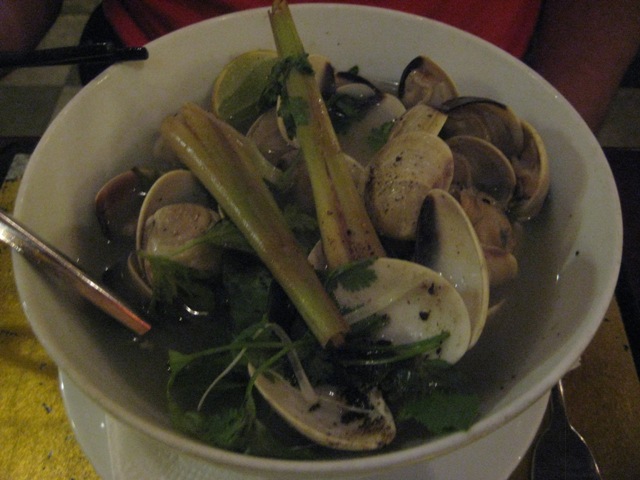 Another speciality is fish cooked in a banana leaf. We have this a couple different places and they are done slightly differently each time. This one had the fish in small pieces with lots of fresh herbs.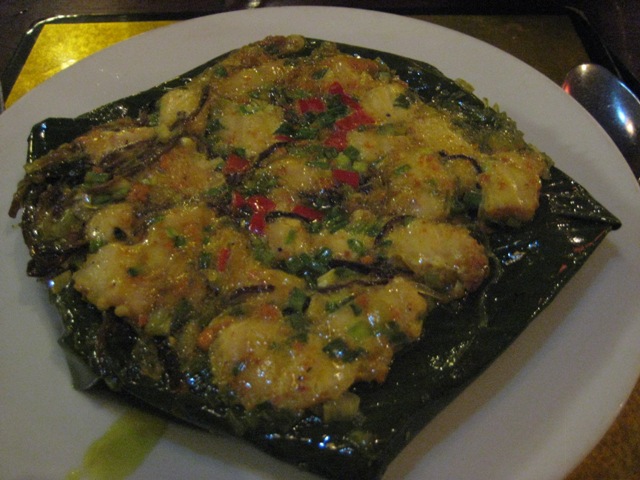 We picked up a couple desserts (yea, we were on vacation!). It was great to get really good (and sweet) desserts since the Chinese really don't do sweet things well.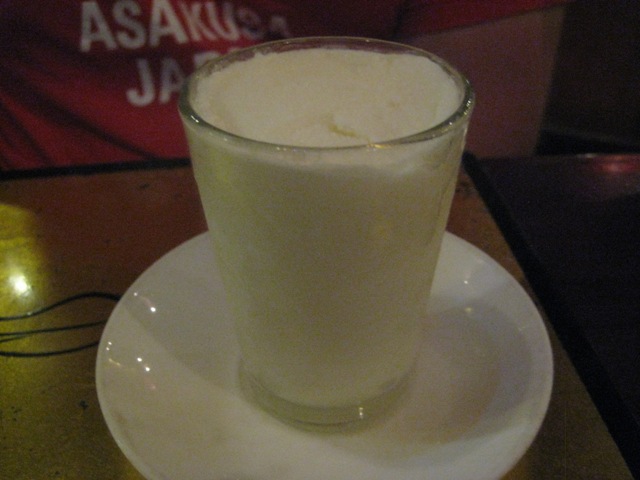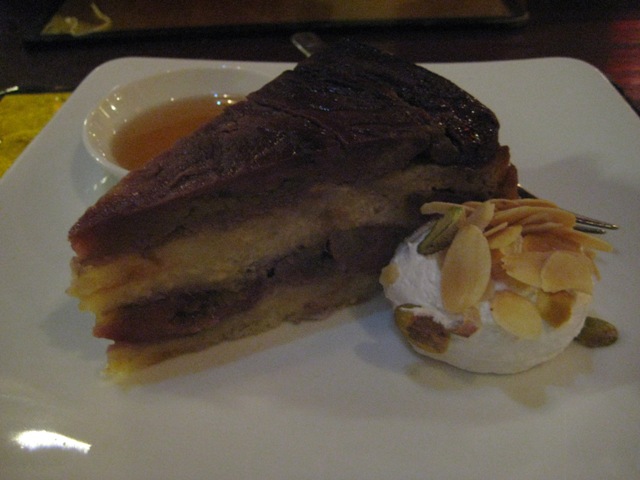 We tried to get some pictures of the bridge again, this time having it lit up (some are better than others).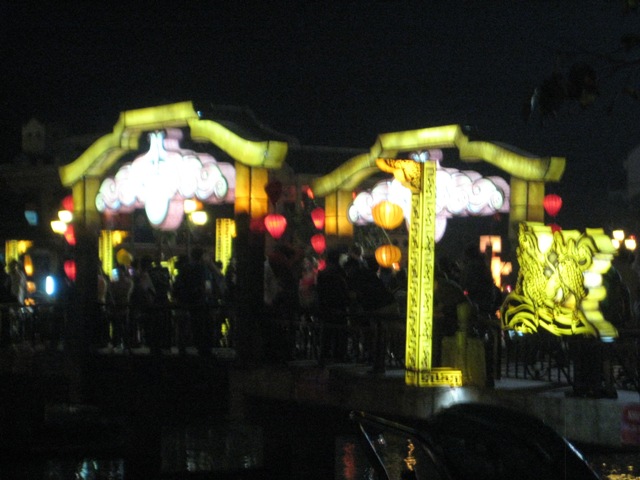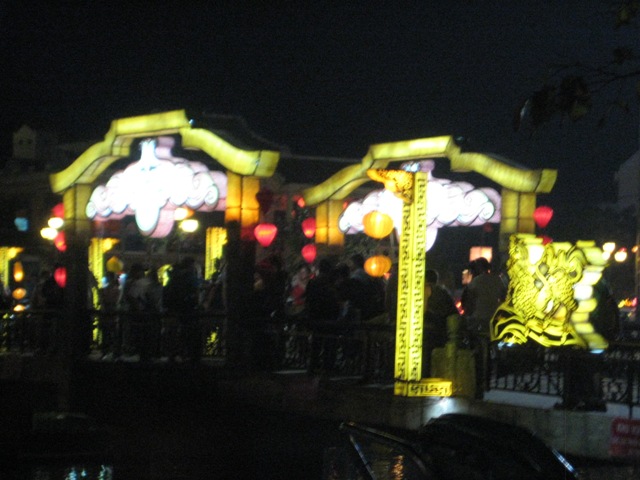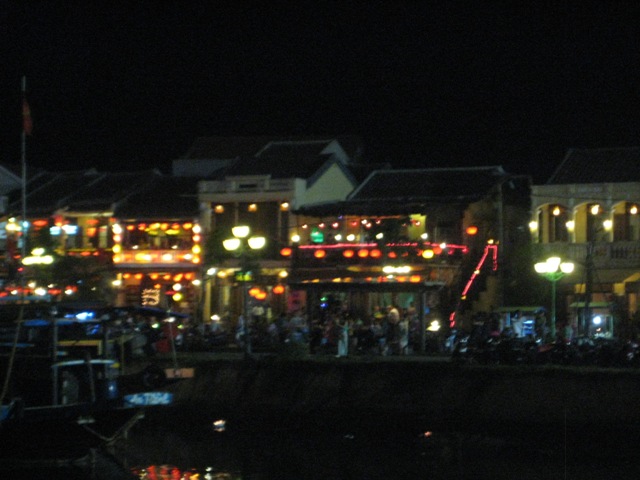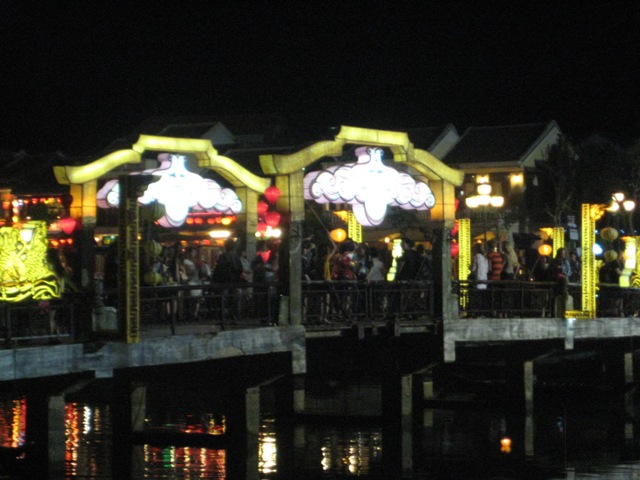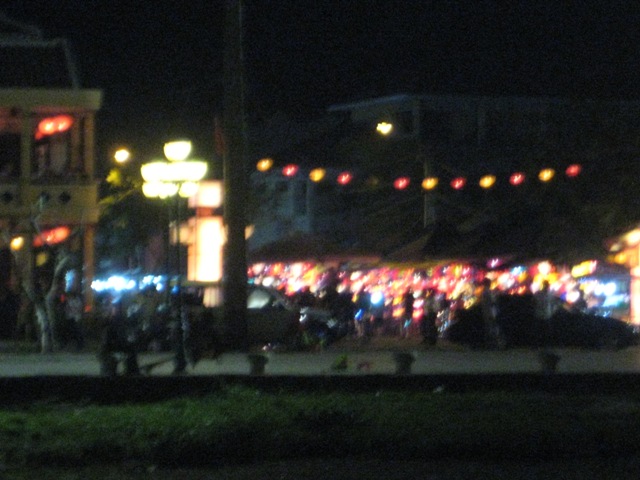 Continue to Hoi An Part 2