Susan's Shanghai Blog - Week 13 - Beijing Part 1
This week is all about Beijing. However, due to the number of pictures and amount of information, I'm going to split this into 2 parts, Week 13 and Week 14. I'll start with a few general things. We went up to Beijing for a long weekend in September. The weather was still warm, but seemed a little less humid than it was in Shanghai.
We landed and decided to go straight to lunch, which we had made reservations already for at a restaurant called "Maison Boulud". This is another restaurant by the French chef Daniel Boulud. We've been to 3 of his restaurants in New York City, so we thought this would be good to "add to our collection". We had printed a taxi card from the website, which showed a map and the address in Chinese. So we think we have plenty of time to make our reservations, but didn't know that we would find the only taxi driver in Beijing who didn't seem to know how to read a map in Chinese, nor use GPS properly. He had a GPS in the dash, and yet, I could map on my iPhone that we were going the wrong direction. We finally got turned around and after pointing out the restaurant, and another u-turn, we finally arrived about 15 minutes late. Lunch was quite nice after we finally got there!
From there, we headed directly to our hotel, the Jade Garden Hotel. It has a great location right next to the Forbidden City and got GREAT reviews on TripAdvisor. The Jade Garden Hotel is a government designated historical landmark as well. In the lobby, there is quite a bit of information on the historical significance of the hotel, and their website also lists some information: The Jade Garden Hotel was built in 1930's. In 1946, the Chinese communist party was negotiating cease fire with the Guomindang, mediated by general Steward of the U.S. army. The Jade Garden Hotel was headquarter of the communist cease fire delegation and designated as a historical landmark by the government.
A couple blocks from our hotel, we found the Donghuamen Night Market, at the northern end of a shopping street called Wangfujing. The night market was started in 1984 and it is available on this street every night. There are more than 60 "speciality snacks" (as the sign called them) from throughout the country. Here you can find all kinds of "unusual" food stalls. Items such as sheep's particular parts, deep fried crickets, centipedes & lizards are available to eat on a stick. All stalls display their food selections in both Chinese (Mandarin) and English. All the food is displayed raw and can be deep fried in a large Wok upon request.
Here is an example of the signs that list the food and prices in both English and Chinese. If you look closely, you'll see at this stall, you have your choice of Sheep Penis (the 1st one, for 50 RMB), Chicken Hearts (quite cheap, only 5 RMB) and Baby Shark (the most expensive 40 RMB).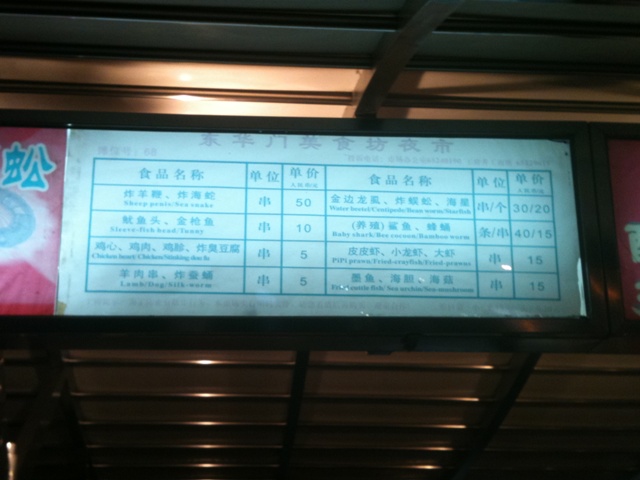 Here are the Fried Scorpions, on a stick of course. They say that the frying makes them non-poisonous .... yea ... I believe them.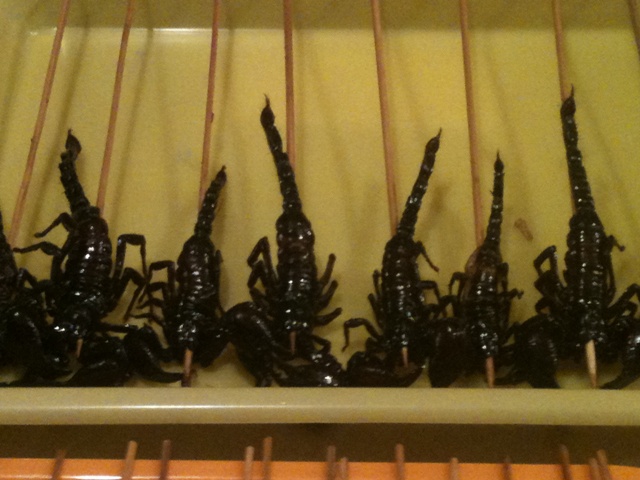 Then there are the sticks with beetles on them.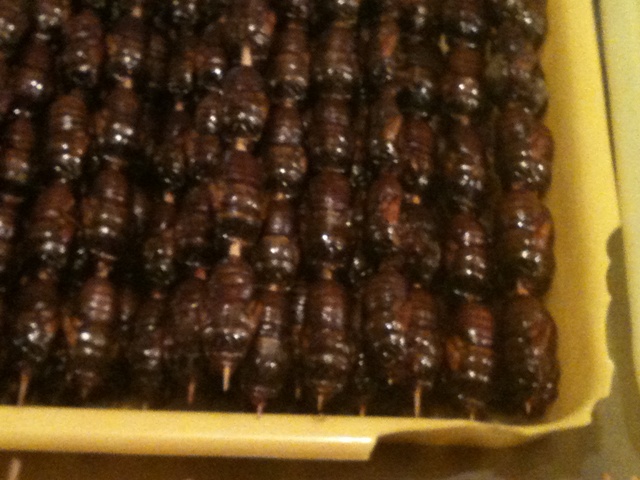 Here is a (blurry, sorry) picture of one of the stalls. They have all the food just sitting out raw, and then cook them on request. The slimy looking things 2nd from the left front are little baby octopus's.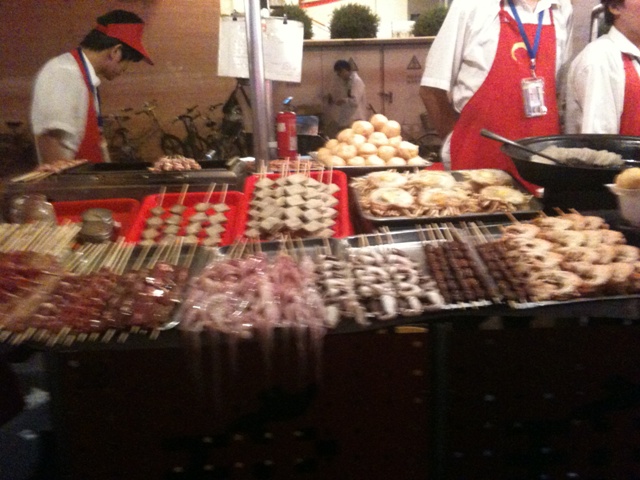 This stall was all about bugs it seemed ... Fried scorpions and crickets.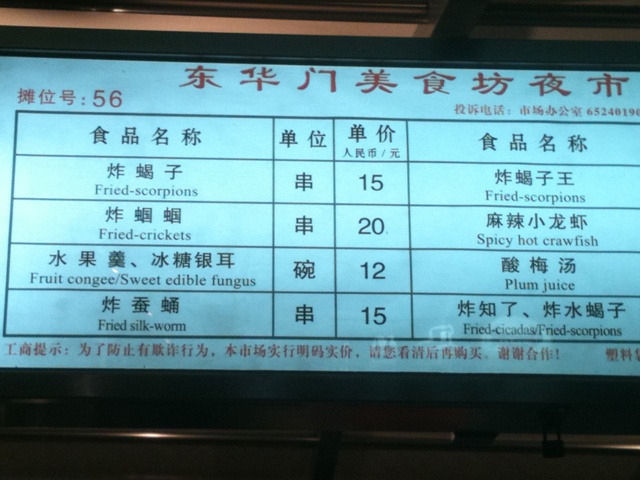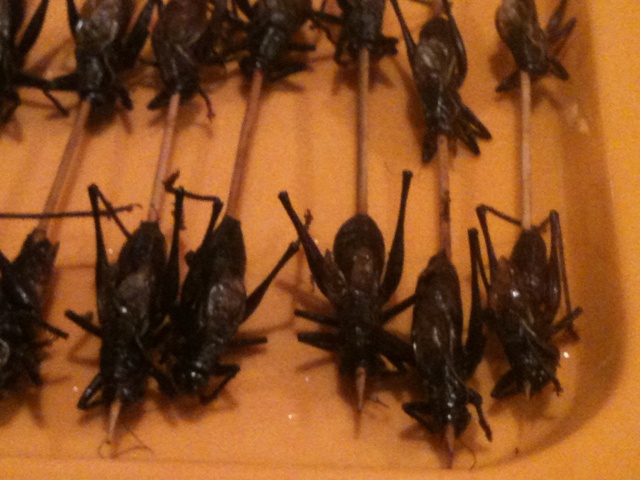 Needless to say ...we ate elsewhere!!
We also did a couple nice dinners. One being at the Peninsula Hotel, which has bricks and windows that were taken from some of the Hutongs when they were demolished to make way for other buildings. This is a picture of those brings and a window screen.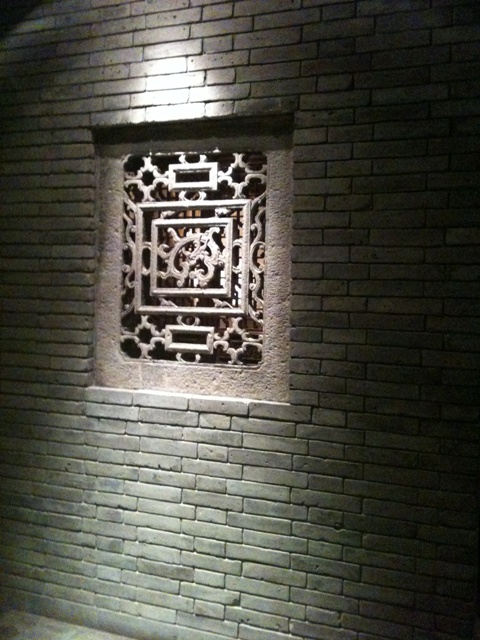 The other restaurant, also in a hotel, was called "Made in China" and was were we booked a reservation for our Peking Duck dinner. Tom had read a review that said this was the best Peking Duck he had ever eaten, so we decided that was a good endorsement. Lucky for us, this was also a short walk away from our hotel. The Peking Duck is prepared a couple days in advance, and then cooked in an open wood pit.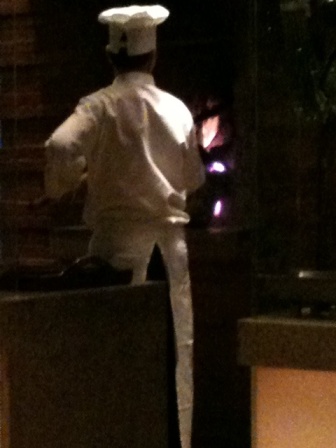 The preparation includes filling the cavity of the duck with water and putting a "cork" in the bottom to keep the water in. This keeps the meat moist while cooking. When the duck is done cooking they pull it out and then pop out the cork and let the rest of the water drain out. Then they put it on a platter and bring it out to the table.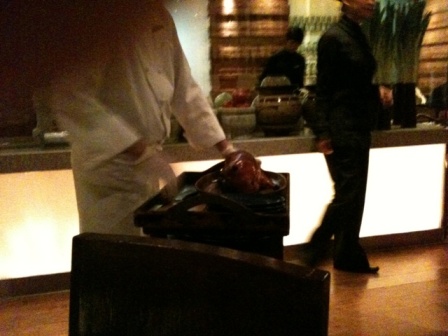 These are the general condiments that come with Peking Duck: cucumbers and spring onions, sugar, and duck sauce, as well as fresh garlic.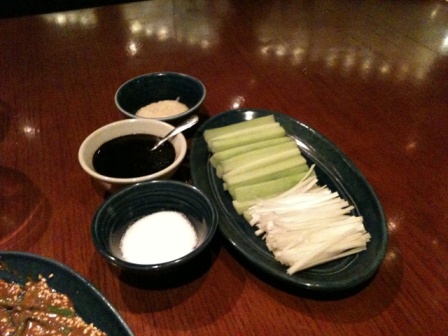 The cook then comes out and cuts up the duck right at the table. He first takes off the breast skin, and then slices the rest of your 1/2 of the duck.
The skin, shown here, is dipped in the sugar and then eaten, and it literally melts in your mouth.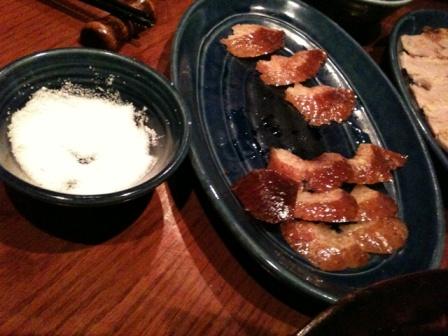 You take the little thin pancakes, add the duck and condiments, roll them up, and enjoy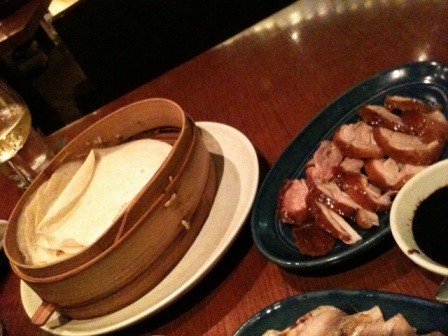 They also brought a soup out in this bamboo type cup. Interesting ... I tasted the wood more than anything else.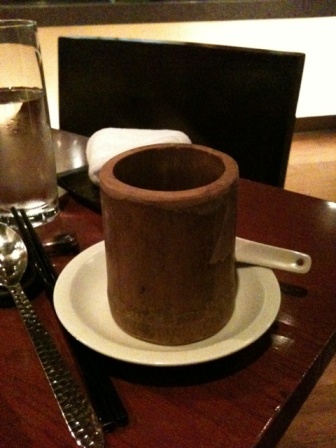 One of the things we did was to do a walking tour around the "Back Lakes" region, which is north of the Forbidden City. The Back Lakes area (Shicha Hai) is composed of three lakes: Qian Hai (Front Lake), Hou Hai (Back Lake), and Xi Hai (West Lake), and the tree-shaded neighborhoods that surround them.
As we walked around, we saw quite a few of these really old guys playing this little guitar-looking instrument. None of them sounded all that good, and it seems that you have to be very old to play this instrument.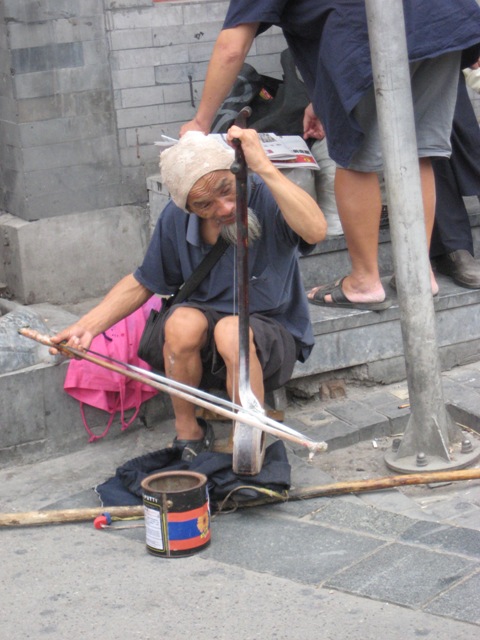 In the middle of Hou Hai Lake is this man-made island built of steel called Wild Duck Island.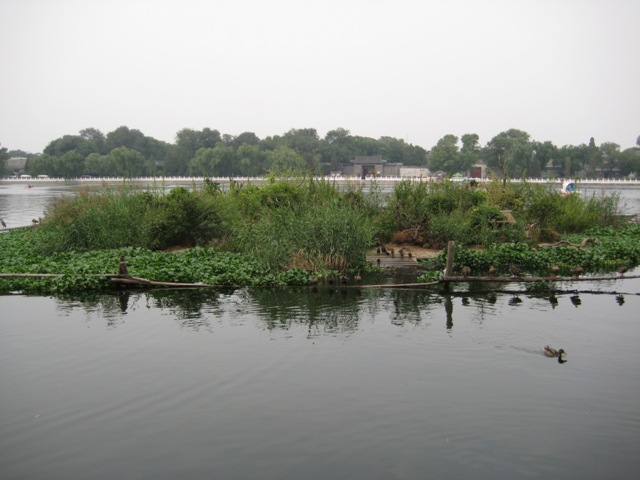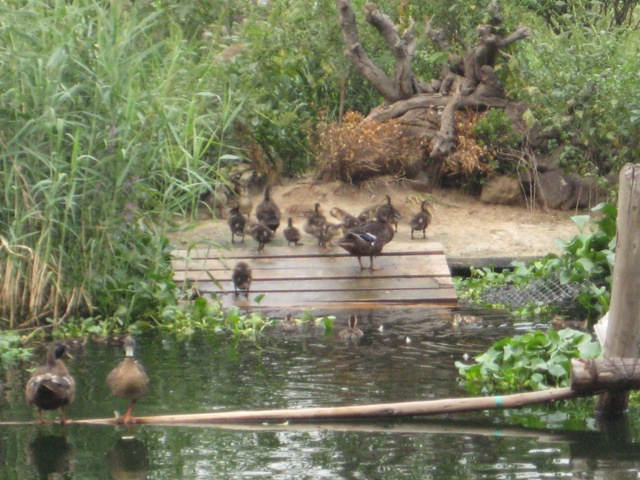 And here are just more pictures from around the lake.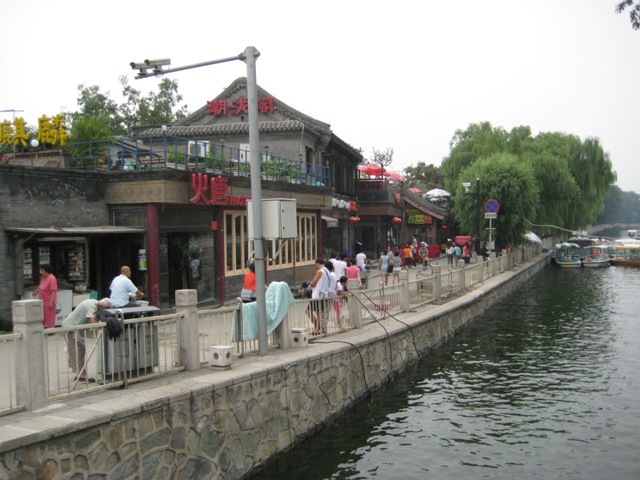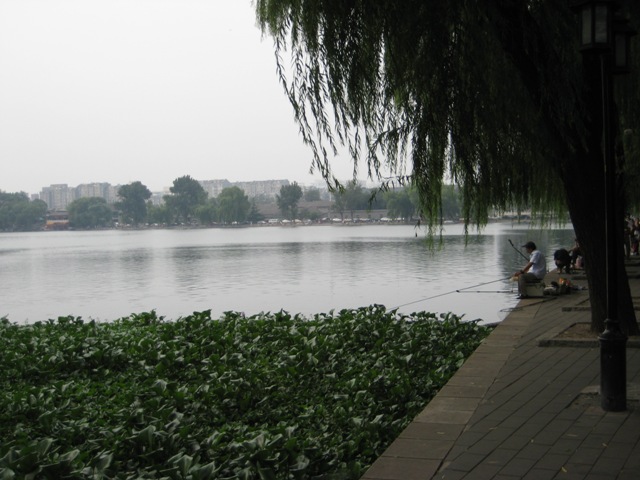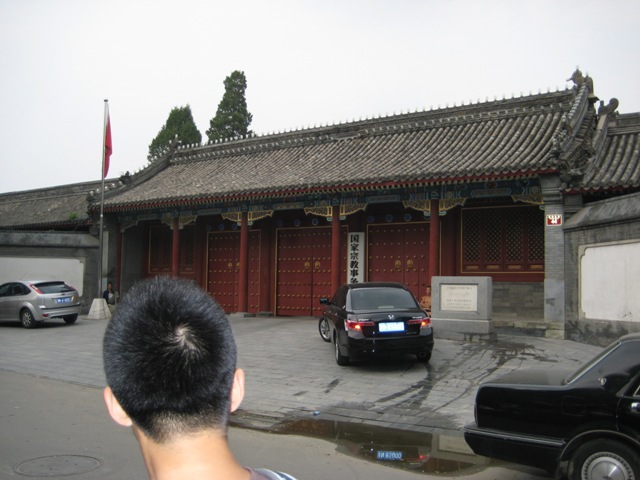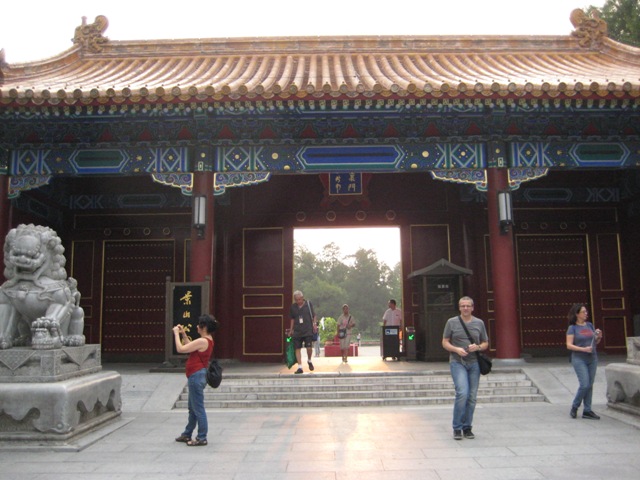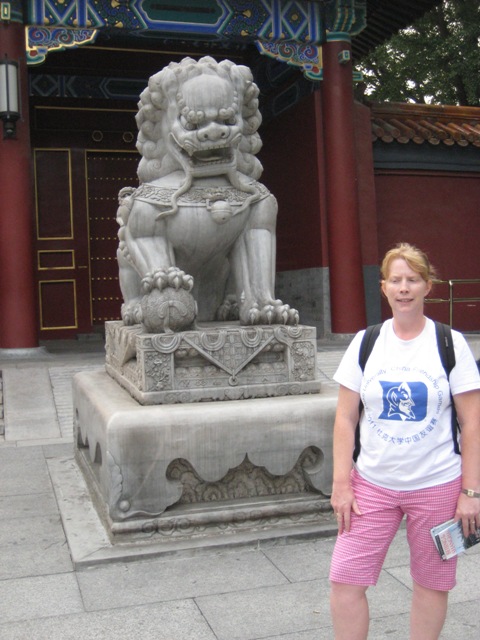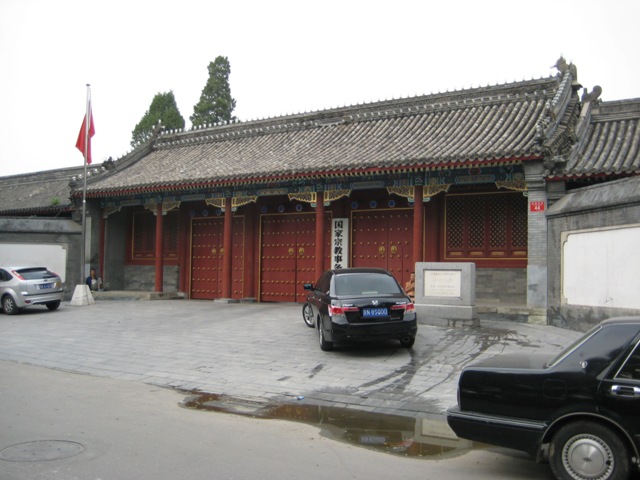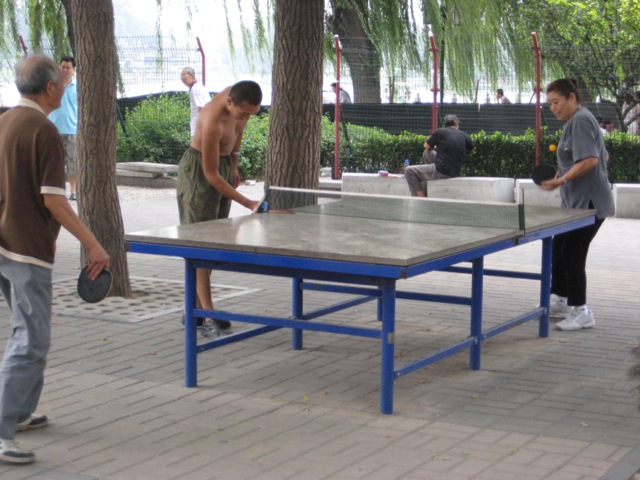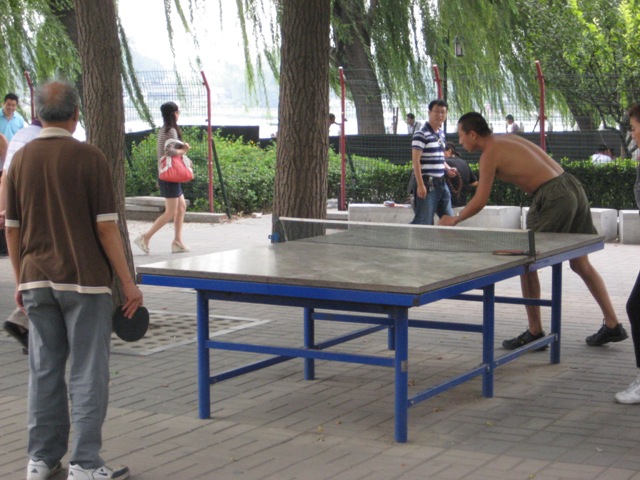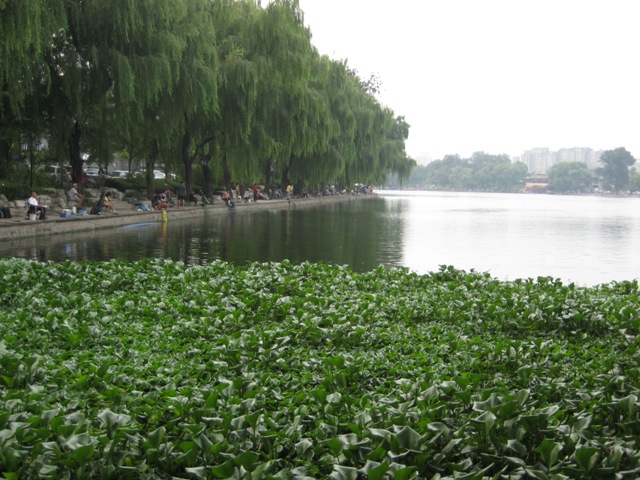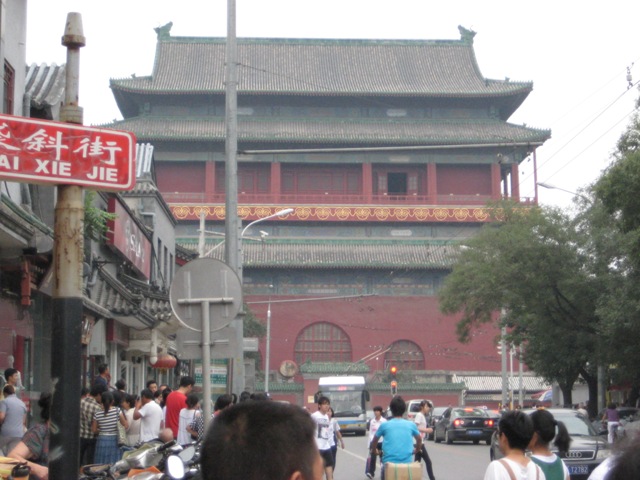 This is the Drum Tower, where there are daily drumming performances that you can get tickets for, and then the Bell Tower behind it.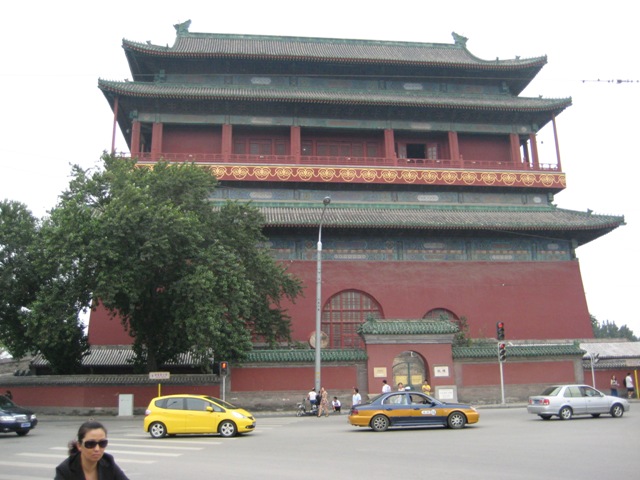 Continue to The Great Wall of China outside of Beijing.