Susan's Shanghai Blog - Week 32
While this says it is a Shanghai Blog, this week will be all about Paris. I had a business trip to France to meet with a couple of customers and so we decided to make a little vacation out of it. Tom came with me and we added a few days onto the trip. Not too long, actually I think a total of about 5 days is all, but it gave us an opportunity to catch back up with some friends of ours who still live in Paris.
We left Saturday morning from Shanghai and after a very long flight, landed in Paris. We connected in Zurich and got a first-hand look at the snow that had fallen from the window. At least from where we were, it didn't look like too much snow.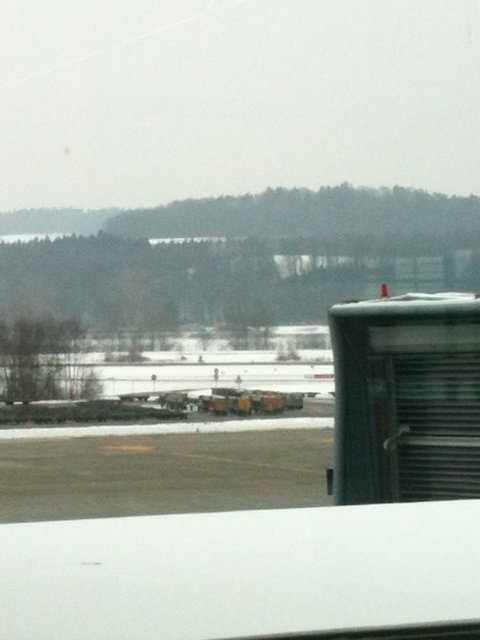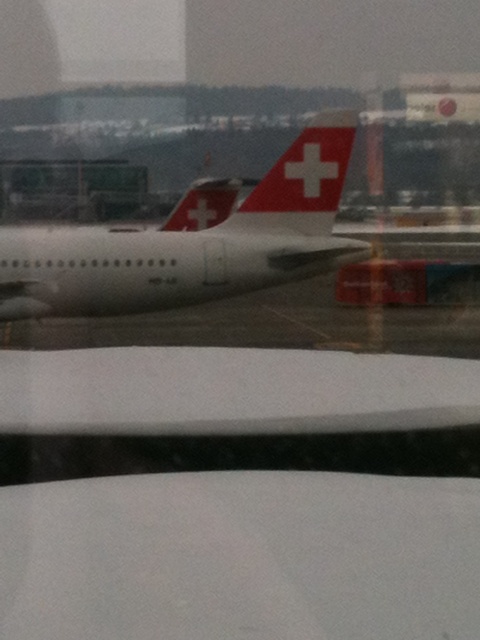 We were a little concerned about the 1-hour layover but the flight ended up arriving early anyway. We went through security again and passport control, so I got a Swiss stamp in my passport instead of a French one. Then a quick flight from Zurich to Paris and we were back in familiar territory at Charles de Gualle airport. We grabbed a cab and headed to the hotel and got checked in. Go figure .. there is a strike going on! The food and beverage staff at the hotel is on strike, but they gave us vouchers to walk across the street to another hotel for breakfast. No worries!
The only thing we did Saturday night was dinner. Paris doesn't have snow, but they do have the same freezing weather that other places in Europe are seeing. We had been checking the forecast and brought warm things, but we weren't prepared for the below zero celsius with a decent wind that greeted us at the hotel door ... BRRRRRR!!! We walked to the Metro, bought metro tickets, and headed down Line 6 to Place d'Italie, and from there walked a few blocks to our first restaurant, L'Agrume. It is a small place with only about 7 2-person tables and a 1-person cooking staff. We ordered the 5-course menu degustation, 2 kir aperitifs, and a couple glasses of wine. The first course was a tartar of Sea Bream and scallops with a truffle chantilly on top .. a good way to start. Then came a parsnip soup that even Tom liked, followed by one of the two "main" courses, which was Dorade (fish) with a mousse of artichokes. Then some slow cooked veal with a side of peas and onions (yea, Tom ate those TOO!) and to finish it off, a chocolate mousse sitting on top of fresh fruit in a red berry coulis. We finished off with our customary cafe (a noisette for me, espresso for Tom) in France. We forgot to take the camera so sorry, no pictures, but I can't imgine a better dinner to start off with. Everything was great!
By the time dinner was over, I was falling asleep, having been up for over 24 hours except for the couple naps that I took on the plane. But that helped as we fell quickly asleep back at the hotel and woke up around 630 ... pretty close to on the right timezone ready for our first full day in Paris.
Sunday morning was another chilly day, but we were in Paris, so we weren't going to just sit around the hotel. We headed over to Place de la Concorde for a start and got a glimpse of the obelisk as well as the Eiffel Tower in the background. Over the trees (now with no leaves) you can just make out the top of the Grand Palais with the French tri-color flag waving. In the 3rd picture, you can see the North side of the square. On the East side, just at the end of the Tuileries, they have the ferris wheel.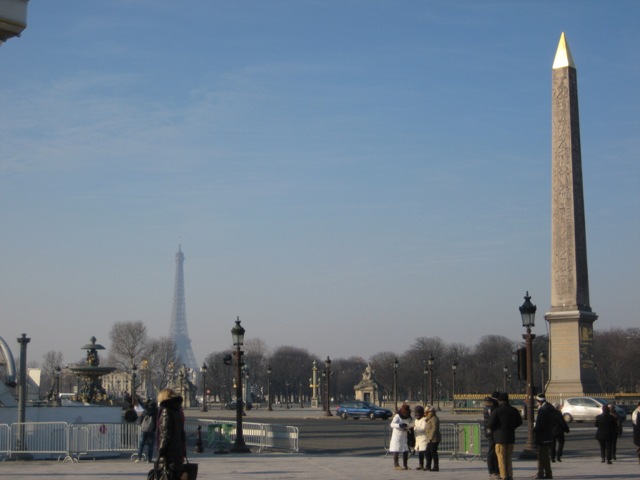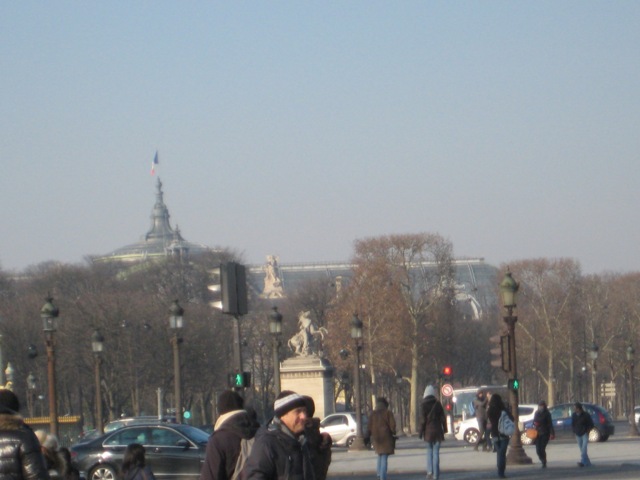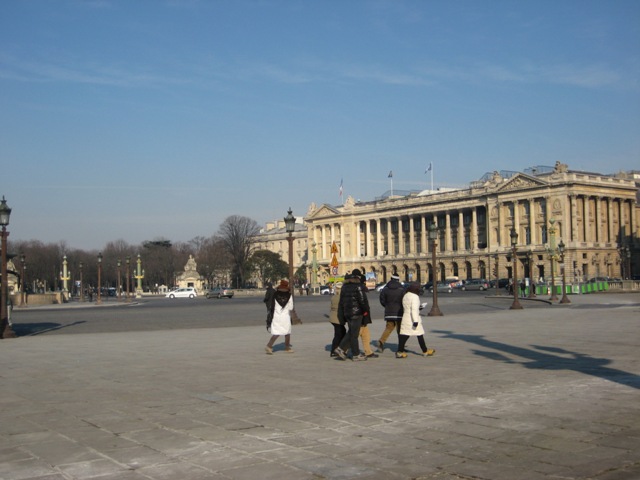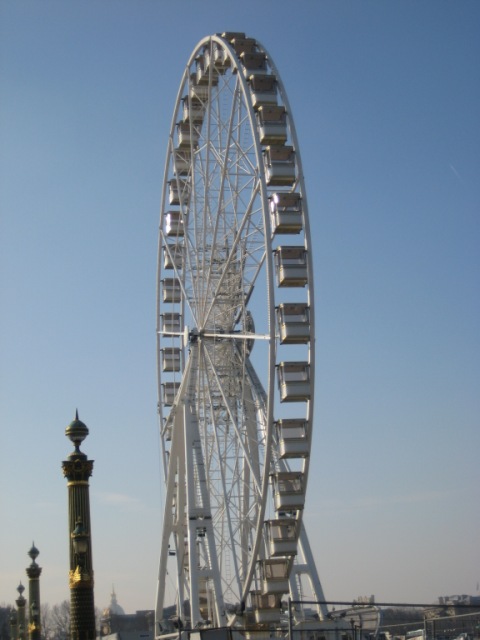 Here are a few pictures to just show how cold it was there. The first picture is right near the ferris wheel at the edge of the Tuileries. You can see a pigeon standing on the ice that has formed from a puddle of water. We then went inside the Tuileries and you can see the round water fountain where in the summer, the little kids play with boats ... now is a lovely patch of ice with a few areas of water here and there.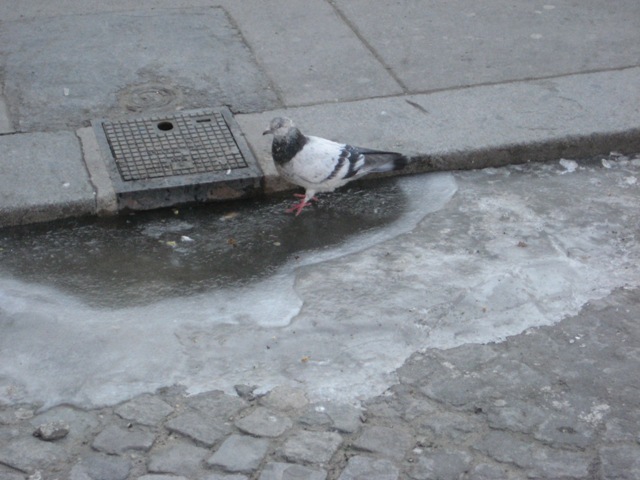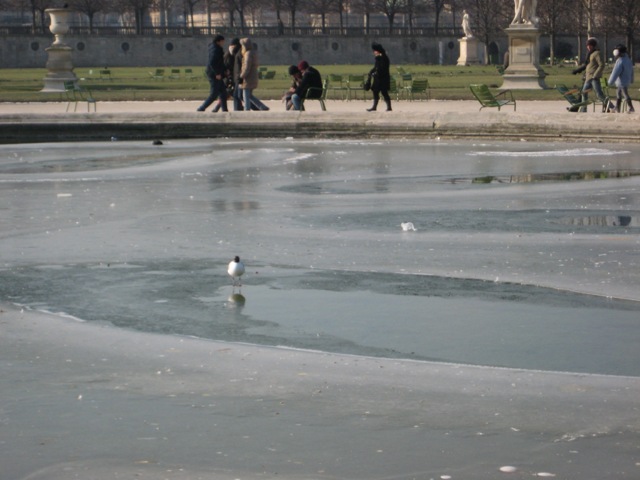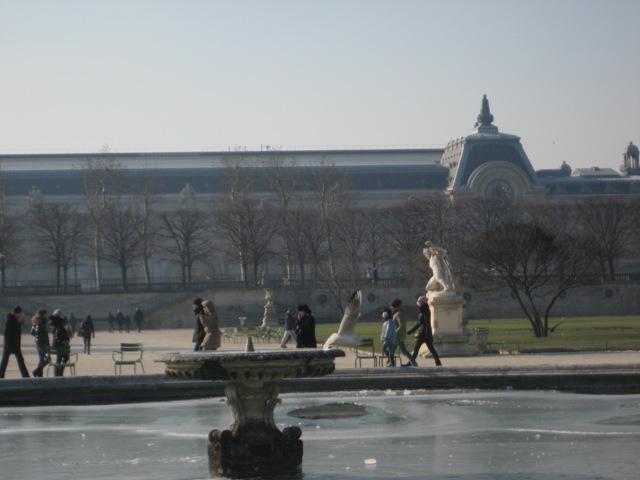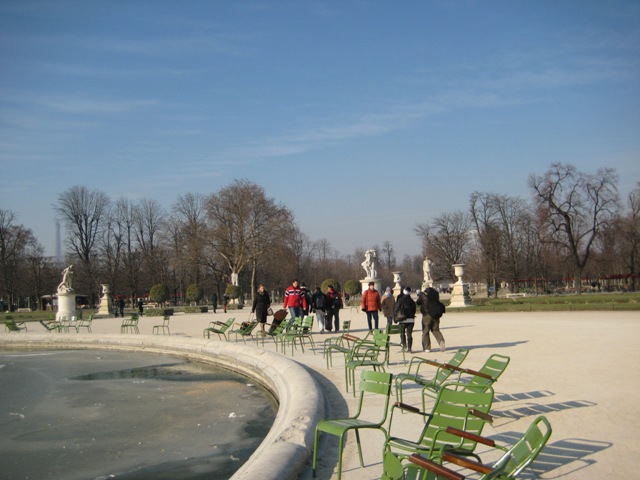 Next up was the Louvre, which by now looked lovely in the sunshine that had come out. The ice patches you can see are from one of the fountains, and I was trying to give an idea of how thick the ice was. We took the last couple pictures heading back through the Richelieu entrance.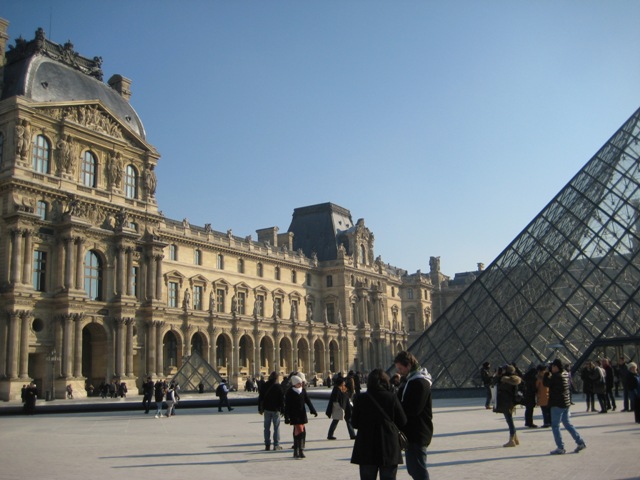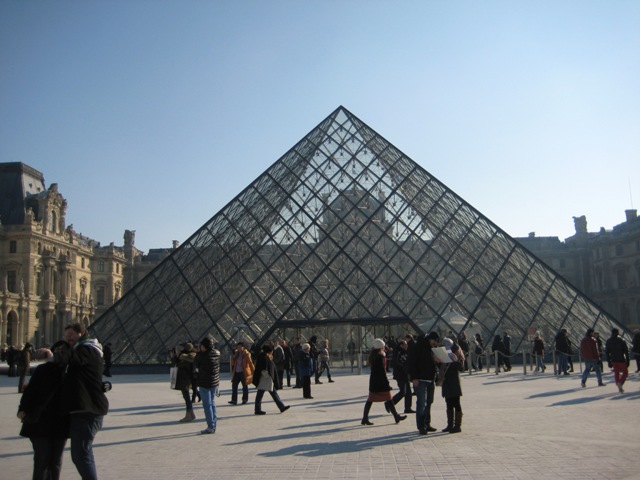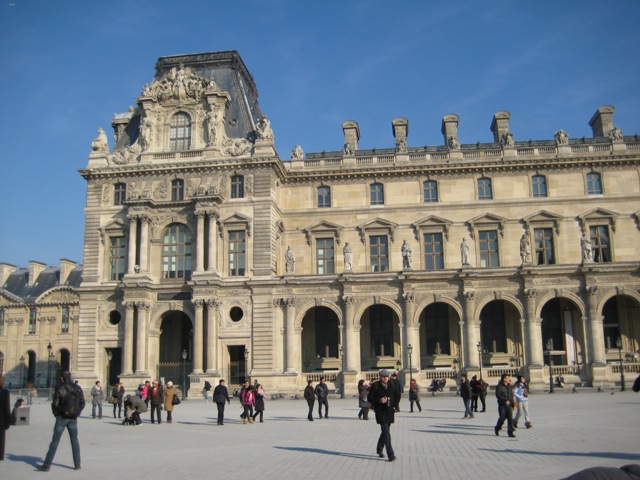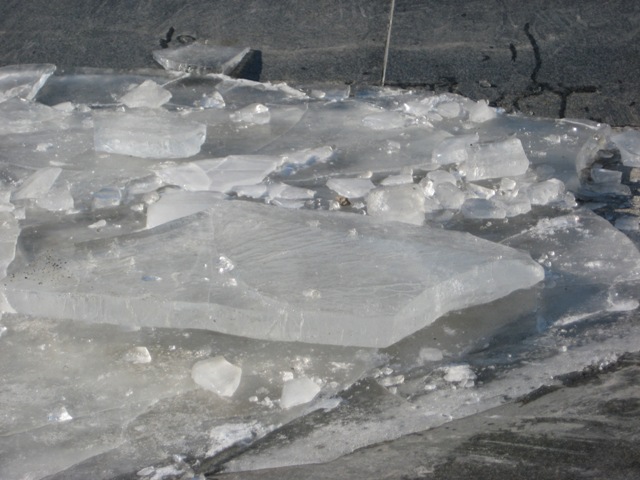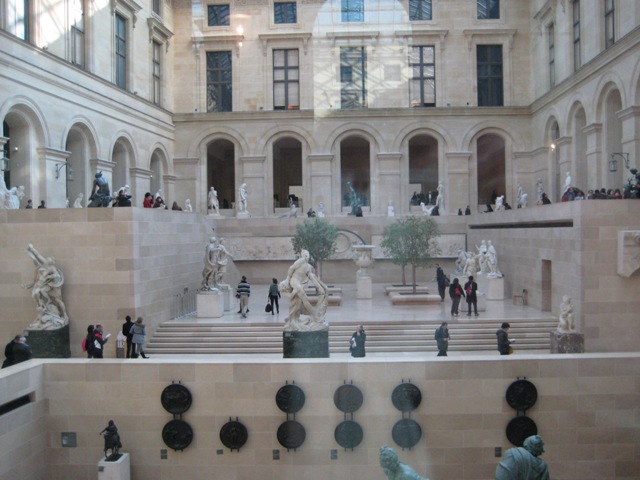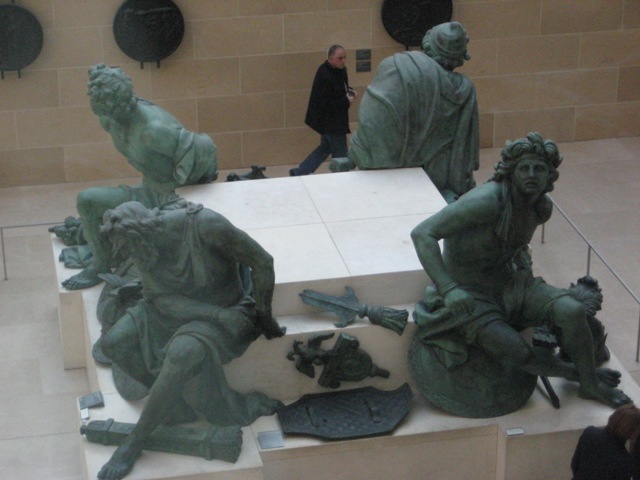 Sunday for lunch we met up with a friend of Tom's at Le Fumoir, which is just across the street from the very end of the Louvre, which you can see in the 2nd picture. We were all bundled up!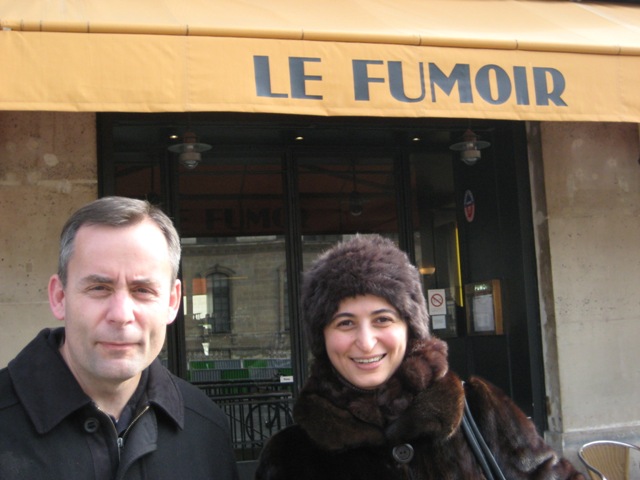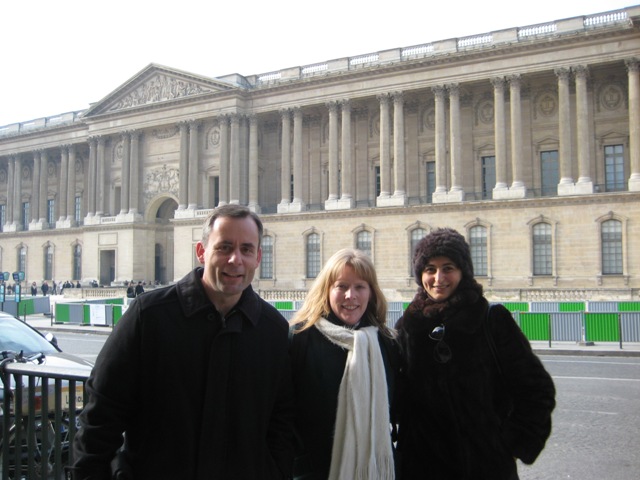 What trip to Paris could NOT include a stop at Notre Dame. It was a great day still, clear and sunny, and so the picture turned out quite nice. Even the rose windows look nice with the light streaming in through them.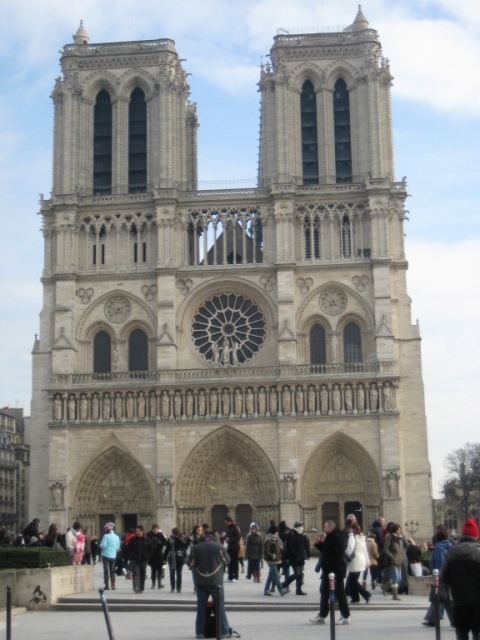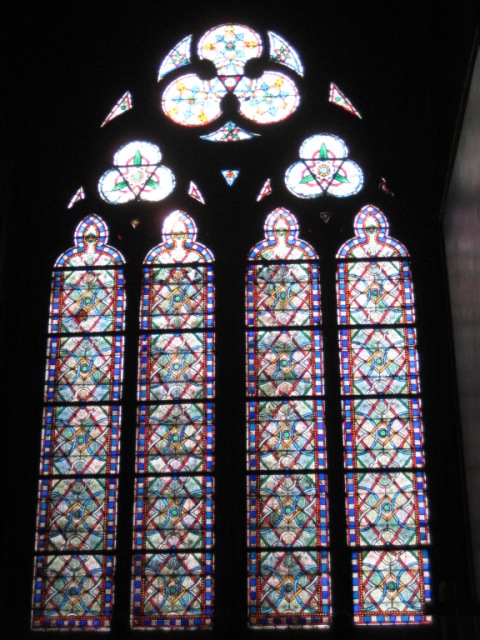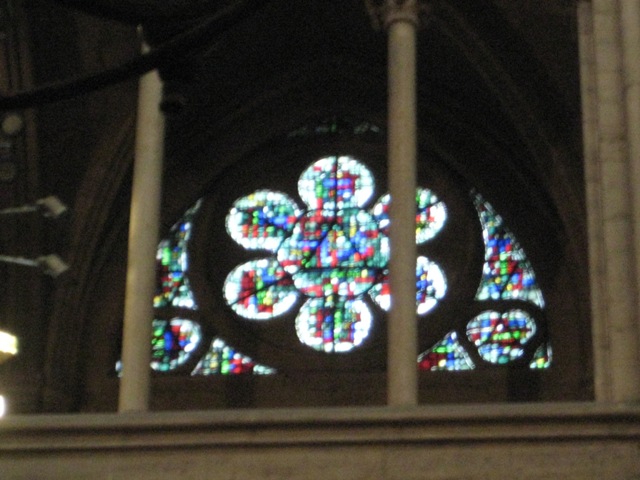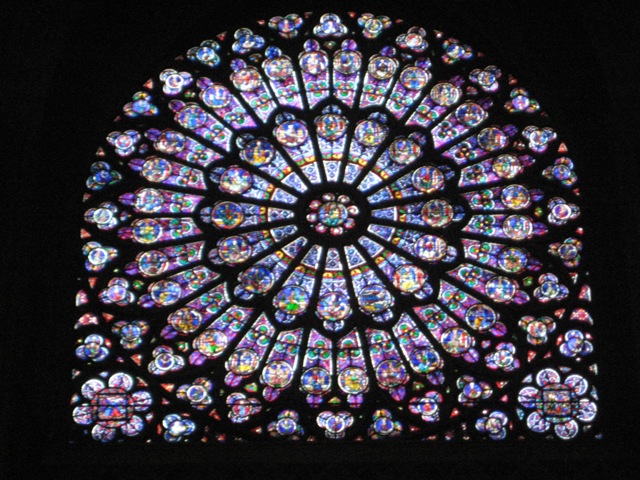 You may find these next pictures a little bit odd, but they are interesting for us. While we were living there, only line 14 was an "automated" line, meaning that there was no driver. The trains were computer controlled and all of the stops had double-doors: the doors of the train as well as a set of doors on the platform. The train would come to a stop and then both set of doors would open. This set of "platform doors" kept people out of the tracks and so there wasn't a need for a driver to be able to stop the train if something was on the tracks. As we were getting ready to leave, they were starting to do the same double-doors on Line 1, which was the line that we lived on, so we took a few pictures of how they were progressing.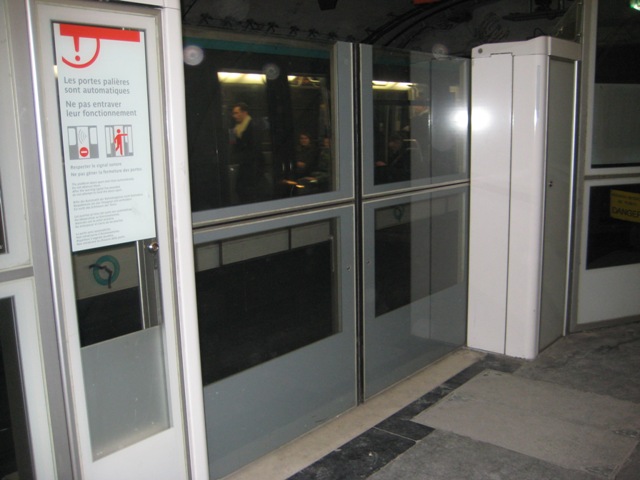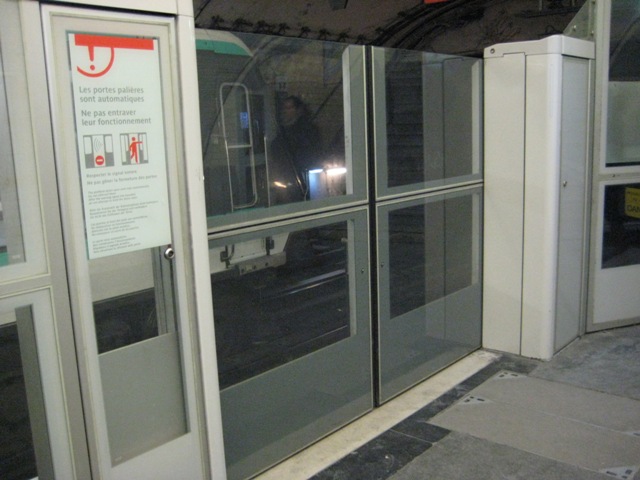 We headed from there, which was near Argentine, back over to the Champs Elysee and as we headed around the Arc de Triomphe, we saw a few vans of police (Gendarmerie) in riot gear getting out. So of course, curiosity got the better of us and we had to go see what was going on. The first picture, you can see them in formation walking down towards where the demonstration was. We took a few pictures, but it was pretty weak in fact ... a few people with a sign chanting, but nothing to get too worked up about.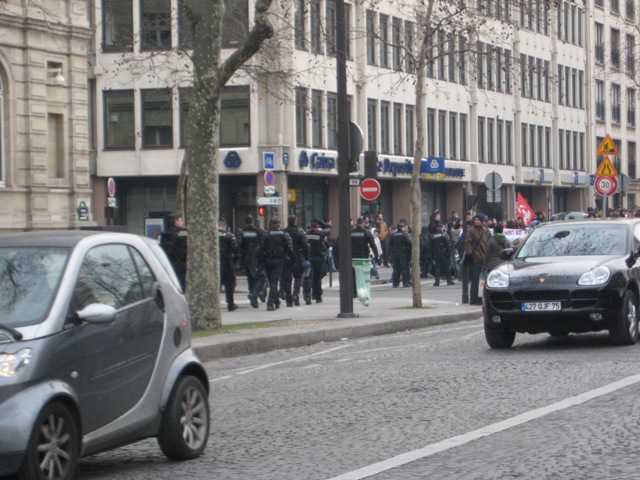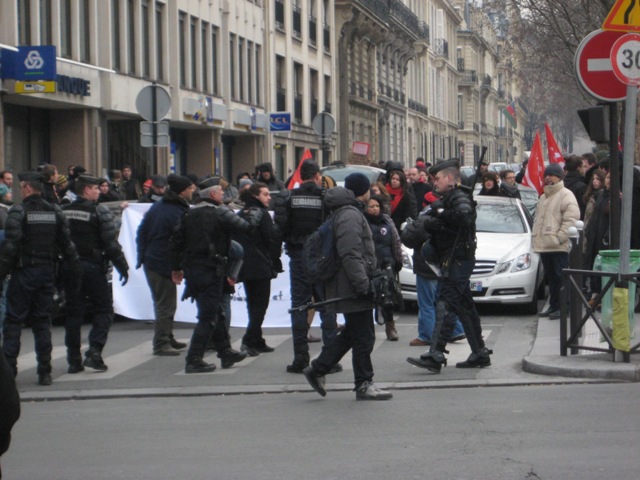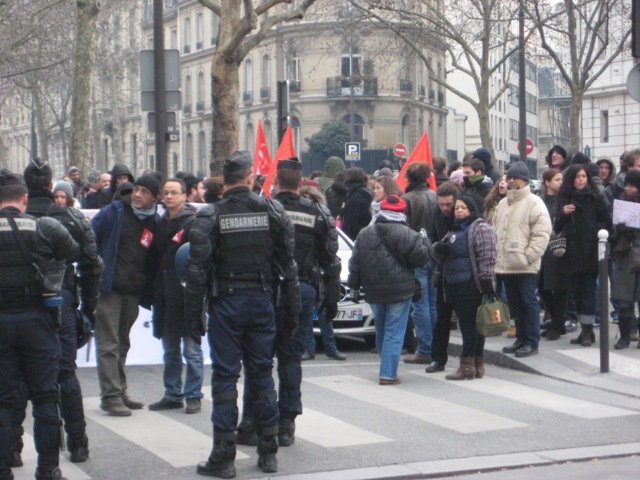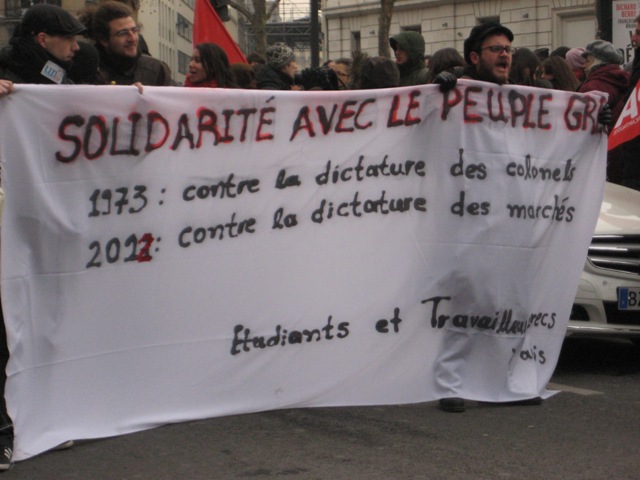 Walking down the Champs Elysee, we got to the Renault show room and they had 2 different F1 cars there.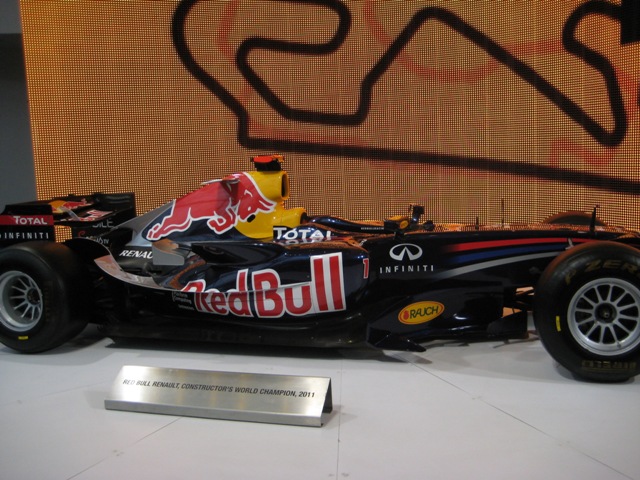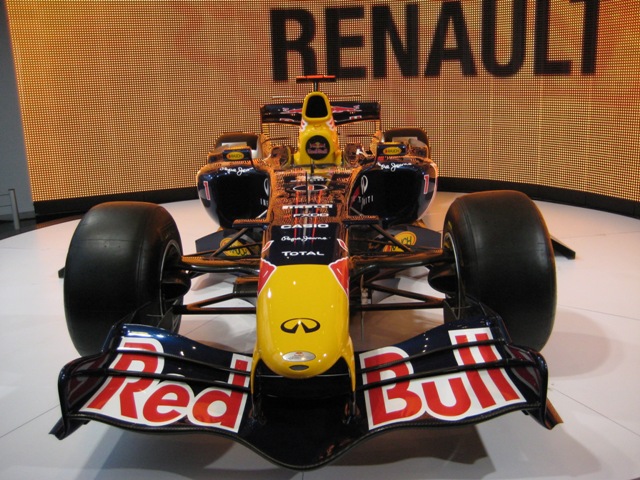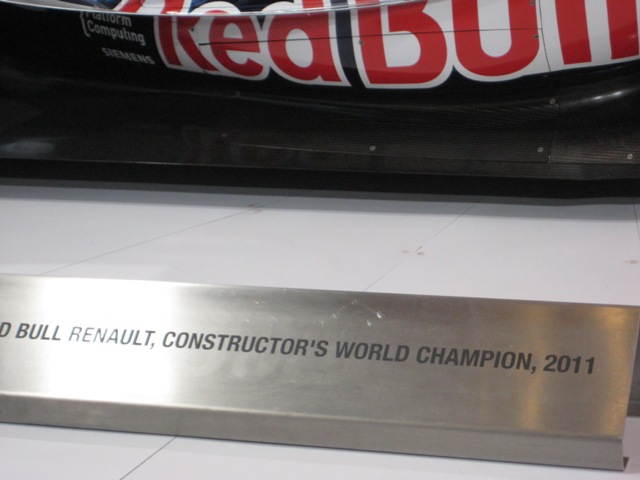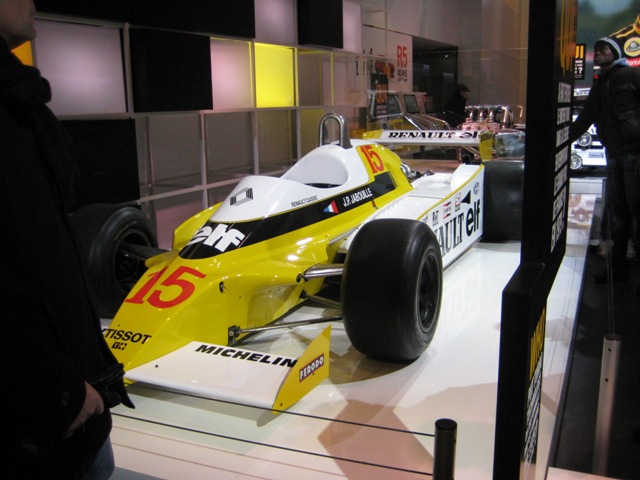 As the sun was setting, we caught a glimpse of the ferris wheel with the lights on.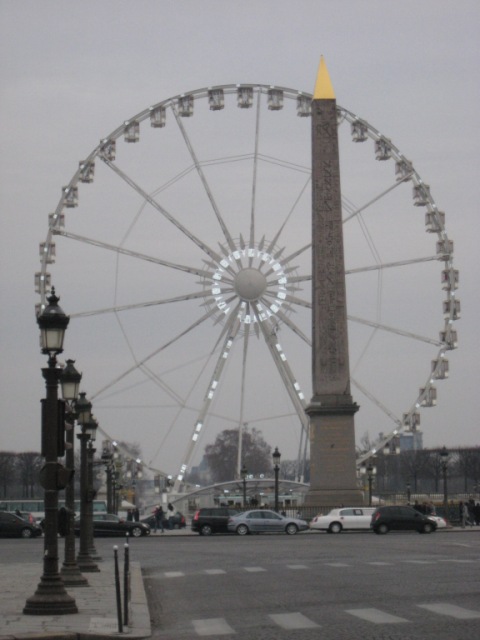 Sunday night dinner was at a steak place that we had been to before when we were living in Paris. We first found it through a NY Times travel article on the 6 best "steak-frites" places in Paris. Not that much is open on Sunday and Au Boeuf Coronne is, so we headed back there again. It is WAY up north, almost outside of Paris proper, across from the Parc de la Villette. The outside is quite the unassuming restaurant.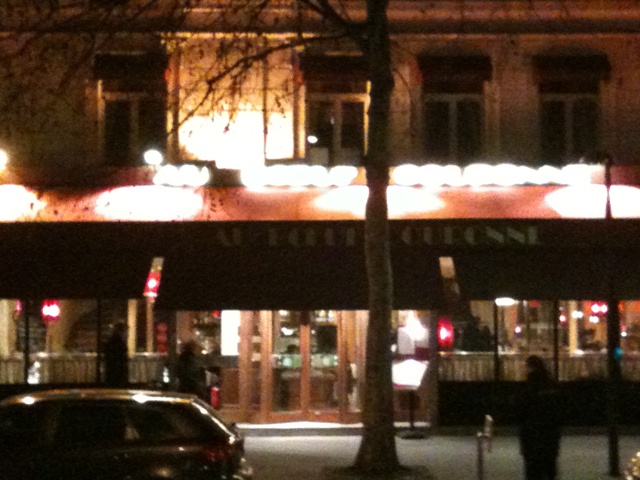 Inside, it was croweded, as normal. They have a prix-fixe or fixed price menu that we normally get, which includes 3 courses plus wine. For the first course, Susan went straight for the foie-gras with toast and chutney.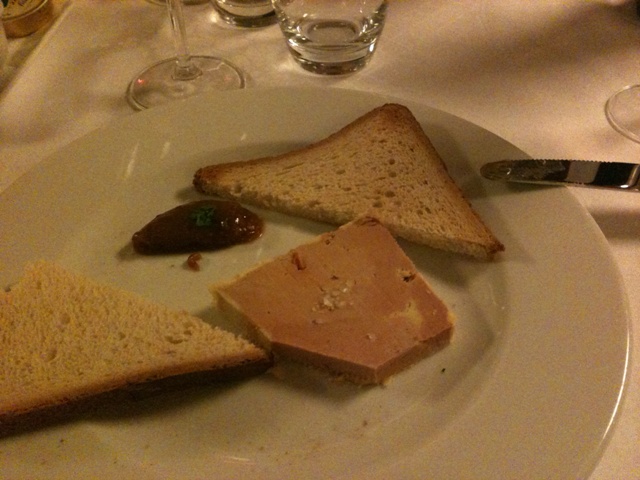 Next course, the steak, which they set on the plate alone, with the sauce in the shape of a B. The potatoes there are "puffy" fries. It is difficult to get the right view here, but they somewhat look like chips but they are puffy.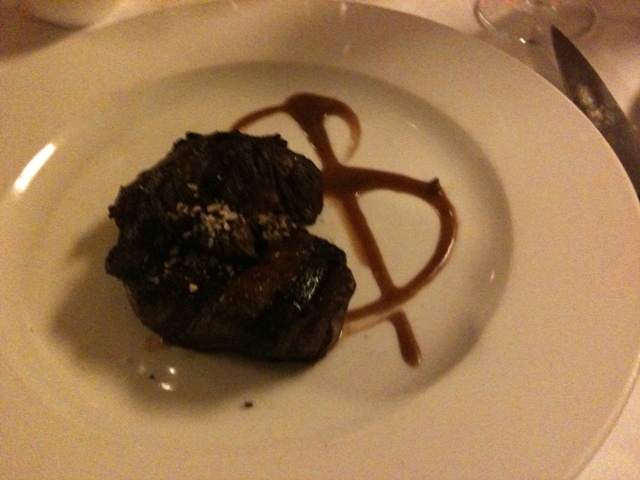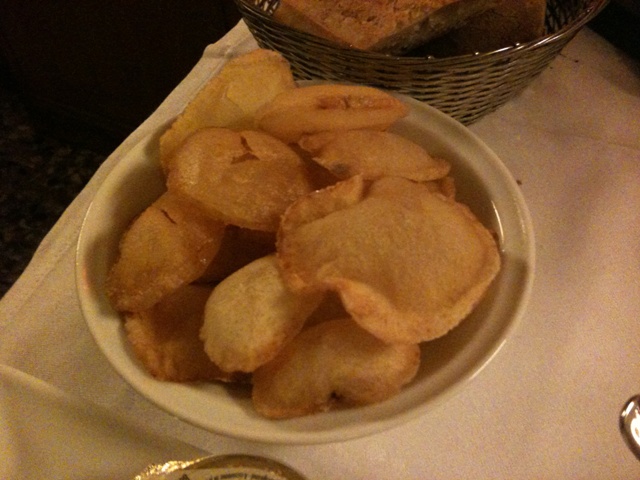 Monday and Tuesday, Susan had to work (the main reason for the trip), so we didn't do anything, except eat dinner!
Monday night was a restaurant called Jadis, and here is the outside of it, with Tom huddled trying to stay out of the rain. This is a simple bistro in the 15th arrondissement.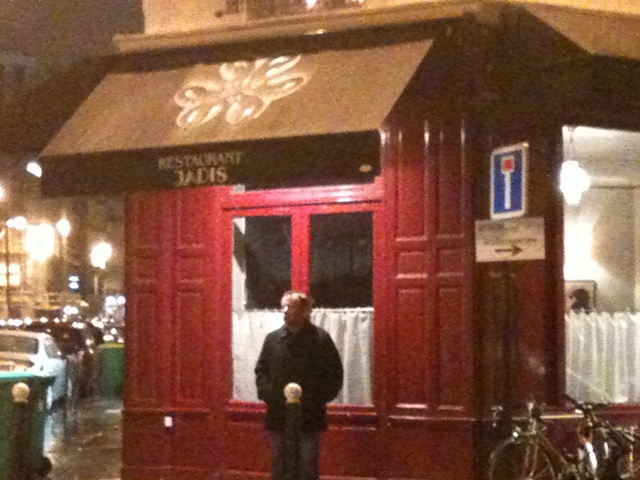 It has the typical "curtain" around the door, which is used in the winter to keep the cold air out.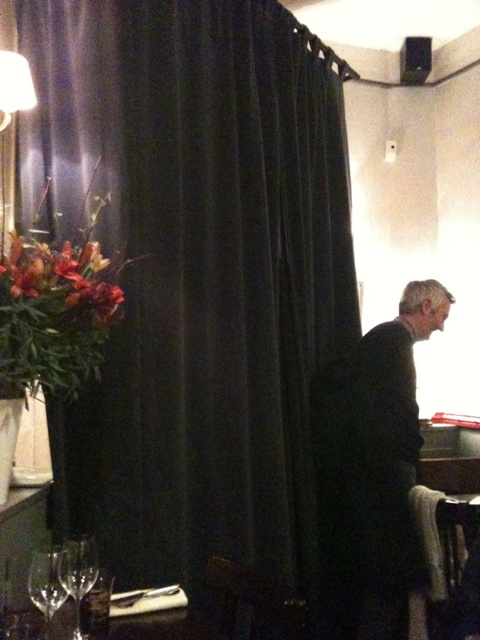 The food was, as you would expect, quite good. Tom had the Daurade, which is a type of white fish (1st picture), and I had the "cochon de lait roti, carotte, raisins, et citrons confits, feuille de datte". The "carrots, raisins, and lemon confit is the 2nd picture, and it was separated from the roast pig (3rd picture). The pork was amazingly good!! Very tender and juicy! And of course, there is dessert: the last 2 pictures.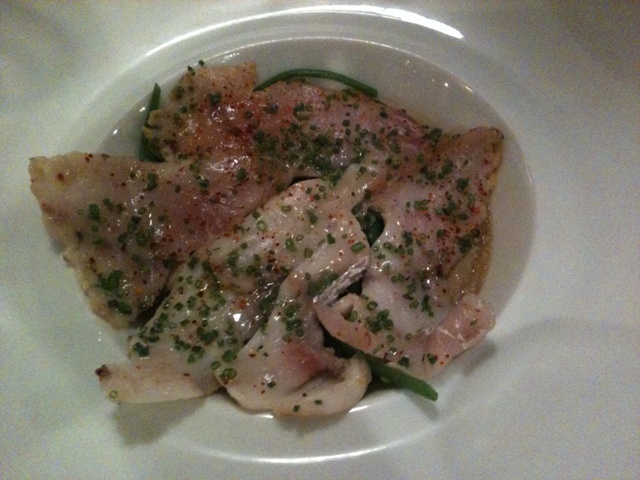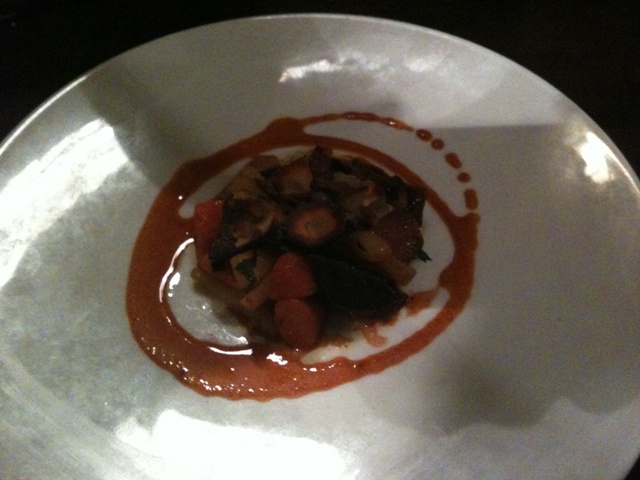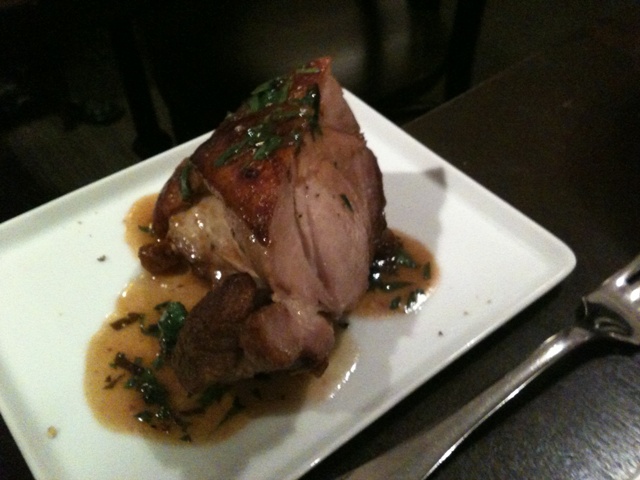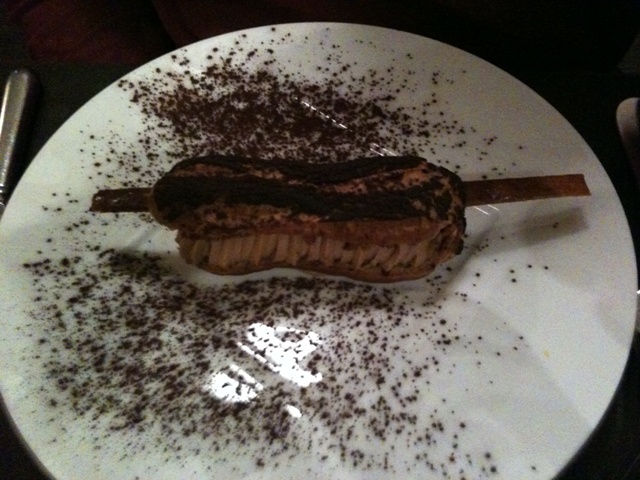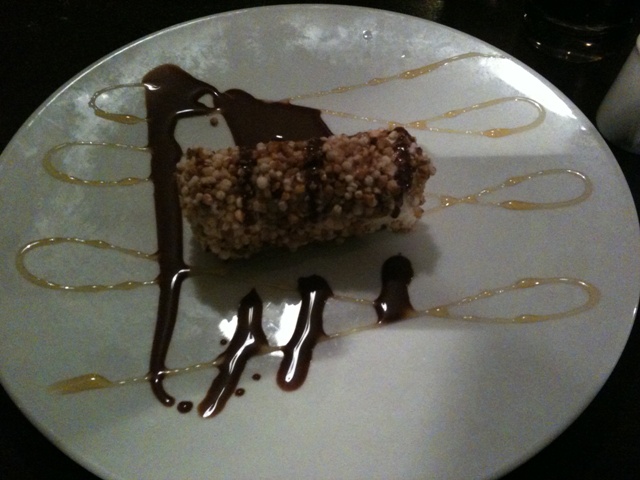 Tuesday night, Valentines day. You'd think we'd do something romantic, since we WERE in Paris .. but not really! We had wanted to have dinner with our friend, Manu, and she was free on Tuesday night. Again, I forgot all about the camera (DUH!) so no pictures. We went to a place called Philou, which was also in a NY Times travel article but also in her neighborhood. It seems she goes there alot and is on really good terms with the guy who works there, since we got free drinks to start with!
Wednesday we just did alot of mosey'ing around. We ended up in a part of town that Tom had gone through on Monday while Susan was working and stopped for lunch in this little creperie... crepes and cidre! Mind you ... once we got in and sat down, Tom says "oh, this looks familiar .. I ate here on Monday" .. oops.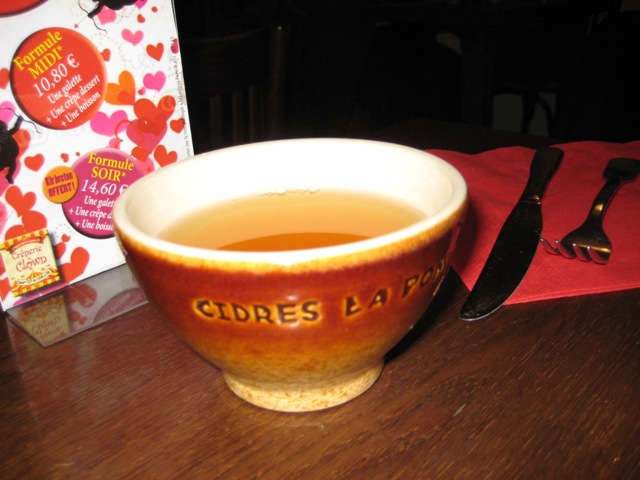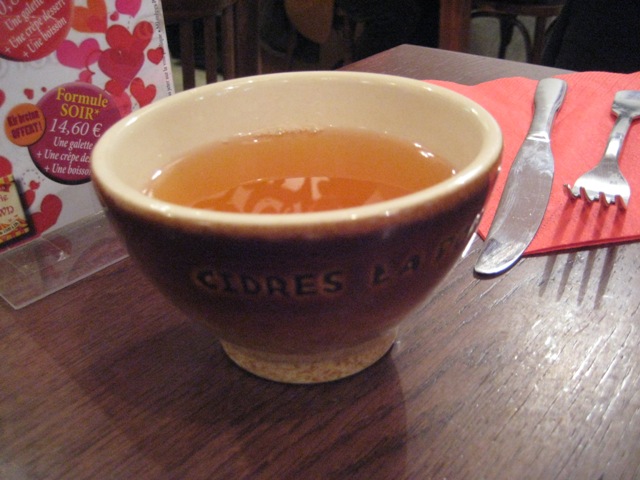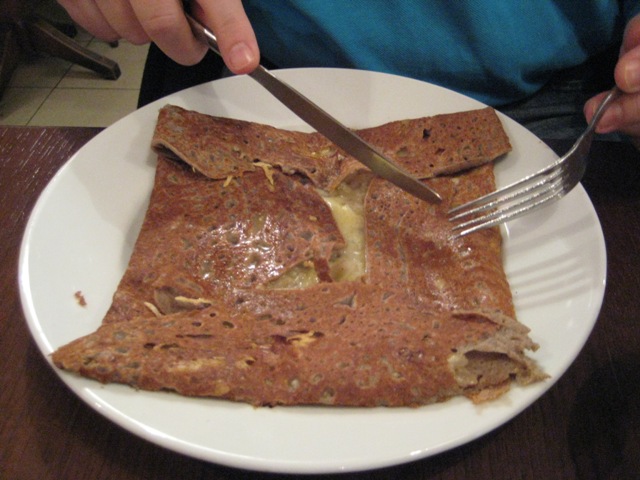 We were walking down near Odeon, across from the statue of Danton and we went by a chocolate store, and of course, it being the week of Valentines day, they had a great window display of all these really cute chocolate figures. Personally, I think the best one are the two little frogs (le couple de grenouilles) in dark chocolate!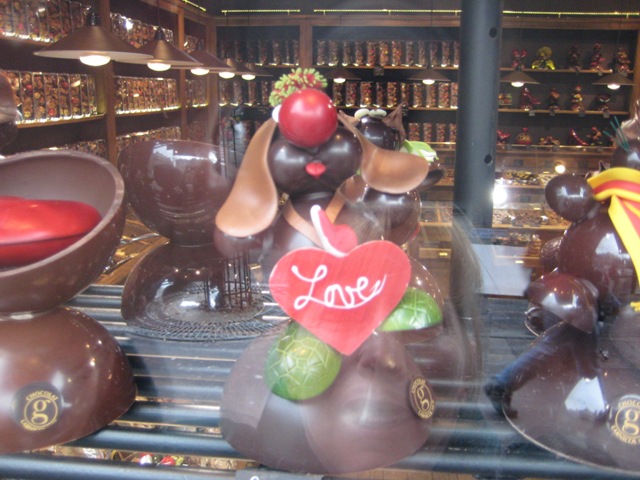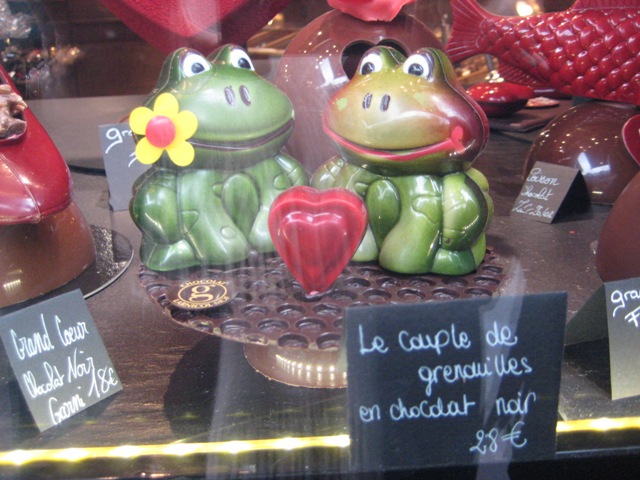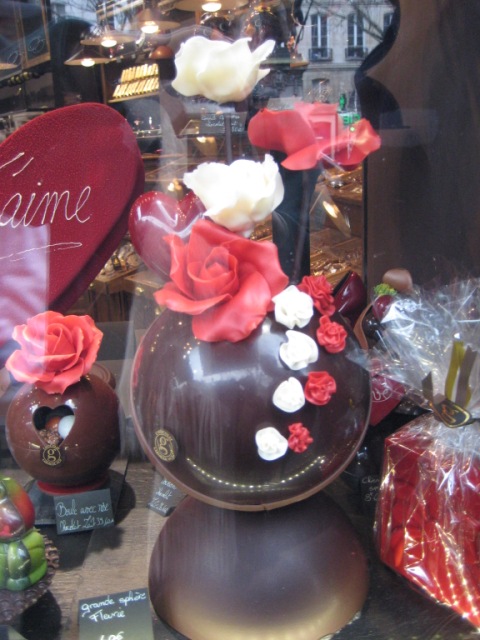 Then off to the Maille mustard store to stock up on the best mustard in the world before stopping at Cafe Madeleine for a frothy espresso and a little madeleine. We stopped here and there for at a cafe to sit down and warm up!


We popped over to Courbevoie, which is one of the suburbs of Paris and where Tom worked when we lived there, and we met up with a friend of his, Denis. We sat and chatted for a couple hours and drank in a little local cafe around the corner from the office.
From there we headed to dinner at L'epigramme, which is back near Odeon and the statue of Danton. The interior looks like an old house ...exposed wooden beams, white stucco'd walls. One side of the room (behind Susan) was all stone and had this cute little niche with a little cherubim.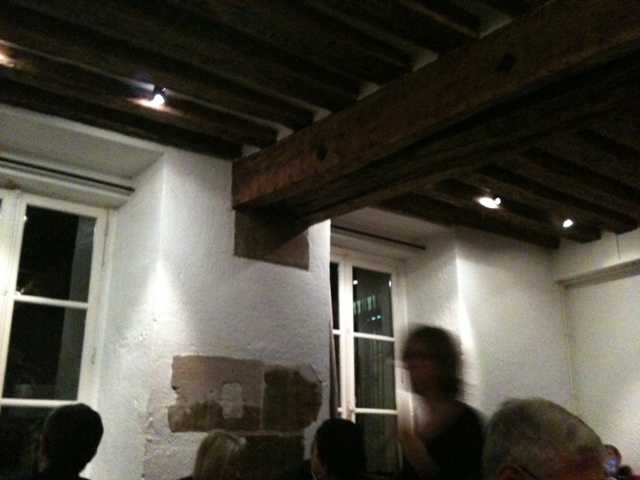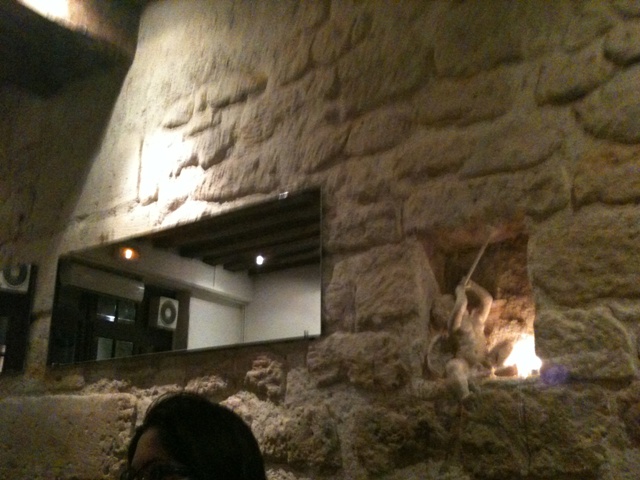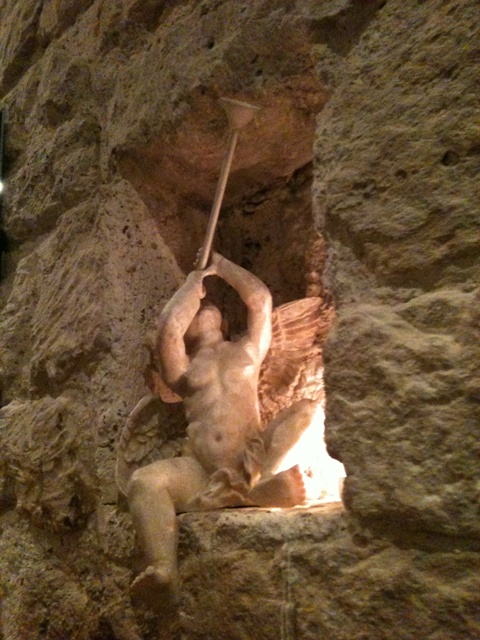 First course ... Tom had a frog mousse that came in a mason-jar, while Susan went with the "safe" option, the veloute of squash. All of the dishes were great, and they were all interestingly plated.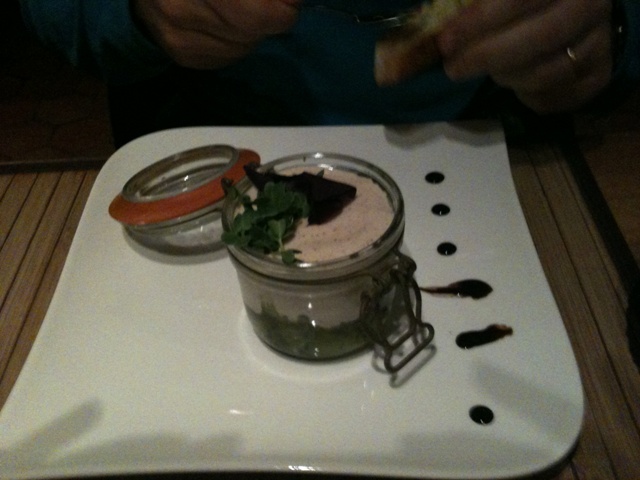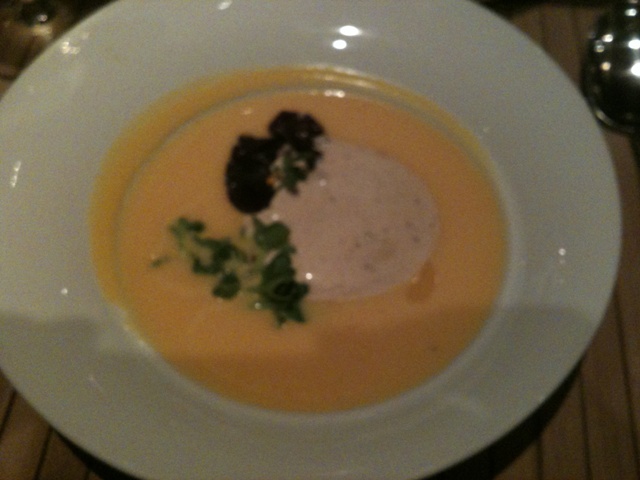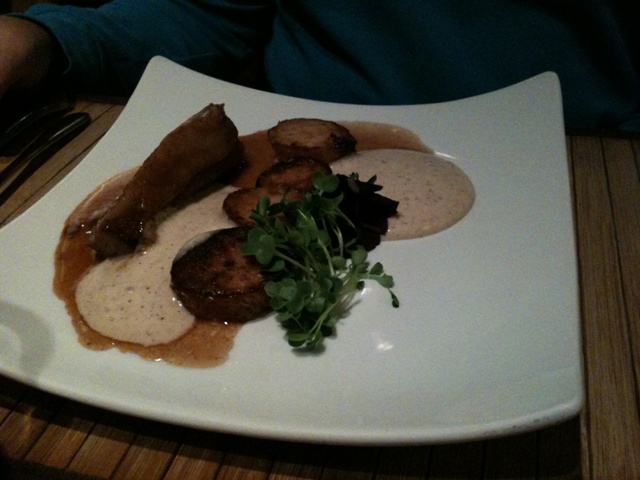 Our last day was spent doing a little bit more shopping, and taking in a few more sights. This was was a little interesting, and one that we don't actually understand ... we walked across the pedestrian bridge over the Seine, and along the sides there were all of these locks attached to the fence. I have to assume this was for Valentines day, but as you can see, there were HUNDREDS of them!!!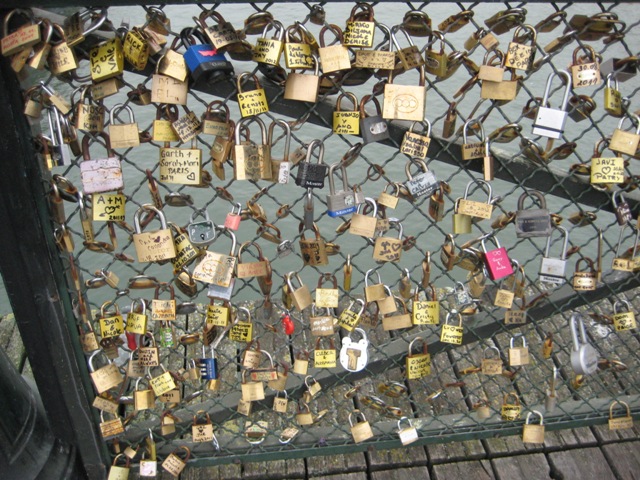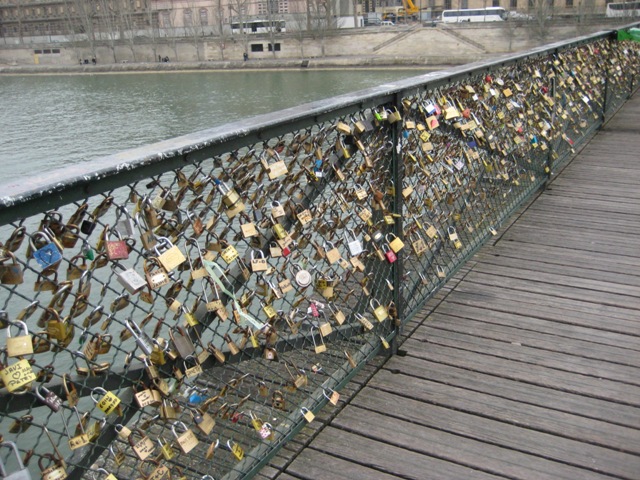 And our last stop was Angelina's on rue Rivoli, which has the most fantastic hot chocolate in the world! Along with the lemon tart that I couldn't resist, we both got a cup of the hot chocolate, which comes in a mug with a little cup of whipped cream. It is SO thick and SO rich that it can almost put you into a chocolate coma! But .. what a way to go!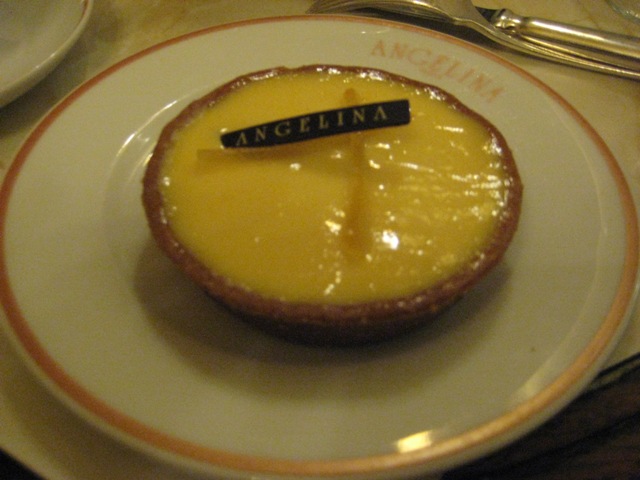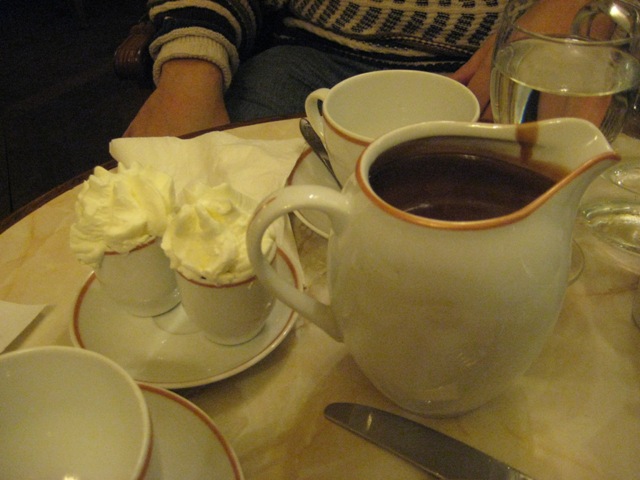 Our last night in town, we wanted to stay close to the hotel since we had an early flight back to China. We went to another steak-frites place that we had been to before and really liked, called Severo. The wine, which was of course red, came in these HUGE carafe's, which I assume were specifically designed to bring out the best in the red wines. The wine list was written on blackboards that lined one entire wall of the restaurant.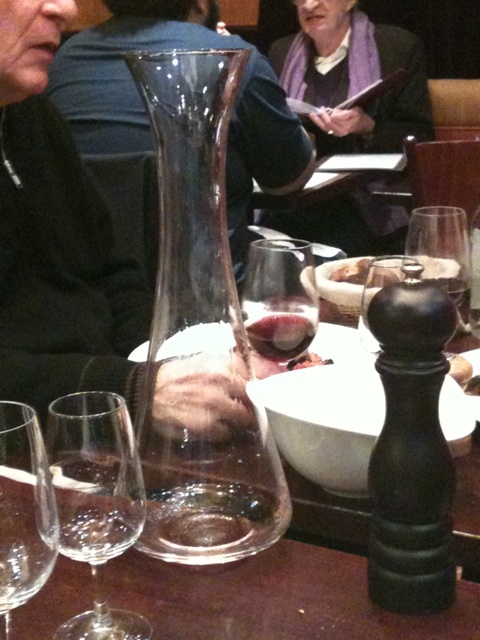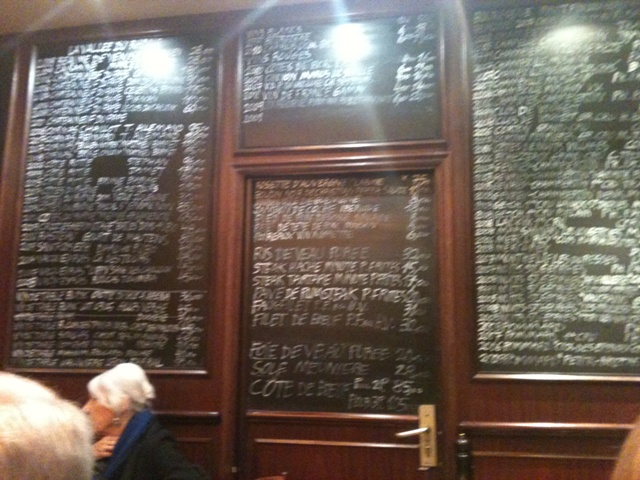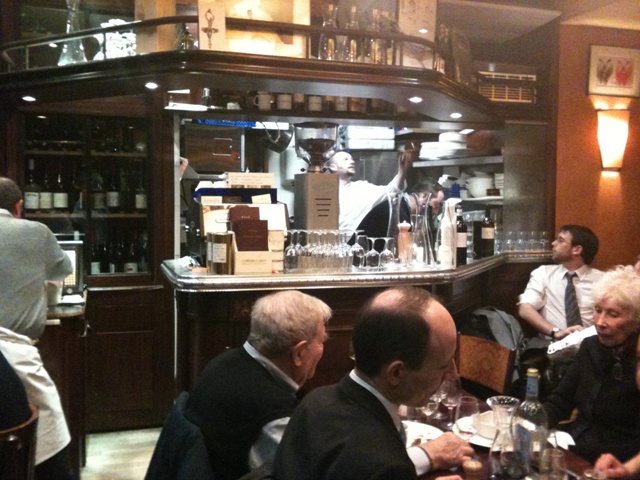 We started with the sausage slices, which came with some of the best bread in town. Then came the steak and fries. Here they cut the steak up for you before it arrives at the table and normally comes what we in the US would consider "rare". Susan went with the green beans instead of fries in an attempt to be healthy after everything she had eaten all week.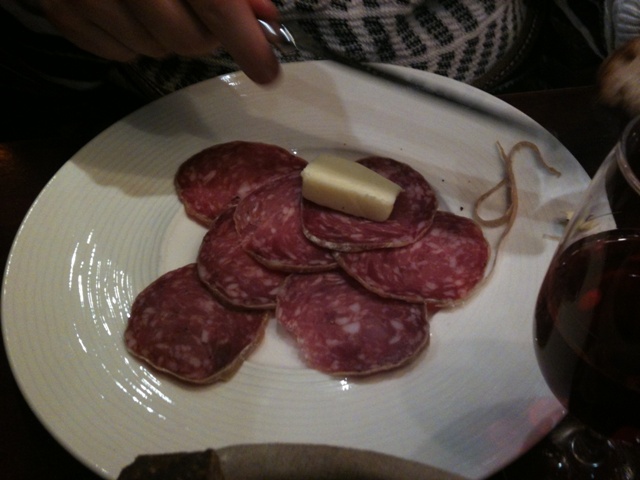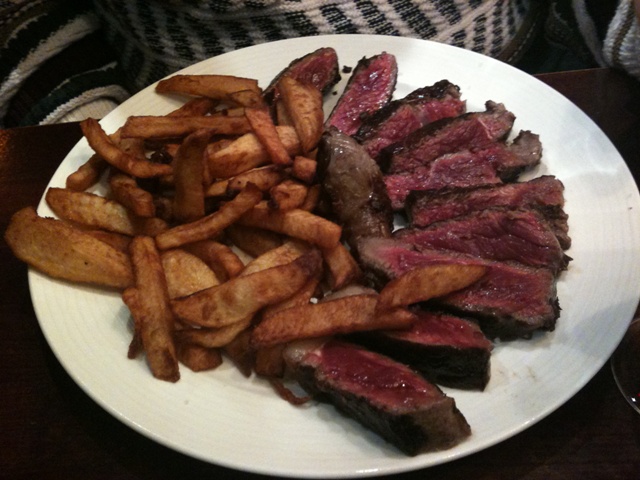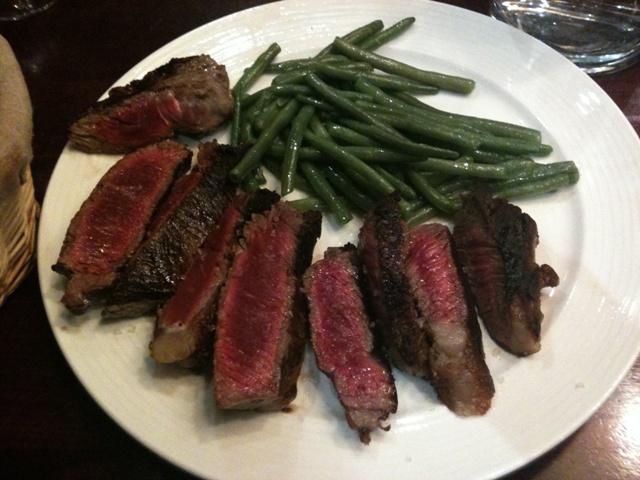 And that ended our quick week in Paris and we headed back to Shanghai the following morning.