Susan's Shanghai Blog - Week 36
Our "Spring" trip was to Seoul, South Korea. Interestingly enough, this was one of our shortest travel vacations, since Seoul is closer to Shanghai than Beijing or Hong Kong are.
South Korea (Offically the Republic of Korea), sits on the southern half of the Korean Peninsula that it shares with North Korea (Officially the Democratic People's Republic of Korea or DPRK). South Korea has almost 50 million people in 99,392 square kilometers of area. Seoul is the capital and also the largest city with just under 10 million people.
The flight from Shanghai to Seoul is about 1 hour 40 minutes or so, and once we landed, we caught the public transportation from the airport to our hotel, the Hotel Sunbee. It was on a side street of a major pedestrian road in Insadong, which is a lively little area with tons of shops and restaurants. The room was quite large for non-American standards with a big bed, a sofa and large desk area.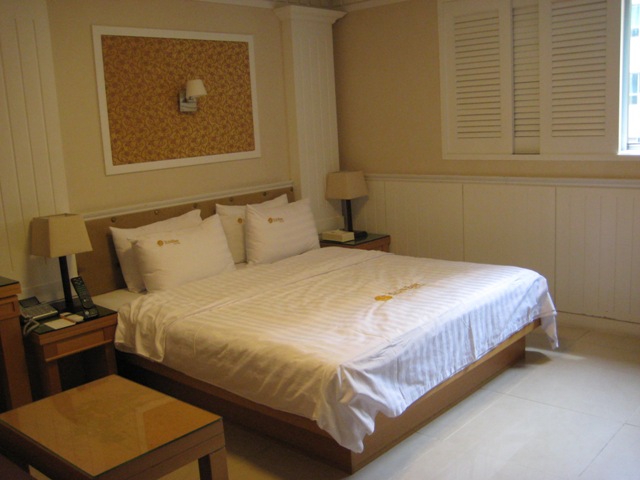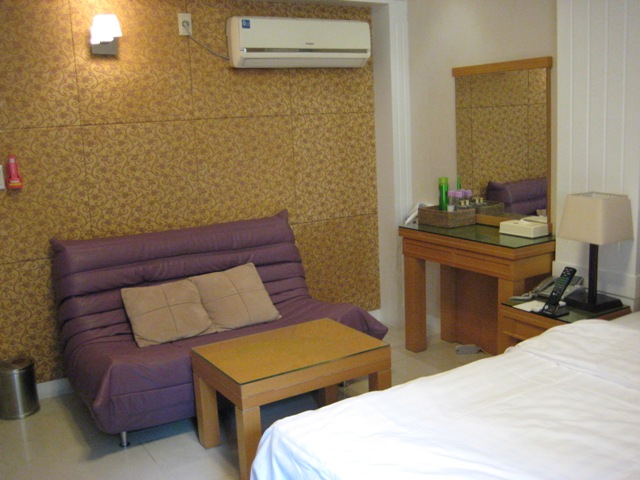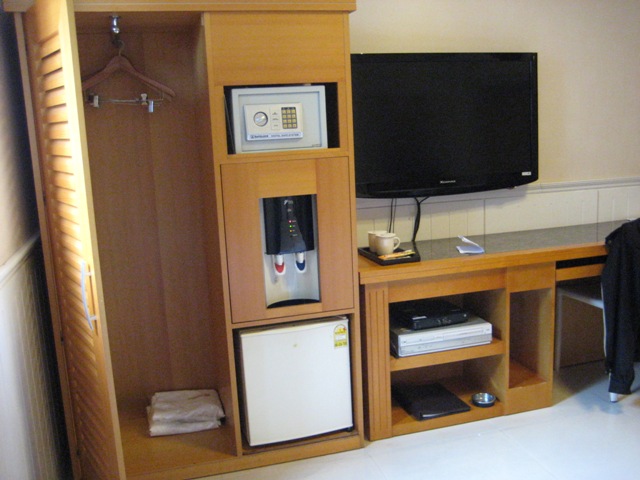 Similar to Asia, shoes aren't really worn inside and so at the door, there were two sets of slippers for us to switch to when we came into the hotel room.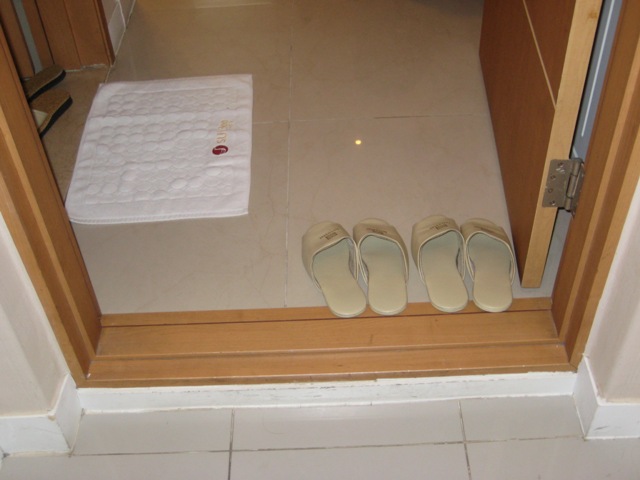 And after a long day walking around the city, it came with a large jacuzzi tub ... SWEET!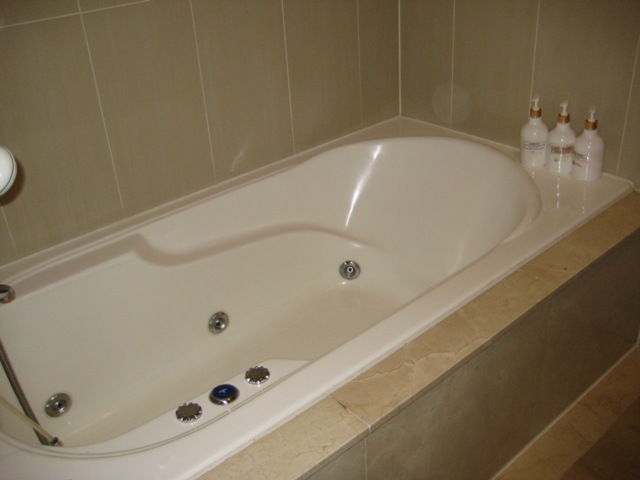 It also had a little dressing table outside of bathroom for us ladies to get ready, and it came with all a basket of "goodies" including hair mouse, hairspray, lotions, and floral waters.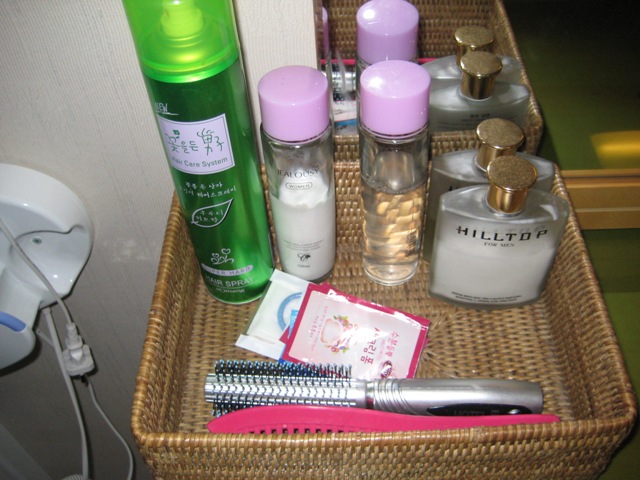 Once we got settled into the hotel it was time to find lunch. We wanted to be sure that we tried out all types of Korean cuisine and so the first cuisine that we tried was called Juk at a restaurant near our hotel called Juk 1001 Iyagi. It was a tiny little place with only about 5 or 6 tables. Juk is a traditional slow-cooked rice porridge that is mixed with a wide choice of ingredients. It comes in a bowl with all kinds of sides and condiments (or at least, that is as close as I can explain it)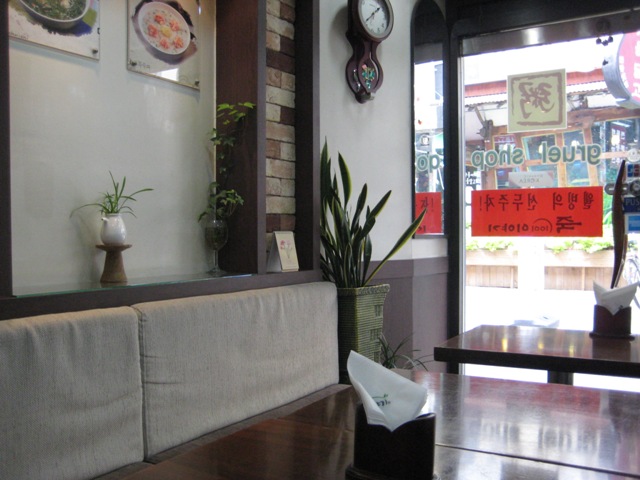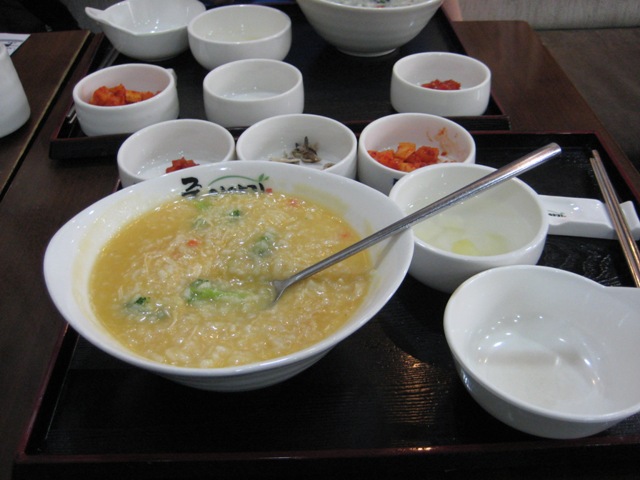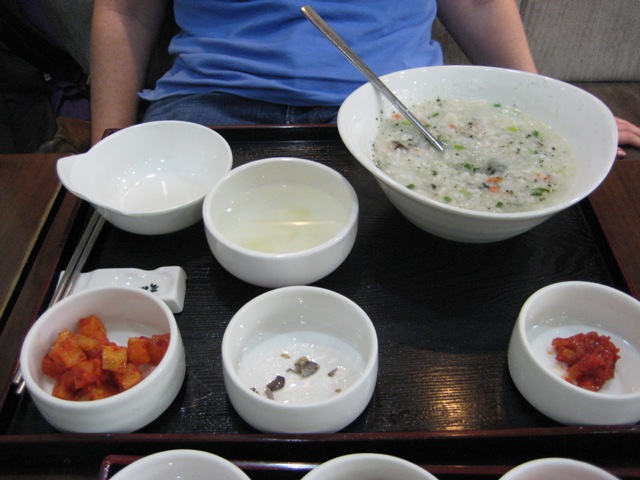 Then we headed out for our walking, first of course, in Insadong. This is the pedestrian road and you can see that there were lots of people roaming the street.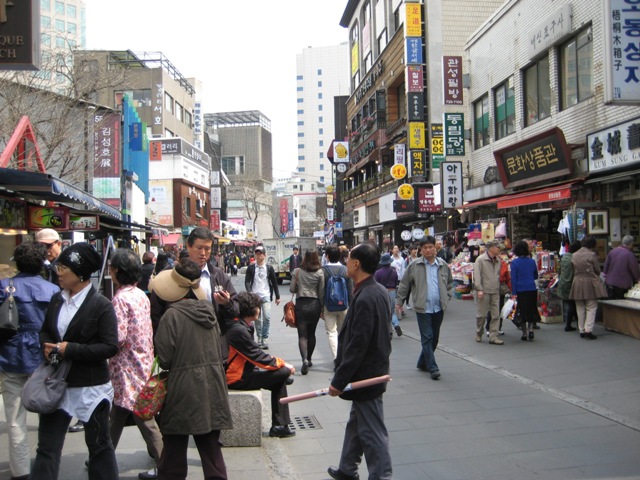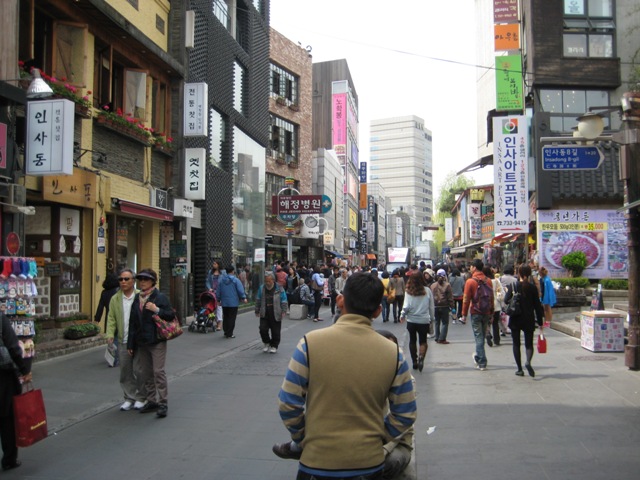 This is a closeup of some of the traditional home roofs, which are a little like the Chinese style, but not exactly.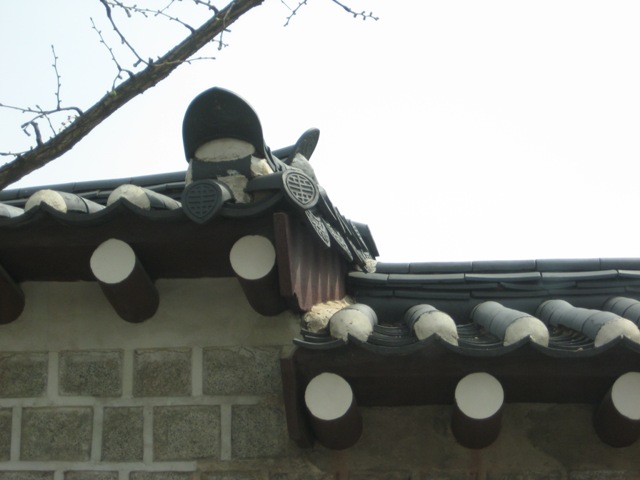 We took a bus tour to get a feeling for the city, and as we were getting ready to start, we took this picture, which goes down one of the main roads to the Gyeongbokgung Palace (which we'll cover tomorrow during a walking tour). The city is bordered by eight mountains and you can see a couple of them behind the palace.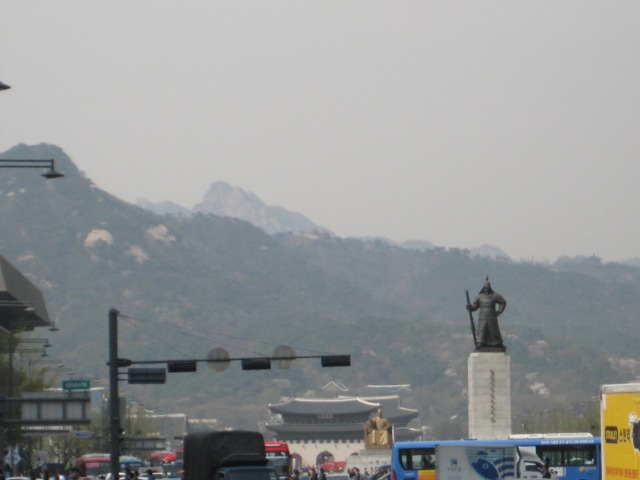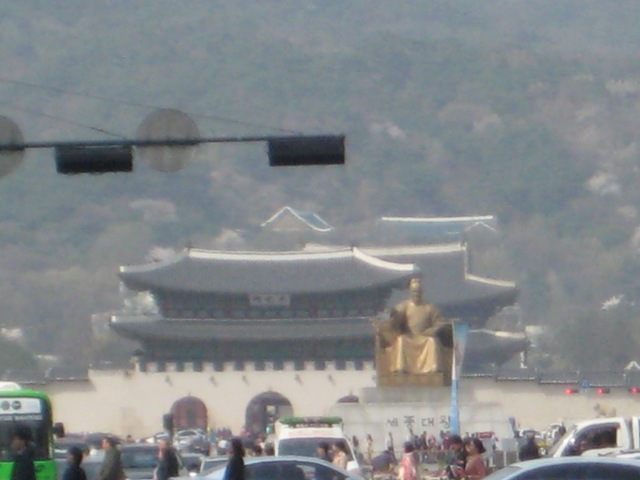 The Gwanghwamun public square contains the "zero milestone", which is where distances from Seoul to various places. For example, Paris is 8,978 km from Seoul and New York is 11,058 km.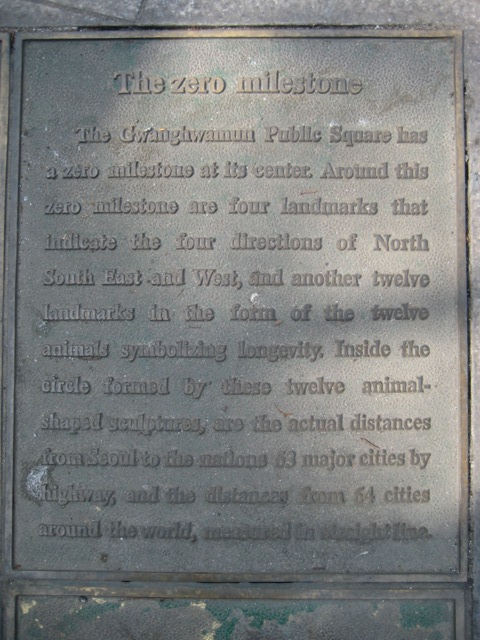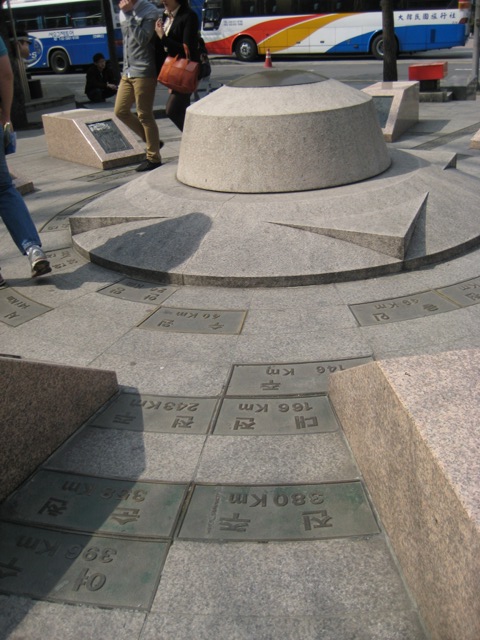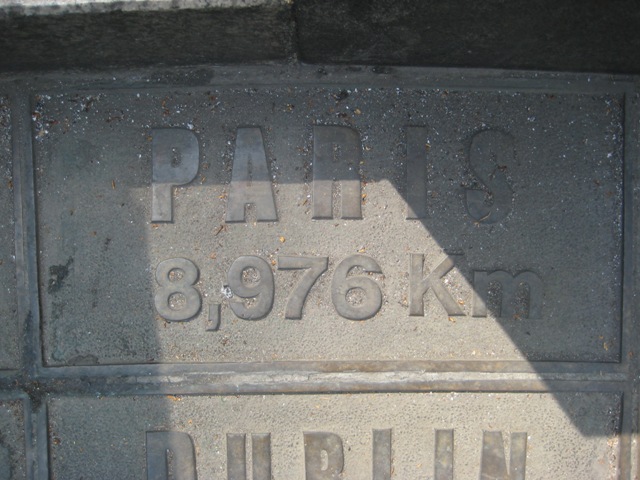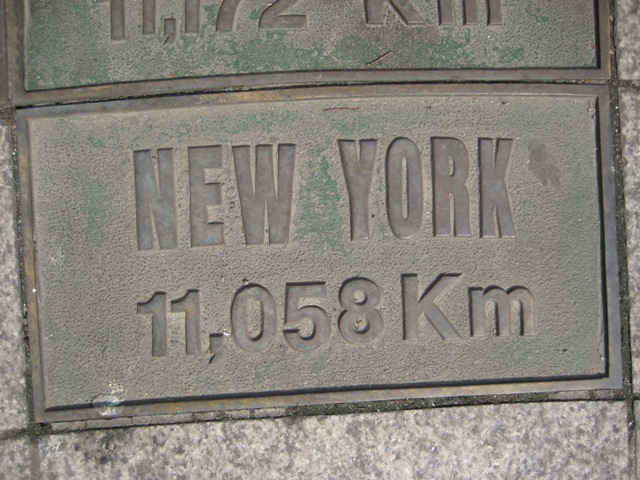 This is the War Memorial and War Museum as seen from the bus. We'll also cover this another day when we went to the museum for a couple of hours.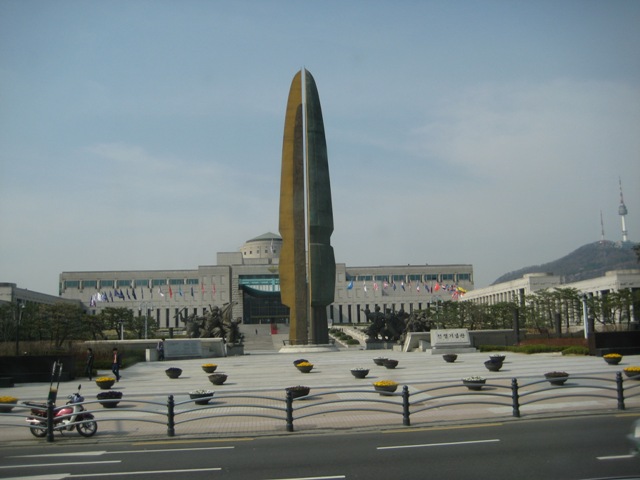 In the middle of the city, there is a tall tower (the Seoul Tower) in the middle of this big park on the Namsan Mountain. The tower was built in 1969 and was opened to the public in 1980, and is 777 feet (236.7m) tall. You can take the Namsan cable car to the top of the mountain and than walk to the tower, or take one of the various buses that go up the mountain. The tower has 4 observation decks including a rotating restaurant (1 revolution every 48 minutes).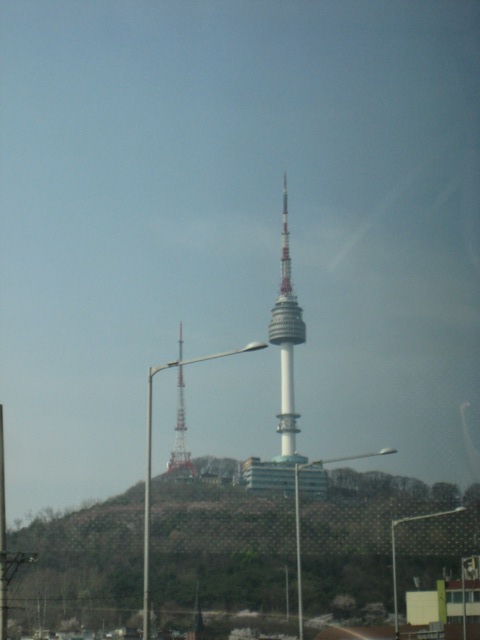 Next to the Seoul tower is this red and white tower that to me, just looked kinda like the Eiffel Tower!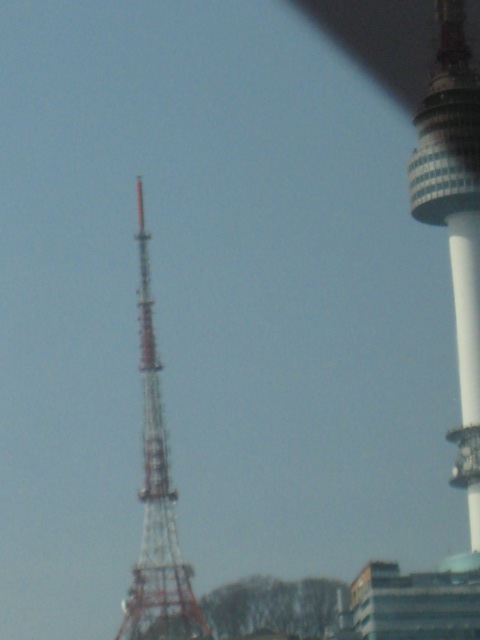 As the bus tour went around the city, we went past little neighborhoods that had a very specific focus .. like this section of town where it seemed like every store was a motorcycle store, and then then the "pet store" area.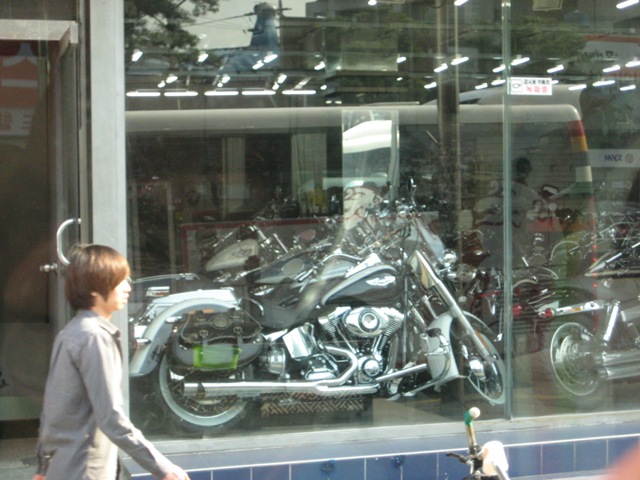 We went the right time to see the Cherry Blossoms (we think they are cherry blossoms) .. but anyway, the trees were really beautiful!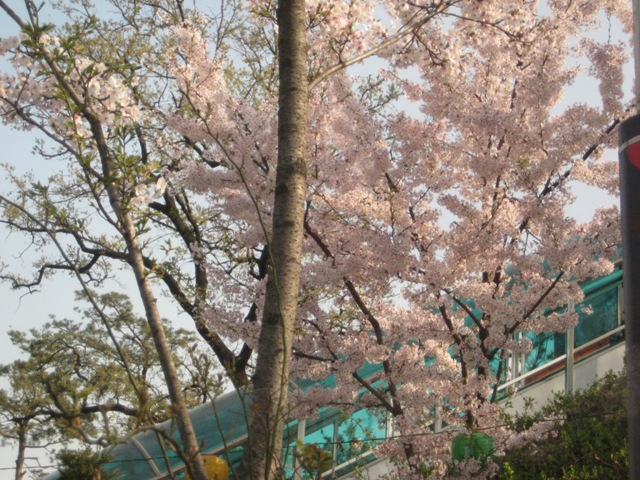 As we rode the bus winding up the mountain, we took a few pictures just trying to get a view of the city, although it was a bit difficult so they didn't come out as well as I would have liked.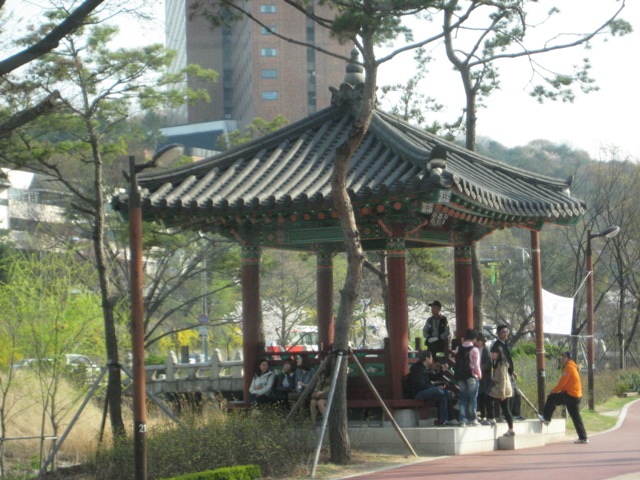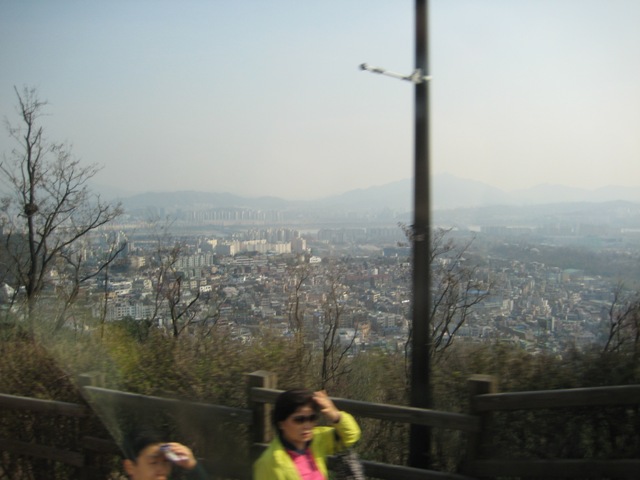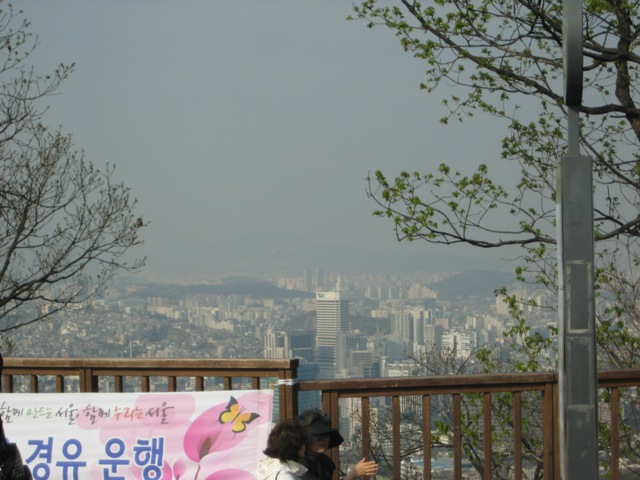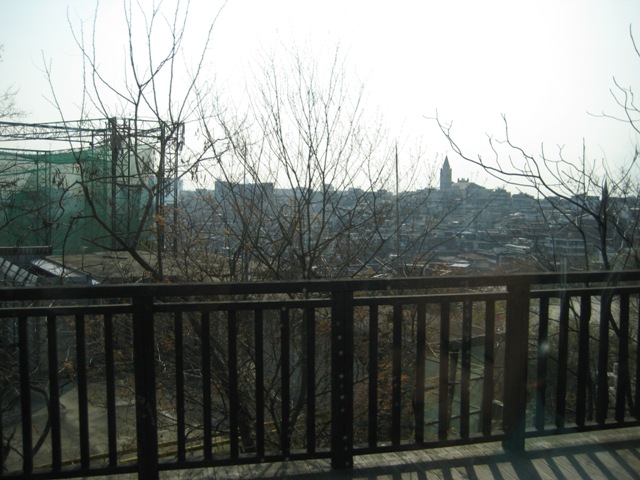 They still have a few remnants of the old city walls and city gates.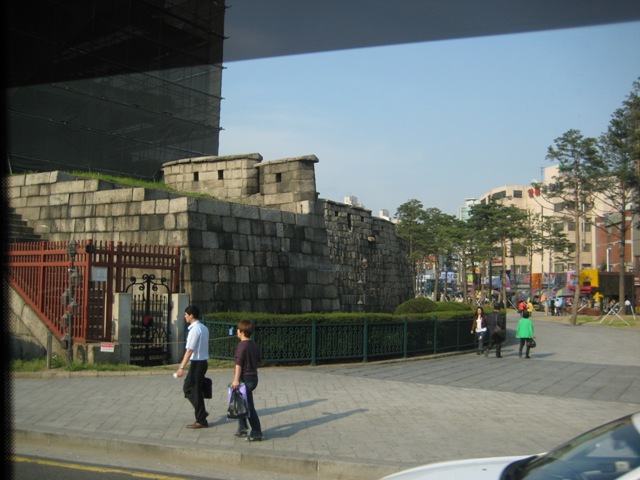 A bit of architecture on one of the palaces, very similar to what the Forbidden City in Beijing looked like, but not quite. One of the interesting things for me was that the sign on this palace is in Chinese characters and not Korean. We asked about it during one of the walking tours and they said that basically, the Korean language is a very "simple" language and Chinese is thought of as very difficult. So if you could read/speak Chinese, you were thought to be smarter. Not sure if I really believe that one ...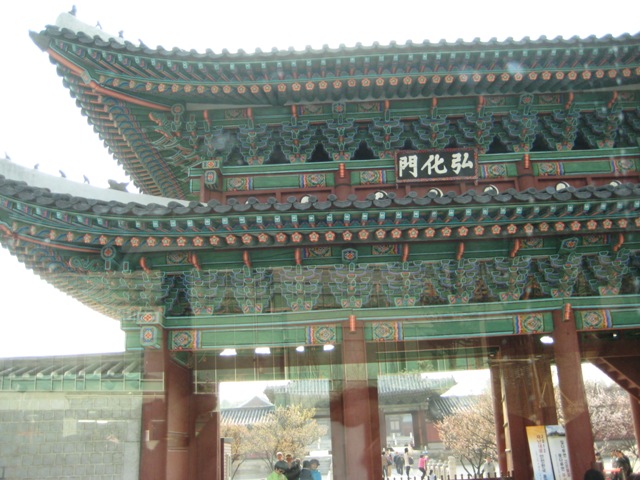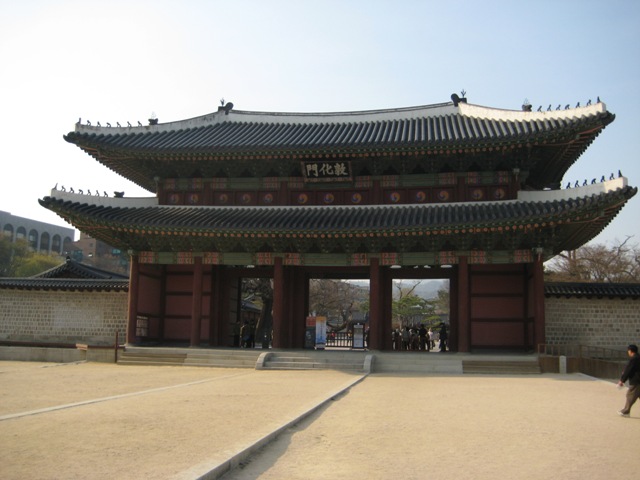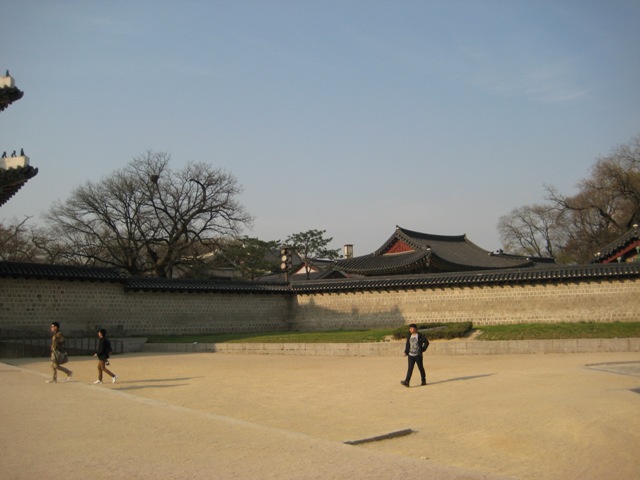 I don't remember exactly where this was, but we saw this cute statue of a bear, so we stopped to grab a picture.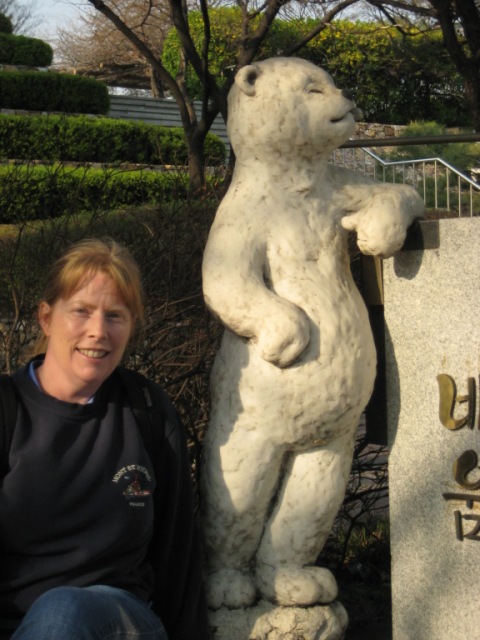 Insadong has all these little tiny roads (alleys really) where all the restaurants are. We spent a bit of time in them, since we were eating in the alleyways quite a few nights!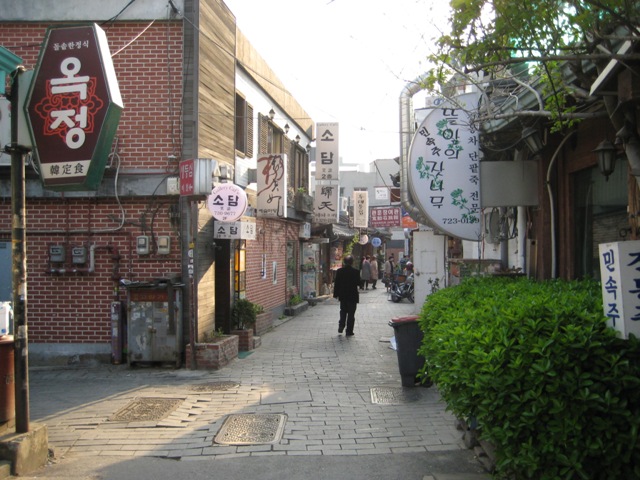 And then there is street food ... this was one that we tried that seemed to be in alot of places in the Insadong pedestrian street. The closest I can describe is that it is like a donut that has melted cinnamon in the middle. They take dough and they spook some powder in the middle, then close it up and form it into a flat donut-looking thing. Then they fry it in a little bit of oil, but not in something like a french fryer ... just a inch or so of oil, flipping in the middle. And YUM!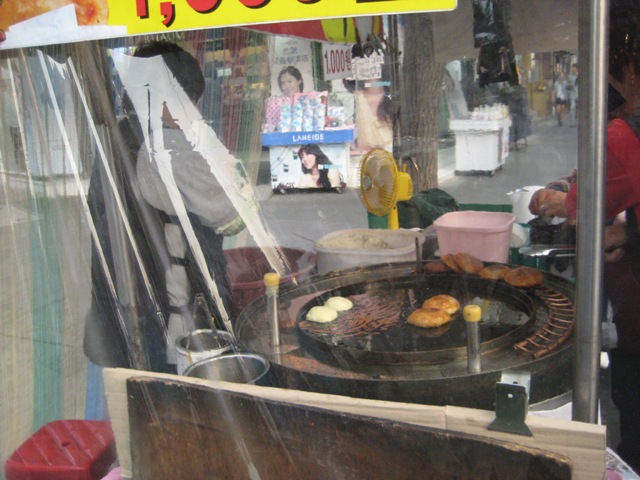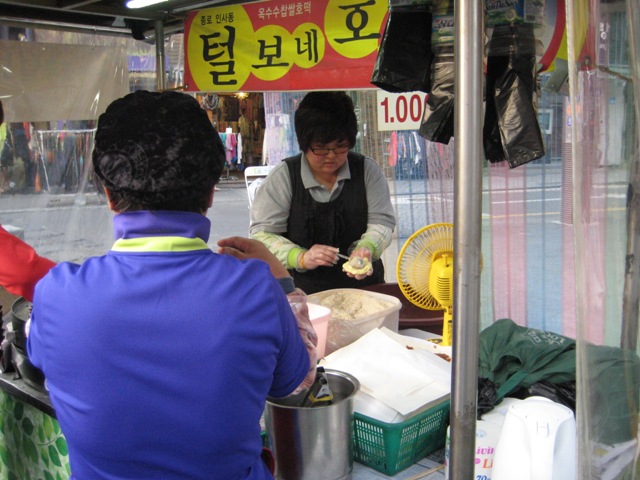 I normally would not take a picture of a Starbucks, but this one is one of the only ones I have ever seen where the Starbucks Coffee name is translated and the translated name is larger than the english name.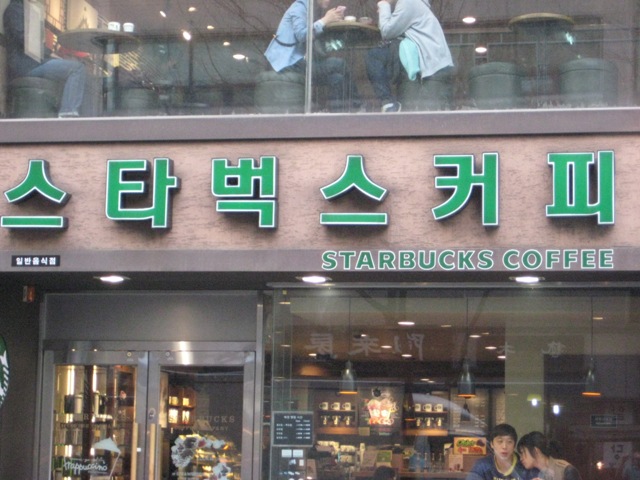 Now dinner .. we went to a bibimbap restaurant up the road from the hotel. Bibimbap is a signature Korean dish and it translates to "mixed rice". Bibimbap is a bowl of warm white rice topped with sauteed and seasoned veggies (called namul) along with chili pepper paste on the side that you can make it as spicy or mild as you want. A raw or fried egg and sliced meat (normally beef) are common additions. The ingredients are stirred together thoroughly just before eating. The traditional seating is a low table where you sit on the floor on pillows, and we were all game for the traditional seating.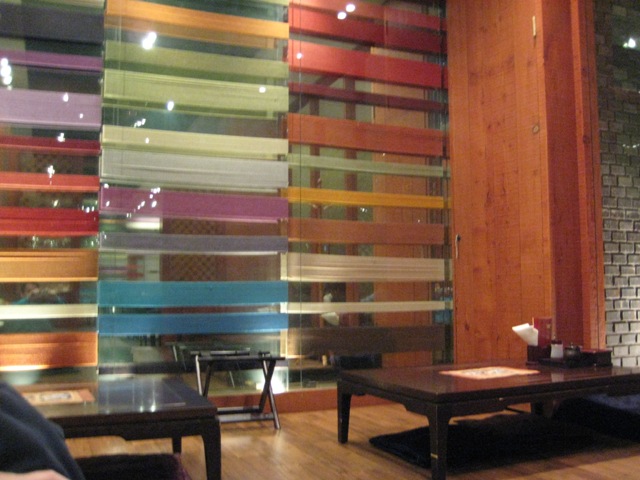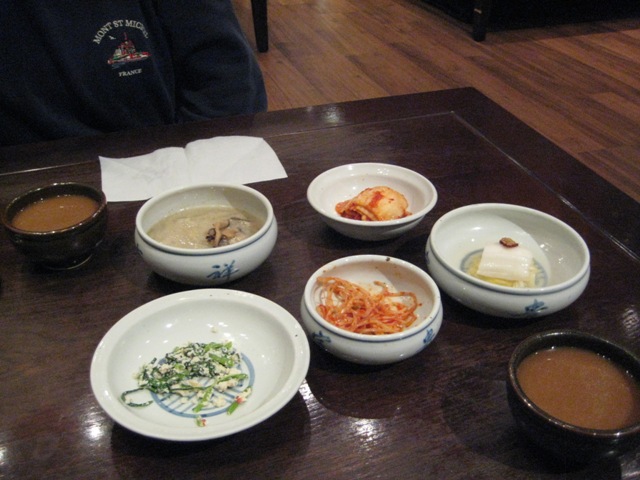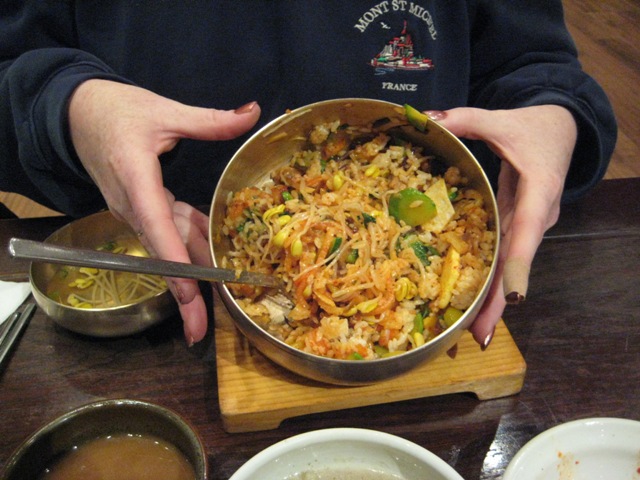 Then we grabbed coffee and headed for a good night's sleep.
Go to Day 2