Susan's Shanghai Blog - Week 40
This week, we took a week (quite a long vacation for us) and went back to Japan. We used Tokyo as a base but didn't spend very much time actually in Tokyo, except for dinners.
Day 1 didn't really have much, since it took us awhile to get to Tokyo airport, catch the train for an hour into the city and get into our hotel. Pretty much, it was a travel day with dinner.
Our first night we headed to Roppongi to a little yakitori-ya called Ganchan. I like how you have all of these new buildings and then stuck in the middle is little old-style looking place (although I guess it could be a new buildling with an old-looking facade). We did the yakitori seto which came with multiple courses of skewers, along with salad, soup, and appetizer. The restaurant itself was TINY ... with 8 seats along a counter and 1 table on the side. Each little counter seat was set with chopsticks and the necessary plate. The 2 guys working behind the counter would make each of the yakitori skewers and then set it up onthe counter for us to pull down.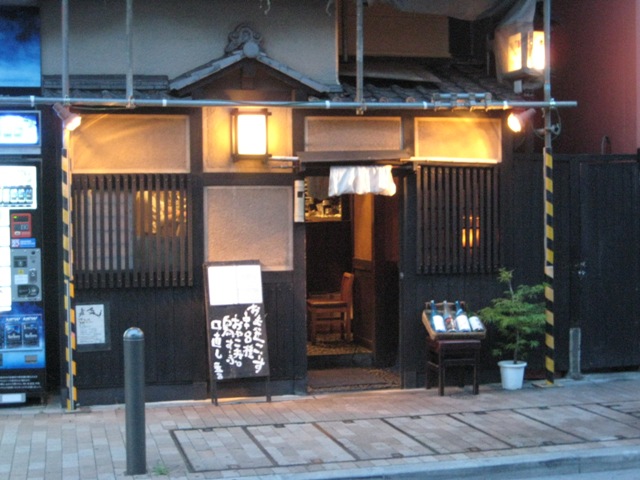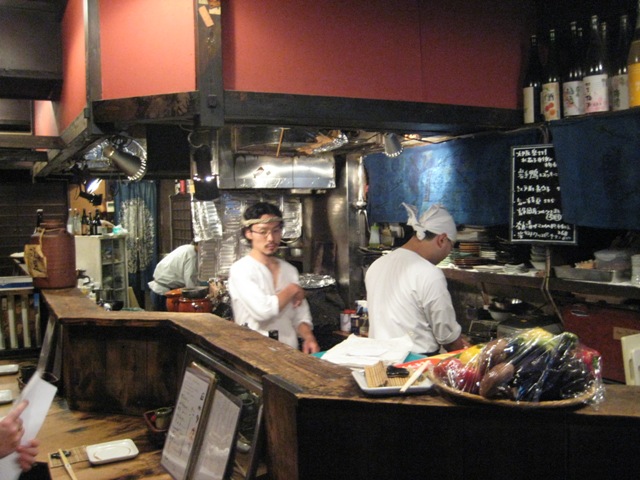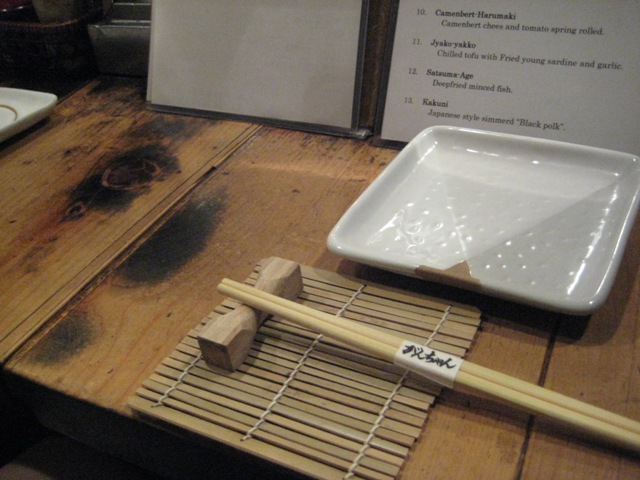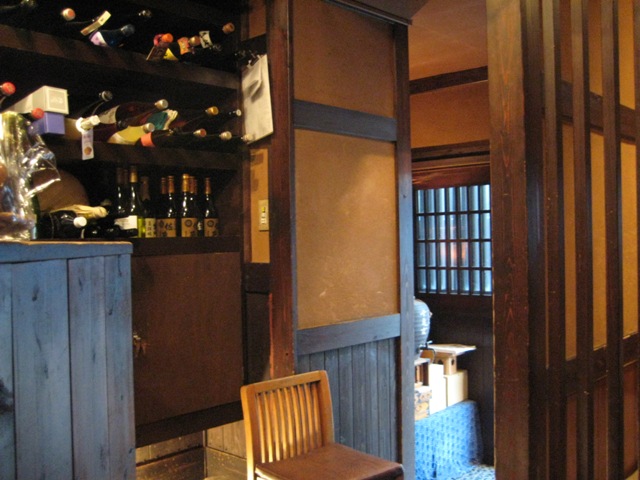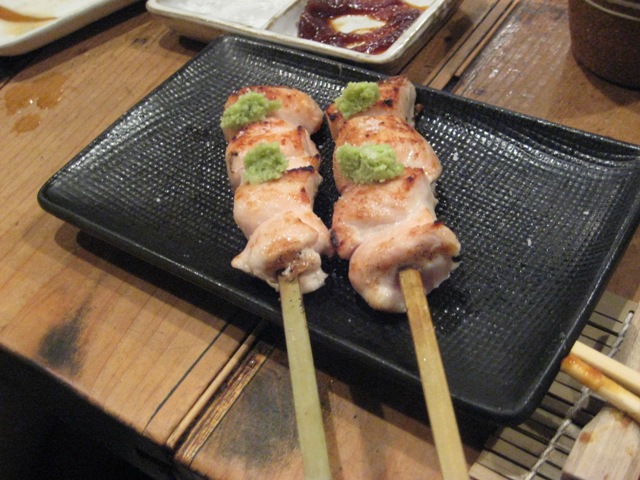 Day 2 was set aside for the first of 2 rounds of golf. We took the Shikensen bullet train early that morning towards Nagano, getting off at the small resort town of Karuizawa. We took the Asama 511 train (the 2nd one on the sign) leaving Tokyo Station at 9:20am. It is only about an hour up to the Japanese Alps via the bullet train.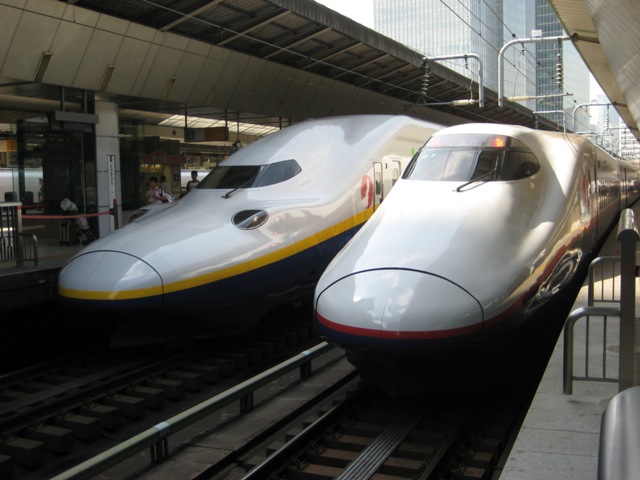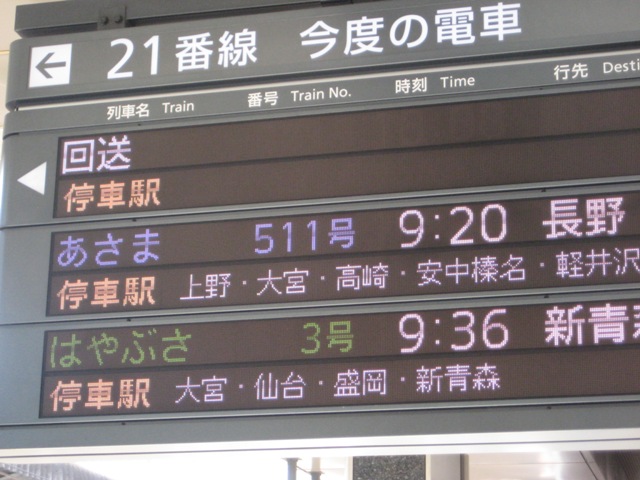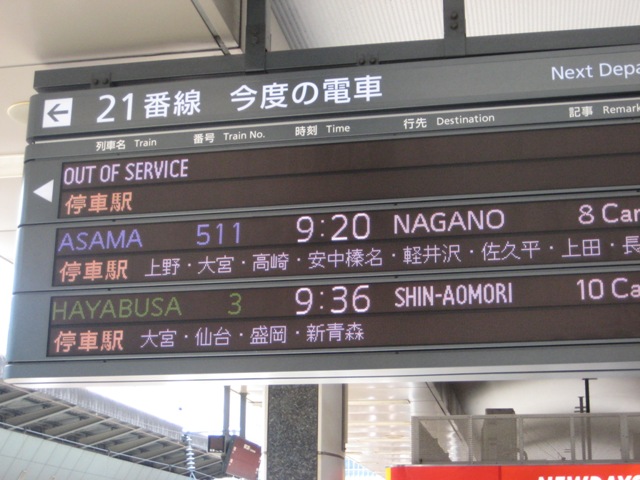 These next pictures are just random pictures that I took from the train, showing the smaller towns and the mountains outside of Tokyo.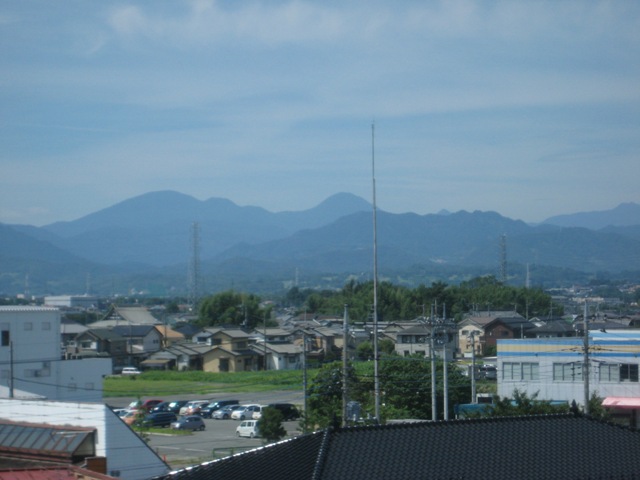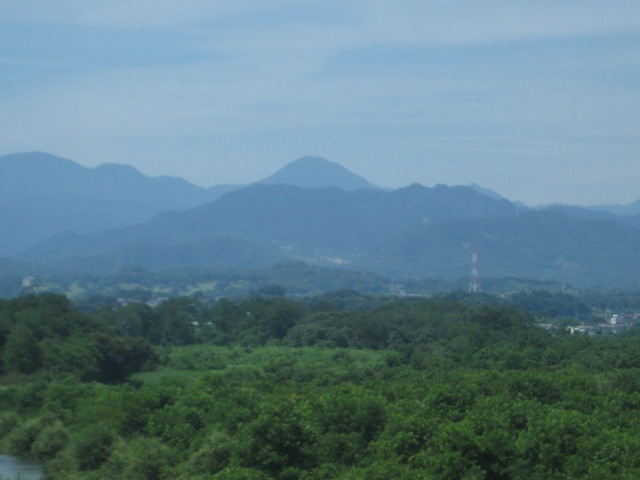 We took a taxi to the hotel but it was too early to check in (which we had anticipated) so we grabbed the things we needed for our round of golf and left the rest at the hotel. The golf courses are down the street from our hotel and we rented bicycles to get around town with. About 15 minutes later, we were all checked in! We grabbed lunch and then headed out to the carts. The carts were pretty intersting, as they were 4-person carts, which we don't see much of in the US. We were using rental clubs since it was going to be just too much hassle to drag our clubs from China to Japan and through Tokyo and up to the Alps on trains. Since it was only 2 rounds, renting seemed the best option.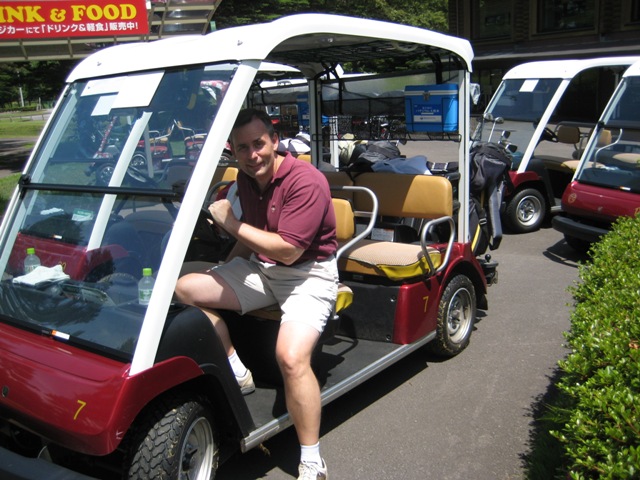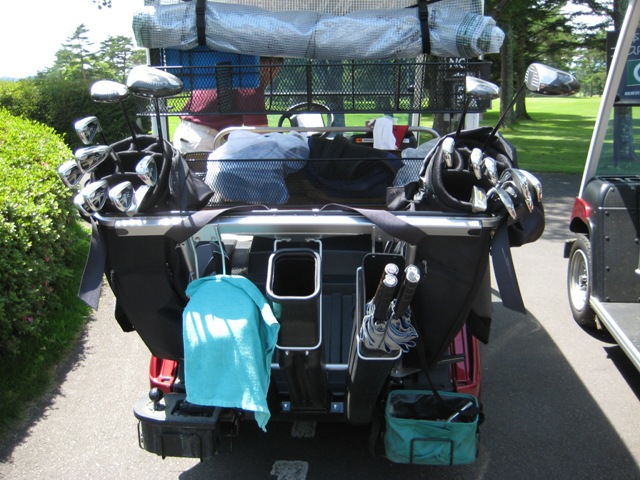 The course was really nice, and it was very sunny and hot. It weaved through trees and you could see the mountains (the Japanese Alps) in the background.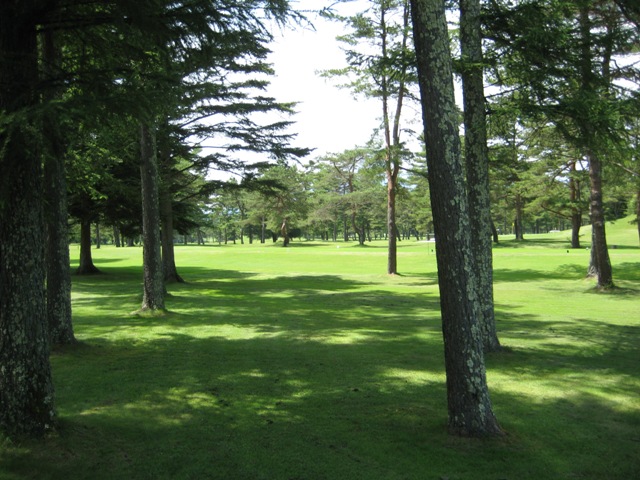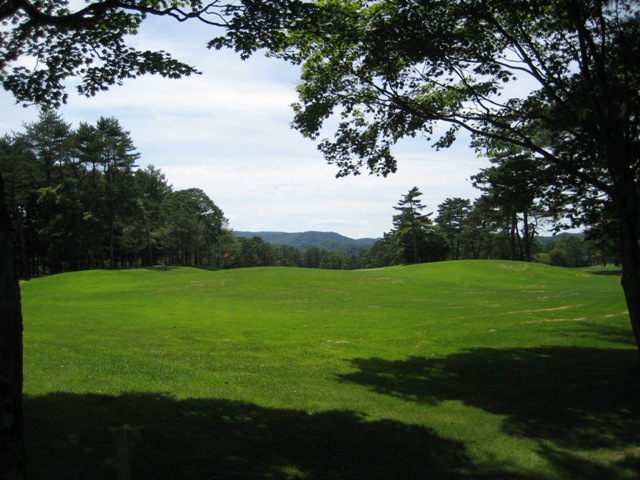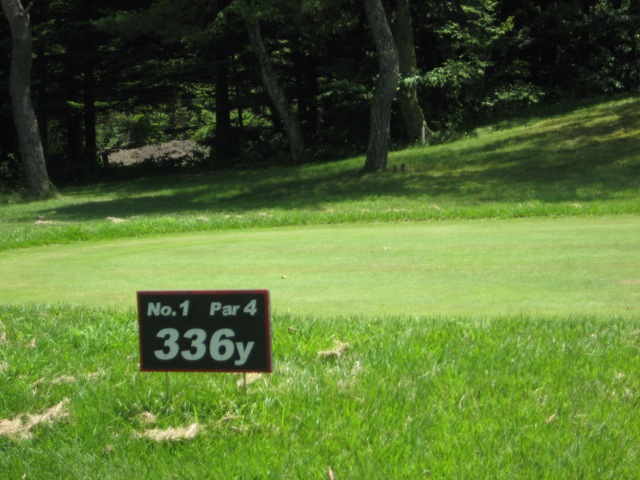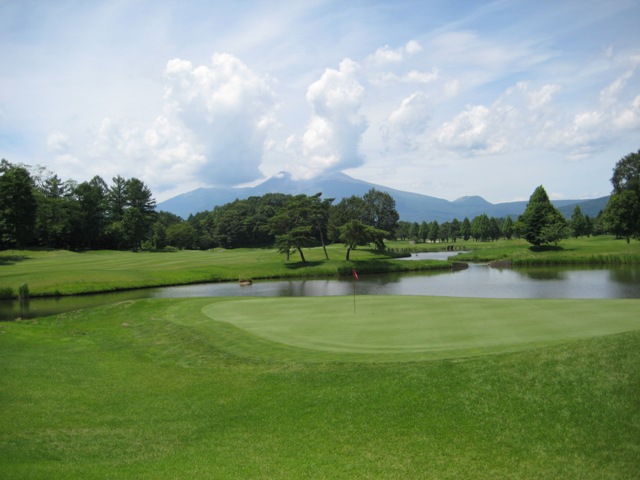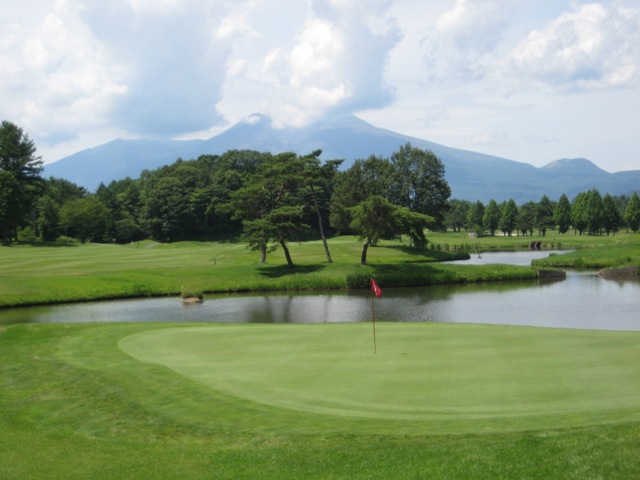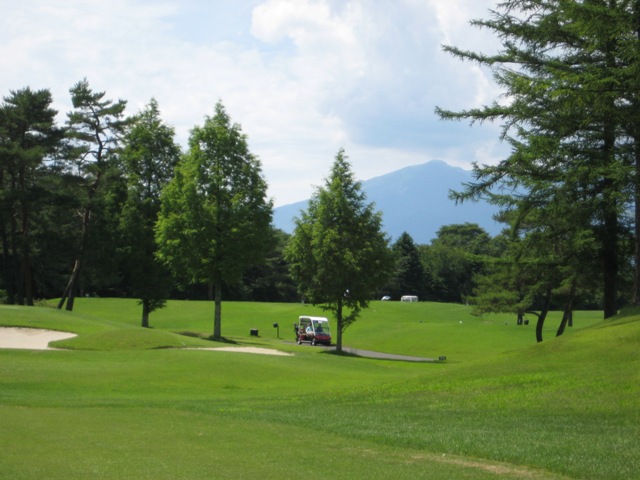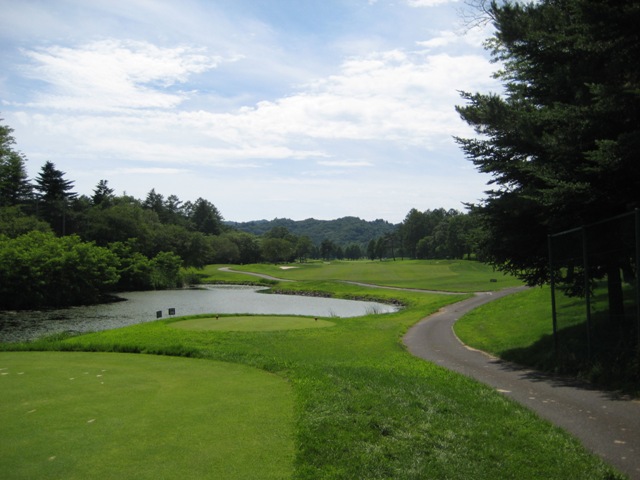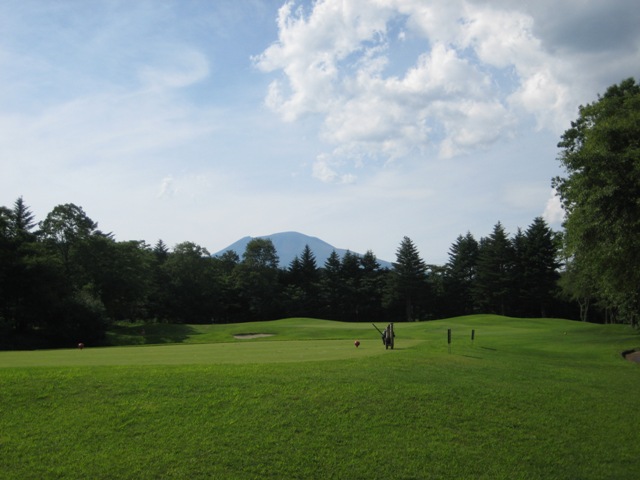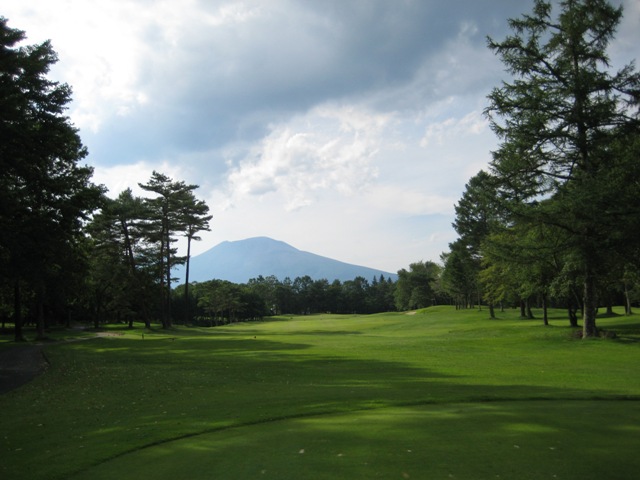 Every once in awhile, we come across this sign ... no clue though ... hopefully it isn't saying anything like "be on the lookout for killer animals!".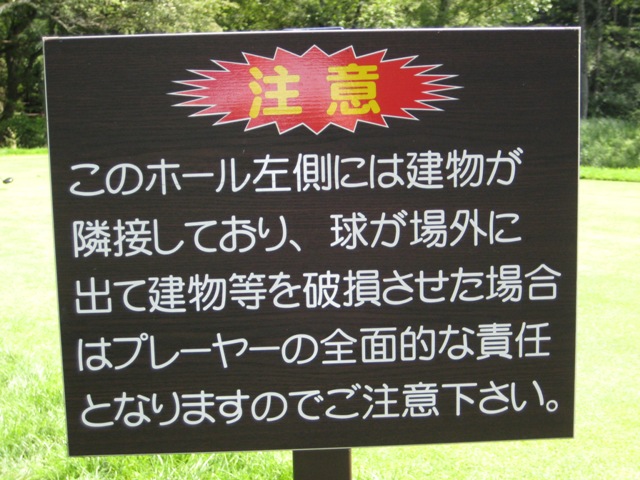 For dinner, we again took our bikes and rode into the downtown area. Interstingly enough, the travel books talks about how there will be "hoards" of tourists in July but the town was relatively empty. We even had a bit of a problem finding restaurants there and finally ended up at a little Japanese Curry place near the train station. Although we were (again) alone in the restaurant, the food was really good ... we have found that we really do like Japanese Curry since moving to Asia .. not something we really find much at home. We also found out that 8pm is when the restaurants CLOSE in the town, as we left the restaurant and couldn't get coffee since the coffee place next door had just closed.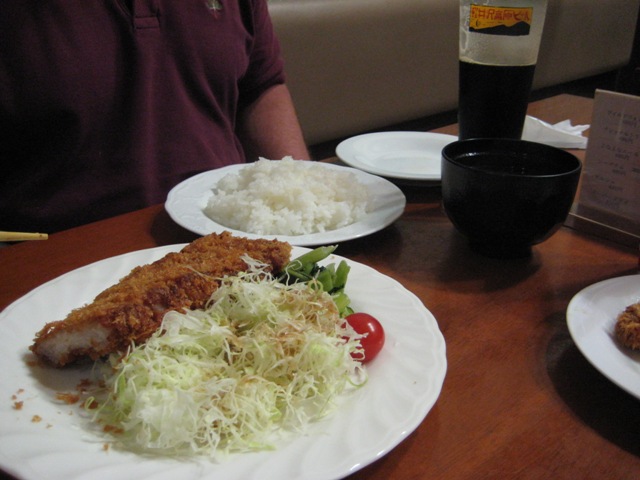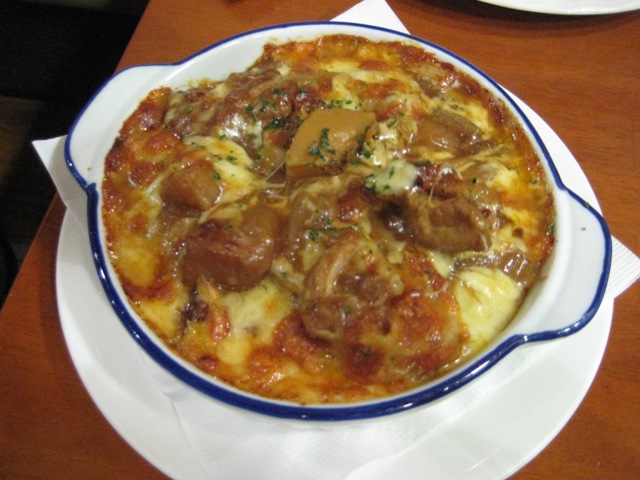 Day 3 was our 2nd round of golf. This was at another course in the same group, and is one that the Ladies professional tour plays an event at each year. We again too our bikes and we found that it was a problem! The day started out very cold and we were not prepared for cold weather, having only shorts. Being on bikes made it even colder, and we found that it was a bit further away than we though .. we kept wondering if we were ever going to reach the course. We finally did, got checked in, and introduced to our caddy for the day (she didn't speak english, we didn't do japanese). The first thing that was unique were the carts .. they were self-driving carts. You'll see (through the fog) the 2 tire tracks .. those are what the carts ride on, and the caddy can drive the cart forward via remote control .. kinda cool! We played the first 9 through a little bit of fog, and at the turn, basically you have lunch. We were given a 12:12 2nd 9 tee time and pointed upstairs towards the restaurant.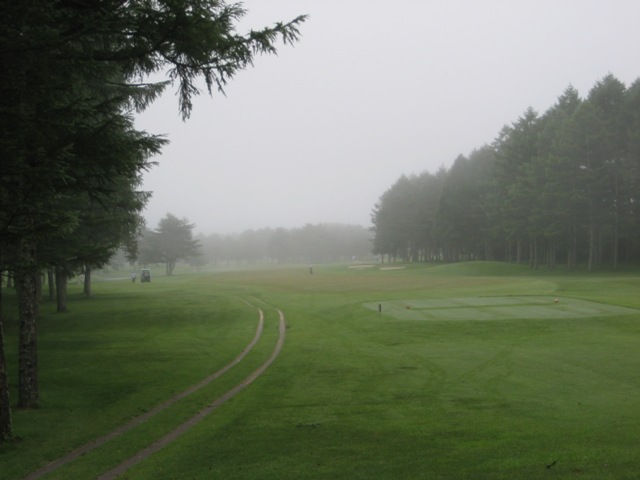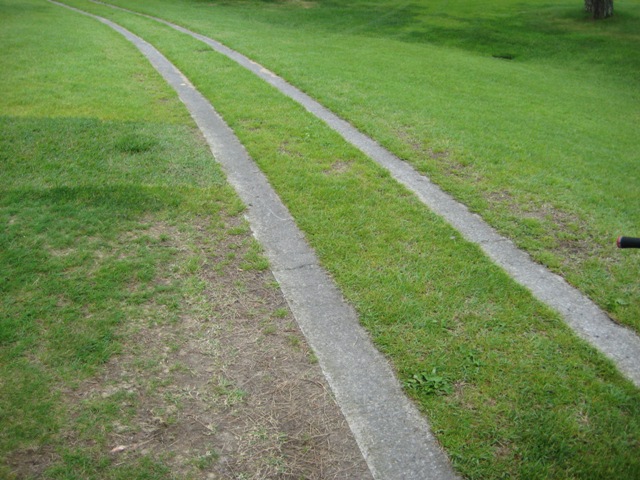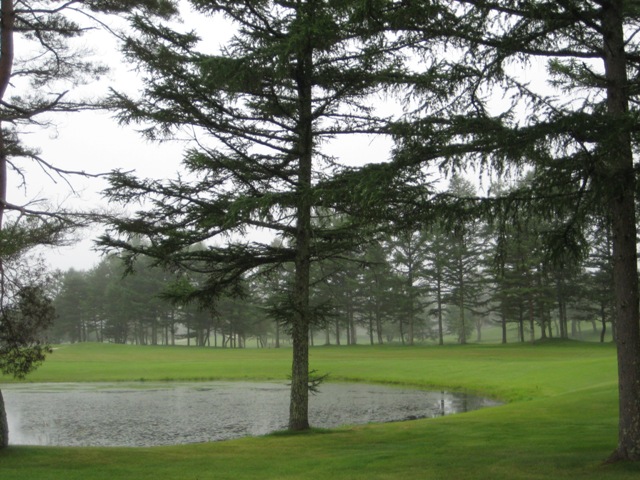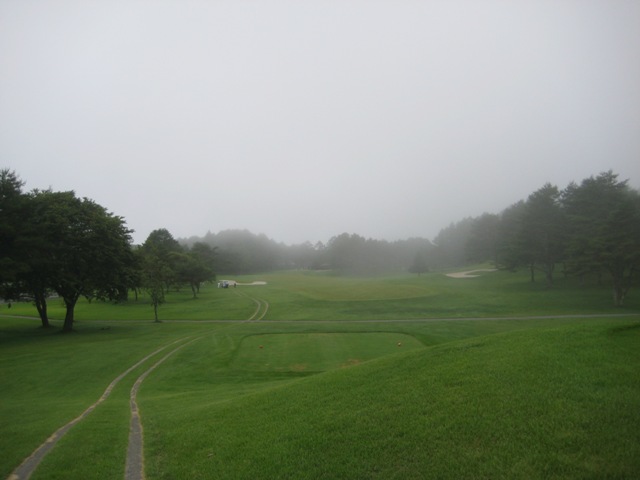 The restaurant was just one big room and nice enough. Looking around, it looked like most of the time, you ate with your 4-some. Lots of windows, which was nice, overlooking the course. While we were eating lunch, it started to rain and then it absolutely poured! You couldn't see more than a foot out the windows for the rain coming down. We then headed back out to pick up our back 9 in a light rain.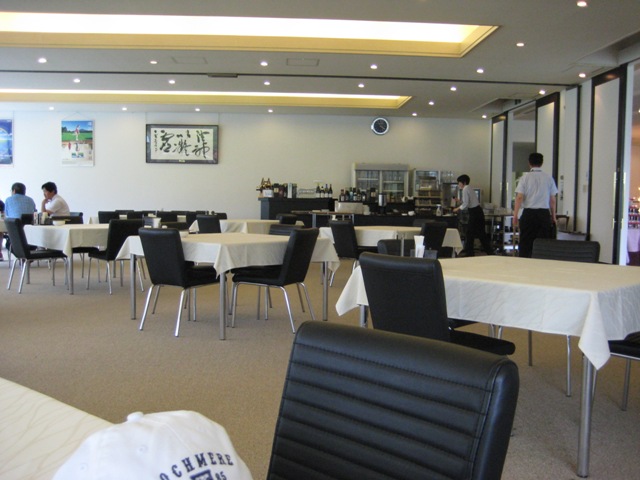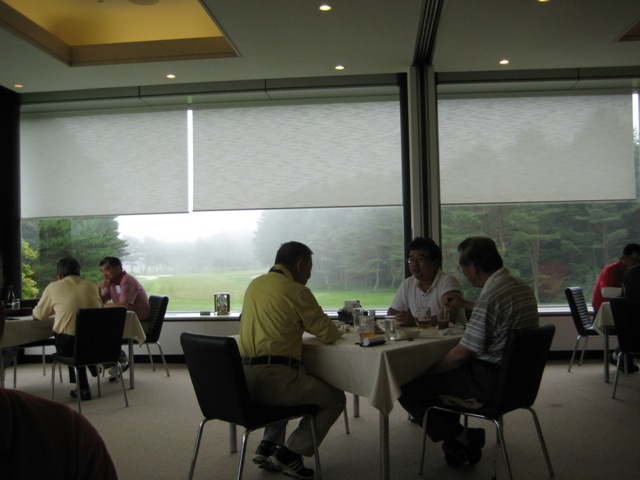 By the time we teed off, the clouds had landed and you literally couldn't see the fairway in front of you. The caddy had a radio and was communicating (we assume) with the caddy in the group in front of us to find out where they were so she could tell us when it was safe to hit. It was basically unplayable, since you hit your white golf ball into a white blanket and so while you have an idea where it was going, you really have no clue. I had one par 3 that I hit the ball what I thought was really nice and perfectly straight, but we never found the ball. We looked short and long of the green as well as right and left. No idea. I keep thinking that it was SO good that it hit the flagstick but then it could have bounced anywhere, and it was lost. When we finished, we packed back up and rode our bikes back to the hotel.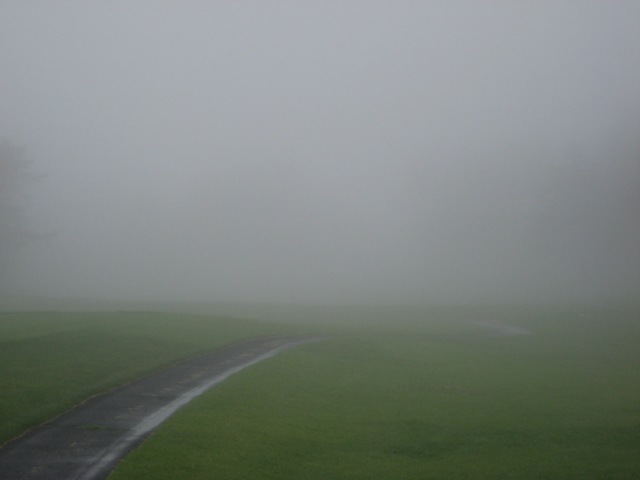 It had turned a bit chilly and we really hadn't packed for cold weather, so we decided to catch a taxi into the center of the town so that we could walk around and look at things. We walked up the Ginza shopping street, which is a nice pedestrian area with lots of shops and restaurants. We took a side road to find St Paul's Catholic Church, which is a quaint wooden church built in 1935.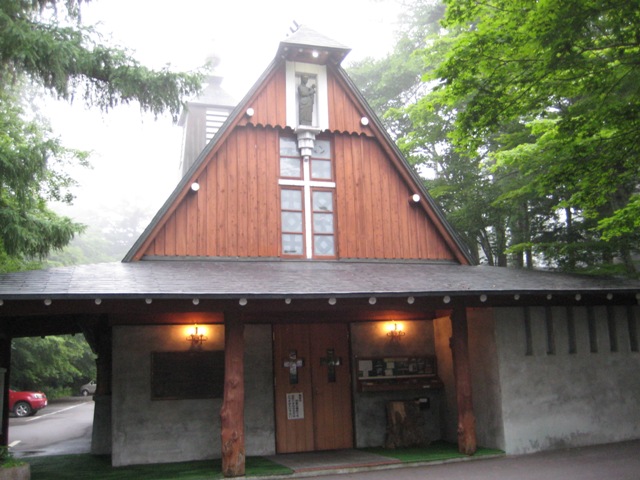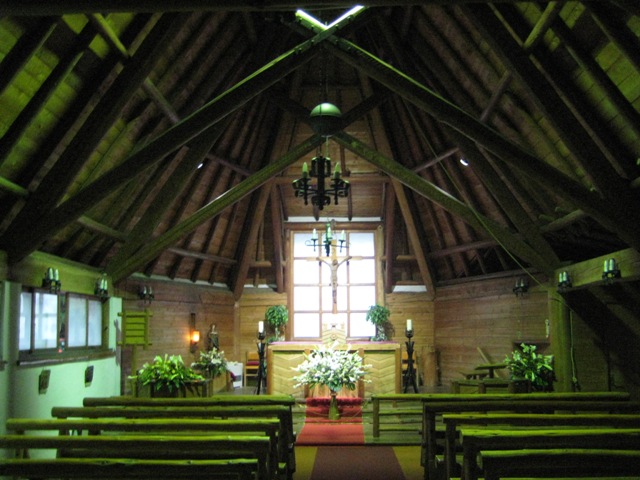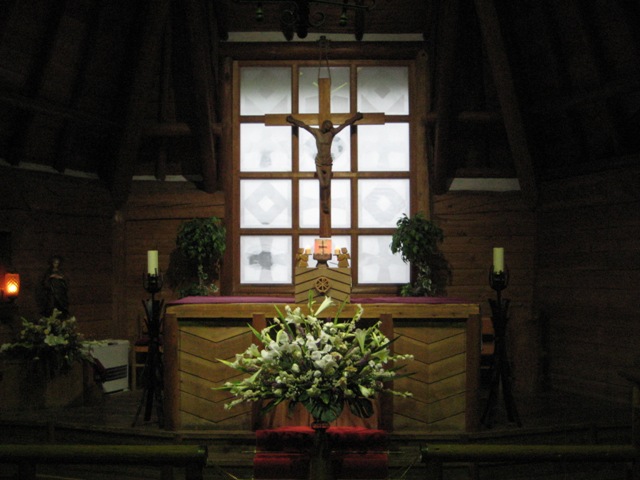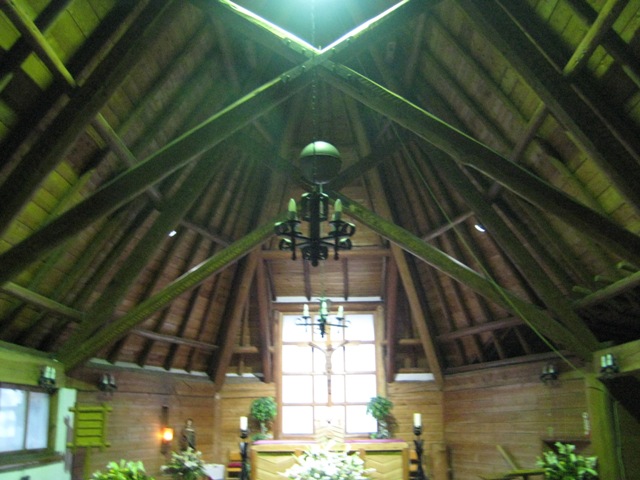 Dinner was ramen at another small little place near the train station.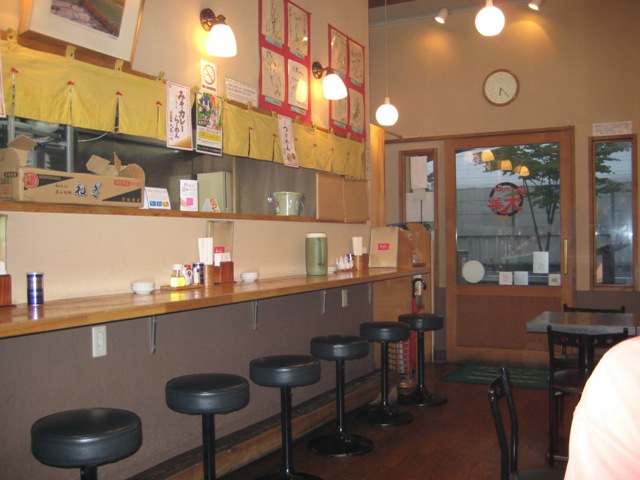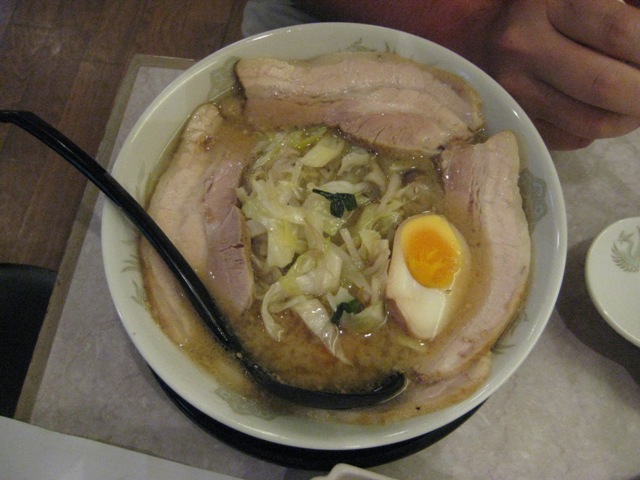 Day 4, we took the train back to Tokyo. We decided to try one of the little restaurants that we had seen last time we were in Tokyo that were literally under the train tracks near Ginza. The train tracks are elevated and below them are a lot of little tiny restaurants. We decided on Sushi for lunch. We sat at the counter and got a birds-eye view of the sushi making in action.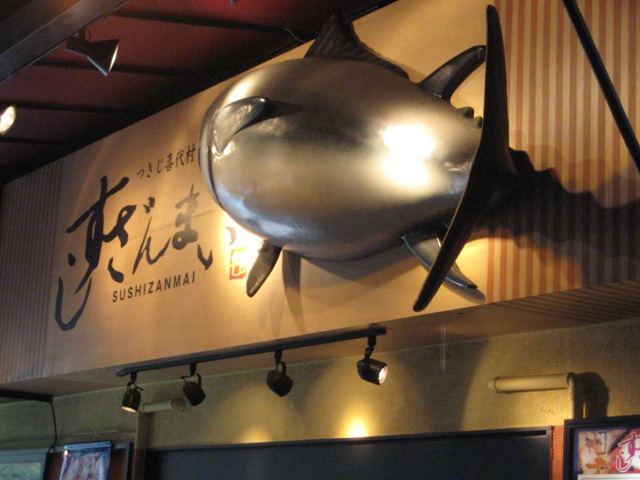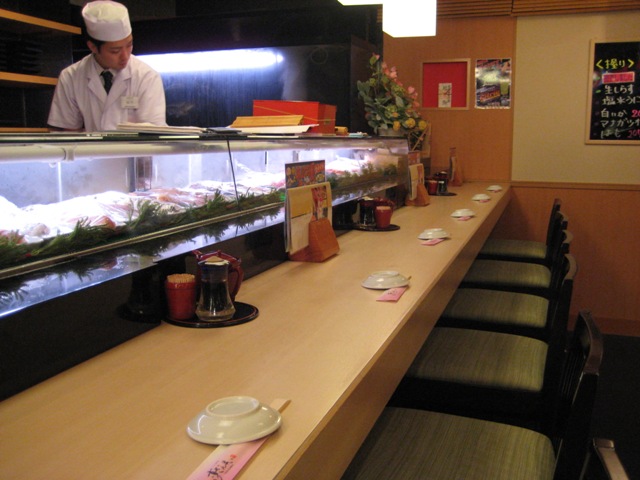 It would start with him putting down this black stone platter that then the sushi got put on as he made each piece.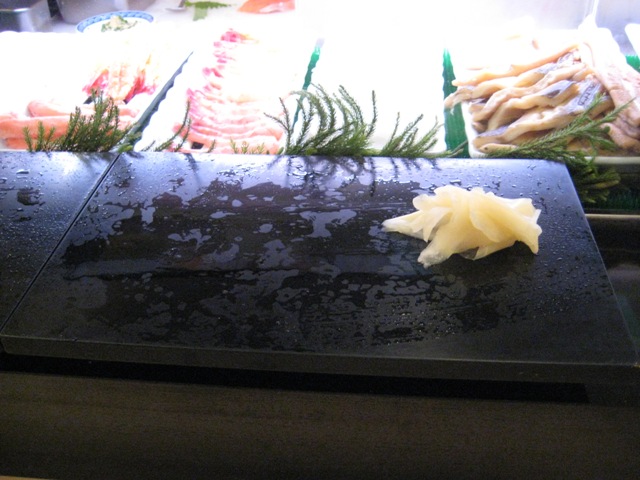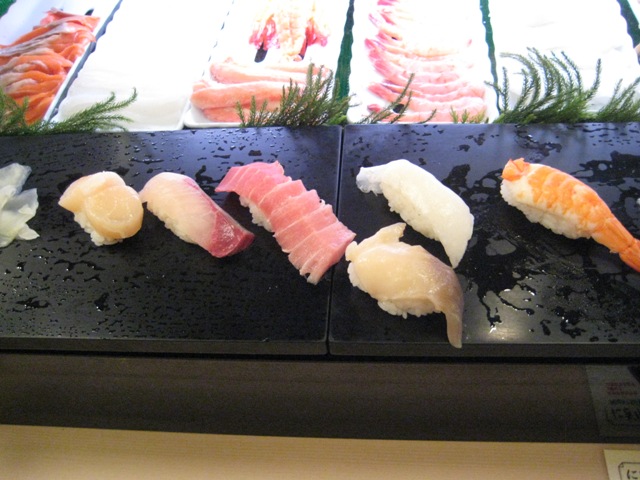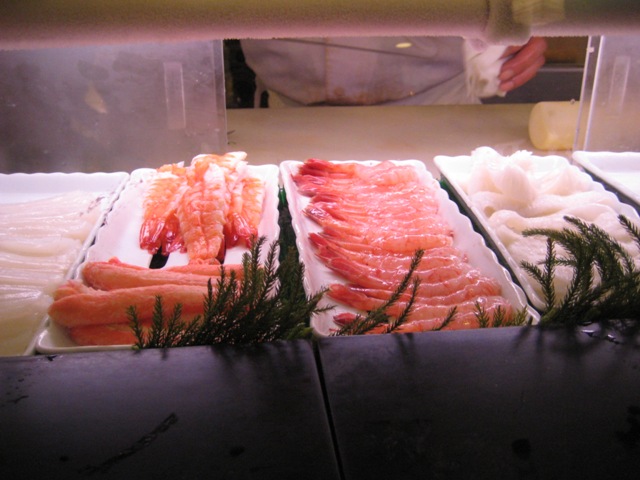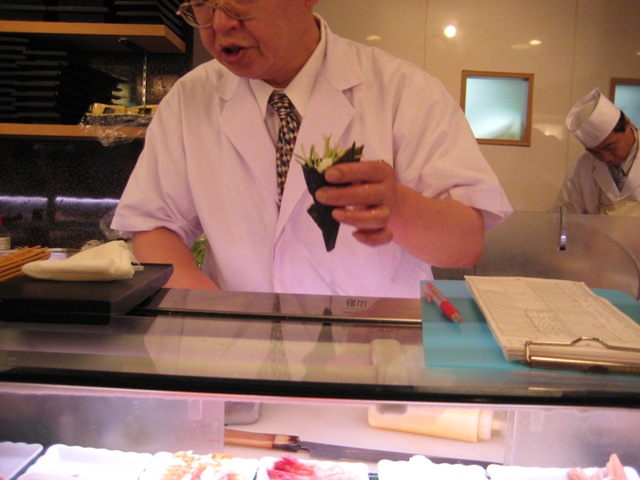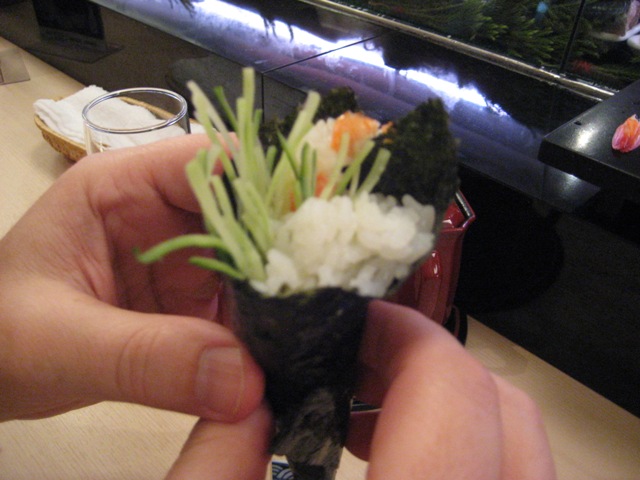 Next up was the Sumo National Stadium, or Ryoguku Kokugikan. It is right next to the Edo-Tokyo Museum (which we visited last trip) and is easy to spot with it's green roof. While there wasn't a sumo tournament in Tokyo at the time we were there, we did go through the Sumo museum. It was very small but was quite interesting. Sumo wrestlers live together in a "stable", and here they eat, train, and live. There were pictures of the various training that they go through on a daily basis. It also showed pictures of every sumo wrestler to have reached the top rank of yokozuna and ceremonial aprons or kesho-mawashi.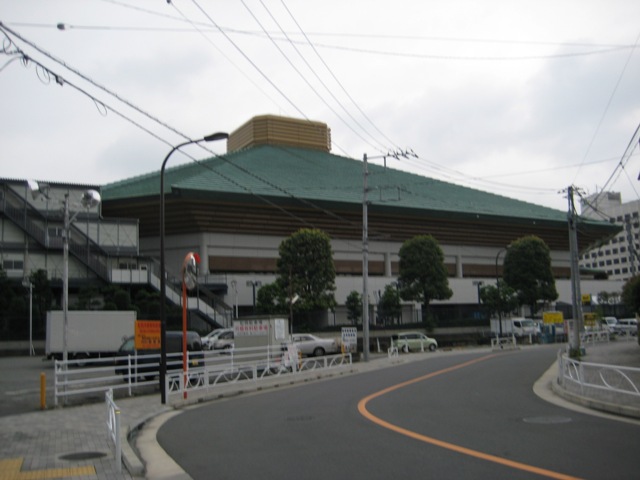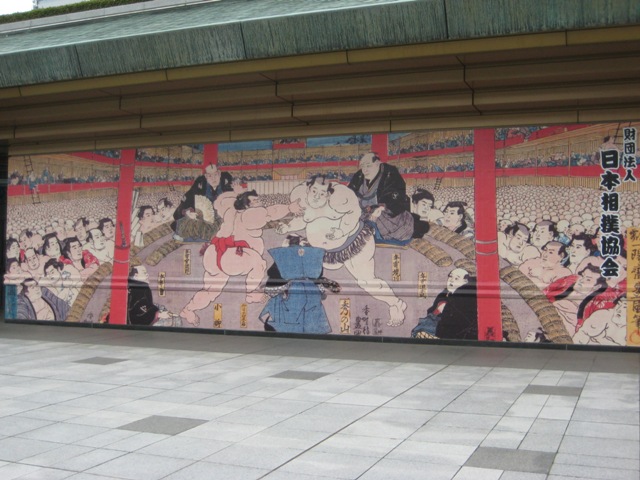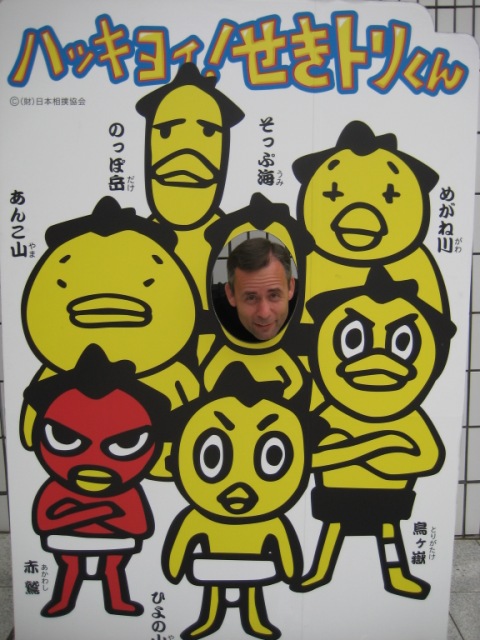 For those of you who don't sumo ... supposedly sumo dates back 1500 years and supposedly the origins of sumo are religious. The first sumo matches were a form of ritual dedicated to the gods with prays for a bountiful harvest. Therea re 5 different levels or rankings in sumo: Maegashira, Komusubi, Sekiwake, Ozeki, and Yokozuna. During the tournament, it starts with the lower rankings and culminate with the matches between the Yokozuna's. It is very difficult to get to Yokozuna and there have only been 69 Yokozuna's in the last 300 years. You can only get promoted from Ozeki to Yokozuna after winning two consecutive tournaments as well as having consistent performances. It is not an automatic level but the Sumo Kyokai must appoint or promote you to Yokozuna. Once you make Yokozuna, you can never be demoted but if you start performing poorly, you are expected to retire. Today there are 6 Grand Tournaments per year, 3 of them in Tokyo.
Then we headed back, walking through a nice garden in the middle of the city where we stopped to take a few pictures.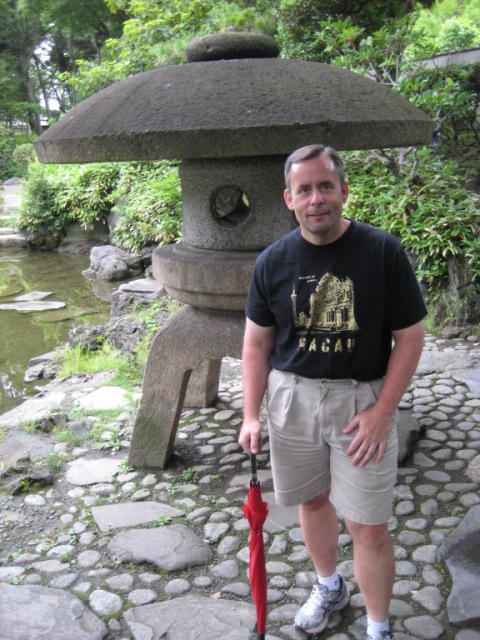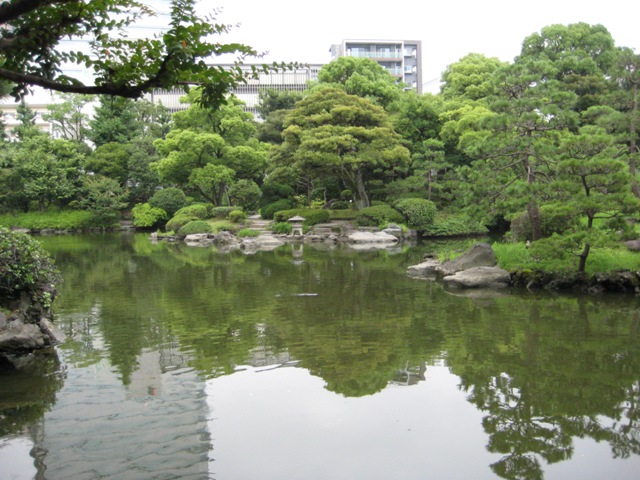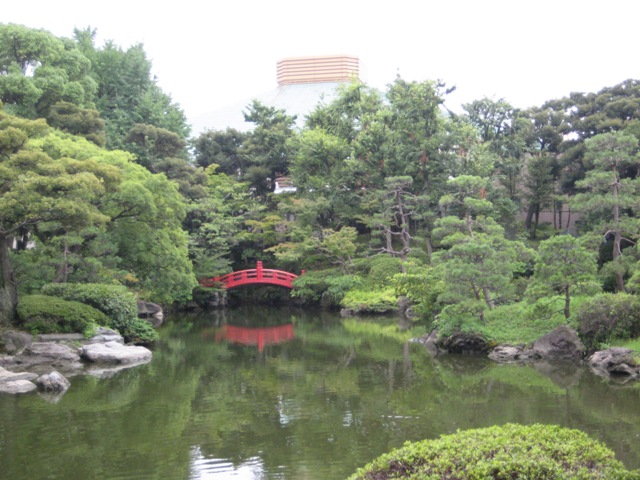 We'll finish our trip to Tokyo in Week 41.