Susan's Shanghai Blog - Week 56
For Thanksgiving, we went to Hangzhou. While it isn't a holiday in China, it tends to be an "easy" timeframe for meetings for both of us since the US is off, so we try to go somewhere. We stayed in Shanghai for Thanksgiving day (had a Thanksgiving day turkey dinner at a restaurant in People's Square called Kathleen 5), then headed to Hangzhou on Friday.
Hangzhou is 110 mi southwest of Shanghai and easily reachable by high-speed train. It has been one of the most renowned and prosperous cities of China for much of the last 1,000 years, due in part to its beautiful natural scenery. The city's West Lake is its best-known attraction. Hangzhou is at the southern end of China's Grand Canal which extends to Beijing. The canal evolved over centuries but reached its full length by 609. The Venetian merchant Marco Polo supposedly visited Hangzhou in the late 13th century.
Mind you, when we got there we almost couldn't SEE West Lake!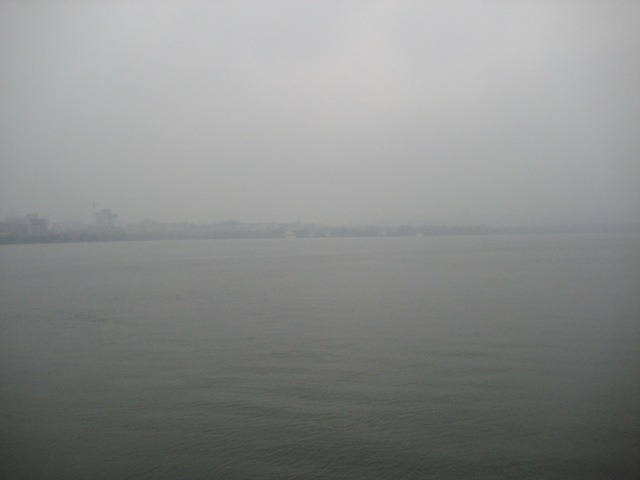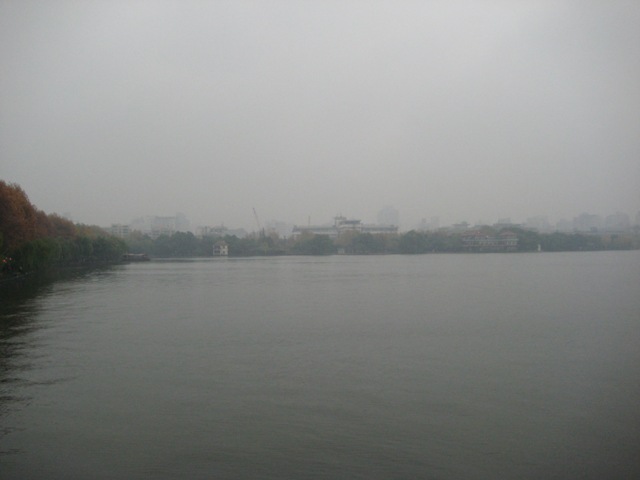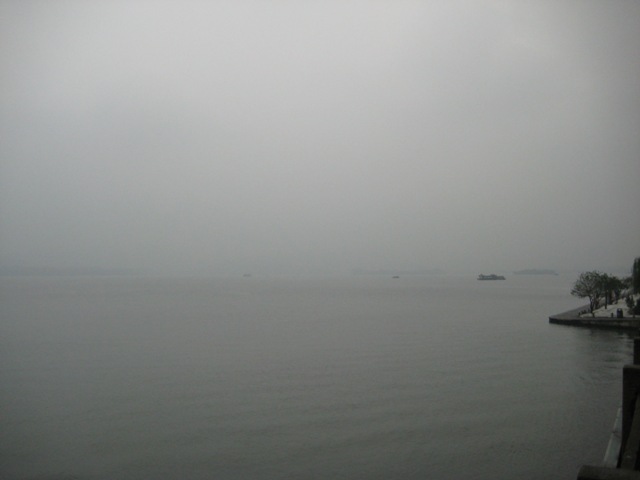 Saturday morning was much better, and you could see the lake from our hotel room. There was an old guy drawing out chinese characters in what I assume is water, on the pavement blocks.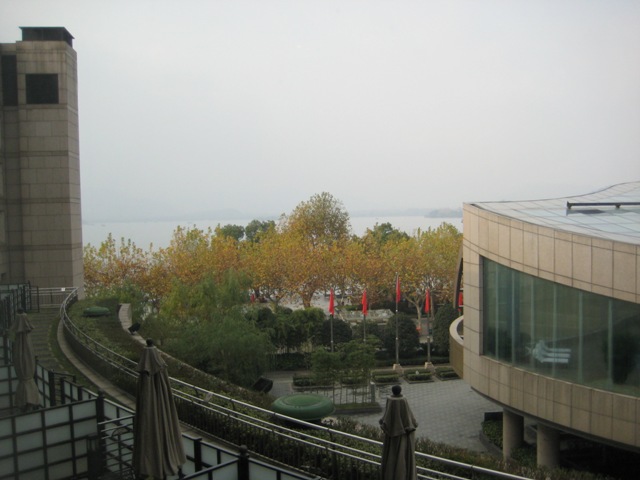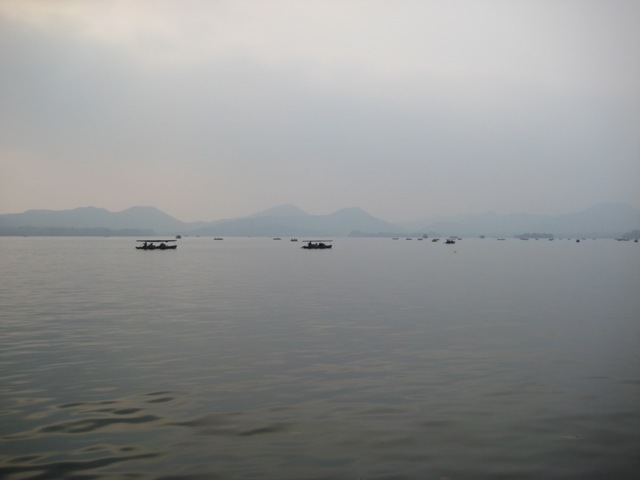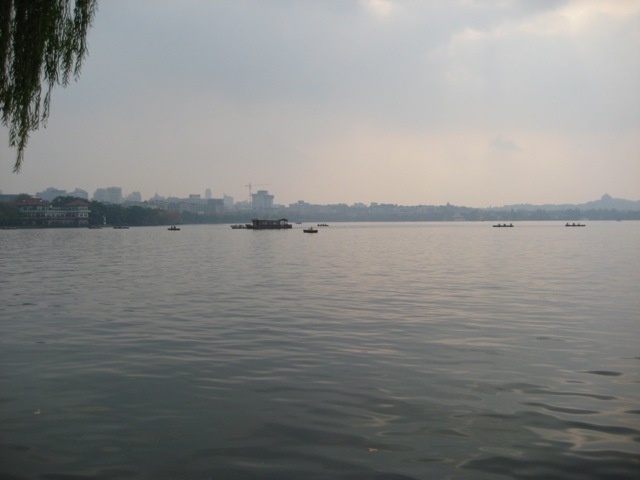 Along the waterside, there is the Monument to the Martyrs of the 88th Division of the Chinese Army in the Battle of Songhu. This was to commemorate the soldiers (1421 of them from what I gather) who died in what is the "January 28th incident".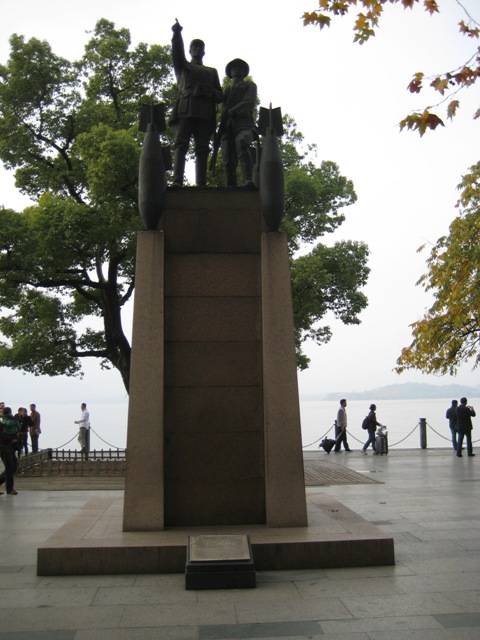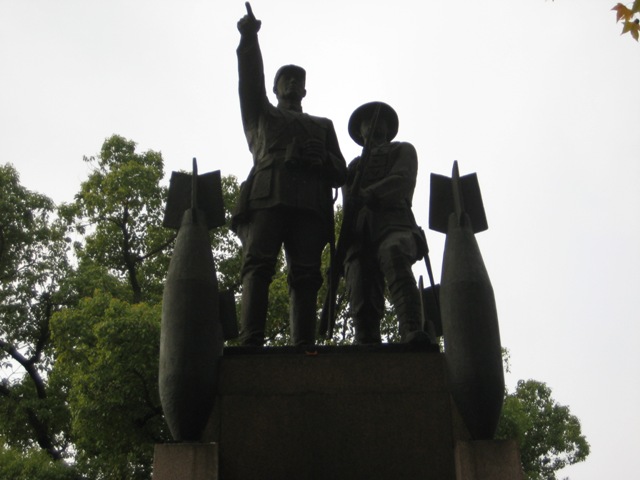 The Statue to the Chinese People's Volunteers, setup at the lakeside in 1954 to commemorate the Chinese people's volunteers that assisted Korea to resist American invasions (according to the plaque).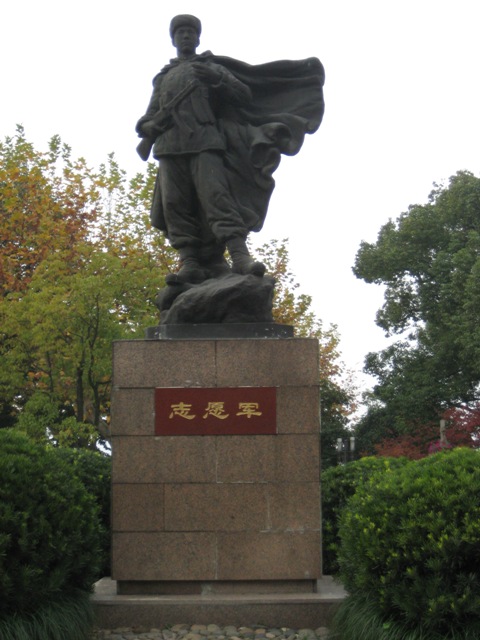 We continued to walk around the lakeside, stopping at various villas, pavillions, and even some statues.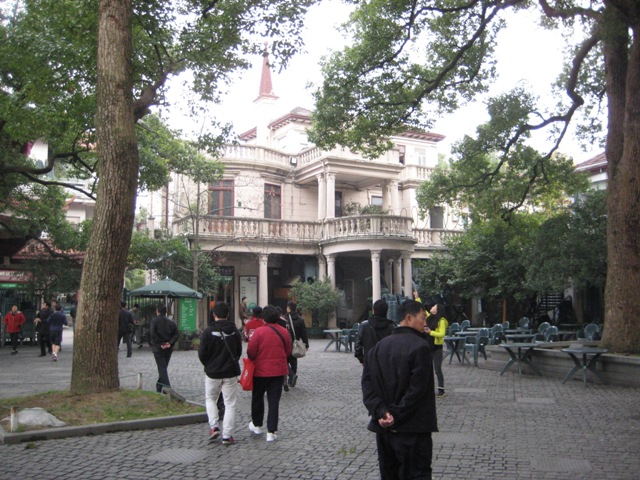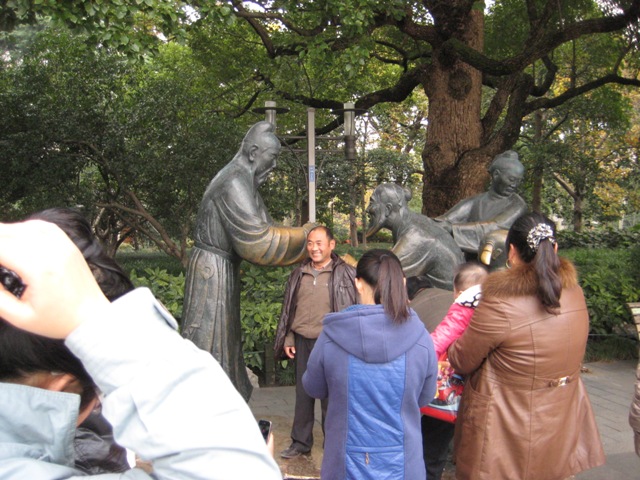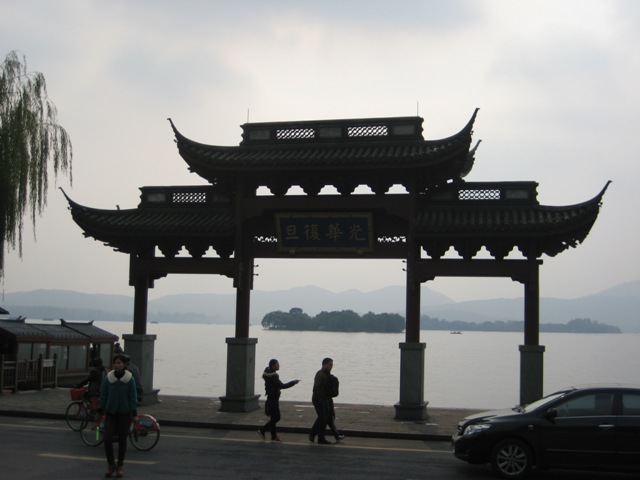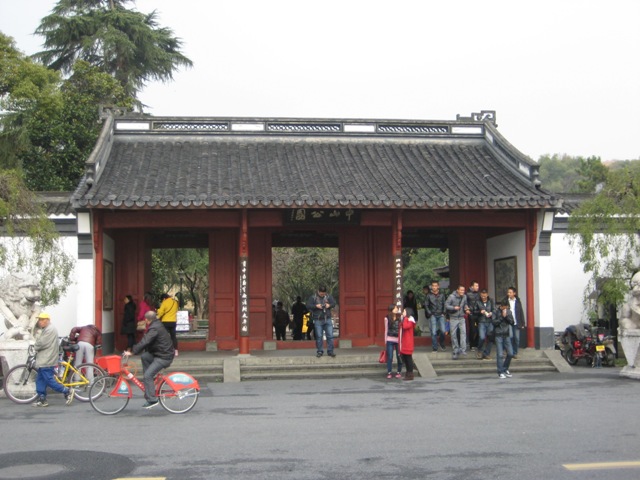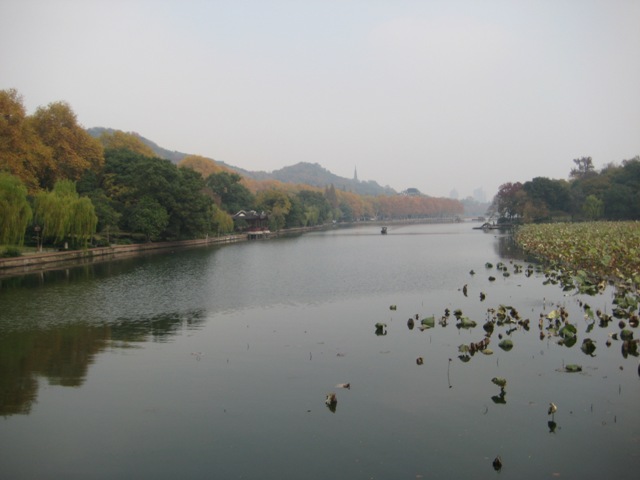 In one pavillions, there were bunches of couples dancing.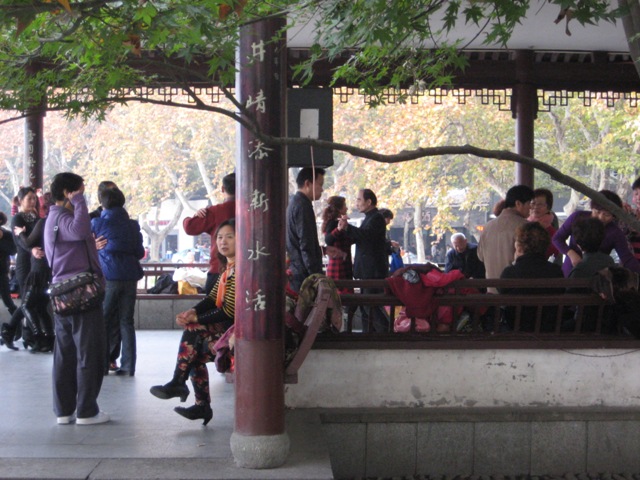 Baochu Pagoda is a pagoda on top of Precious Stone Hill. Its small base supports seven stories and gives it a distinctively slender and elegant appearance. It was originally constructed in 963 and stood nine storeys tall. Its most recent reconstruction, in 1933, left it slightly shorter, seven storeys, and it has most recently had its lantern replaced on its top, though its previous one is on display near the pagoda.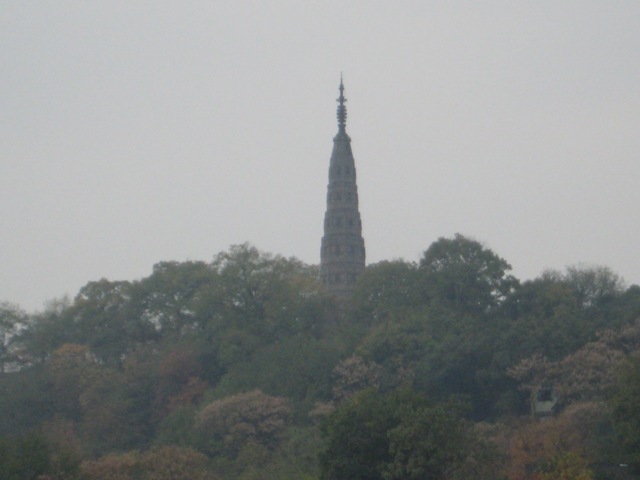 Susan with a statue .. there was a story with this but I don't remember it right now.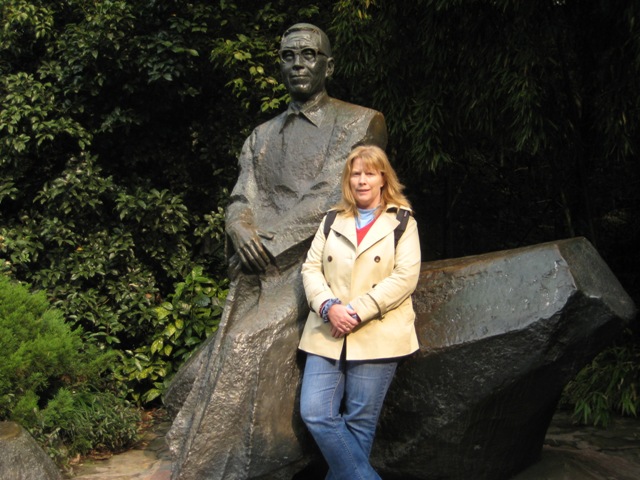 Then we walked over to the Yue Fei Temple, built in 1221 to commemorate Yue Fei, who was a general of the Southern Song dynasty.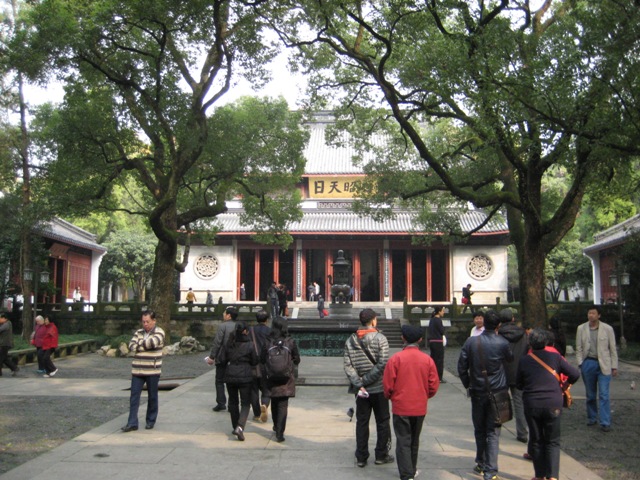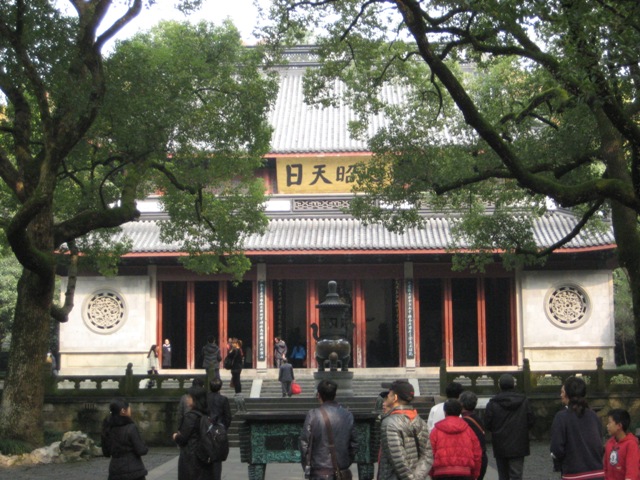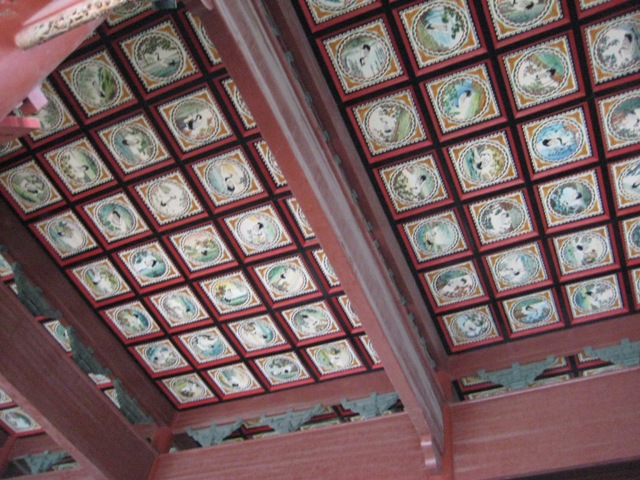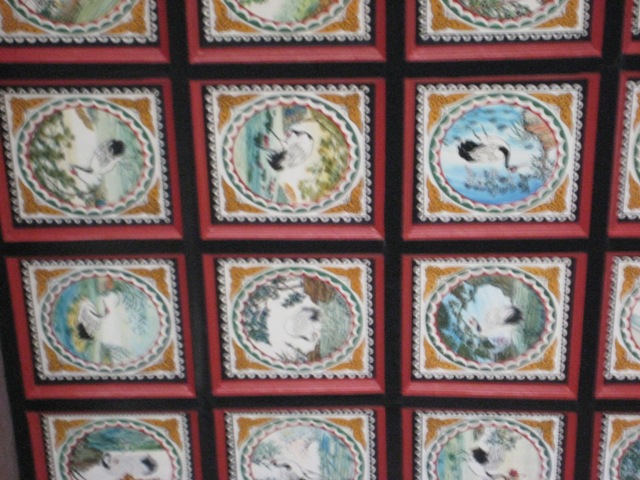 This is a statue of Yue Fei.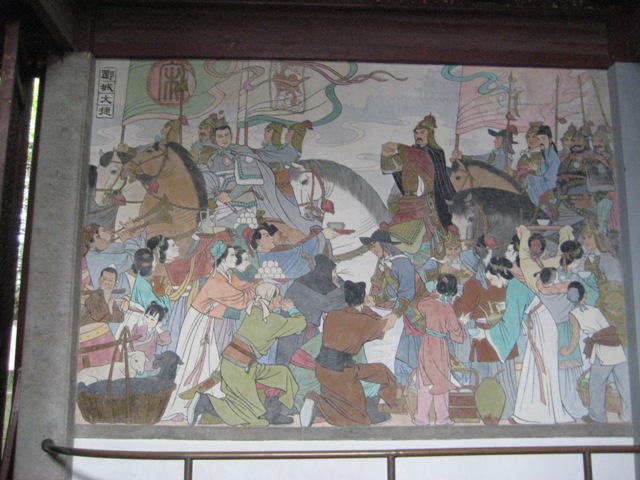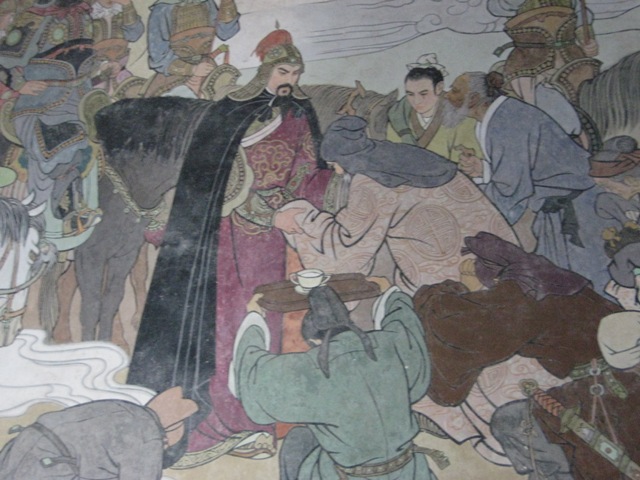 It seems that he got on the wrong side of one of the new leaders, and he was then arrested under false charges and executed. Qin Hui, his wife, and two others had devised the plot to ensure he was executed. Decades later, his grandson Yue Ke had retrieved evidence of his grandfather's achievements, and published a biography of him. Emperor Xiaozong eventually posthumously pardoned Yue. For their part in Yue's death, iron statues of Qin Hui, Lady Wang, and two of Qin's subordinates, Moqi Xie and Zhang Jun, were made to kneel before Yue Fei's tomb. For centuries, these statues have been cursed, spat and urinated upon by people. The original castings in bronze were damaged, but later were replaced by images cast in iron, but these were similarly damaged. However now, in modern times, these statues are protected as historical relics.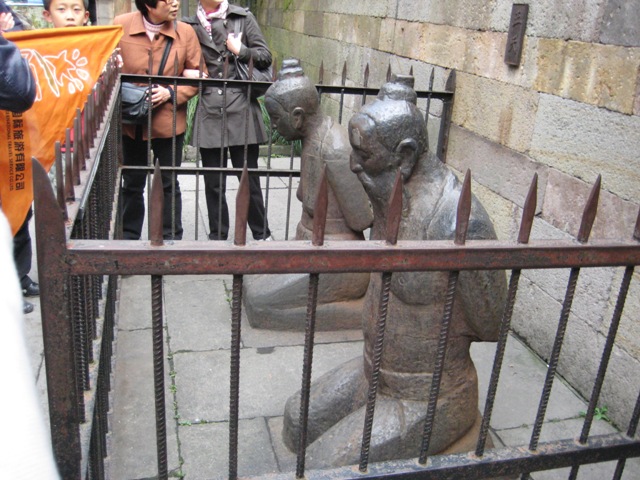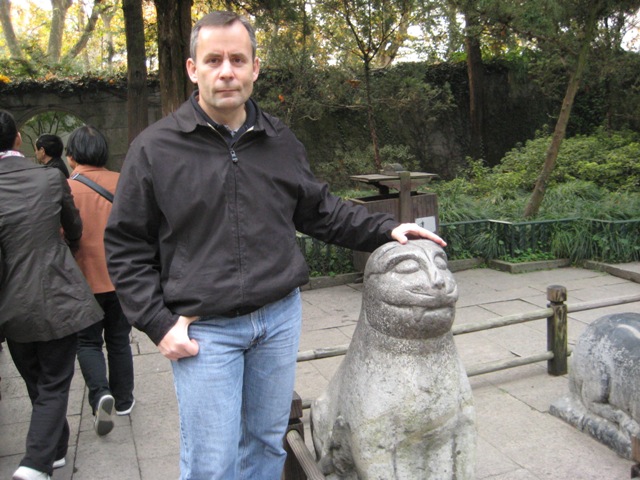 The two grass mounds are tombs of Yue and his grandson.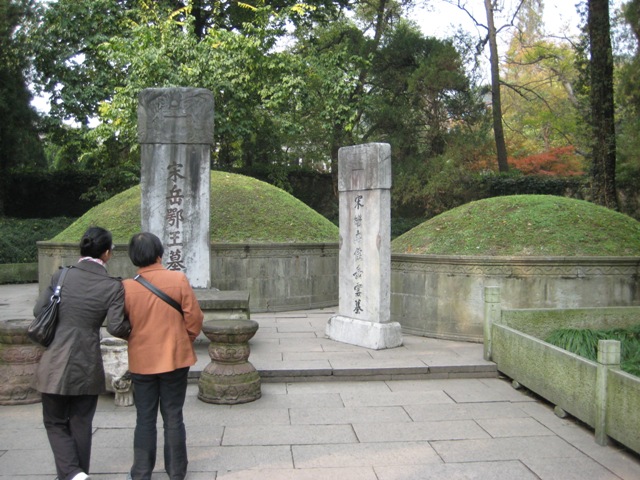 A Bonsai tree.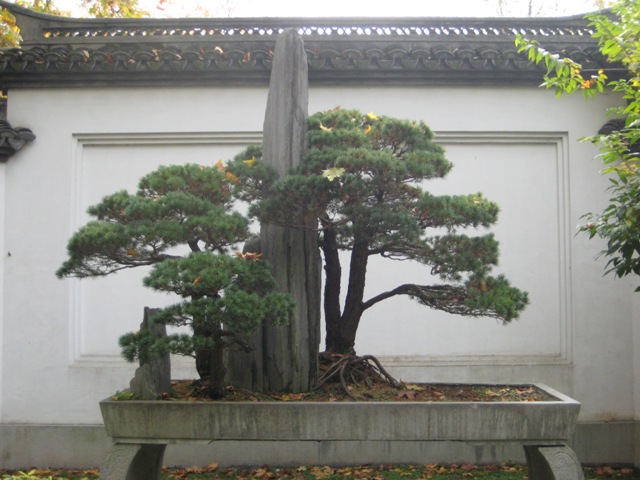 So back around the West Lake. This is the Viewing Fish at Flower Pond.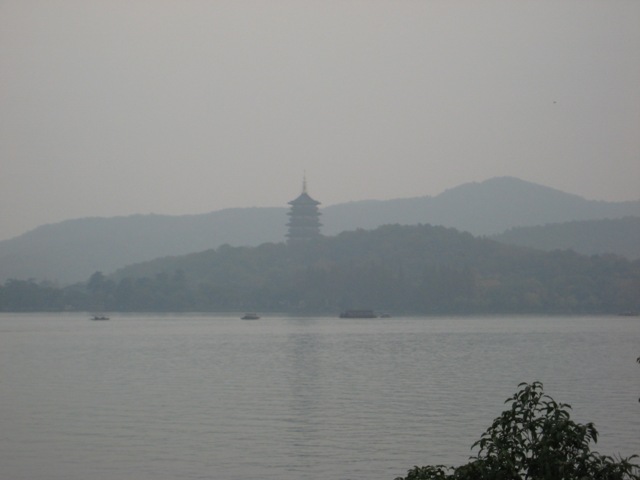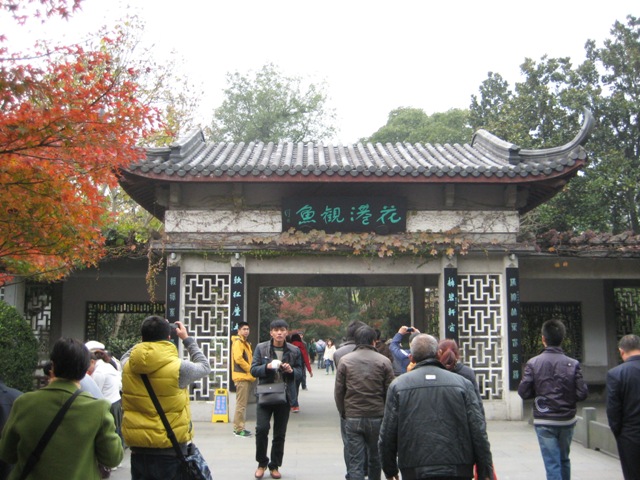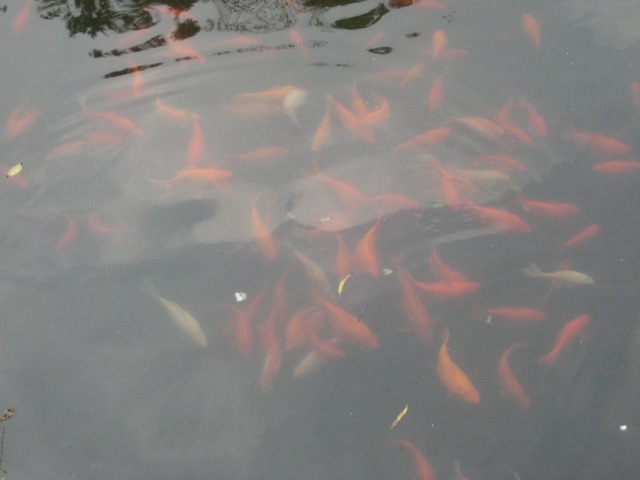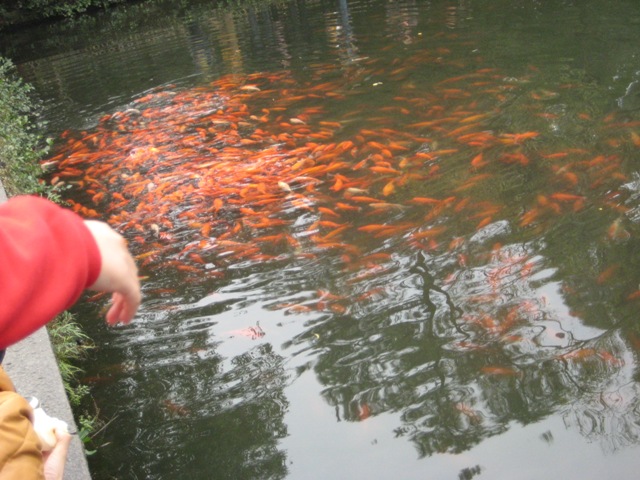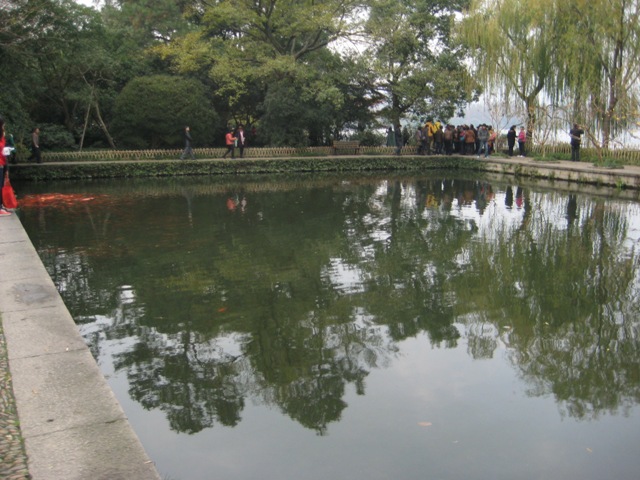 Leifeng Pagoda is a five story tall tower with eight sides, located on Sunset Hill south of West Lake. Originally constructed in 975, it collapsed in 1924 but was rebuilt in 2002.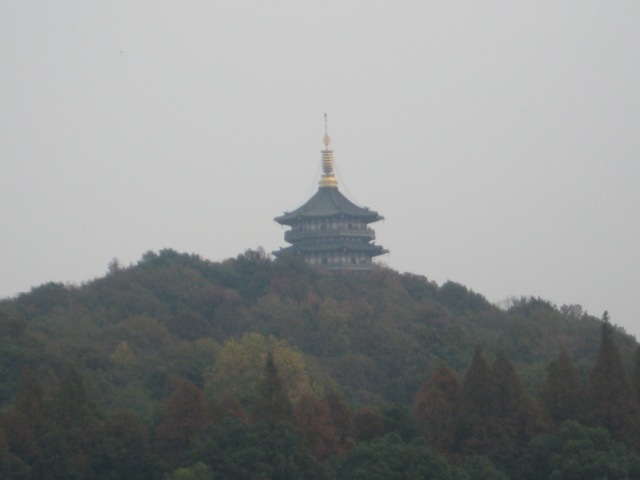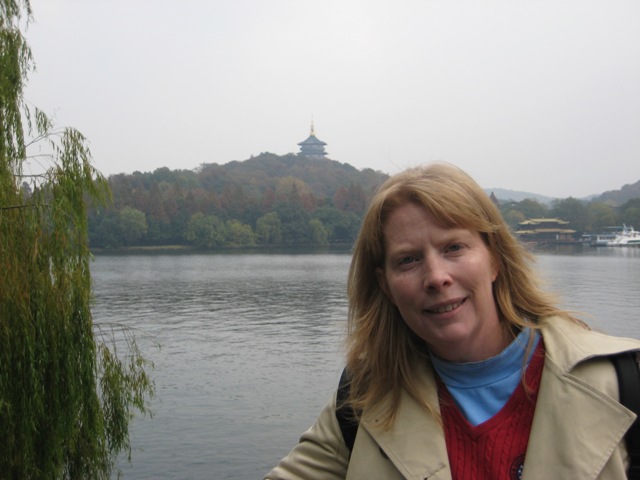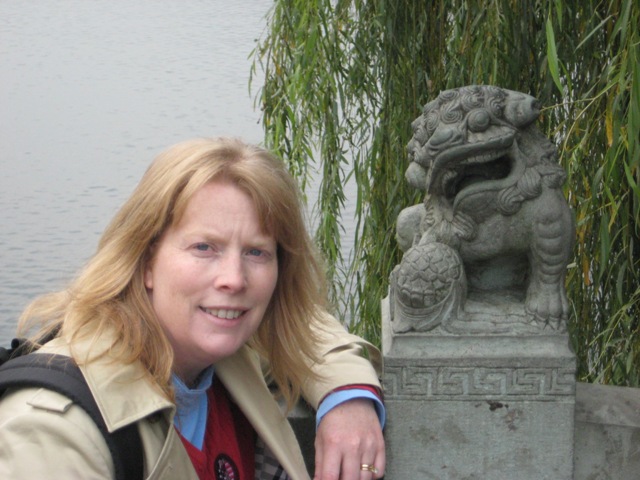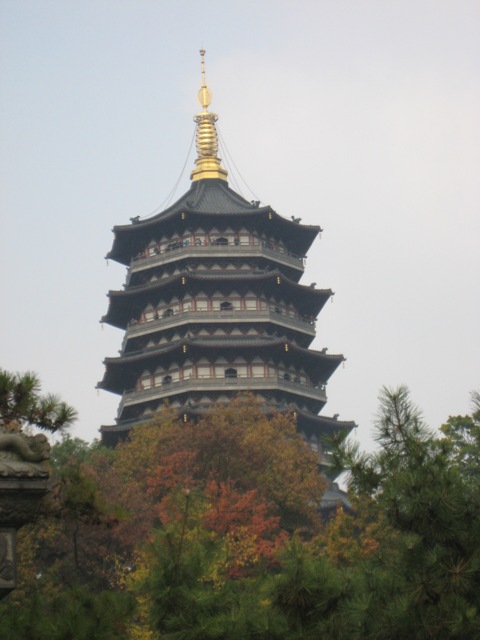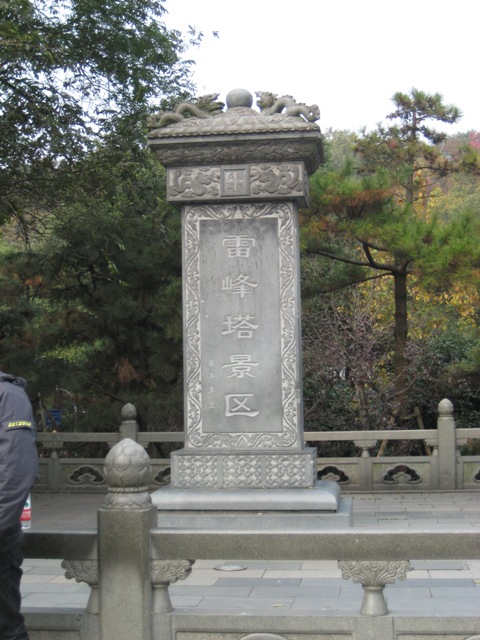 And then we headed further around the lake.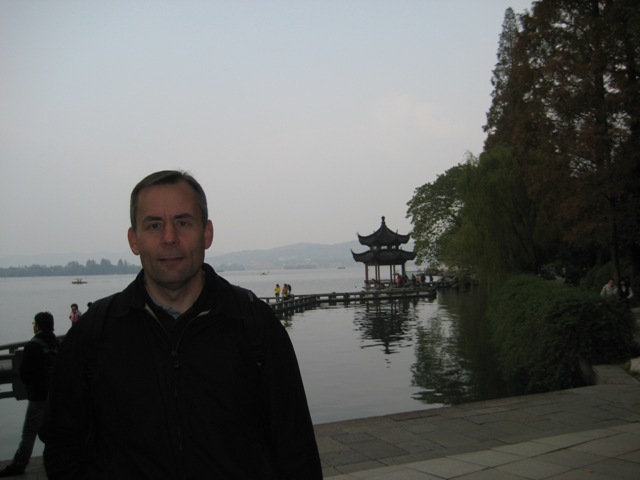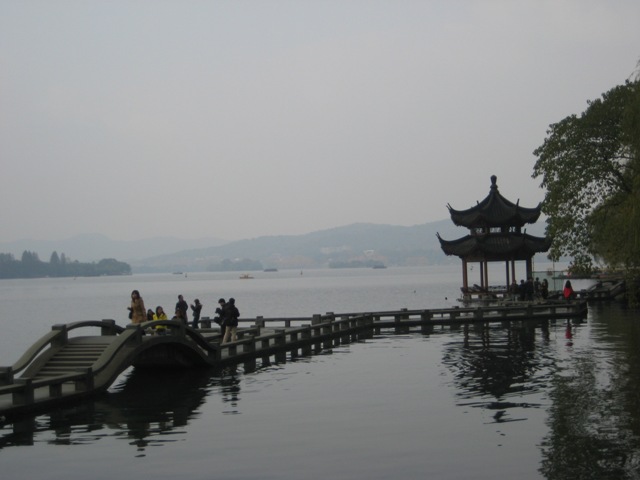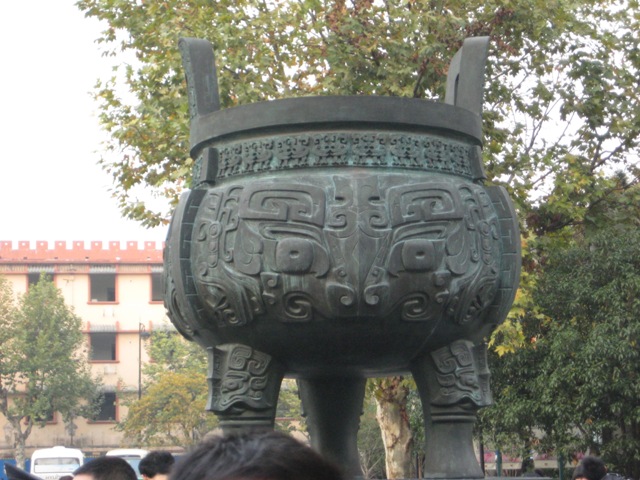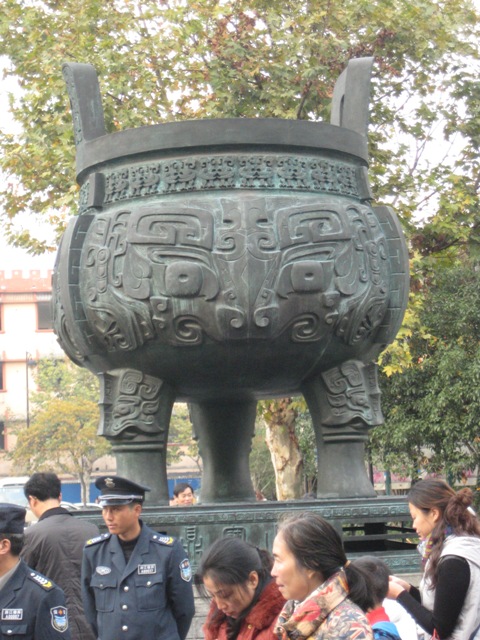 Hefang Old Street is unique pedestrian street showcasing a variety of Chinese crafts, such as land-blown sugar candy, paper-cutting, and hand-made dough figurines.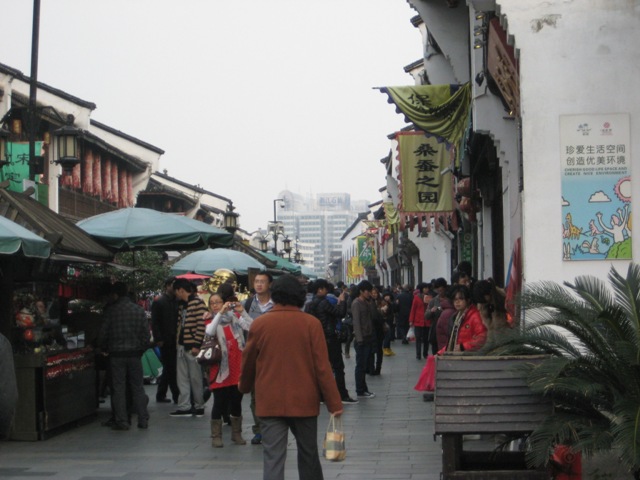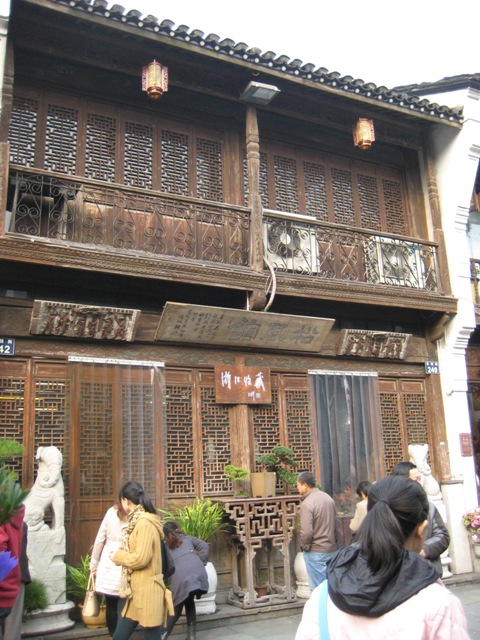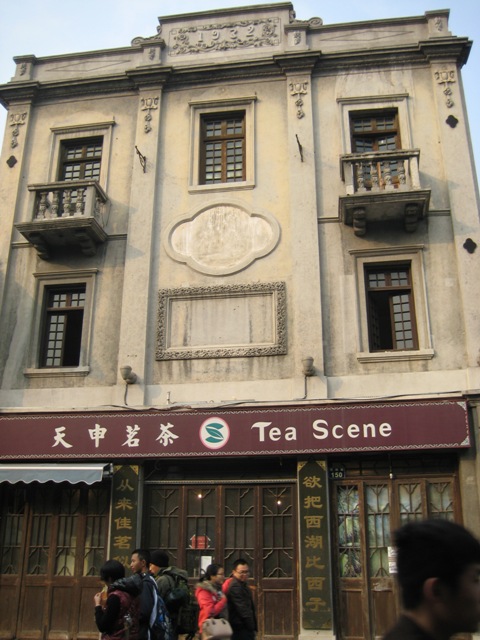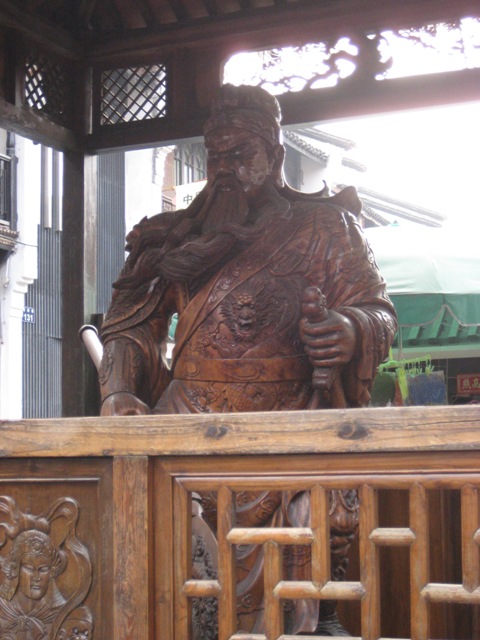 A Happy Buddha with kids climbing on it, along with kids climbing on it :-)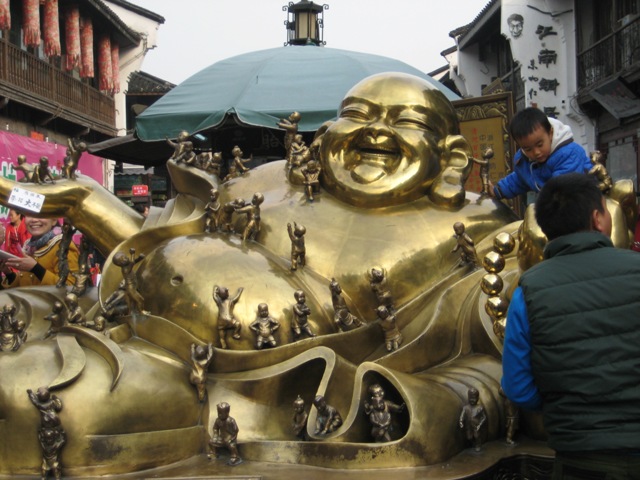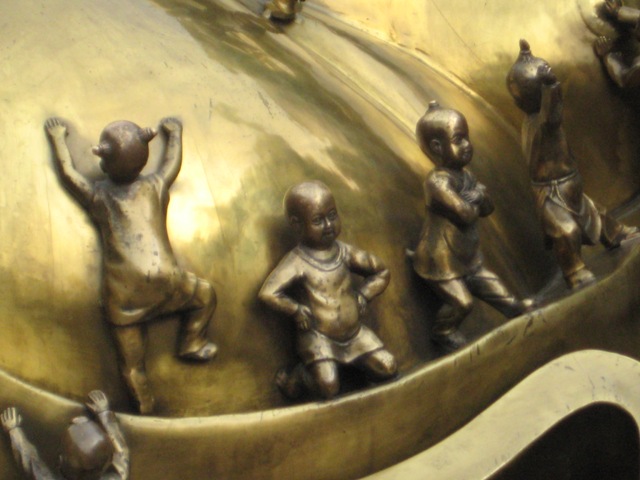 This was the sugar candy. They basically take hot liquid/syrupy candy and drizzle it into a shape, then let it get hard, with a stick in it.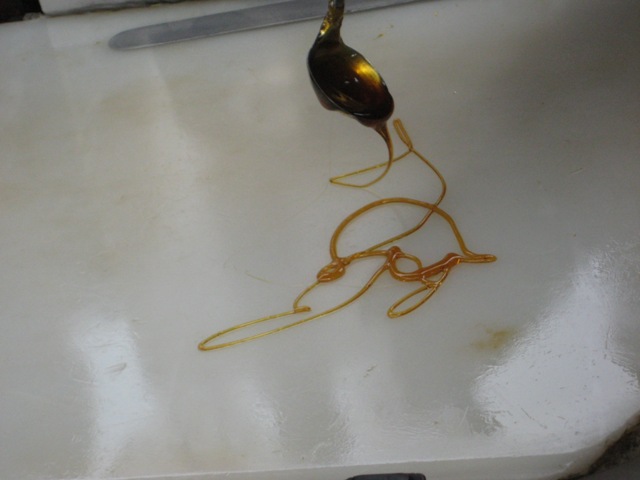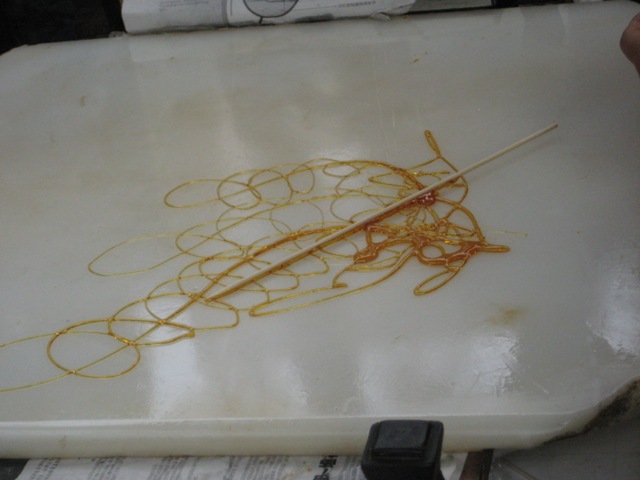 Next was a glass figure maker.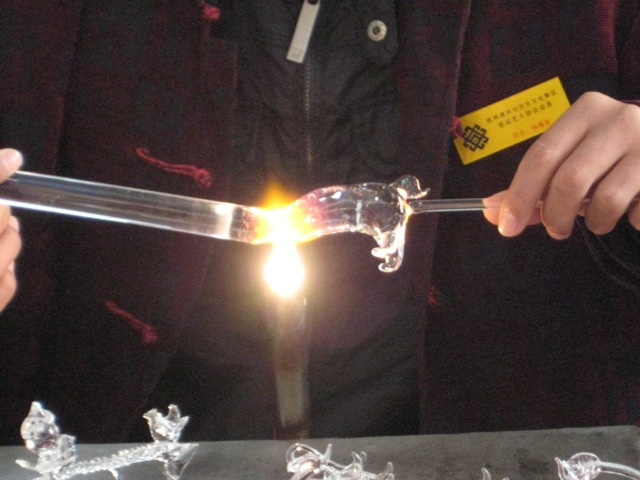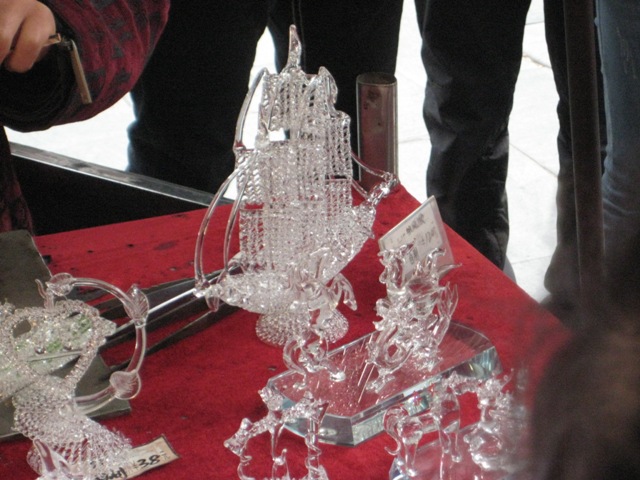 Fang Hui Chung Tagn is a medicine store founded in 1649.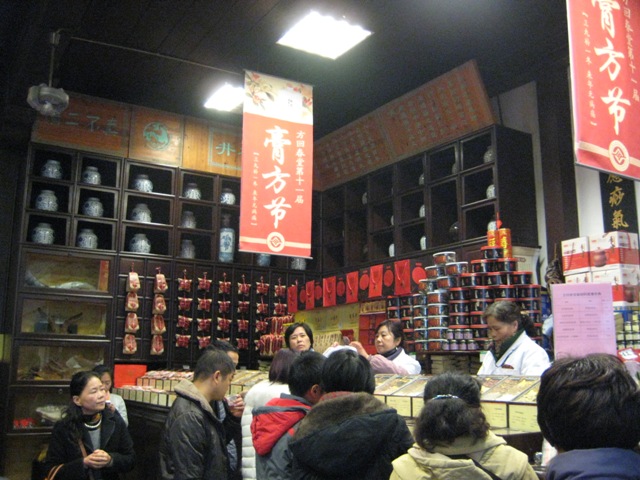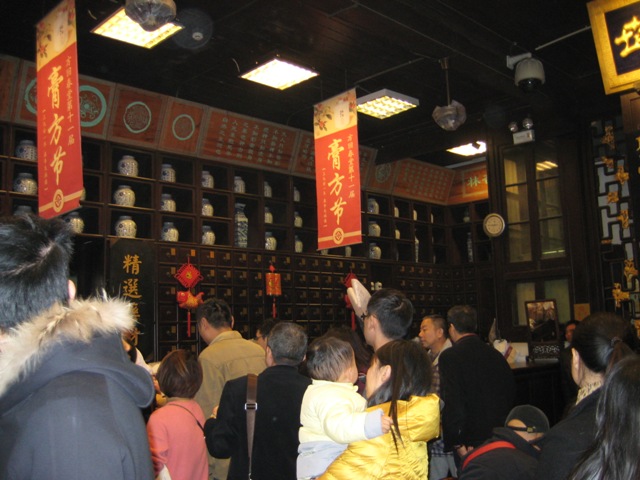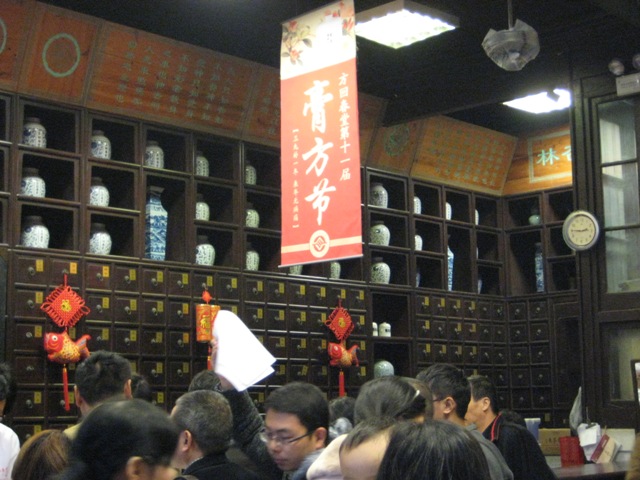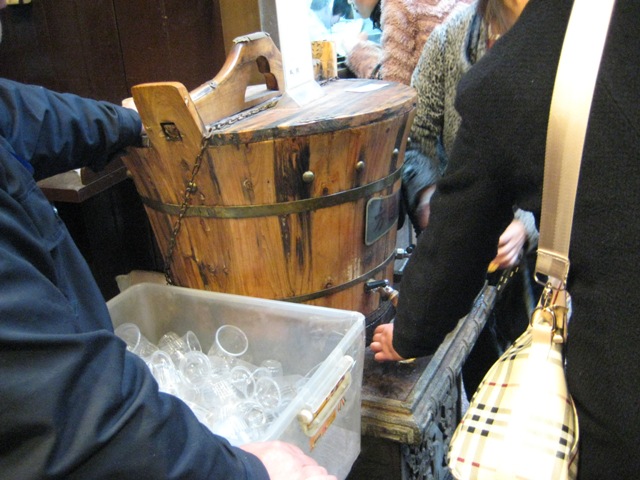 Fan painting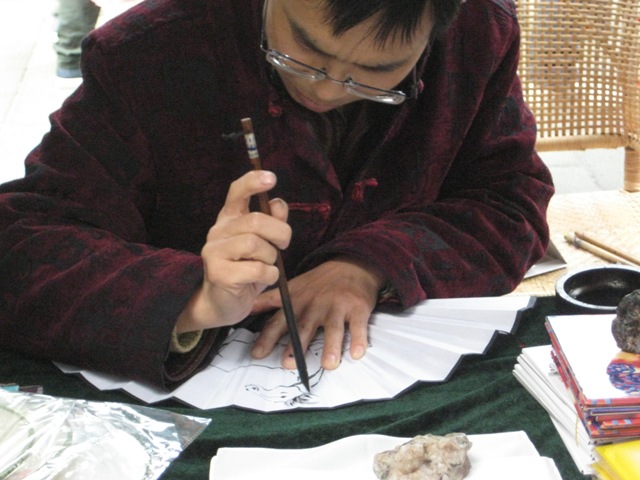 So, Hanzhou was just opening their first metro line, and we saw this sign that we THOUGHT was going into a metro. Well, no, not really, it was just an underground passage.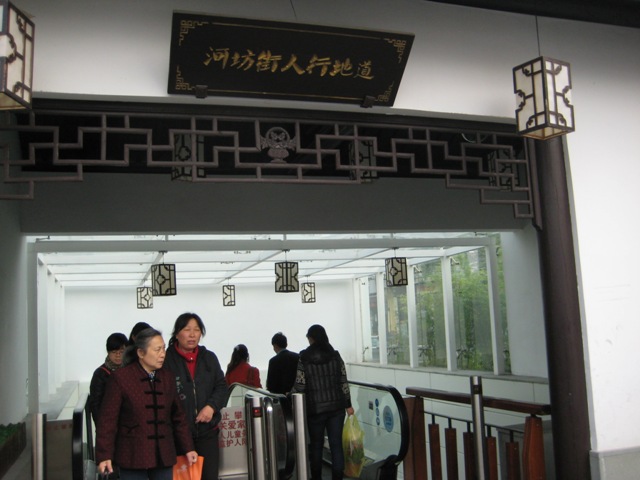 This was a museum of Chinese Traditional Medicine.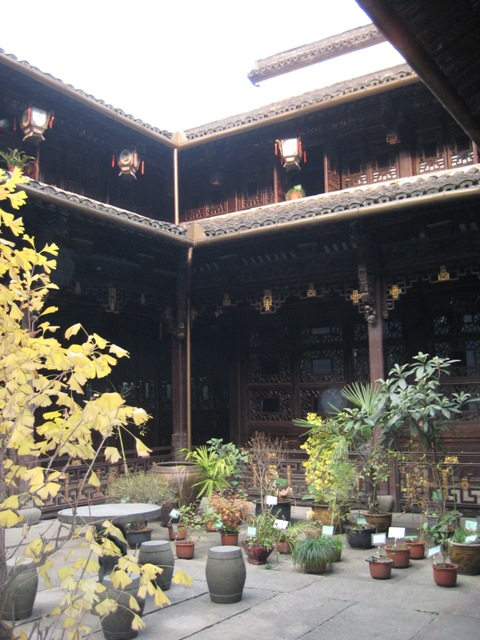 Making candy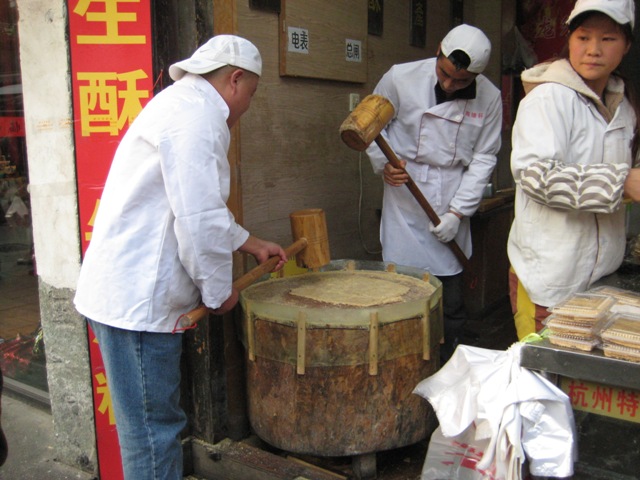 Now THIS was the metro station!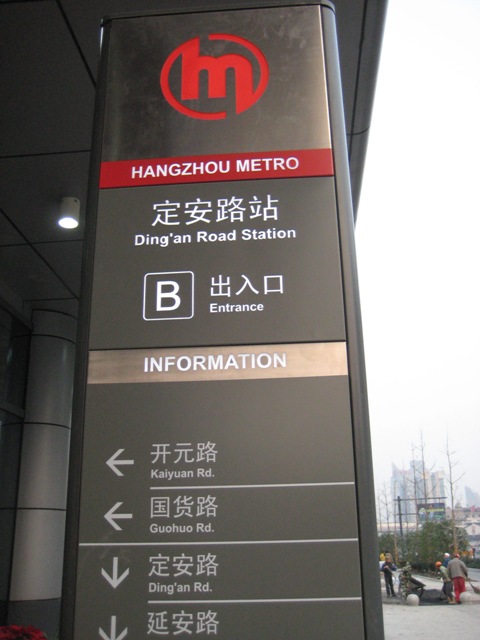 Sunday morning it was really bad weather again, so we took a cab over to the Tea Museum. This is looking out from the front over the tea fields. What I found out initially is that tea grows not only on bushes but also trees. The whole museum was quite interesting.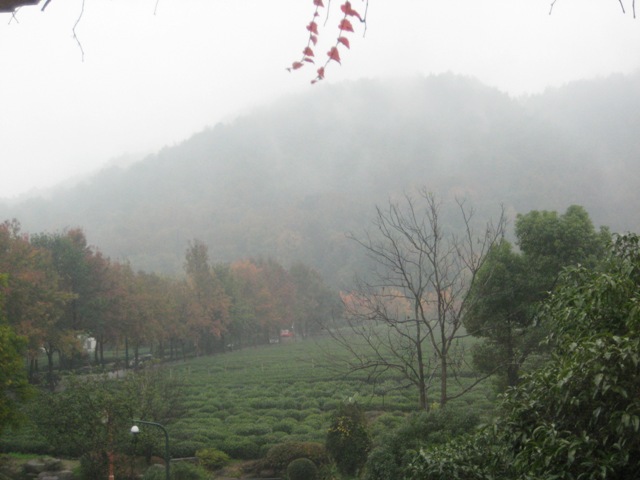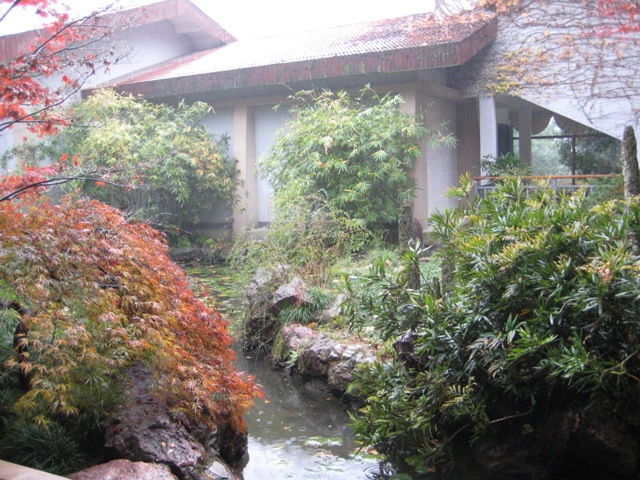 A gilded silver box in the shape of a turtle, used to hold tea powder.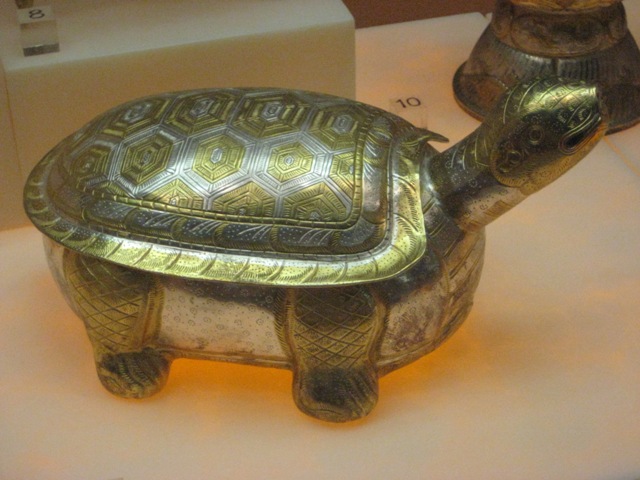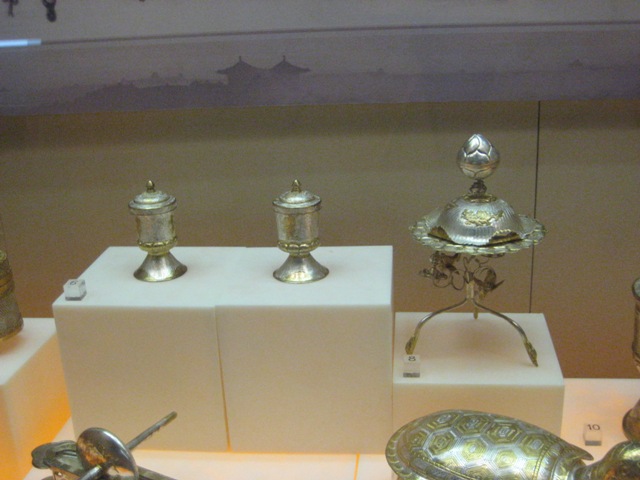 They had some exhibits that showed different ways of life in olden days where tea was used, as well as the Tea Horse Road. The Tea Horse Road was a network of mule caravan paths winding through the mountains of Yunnan Province in Southwest China, sometimes referred to as the Southern Silk Road. The Ancient Tea Route was a trade link from Yunnan, one of the first tea-producing regions. The tea was transported to India via Burma as well as to Tibet and central China via the Sichuan Province.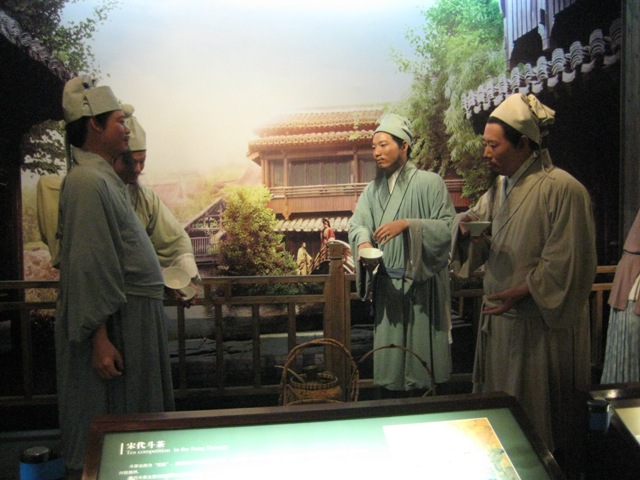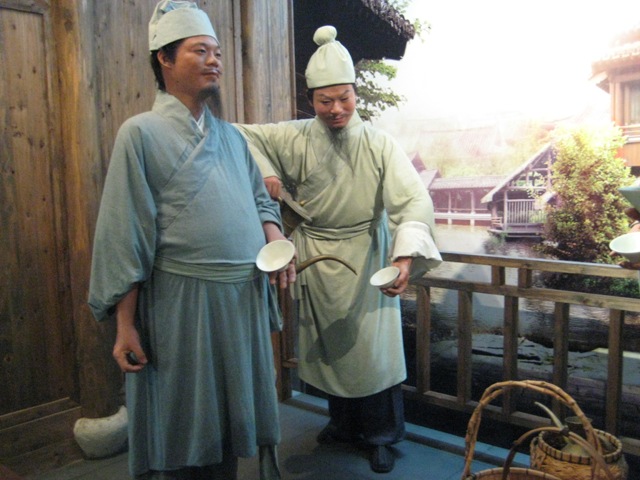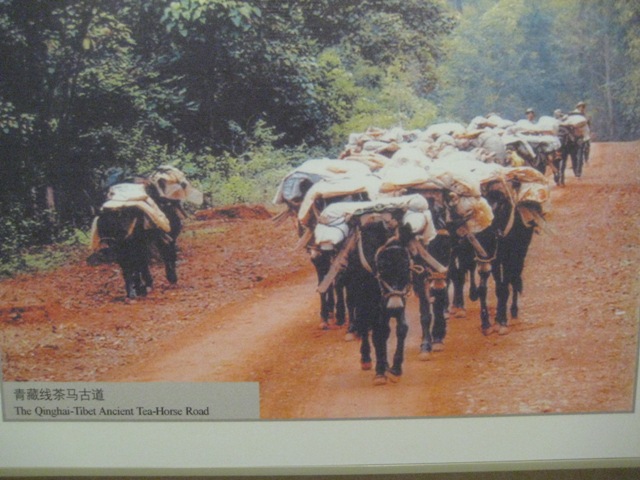 This is a machine used to twist tea leaves. It is part of the manufacturing process for a couple types of tea and it can break up tea leave cells and shape the tea leaves. The machine comes from the south Anhui province.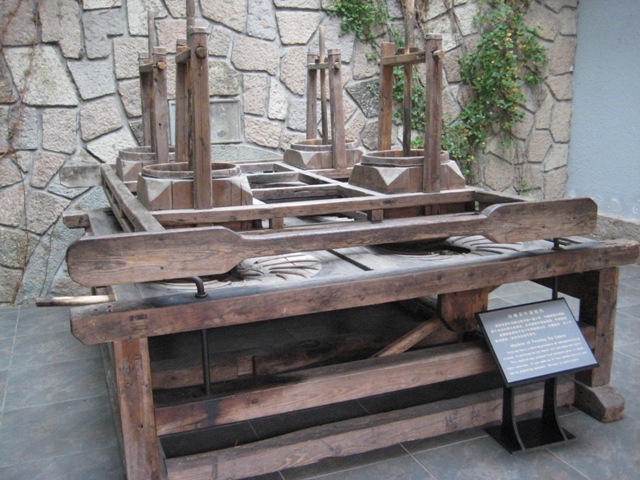 Not shocking ... 70% of the tea produced in China is green tea.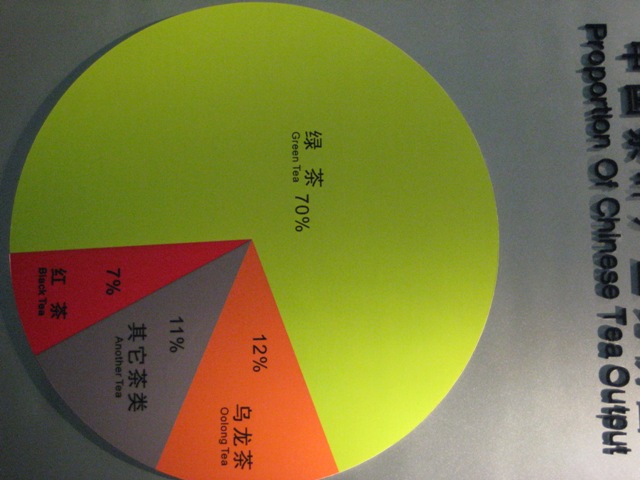 This is a huge round block of tea leaves.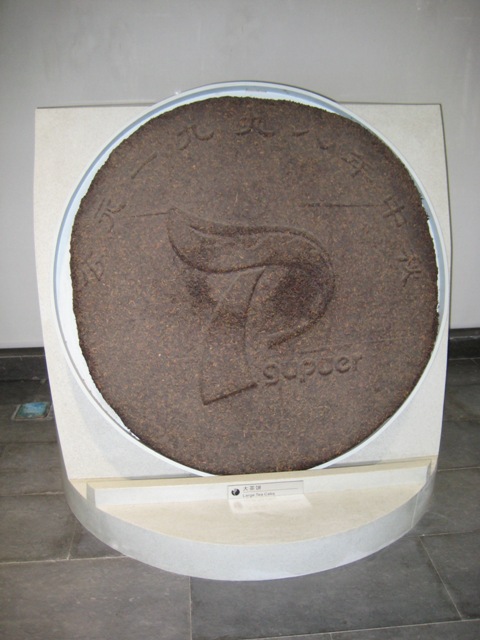 This was just an interestingly-named tea ... Anhua Hairy Dark Tea. This is a special type of tea in China, mainly produced in Hunan, Yunnan, Sichuan, Hubei, and Guangxi. They also call it Bianxiao which means "border areas" as it is mainly used by ethnic groups on the border regions of China.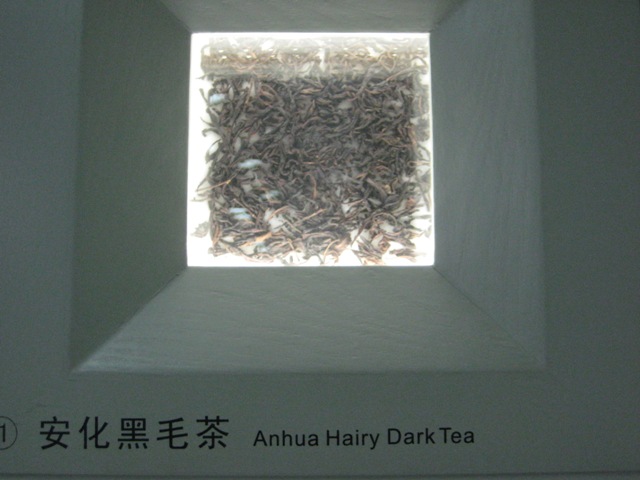 White tea is a special type of tea in China and is produced in Fujian. The basic processing techniques are withering and drying. The final tea is covered with white hairs since the raw tea includes both leaves and hairy buds. The final tea is a light yellow color and has a mellow taste.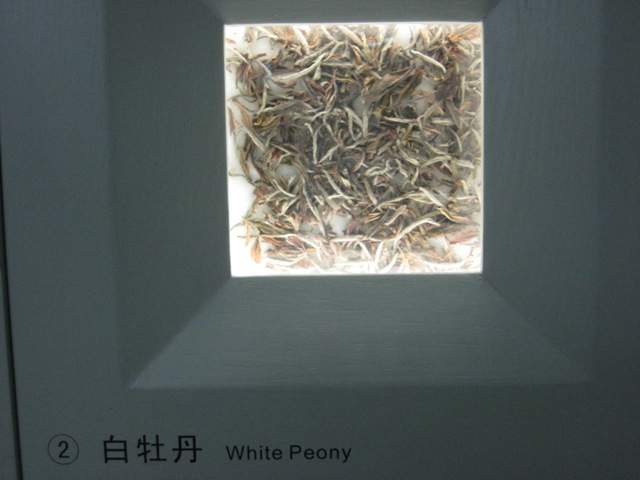 Yellow tea is a Chinese speciality, and it is processed much like those for Green tea with the addition of 1 step within the processing. Yellow tea is classified into 3 categories: yellow bud tea, Huangxiaocha, and Huangdacha, based on the tenderness of the raw tea leaves.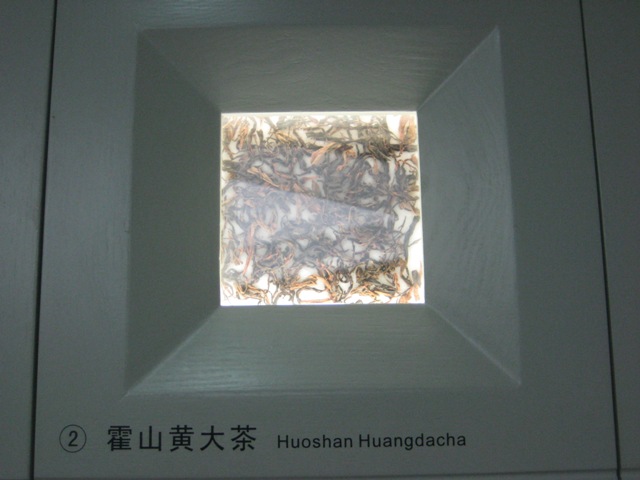 Oolong tea is unique to China (and one that I don't really like). They say it has a rich flowery and fruit-like scent. We've had some that we buy (bottled Oolong tea) which doesn't taste flowery or fruity to me.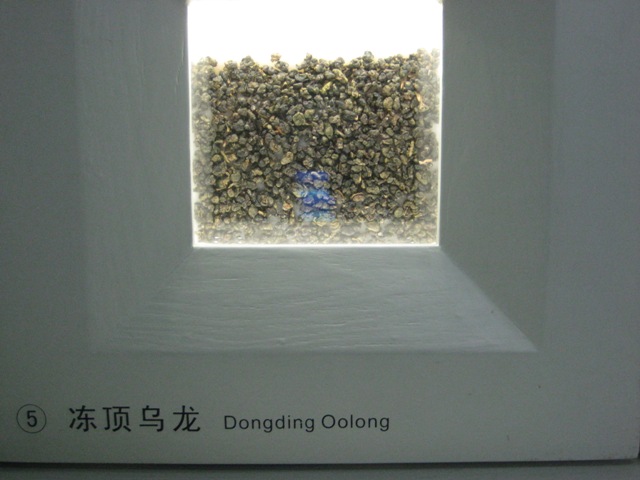 Black tea has red leaves and produces a red-colored tea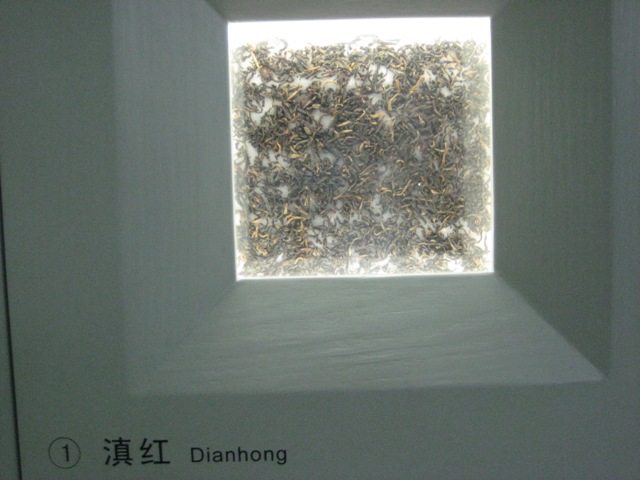 Green tea, which tops the Chinese tea output, comes from all tea-producing areas in China. It ranks first in the world in the output and variety of green tees. They process green tea through 3 basic steps: pan-firing, rolling, and then drying.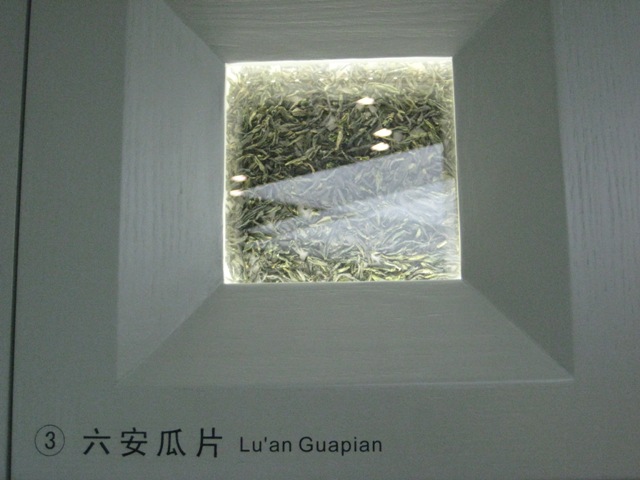 This is a typical tea-making setup, where you have the drain for tea or water that spills out.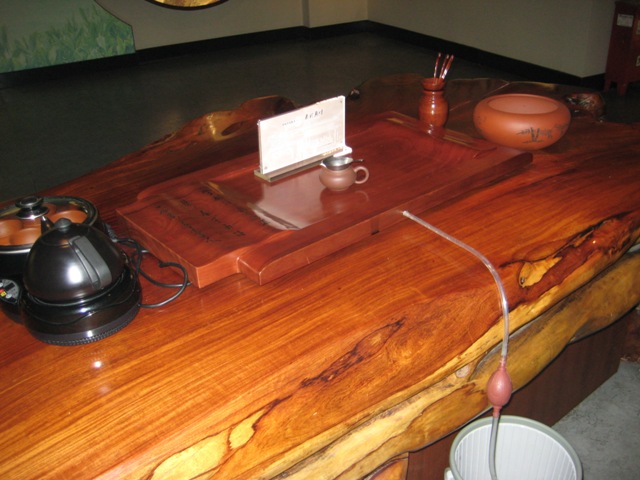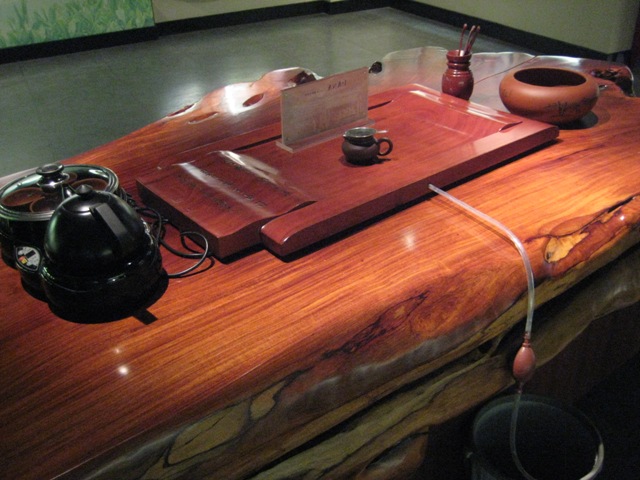 A white jade teacup with saucer and glossy handle from the Qing Dynasty.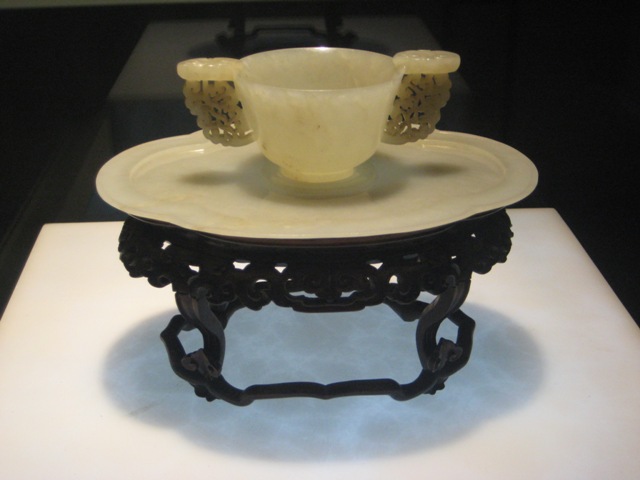 This is a room where they do Baked Tea, which is popular among the ethnic minorities in the Yunnan province. They also mentioned Buttered Tea, which I thought was a little odd. It is called "kaymir" in Tibet and supposedly it is a mixture of tea and butter. They say it is one of the main everyday foods for Tibetans.