Susan's Shanghai Blog - Week 60
For Christmas of 2012, we decided to make our first visit to Vietnam, specifically to Ho Chi Minh City, the city formerly known as Saigon.
Vietnam, or officially the Socialist Republic of Vietnam has approx 88 million people, which makes it the world's 13th-most-populous country, and the 8th-most-populous Asian country. The name Vietnam translates as "South Viet" and Hanoi has been the capital since the reunification of North and South Vietnam in 1976. It was a French colony until the end of the First Indochina War in 1954 leaving the country split into North and South Vietnam. It stayed separate until the end of the Vietnam war in 1975 when it was then unified under a Communist government (basically, N. Vietnam).
Ho Chi Minh City, formerly named Saigon, is the largest city (around 9 million) in Vietnam although (as noted above) not the capital. In 1976, Saigon merged with a surrounding province and was officially renamed Ho Chi Minh City after Ho Chi Minh (the founder of the communist party in N. Vietnam). You still see Saigon in alot of places around the city ... although our tour guide for the city tour said that it was just that foreigners have a hard time saying Ho Chi Minh City (hmm... I don't find it difficult!).
We landed at 2am and headed to our hotel. After only a couple hours of sleep, we were back up to go on a day-long tour of the Mekong River Delta. Before we headed out, we took a few pictures from our hotel room window, in the lovely sunshine! This first building is actually brand new although built to have the same architectural style as the bulidings around it, which is in a French Colonial style they say. It has really nice stained glass windows. It is a shopping center although most of the stores are not open yet so we couldn't find a way to get inside. The second picture is the opera house, which we overlooked. The third is the Hotel Continental Saigon, another nice architectural building. Then a few of the skyline.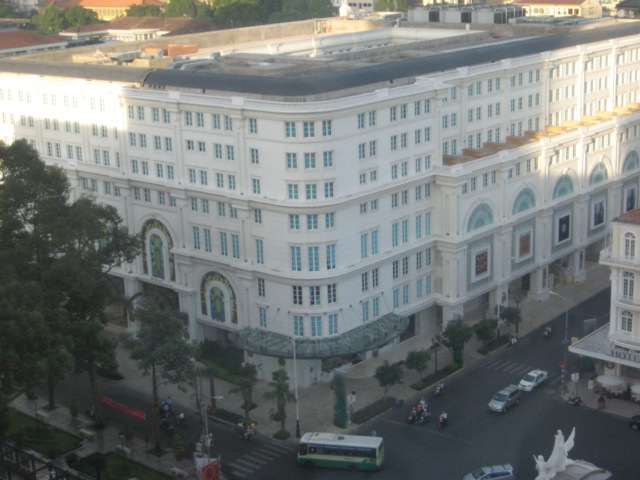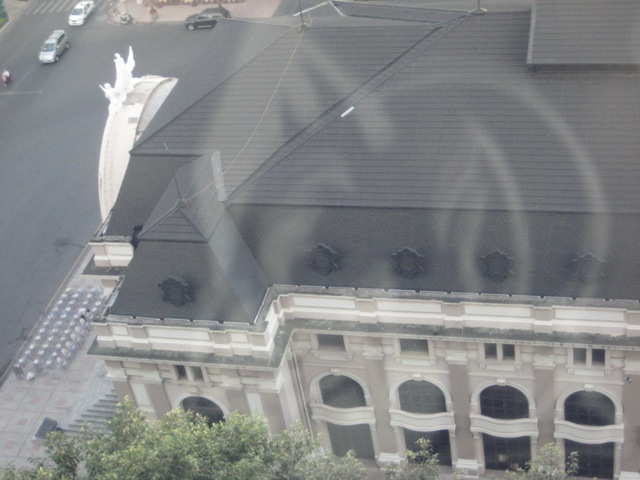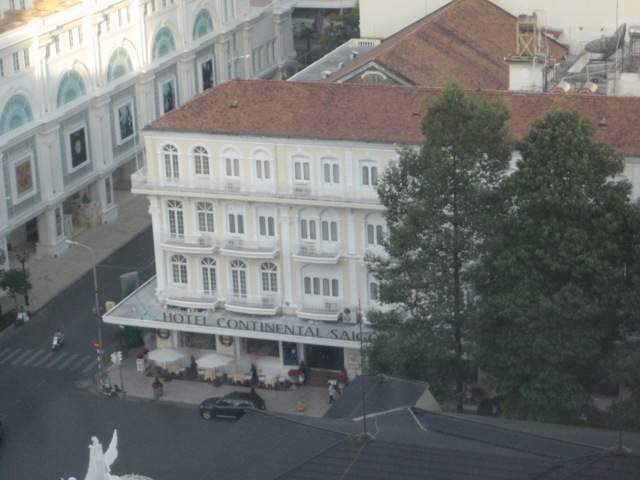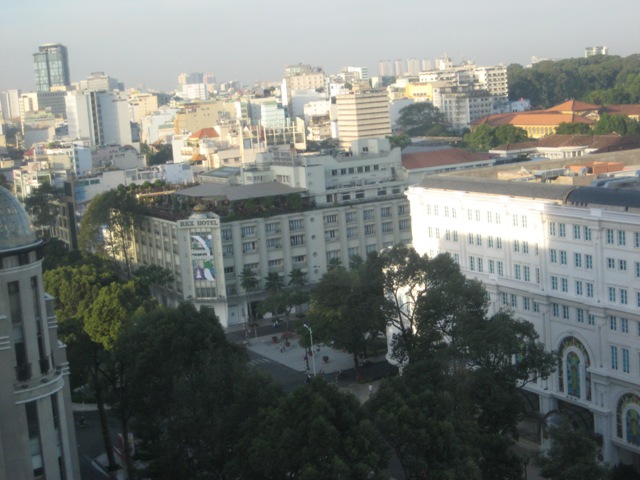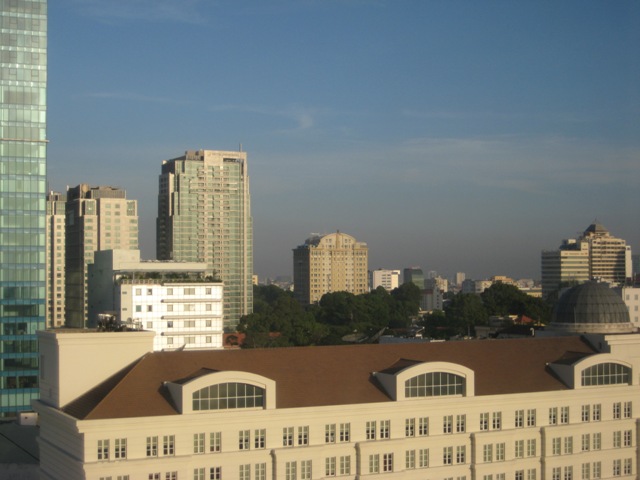 The lobby of our hotel, the Caravelle, with the big tree. They also had several other trees sprinkled around the hotel.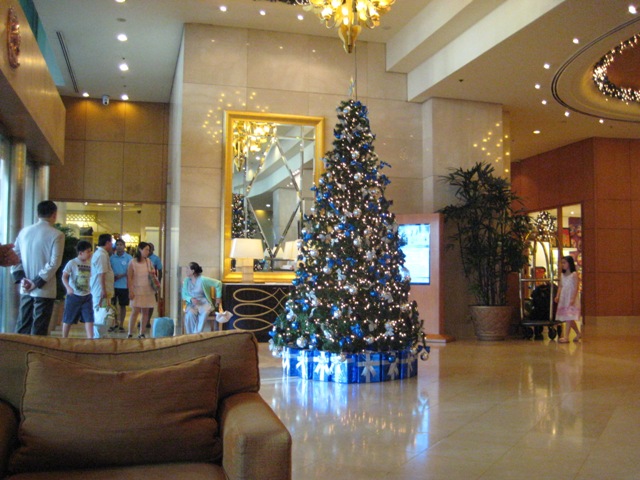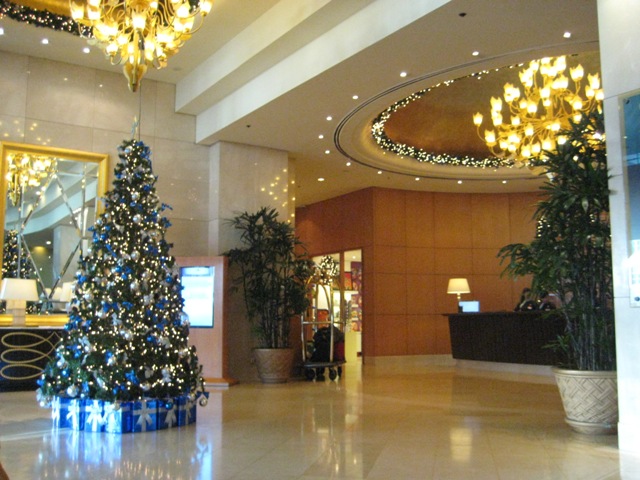 As we left for our Mekong Delta tour, we passed a few different "courts" and parks where people were playing badminton. Here is a group of 6 playing together, and we saw a couple of people playing even without a net.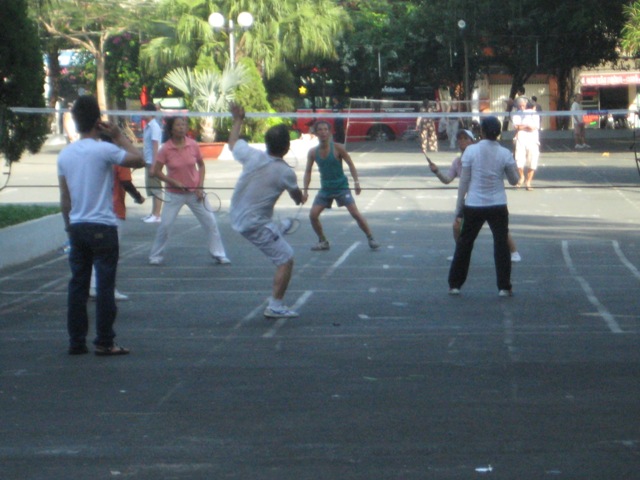 The Mekong river is the 12th longest river in the world, starting in Tibet and runs through China, Myanmar, Laos, Thailand, Cambodia, and Vietnam. They say the population is one of the slowest growing areas largly due to migration from the Mekong Delta region into places like Ho Chi Minh City where the work may be. These are graves in the middle of the fields. The tour guide was saying that the people in this area want to honor their ancestors and so they have them in the fields.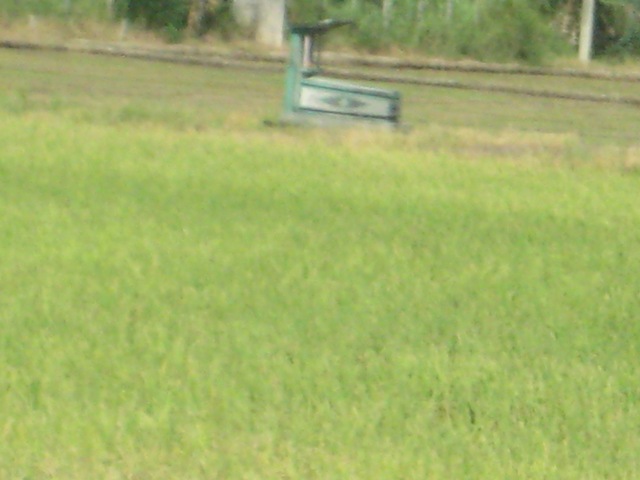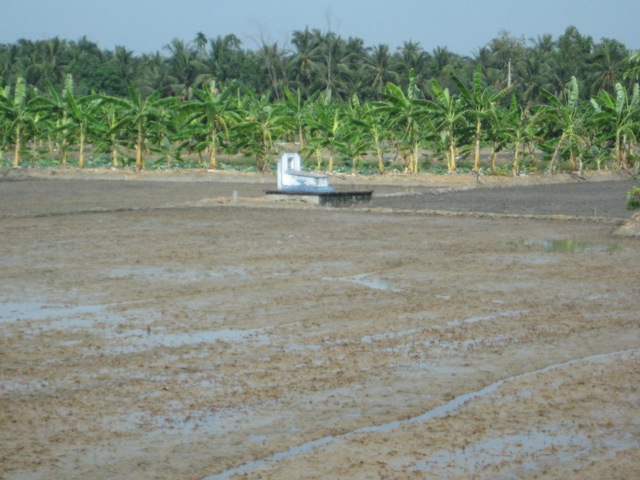 You can't really see them easily, but in the middle there are chickens running around. There were chickens running everywhere as we walked through the jungle area.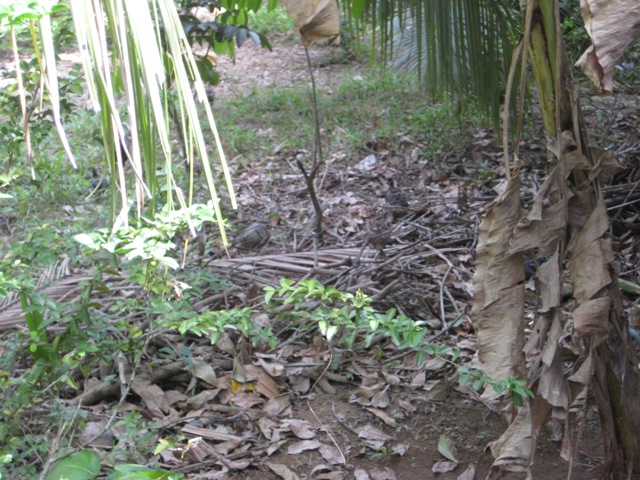 We stopped at this little store that they mentioned was a typical house and business combination. The buildings have grass roofs made from the palms of the Water Coconut plant/tree, and they tend to only last a couple years and then they have to redo the roofs. It is also (obviously) easily burned. Obviously setup to handle tour groups, they had a covered pavillion where they served us tea plus some fresh fruits. Then they had a little band play some typical music for the area, and a few different singers came up and sang (in Vietnamese I assume).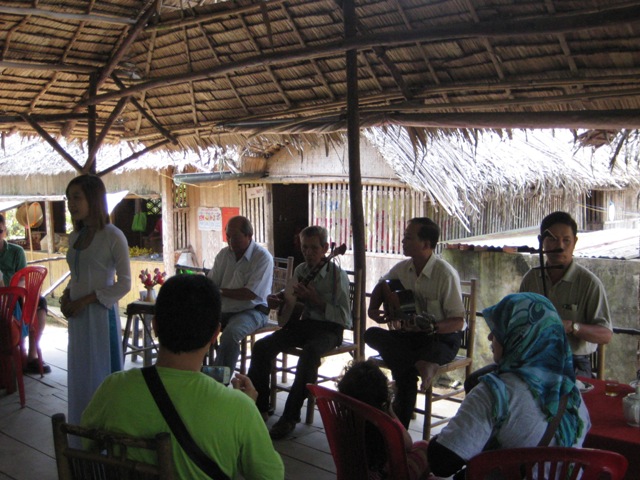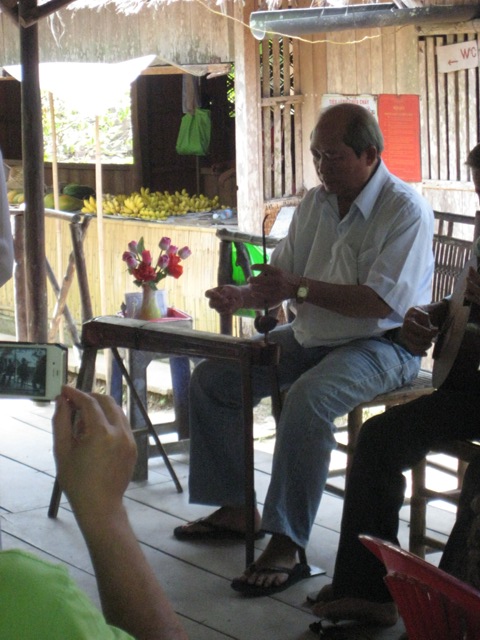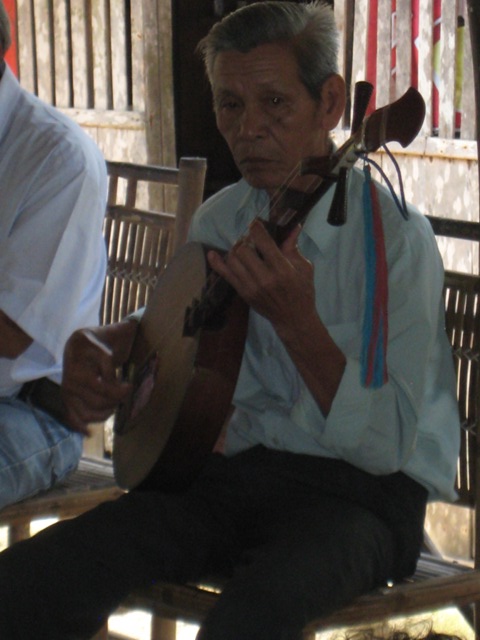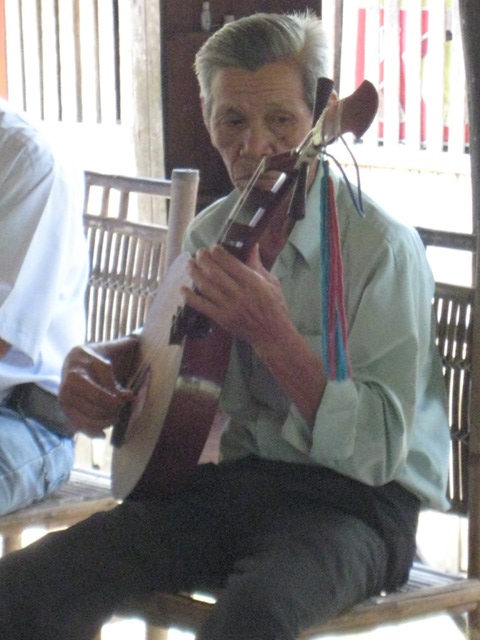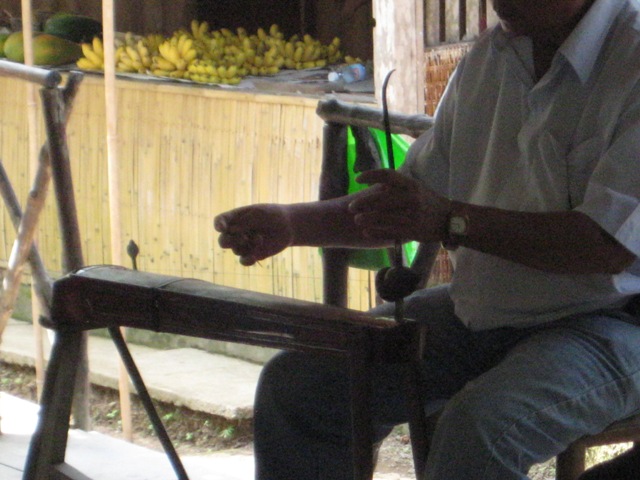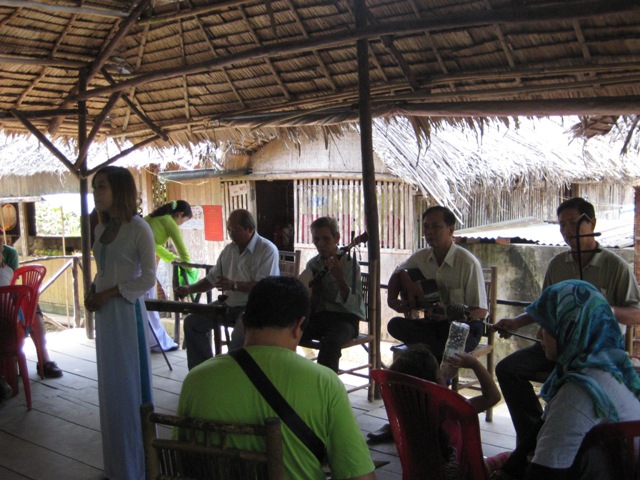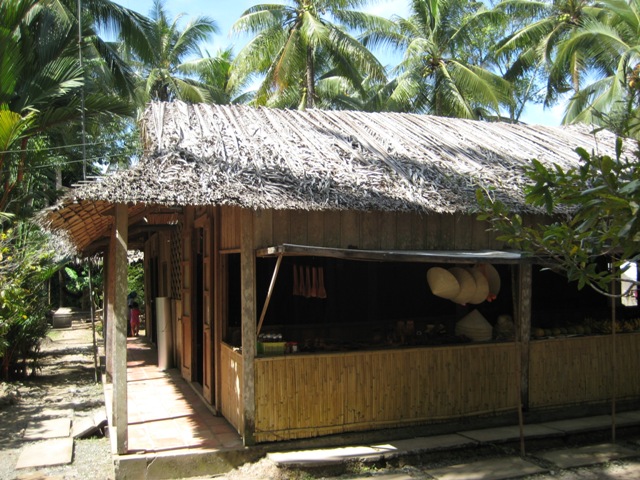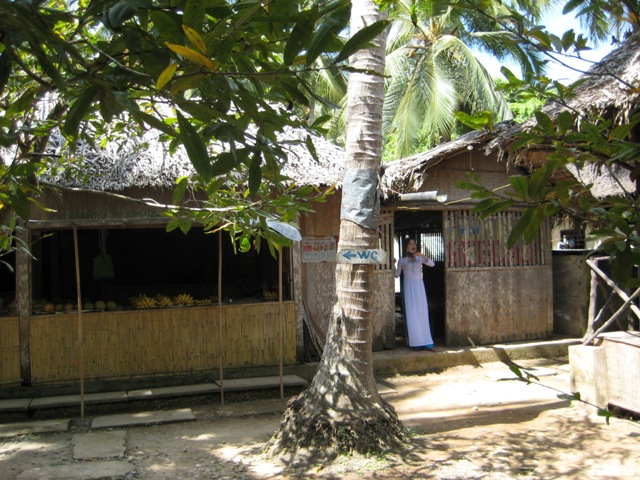 Then we walked through what I will call the jungle, although not sure if it is actually a jungle in the pure definition. We made our way to a small canal where we boarded small wooden rowboats. We got into the boats in groups of 4, were given a paddy hat to wear. The "paddy hat" is a conical hat originating in Southeast Asia and you see alot of people wearing them, even in Ho Chi Minh city. It is becoming part of the national costume of Vietnam.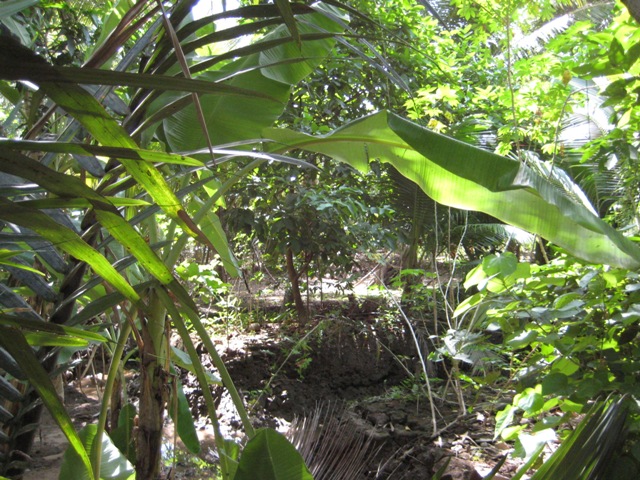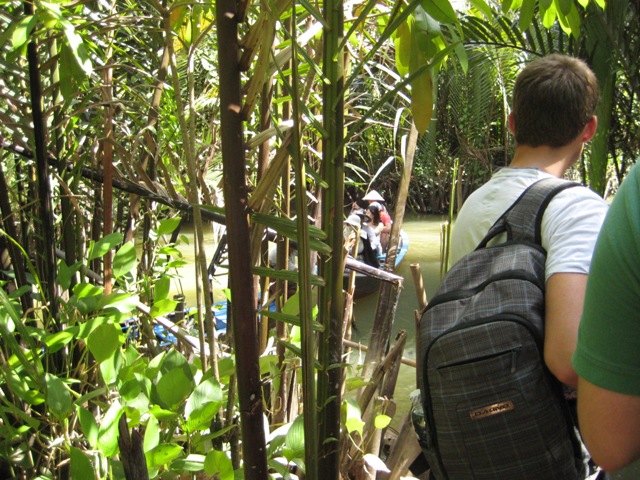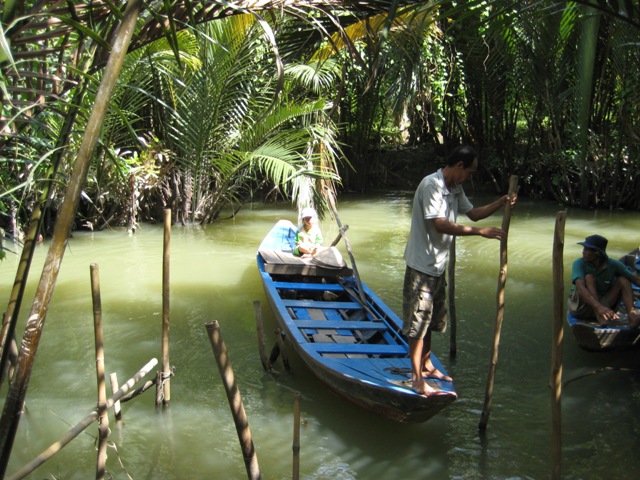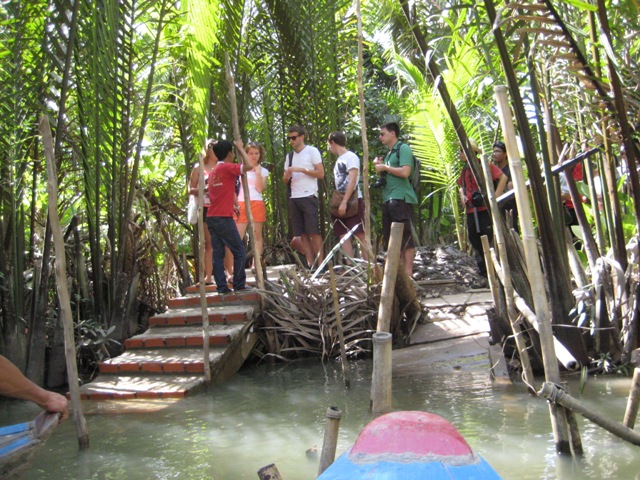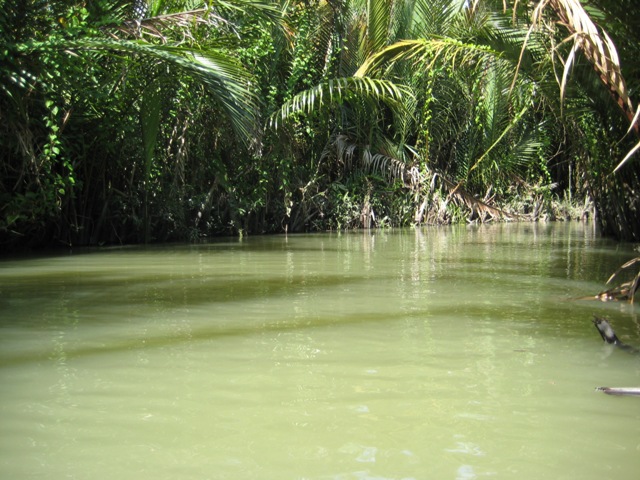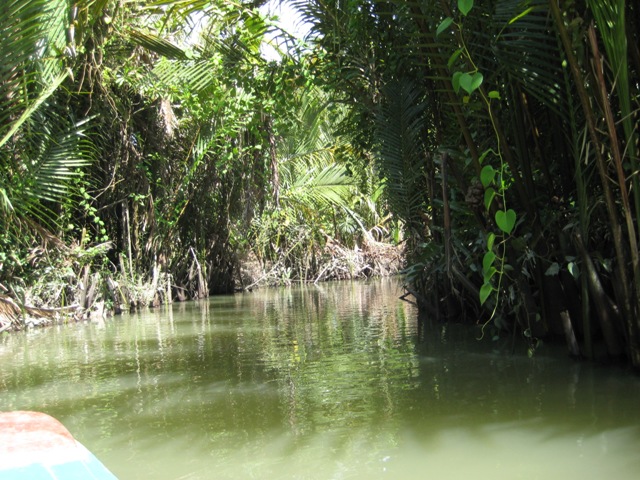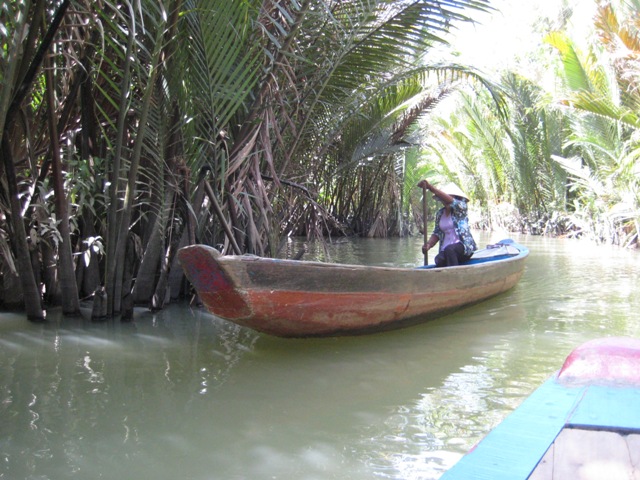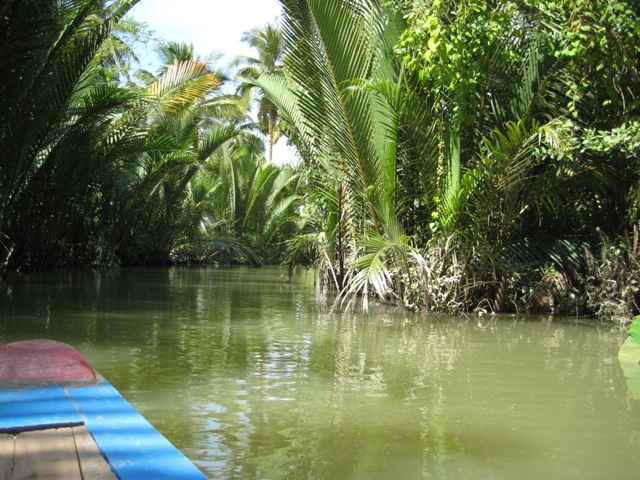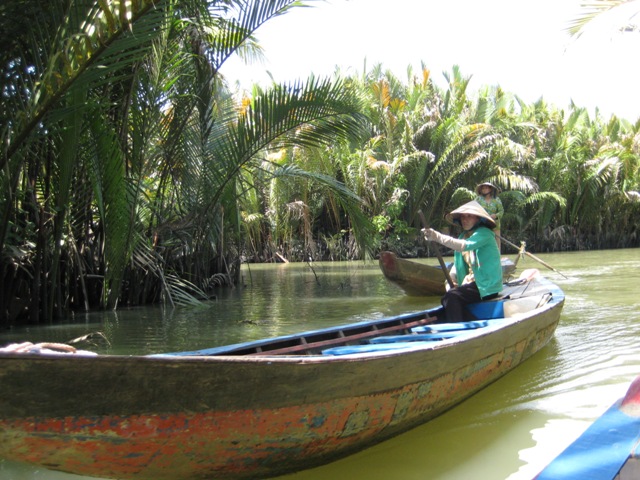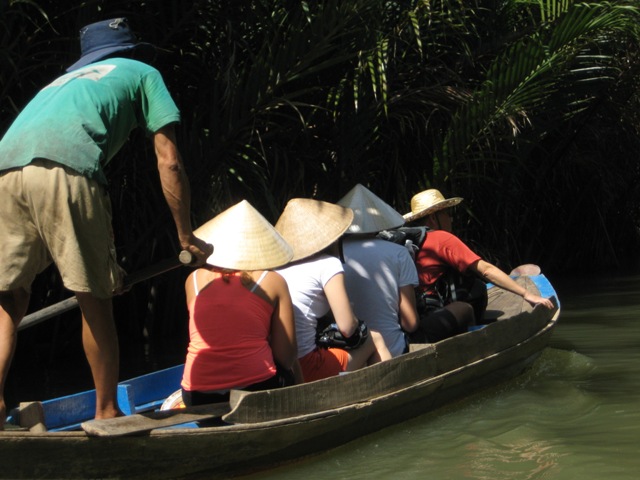 So after our little trip down the canals we stopped at a family-owned business .. a coconut candy business. First, they take the coconuts that grow plentifully in the area, open them, and then put the meat (the white part) through a shredder (2nd picture). That is then pressed (3rd picture) to get the coconut juice out. Then they add a sugary syrup and cook it over a wood fire (4th picture). It then gets kneaded, cooled, put into thin strips to make them the right size, cooled more, cut, then wrapped.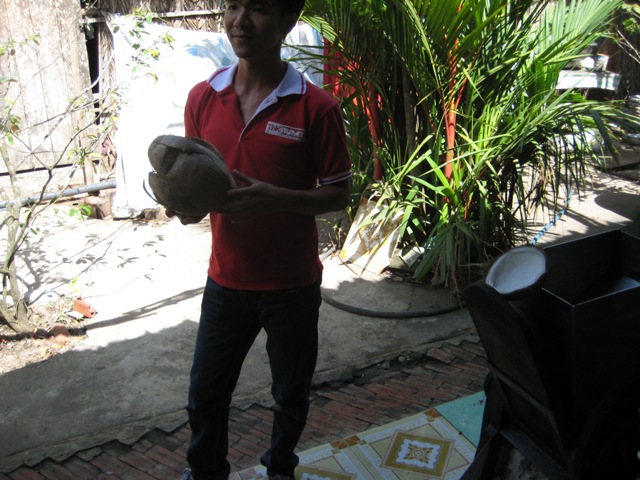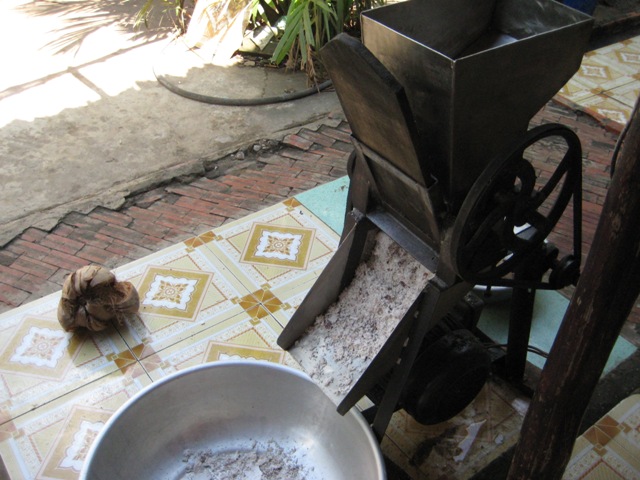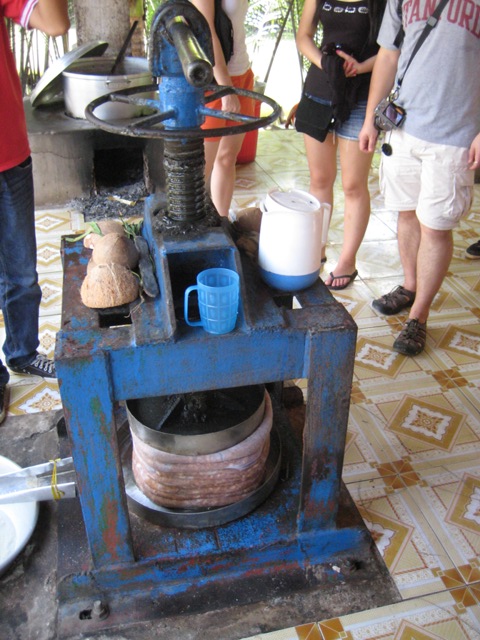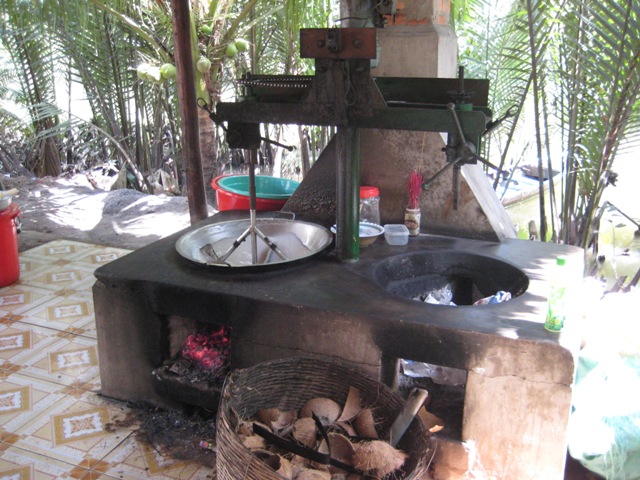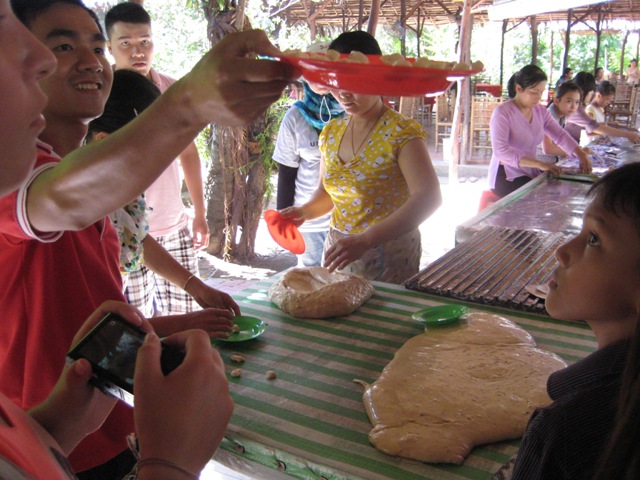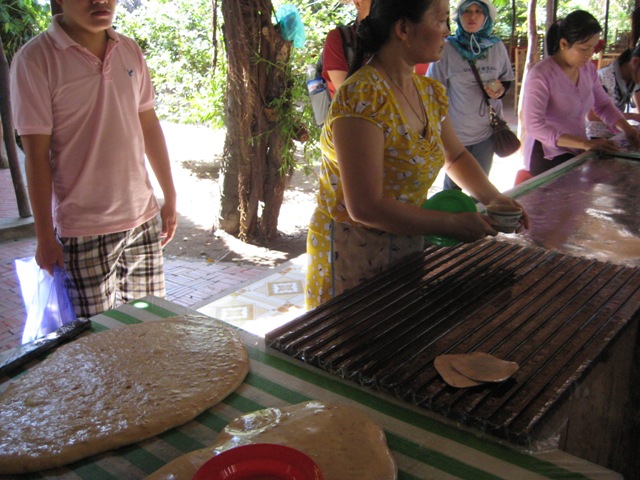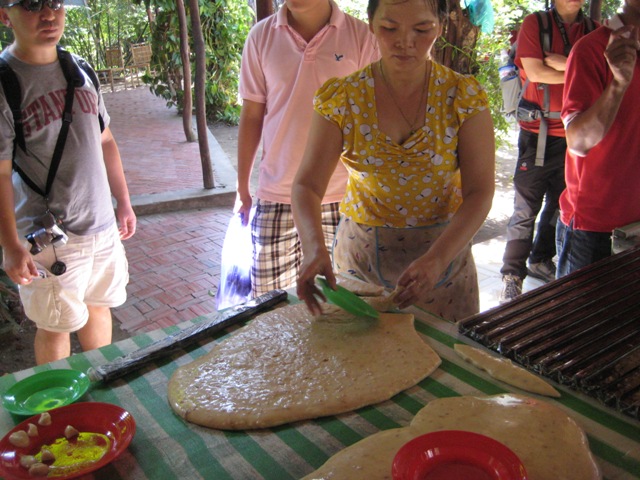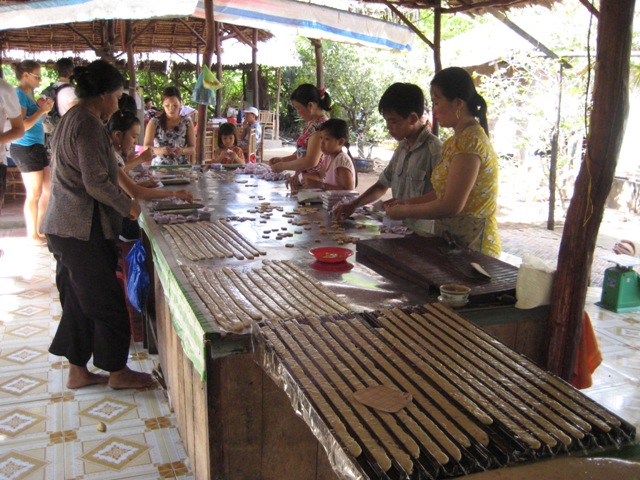 Then our tour guide brought out a baby burmese python, about 5 or 6 feet long. You could have him put it on your shoulders, which a bunch of the others did, but we didn't (didn't know how dirty a python would be).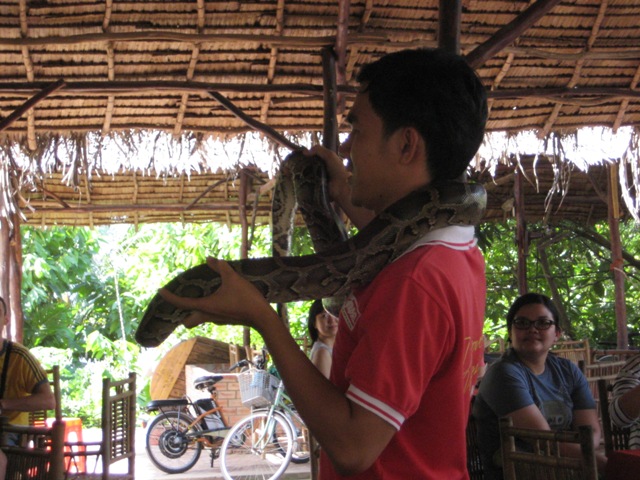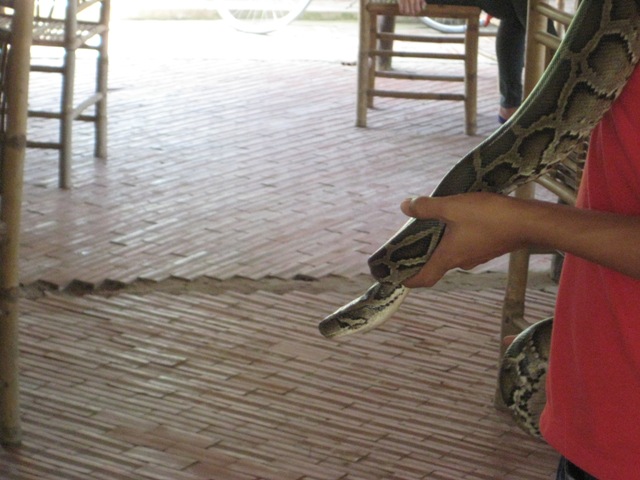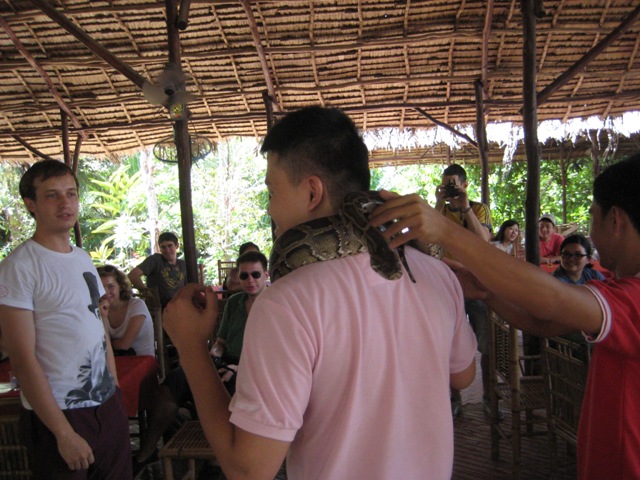 Then we headed over through the jungle again to the edge of the Mekong River where we were picked up by a couple boats and taken down the river. We took various pictures along the way. One thing I wanted to mention is hammocks. They have hammocks everywhere that people lay in during the day. Alongside the roads you see tour buses parked, and the driver has a hammock in the luggage section that he is laying in. This hammock is hung from side to side in the back of our boat.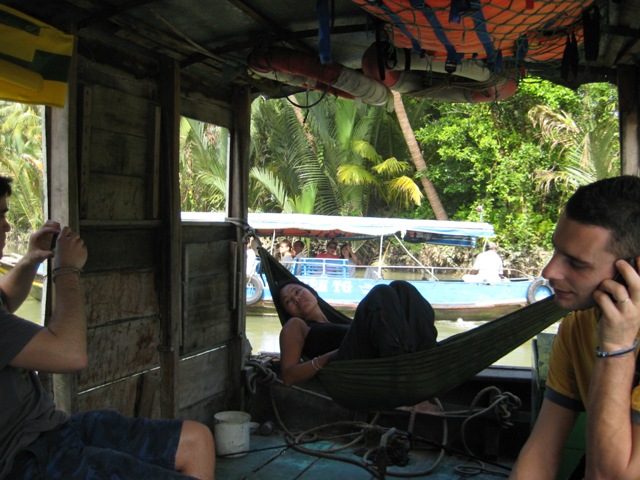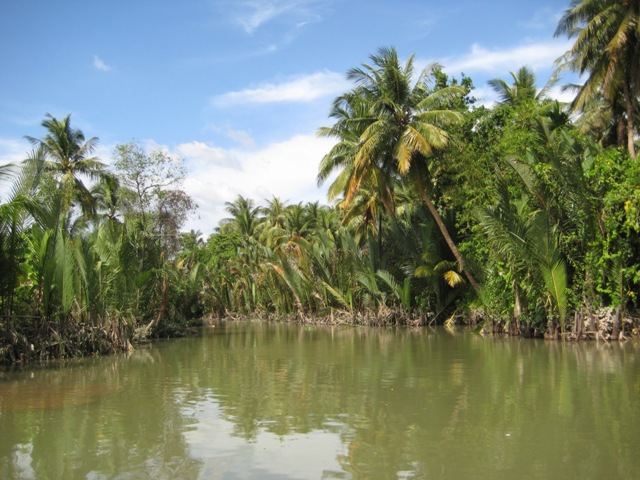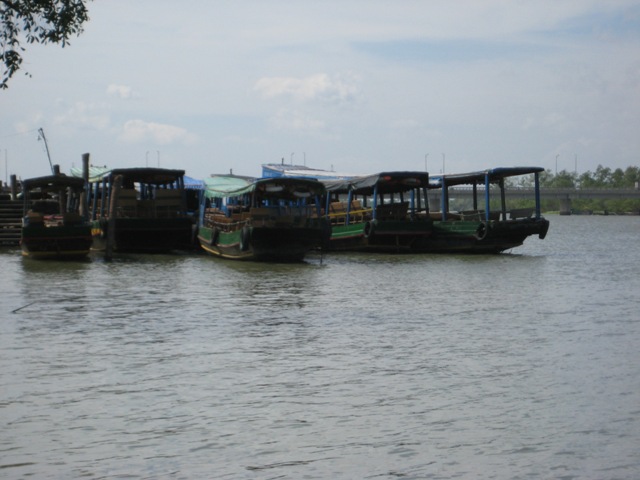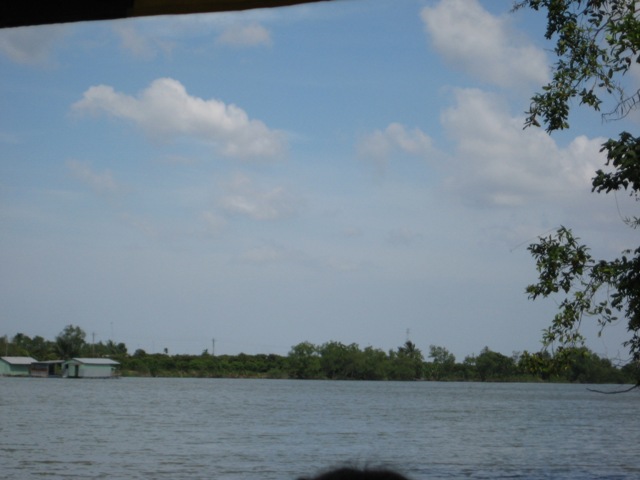 This is a houseboat that has cages underneath it in the Mekong River, used to raise fish.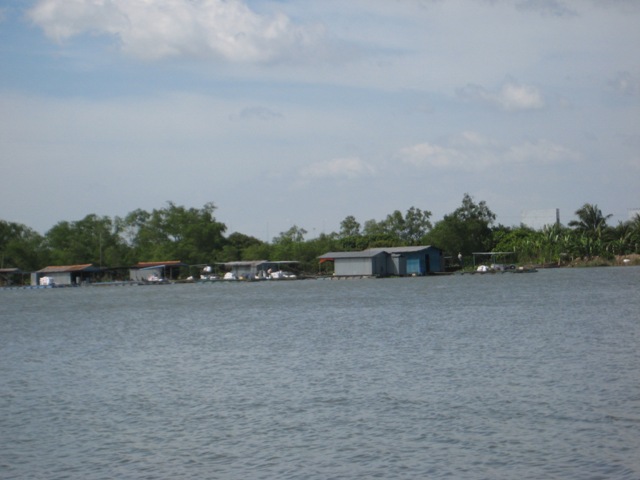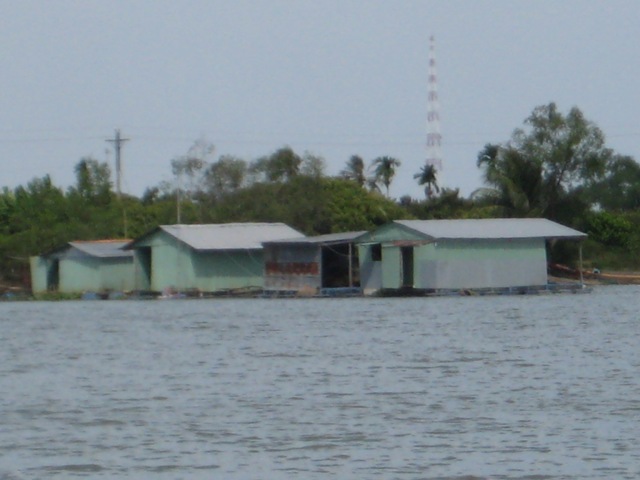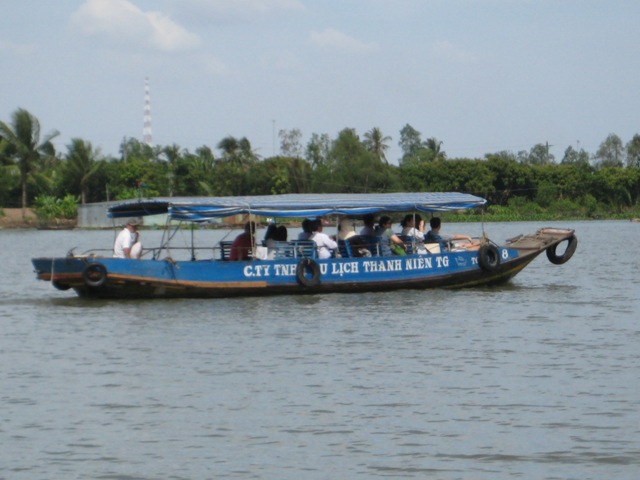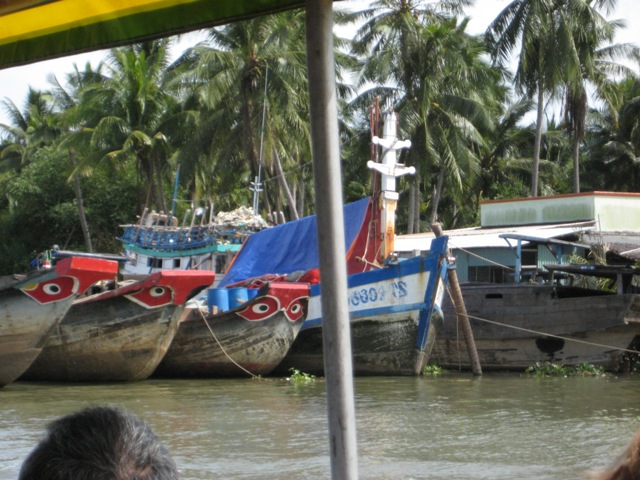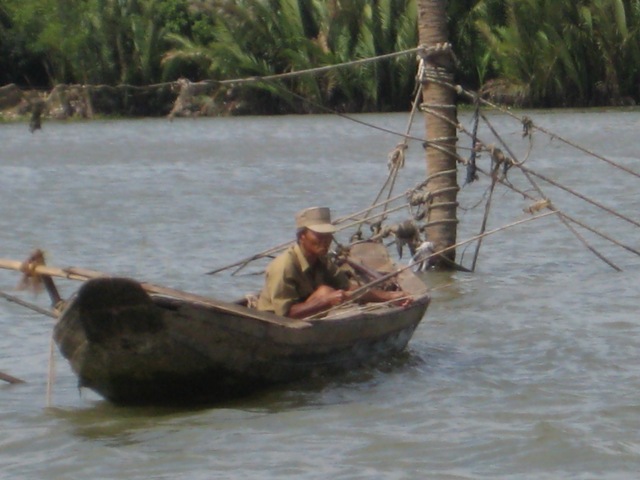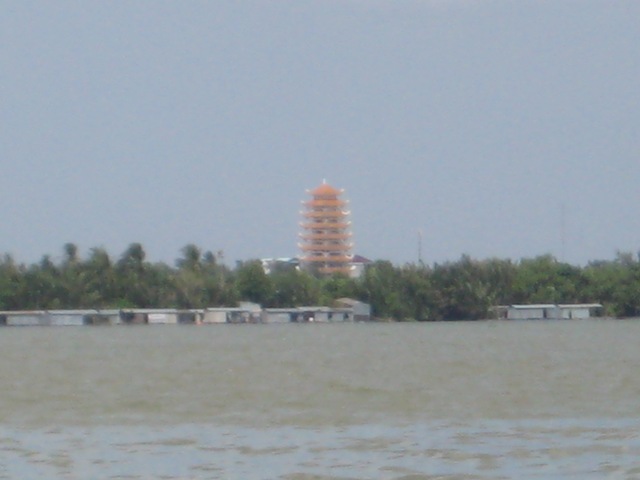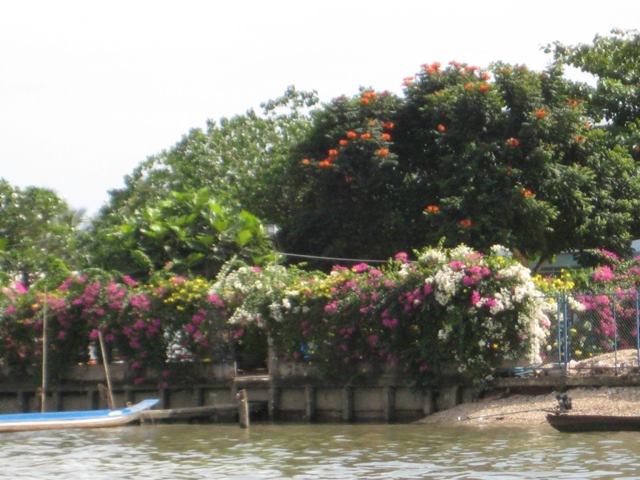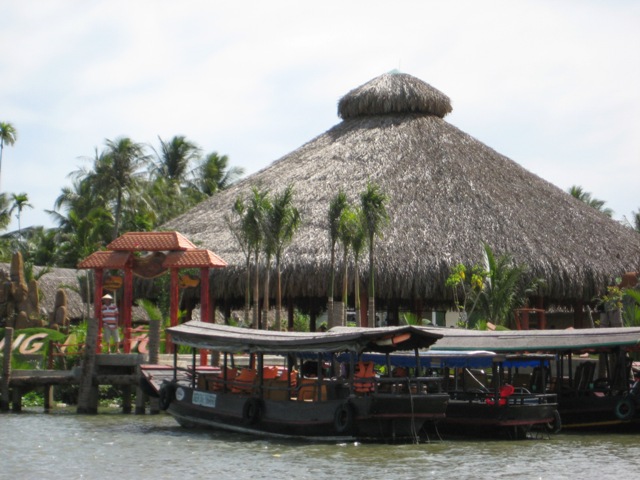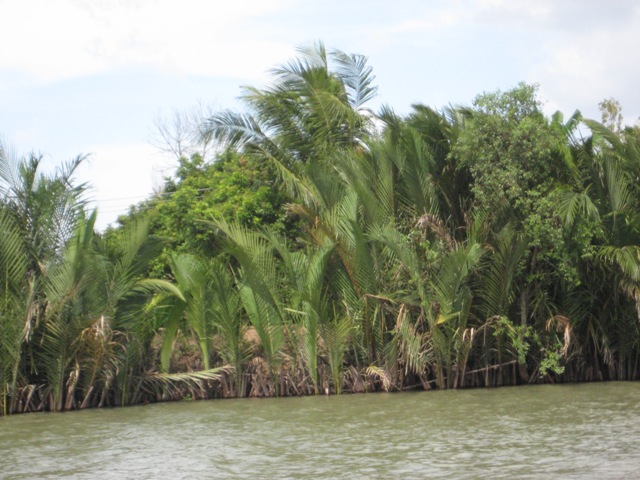 Here is where we docked for lunch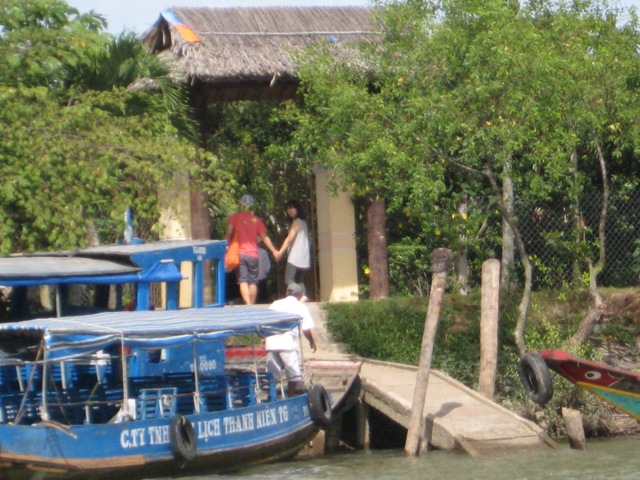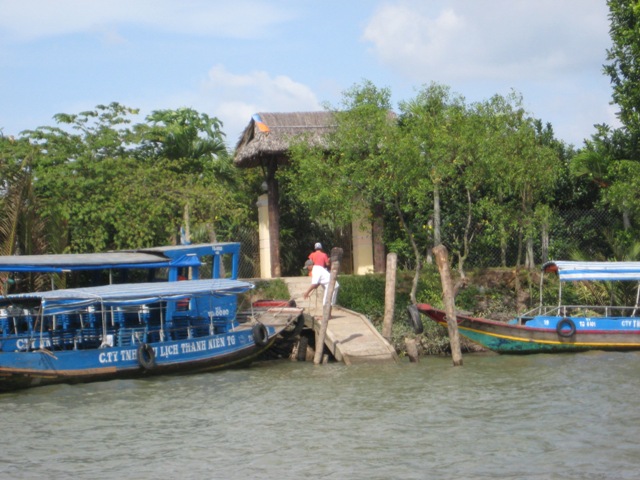 And now lunch. It was included in our tour package, so we didn't order, they just started bringing food out, and boy did they bring food out! You can see the fish that was fried, and then you pick the meat off and make a spring roll with rice noodles (you can see the white ones on the left side under her hand in the first picture) along with veggies and herbs in rice paper. The lady that was there was showing us how to make them as we started. Then we also got 2 large prawns, fried rice, soup, and a few things we couldn't readily identify. All was really good, tho! We do like Vietnamese food!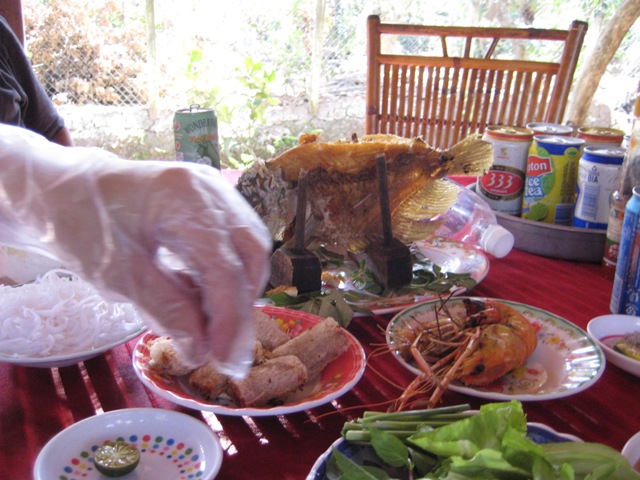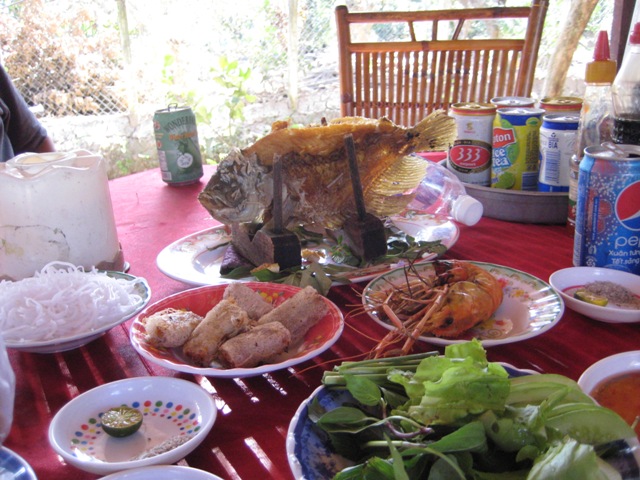 And what would lunch be without a puppy watching us and chickens running around under the chairs.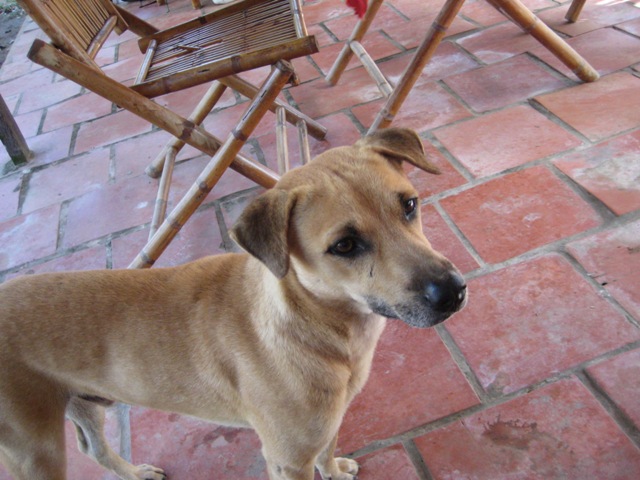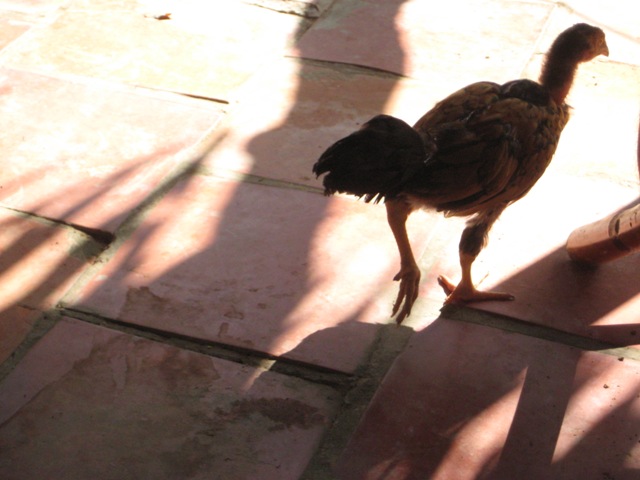 This is the Rach Mieu Bridge, which is a cable-stayed bridge over the Mekong River, connecting My Tho with Ben Tre. It took almost 6 years to build, from 2002 to 2008. The main section of the bridge is almost 2900 meters long.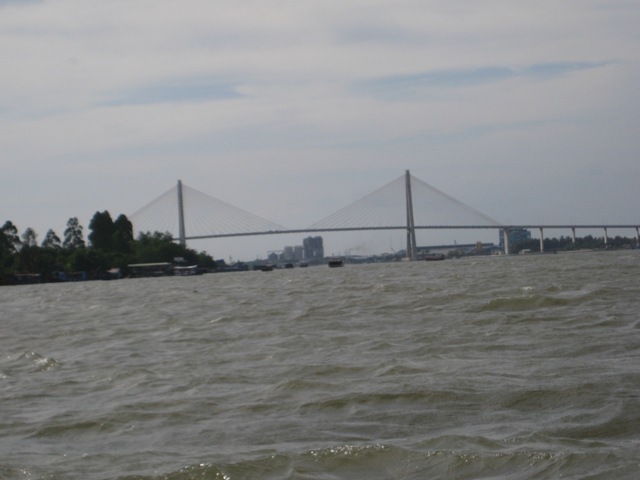 I don't know which temple this is, but we stopped by on the way back to Ho Chi Minh City, perhaps in Bin Tre (not sure). The gates were really nice, decorated in a mosaic of what looked to be broken porcelain. There were 3 different very large statues: one upright, one lying down, and then a "happy" Buddha.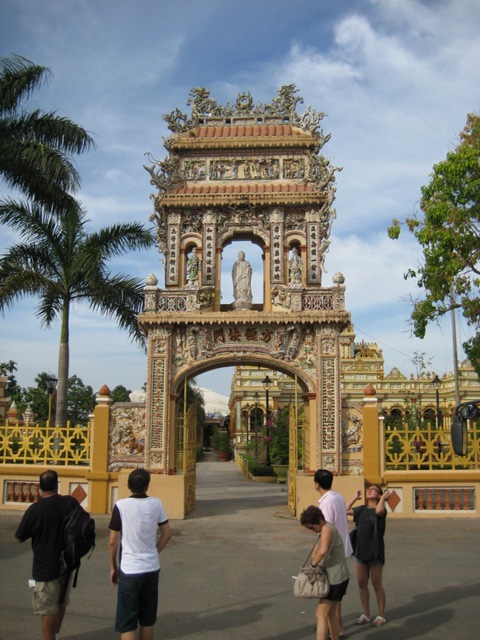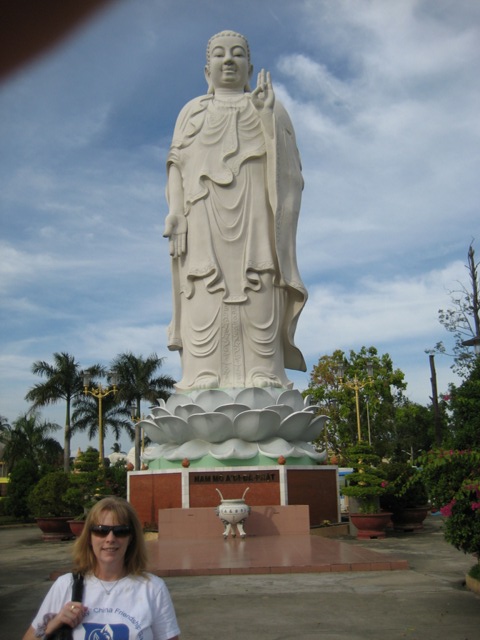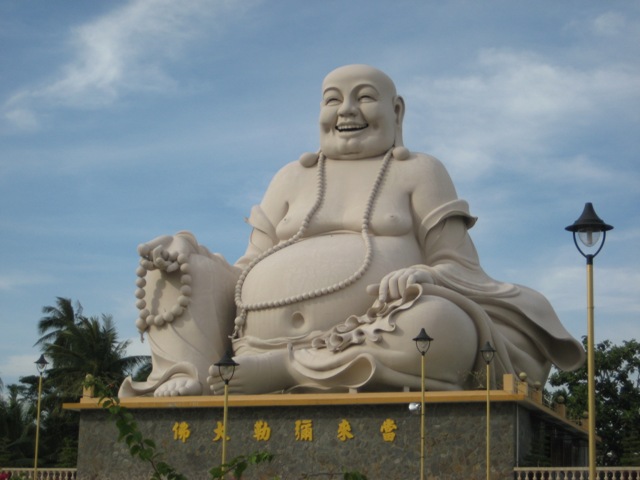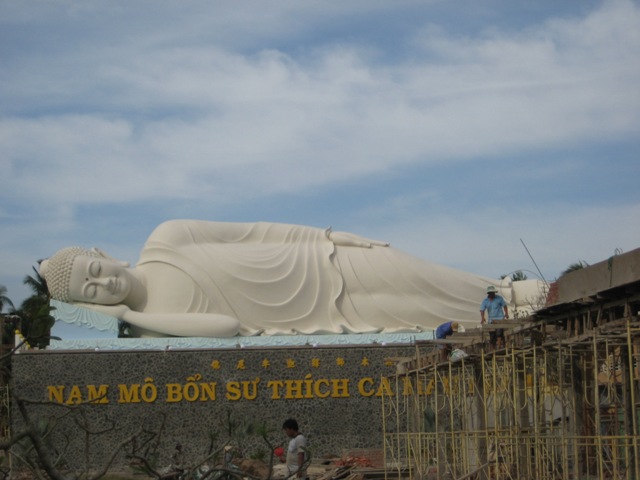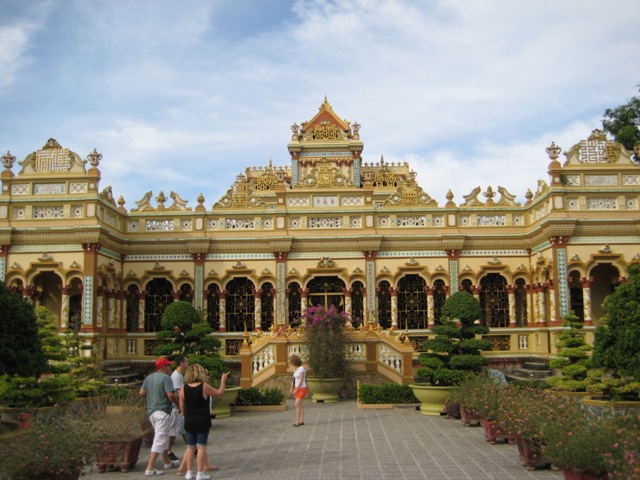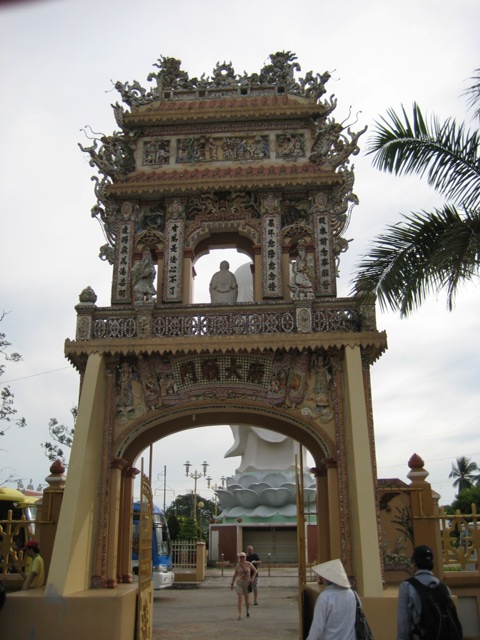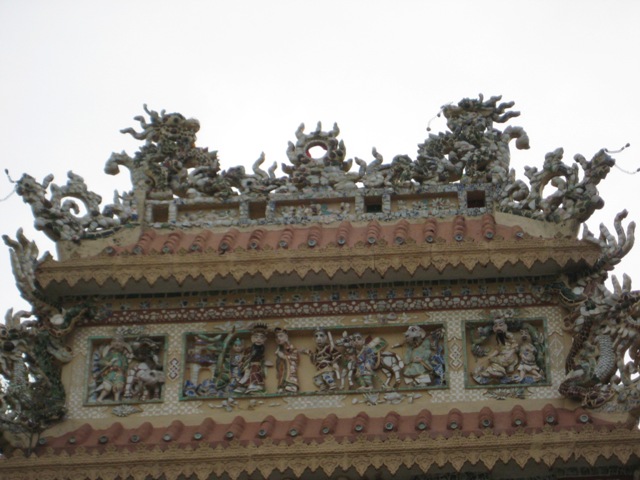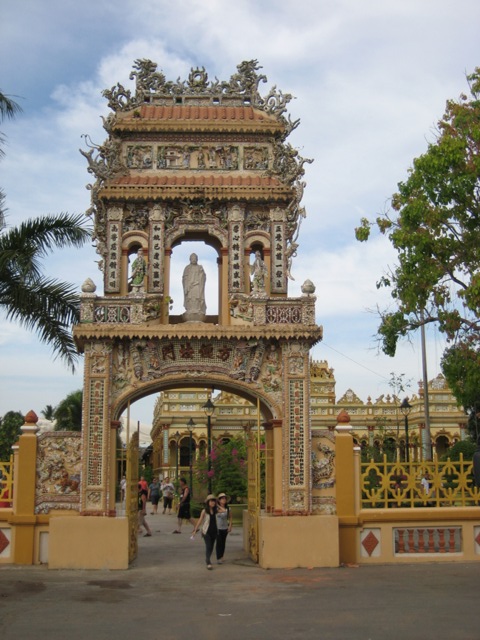 Then back to the hotel. I'll say a little bit about the hotel here. We stayed at the Caravelle hotel, which was opened on Christmas Eve in 1959 and was known for its use of Italian marble, bullet-proof glass, and a "state-of-the-art air-conditioning system and a Berliet private generator." During the 1960s, the hotel was used as the Embassy locations for Australia and New Zealand as well as the Saigon bureaus of NBC, ABC and CBS. On the morning of August 25, 1964, at around 11:30 am, a bomb exploded in room 514, on a floor occupied mostly by foreign journalists, who were all out on assignment. Nine rooms were damaged, windows were blown out of several cars parked in the street, and a number of people were injured without fatalities. Fortunately, nothing happened during our stay.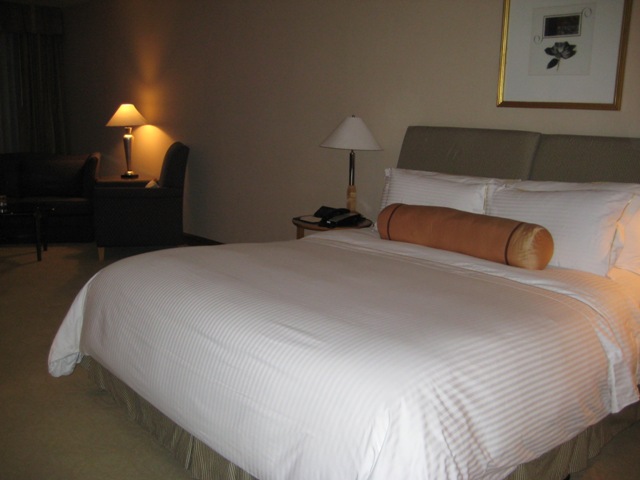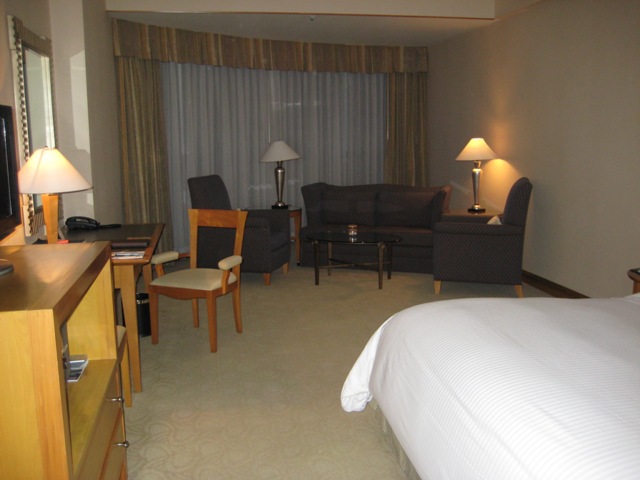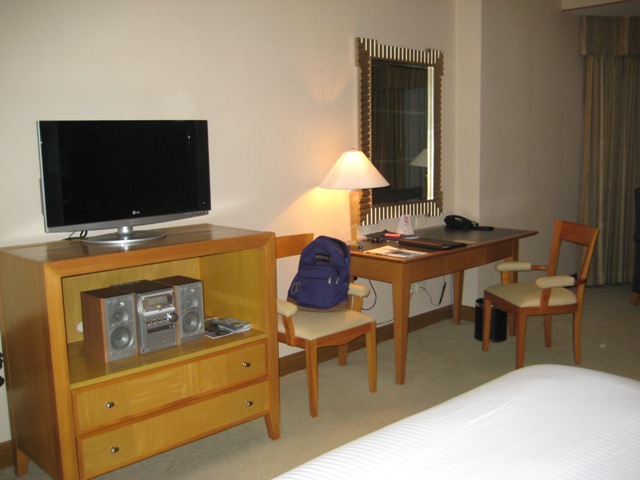 More views from the hotel room, this time the same buildings but at night.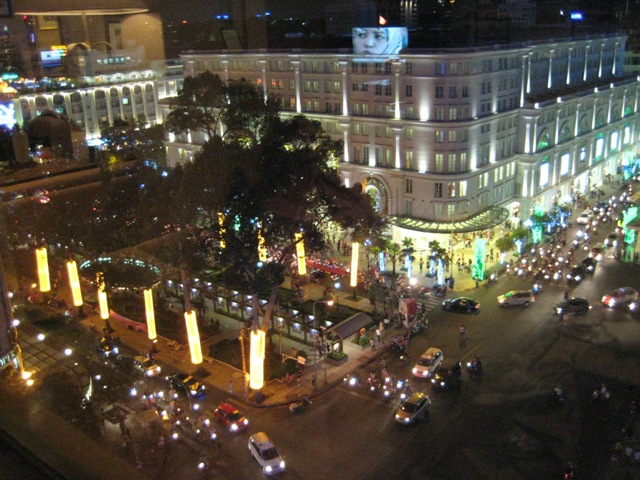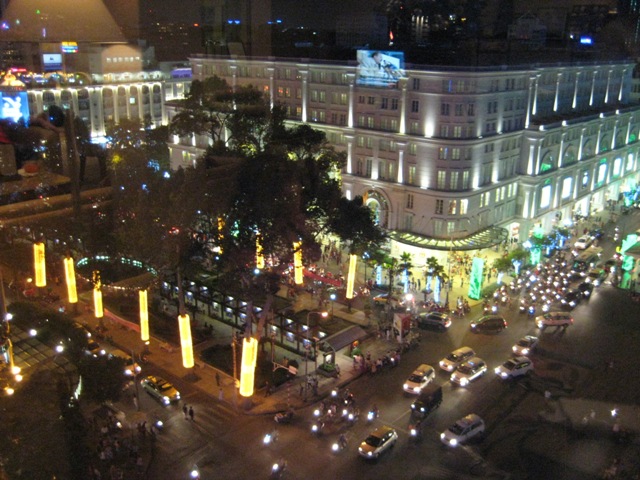 First dinner was the Lemongrass restaurant. We were up on the 3rd floor and you can see the width of the restaurant. So this width seems very consistent with the buildings (especially new ones) being built .. perhaps they pay for the amount of sidewalk space they take, because many newer buildings are thin but 3-4 or 5 stories tall. It was well decorated with the green walls and tiles on the floor that reminded us of some French restaurants. We did alot of seafood .. steamed sea bass with ginger, prawns in a garlic butter sauce, along with rice and some spring rolls. As we came back down the stairs, they had live music on the ground floor.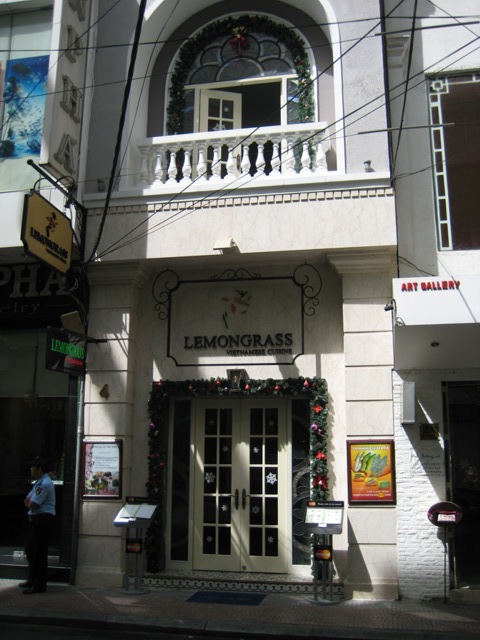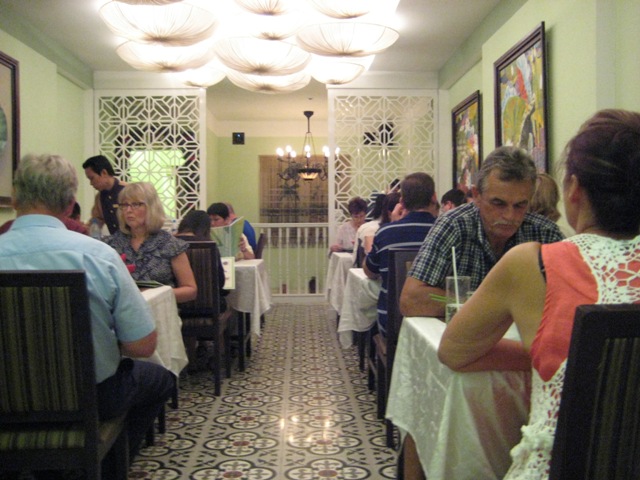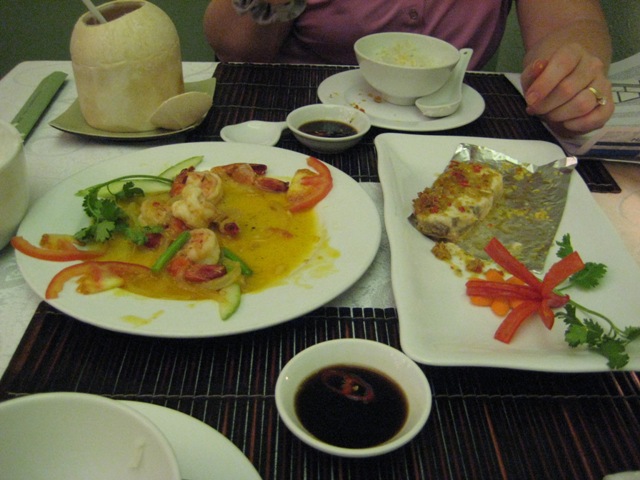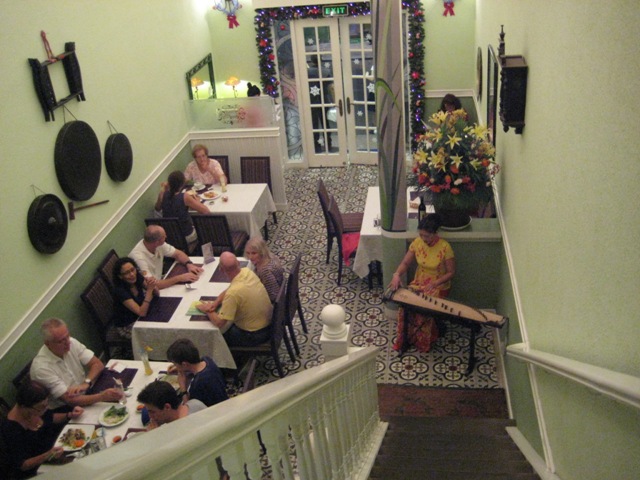 Night time in Ho Chi Minh city .. they had alot of lights around along with something that looked like it was getting ready for New Years' Eve. We walked down to the riverside and took a couple pictures of the boats there, also all lit up.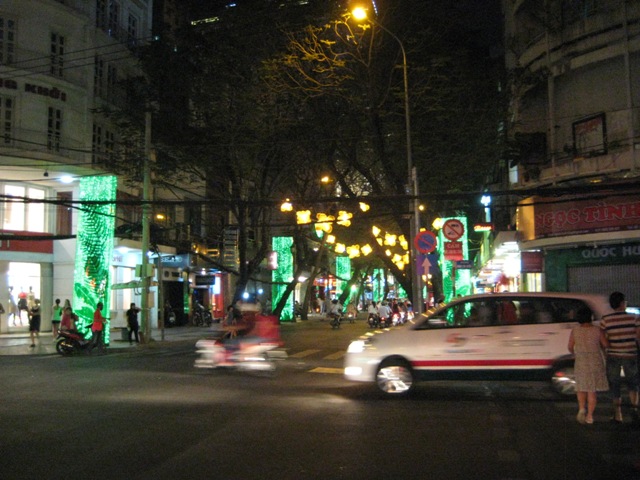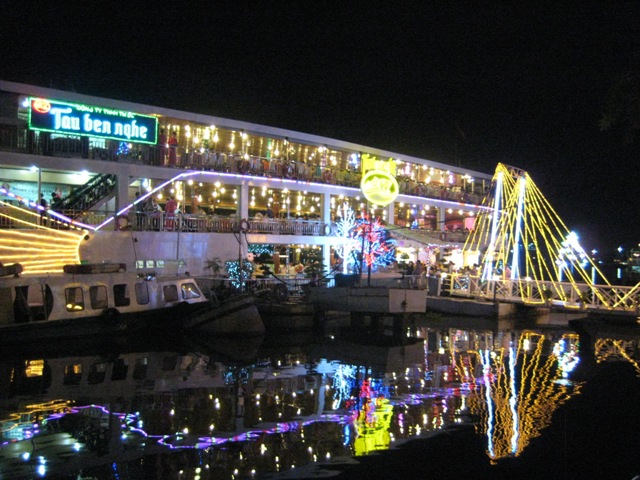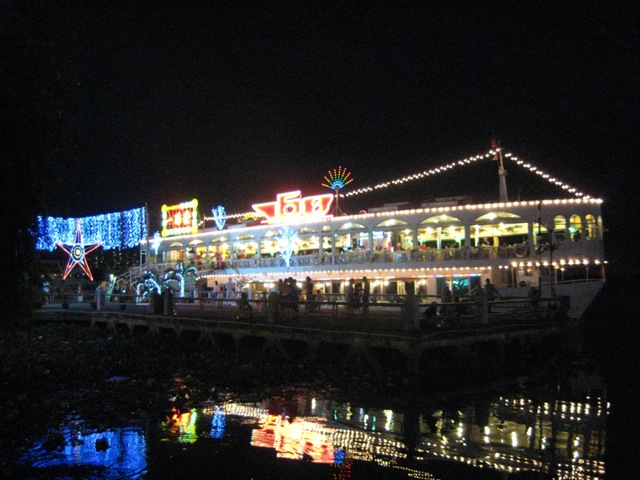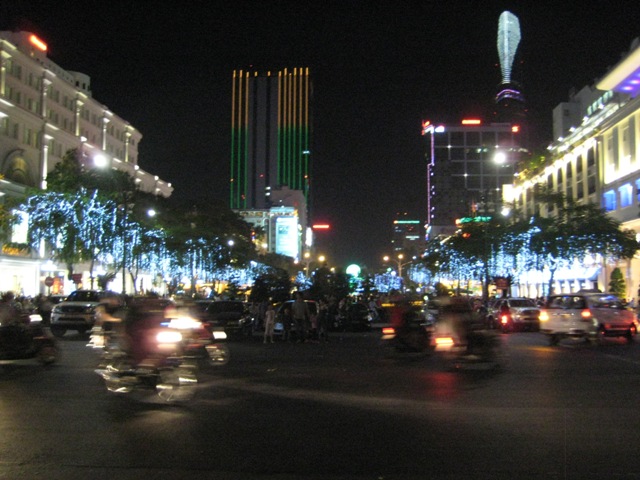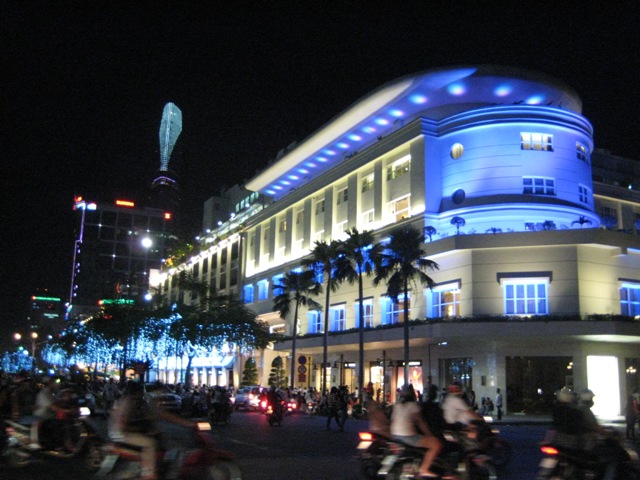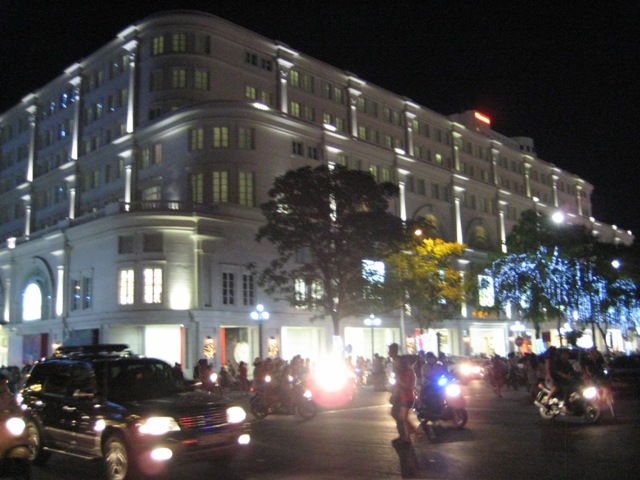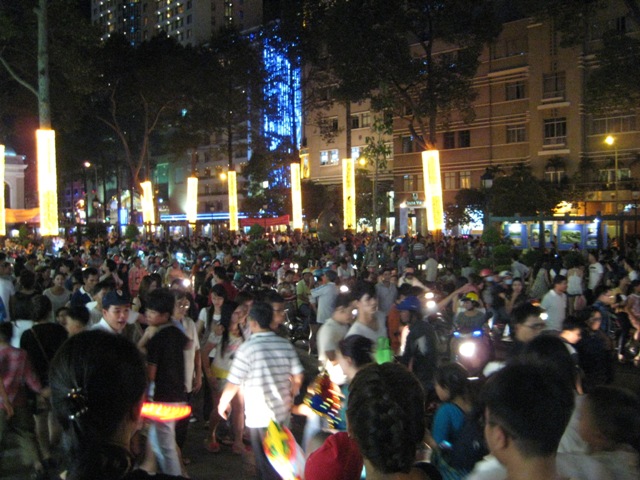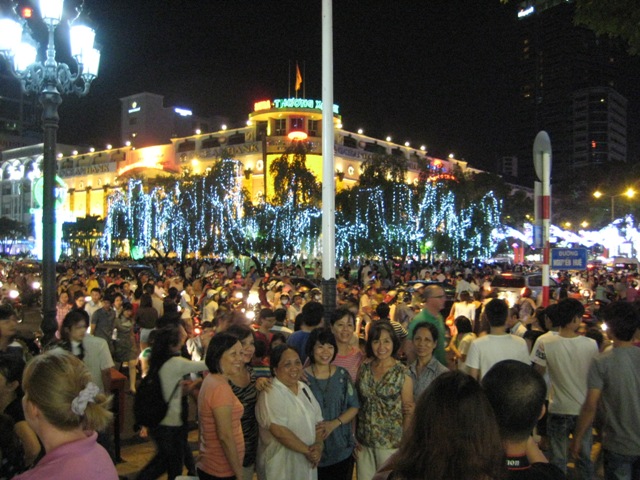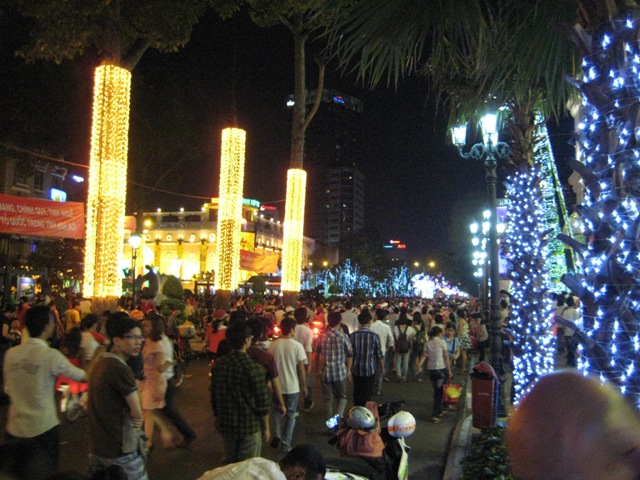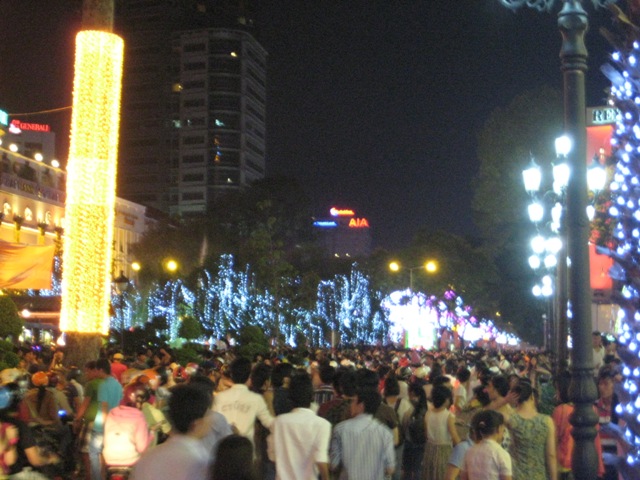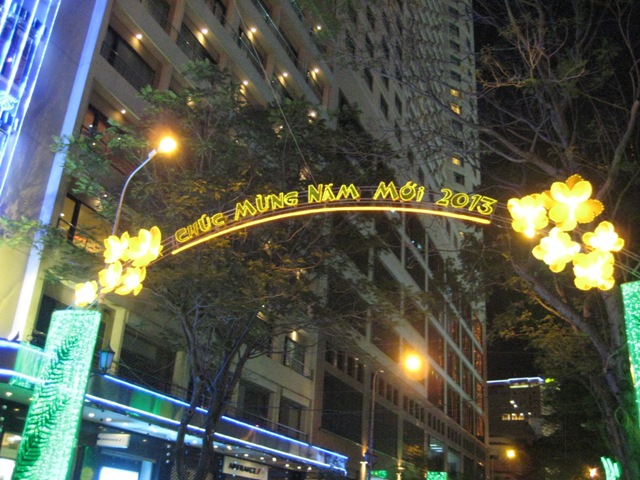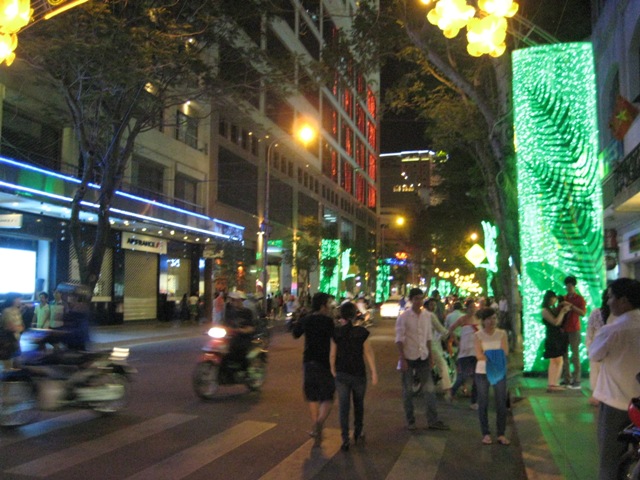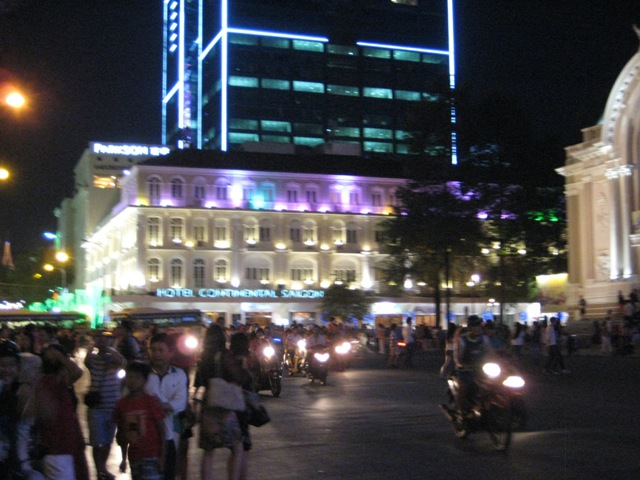 The Municipal Theatre of Ho Chi Minh City, also known as Saigon Opera House is an example of French Colonial architecture in Vietnam. It was built in 1897 by French architect Ferret Eugene as the Opera de Saigon. Starting in 1956 it was used for the Lower House assembly of South Vietnam and then back as a theater in 1975. Its architectural style is influenced by the flamboyant style of the French Third Republic, with the façade shaped like the Petit Palais which was built in the same year in France.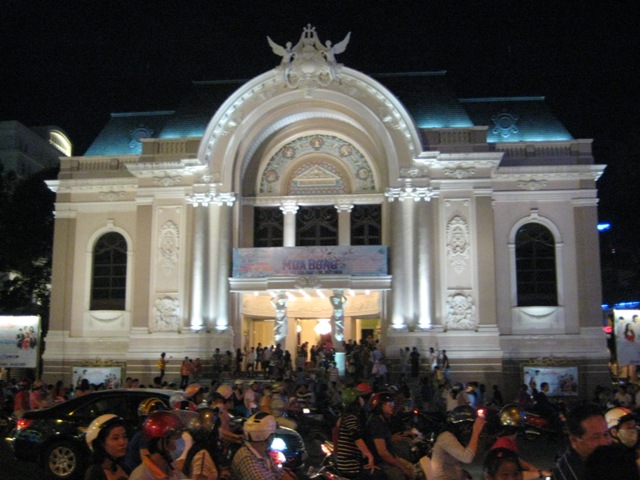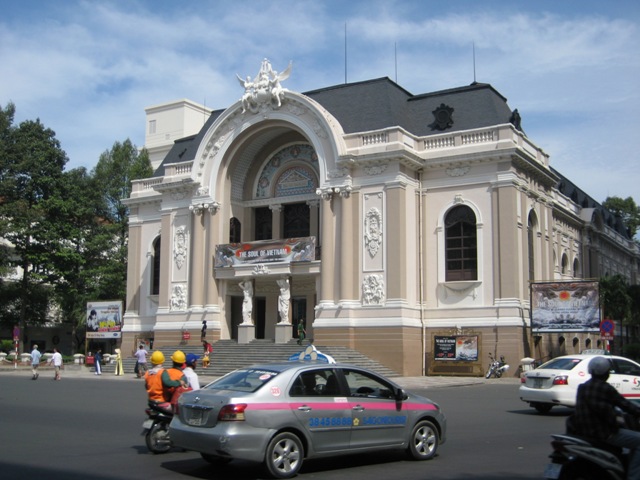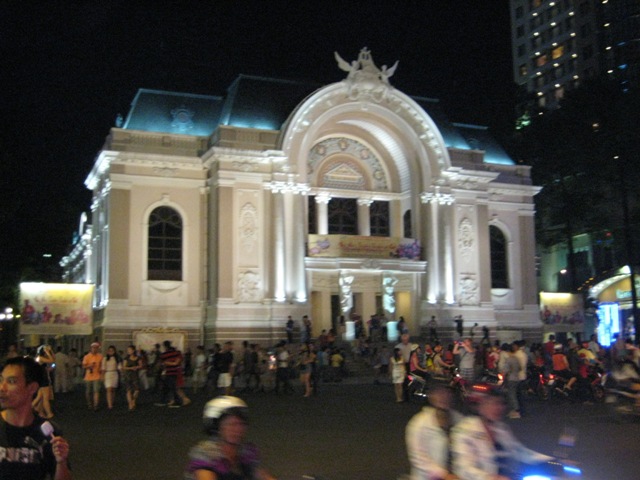 All over the city, you can see alot of "communist" posters and flags, and alot of things with a picture of Ho Chi Minh. Although we can't read Vietnamese, we think this has something to do with the 68th anniversary of the Vietnam People's Army, which was formed December 22nd, 1944, to resist Japanese occupation.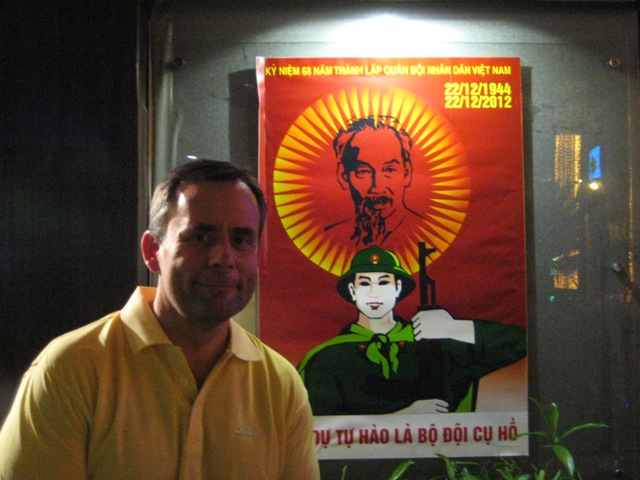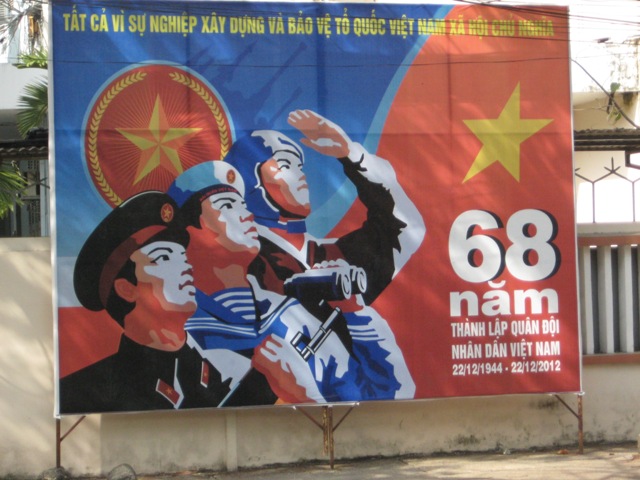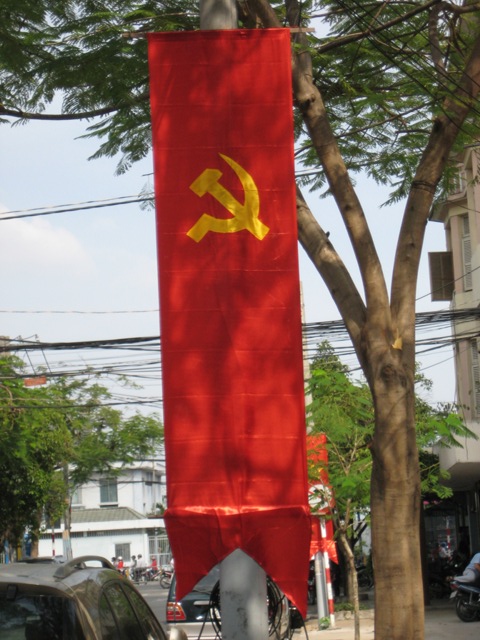 Next day, we spent the morning at the War Remnants Museum. The museum was opened in 1975, as the "Exhibition House for US and Puppet Crimes", although it was renamed in 1990 to "Exhibition House for Crimes of War and Aggression" and then again in 1995 to War Remnants. It still pretty much focused on the American phase of the Vietnam war and is (as somewhat expected) a bit biased against the French and Americans.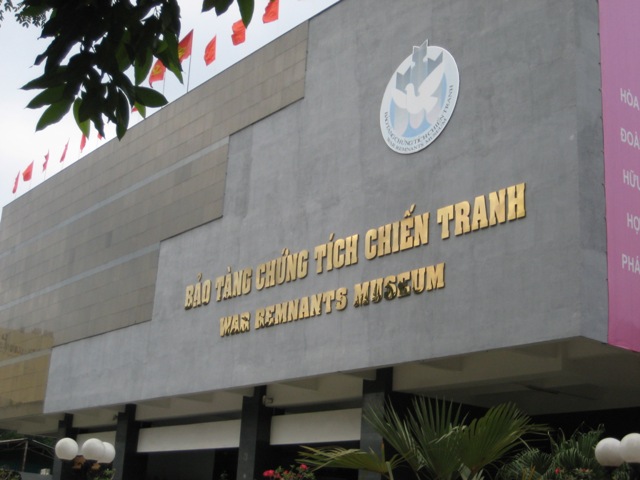 Outside were some interesting exhibits, including an M41 tank used in 1965 (2nd photo) and an M48 A3 tank (3rd photo). Supposedly the US Army had 370 M48 taks in Vietnam by July 1969. Also a few planes and helicopters. The day we were there, there were a few sets of students, the last photo with the group in front of one of the tanks. We didn't take any pictures inside.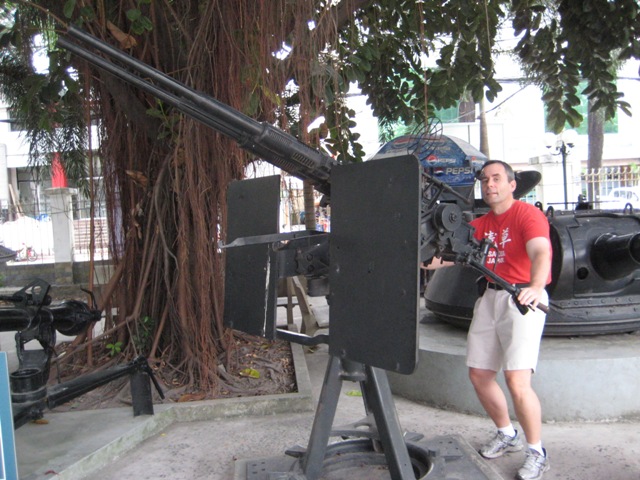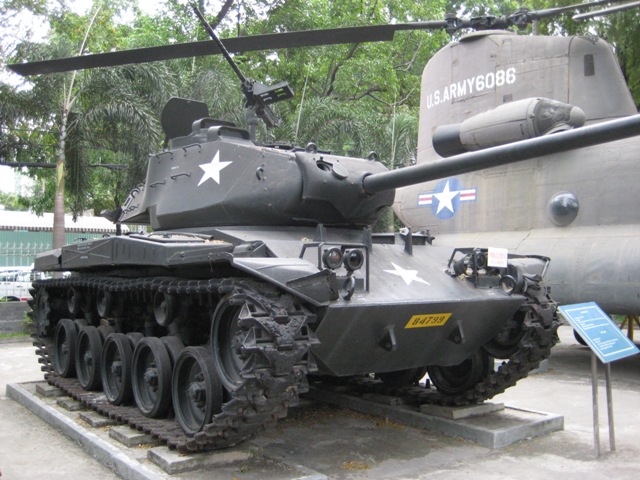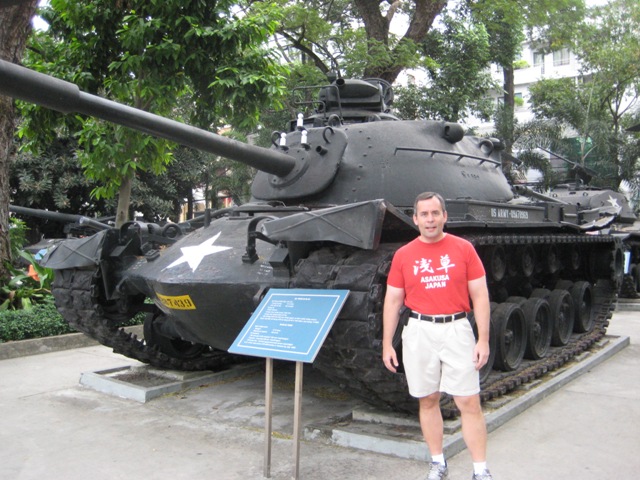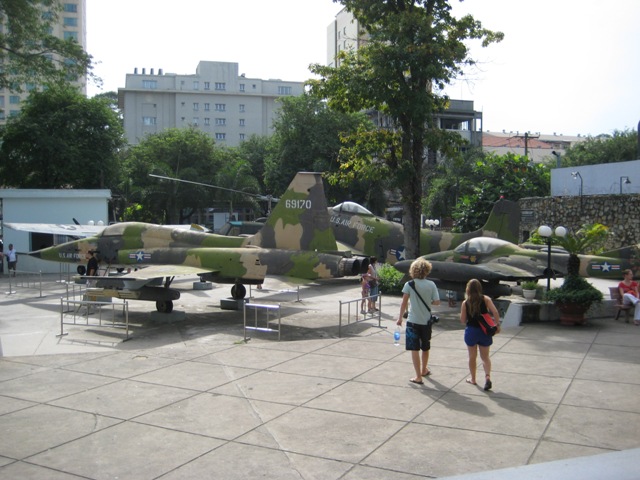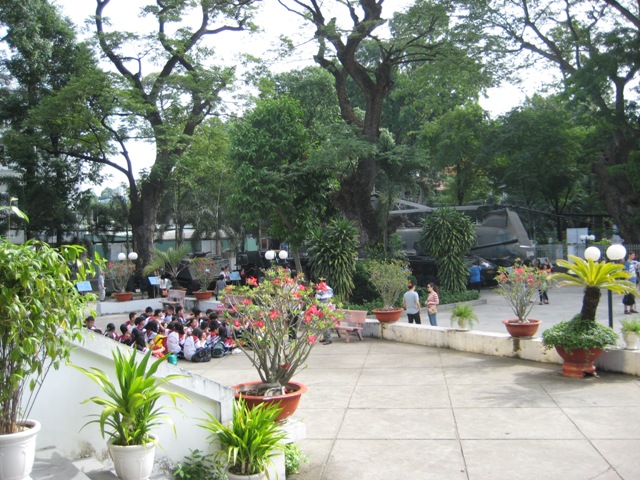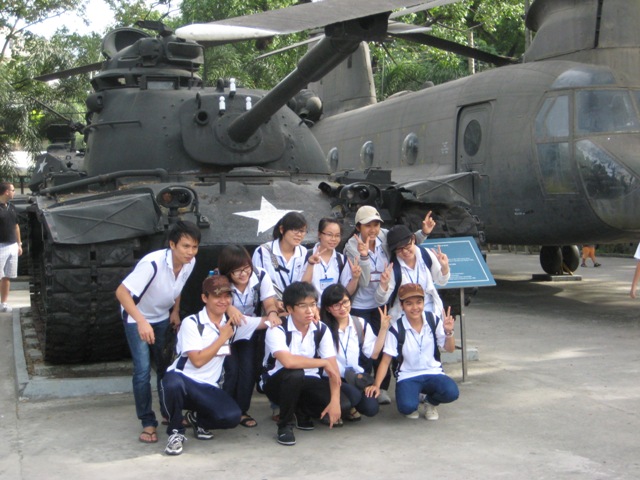 A couple buildings walking back, some you'll get more info/pictures on later during the city tour part of the blog. The first two pictures is the Reunification Palace (we'll talk more later on).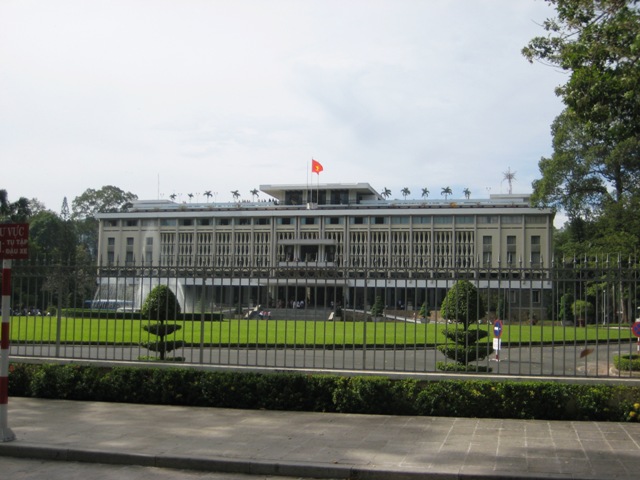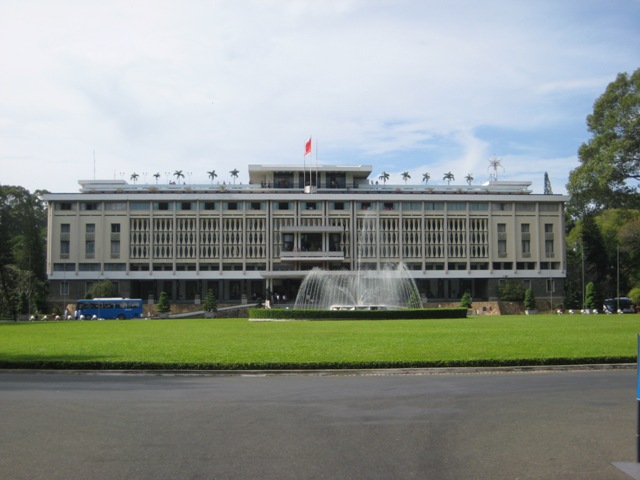 In front of City Hall is a statue of Ho Chi Minh, who is still quite loved it seems in Vietnam even though he died before the end of the war. Ho Chi Minh City Hall (the yellow building) was built between 1902 and 1908 in a French colonial style. It isn't open to the public so we could only see the outside.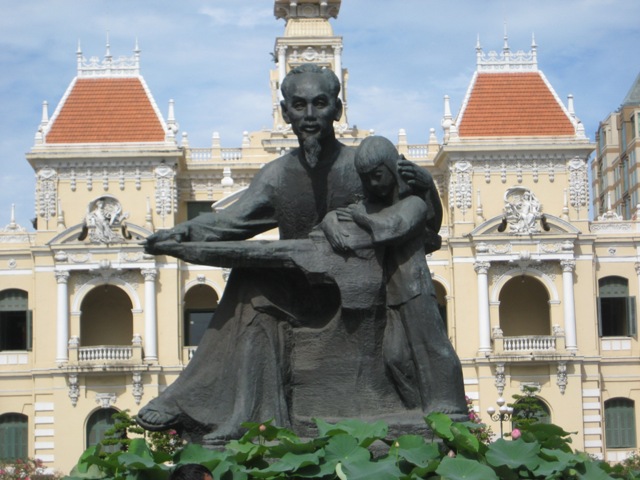 Saigon Notre-Dame Basilica (Notre-Dame Basilica) is a cathedral established by French colonists, built between 1863 and 1880. It has two bell towers that were added in 1895, reaching a height of 190 feet. All building materials were imported from France including the outside wall of the cathedral, built with bricks from Marseille. Inside one of the side chapels was a little nativity scene.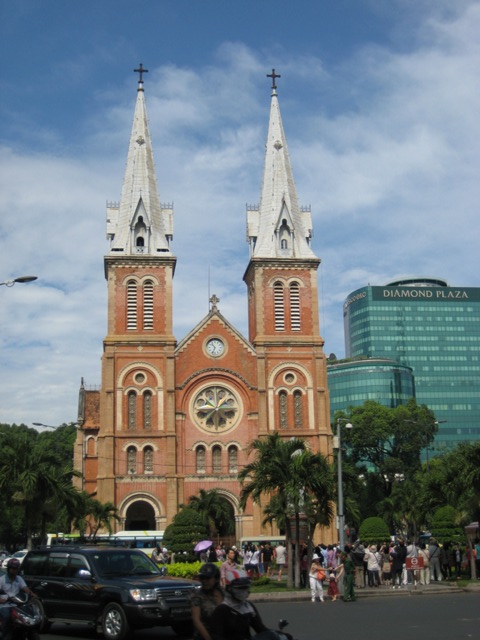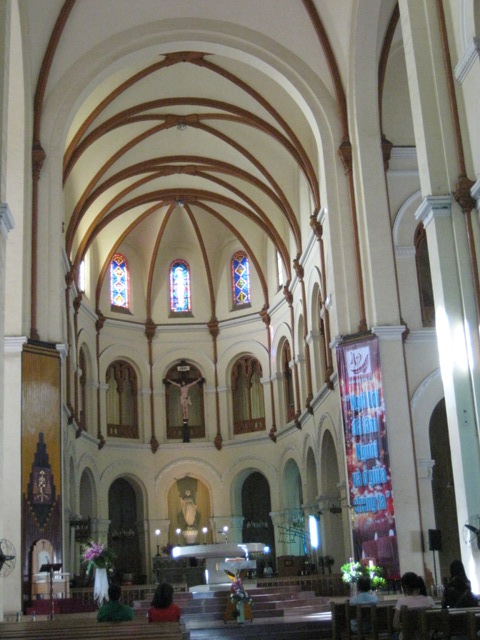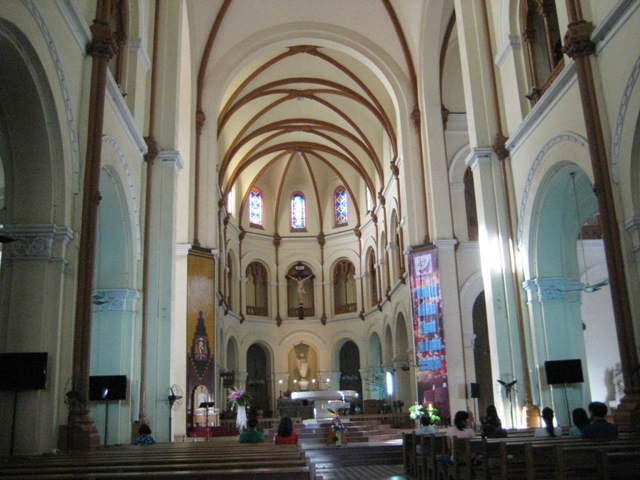 One of the shopping centers near our hotel, well decorated for Christmas. Along the sidewalk they had decorations as well that we found out (the hard way) are VERY popular with people to take their pictures in front of. We learned after the first evening to walk on the OTHER side of the road.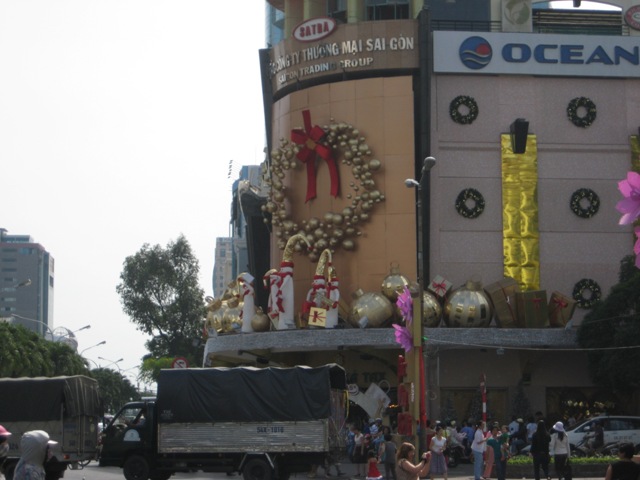 Ben Thanh Market is a large marketplace in the downtown area and is one of the earliest surviving structures in Saigon. Inside is almost everything ... souvenirs, local handicrafts, clothes, purses, suitcases, shoes, food, you name it. The statue is in front of the market in the traffic circle, but we really don't know who it is.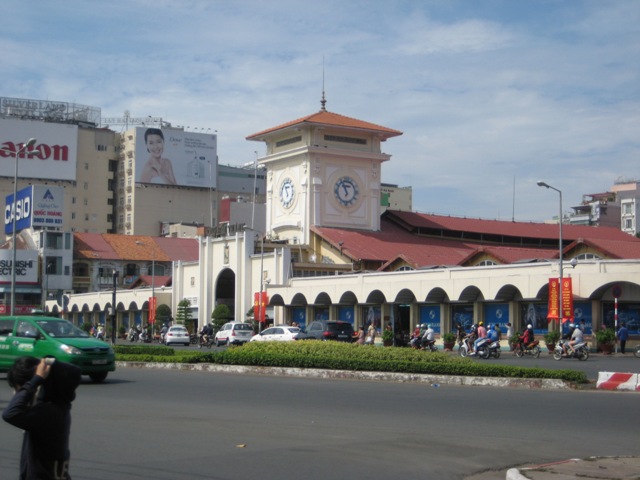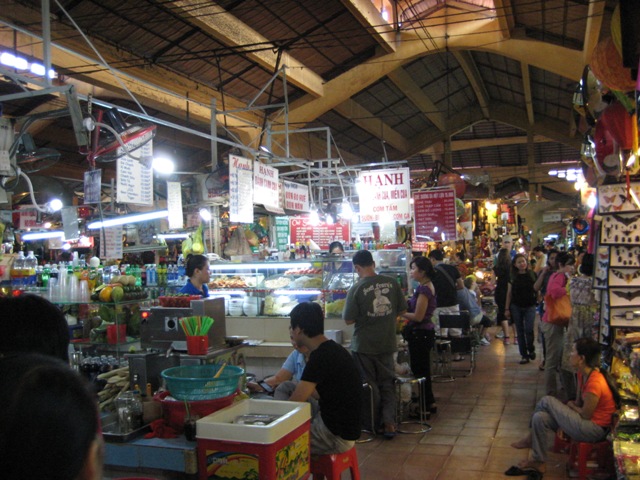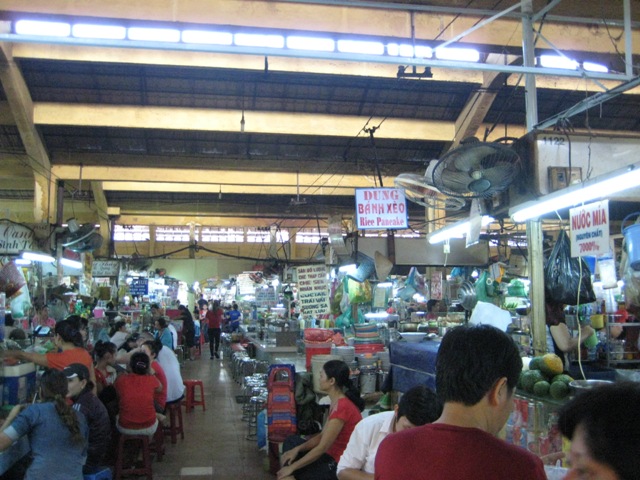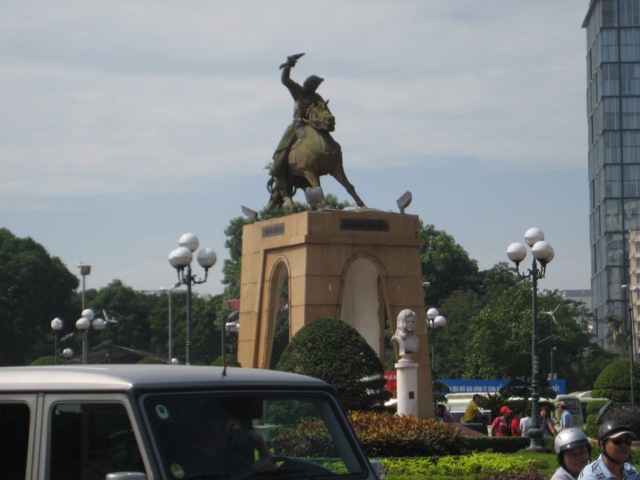 Scooters ... there are scooters everywhere, way more scooters than cars. On each of our tours, the guides would talk about scooters, or their lack of a scooter more specifically. One mentioned that he was single and didn't have a girlfriend because he didn't own a scooter. He mentioned that there were more scooters than cars and that the scooters were the most economical and easiest way around the city. He said that the traffic jams are cars and buses and that the scooters never are in traffic jams. We tried to get a few pictures to show the mass of scooters.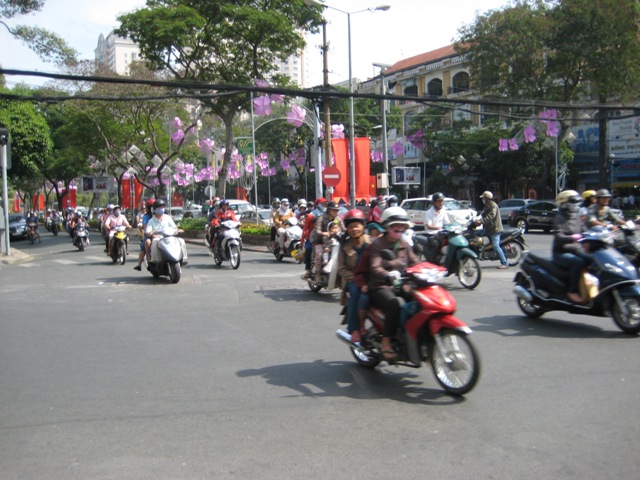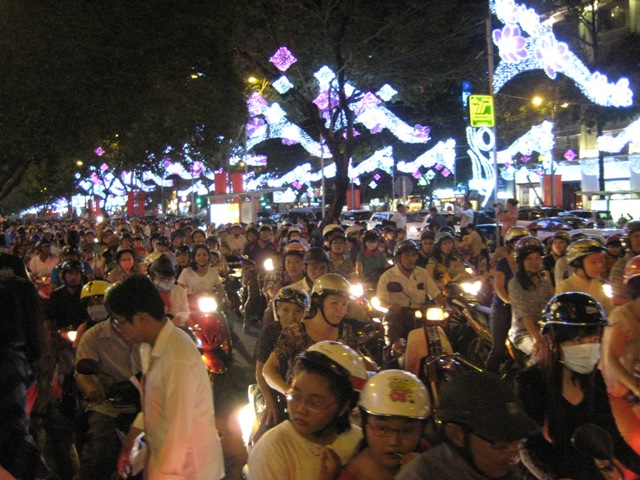 This was our first Pho in Vietnam! Pho (pronounced "fuh") is a very famous Vietnamese dish consisting of broth, noodles made from rice, a few herbs, and meat. They bring out the bowls and a plate of garnishes, including lime, bean sprouts, and basil. Pho started in Northern Vietnam and migrated south after 1954. The broth is made from simmering beef bones along with spices, including cloves, star anise, coriander seed, fennel, cinnamon, black cardamom, ginger and onion. We had ours at a chain called Pho 24, which is supposedly a famous chain in Vietnam.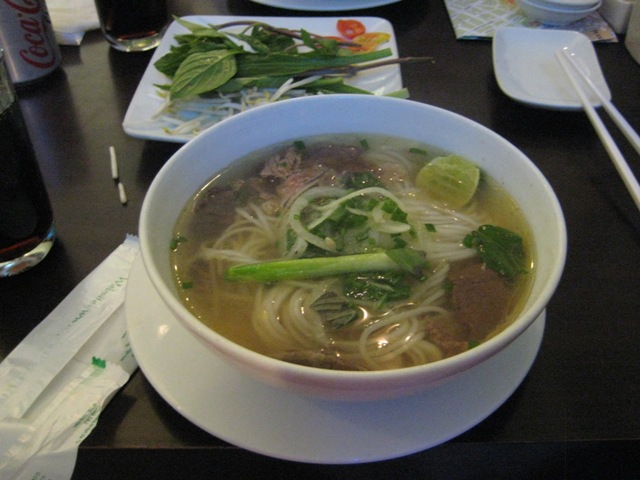 This is the Central Post Office, which is across the street from the Notre Dame cathedral. The building dates from the early 20th century when Vietnam was part of French Indochina. It has a Gothic architectural style, designed and constructed by the Gustave Eiffel (of the Eiffel Tower in Paris). Inside there are now tourist shops as well as a large picture of Ho Chi Minh and a set of phone booths with clocks above that tell the time in different cities. Half of the phone booths are still phone booths and the other half are little ATM booths.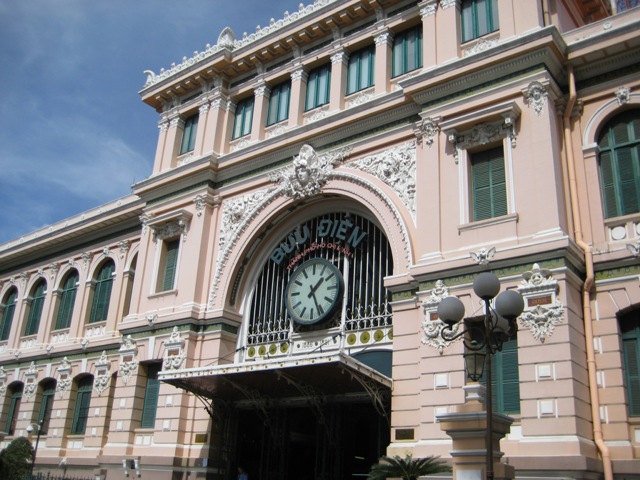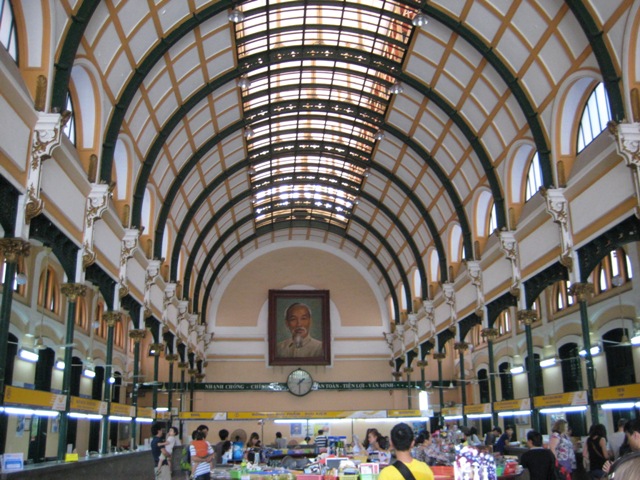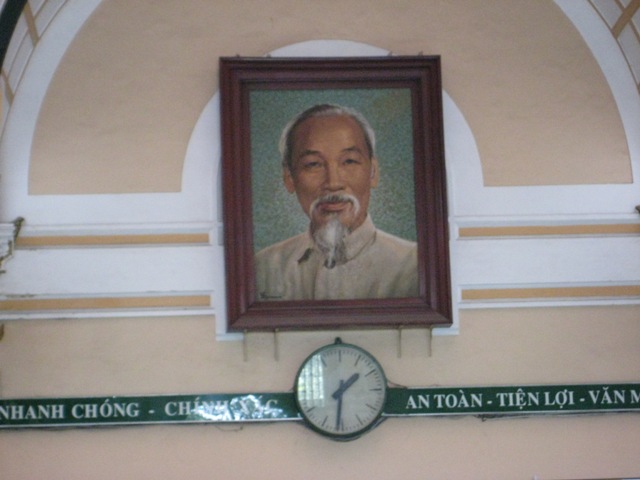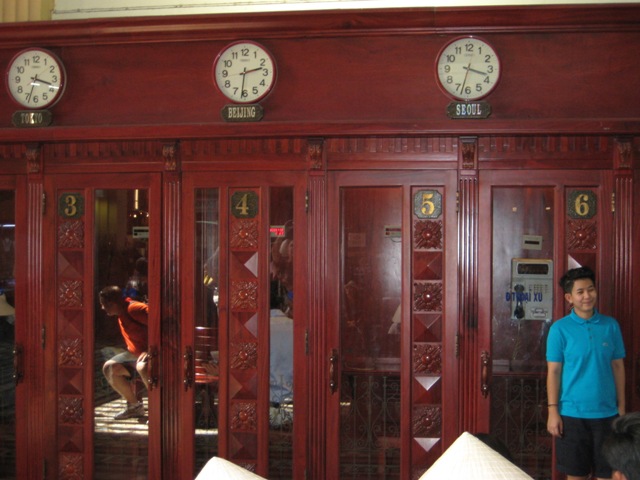 Now, more on the Reunification Palace. When France took over Vietnam in 1867, it started a new palace. Due to the Franco-Prussian War of 1870, construction fell behind schedule and was not completed until 1873. The palace was named Norodom Palace after the then king of Cambodia, Norodom. When Japan took over in 1945, the palace became the headquarters of Japanese colonial officials. Later in 1945 when Japan surrendered to the Allied forces and it went back to the French as the office of the French colonists. Then when the French lost Dien Bien Phu back to the Vietnamese, and it became the Independence Palace.
In 1962, two pilots bombed the palace in a failed assassination attempt on the president but the palace was too badly damaged to restore. It was demolished and a new palace completed in 1966. Then in 1975, a tank of the North Vietnamese Army bulldozed through the main gate, ending the Vietnam War. With the reunification of North and South Vietnam, it was renamed to the Reunification Hall. We went through a bunch of the rooms, all still as it was back in 1975. The two tanks are still on the grounds.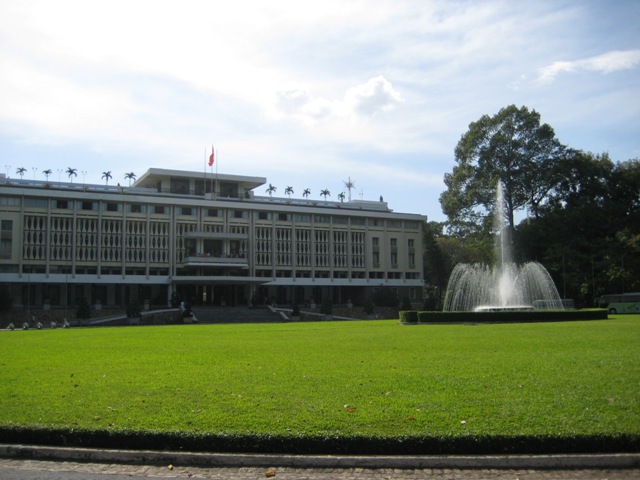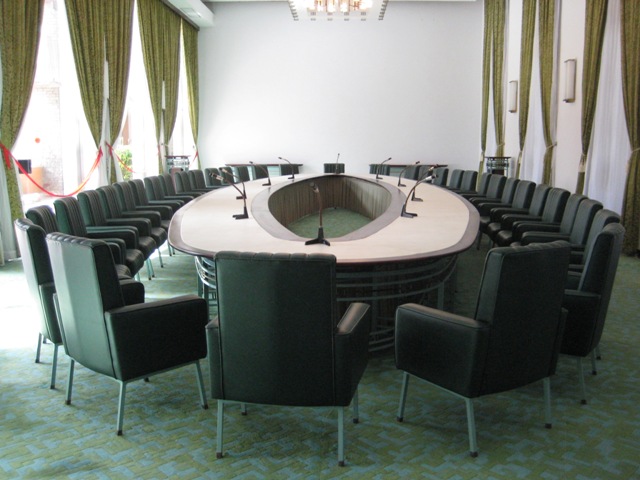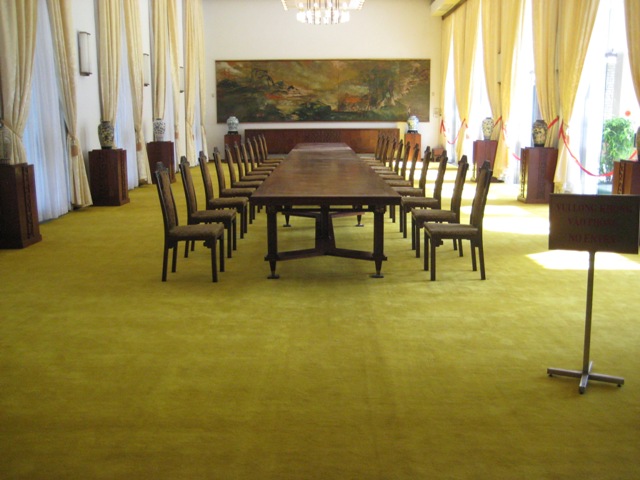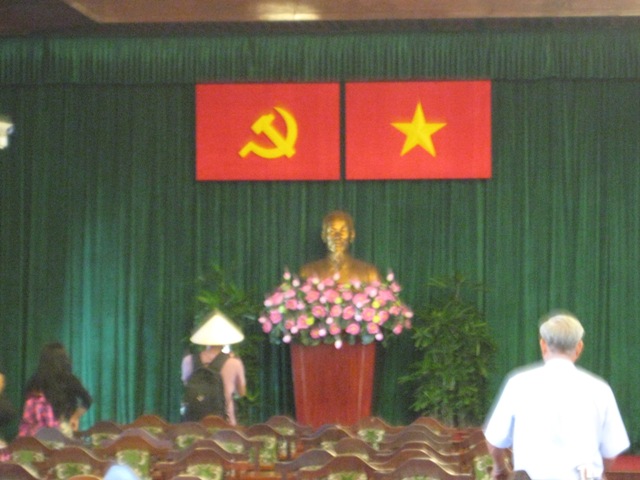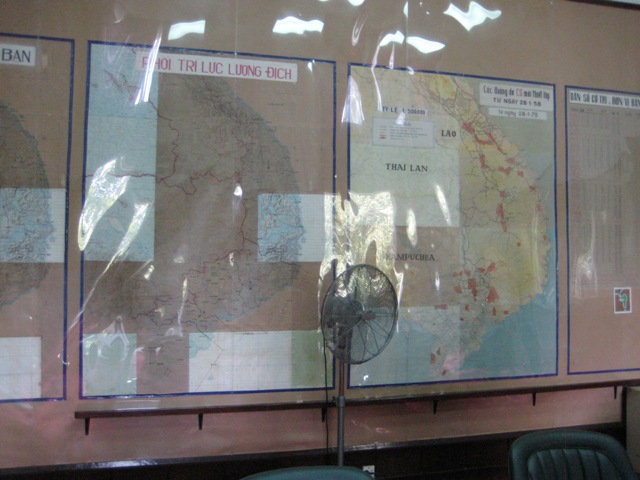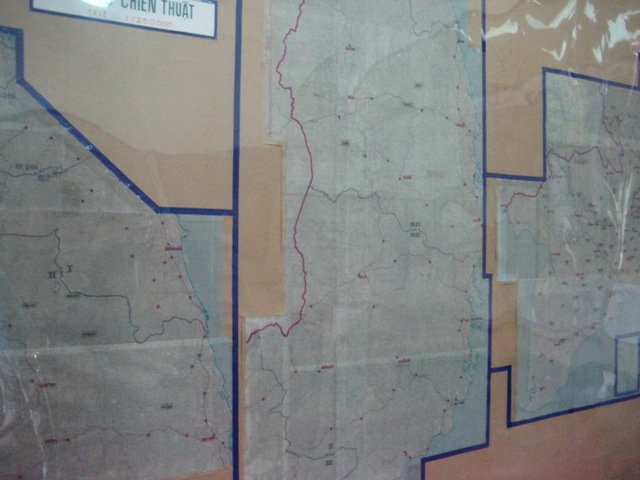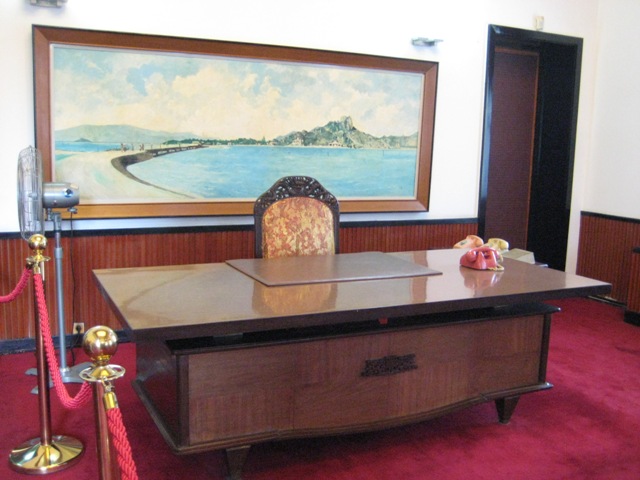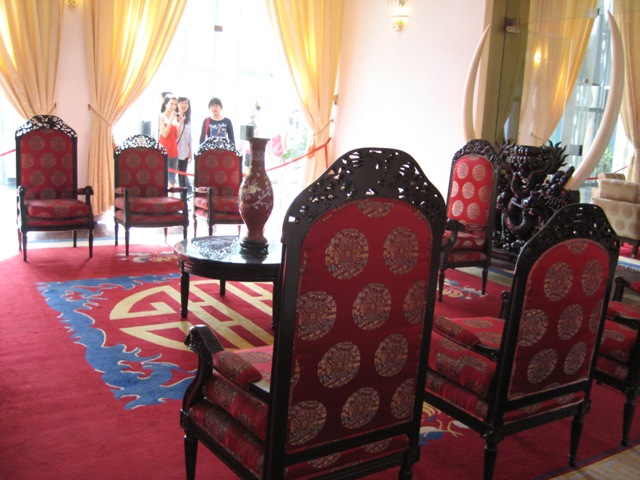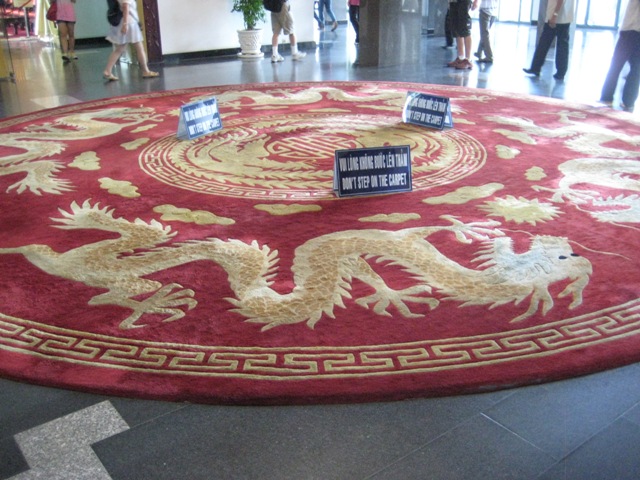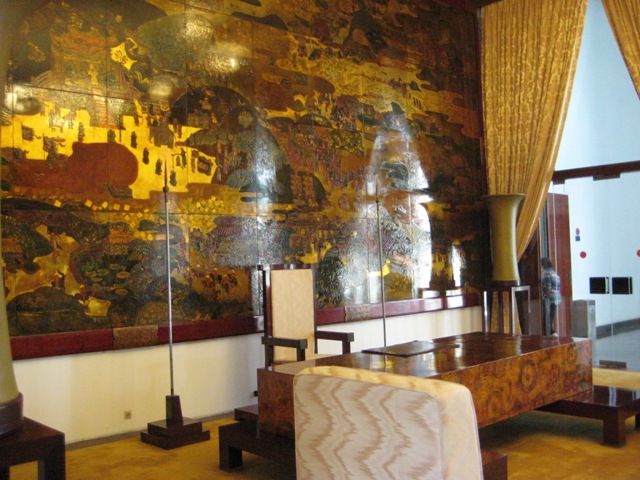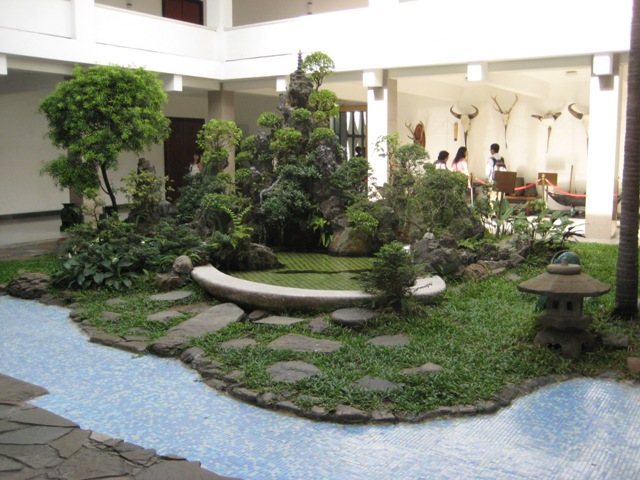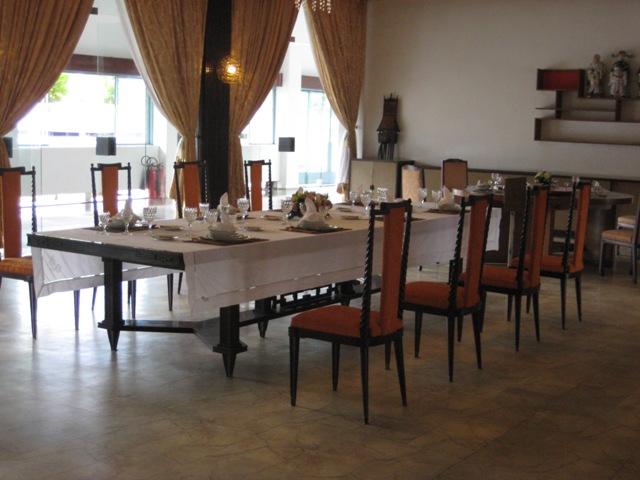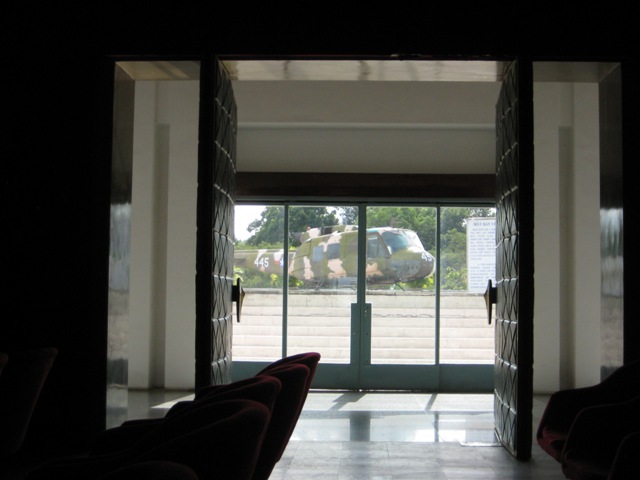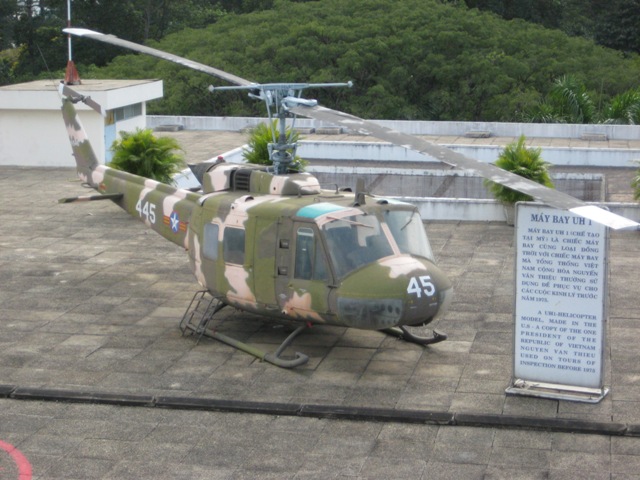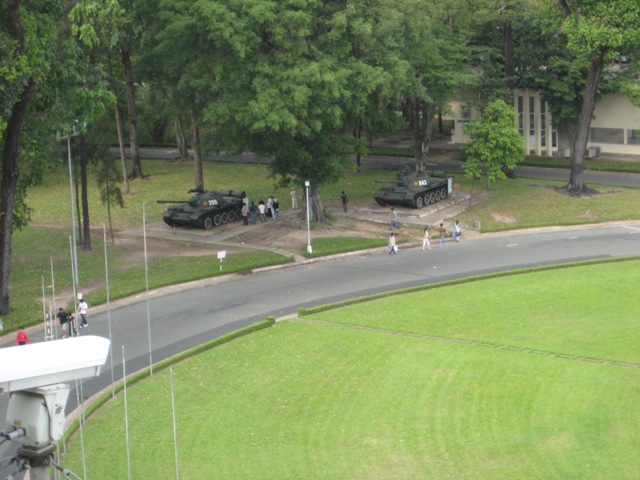 Dinner on the 2nd night was a semi-open air restaurant (open on the sides) that has multiple cooking stations around the middle and sides. We ordered a set of items, some BBQ meats, some little pancake things, a whole fish (that you can only see the empty plate with the orange flowers made from carrots). Outside were fish tanks, so I assume the fish was very fresh.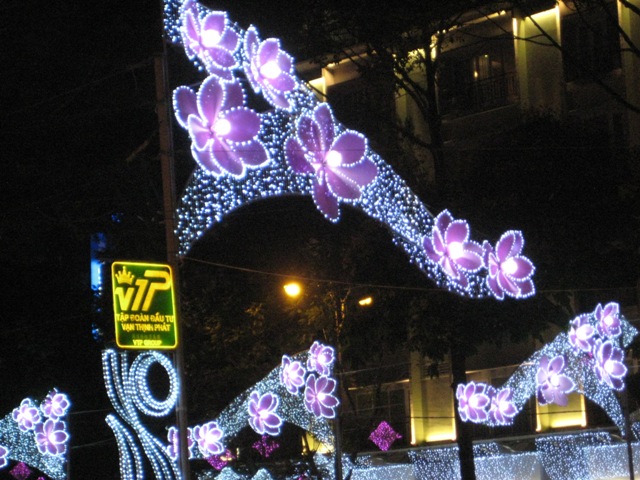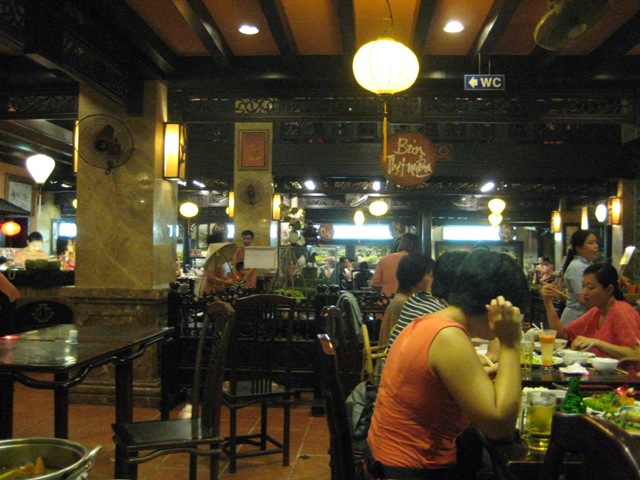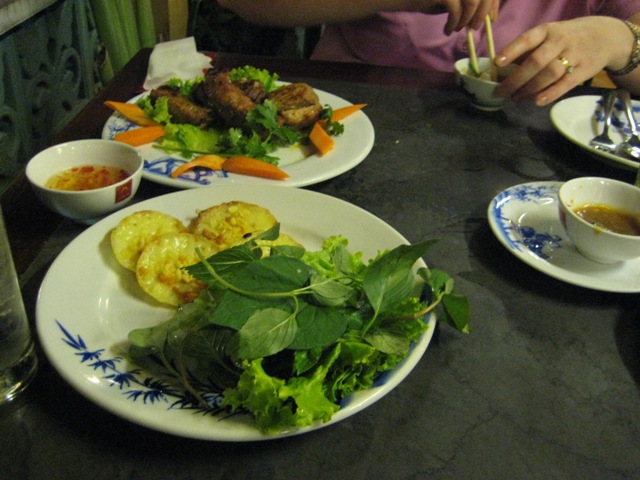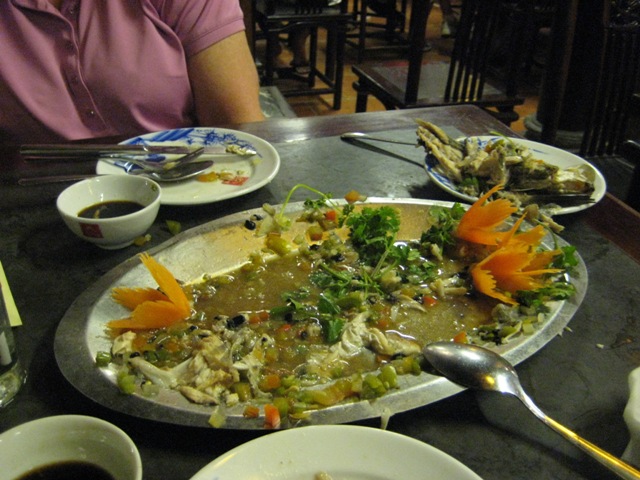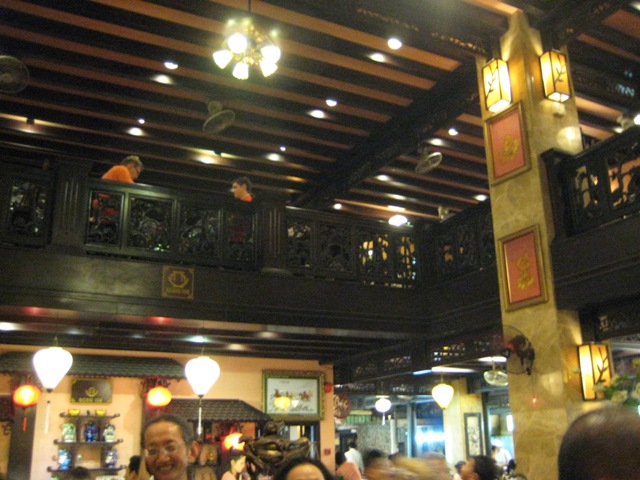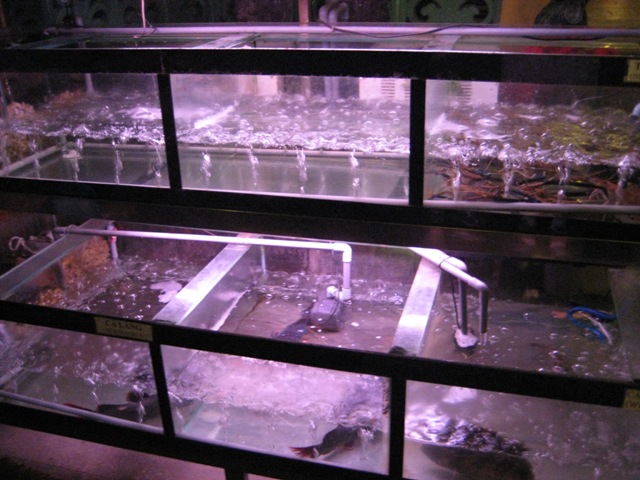 Christmas Eve day we did our 3rd tour, this time to the Cu Chi Tunnels. These are a network of interconnecting tunnels that are in the Cu Chi (our guide pronounced it like Gucci) district outside of Ho Chi Minh City. The tunnels were the location of several military campaigns during the Vietnam War, and were the Viet Cong's base of operations for the Tet Offensive in 1968. The tunnels were used by Viet Cong guerrillas as hiding spots during combat, as well as serving as communication and supply routes, hospitals, food and weapon caches and living quarters for numerous guerrilla fighters. The tunnel systems were of great importance to the Viet Cong in their resistance to American forces, and helped achieve ultimate military success.
According to our guide, they were initially built by the local villagers, where each family would build a little tunnel to hide their families and to store important documents. Each familys tunnel then got connected to the other tunnels to form this labyrinth of tunnels. For the Viet Cong, life in the tunnels was difficult. Air, food and water were scarce and the tunnels were infested with ants, poisonous centipedes, scorpions, spiders and other other nasty little animals. Sickness was rampant among the people living in the tunnels, especially malaria, which was the second largest cause of death next to battle wounds.
There now is a 75-mile long section that are now somewhat open to the public. Here we just go into the complex area itself.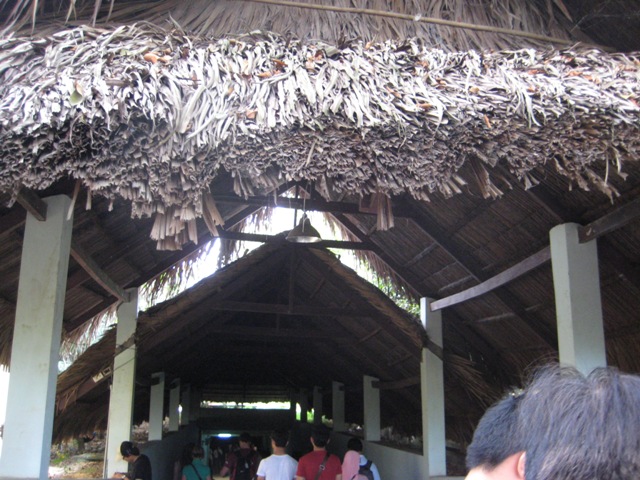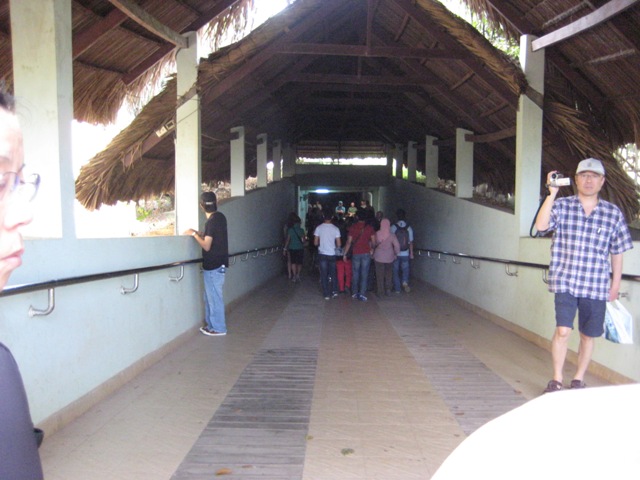 These are bunkers that were hollowed out. The roofs are new and wouldn't have been there (obviously) during the war. Inside the bunker, there was a map of the tunnel system and yet another picture of "Uncle Ho" (Ho Chi Minh). They also showed us a short film, made in 1967, which basically talked about how great the Cu Chi guerrillas were in fighting the "bad Americans" and how they were rewarded for the number of Americans they killed.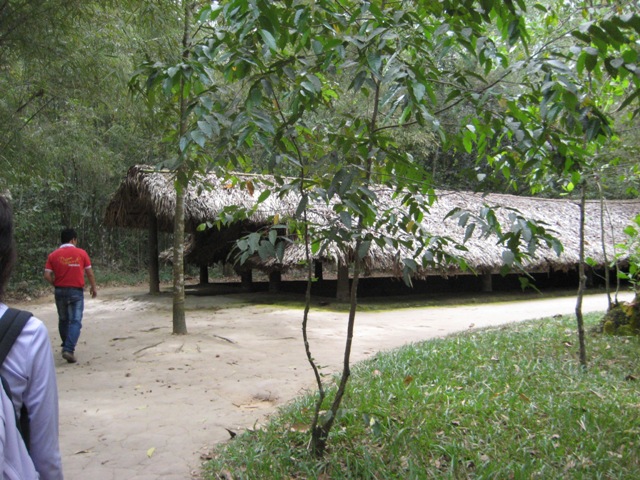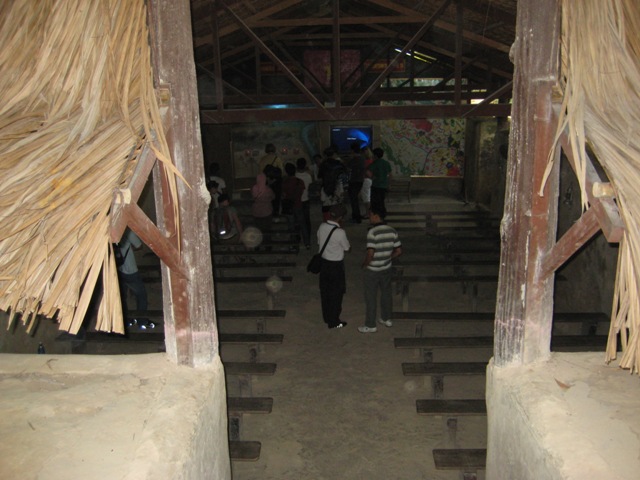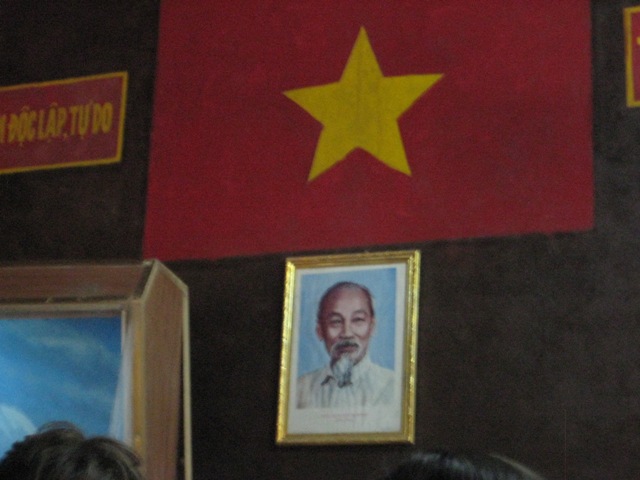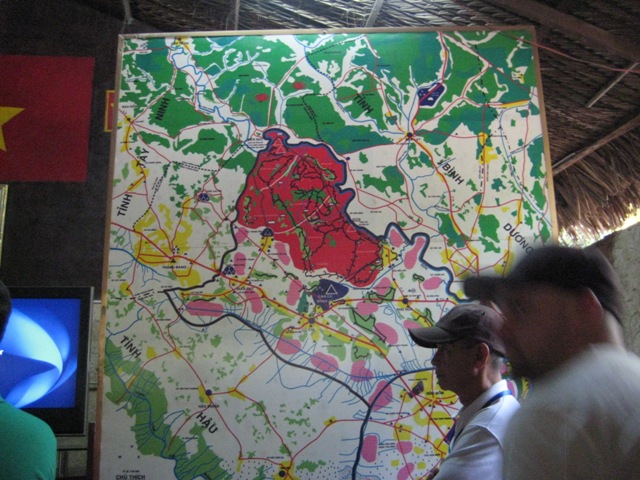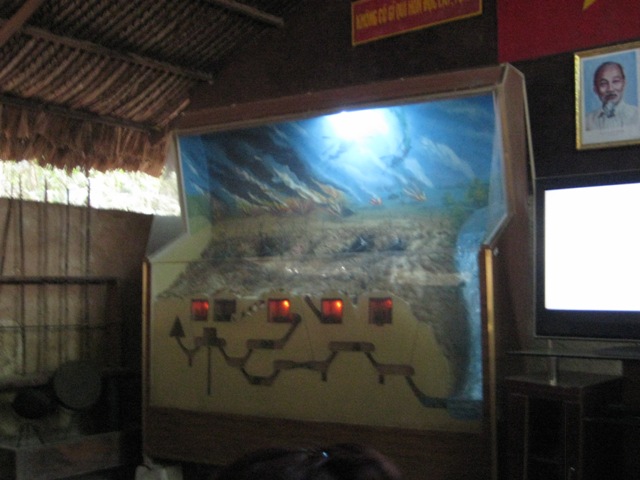 The first little tunnel we saw was a drop-tunnel, where you drop straight down and pop straight up. When the lid is closed and covered with leaves, you can't see it.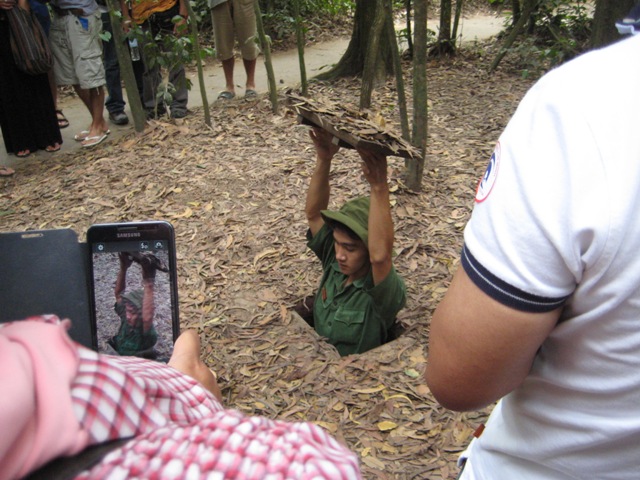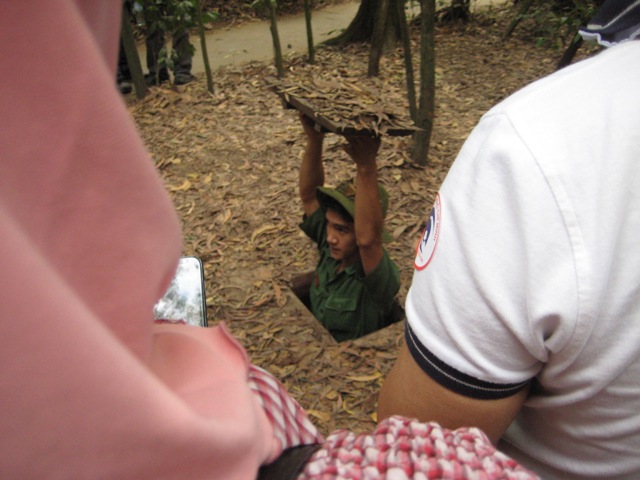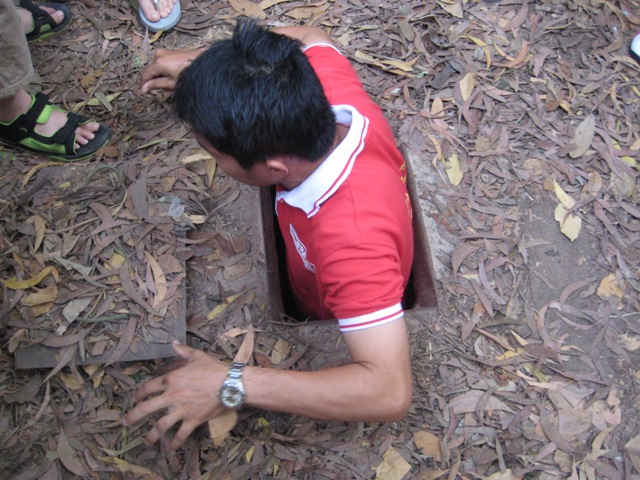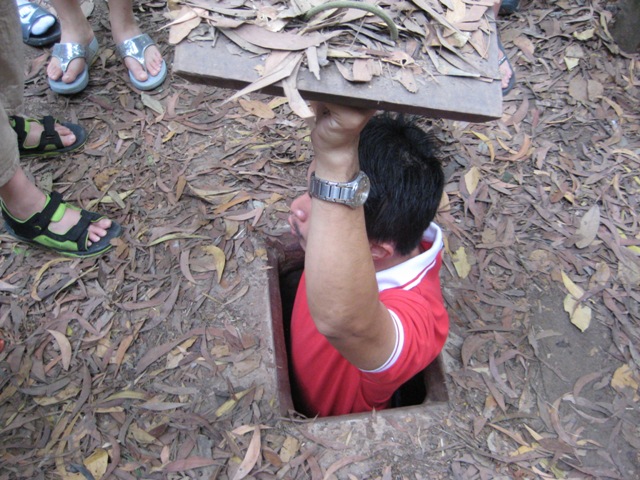 Some tunnels have stairs..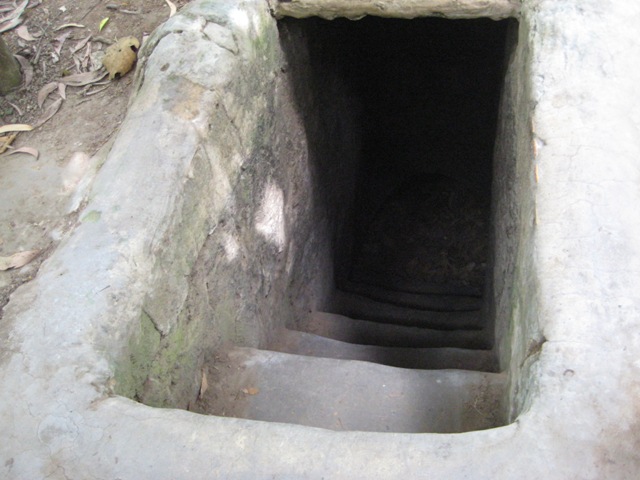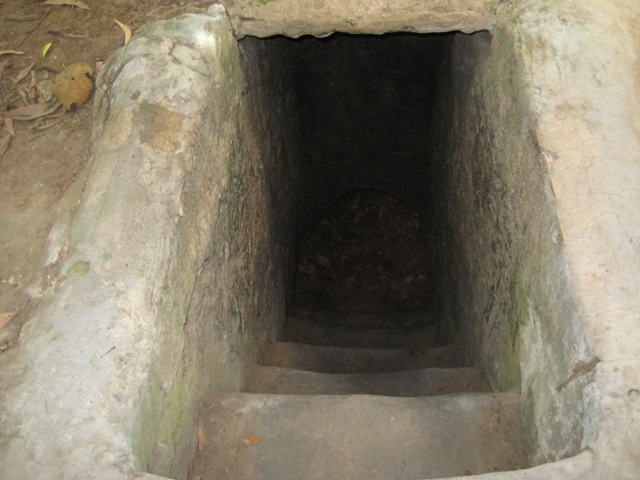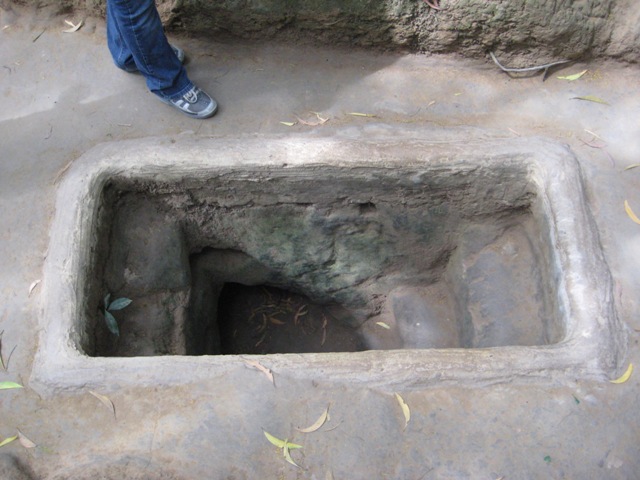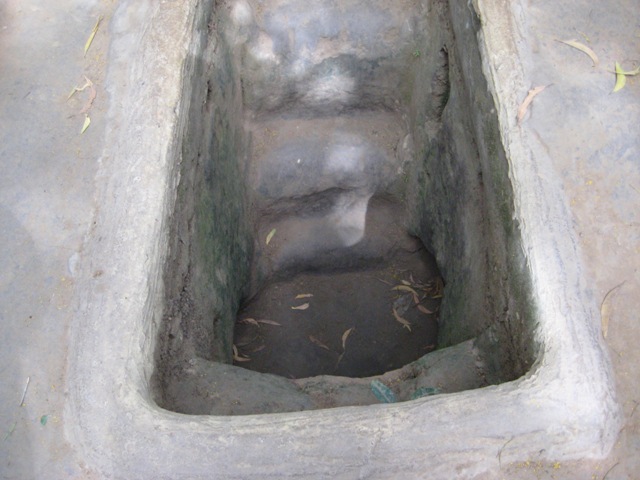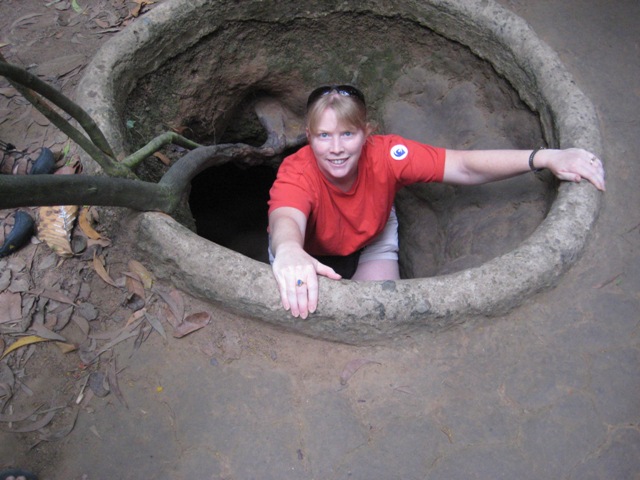 This is an example of the Viet Cong guerrillas at their camp, and then an M41 tank that was destroyed here in 1970.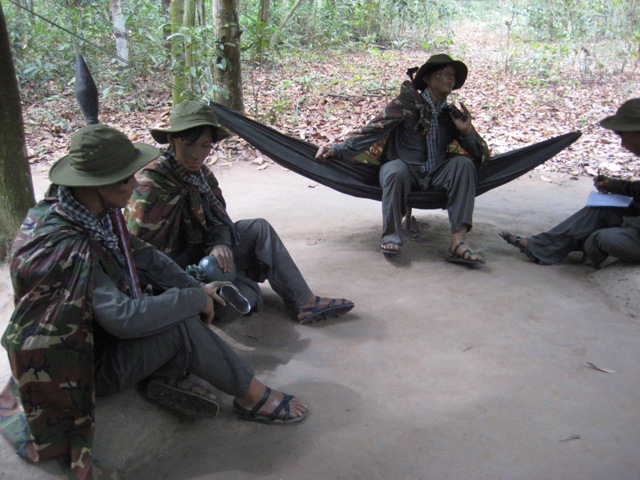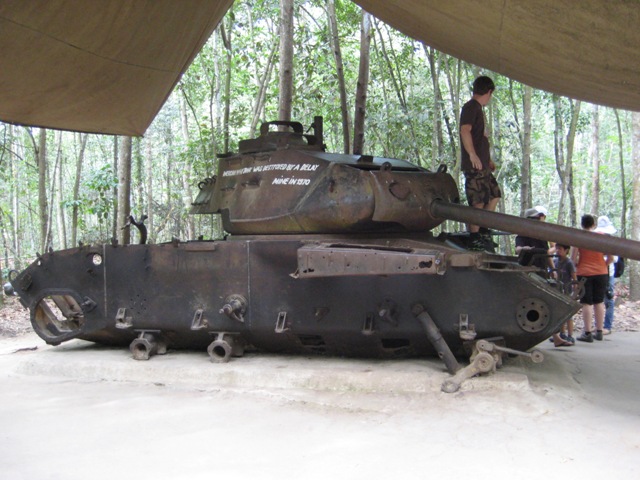 Next were the traps. There we a set of traps that were set to catch/harm/kill American soldiers. The first is a bamboo stake trap. This one is more visible than it would have been, but basically you walk on one side and the door flips up and you fall onto sharpened bamboo stakes. The 3rd picture is the "sticking trap" which was a little interesting. The stakes that you see are pushed into the sides and the blue thing that you can kinda see at the bottom is a weighted disk which, when you basically step on it, goes down with your weight and pulls the stakes out of the sides into your body.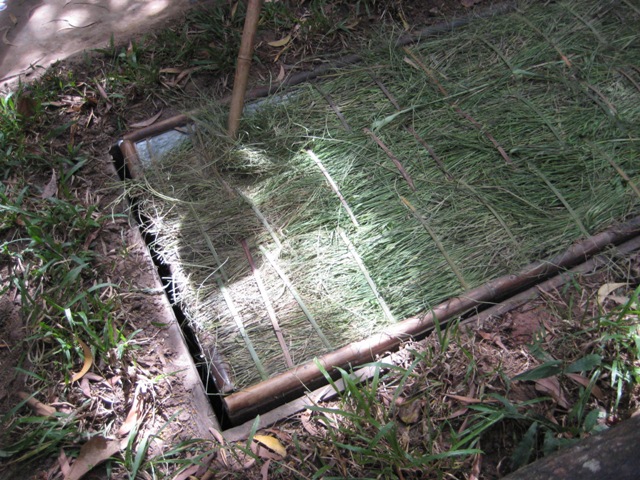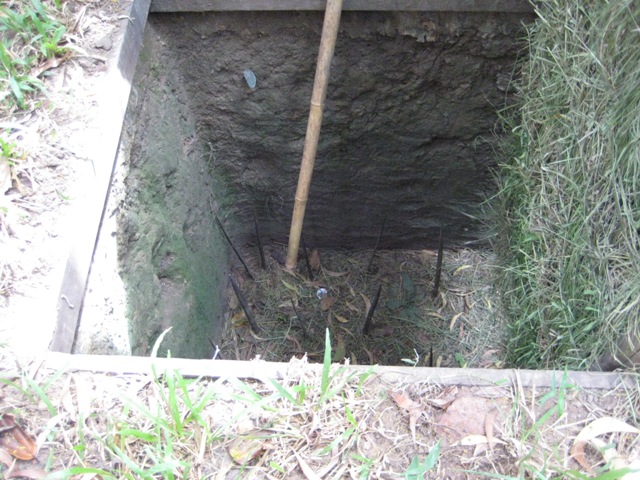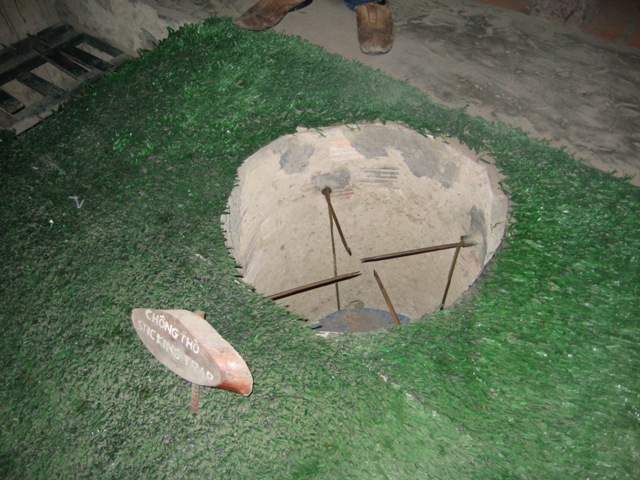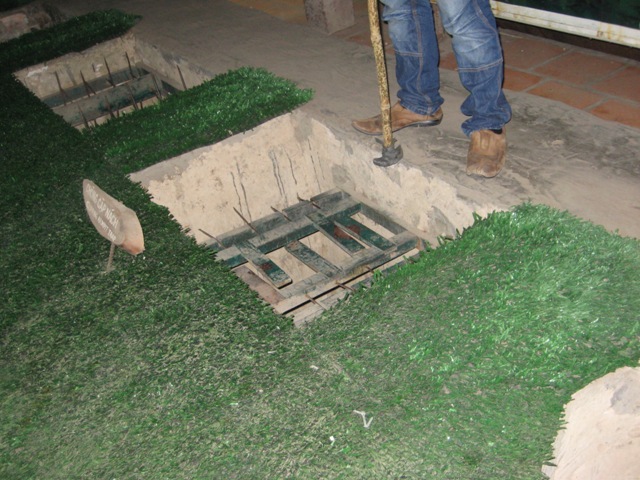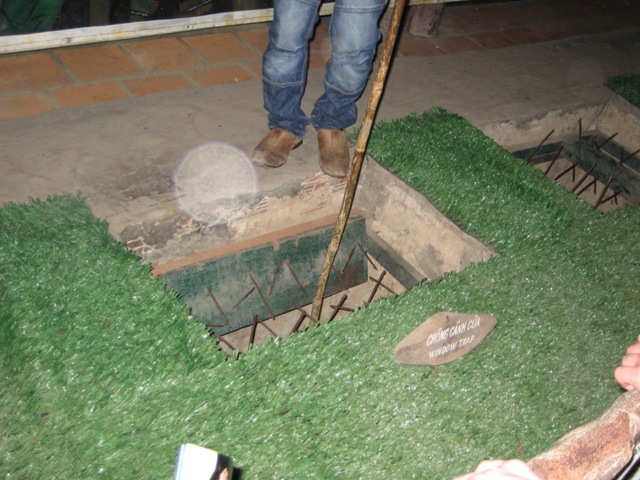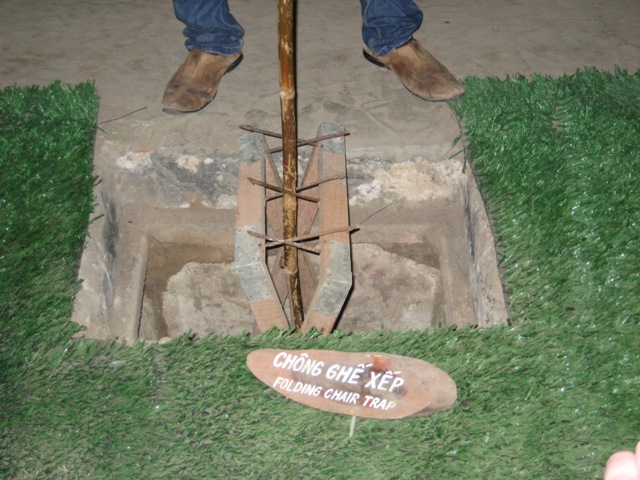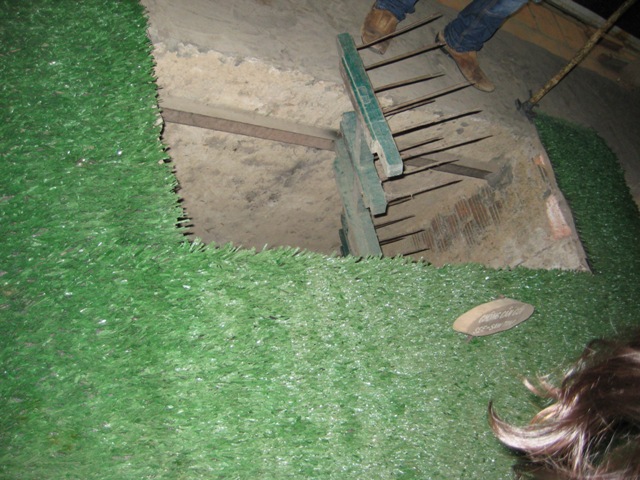 This was a display of how they dug out the tunnels, which they said was really long and hard work.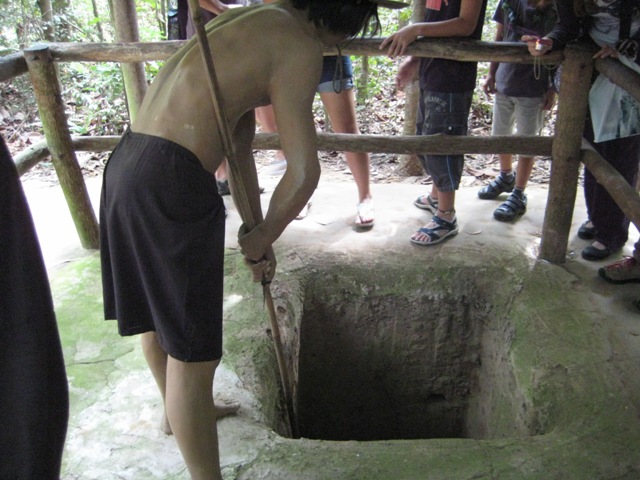 This is an example of how 2D photos really just doesn't do it! So this is a big depression/hole where a bomb landed and exploded.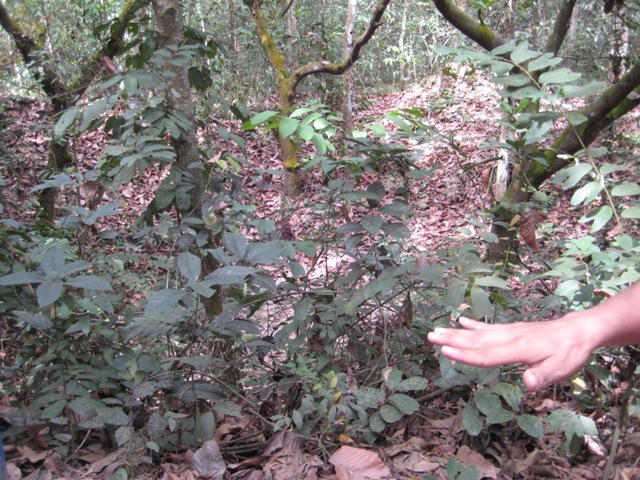 So now we're going into one of the tunnels. We had the option of going 100 meters, but I think Tom and I both bailed at about 40 meters. We didn't do any pictures inside the tunnel, which was totally pitch black. You basically had to crawl almost the whole way, and it was hot and kinda smelly. A few of the group went the whole way.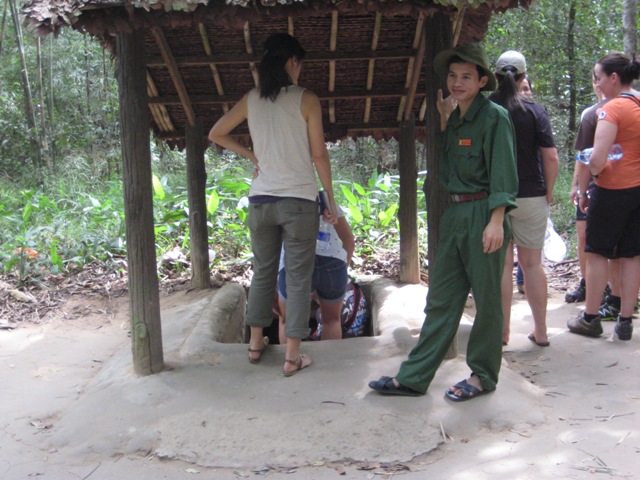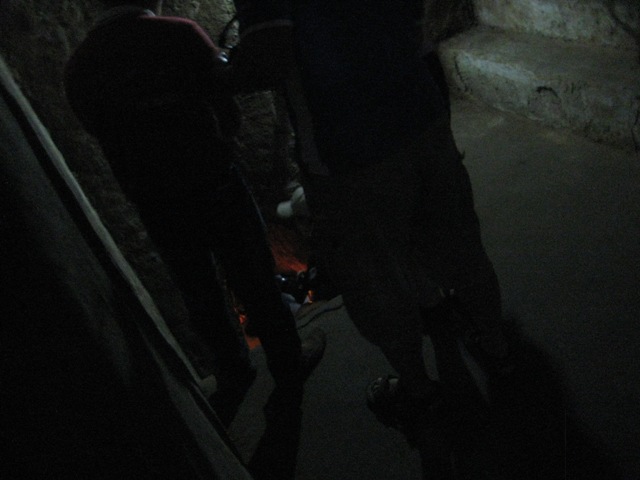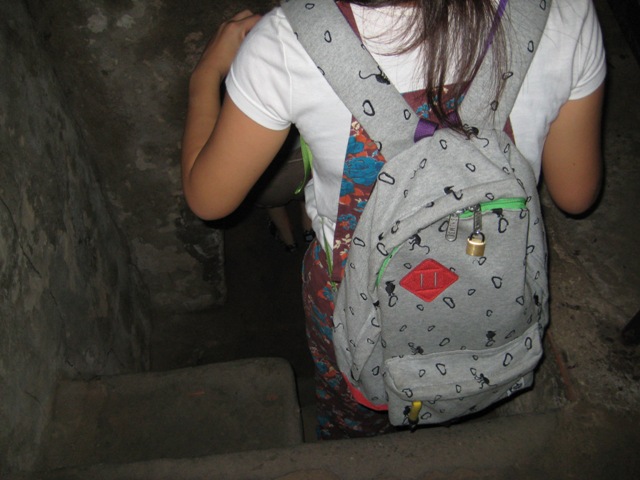 We then had some tea and steam something that was starchy like a yam but not quite.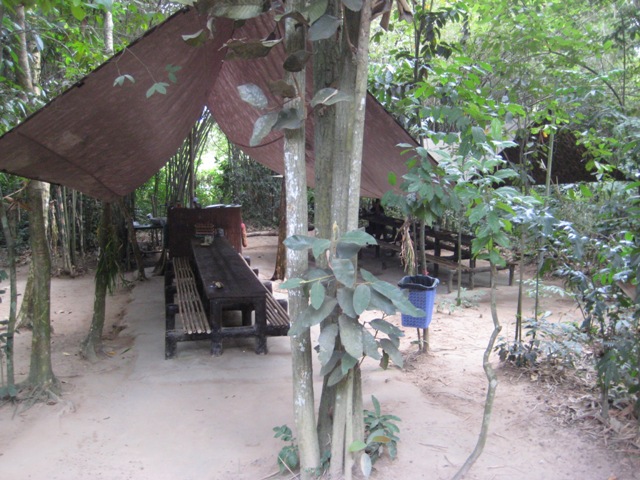 A few bombs....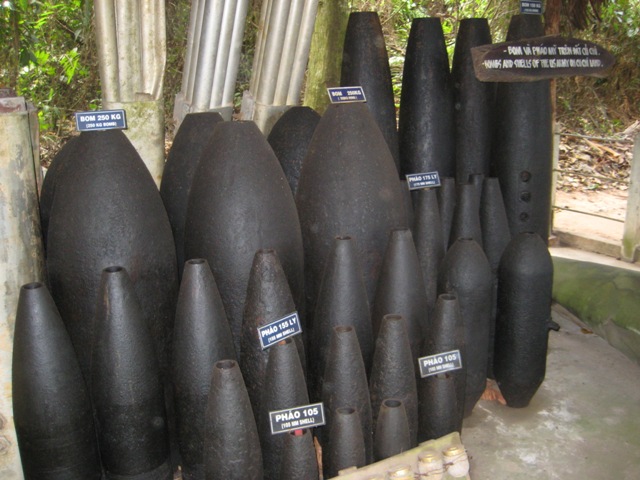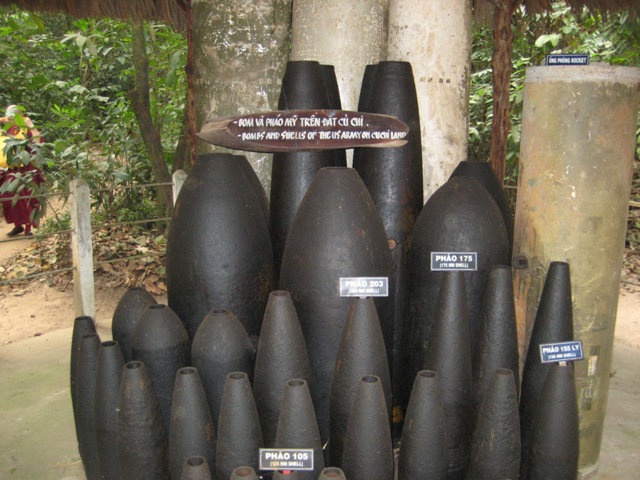 This was a little weird to me .. zippo lighters seem to be a big thing as a souvenir.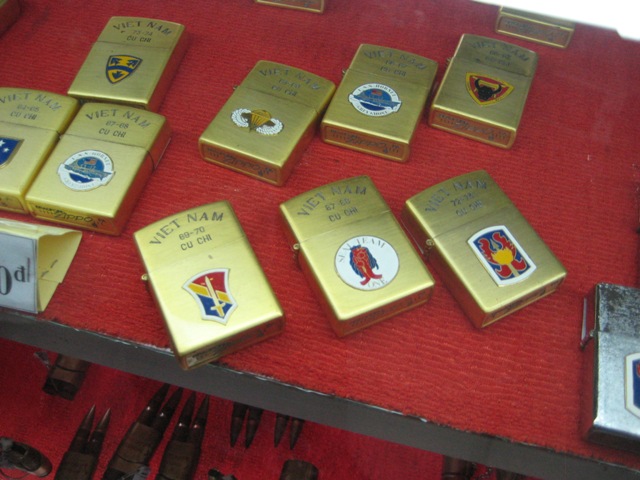 More of Tom and his facination with Uncle Ho.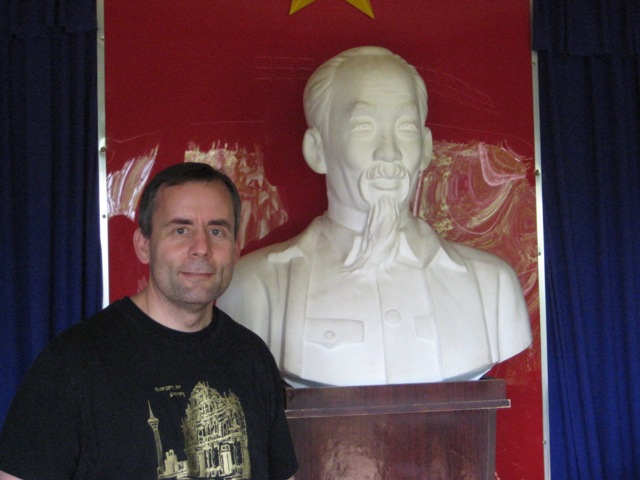 Dinner at another little Vietnamese restaurant. The coke can shows 2013 (getting ready for the new year already) and something in Vietnamese (no idea what it says). We did spring rolls again, of course, along with more sea bass, chicken, pork cooked in a clay pot, and rice. Two different desserts: one was flan (good) and one was something else that I wasn't too keen on.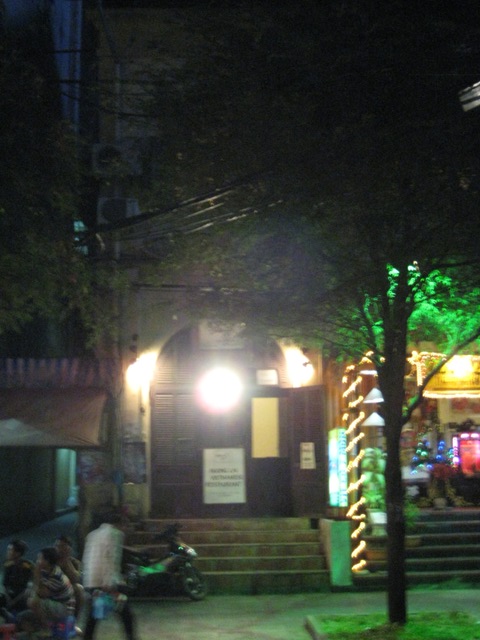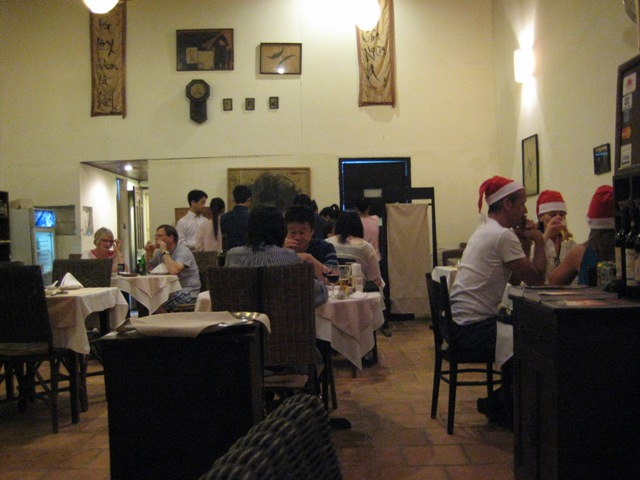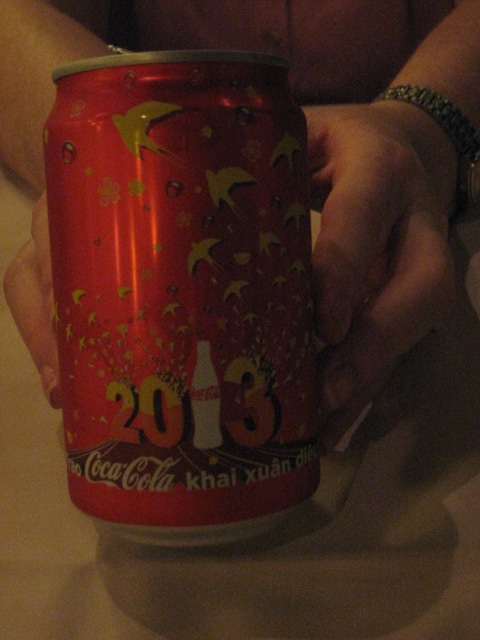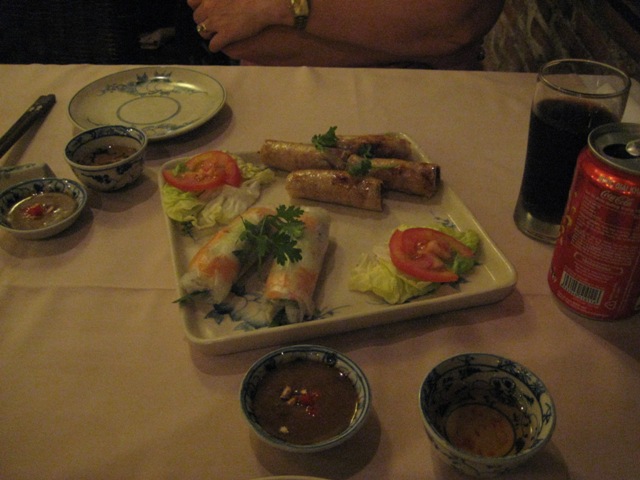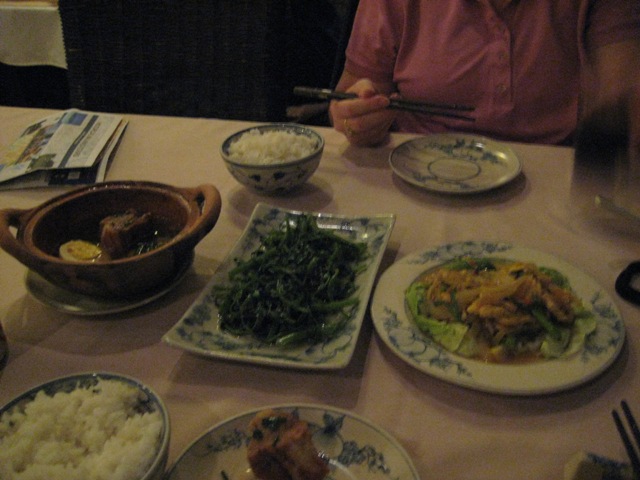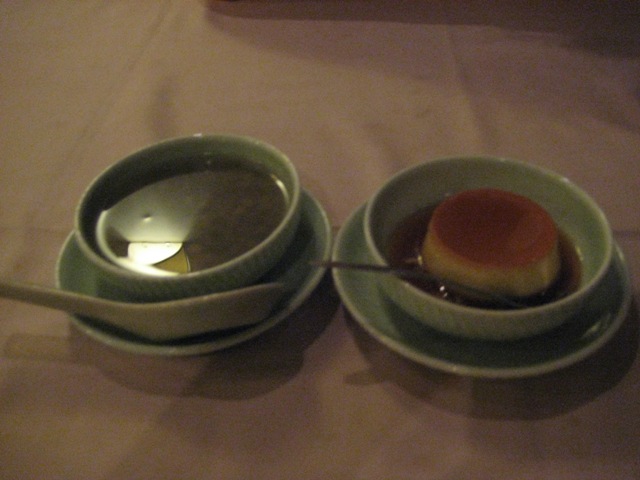 As I mentioned, Ho Chi Minh is everywhere, including on the money.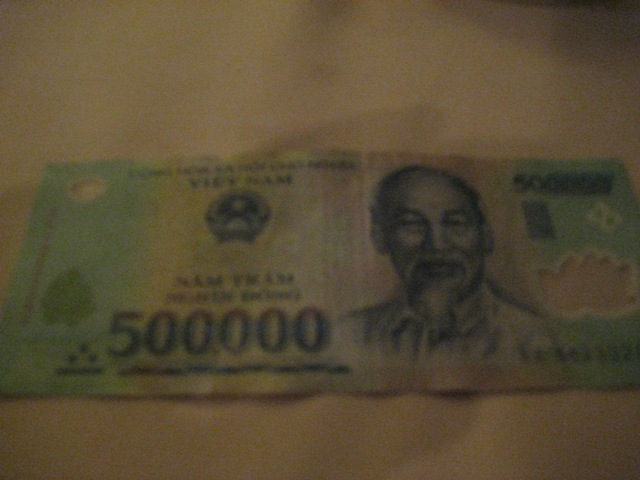 We also noticed that taking pictures in front of big stores was a huge thing, even the young guys got into it. Everywhere we walked, we had to stop and go around people taking pictures.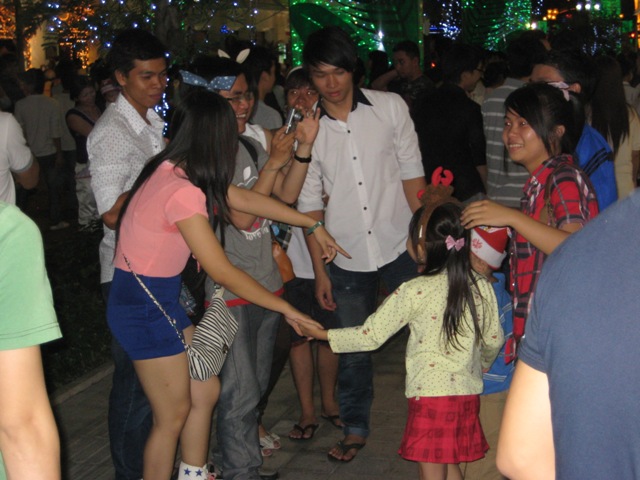 We bought our Christmas ornament this year, a little lit snowman, from these two nice street vendors.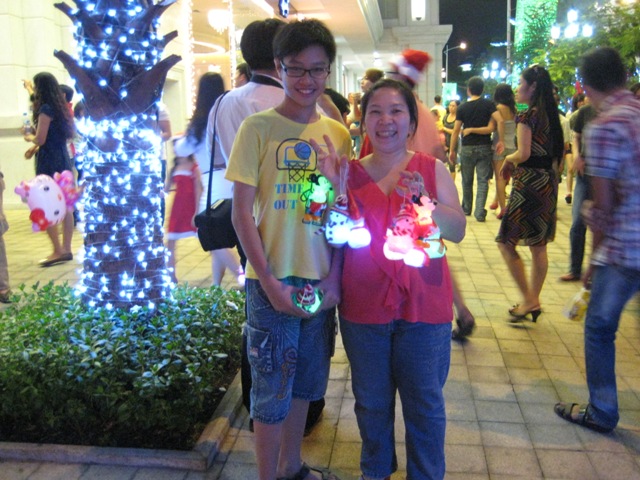 Lunch on the final day, Christmas Day, was at a little chain called Wrap and Roll, which supposedly made vietnamese spring rolls somewhat famous, similar to what the Pho 24 chain did for Pho.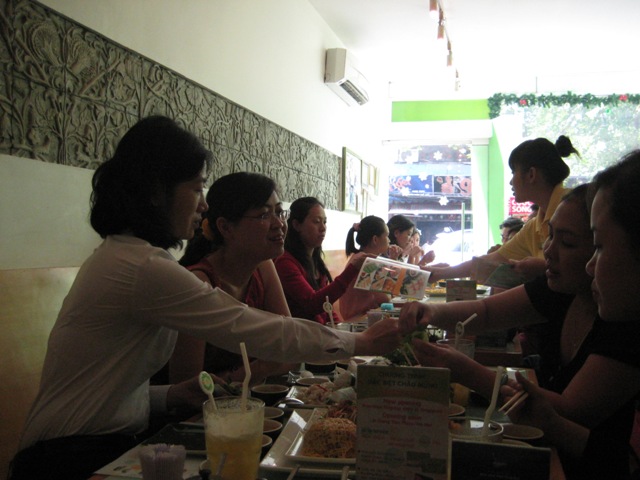 Next up on our final day was the Ho Chi Minh City museum. Personally, I found what was inside the museum a little weak, although the history of the building itself is a little interesting. The building was built during the French colonial era and was the residence of high-ranking French colonial officers. Called Gia Long Palace before the fall of Saigon, it was the last residence of President of the Republic of Vietnam Ngo Dinh Diem, starting in 1962 when he moved from the Independence Palace when it was bombed. He moved into this palace temporarily while a new palace was being built. He seemed a bit paranoid (and I guess rightly so since they tried to assassinate him) and had three deep underground tunnels dug leading from the palace to other parts of the city so that he could escape in the event of a coup. Diem wasn't there when the Army arrived to arrest him as he had used one of the tunnels to escape and fled to a supporter's house. However, he was captured and executed a day later. After the fall of Saigon in 1975, it was turned into a museum. Outside, again, there were some additional planes. If anyone in Ho Chi Minh City is wondering why their FedEx packages arrive late, it is because a set of the delivery guys was sitting underneath one of the planes relaxing and chatting.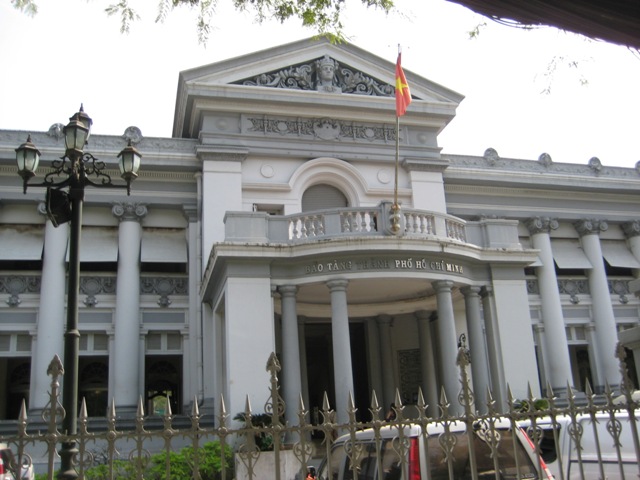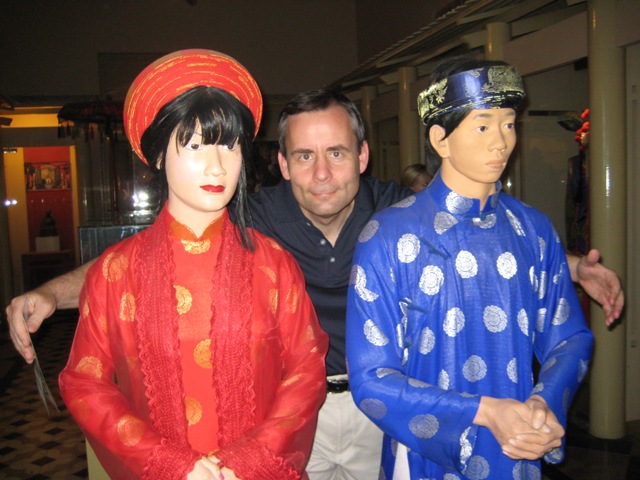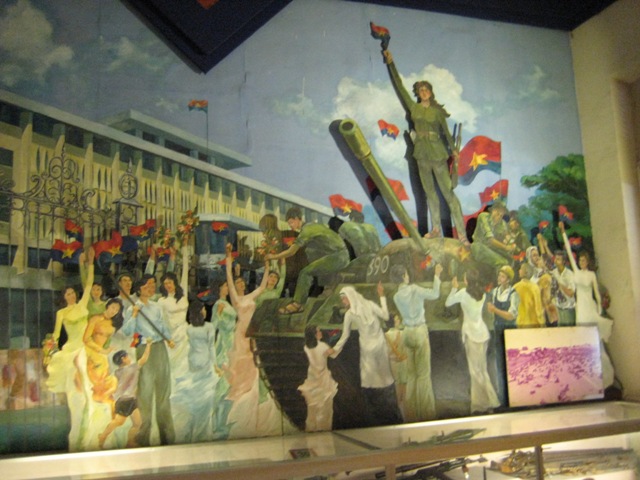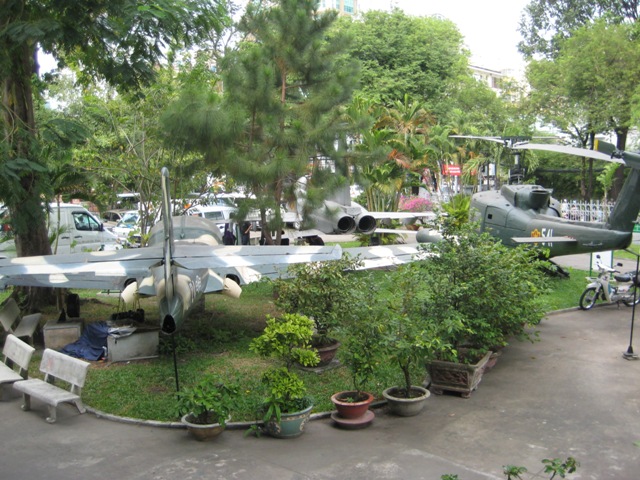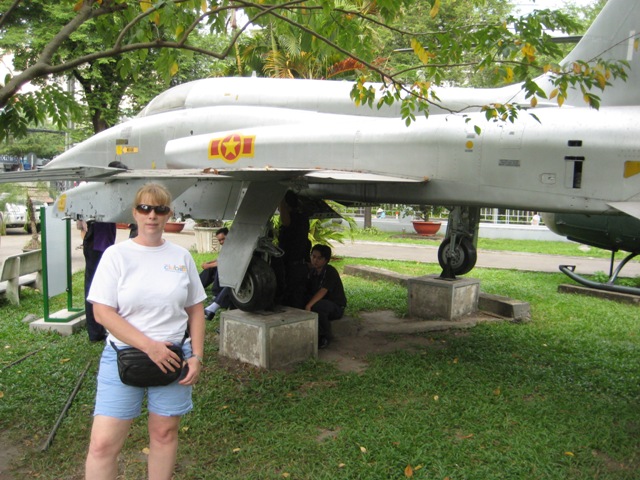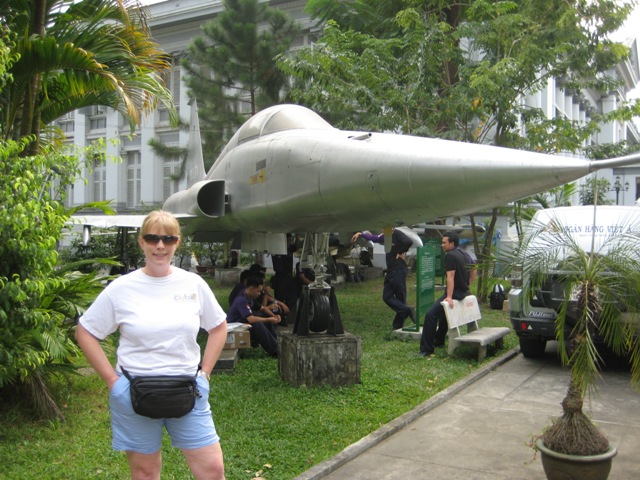 This building is the Ho Chi Minh City Stock Exchange building.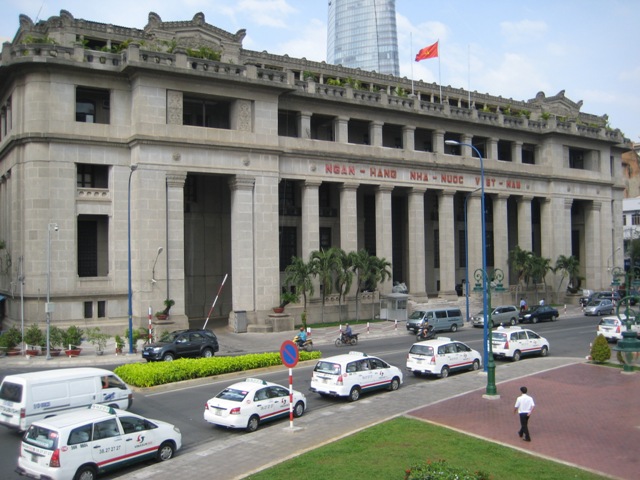 The Bitexco Financial Tower is the tallest building in South Vietnam and 2nd tallest in Vietnam (behind the Keangnam Hanoi Landmark Tower). It is 861 feet tall. A couple interesting "fun facts": Bitexco Financial Tower has more than 16 elevators that can reach any position and any floor in the building within 45 seconds. The tower is mostly made of steel and glass and shaped as a lotus petal, with the lotus being considered a symbol of Vietnamese culture. It also has a helipad on the 50th floor, which is a unique feature of the tower, projecting outward from the tower (the projection you can see in the picture).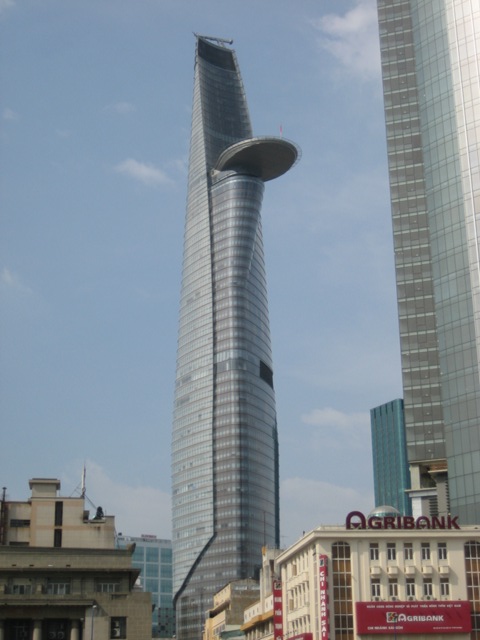 Next is the Ho Chi Minh Museum, about the man himself. There was a bit in the museum in English so it wasn't too bad. He seemed to keep changing names .. born Nguyen Sinh Cung and also known as Nguyen Tat Thanh and Nguyen Ai Quoc, before becoming Ho Chi Minh. He was Prime Minister of the communist-ruled Democratic Republic of Vietnam (N. Vietnam) from 1945 to 1955 and then president from 1945 to 1969. He officially stepped down from power in 1955 due to health problems, but remained a highly visible figurehead and inspiration for those Vietnamese fighting for a united, communist Vietnam, until his death. No pictures inside the museum.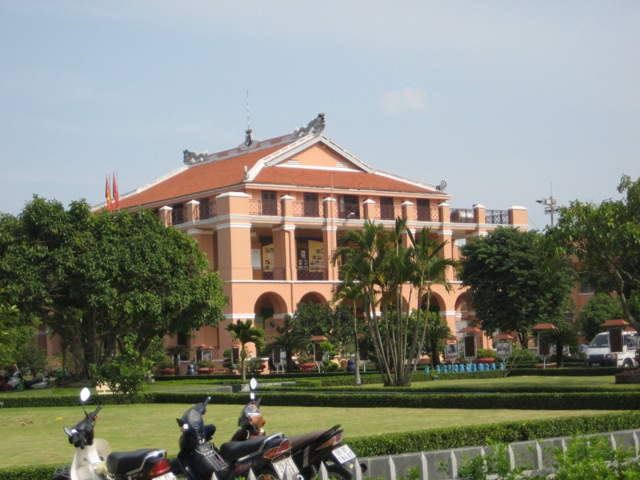 A bit more info on Ho Chi Minh ... In 1912-1913, he lived in the United States and held a series of jobs, including a baker and a line manager for a car manufacturer. He supposedly also lived in Brooklyn between 1917 and 1918 working for a wealthy family. Then between 1913 and 1919, he also lived off and on in the UK, where there are reports he worked as a waiter and a baker or pastry chef. From there, he headed to France from 1919 to 1923 which is where he started getting into the idea of communism, even becoming a member of the Communist Party of France. In 1923 he headed to Moscow and then to China in 1924. He fled China in 1927 due to the coup of Chiang Kai-shek and headed back to Moscow. Then he ended up in Thailand in 1928 by way of Crimea, Paris, Brussels, Berlin, Switzerland, and Italy. From Thailand he went through India and back into China. He was arrested in 1931 in Hong Kong, but released in 1933. Then to Italy, the Soviet Union, then back to China in 1938. Around 1940, he began using the name Ho Chi Minh a Vietnamese name combining a common Vietnamese surname (Ho) with a given name (Ho Chi) meaning "He Who enlightens". It wasn't until 1941 when he returned to Vietnam for the first time since supposedly 1911.
And I mentioned he is very much loved still. In Vietnam today, Ho's image appears on the front of all Vietnamese currency notes. His portrait and bust are featured prominently in most of Vietnam's public buildings, classrooms (both public and private schools) and in some families' altars.
This was a picture outside the museum, which shows thatch-roofs house-boats on the Saigon river.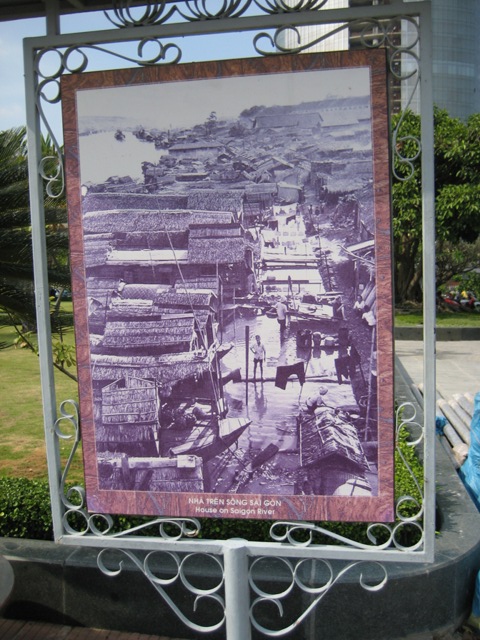 We found a store that has propaganda posters, which Tom found interesting.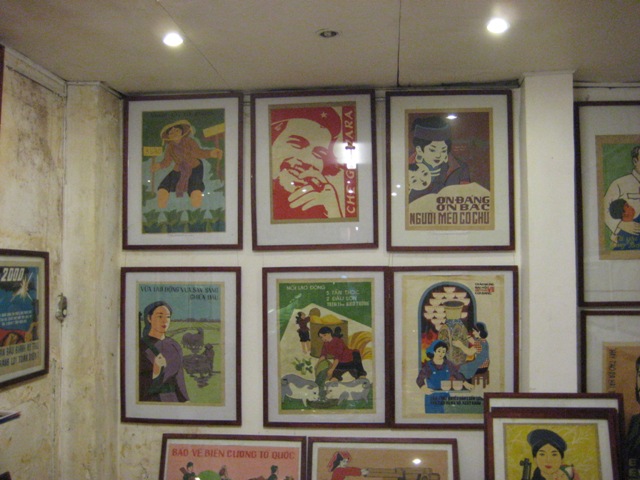 Then we stopped for a coffee. I did a vietnamese coffee, which was a drip coffee through the silver thing on top, dripping into the cup below. The cup itself started out with some condensed milk in the bottom. So condensed milk, then the coffee drips on top. You stir it up and then pour it over ice.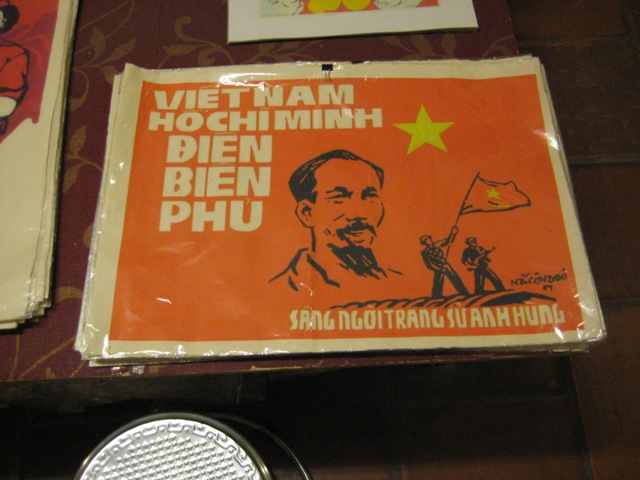 And finally .. a nice buffet for Christmas Dinner at the hotel. They had a nice setup on the tables and alot of decorations around. They had a big gingerbread house that spanned across the buffet area, and even an ice sculpture. They had a traditional roast turkey, stuffing, mashed potatoes, and cranberry sauce for us Americans .. as well as tons of shellfish, which is very popular in Vietnam. They also had a singer and musicians just outside in the lobby although they didn't really do Christmas songs, which was really a let-down.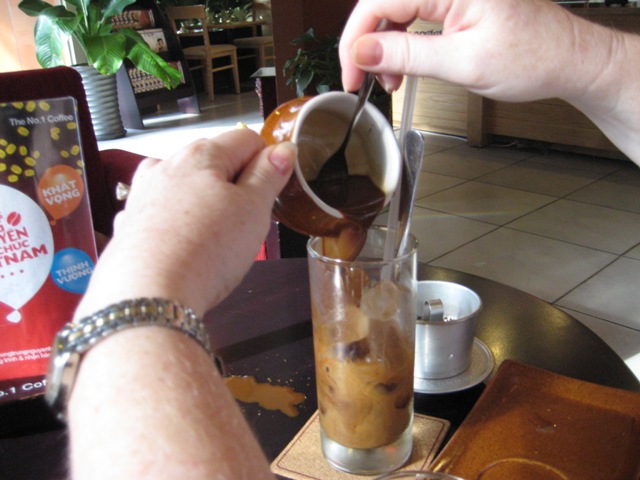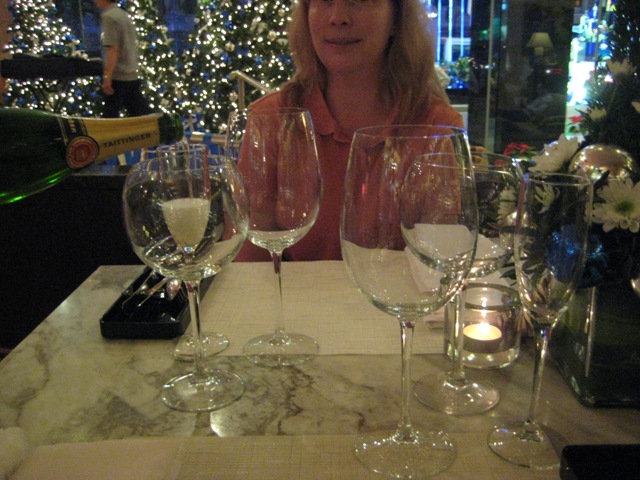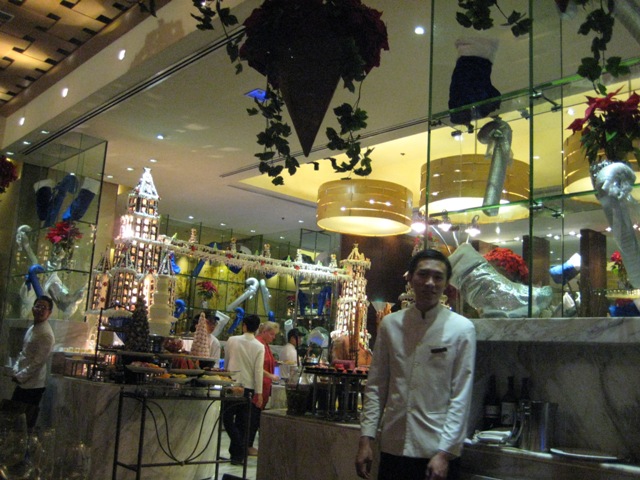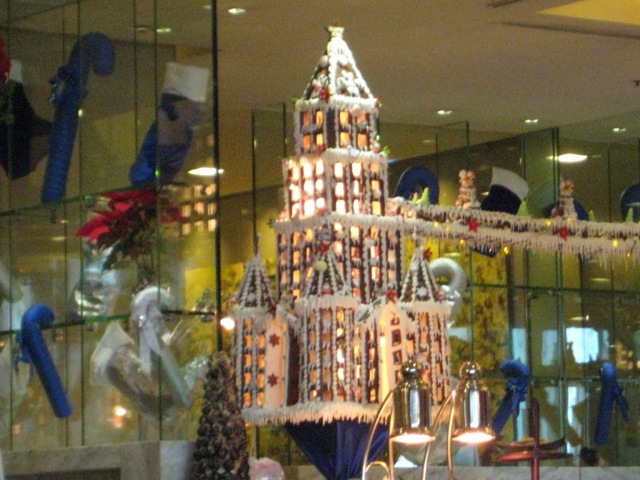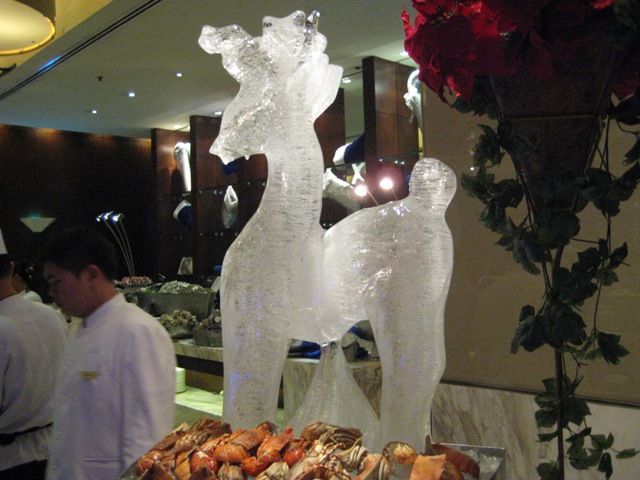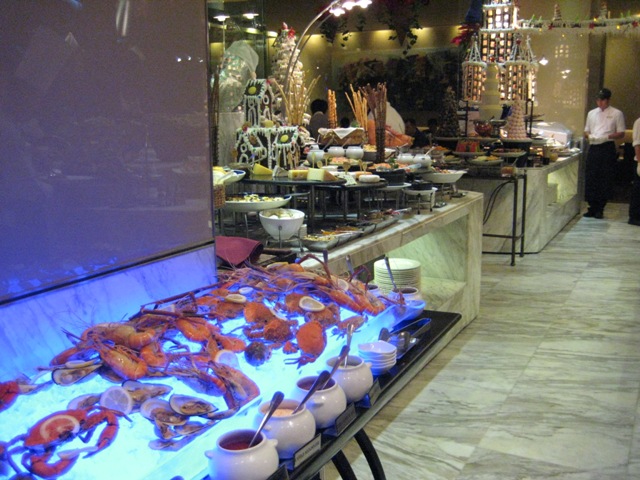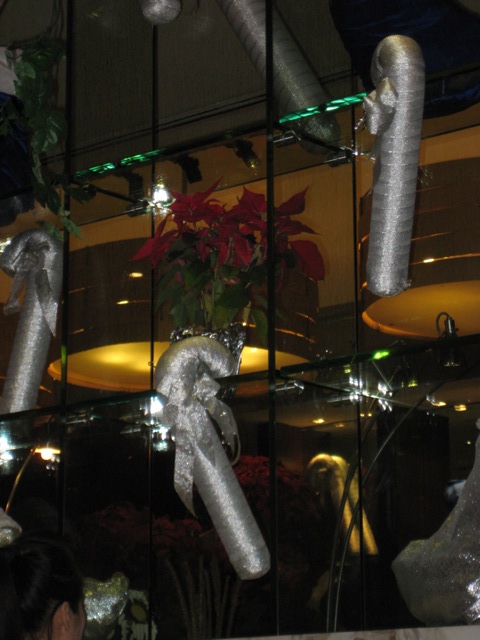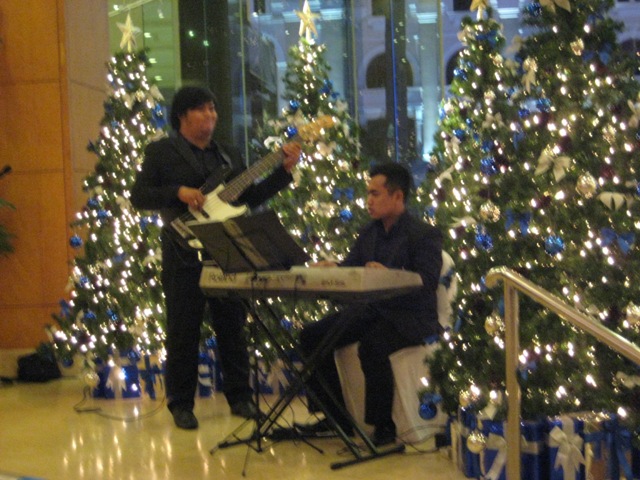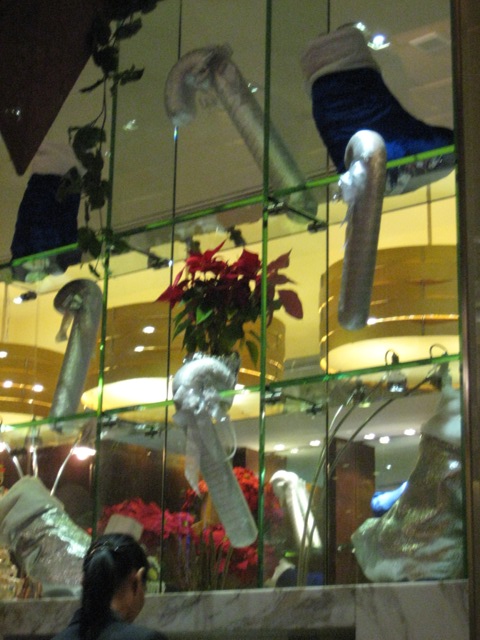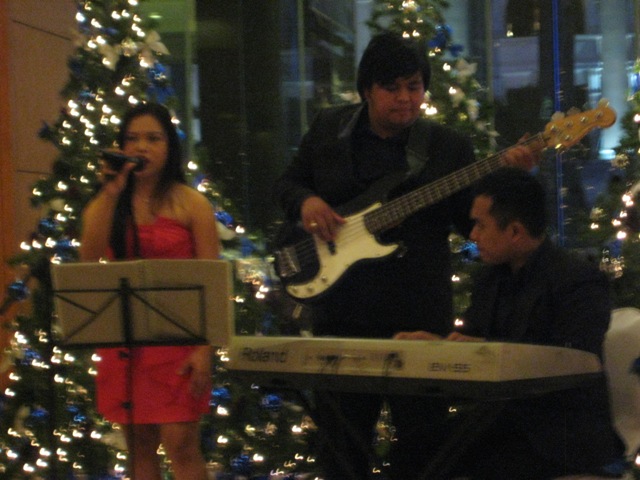 Then we hung out in the bar area for a couple hours, and then headed back to the airport for our 2am departure back to Shanghai, landing at 6:30am. ... yea .. i went back to bed when I got home!