Susan's Shanghai Blog - Week 95
This week starts our November trip to Japan, which includes Fukuoka, Nagasaki, and Kumamoto. The three cities are all on the island of Kyushu, which is the third largest island in Japan and the most South-Westerly. It is a mountainous island, containing Japan's most active volcano, Mt Aso. It is a fairly short flight over (just under 2 hours), so closer than going to Beijing.
We flew into Fukuoka, which is the capital of the Fukuoka Prefecture on the island and has around 1.4 million people. In 2011, it replaced Kyoto as the 6th largest city in Japan. It was ranked 12th of the world's most livable cities in 2013 by the magazine Monocle. The Fukuoka that we see today was formed in 1889 by the merger of the former cities of Hakata and Fukuoka. The train station, for example, is called Hakata station. The "old Fukuoka" is the main shopping area and is now called Tenjin. The story goes that there was a meeting to decide the new name for the city and initially, it was going to be called Hakata. But a group of samurai (from the Fukuoka area) crashed the meeting and forced those present to choose Fukuoka as the name for the merged city.
Other than the fact that our flight out of Shanghai was late leaving (like 99.9% of our flights out of Shanghai I think), we made it into without incident. The really cool thing about Fukuoka is that the airport is basically IN the city! It is the closest airport in Japan to the central part of the city, being less than 2 miles from the Hakata main train station. The airport is surrounded by residental areas and flights are only allowed from 7am to 10pm to keep the noise down for the residents. There is a subway that goes directly from the airport to the main areas of the city in less than 10 minutes. A few quick pictures just of the area around the Hakata main train station.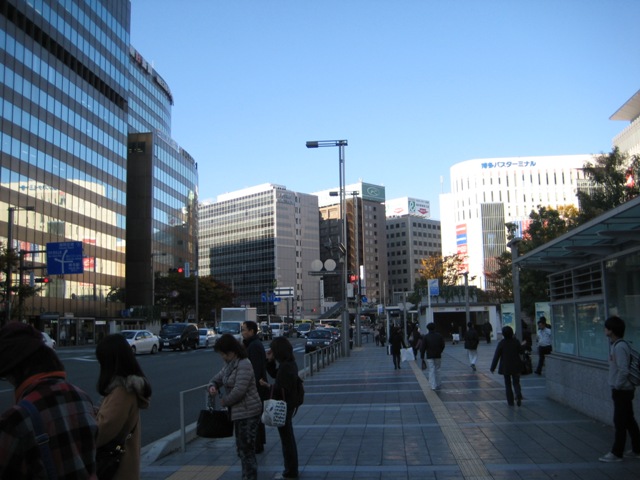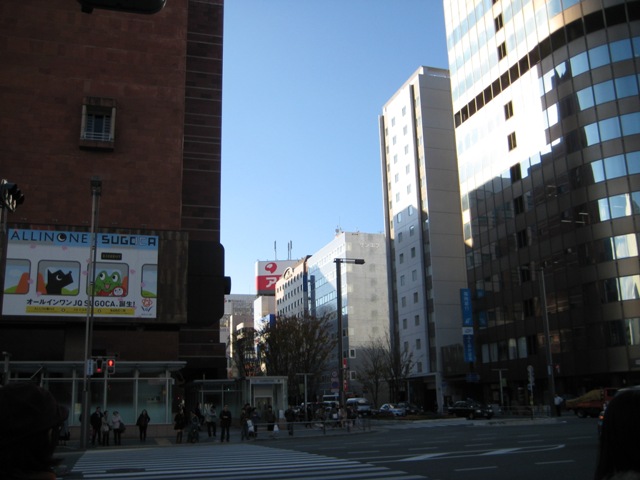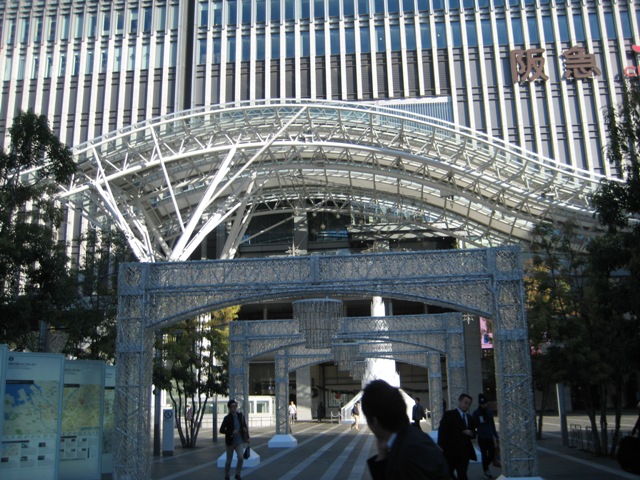 We headed out and went straight up to the Gion area for a set of temples. There is a section near the Gion station where there are a set of temples, although most of them seemed to be not open. One of the two major ones there is Shofuku-ji temple, which is a Rinzai temple. It was completed in 1195 making it the oldest Zen temple in Japan.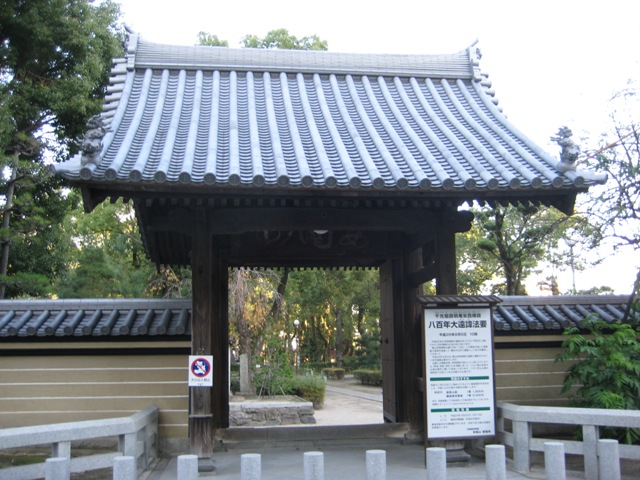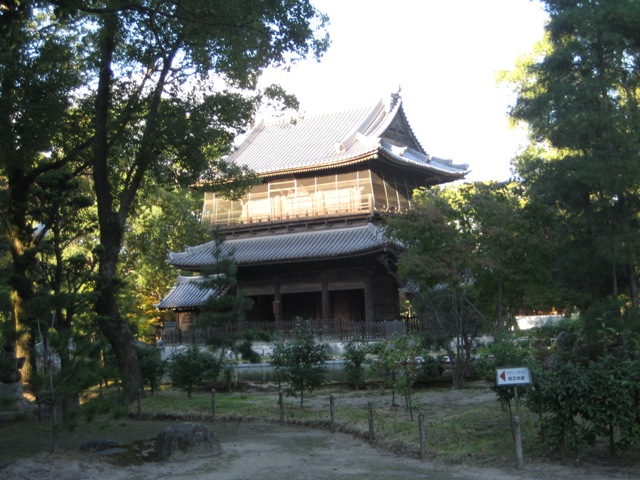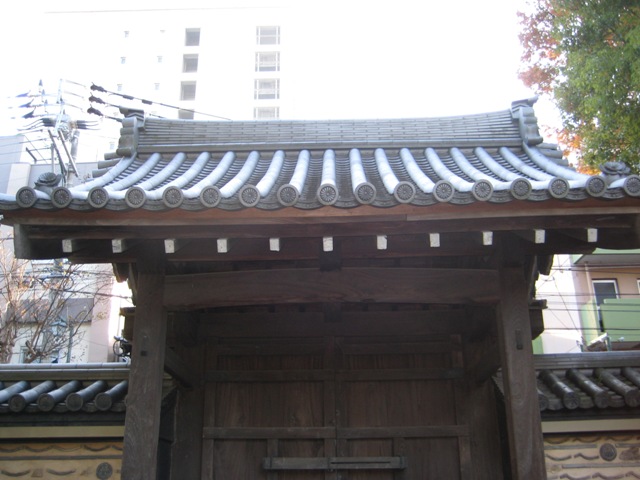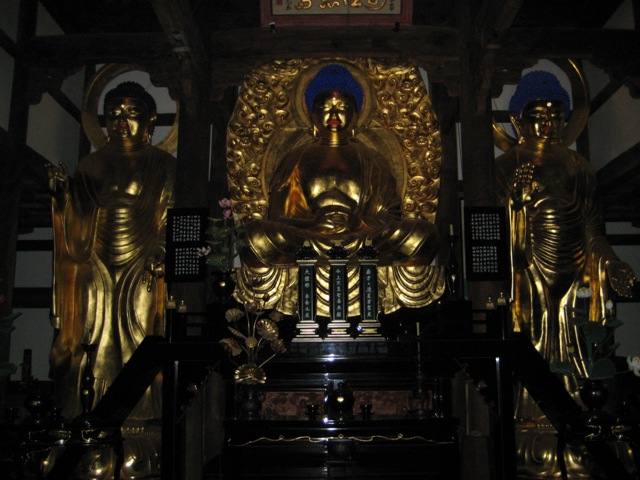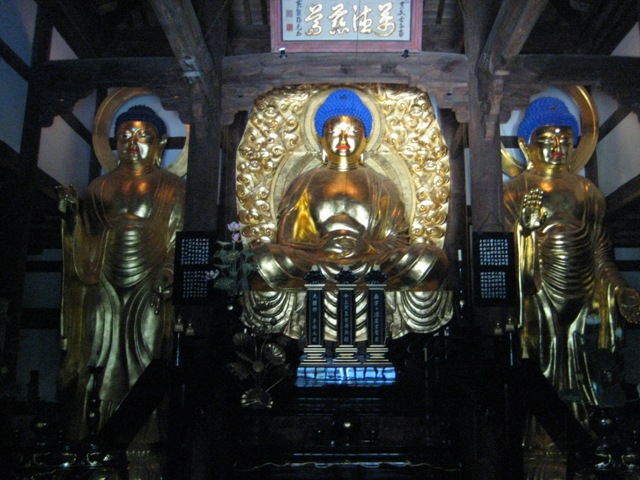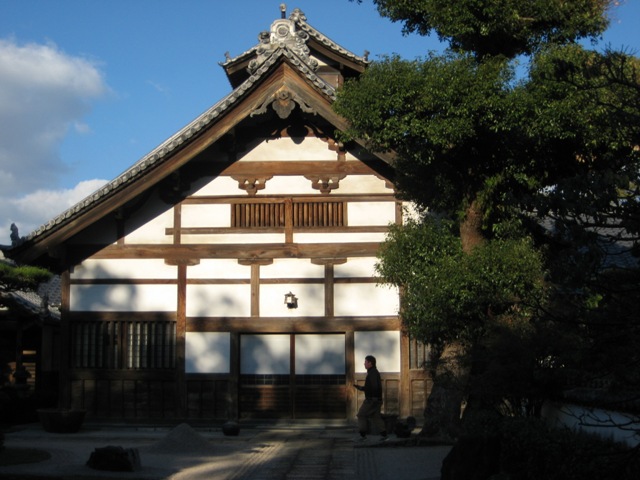 At the back, near the river, was another temple called Genjuan. The plaque in front said it was founded by the Japanese monk Muin Genkai in 1336. It was in a different location originally but moved in 1646 to the current location in Fukuoka by Oga Sohaku. The cemetery contains the graves of Oga Sohaku and his father, Oga Soku.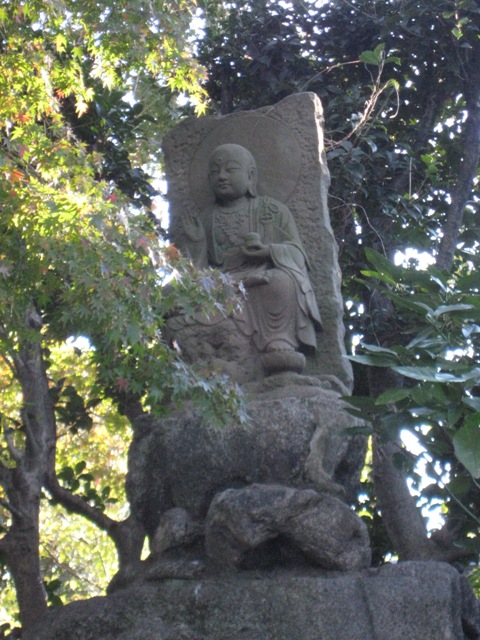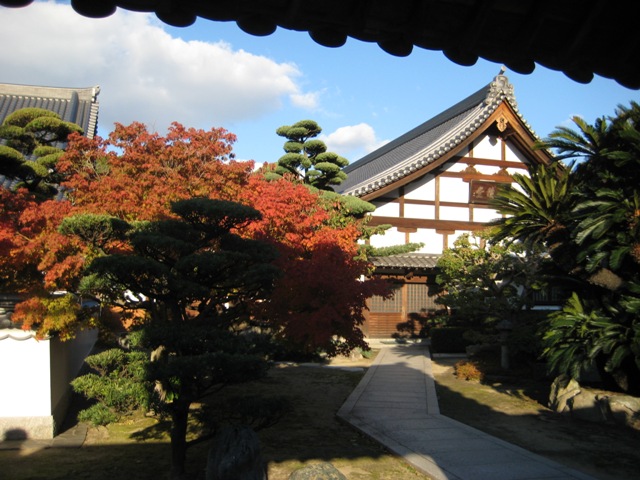 A few other temples as we walked through the area. One interesting sign we saw ... no puppies allowed???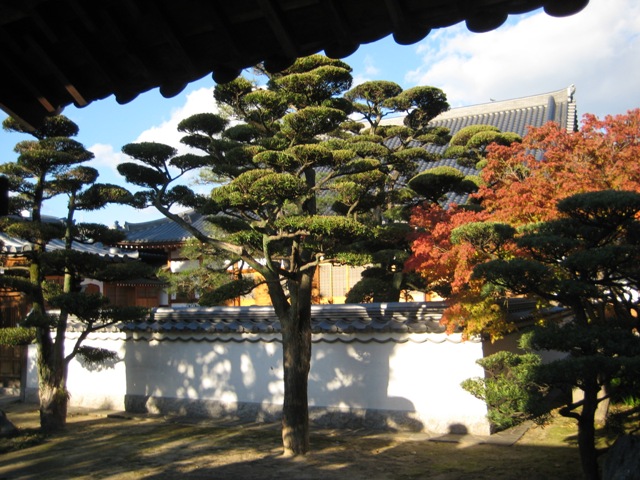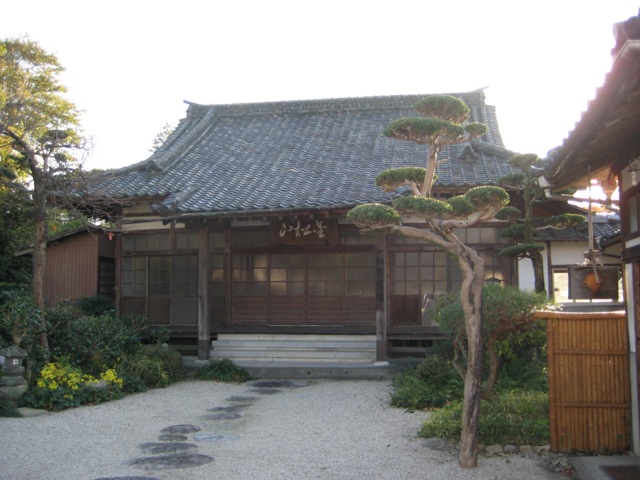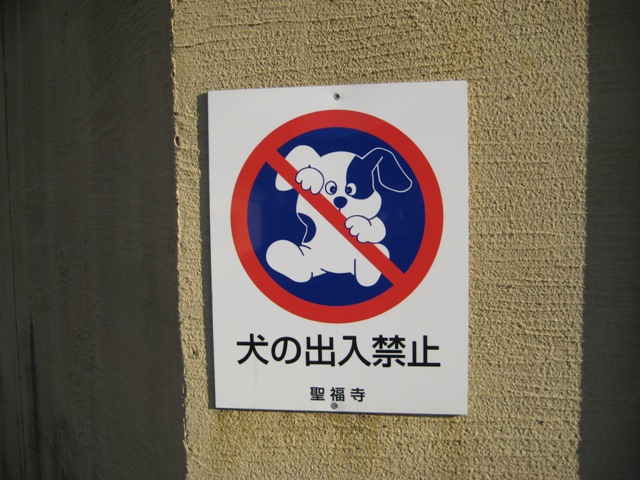 One of the buildings, perhaps the Zuioan (they really didn't have signs on the buildings, so I'm going by the little map we have), had these really interesting faces and statues around the top of the entrance gate.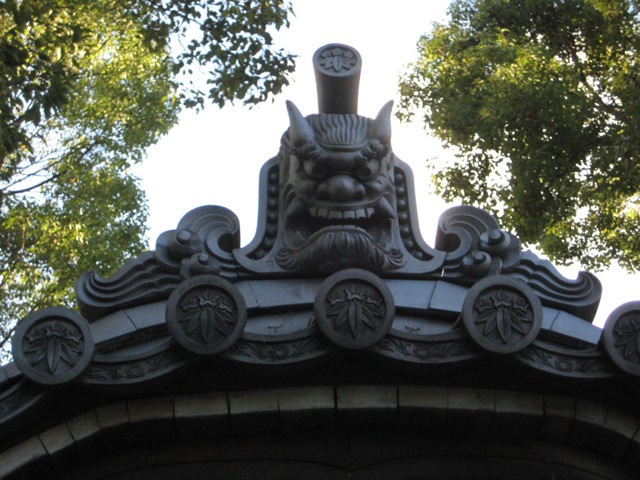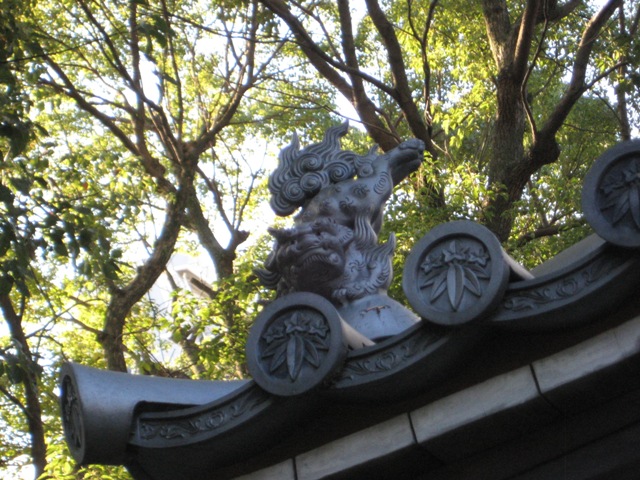 At the front of Shofukuji temple was this little cemetery.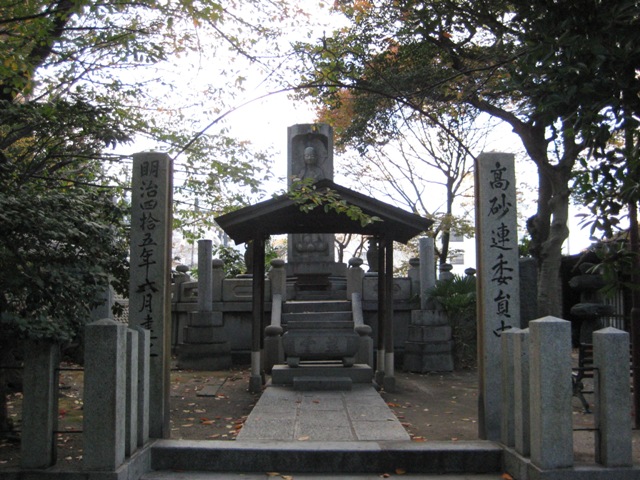 We then headed over to the Tochoji Temple. It is a Singon temple, completed in 806, making it the oldest Shingon temple on Kyushu island. Inside there is one of the largest seated Buddha statues in Japan, although it is not very old (completed in 1992). It is 10.8 meters high and weighs in at 30 tons. No pictures were allowed (sorry). Next to the temple is a bright orange 5-story pagoda. Interesting story here. There was something going on at the temple (really have no idea what), but as we entered to take a few pictures, a guy come over to us (like a guide) and basically started taking us up into one of the temple buildings. Having no idea what we were doing, we followed him. He takes us up to the 2nd floor and takes us over to where there are 4 rows of Buddha statues, each with a little rock step in front. People are going around to each of these 50 or so statues, stepping up on the stone, and praying. So, not to seem out of place, we also take our turn going around to each of the statues. As we were heading out, we see this giant Buddha statue, and people around going through this little door to the left. So we think .. okay, so we can go look behind the Buddha statue. The guide seemed a bit confused, but okay, he takes us through the door. NOT what we were expecting! There are several pictures that, as he explains, talks about hell and being in hell, and this is a cleansing and rebirth. So we go past the pictures of hell, and then we walk through this winding little area that is absolutely pitch-black. I couldn't see him in front of me, Tom couldn't see me although I was a foot in front of him ... no light at all. Very weird feeling, we've never been in such total darkness ever. This I guess was the "rebirth" part. We thanked him and then headed on out.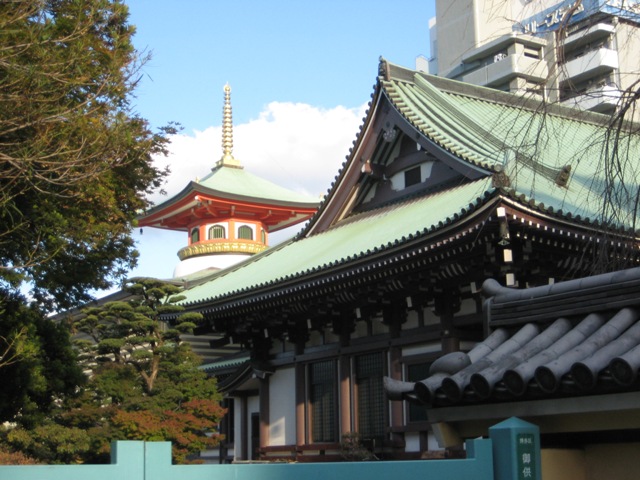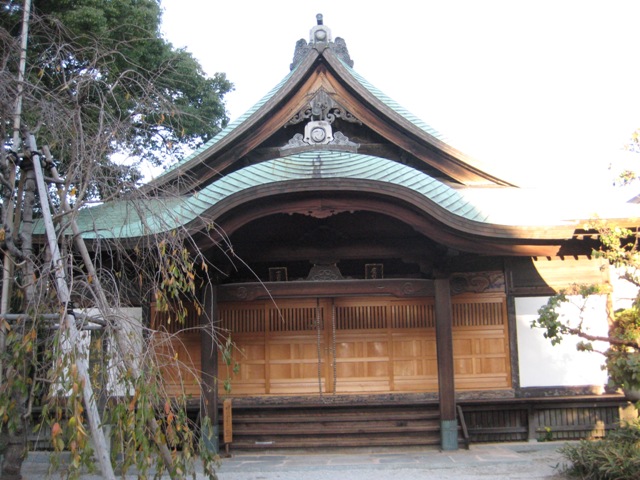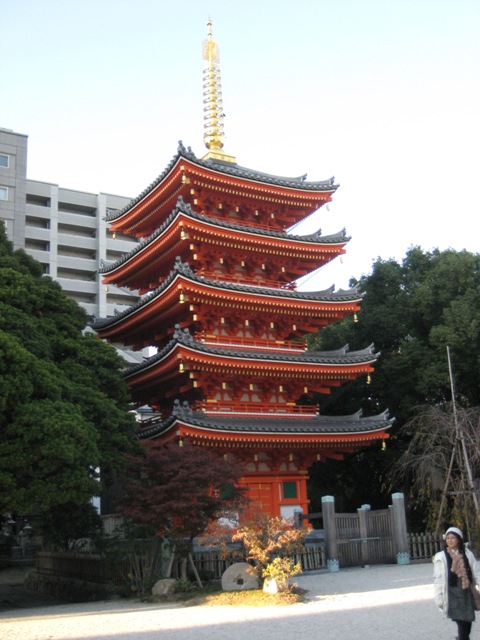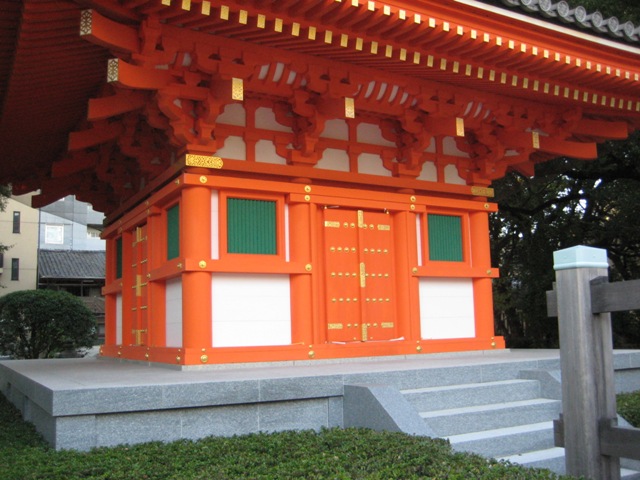 In one corner of the temple area was the Cemetery of the Kuroda family, feudal lord of Fukuoka. The Kuroda clan was a Japanese samurai clan which came to prominence during the Sengoku period. Fukuoka castle, which we will visit later, was the residence of the Kuroda main clan during the Edo period.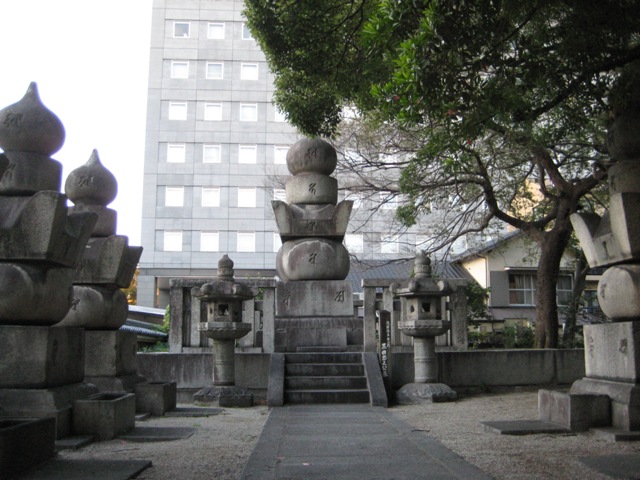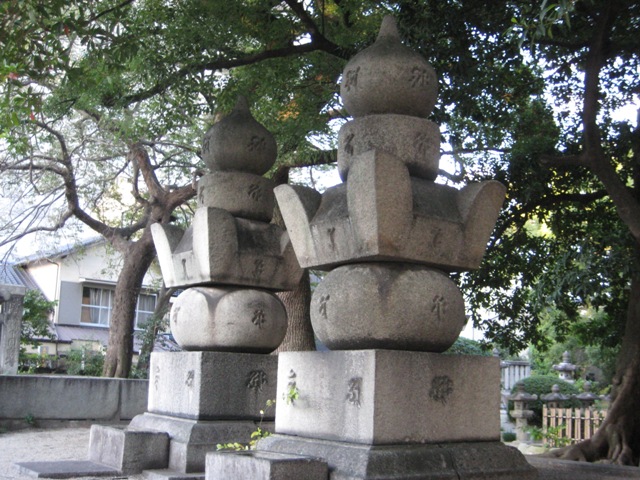 We came out of the subway station once and right in front of us was a store called "eeny meeny miny mo", like the kids game. We thought it was cute, so grabbed a picture. We found out later that it is one of two ultra-modern shopping centers linked by the shopping arcade which was next on the walk.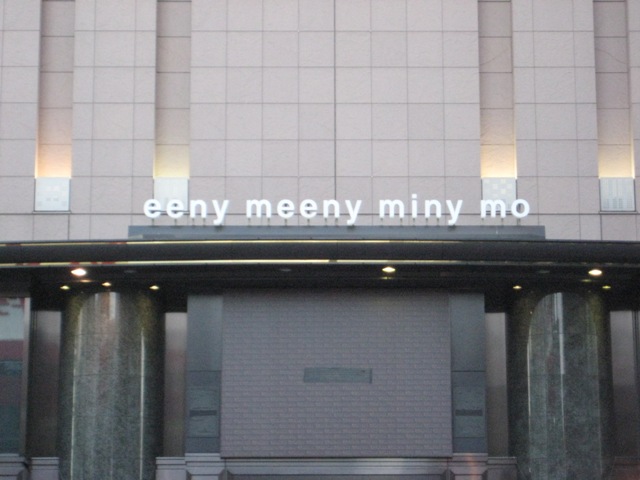 As with Sapporo, there were several covered shopping arcades on this trip as well. The first is the Kawabata Shotengai (shopping arcade), which is the oldest shopping arcade in the city (since the mid 1950's). The 400-meter long covered street links Eeny Meeny Miny Mo and Canal City.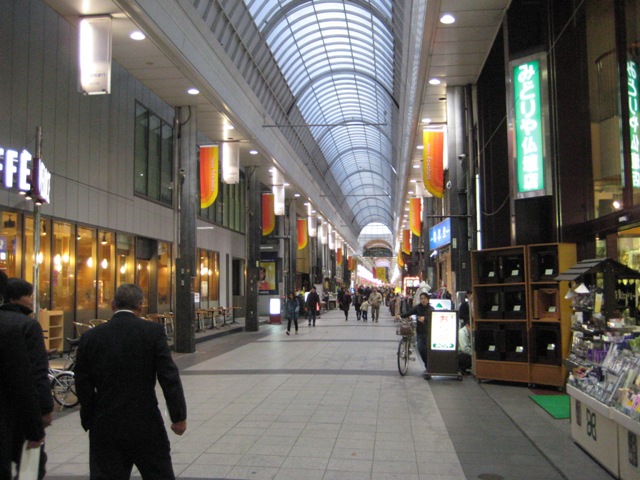 At the end of the shopping arcade, we saw the entrance to the Kushida Shrine, a Shinto shrine which supposedly was founded in 757.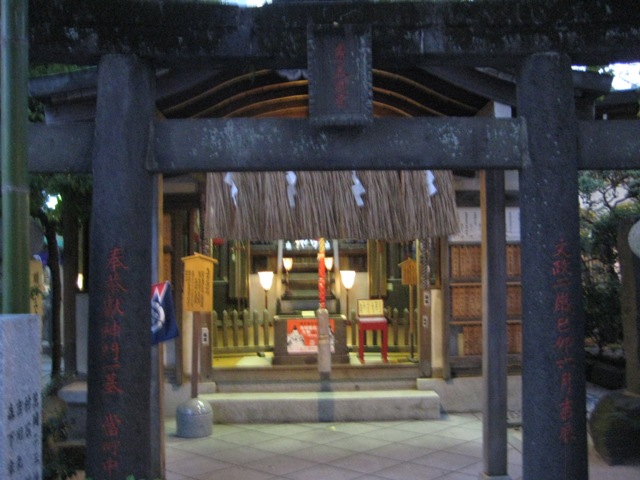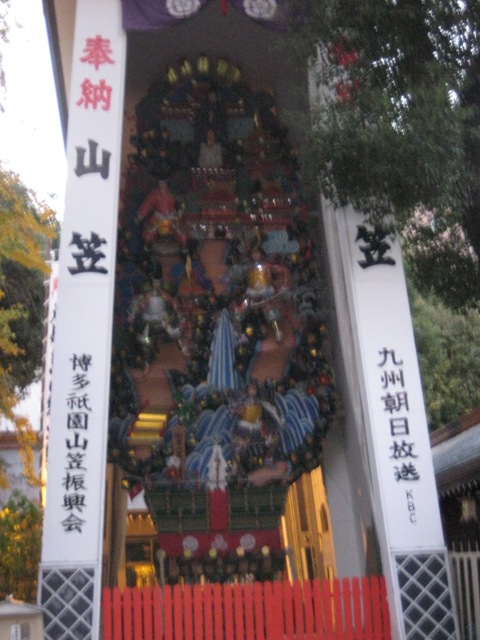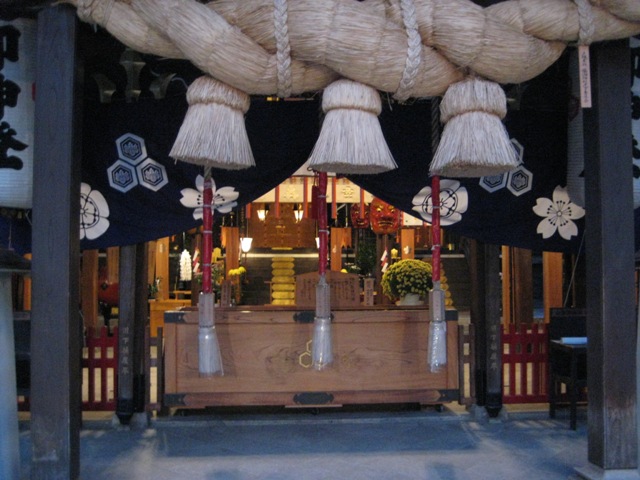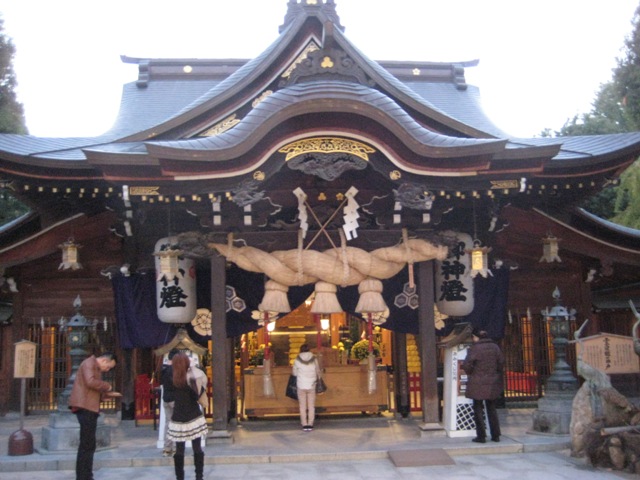 Next up was Canal City, a shopping and entertainment complex. It is sometimes called the "city within the city," since it contains shops, cafes, restaurants, a theater, a game center, two hotels, and a canal which runs through it. It was dark when we got there, and so we tried to grab some pictures of the Christmas decorations, which were all lit up.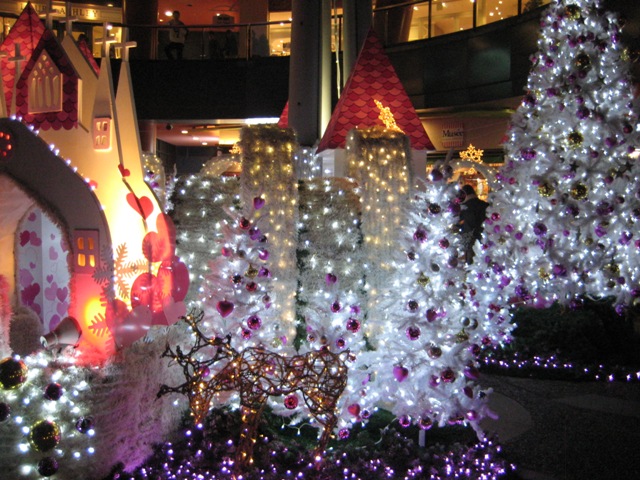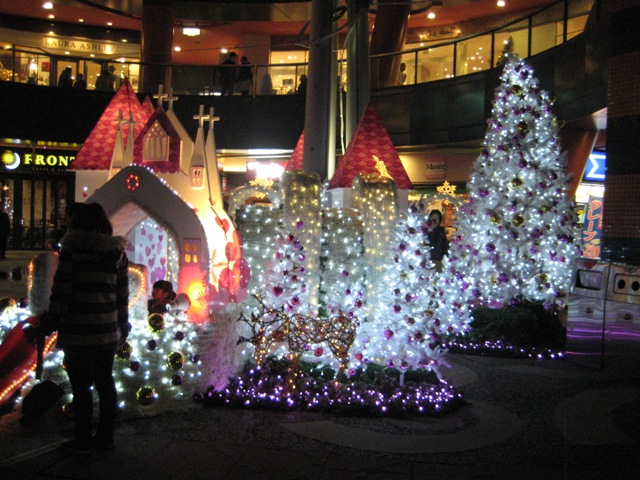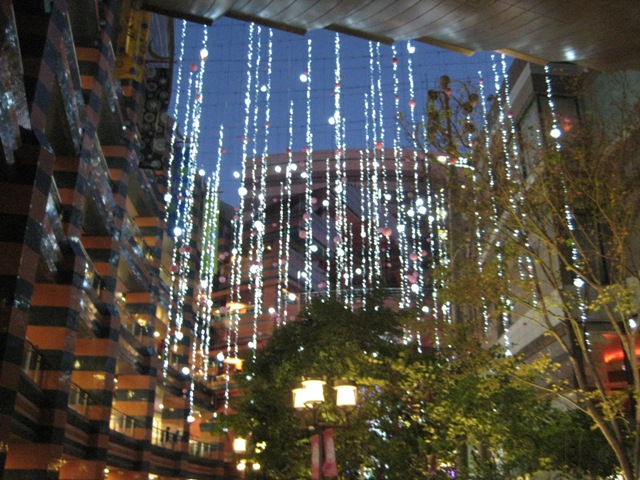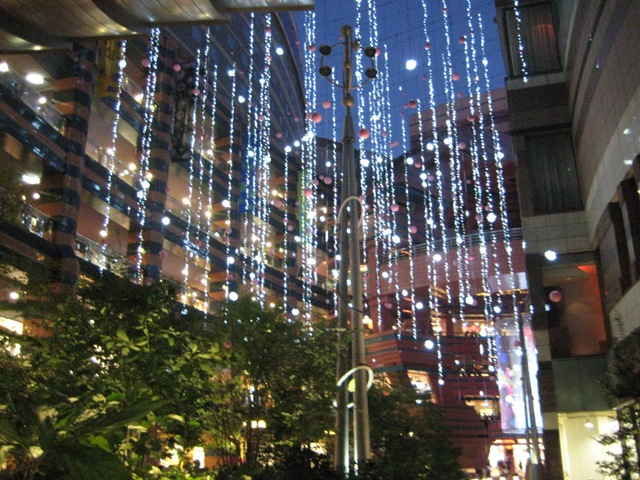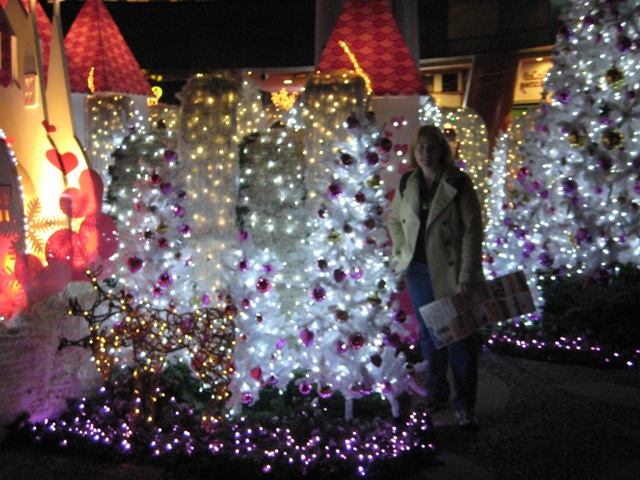 They were setting up for something, as we saw lots of young girls all lined up, with numbers (like, they had gotten tickets for something). So we decided to hang out in the lobby of the Hyatt for a bit and try to peek at what was going on. The lobby is a really nice lobby! Three stories, sitting right on the canal with one side being all windows.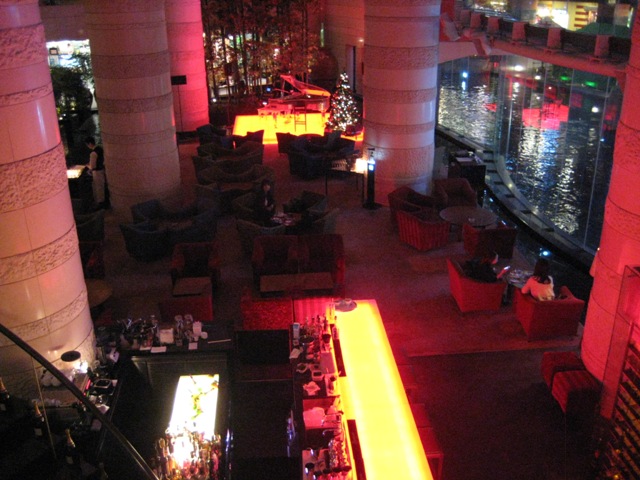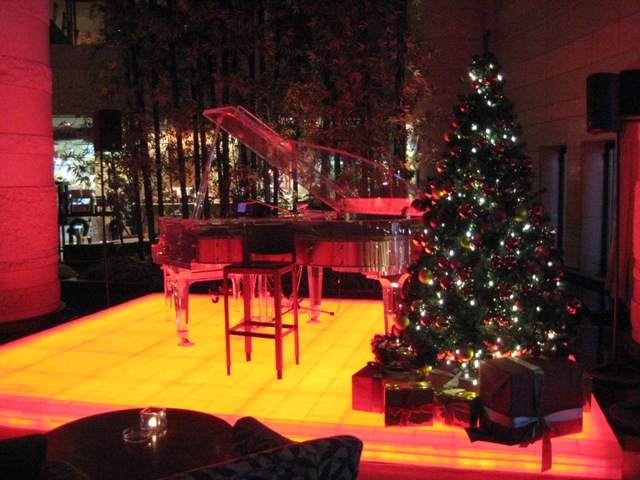 Through the window, you could see this big round light-show, that changed colors and designs.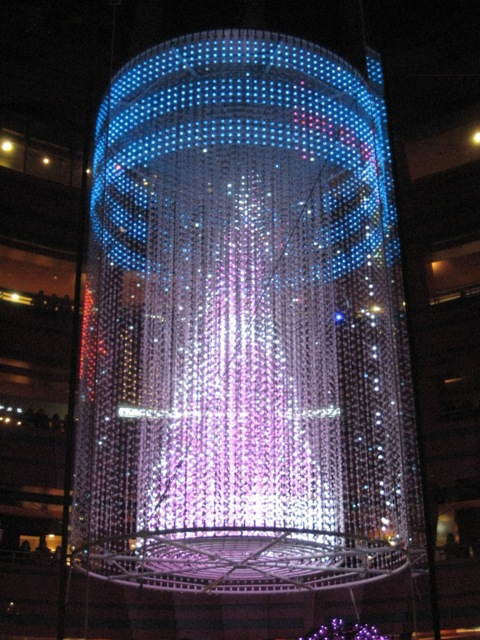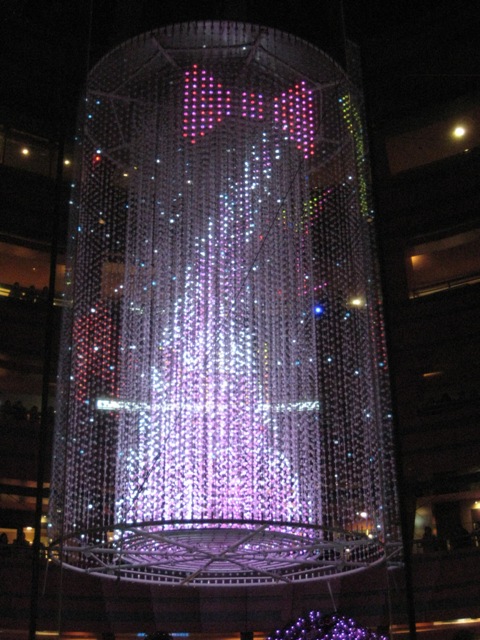 We waited a bit and then we found out what all the girls were sitting in line for ... My Name! So, if you have no idea what or who "My Name" is, let me tell you ... it is a South Korean boy band. Right ... yea .. we didn't have a clue, either. I guess they are popular with young Japanese girls although we found it a bit interesting that they seemed to be singing in English. The group consists of five members: GunWoo, InSoo, SeYong, JunQ, and ChaeJin ... and they seem to like to dress in flowers (there was one flowered suit, one flowered shirt, one flowered jacket, and one flowered pants).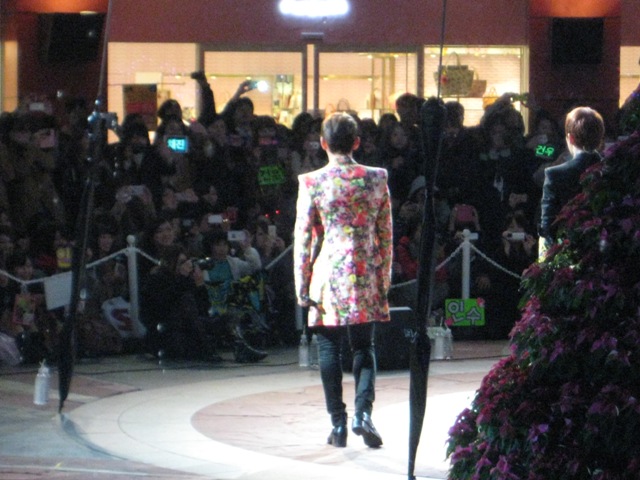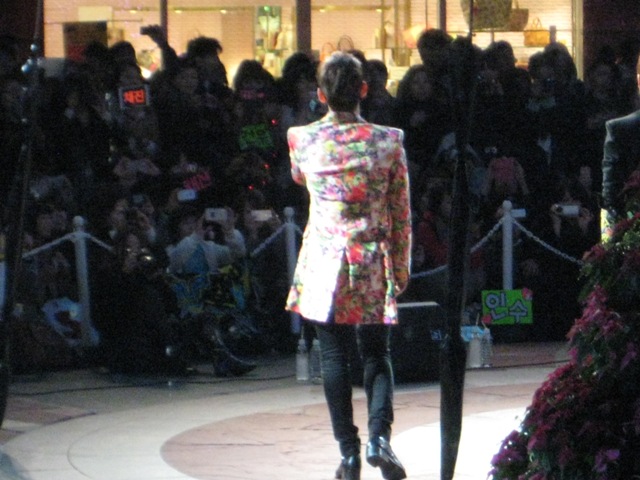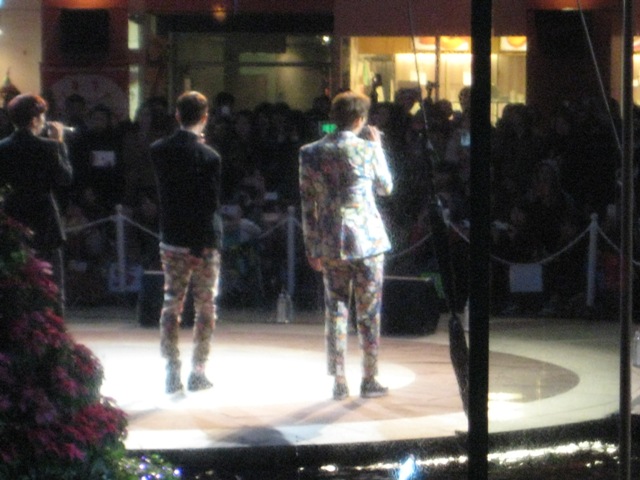 From there we headed along the river (where Tom grabbed this picture of a building lit-up on the river), to try to catch an evening 30-minute boat cruise before dinner. Another funny story ... we get to the place with the boat cruise and can see that there are two of them: a 30-minute one and a 50-minute one. With our dinner reservations, we needed to only do the 30-minute cruise. So we try to explain to the guy that we want to do the 30-minute cruise, which is set to leave in about 10 minutes. He's like .... wait here (well, we assume that is what it meant, it was all a big game of charades). So we wait and a boat shows up and the other people get off, and the guy motions for us (along with a bunch of Japanese people) to get on, so we do. We sit down and are waiting for the boat to leave, and the guy on the boat looks at us, and then talks to some Japanese people, and looks at us, and talks to some Japanese people .. then he comes over to us and says "Charter". Oh ... so ... I guess he was doing this "which one of these things doesn't belong" thing :-) So we get off the boat .. no boat cruise tonight!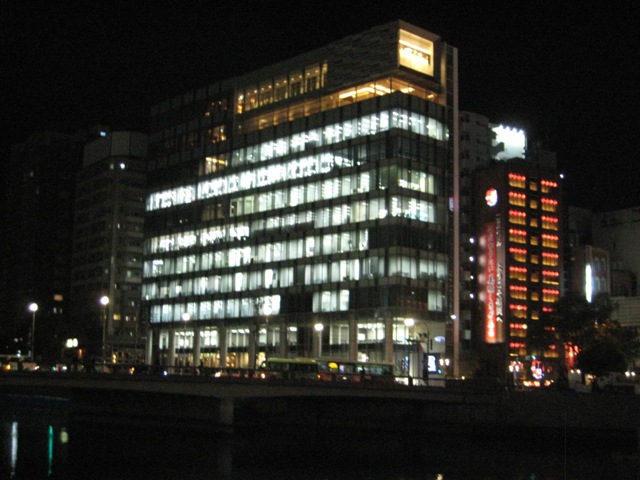 We headed towards dinner, taking our time roaming through the different streets, where we came across another small shopping arcade with lots of Christmas trees all lit up.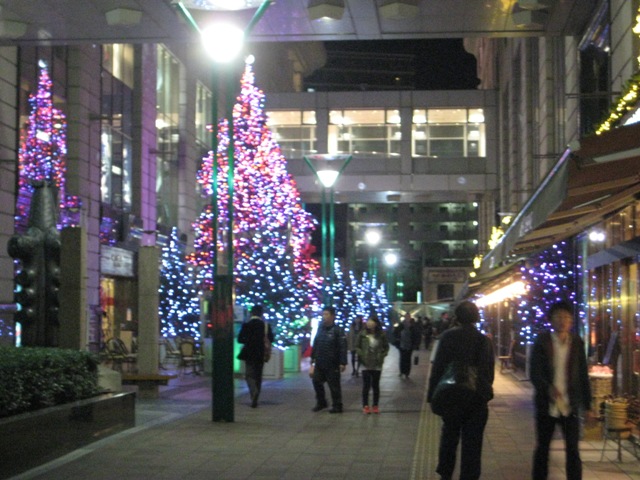 We get to our restaurant, where Tom believes we've made reservations. No the guy says, we say Yes, we made a reservation. With his broken English and our total lack of Japanese, he explains that our reservation is with their other location, and he marks on our map where it is .. just a few blocks away. So off we go, down a small street and off to the other location. Well, after 15 minutes of looking ... nothing. We later find out that he was off by a street and we were 1 street off. So we head back to the original restaurant and basically just wait for a place. About 15 minutes later or so, they seat us at the counter. This is a Yakitori restaurant which Tom found in an article in the New York Times. It is fairly small, with a few tables to the left side and a counter around the cooking area with the open grill.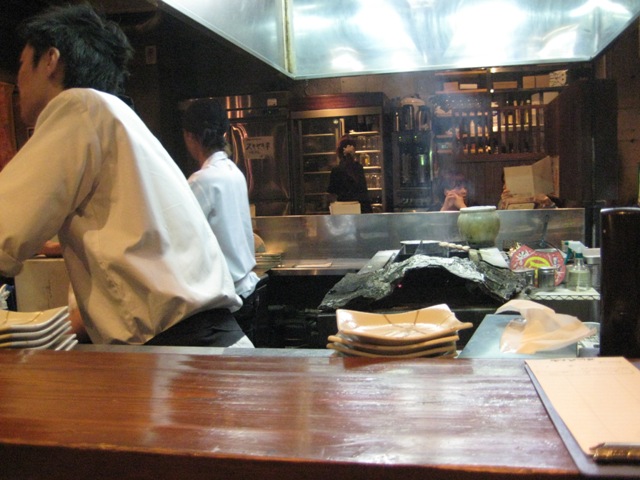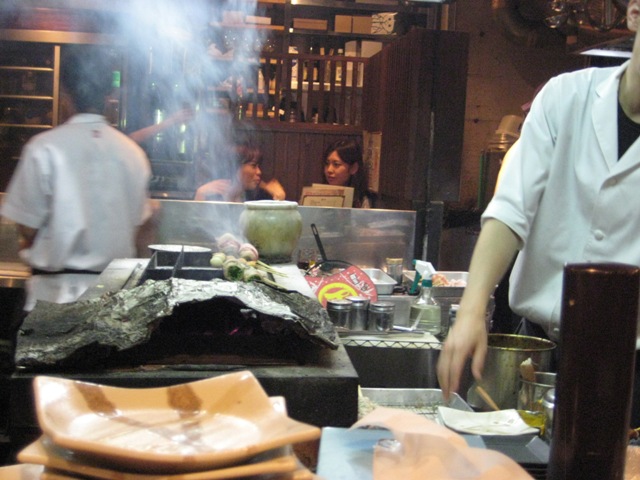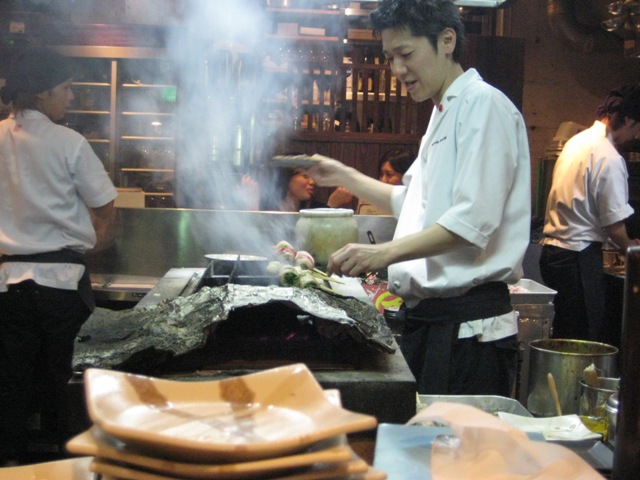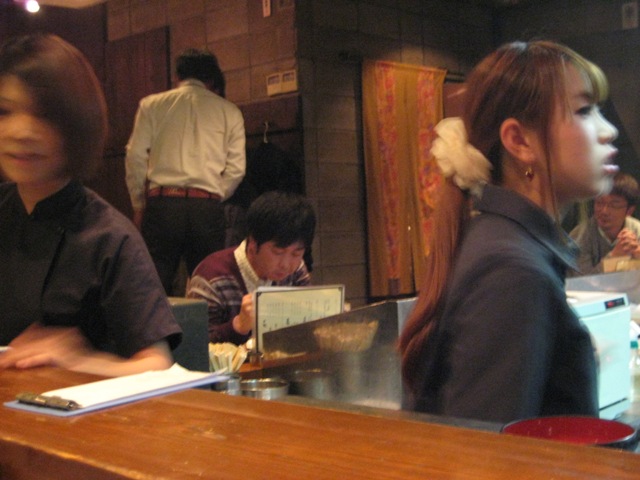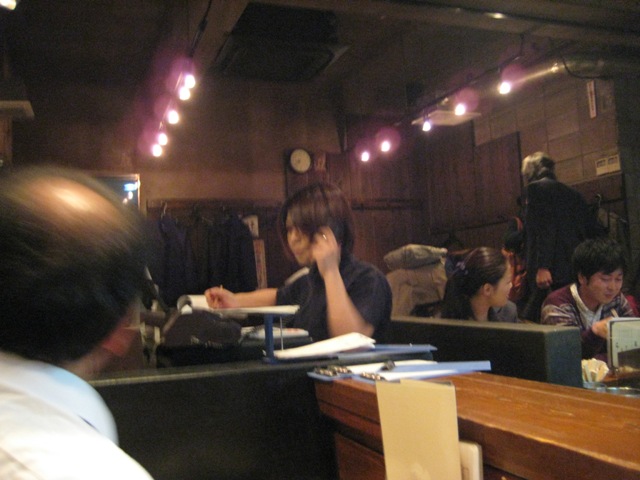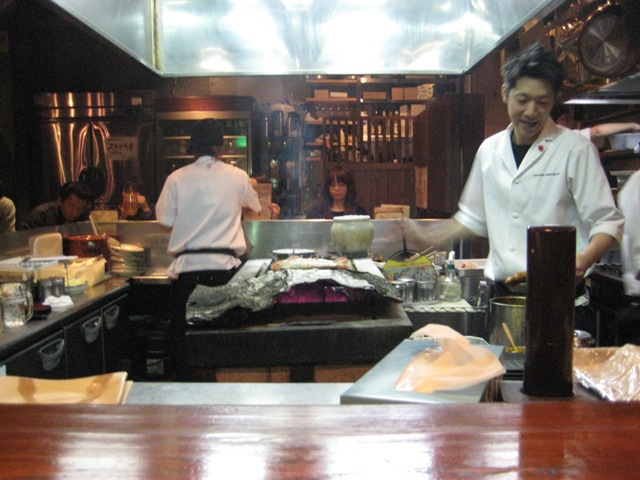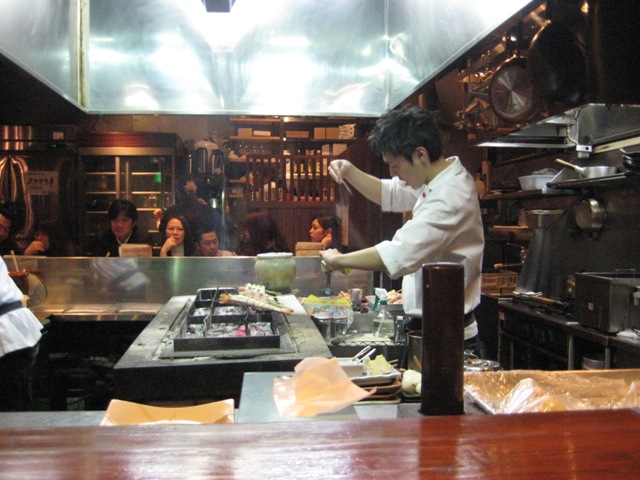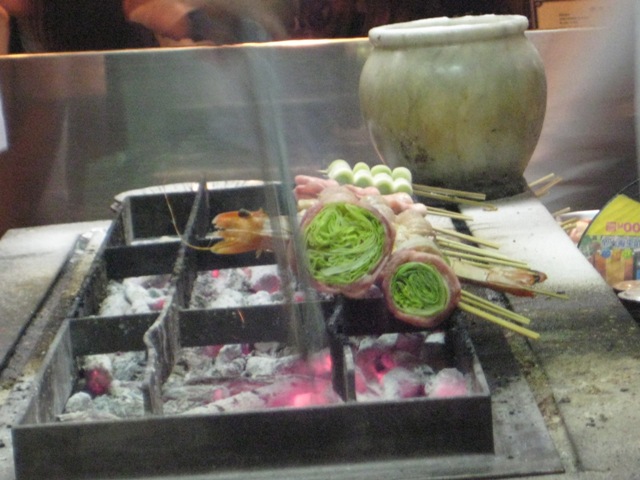 As we sat down, we were given a small cabbage salad, a bowl of bean-like things (weren't really our favorites), and something that resembled a tomato. For drinks, Tom got Shochu (sweet potato alcohol) and I got plum wine. About half-way through dinner, the guys next to us seemed to be done and ready to go, but they had bought a bottle of Shochu and hadn't finished it, so they leaned over and somewhat asked Tom if he was drinking Shochu and when Tom said yes, they basically filled up his glass from their bottle, and then headed out.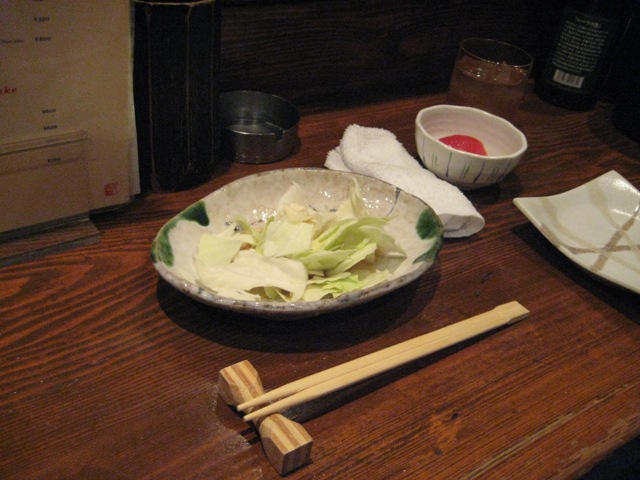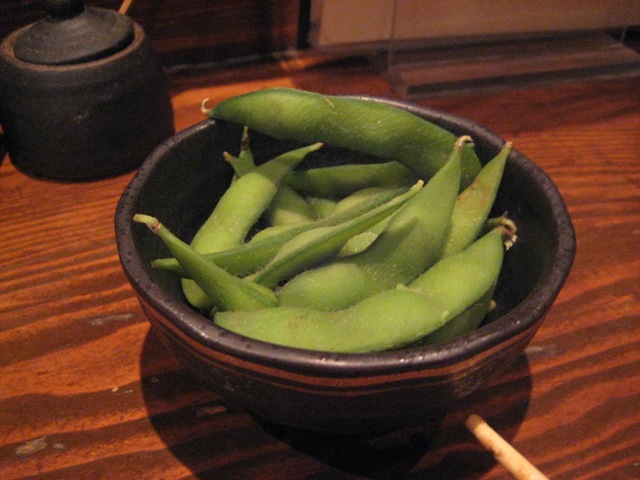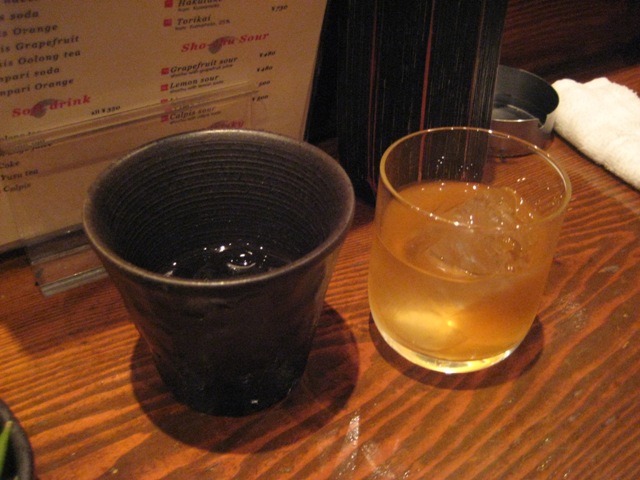 We did a set of different Yakitori's. Yakitori literally means "grilled chicken" and originally was chicken cooked on a skewer. However, it now can refer to any skewered food. Kushiyaki, or skewered grilled, is the formal term for both chicken and non-chicken items but both are used interchangeably. First up was Arabiki (grilled sausage) and butabara (pork belly). Then Tsukune (chicken meatballs) which were dipped in a sauce during cooking.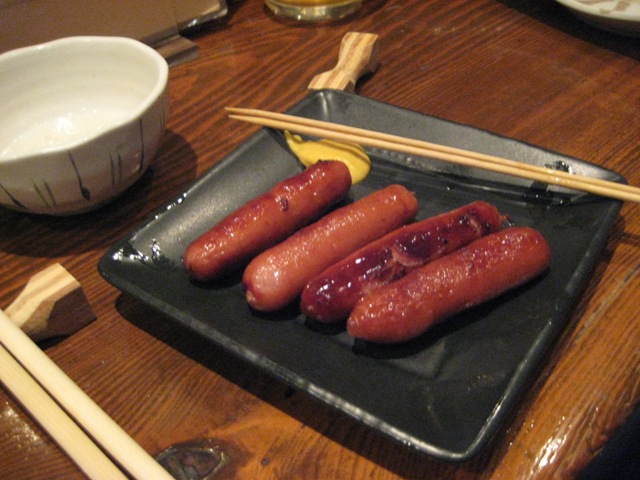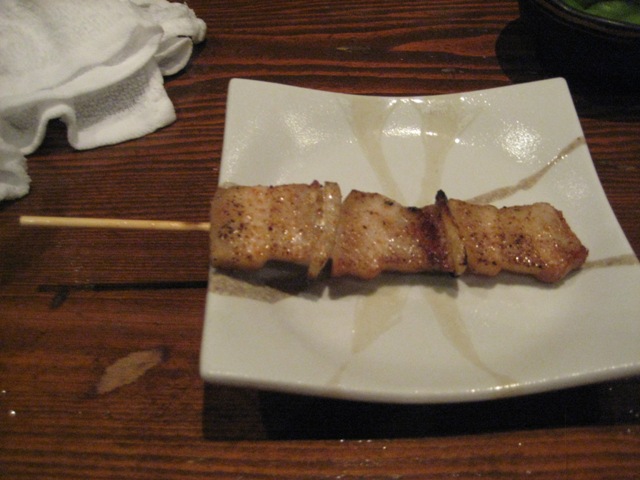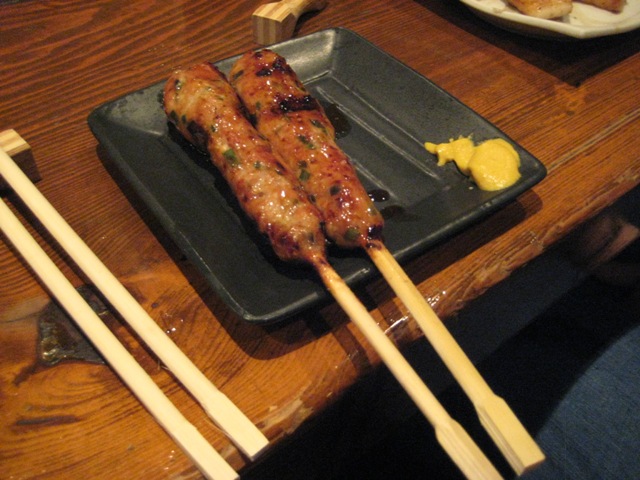 We then tried a rice ball. We've had a grilled rice ball before and that was really good, so we tried Norionigiri, which was rice ball with seaweek plum and mentai. It ended up different than what we had imagined, having a rice ball with plum paste in the middle, wrapped in Nori.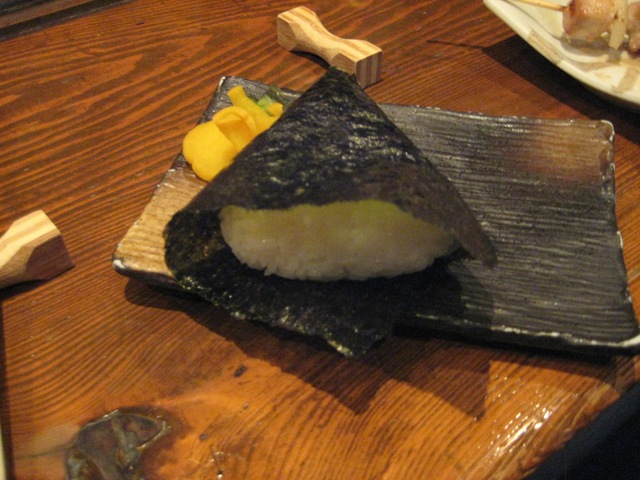 Then we did Yotsumi (chicken thigh) and Sasami-umeshiso (chicken breast meat with plum paste). We also ordered Cheese Maki (cheese roll) which we assumed was just cheese but ended up being cheese inside of chicken.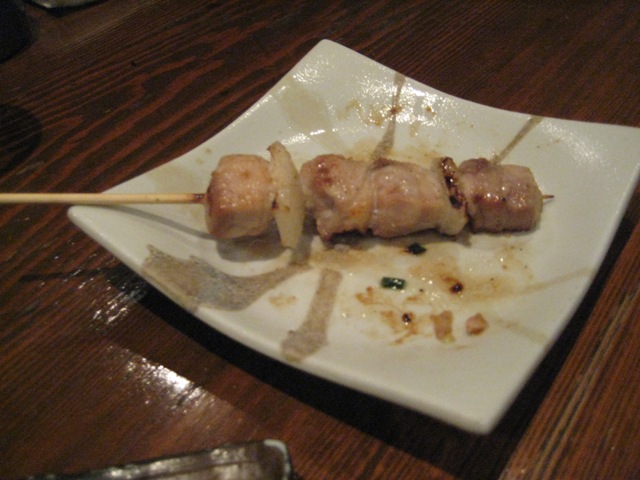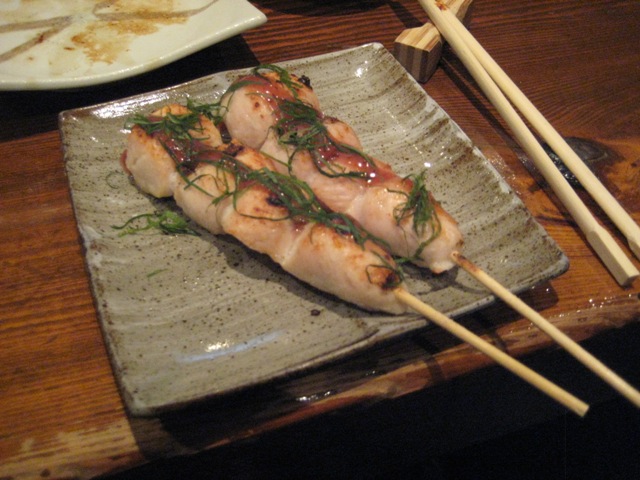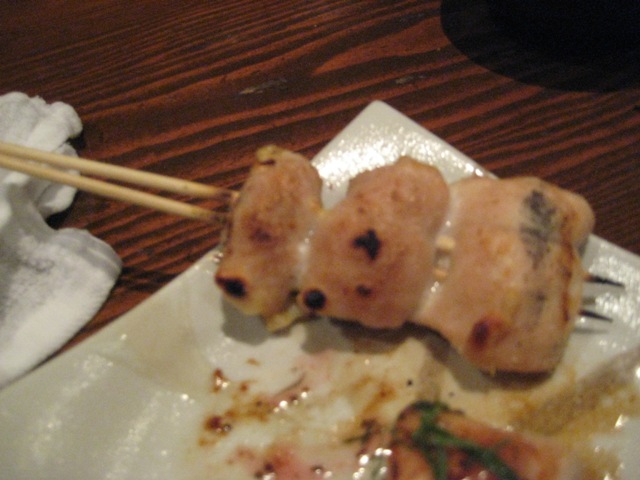 We then went with a couple beef yakitori's with cherry tomato, onion, and green pepper. All of these came with japanese mustard, which is like mustard with a major kick to it. It doesn't seem too bad until you breath in the next time at which point something in the mustard feels like it goes up through your nose and burns everything in it's path.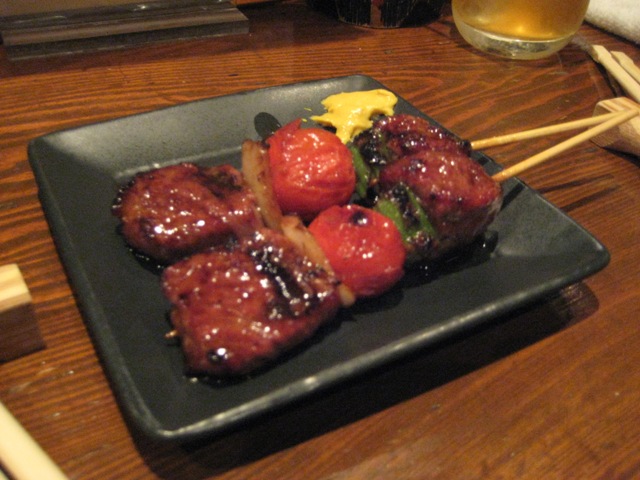 Lastly, we finished off with Goma pudding, which was listed as the Hachibei Original sesame pudding (Hachi-bei being the restaurant name).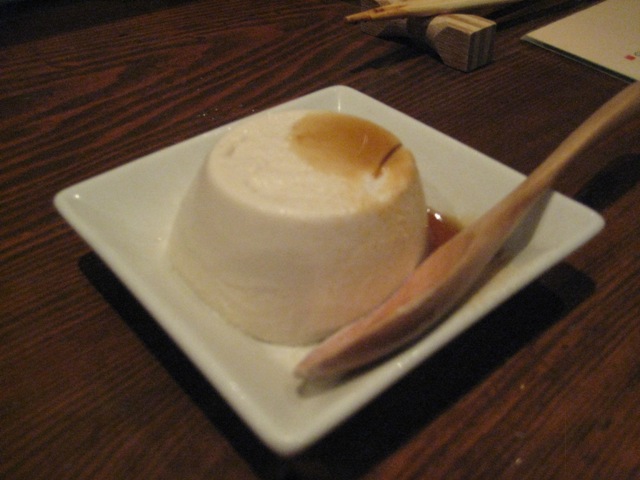 As we left, we grabbed pictures of the outside and Susan with the sign.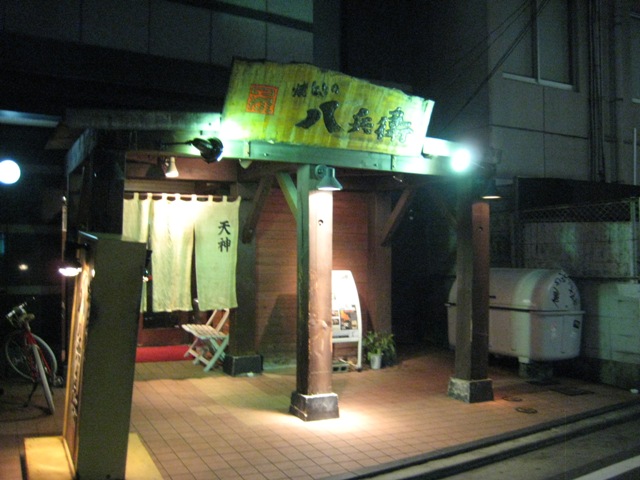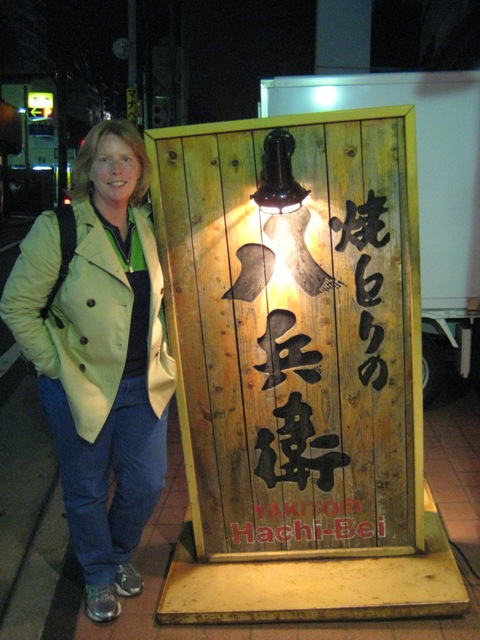 On the walk back to the hotel, we grabbed pictures of the Hakata train station, which was all decorated with lights for Christmas.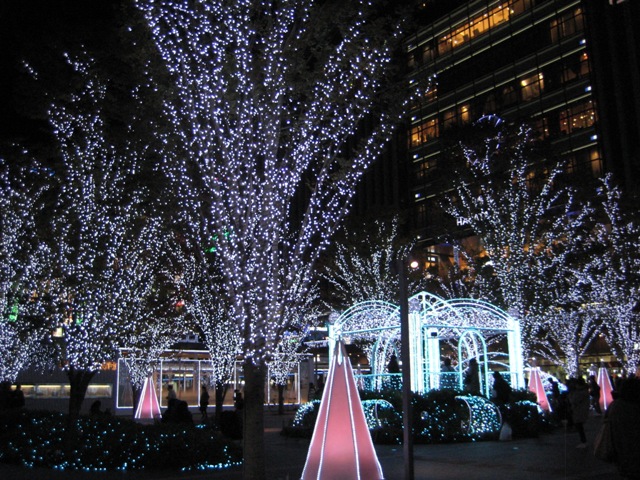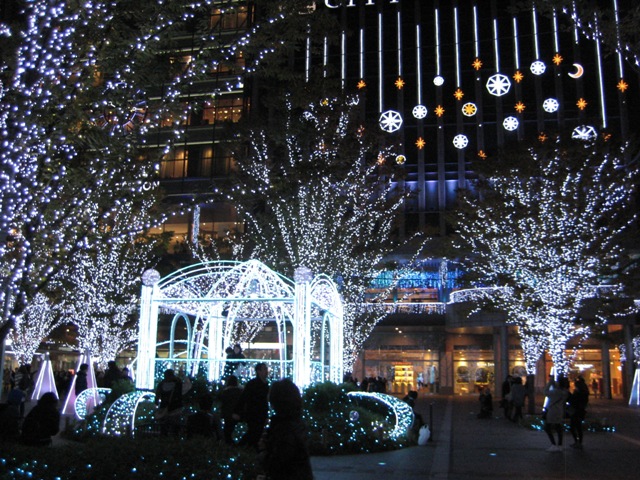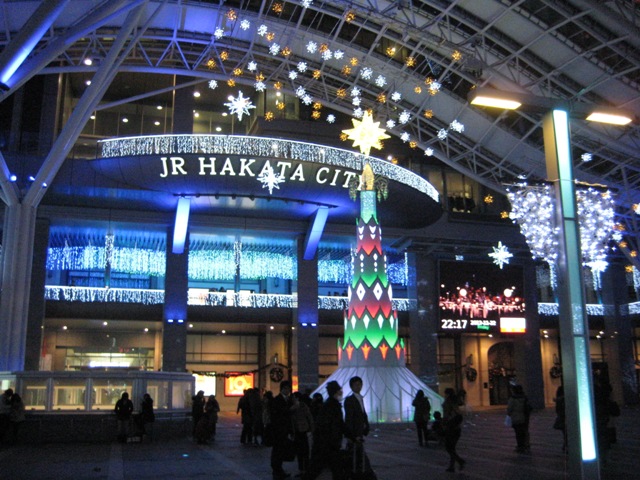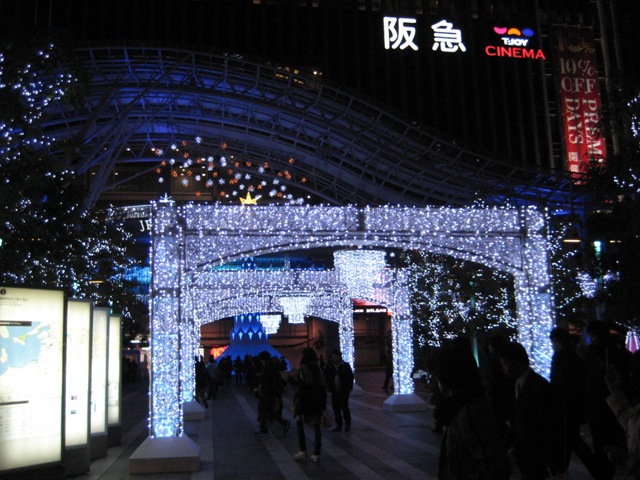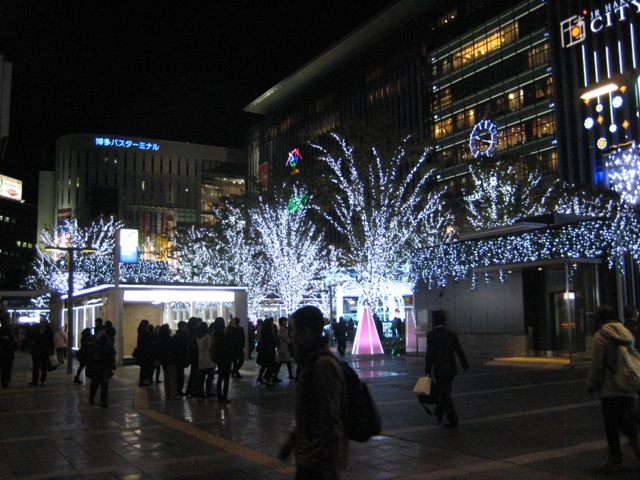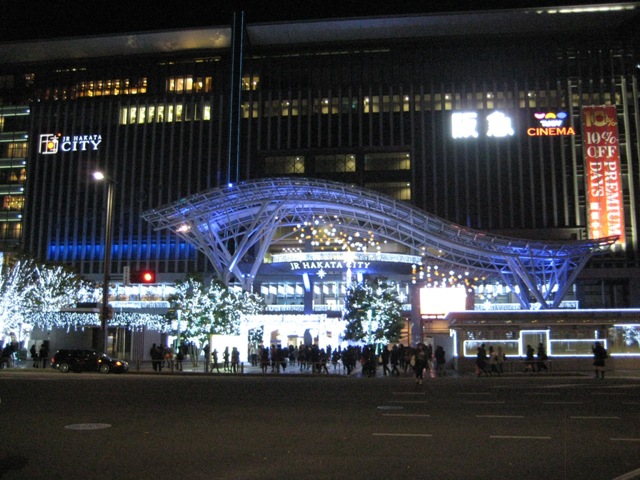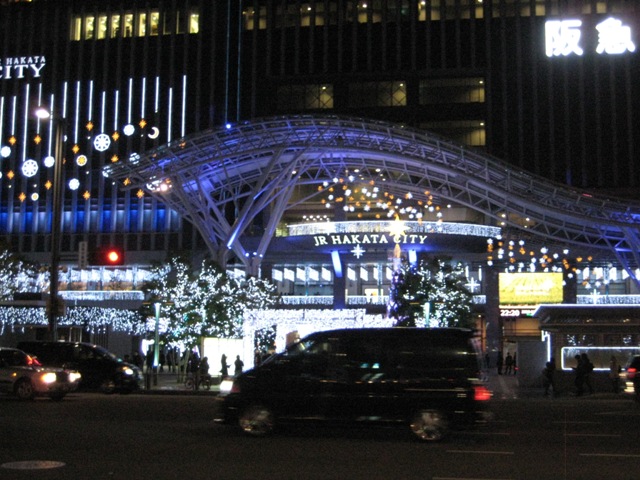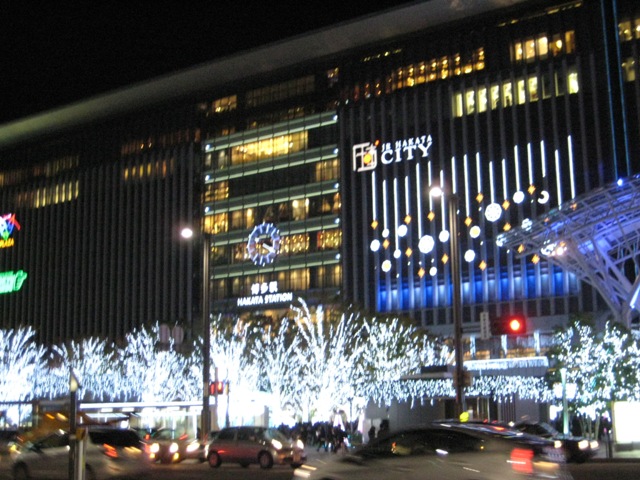 I had to take a picture of this one ... Bicycle parking. We had seen something on TV about this as well, although we didn't go inside to see if it was automated or not. But bicycles are still widely used in the cities in Japan, and so of course, there is a need to park all of these bicycles. There is a company who has created a robot system which stores bicycles underground.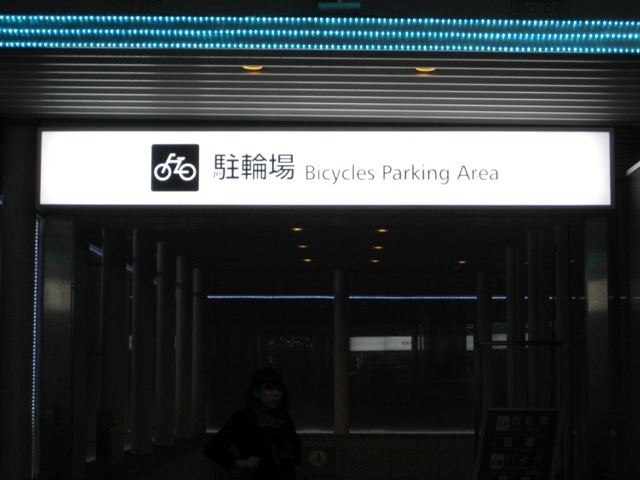 Second day .... we started out at Ohori park. The name Ohori means a trench and it comes from the fact that Kuroda Nagamasa, the old lord of Fukuoka, reclaimed the land called Kusagae which was facing Hakata Bay and made a trench for the Fukuoka Castle. The present park was reconstructed by Fukuoka City, modeling on the West Lake (which we have also been to) in Hangzhou. It opened in 1929. You can see the similarities with West Lake in that right through the middle of the lake, there is a strip of land with a walking path. As we got there, we noticed lots of runners, so it seems that running around the lake on Sunday morning is very popular. We also saw a set of boating teams that were getting ready to do some boating races.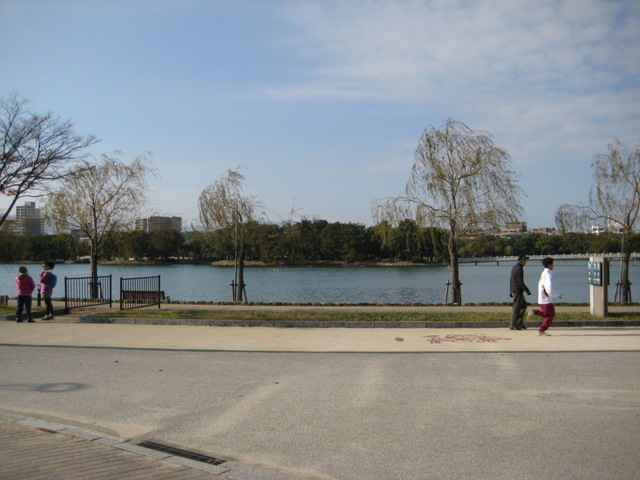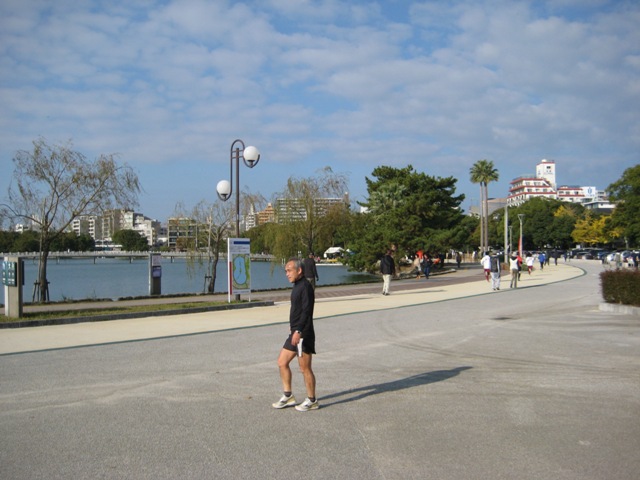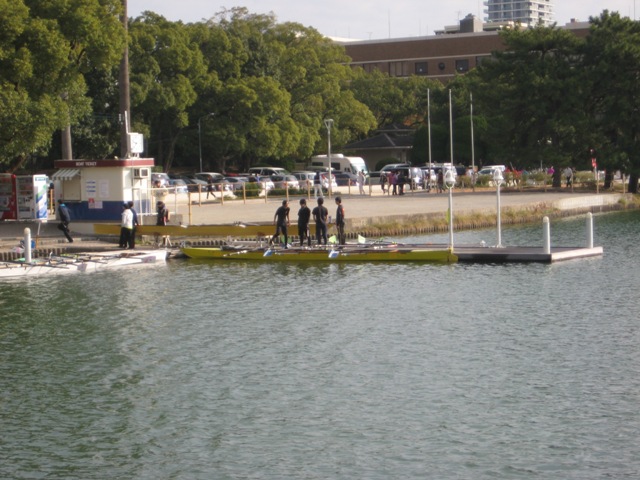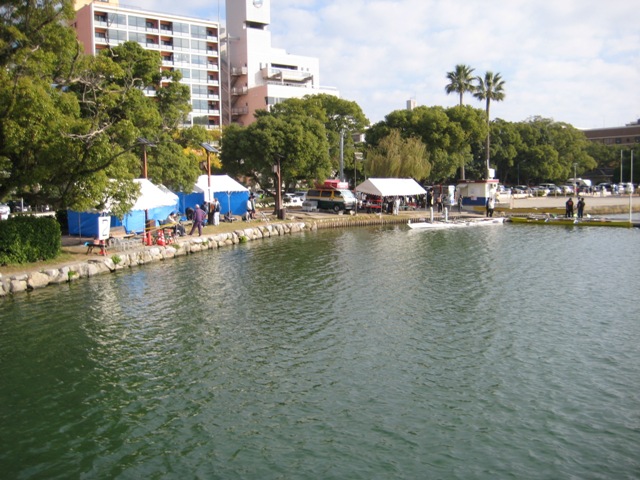 We headed around the lake and then took the walkway through the middle of the lake. At a few places, there were these little pavillions stuck into the lake. We also catch a girl practicing what looks like a small tuba. We thought maybe that playing in the park was better if she happened to live in a small apartment (we assume almost all apartments in Japan are small).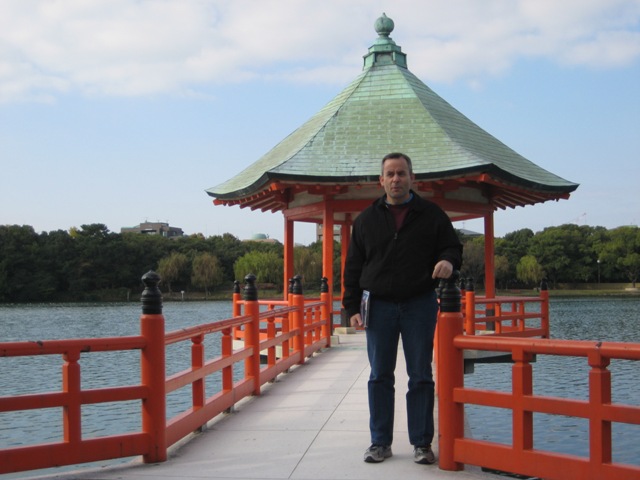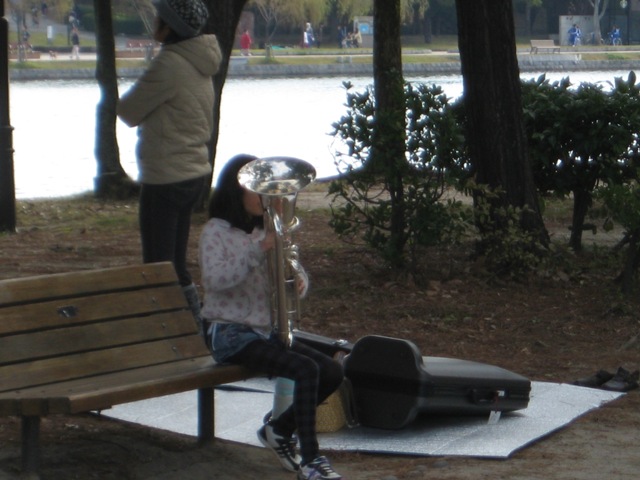 Then some general pictures...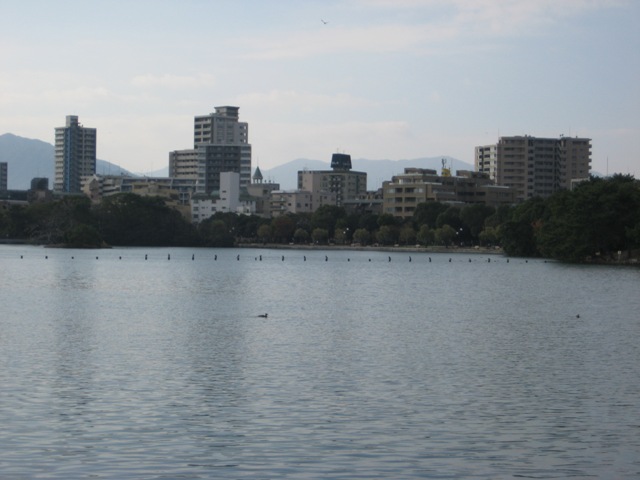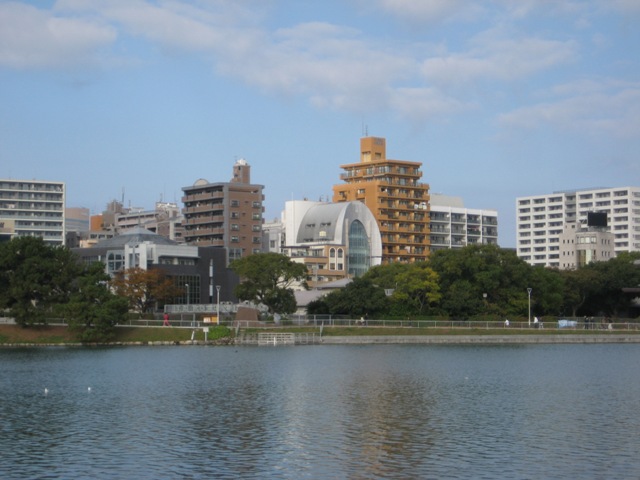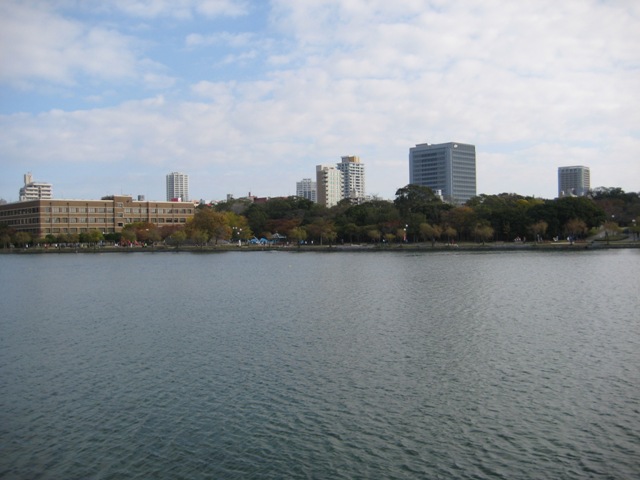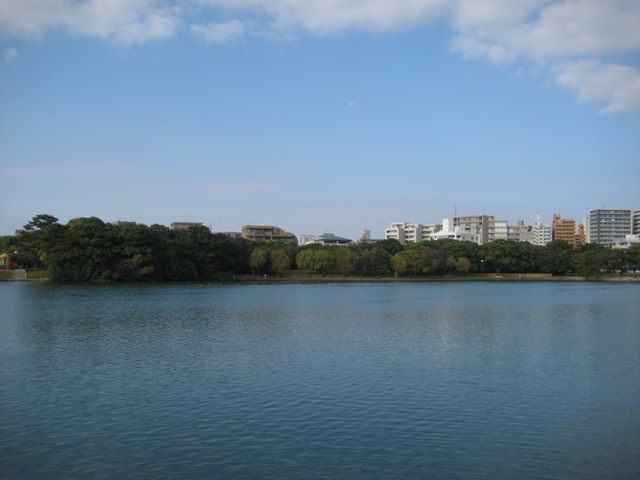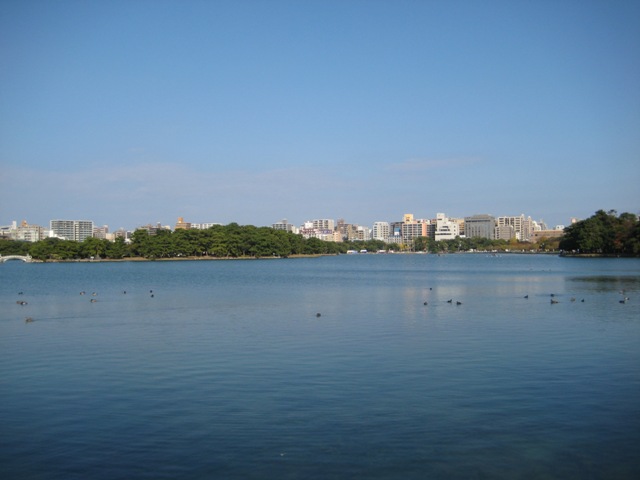 A short distance from the park are the ruins of the Fukuoka Castle. During the Edo period (1603-1867), this was the largest castle on the island of Kyushu. During the Meiji Restoration period, it was almost completely torn down as the Japanese people saw it as a symbol of the feudal past. A few walls and turrets are all that are left. Across the street from the entrance that we went through, there was a Shrine across the street (no idea what Shrine, but the entrace was really huge).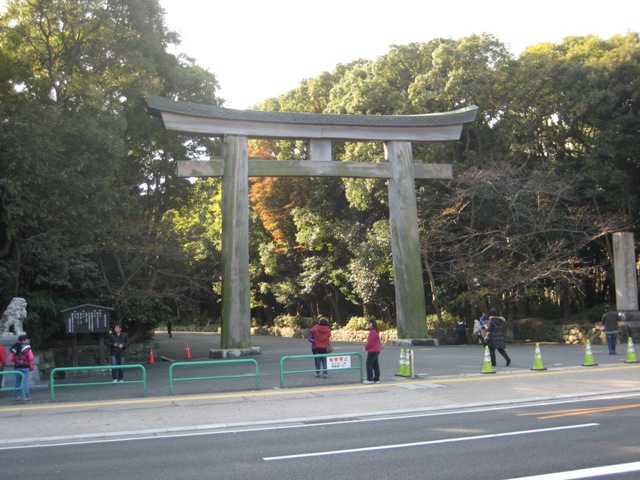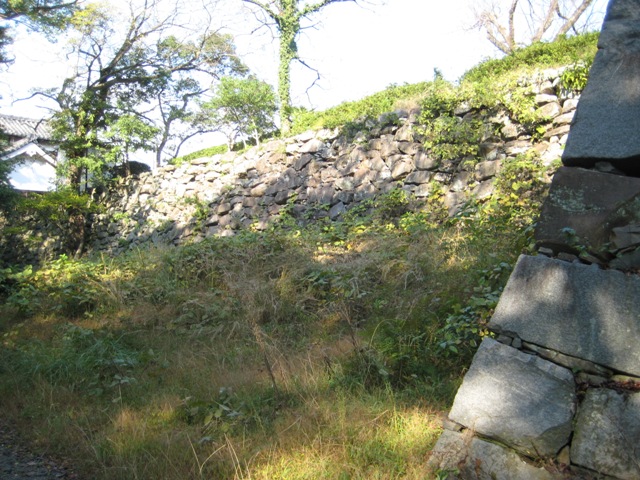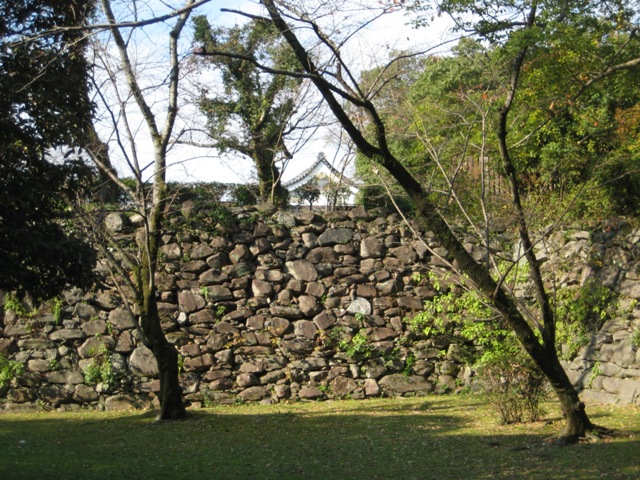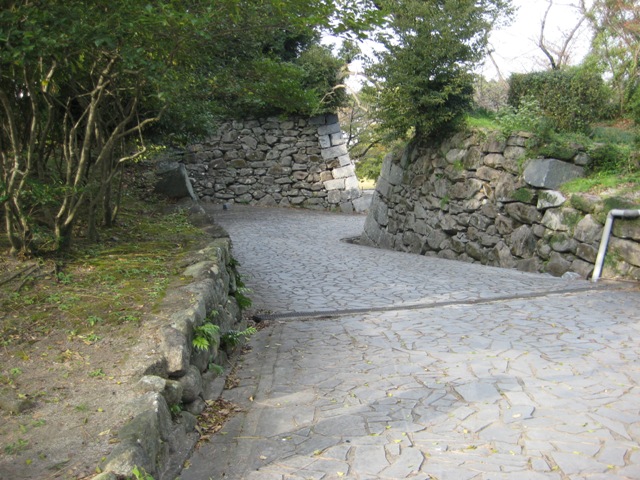 There wasn't alot of information within the ruins, probably because there wasn't much to talk about. But this section, the Tamon Tower, was fairly intact. It was one of 50 observatory towers of various sizes for the castle.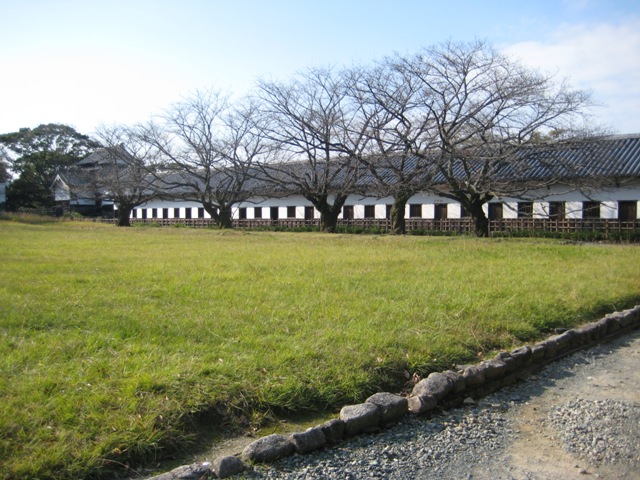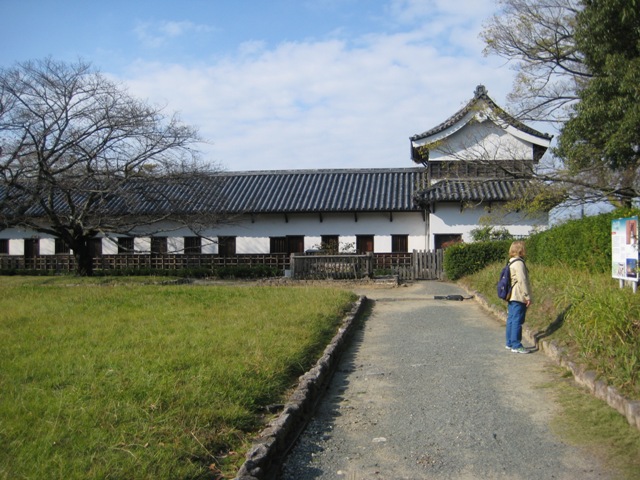 These two pictures are interesting .. one shows the castle during the edo period and the other shows present-day.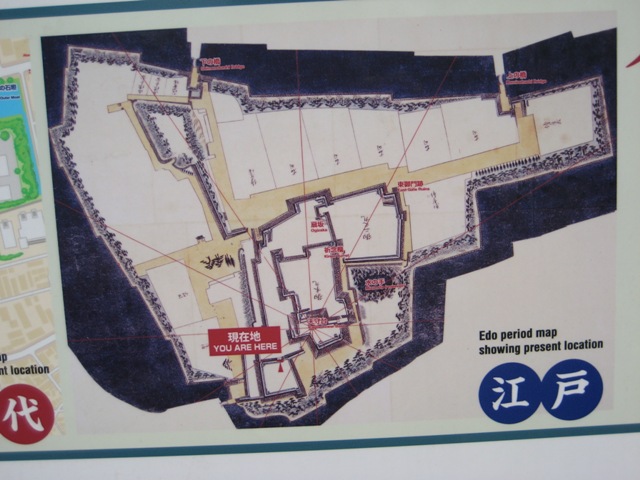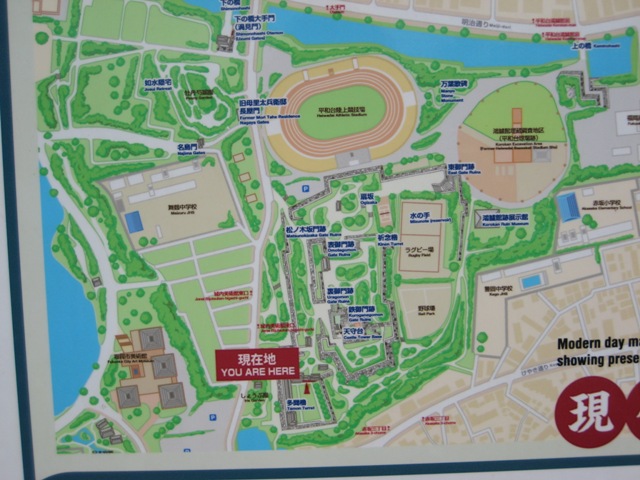 This is (as it says) an image of what they believe the Fukuoka Castle looked like.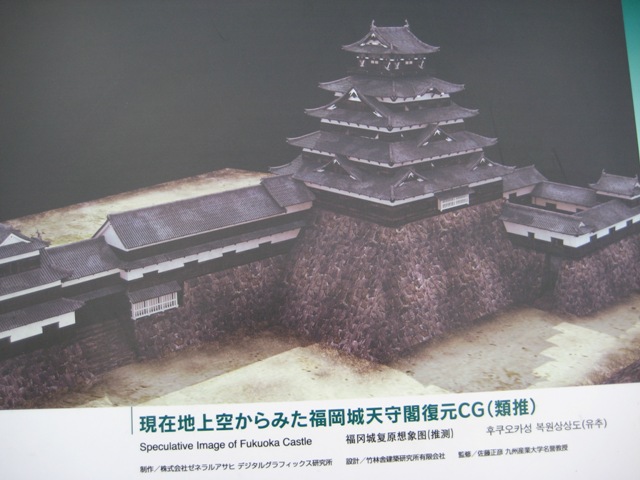 We climbed up to the top of the ruins and got a few nice pictures.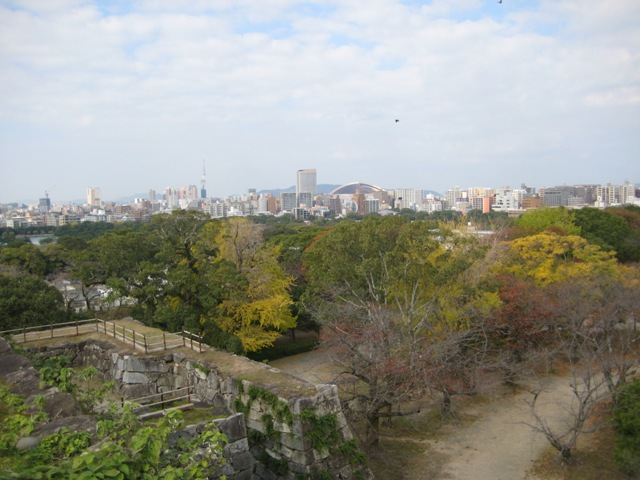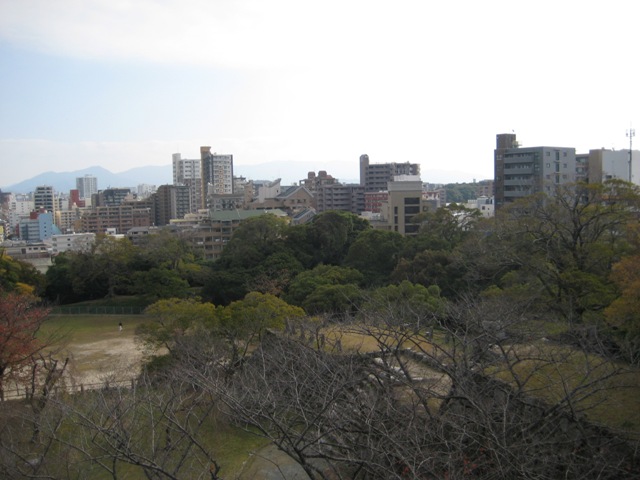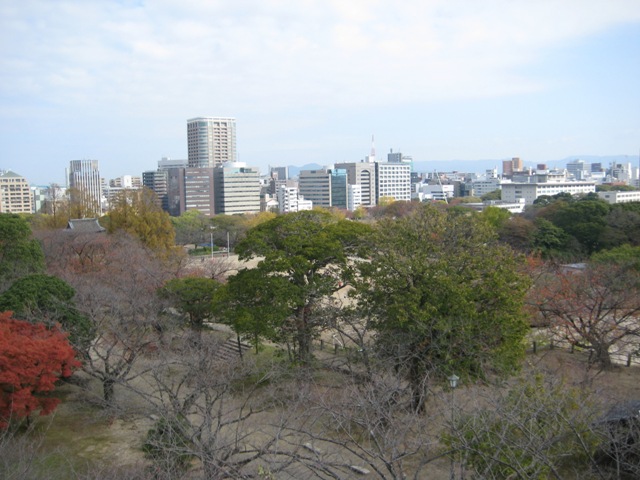 As we headed out, we figured out we came in the "back door" as there was an information office that had maps, a scale model, and a bunch of information on the castle. There were also these guys, who we grabbed a picture with.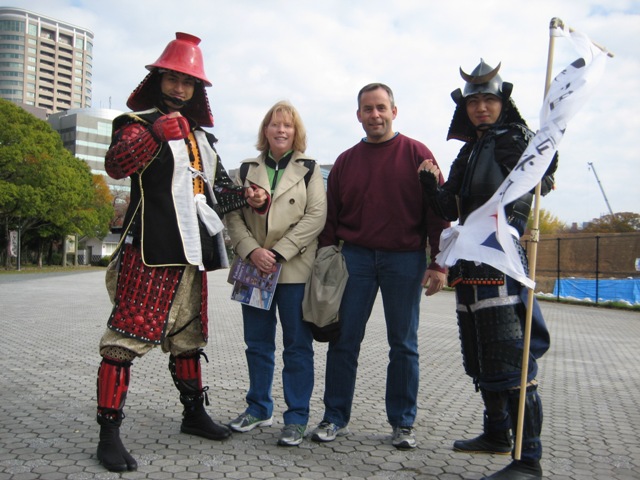 We started walking a bit and came across this, which looks like an old gate to the castle.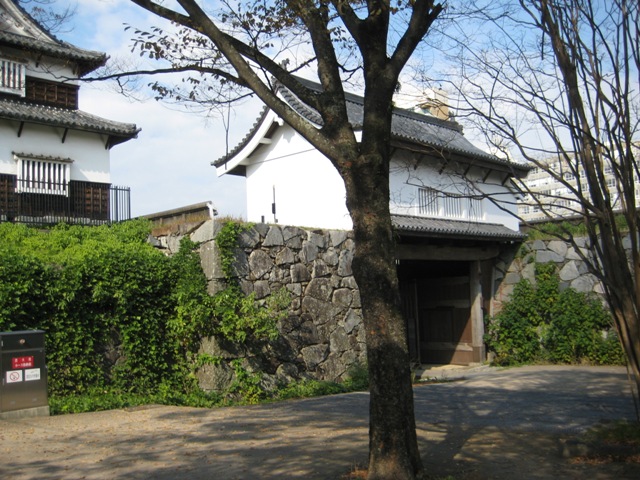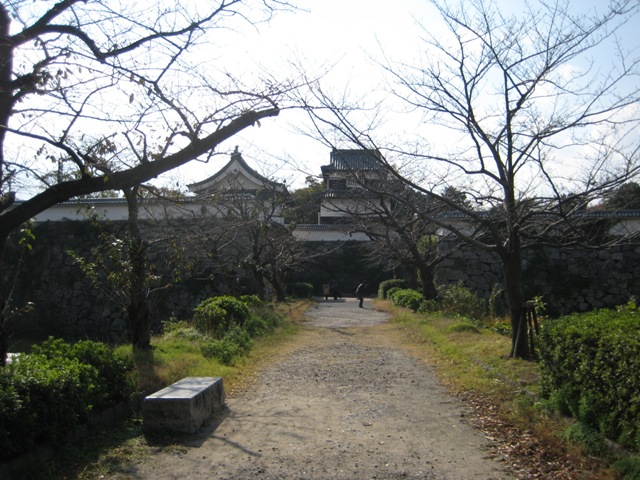 Then we headed to lunch. Inside of Canal city is a place called "Ramen Stadium", which has eight popular ramen restaurants that have been gathered here from Fukuoka and all over Japan. Some of the branches here are available nowhere else in Kyushu. They swap restaurants every once in awhile, so you can continue to go back and try different ramen's from all over Japan. We tried two different ramen's during our stop. The first is a little place with only like 20 seats. The seats at the counter had little baskets under the chairs so that you have a good place to put anything, as you don't have much room (like you would with a table).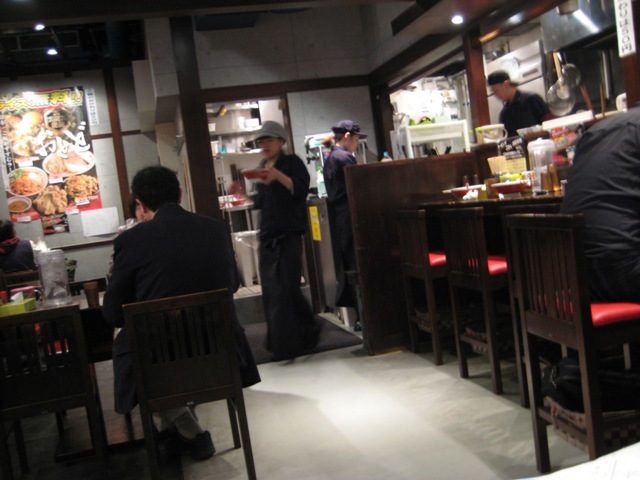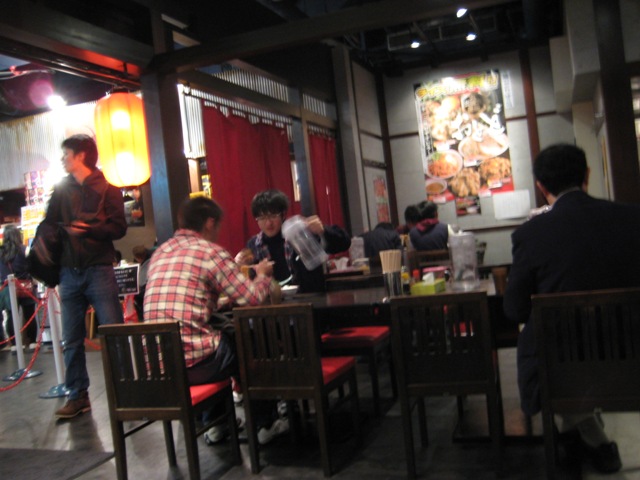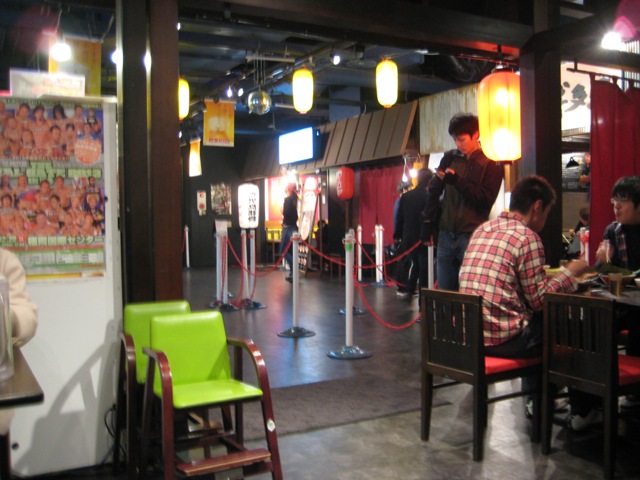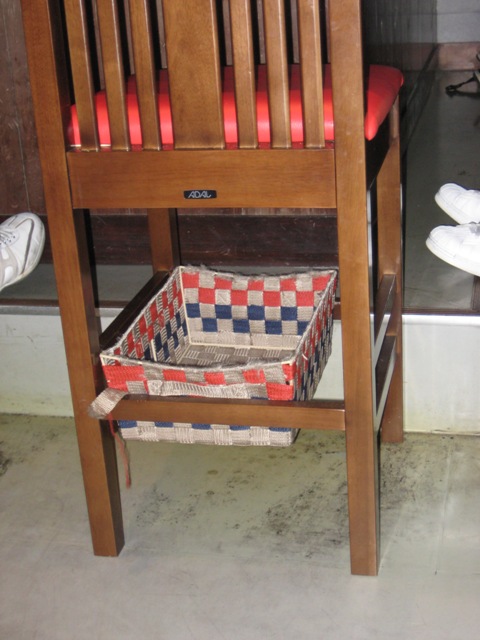 So the way this worked was ... outside of each restaurant was a machine with pictures and prices of the various food and drink options. You put in money, pick your choices, and it then spits out little tickets and your change. You take these tickets into the restaurant and the servers look and bring you what you bought. Here, we bought 1 ramen and 1 coke. They also had a "frequent ramen-eater" card (my name for it, no idea what the Japanese actually call it). You buy 7 at any of the ramen places and have them stamp, and your 8th one is free.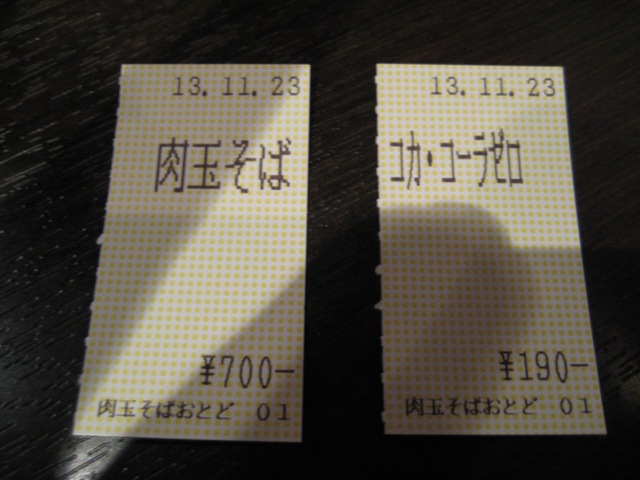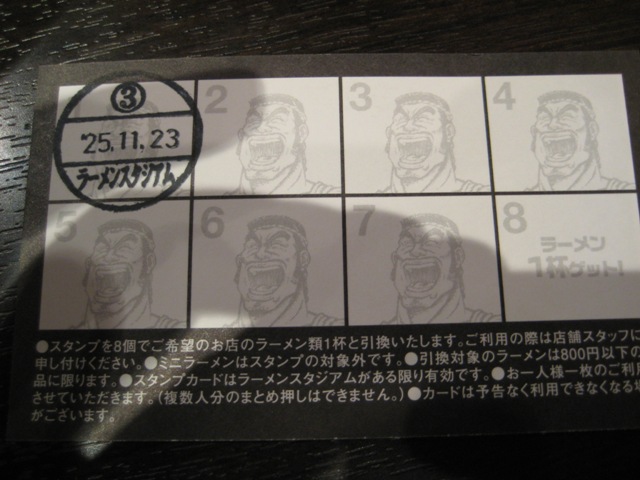 And then we did the 2nd (yea, Tom didn't take a picture of the first ramen dish). The second restaurant was ramen from Sapporo, which we figured out due to the pictures on the walls, which all were places we had seen during the summer when we went to Sapporo. It was quite different, and was served in a cool bowl (so we got a picture of this one).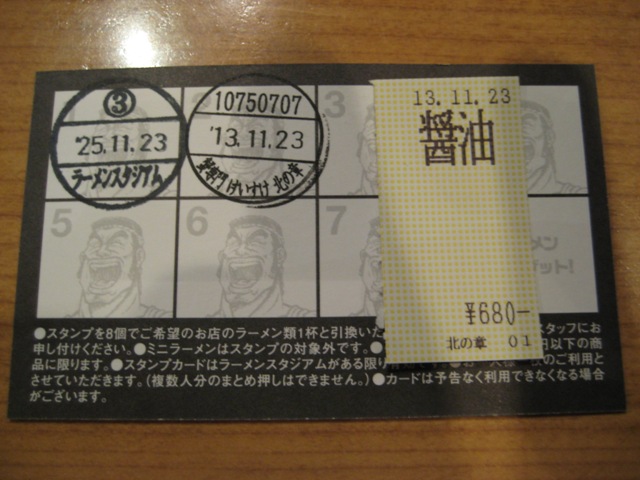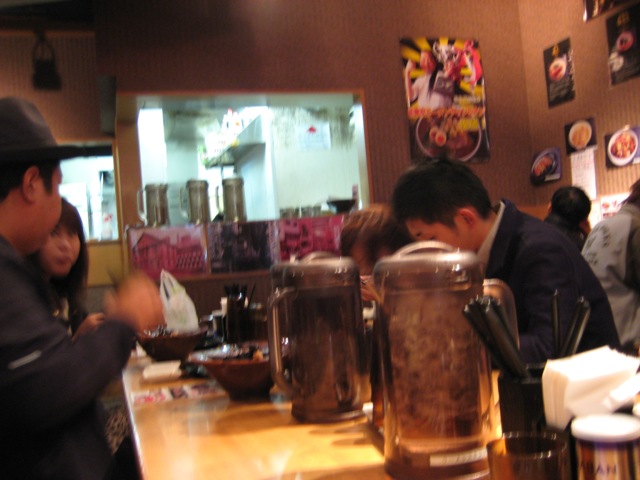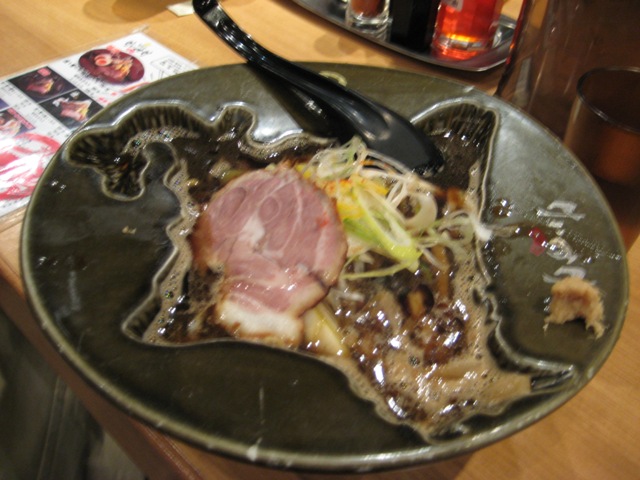 A few pictures of the area in Ramen Stadium, including the map when you first come in which gives you pictures of the various available Ramen's and the location of that store within the stadium.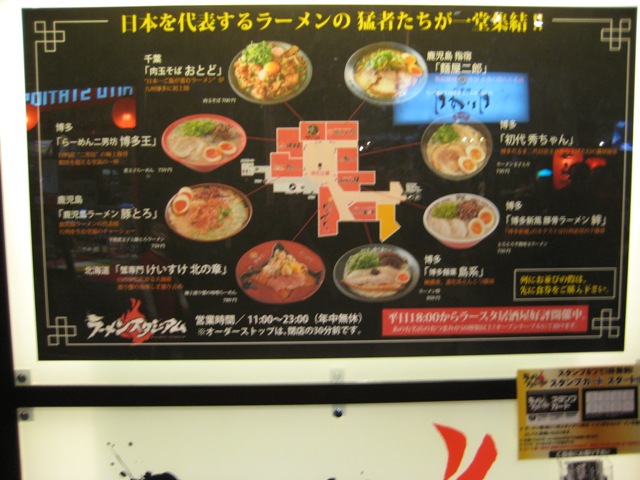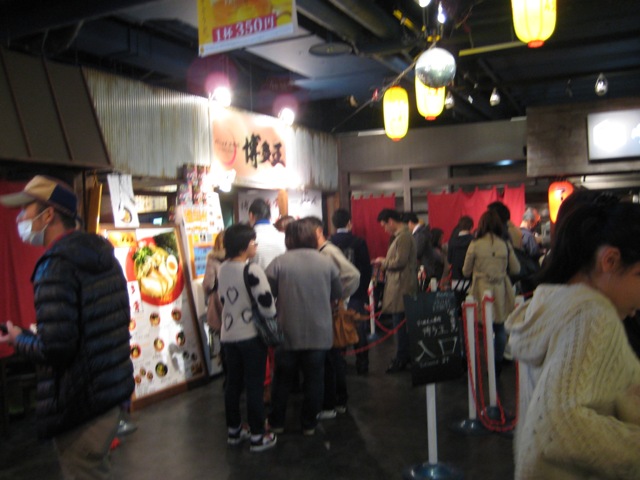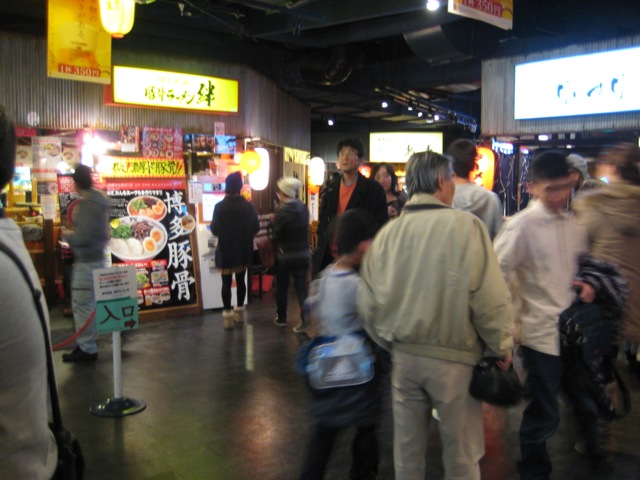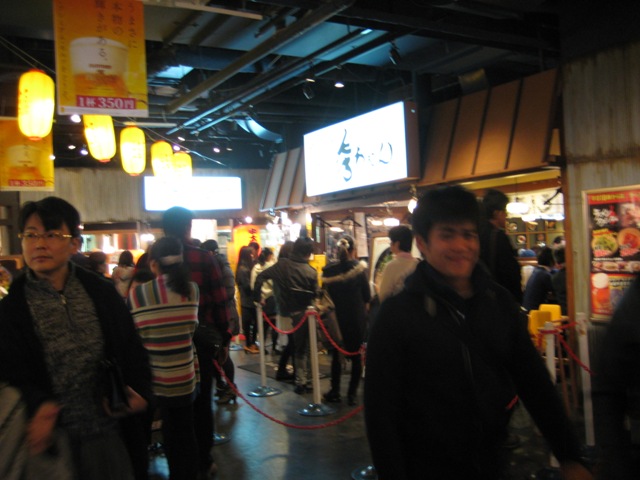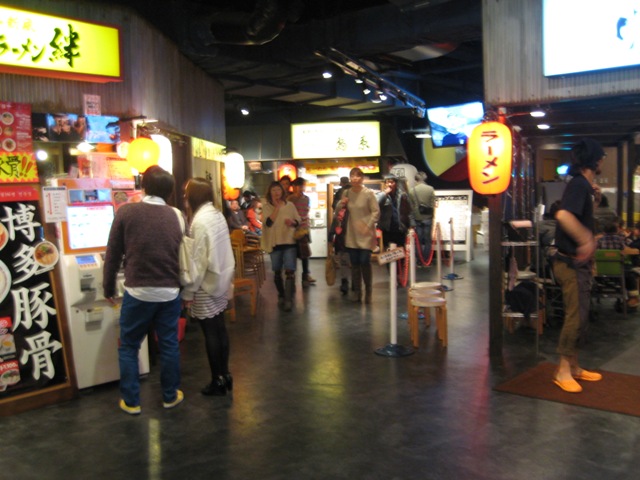 As we came out of Canal City, on the same stage as the boy-band, they had a bunch of people sitting down waiting for the next act .. although we didn't stick around to find out what it was.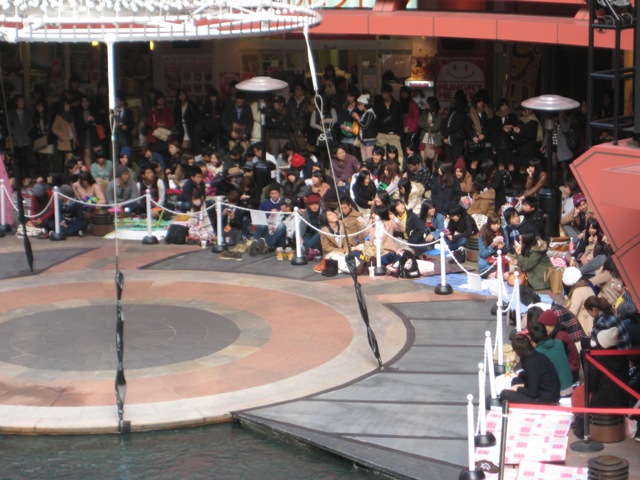 On our way to the Sumo arena (I'll cover the sumo tournament itself in the next blog), we stopped at a "local" coffee place .. which means not a chain that we knew of. This one was interesting in that it seemed to have a travel agent sharing the space.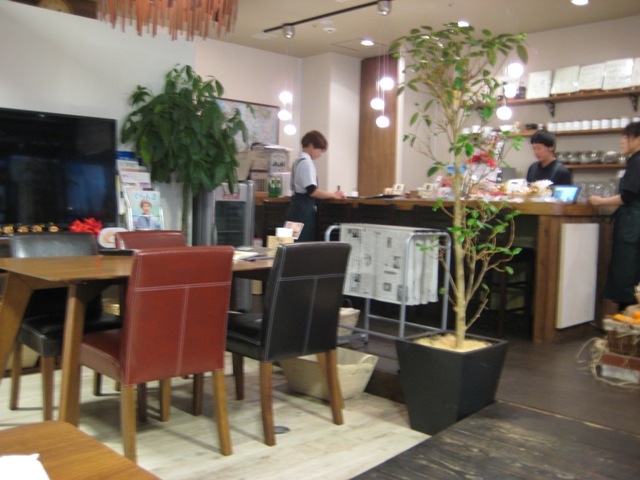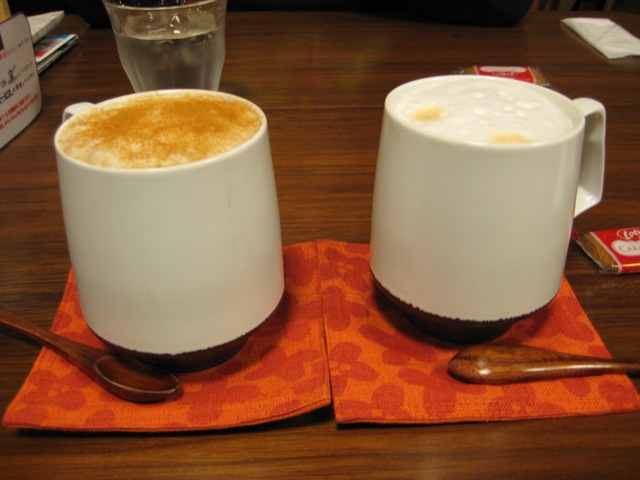 From there, we headed towards the water and walked past a Junior High school, which had a baseball field attached. There was a game or practice happening, so we took a few minutes to watch. I'm guessing it was maybe an end-of-season thing, since November is somewhat late to be playing baseball we thought. Also, we headed over to get a closer view and ended up standing with all the parents, who had a BBQ going on. So we are guessing maybe a little party for the end of the season. We got some pretty interesting looks from the mothers ... like ... why do we have these non-Japanese people watching our kids play baseball?? It didn't seem to bother them for TOO long though, since one of them seemed to offer to have us join the party and have some of the food that they had on the grill (we declined, but said thank you in our really bad Japanese with a southern-accent).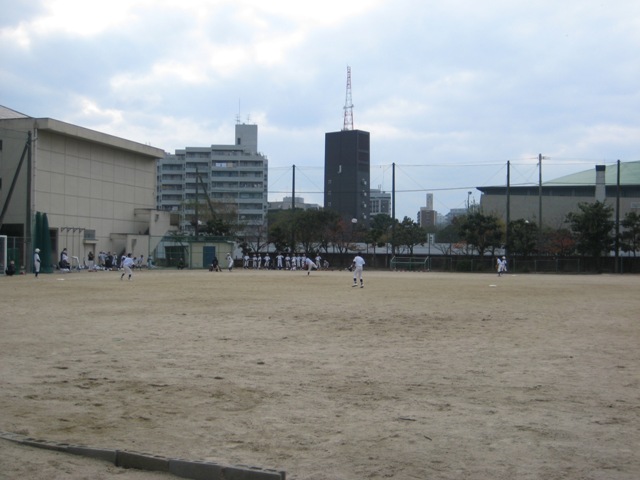 Fast-forward a few hours to after the Sumo tournament, and we were heading through town towards the river. We went by Tenjin (the main shopping district) and walked by Tenjin Core, which was lit up nicely.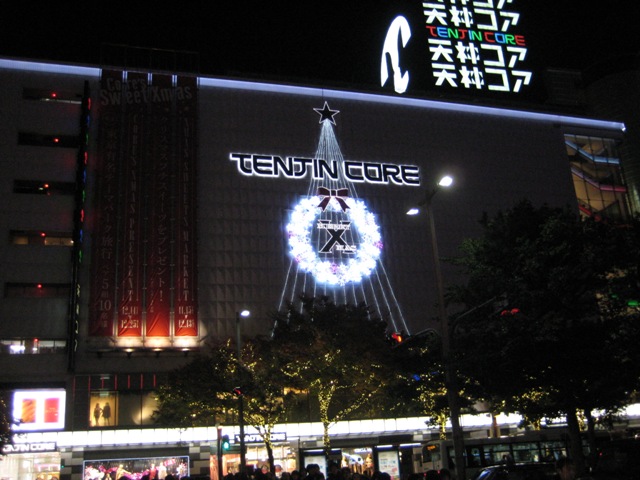 Dinner! This is another experience! A yatai is a small, mobile food stall, which literally means "shop stand". Fukuoka is well-known iwthin Japan for having yatai's, and there are about 150 within the city. Every evening, they setup in a few different locations within Fukuoka. We headed towards the river for ours. Interestingly enough, we went by alot of them looking for Yakatori, which we didn't see in most. Alot of what we saw was "stuff on sticks cooked in water" (well, okay, that is how we describe it). We have this in China and, well, it really doesn't smell very good here, so we were trying to avoid it at all costs. We finally found one yatai with a little grill outside and we asked them "yakitori"? They said yes, and, well, there you go .. we found our yatai for dinner. Come to find out, they also had "stuff on sticks" but also lots of other things as well.
We started with an Asahi beer .. mainly because the only thing we could really say for drinks that they would understand was beer and sake.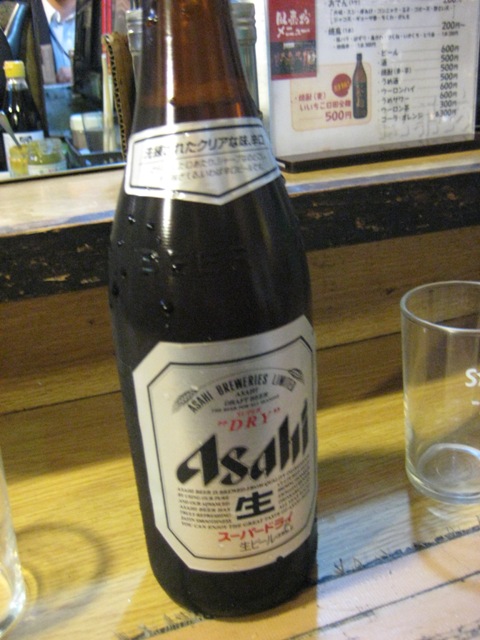 A few views of the little yatai ... it is basically a tent (it has plastic sheet walls) and it could fit 8 people around the counter. In the second picture, you can clearly see the "stuff on sticks", and then the little grill outside. Definitly a mom-and-pop operation as there were only 2 people cooking and serving everyone.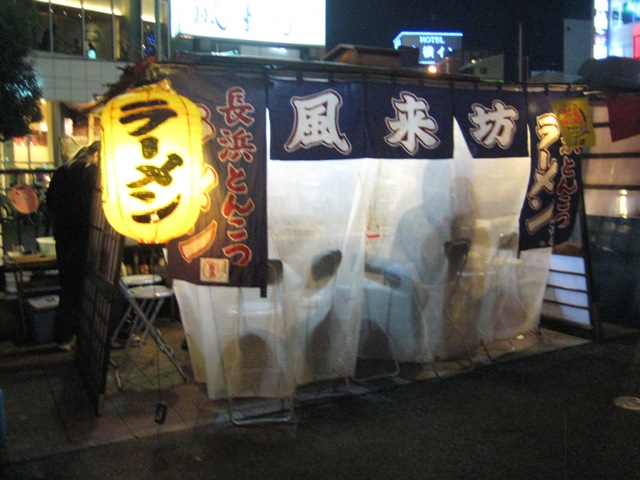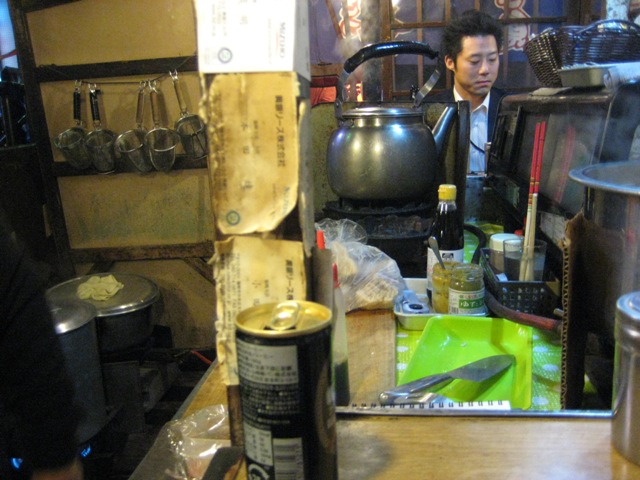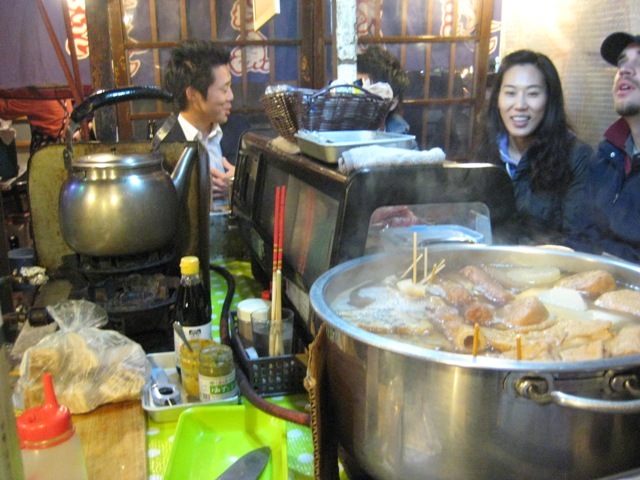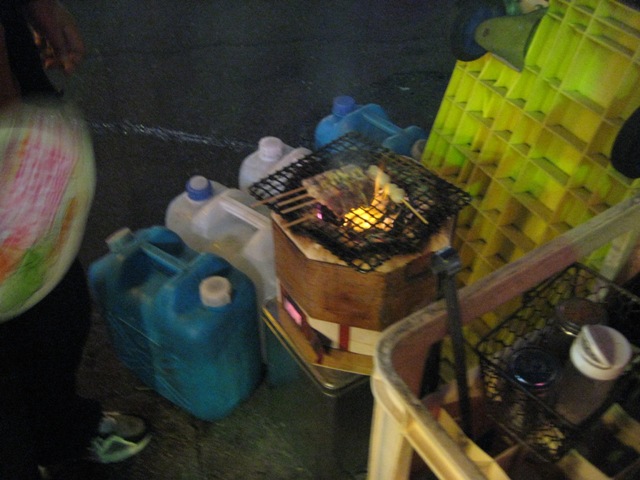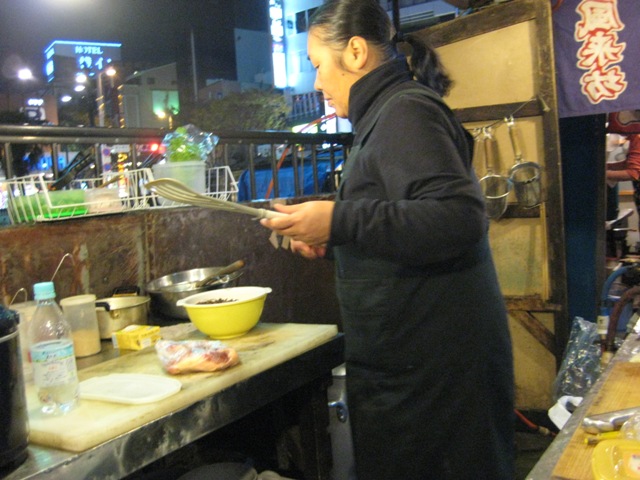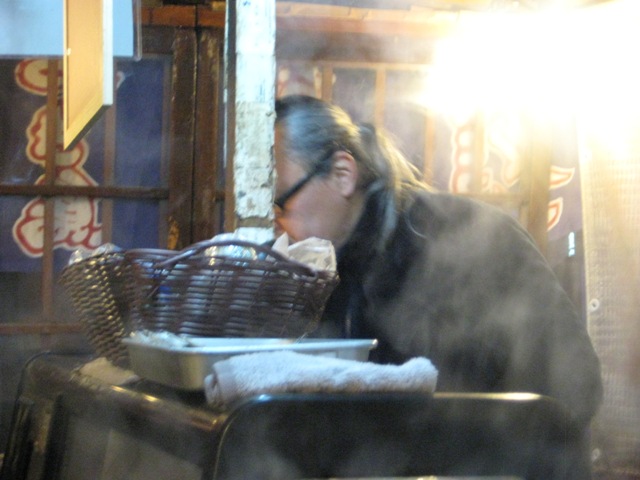 We did several rounds of yakitori, although we could only say "yakitori" and got whatever she happened to cook for us, in groups of 5. We could pick up some chicken and some pork, but the others were totally mystery meats to us.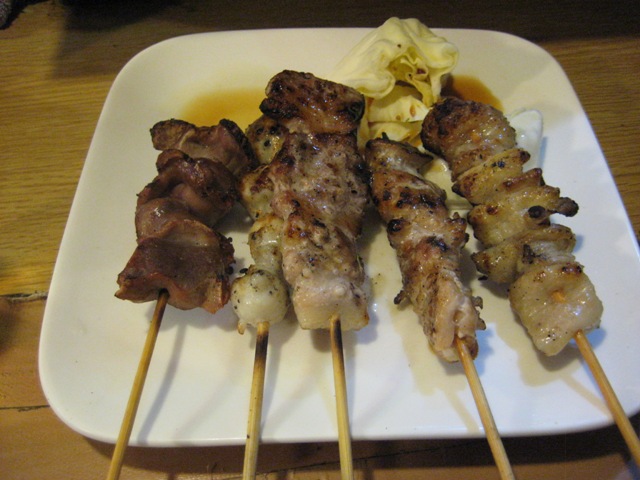 We also found that they did ramen, which we ordered as well. They pulled out the noodles and cooked them in this big pot of water that was always hot. They also had their own dashi (broth) that they poured in, along with a bunch of accompaniments. This one had a specific taste of sesame, which we hadn't really gotten before with ramen.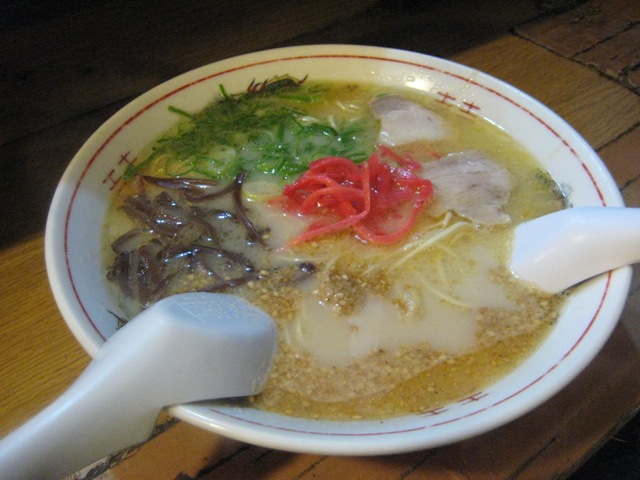 Now .. stuff on sticks. It is actually called Oden, and to many foreigners, Oden means a collection of smelly, luke-warm, soft, brown objects soaking in pot next to a cash register at a convenience store. Yep, this was EXACTLY what we though of it. To the Japanese , Oden is a hearty and healthy meal of fish paste, tofu, and vegetables simmering in kelp broth. There was another couple in our yatai (he was American, she was Korean) and they ate some of the Oden, so we thought .. what the heck! So we got a couple pieces ... we had daikon radish and a triangle piece of a fish cake that had been cooked in the broth, along with that killer-mustard that we have found in so many places in Japan this trip. It wasn't all bad, to tell you the truth! Still not sure we'll try the stuff-on-sticks in China though.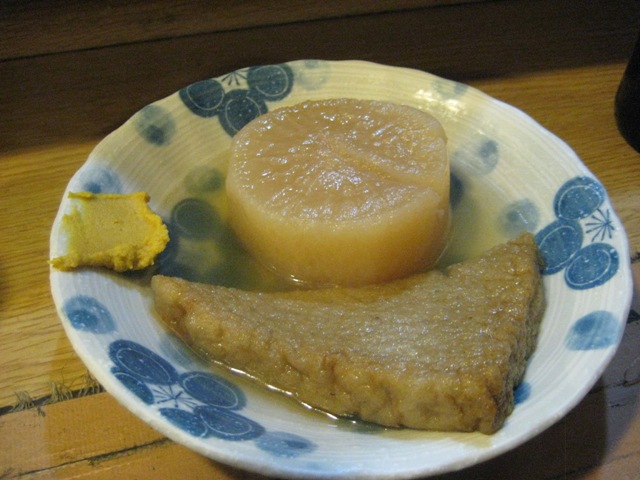 And just another set of Christmas lights along one of the streets heading back to our hotel for the night.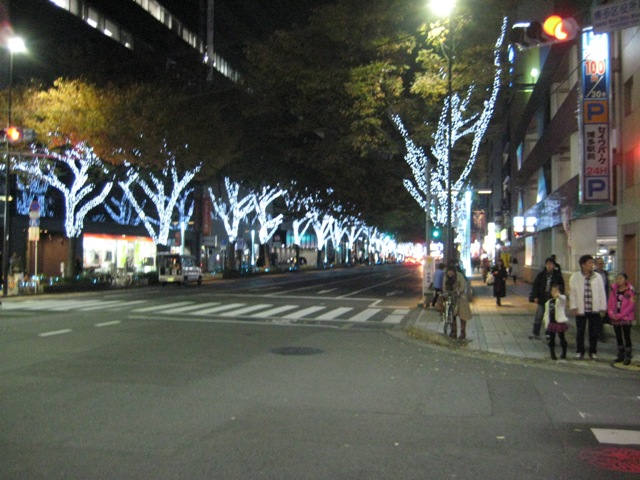 Continue to see the Fukuoka Sumo Basho