Our Blog - Christmas Tree Blog 2014
This installment is the Christmas Tree Blog for 2014. Today, we took the morning and put up our Christmas tree. I think we have quite an unconventional tree from an ornament perspective. We like to travel and when we do, we pick up 2 things in each place we go: a refrigerator magnet and a Christmas ornament. In some places or in certain times of the year, it is a bit more difficult to find an ornament and so in those cases, we have to find basically anything that we can "hang". I've taken some pictures of some of our ornaments .. I hope you enjoy!
Step 1 .. just the tree ...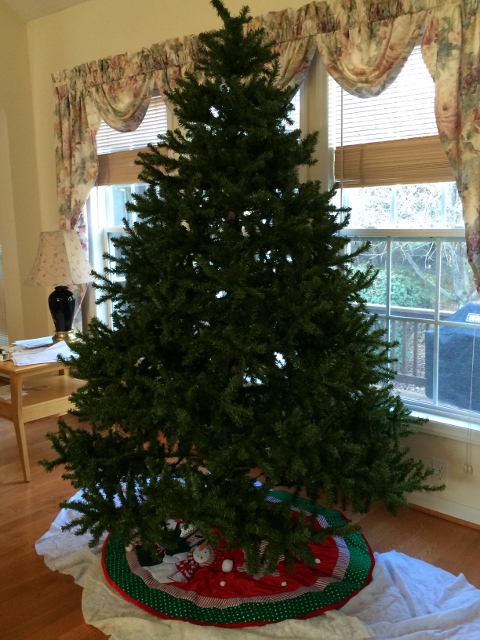 Step 2 .. lights and garland...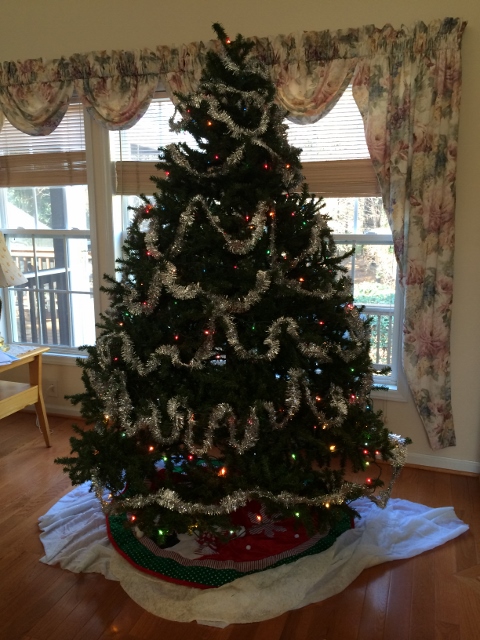 This past Valentines Day, we went to Tokyo. One of the things we did was a Kabuki play, and while we were there, we picked up a Kabuki Snoopy. This is Sukeroku (Sukeroku Yukari no Edo-zakura), which is one of the most popular and famous of kabuki plays. It is one of the Kabuki Juhachban. Sukeroku is the hero of the play, and is a handsome man in Yoshiwara.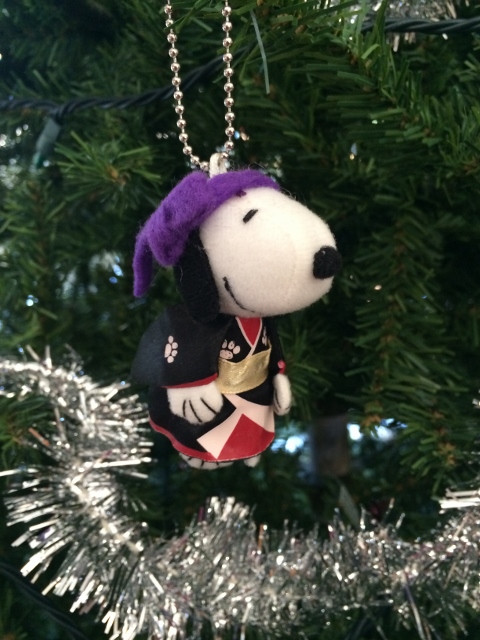 This is an elephant from our trips to Thailand.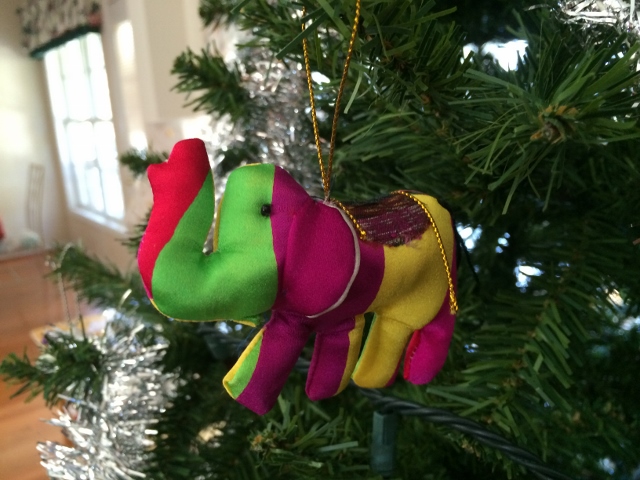 We're not exactly sure where this is from .. I think it is Cambodia.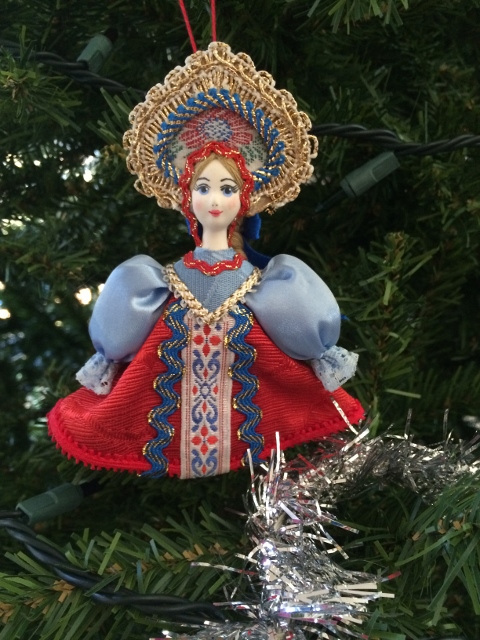 This is a lovely dragon, which we saw a lot in various countries in SE Asia.
A bear from South Korea, this is actually something that hooks onto your smartphone, but hey .. I can hang it!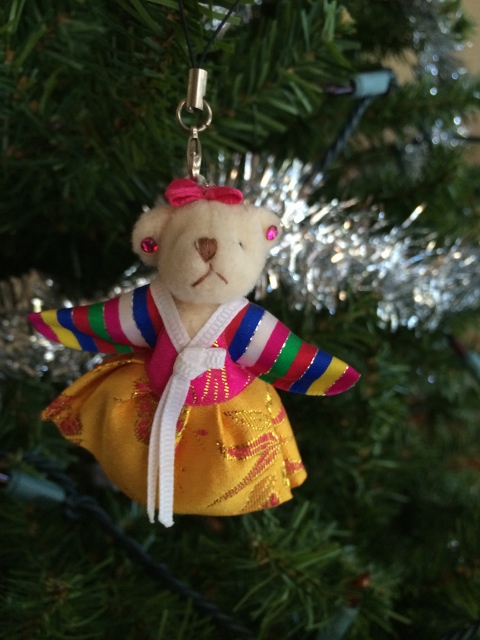 Hokkaido island, which is the Northern-most island of Japan.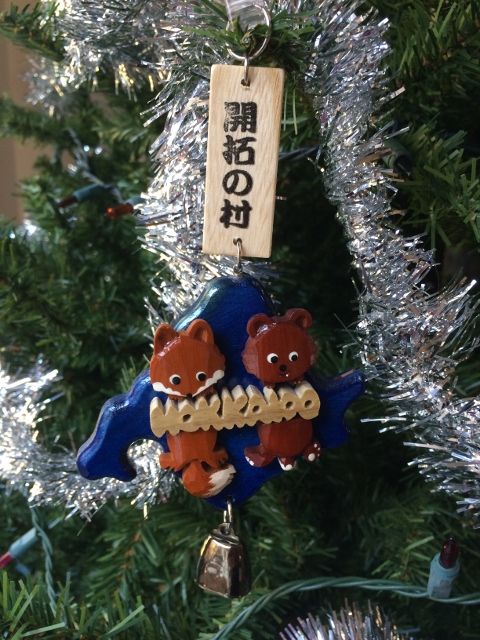 One of about 4 Sumo ornaments that we picked up. On one of our trips to Tokyo, we stopped by the Sumo museum and training arena, and then we were lucky enough to catch a Sumo Basho (tournament) in Fukuoka.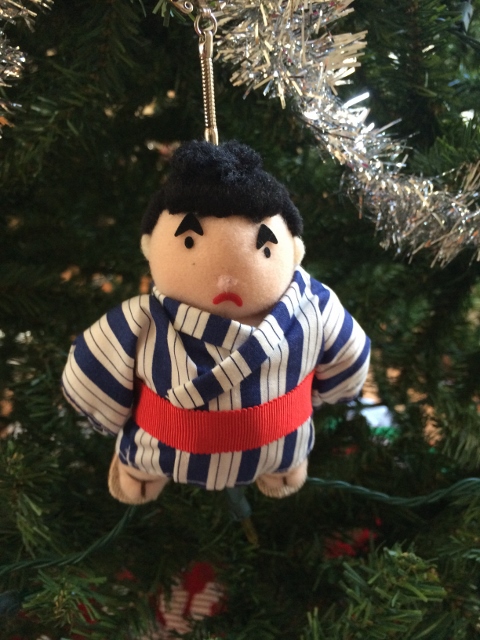 One of a couple from Shanghai, this one with the skyline of Pudong with the Shanghai Oriental Pearl Tower visible.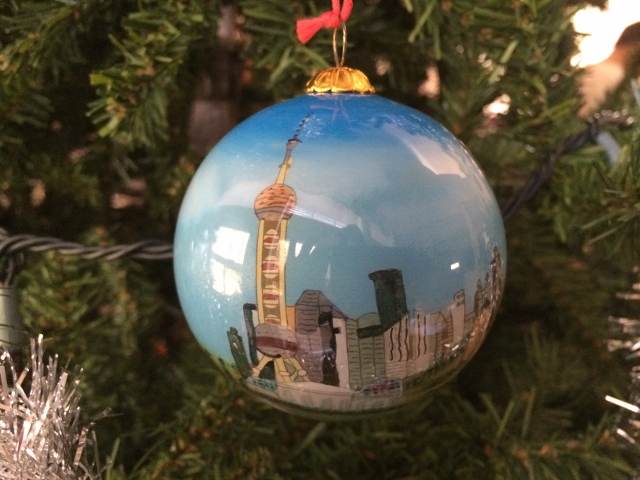 This is from Laos and there is an interesting story here. In the hotel we stayed at, each day they left us little "gifts" in our room with a little paper that explained what it was. These also "can be hung" so hence, they became ornaments. This is Aab Khout, which is a traditional Lao sticky rice container. People in Laos believe that when you hang these small little ornament-y things at your front door, it brings prosperity to the house.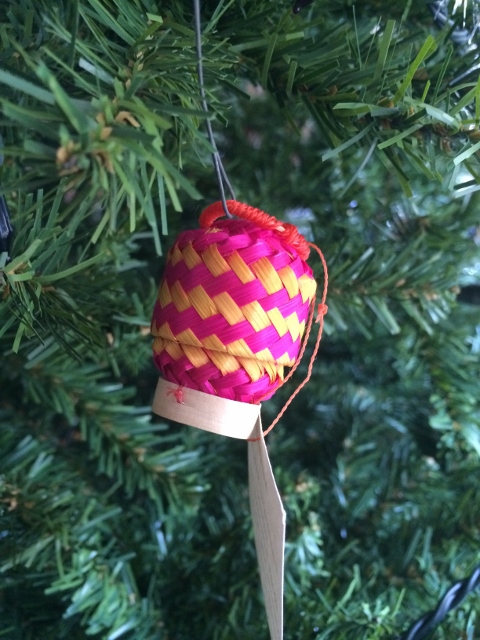 This is from Kumamoto, Japan. Kumamon (the black bear) is a mascot created by the government of the Kumamoto Prefecture in 2010 to draw tourists to the region. He became quite popular, being voted as the top mascot in a nationwide survey with over 280,000 votes. Kumamon's name is created from the combination of kuma, the first two syllables of Kumamoto and also Japanese for bear; and mon, a variation of mono in the local dialect. The blue building is the Kumamoto Castle.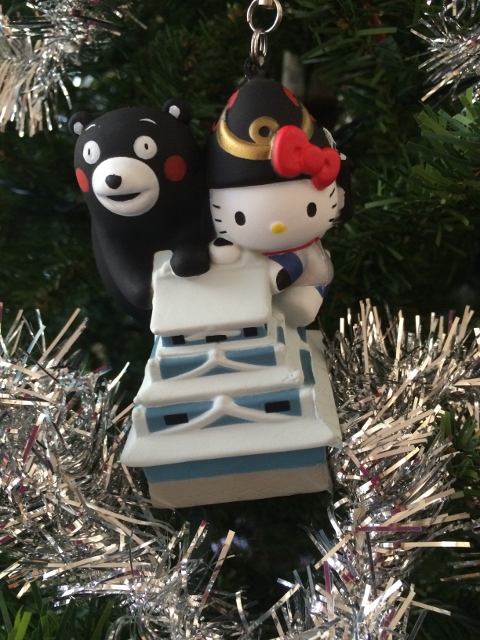 Another from China, this is a Chinese ethnic minority doll. In China, there are 55 recognized ethnic minority groups in addition to the majority Han Chinese. I have no idea which ethnic minority this is, but they it had a really nice little outfit.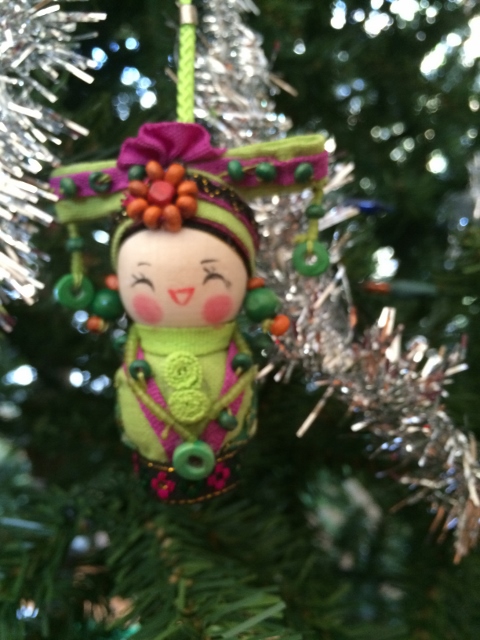 This is a hand-woven basket ornament from Chiang Mai in Northern Thailand.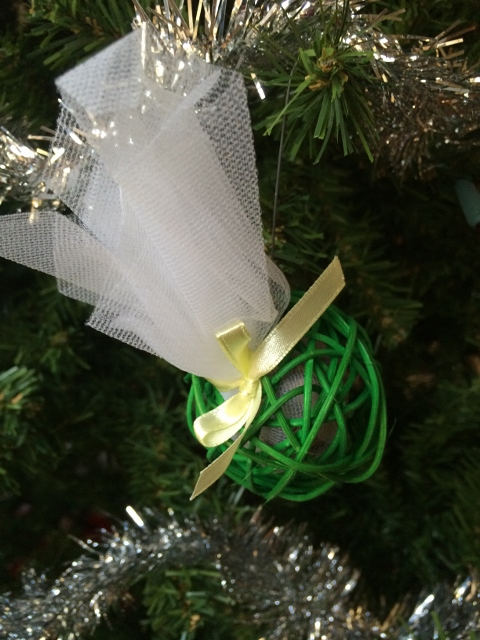 Another little gift from our hotel in Laos, this is a Khen (or Kaen), which is a Laotian musical instrument. It creates a sound similar to a harmonica and can be played as a solo instrument or part of an ensemble. It is also sometimes played to accompany a Lao Folk Opera singer called Mor Lam.
This is one of our older ornaments and is a gift from my brother Rich and comes from the Holy Land.
A hand-painted/carved gourd from Argentina that we picked up on our only trip to South America.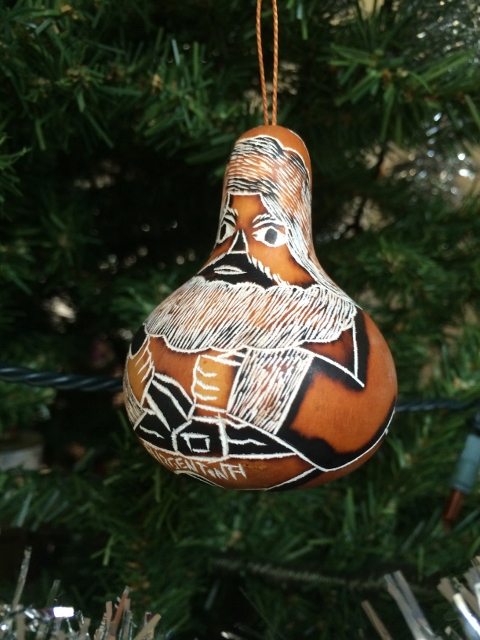 We have a lot of newer ornaments, but also several that I grew up with. This is one of our ancient ornaments, given to me by my mom when I moved away from home. I put it up every year on my tree to remember my family.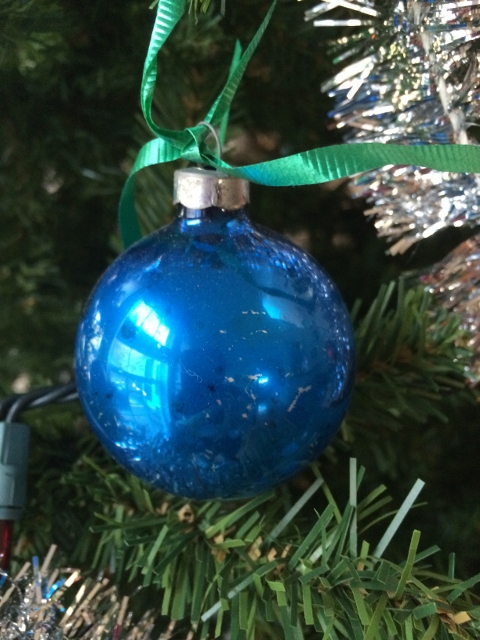 The third of our gifts in Laos, this being Sai & Kata or fish trap and basket. This is a traditional Lao fish trap and basket to collect Mekong weed.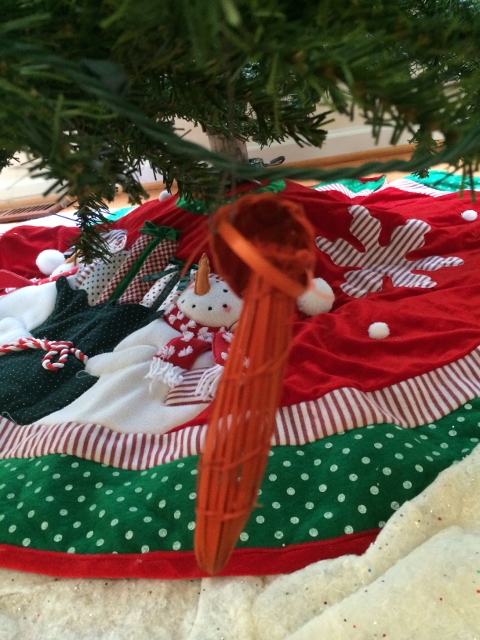 One of my favorite places ... this (of course) is Santa on a gondola in Venice. It is made of glass from Murano.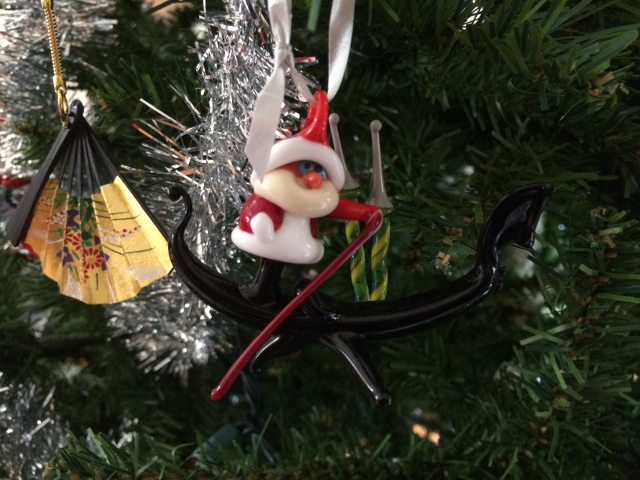 A little blurry, but this is a beaded spider that I picked up on my first trip to Czechoslovakia back when it was still Czechoslovakia.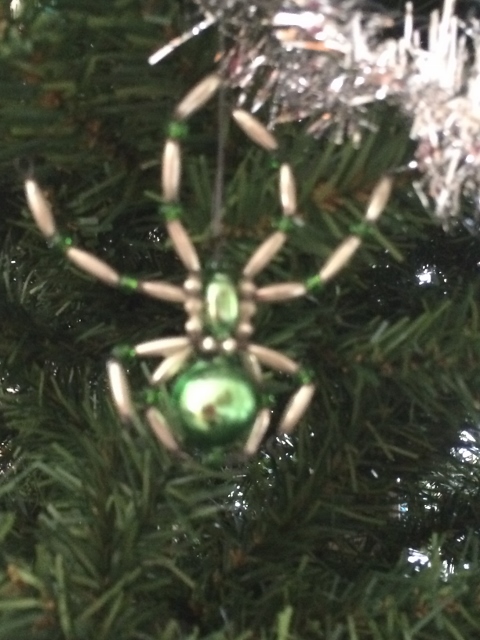 Our passion for golf is represented on our tree with this hand-made bag of clubs from my mom.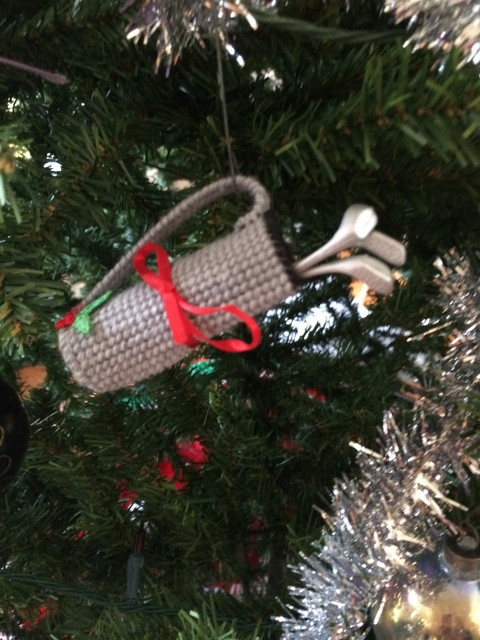 A hand-made ornament from Laos that we picked up in a little village where they were selling hand-made things to make money from tourists.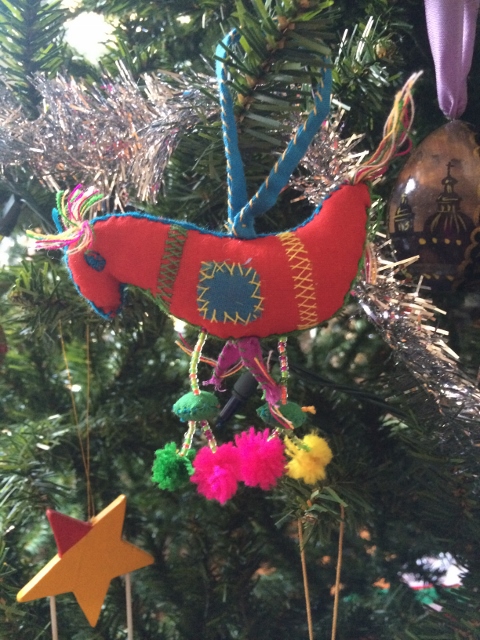 Tom thinks this is from Laos but I'm thinking it is Hanoi. A couple baskets on each side of a pole, which we saw lots of people walking around the streets in Hanoi carrying, selling almost anything and everything.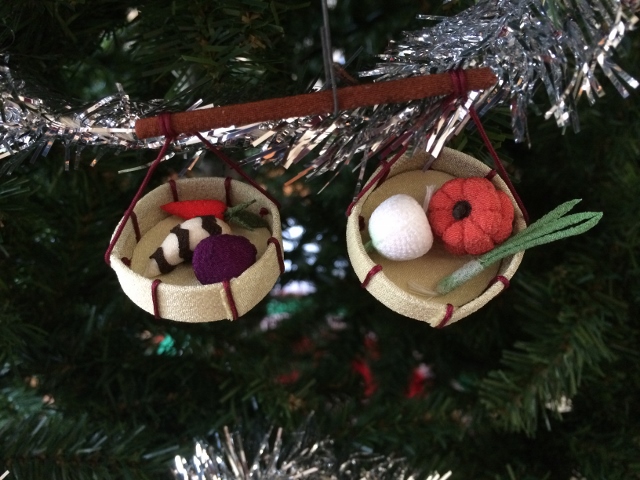 And here is the final tree complete with the teddy bear on top!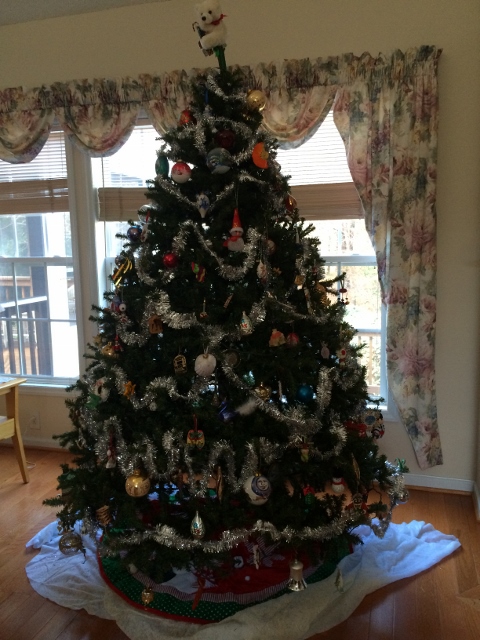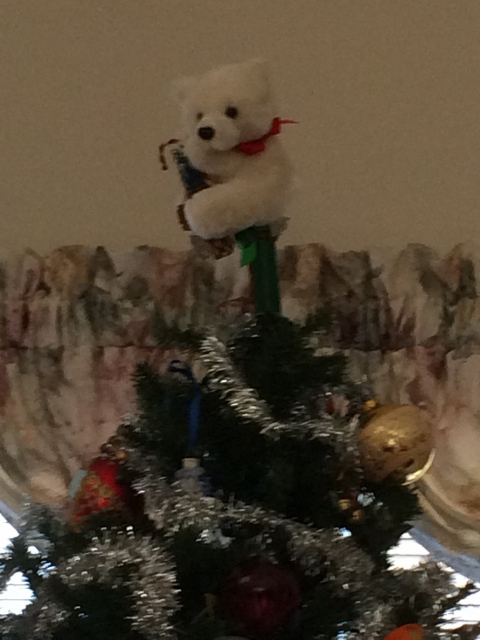 A couple candles that we picked up at a couple Christmas markets in Europe while we were living there.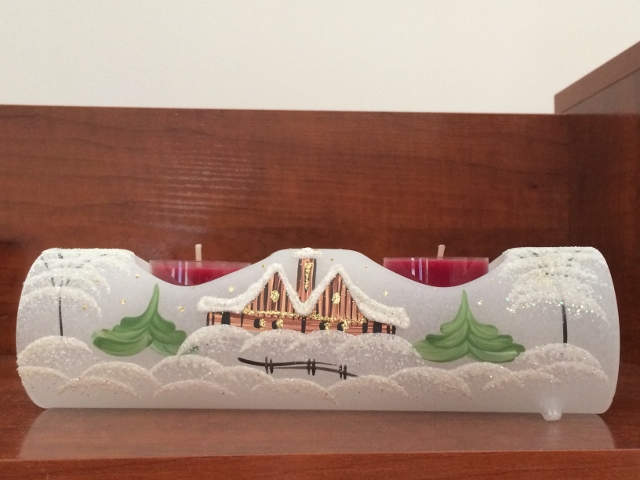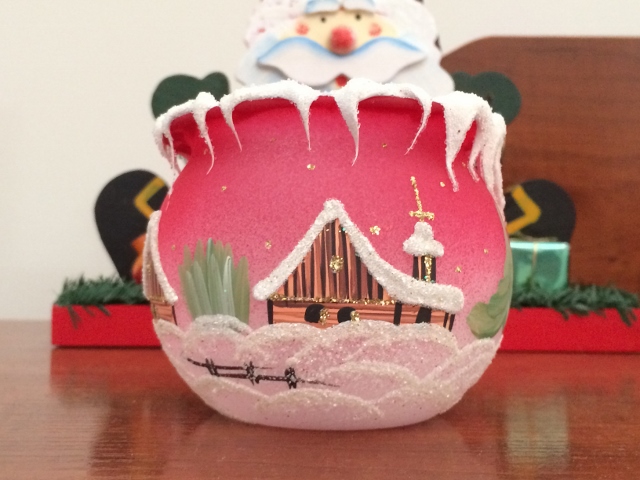 Our fireplace mantle...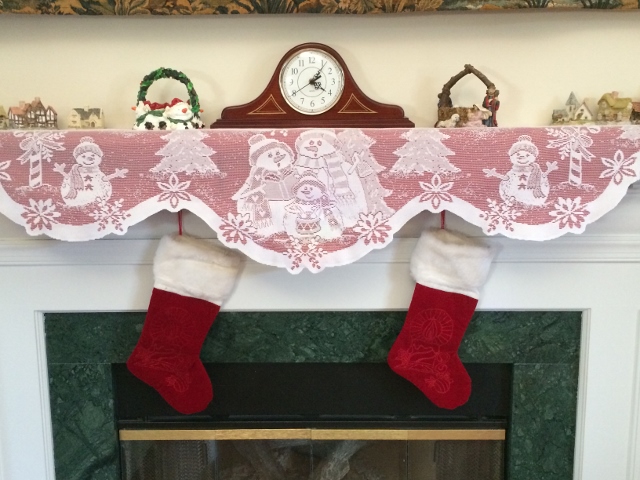 And ending with a couple of the tree lit up.