Our Blog - Paris January 2018 - Day 5
Today was Musée d'Orsay day. It is housed in the former Gare d'Orsay, a Beaux-Arts railway station built between 1898 and 1900. What I like about the building is that you can still see it as the railway station, since they have left the main hall almost totally as it was ... the glass ceiling and side windows, the large clock. When you walk in the main hall, look up to the glass ceiling, and then close your eyes, you can imagine yourself waiting for a train to head to SW France. As a museum, it has the largest collection of impressionist and post-Impressionist masterpieces in the world, by painters including Monet, Manet, Degas, Renoir, Cézanne, Seurat, Sisley, Gauguin, and Van Gogh. This is much more of my style of art than the Pompidou Center. I've included a few of my more favorite ones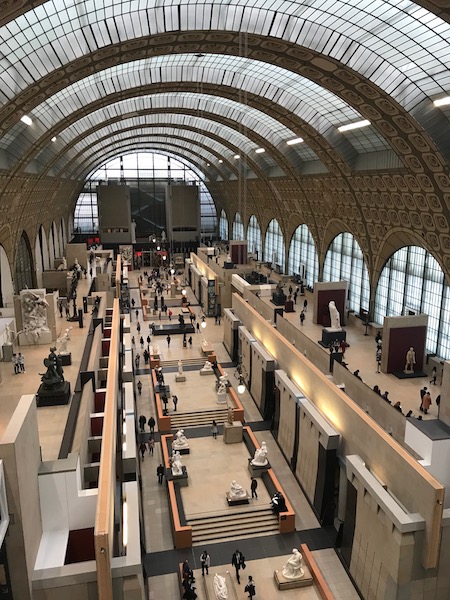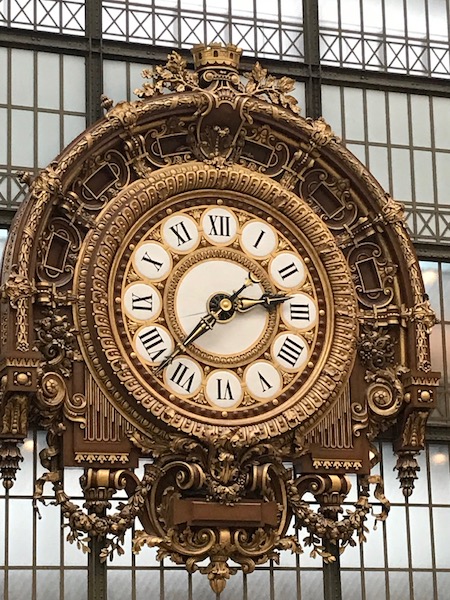 Claude Monet is thought of as the founder of French Impressionism, and even the name "Impressionism" comes from the title of one of his paintings. He is probably most famous for his late works showcasing Water Lilies (early 1900's) from his house in Giverny. One of the things that I found interesting is his Rouen Cathedral series (partly because I've seen the Rouen Cathedral). There are more than 30 paintings done in 1892 and 1893, that that capture the façade at different times of the day and year, which allows him to really concentrate on the effect that sunlight, or lack of sunlight, has on the same exact object. These are called (in order of how I have them shown): Harmonie brune (brown), Harmonie bleue (blue), Harmonie blanche (white), and Harmonie grise (grey).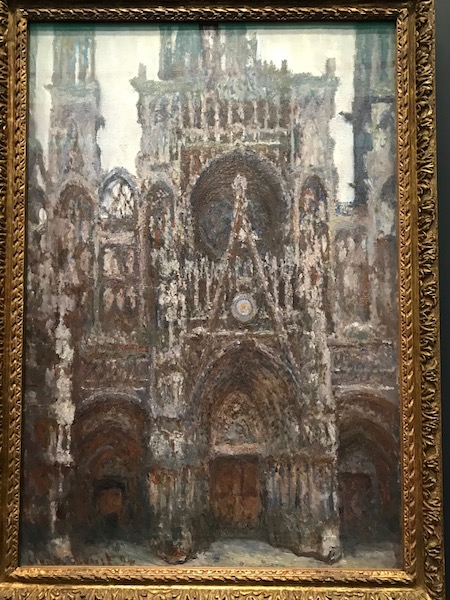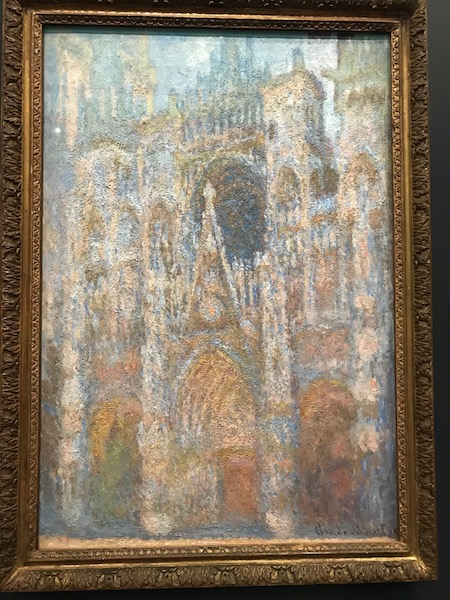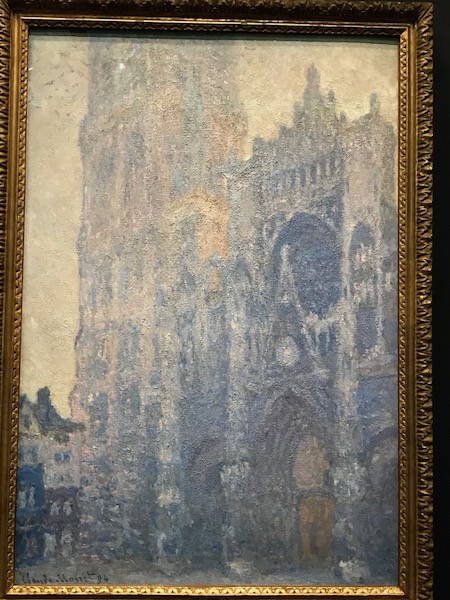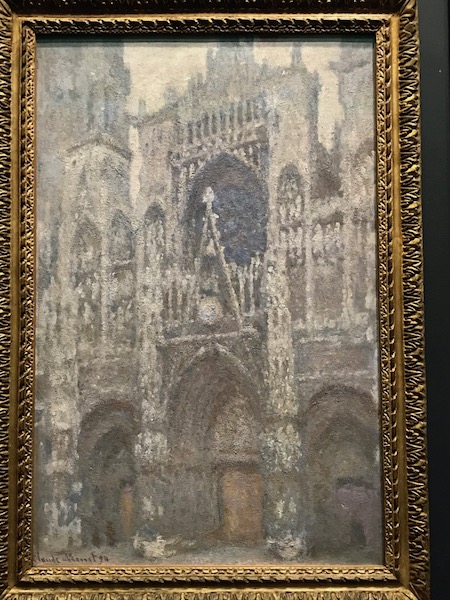 This is one of his later works, from the Water Lilies series, entitled Le Bassin Aux Nymphéas. It was painted in 1919. In this case, Monet has a low Japanese bow bridge as a central element in the painting. There is no background or foreground, only an illusion of an expansive environment filled with water lilies and reflections from the foliage and the sky. Here, Monet was attempting to create an image of an endless expanse of water.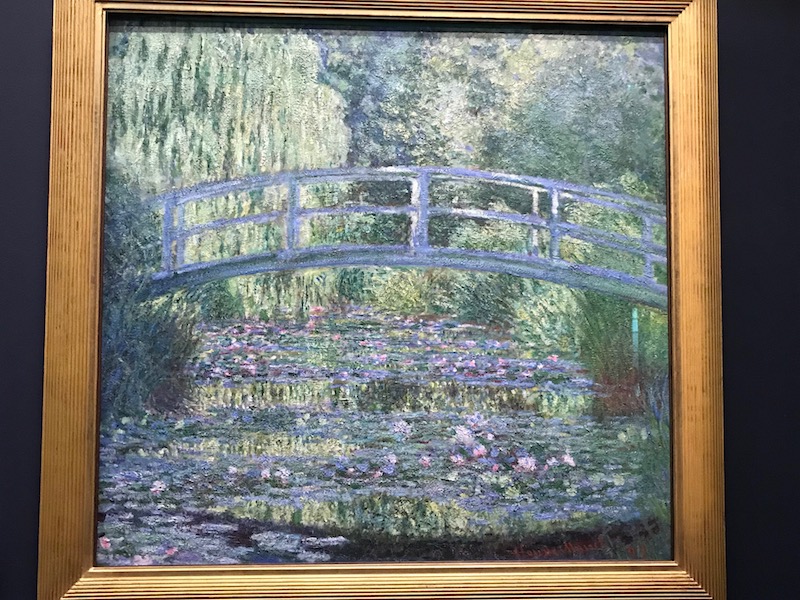 Paul Signac was a French Neo-Impressionist painter who, along with Georges Seurat, helped develop Pointillism. After Seurat's death in 1891, Signac continued his work as a painter and theorist of the neo-impressionist group. In one of the first sketches for this painting, entitled Young Provençales at the Well, there are two women busy drawing water from a well. Signac decides to isolate these two characters and to devote a canvas to them. The setting is Saint-Tropez, where he moved in 1892, and you can see various pieces in the background which exist in Saint-Tropez (the hill surmounted by the Citadel, the sea and the jetty of the port) although not specifically as painted here. Again, you can se the specific square-shaped blocks of color prevalent in his work.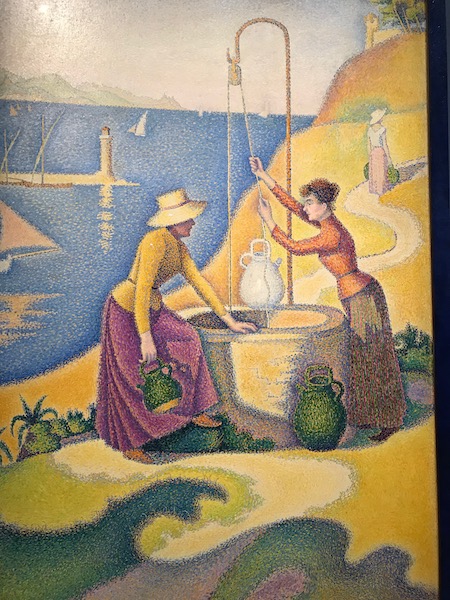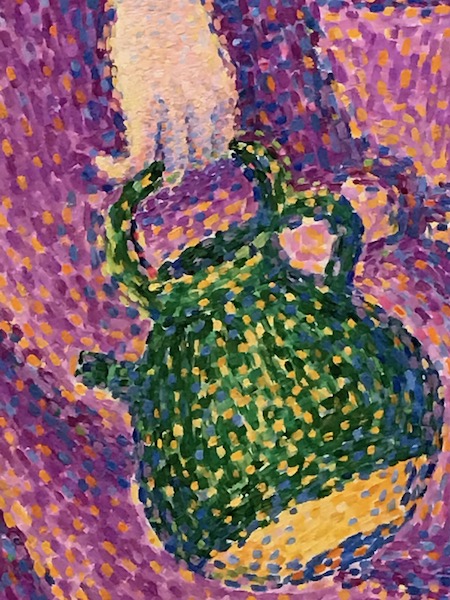 A slightly later work from Signac, Le Démolisseur, was painted between 1897-1899. It was initially done as a lithograph in 1896, and the painting is somewhat of a mirror image of the original. There are people who have attempted to explain the work, stating that it is full of symbols and reveals the anarchist positions of the author. The worker in the foreground (perhaps the same Signac) strikes and breaks down the past, capitalism. But again, if you look at the brushstrokes, they show Signac's typical style during this timeframe of small patches of color which up-close, look odd, but blend into a cohesive view when seen from a distance.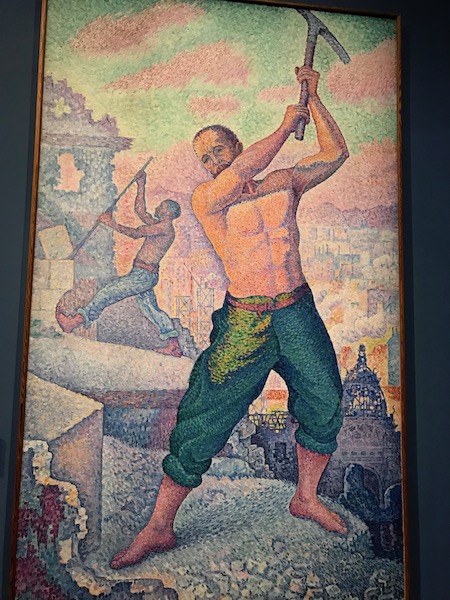 A later Paul Signac, this one entitled Entry of the Port of La Rochelle, painted in 1921. Entree du port de la Rochelle 1921. Again, clearly blocks of color instead of what would normally be brushstrokes, which blend at a distance to form the cohesive image.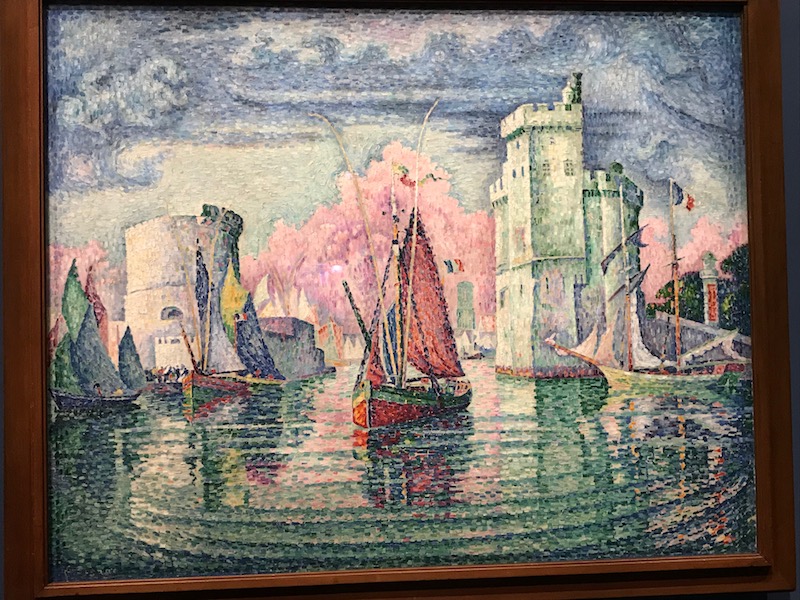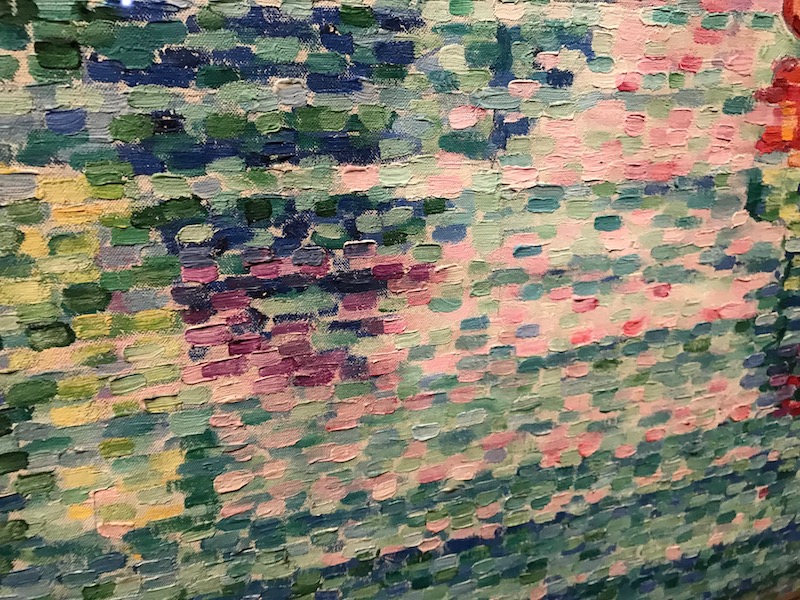 Camille Pissarro was a Danish-French Impressionist and Neo-Impressionist painter. In 1885, he met Georges Seurat and Paul Signac, both of whom relied on a more "scientific" theory of painting by using very small patches of pure colors to create the illusion of blended colors and shading when viewed from a distance ... Some consider this the start of Pointallism although some believe Pointallism has to use smaller patches than Pissarro used. In 1887, he created this work, Woman in the Meadow at Eragny. You can see how at a distance, the patches blend together but close up, you can see the specific patches. Mind you, Pissarro's patches are much less defined than those of Signac.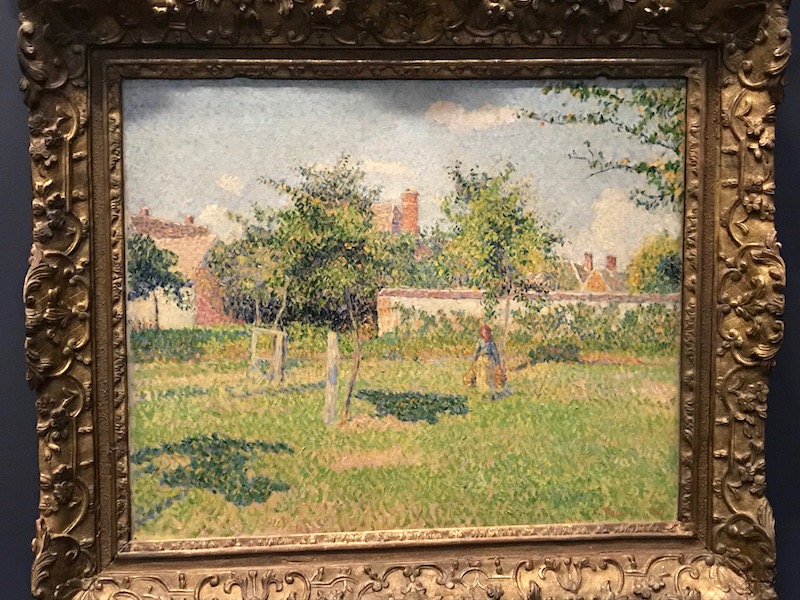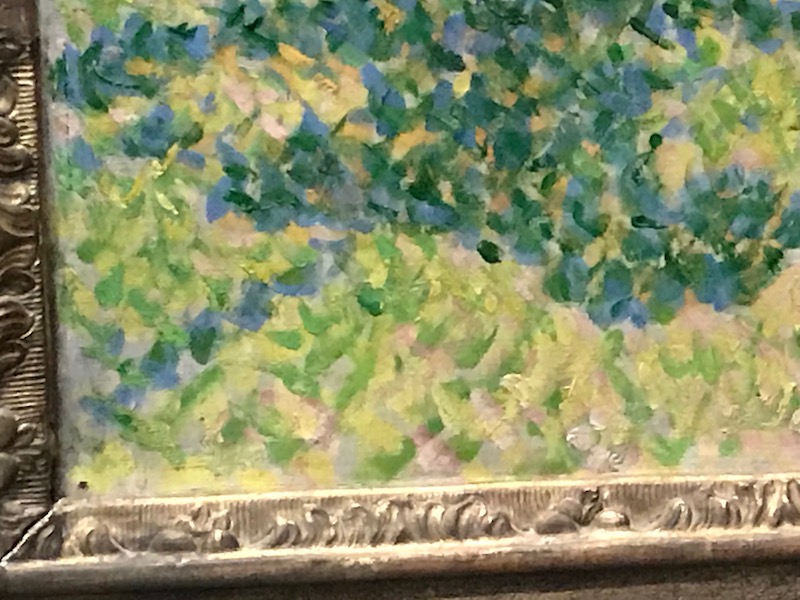 Another master of Neo-Impressionism, Henri-Edmond Cross helped shape the second phase of the movement and was influential in the development of Fauvism. He was friends with Paul Signac and in April 1893, Signac mentioned to Cross that they should both paint something to show their love of the "sunny land" which was the South of France. Cross created 'The Evening Air'. Showing late afternoon, when the heat and light were subsiding, the work expresses the soft colors of the setting sun and a harmonious balance between horizontal and vertical lines. He actually gave this painting to Paul Signac (after exhibiting it in 1894), and it became the inspiration for the painting 'Luxury, Clam, and Voluptuousness' by Henri Matisse, who happened to see the painting hanging in Signac's dining room.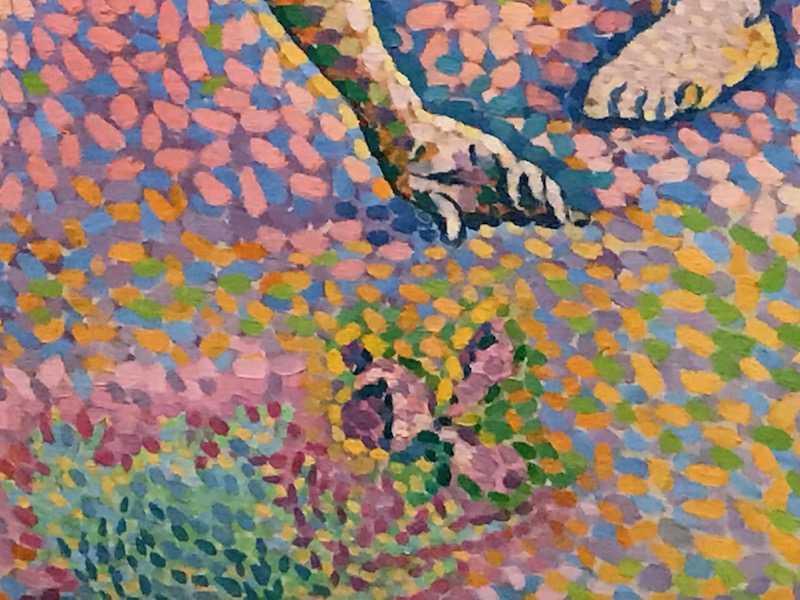 Now we get into some Post-Impressionist work, the first few by Vincent Van Gogh. The really sad part about Van Gogh is that he was actually very unsuccessful during his lifetime. He was thought of as a failure as an artist, and suffered from psychotic episodes and delusions. After spending time in psychiatric hospitals and committing suicide, his work finally attained widespread success. In 1888, he was living in the village of Arles. The challenge of painting at night intrigued him and he picked a vantage point for this painting, 'Starry Night Over the Rhône', which allowed him to capture the reflections of the gas lighting of the village across the glimmering blue water of the Rhône. In the foreground, two lovers stroll by the banks of the river.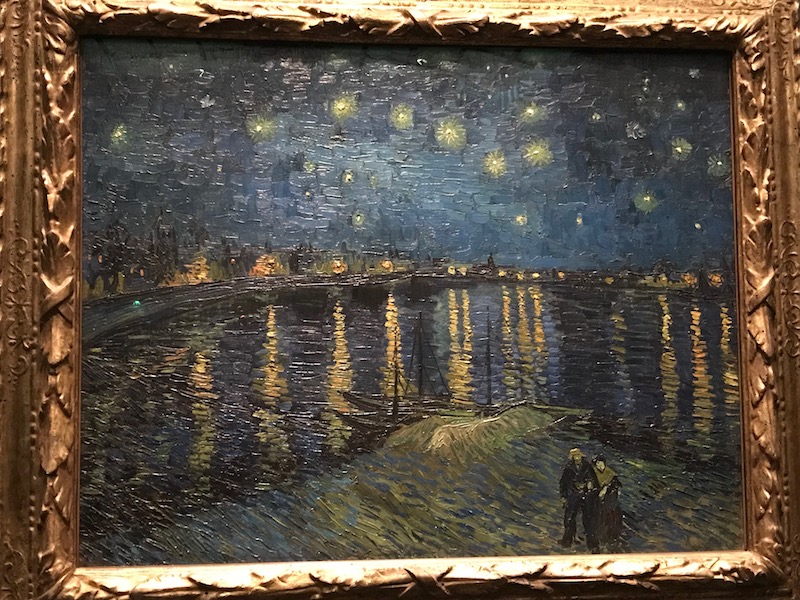 This picture, entitled 'Thatched Cottages at Cordeville, Auvers-sur-Oise', was painted a few weeks before his death. After a voluntary stay at an asylum in Provence, he left in May 1890 and moved to Auvers-sur-Oise (north of Paris). In June, he wrote to his brother Theo that "he was doing two studies of houses out in the countryside". The peaceful thatched cottages are transformed, with wild swirls making the roof undulate and sending the tree branches spiraling up into the clouds, which are transformed into arabesques.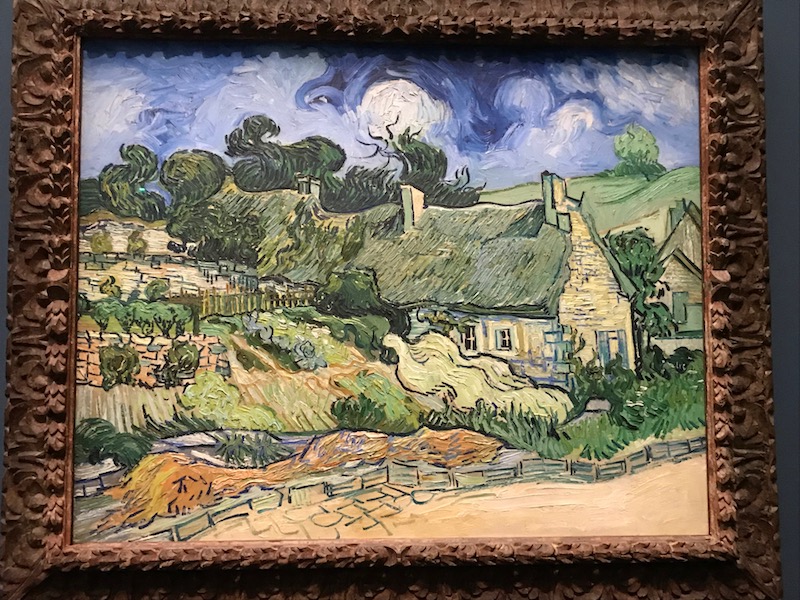 A Post-Impressionist artist, Paul Cézanne, painted a series of 5 paintings entitled "Les Joueurs de cartes", or "The Card Players". The versions vary in size, the number of players, and the setting in which the game takes place. They were painted in the early 1890s, with this painting being done from 1894-1895.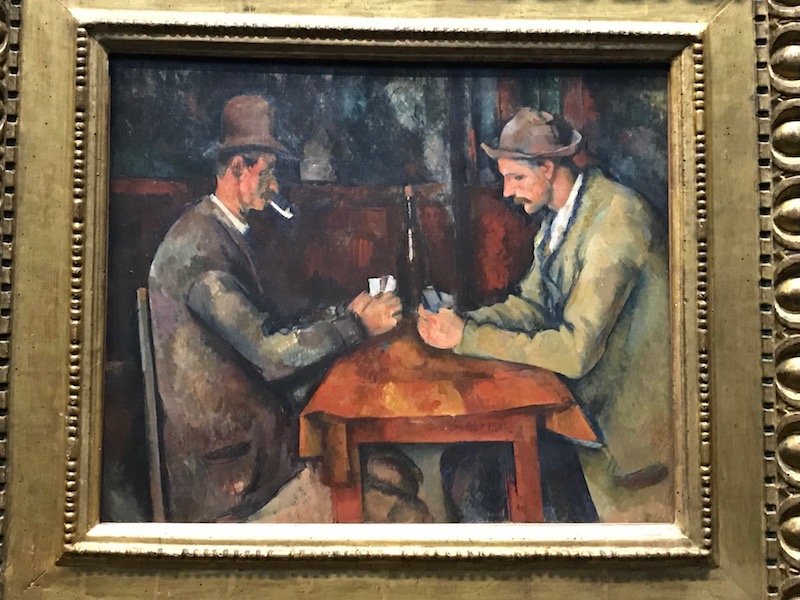 For this one, we go back in time, to 1849. What caught me on this is just how amazingly realistic this is ... almost like a photo, especially look at the hair .. I had to take a double-take to see that this was painted and NOT a photo! Entitled 'Oxen ploughing in Nevers', it was painted by French artist Rosa Bonheur, who was known for her artistic realism, specifically in painting animals. Bonheur is widely considered to be the most famous female painter of the nineteenth century. The painting features twelve Charolais oxen, in two groups of six. It shows what is called "the Sombrage", which is the first stage of soil preparation in the fall, which opens up the soil to aeration during the winter. The farmer is almost completely hidden behind his animals and the freshly-plowed land is prominent in the foreground. The painting's clarity and light resembles that of the Dutch paintings which Bonheur had studied as part of her education.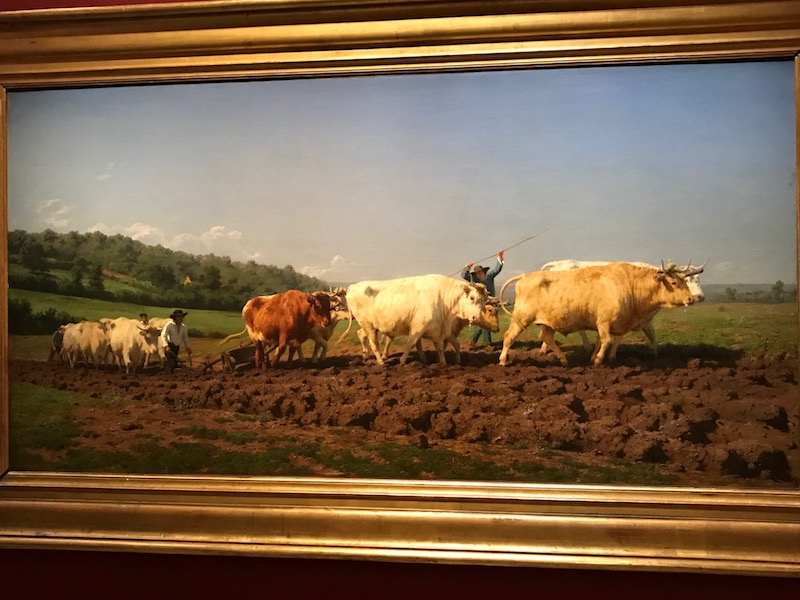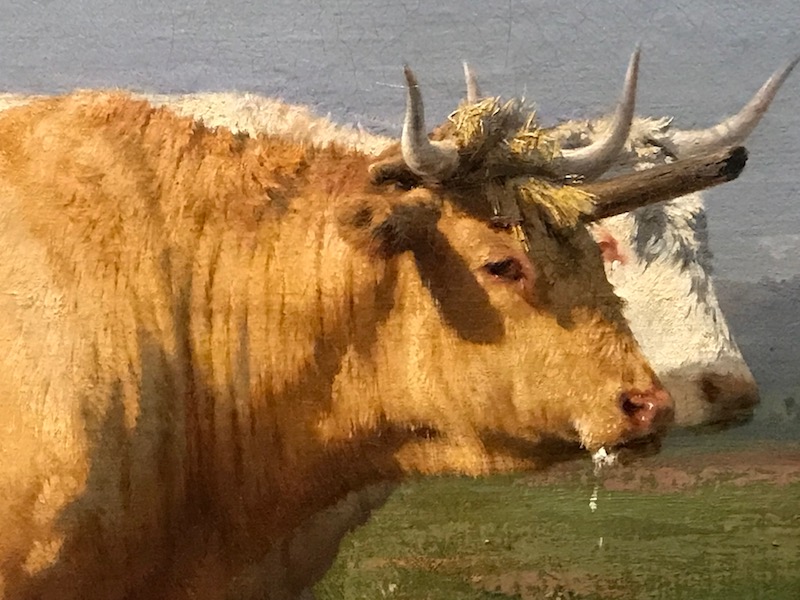 We could have gone any day to the Musee d'Orsay but decided to go on Tuesday as they have a concert each Tuesday during lunchtime (there is a small charge over and above the price of the museum ticket). We wanted to see what this was about, even though we had no idea what music would be played. As we went into the auditorium, we assumed piano, as that was on the stage. In this case, it was a bassoon and was meant to go along with a special exhibit around Edgar Degas (to mark the 100th anniversary of his death). The bassoonist was Laurent Lefèvre, who is the principal bassoonist in the Orchestra of the Opera National de Paris (since 1991) .. the pamphlet says he holds the position of bassoon "super-soloist".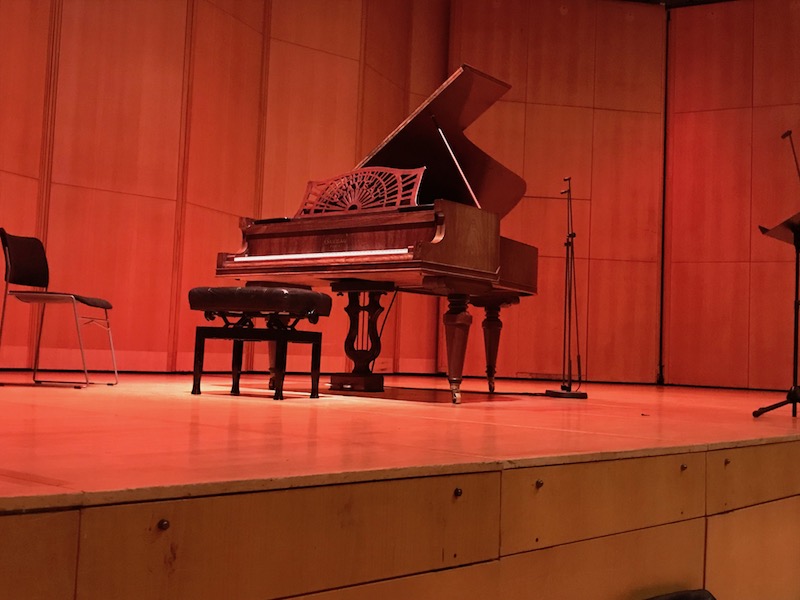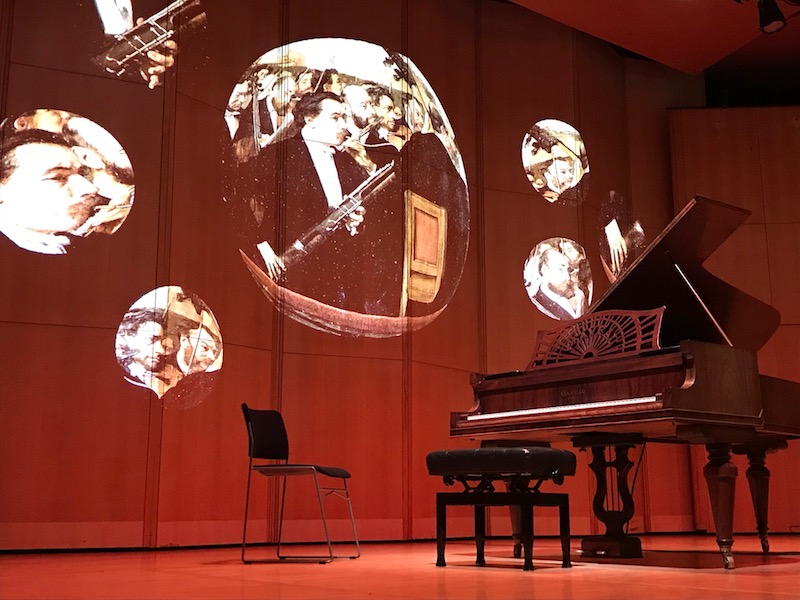 More pictures of the flooding. I read somewhere that the Seine was supposed to top out on Sunday, but this was Tuesday and it seemed higher yet than Sunday. Here I thought these were particularly interesting. You can see where the boats are moored, and where the walkways go. Today, there is a wide gap of water between the moored boats and walkways and the actually wall. Normally, there is a wide walkway and those boats are moored up against this walkway. Now, the walkway is totally underwater.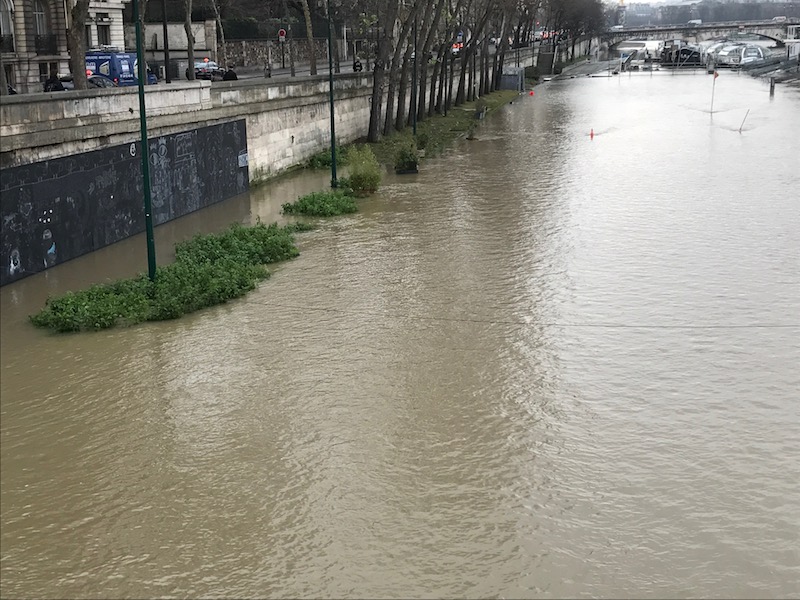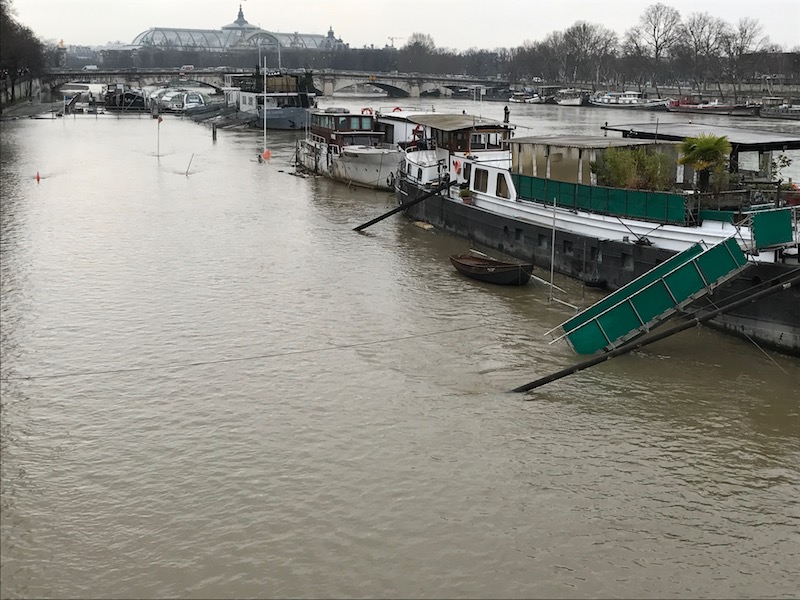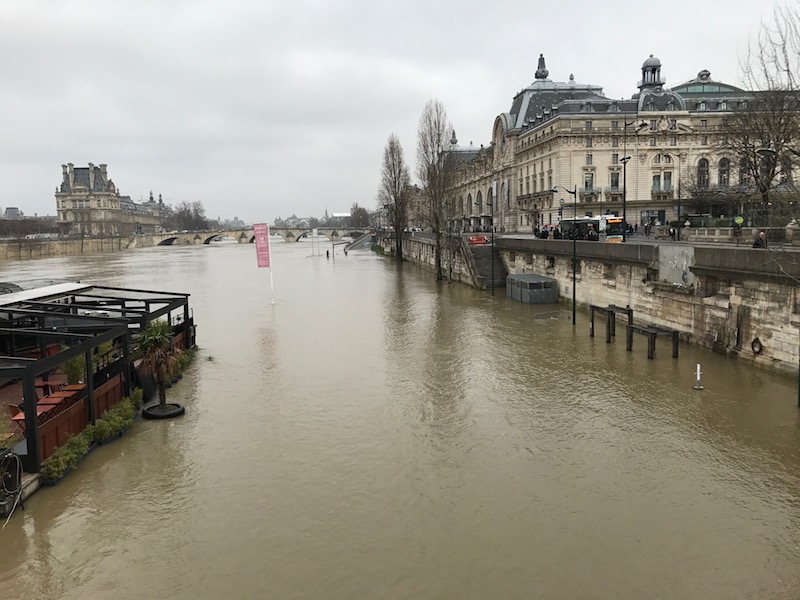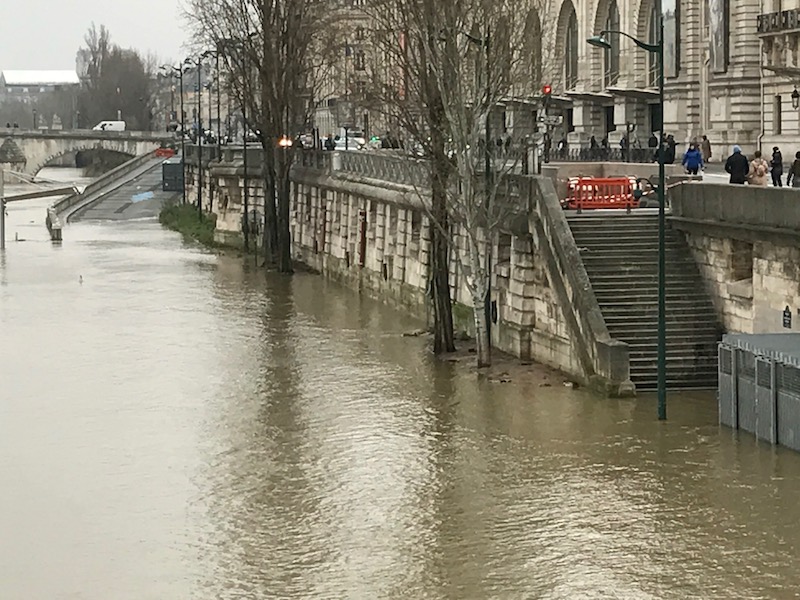 While we don't normally shop at Galeries Lafayette, we do like to head by there during the holidays to see their decorations. We were a bit late and the interior didn't have all of the holiday decorations, but the interior is still quite impressive. Some people think that the building used to be some special building (like a theater), but in fact, the company purchased several buildings from 1896 to 1903. In 1907, major renovations were done including the 43-meter high Neo-Byzantine dome and then again in 1932 to add the Art Déco styling.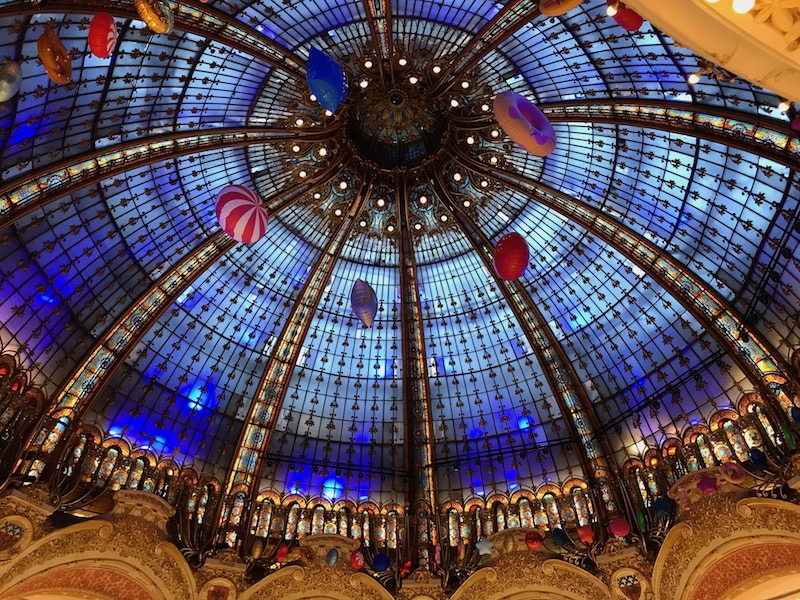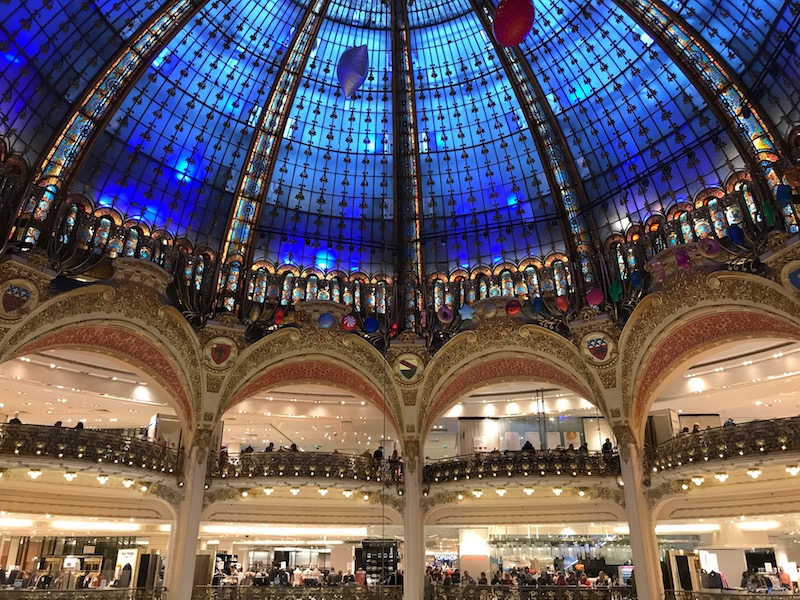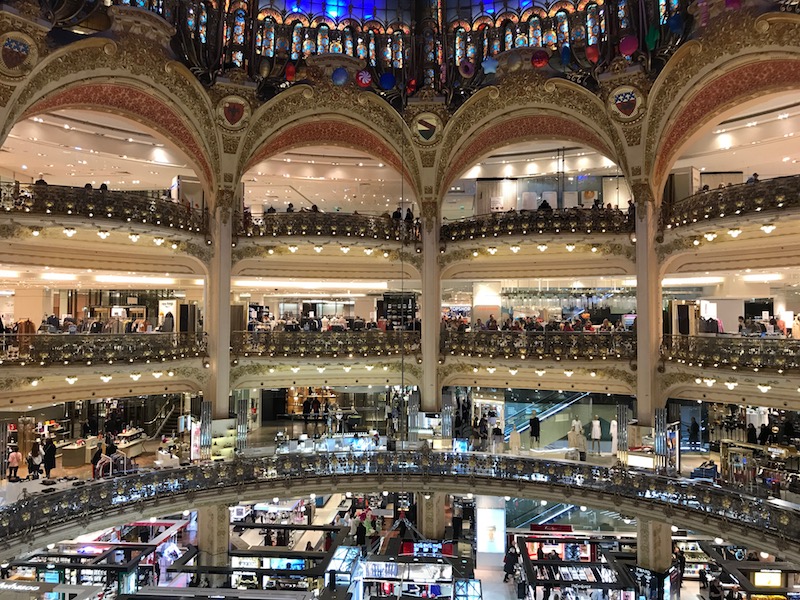 We don't normally go to restaurants multiple times, but we make a few exceptions. One exception is tonight's dinner at Hélène Darroze (well, her flagship restaurant). She is a 4th generation chef with 3 restaurants, 2 of which are Michelin starred. For anyone who has seen the movie Ratatouille, she is the inspiration for the chef Colette Tatou. The upstairs fine-dining restaurant has white tablecloths and quite a bit more space than most Parisian restaurants. On each table, the salt and pepper can be found i these little ceramic duck feet.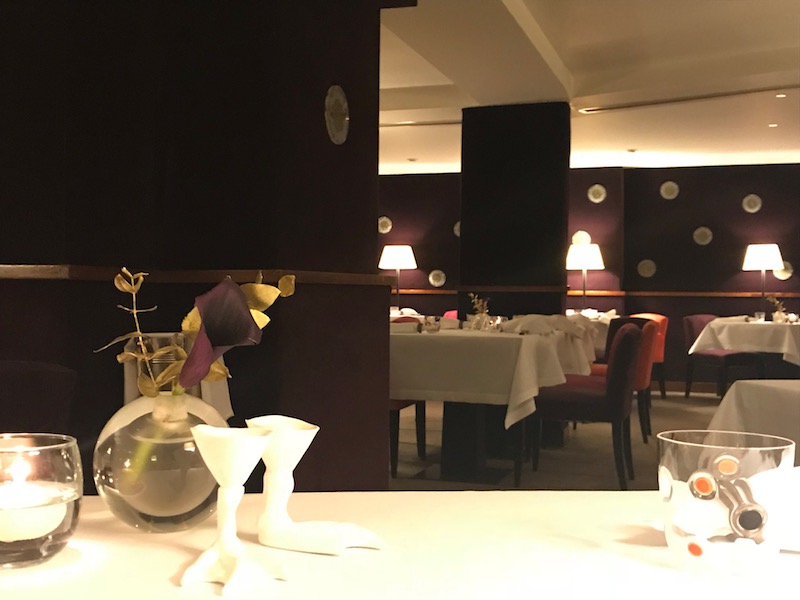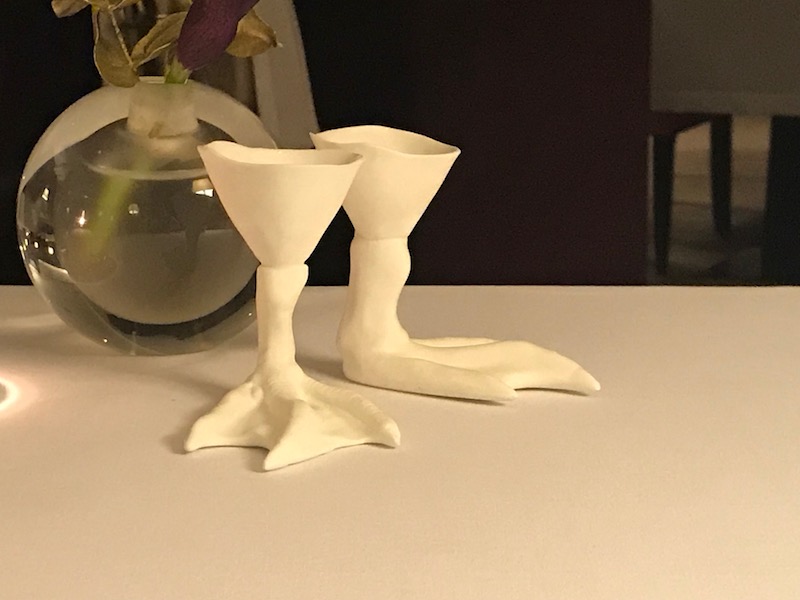 One thing that you'll see going through this is the use of carts, which I have found unique at her restaurant. Many places have a "cheese cart", but here, there are multiple ones running around. Right after you settle in, around comes the Champagne cart for an aperitif. They have several different options available and, of course, we went ahead and started with champagne.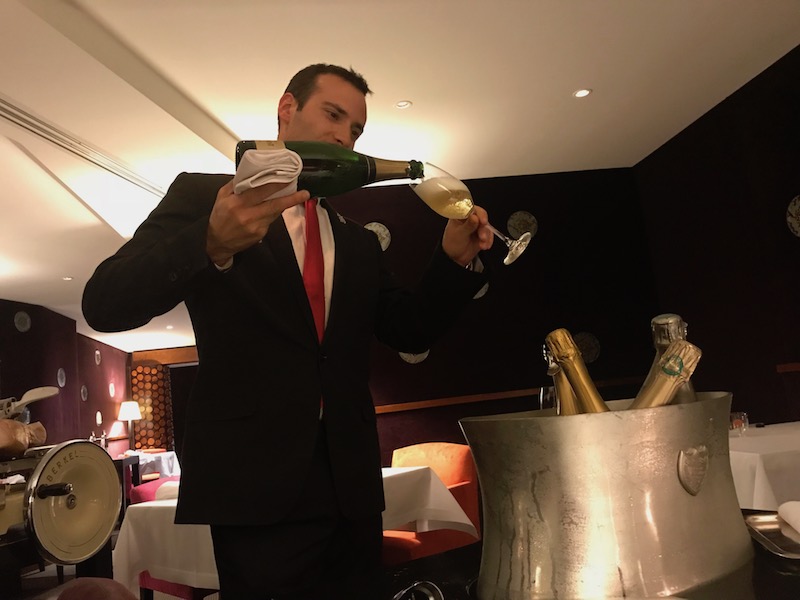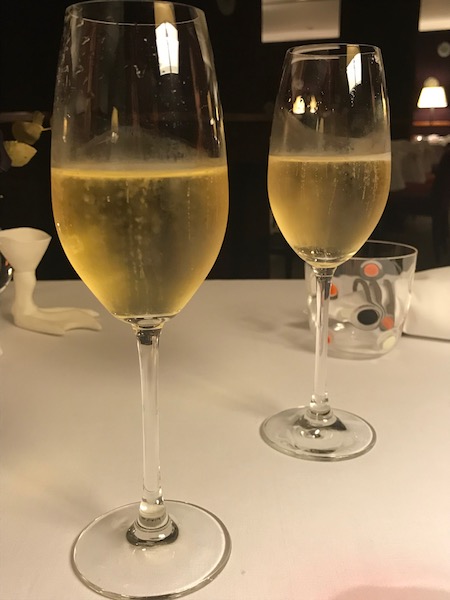 Soon after came a cart with a quaint, hand-operated ham slicer. This is the amuse bouche, which everyone gets. Since she is from Southern France, she likes to have things that are from her region, including this ham, which is from the Gascon region (I believe). The waiter spins the handle, and piles up these paper-thin slices, along with bread topped with fennel seeds. I think this was one of the first places that I had tried this type of ham, and it almost melts on your tongue! We have found several stores here locally that sell this ham, and we have started trying to pick up some every month or so.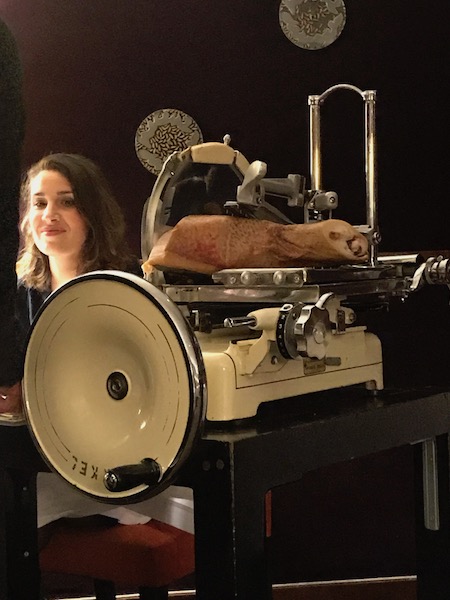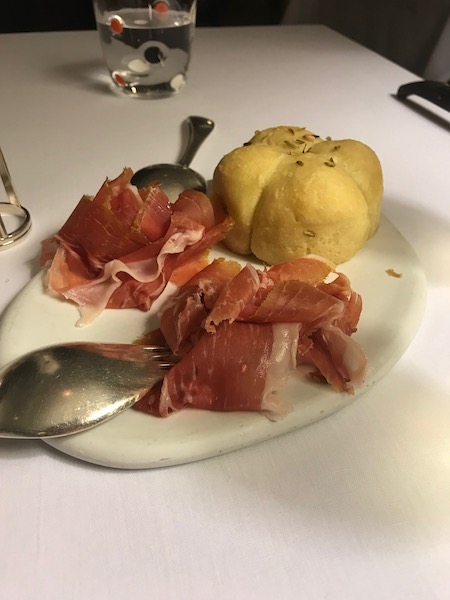 Then there were the "nibbles" that came, puffs of cheese, as yet another amuse bouche. The house-made butter with red pepper (although very mild) and a basket of various breads came next. All this before we even ordered! We also talked with the sommelier and settled on this nice red from the Médoc region near Bordeaux.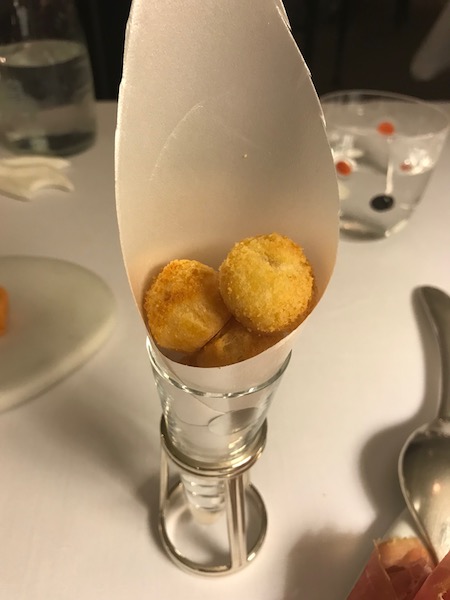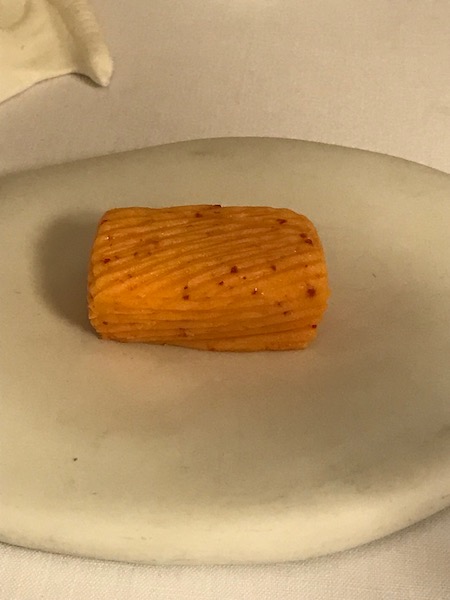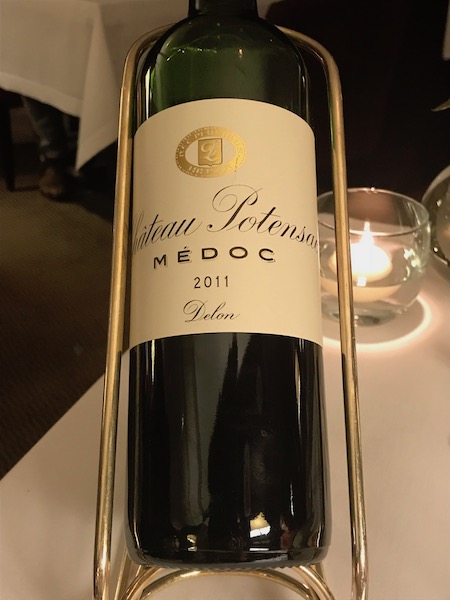 They have various menu options, and what I find interesting here is that (similar to one of the other restaurants), the plate options are the same and you pick the number of things you want to pick from the menu. We did 4 plus 1 dessert. Some things on the menu have a supplement (like the ones with truffles) but we skipped those (mostly because we haven't yet acquired the "taste" for truffles). One thing to note about the menu, she lists on the menu where the main ingredient comes from, and in some cases, the actual supplier (like she lists the actual Oyster and Foie Gras supplier in addition to where).
Between the two of us, we had I think everything on the menu that did *not* have a supplement! The Langoustine comes from Bretagne, and is served with cilantro, radish slivers, enoki (a type of Japanese mushroom) and little edible flowers in a broth (poured at the table). We both ordered this one.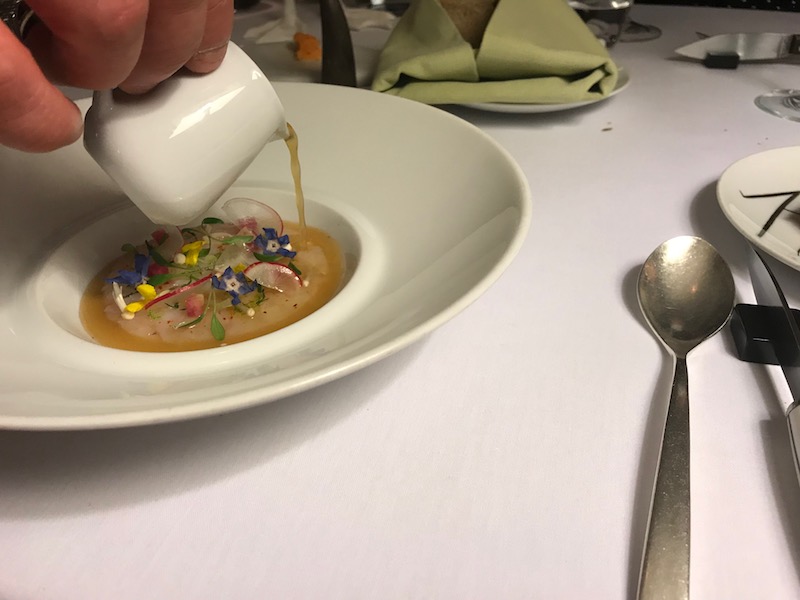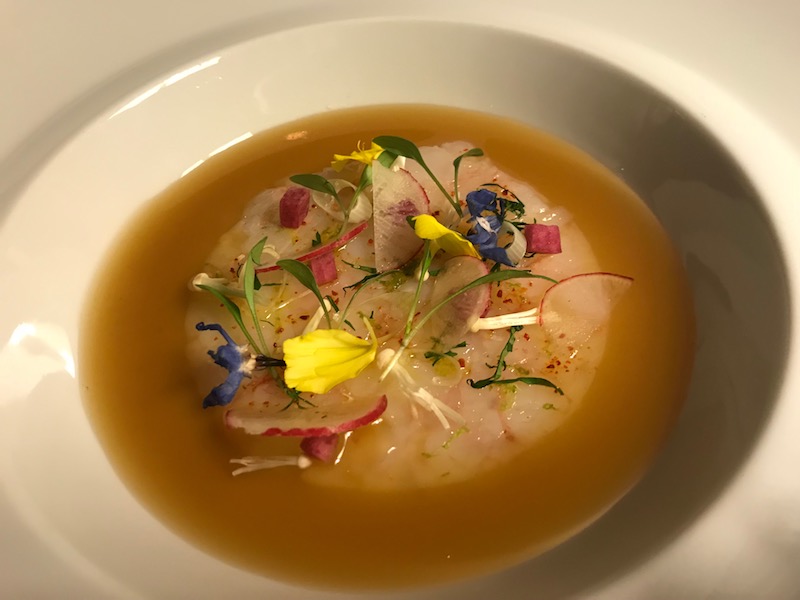 We both also ordered the Foie Gras from the Landes region of France. It came looking like the first picture, with the foie gras somewhat hidden under the gingerbread cookie (you can see it well on the 2nd picture). On the top are balls of a Conference pear (an autumn variety of European pear development in Britain) along with matchsticks of pear.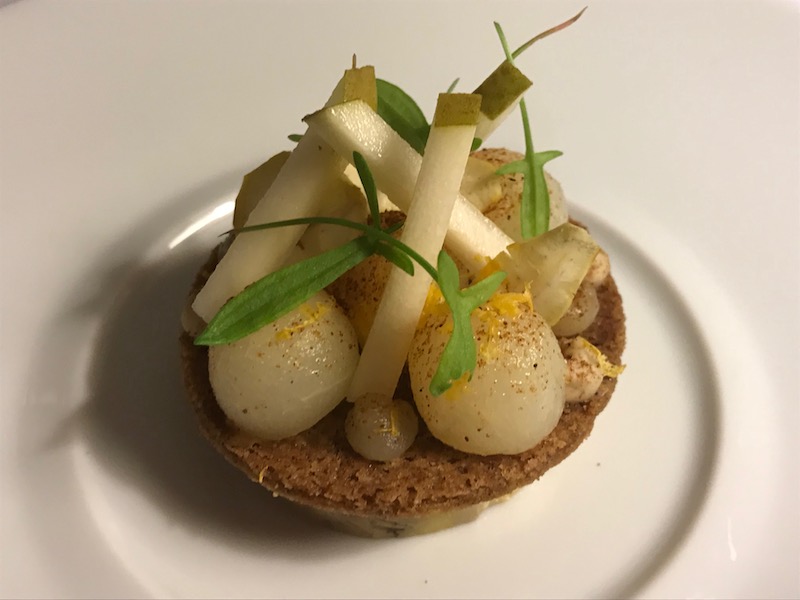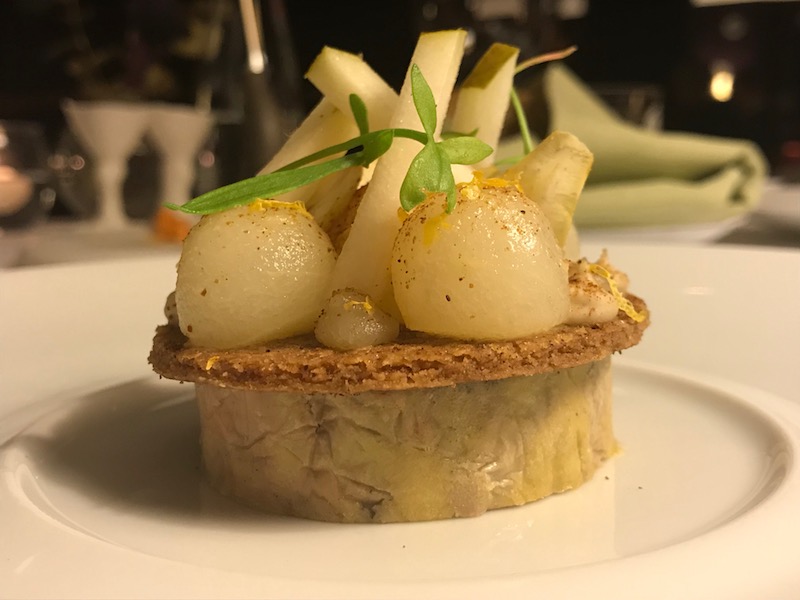 The oyster, from Charentes, was served in a martini glass with Kristal caviar, and a cream made from what is called "haricot maïs du Bearn". I had to research this one ... it is a white bean (haricot) from a region called Bearn (over near Bordeaux). The "maïs" part of it is "corn", and these are beans which grow on vines winding through corn fields. It seems that the bean plans use the corn as a guardian. While this was okay, I think I liked the langoustine dish better. Tom (who isn't a big oyster fan) went with a spiny artichoke from Sicily, underneath greens and herbs with a poultry jus.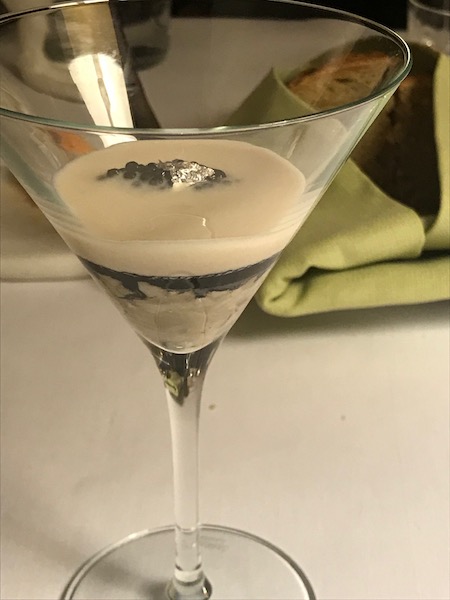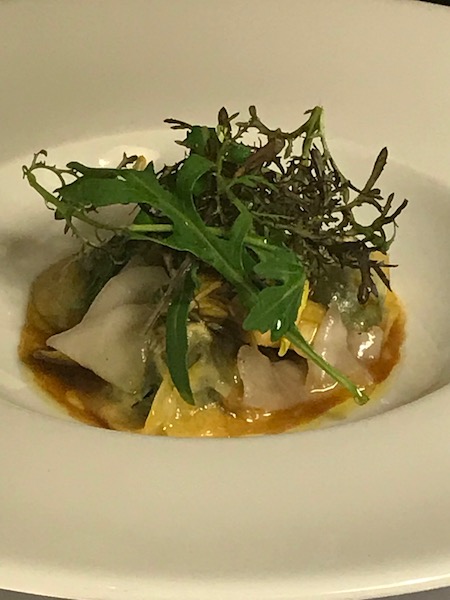 We also opted for different "main" courses. I went with the fish dish, which was a Hake (in french, Merlu) from Saint-Jean-de-Luz, which is on the Atlantic coast of France right next to Spain. They spoon a frothy sauce over it at the table, ad it has additional shellfish, a cauliflower and nut puree with another puree in the middle of that which is made of parsley and garlic. Interestingly enough, it was pink garlic from Lautrec ... regular blog-readers may remember that we went to a pink garlic festival in Lautrec earlier this year.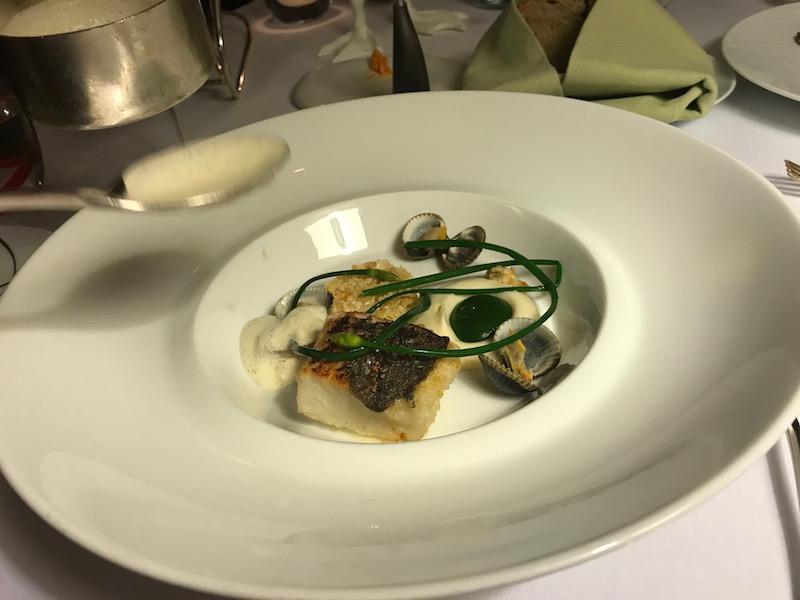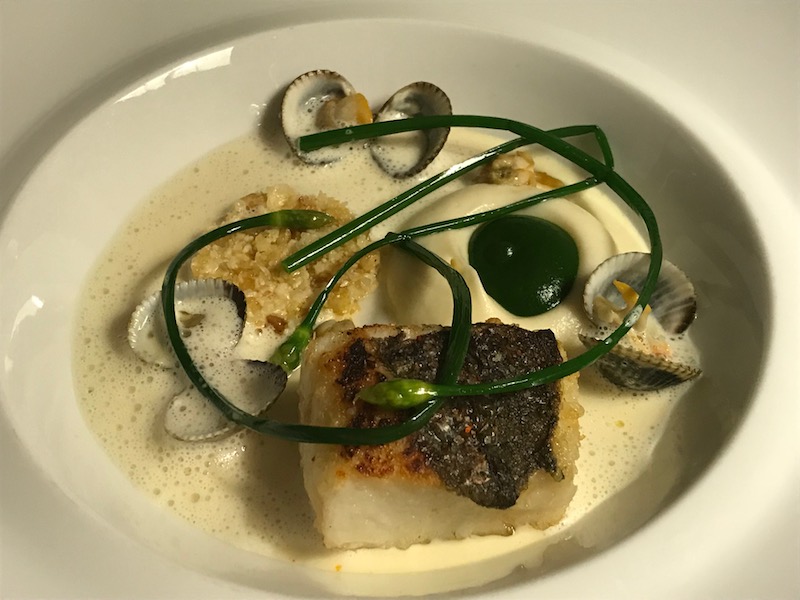 Tom went with pigeon from the Loire-Atlantique region, along with beets multiple ways: there was a beet puree plus pieces of beats that were (we think) steamed). There were a few pieces of Blood oranges as well as a poblano mole sauce.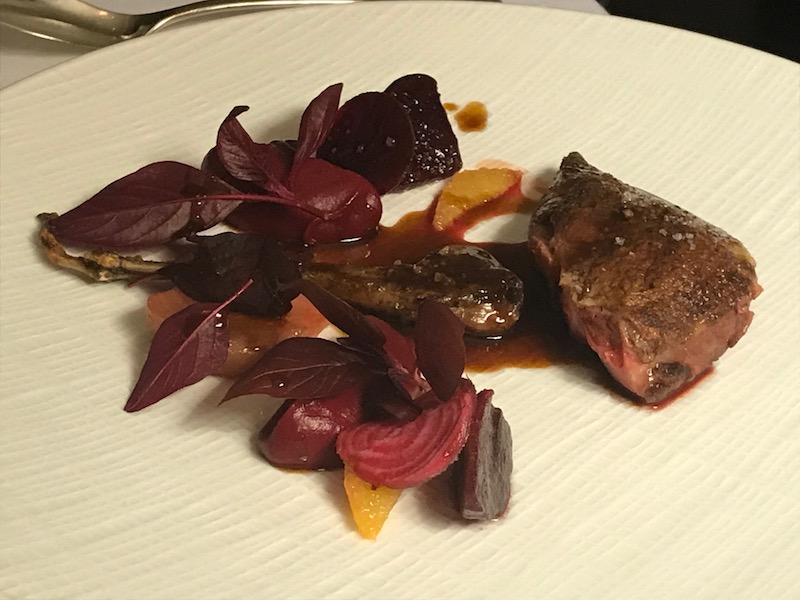 Next came the cheese cart - this actually *was* a supplement, but one of the reasons why we went with 4-courses instead of 5-courses was so that we could add the cheese cart. We did a combination of softer and harder cheese, along with a blue cheese. He ordered them (even though we picked them in a different order) so that we ate from right-to-left (milder to stronger) and included two different chutneys to match the cheeses.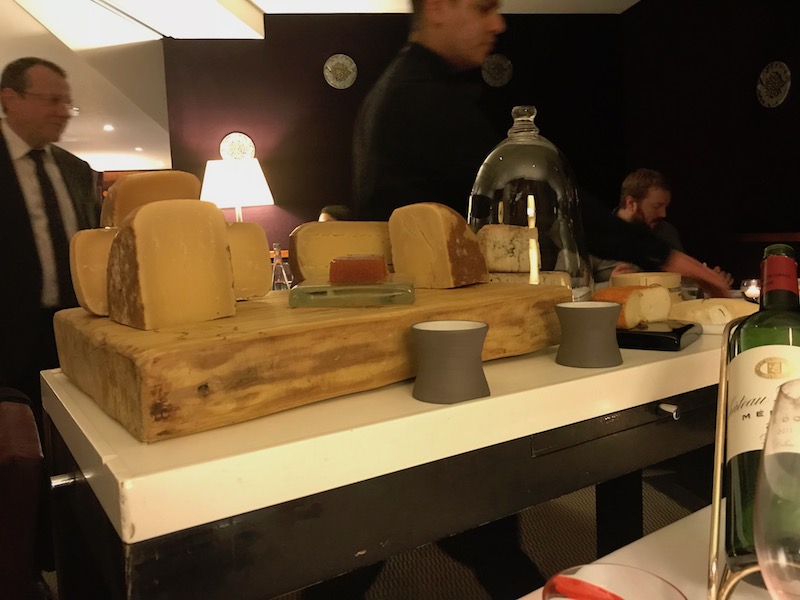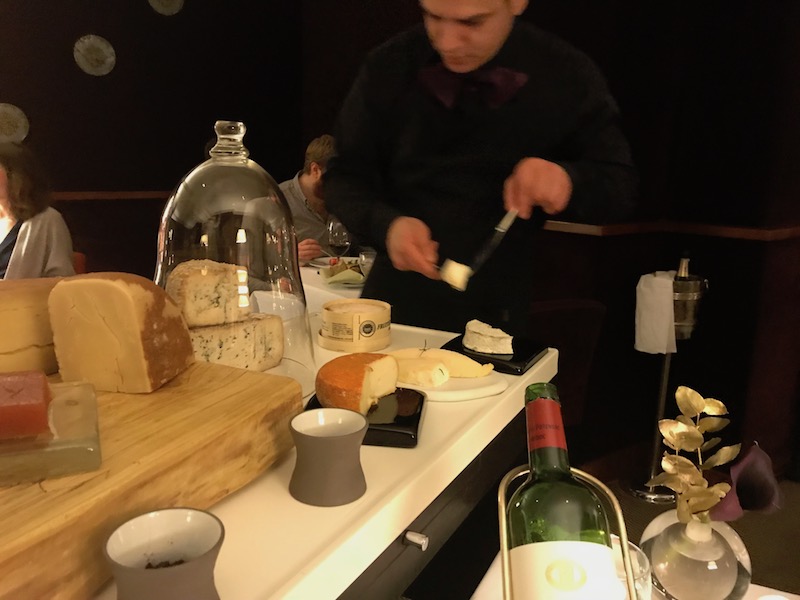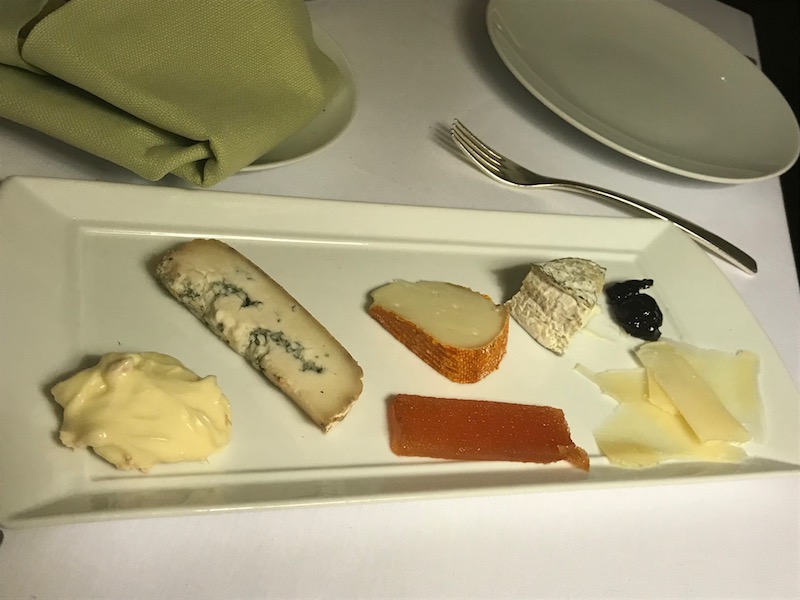 We each had a dessert, along with a little plate of petit-fours. I went with the Pineapple from Costa Rico topped with a creme with lemongrass, pepper, and coconut. Tom went with a dessert that combined chestnuts from Ardeche with rum in a mousse, along with apple and something called oxalis.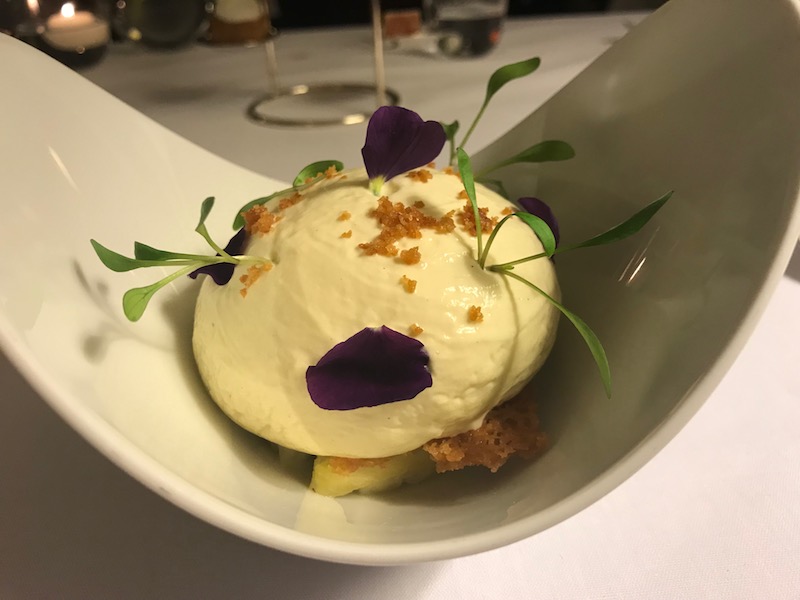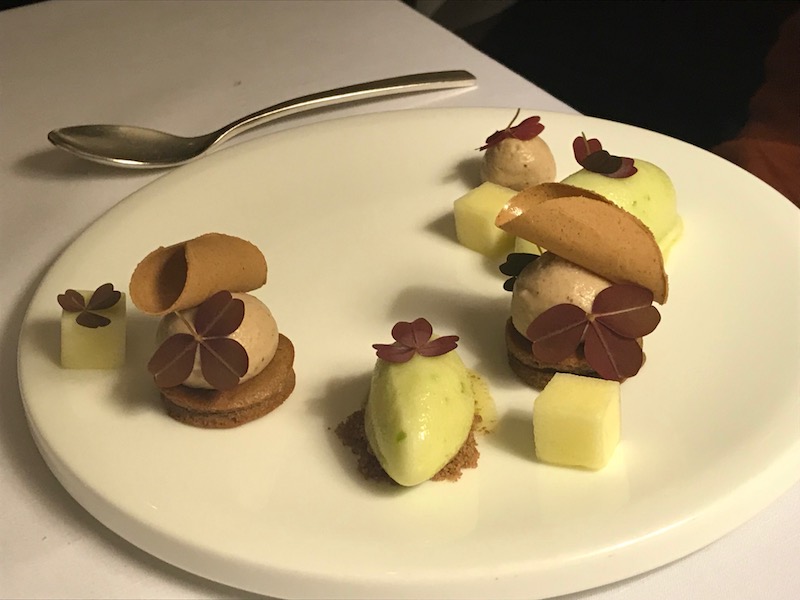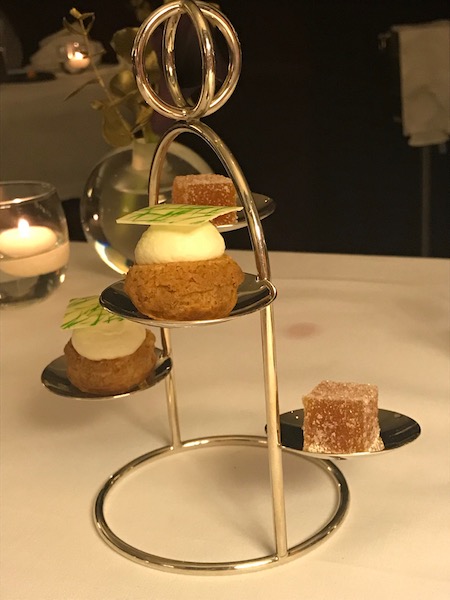 Continue to Paris 2018 Day 6